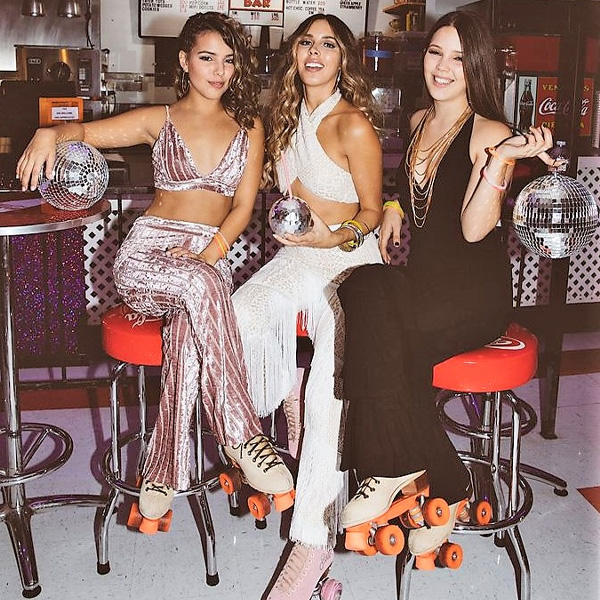 The infamous demolition of Chicago's Comiskey Park in 1979 marked the sudden death of disco.
Collectively stamped out by the public, the happy-go-lucky attitude that pervaded song after song was seen as egotistical and not in-tune with the social reform at the time.
Despite its widespread backlash, the 2020s saw a bizarre resurgence of disco thanks to the pandemic. 
We ditched our skinny jeans and Ed Hardy T-shirts to make way for the revival of disco. Today, it's considered charming to don bell-bottoms, go-go boots, and denim jumpsuits.
Want to go back to the glory days? If so, I've rounded up a few disco outfit ideas for you. My top-five list of OOTDs may or may not include:
Disco party outfit ideas 
Cute disco outfit ideas 
70s disco outfit ideas
Men's disco outfit ideas
Disco cowgirl outfit ideas 
What Makes Up A Disco Outfit?
A classic disco outfit pays tribute to '60s and '70s fashion trends. This includes wearing clothing pieces such as nylon jumpsuits, platform boots, and halter tops. 
The fit and flare silhouette was highly sought after, as most trendsetters preferred to accentuate their waistline. It was also a time when color and pattern were highly celebrated, so I don't recommend sticking to neutral tones and natural shades here. 
History Of Disco
Despite its slow beginnings, disco played an important role in unifying the gay, black, and Latino community in the Western hemisphere.
Disco was mainly played by DJs in underground clubs, which were crucial in forming that distinct sound that the musical genre is known for. 
Borrowing influences from Motown, funk, soul, and salsa, disco became the newest fad for many dancers and singers. Naturally, music also has a way of affecting fashion, as the late '60s and '70s saw a spike in disco outfit ideas. 
What Are Some Popular Disco Outfit Ideas?
The iconic disco-themed outfit is rarely shy in aesthetic. The '60s and '70s celebrated color, pattern, and diversity.
With that in mind, it would seem like a missed opportunity to only focus on neutral tones and traditional silhouettes. If you're in need of some inspo, I'll share a few popular disco outfit ideas to consider. 
28 Disco Outfit Ideas
#1
Perfect for party-goers, this 'disco outfit ideas' contender features a cute mini dress. It's definitely far from simple, as it has a feather trim on the sleeves and an interesting oil spill pattern from top to bottom. Accentuated with platform heels, this is the ideal OOTD for clubbing or birthdays. 
#2:
Emblematic of the flower power movement of the 1960s, this 'disco outfit ideas' option will definitely get you nostalgic for Jefferson Airplane. The floral mini dress paired with the thigh-high white socks keeps things light and fresh, in case you're not a fan of rock-based fashion. 
#3:
If you love Western fashion and the disco scene equally, why not combine the two?
This bright ensemble features a pair of sparkly bell-bottoms, a white blouse, and a funky pink cowboy hat for a pop of color. Considered one of the bolder looks in my disco outfit ideas lineup, this is the OOTD to don when you're feeling extra. 
#4:
This modern disco party outfit features a bright orange jumpsuit with a decorative belt. High-waisted in silhouette, it pays tribute to the fashion trends of the time while still keeping true to contemporary style. 
#5:
Not a fan of bright colors? If so, no worries—you can still partake in the disco scene.
This sophisticated number is comprised of pleated trousers, a brown jacket, and a white turtleneck to help even things out. It's a great '80s disco outfit to consider if you require something a bit more professional. 
#6:
#7:
#8:
#9:
#10:
#11:
#12:
#13:
#14:
#15:
#16:
#17:
#18:
#19:
#20:
#21:
#22:
#23:
#24:
#25:
#26:
#27:
#28:
Fashion Tips To Avoid With Disco Outfits
The inevitable death of disco led to the end of many controversial trends. We should be thankful, right?
But due to the resurgence of '60s and '70s fads in the last couple of years, a few ugly looks have managed to seep through. Below, I'll share some fashion tips to avoid with disco outfit ideas. 
Costumes: There's a clear difference between wearable fashion and cosplay. As a general rule of thumb, I don't recommend getting your disco outfit at Party City. 
Low button-up tops: Typically worn by men, this controversial trend can easily be remedied by doing up a few more buttons. 
Clogs: They've made a significant comeback over the years, but I'm not convinced of their staying power. Trust me, you're better off wearing platform boots instead. 
Best Places To Buy Disco Outfits
After viewing multiple disco outfit ideas on the internet, you're probably in need of a few store recommendations. Here are some fantastic retailers you can check out: 
Urban Outfitters 
Free People 
Nasty Gal 
Alice McCall 
House of Sunny 
Final Thoughts
Compared to other core aesthetics, disco is a trend that allows you to have fun with your outfit. It's a vibe that encourages color, creativity, and experimentation.
After viewing the five disco outfit ideas I've featured, here's to hoping that you've gathered enough inspiration to form your own ensemble. 
---
Looking for more outfit ideas? We've got you covered:
Get Access to Exclusive Deals
Subscribe for free to get exclusive deals in your inbox. 100% privacy
Subscribe