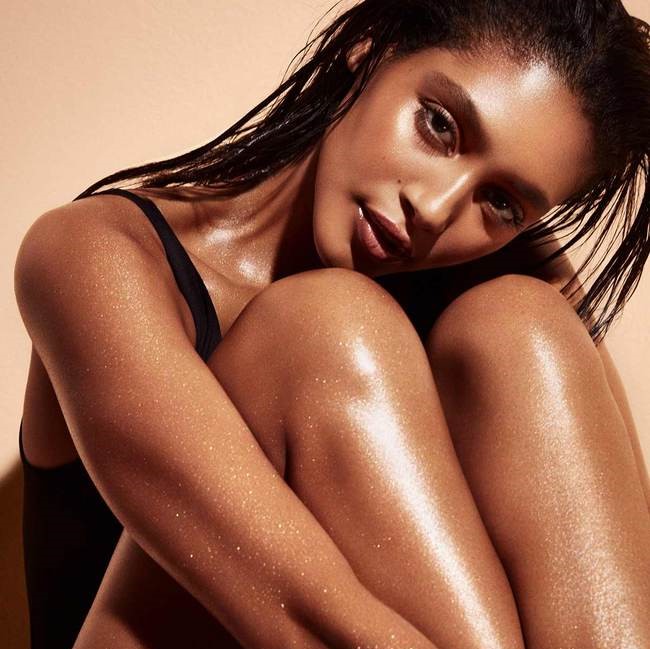 Besides a golden brown tan, the one thing that everyone wants in the summer is glowing skin. The good news is that you can have both, without bending over backwards to create a complicated skincare routine.
Get ready to meet the simple solutions that will help you achieve the complexion of your dreams: the best body shimmers of 2021. 
There's something for everyone and every budget, too. From drugstore brands to designer offshoots, this list of the best body shimmers is a foolproof guide to a runway ready bikini body.
If you have certain preferences when it comes to colour, fragrance, or just how sparkly a body shimmer is, we've got the top recommendations for you. 
Plus, we know that not everyone loves the texture of a slippery oil base, and that different skin colours require different shades of body shimmer, so we've got you covered there too.
But before you shop our selection, check out how to pick the right body shimmer for your skin. 
How to Choose the Best Body Shimmer for Your Skin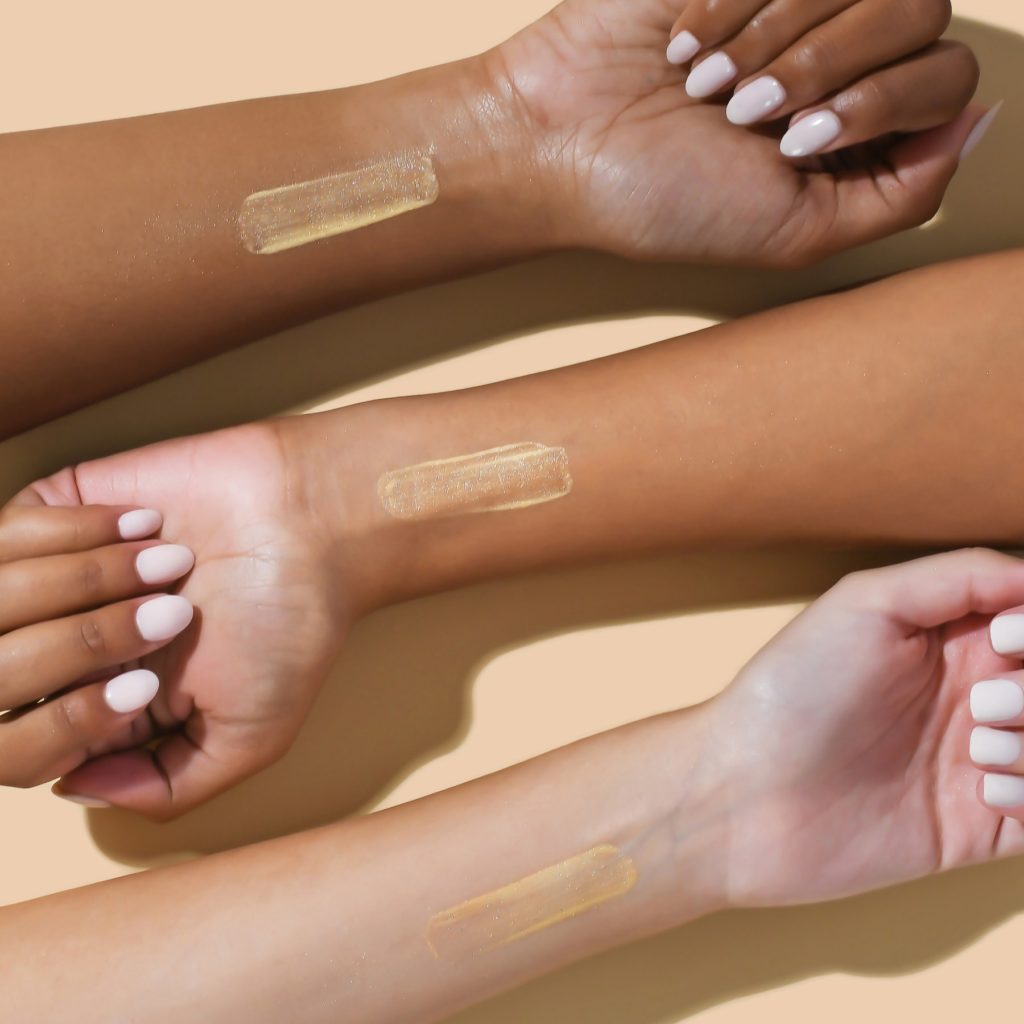 To choose a body shimmer right off the *virtual* rack would be a mistake. Why? Well, as we mentioned before, shimmer lotions and body oils come in a wide range of pigments, so taking a one size fits all approach to selecting a body shimmer could lead to disappointing results.
The last thing you want to do is bathe yourself in a body shimmer that's too sparkly for your liking before a major pool party, or douse yourself in a glow oil that gives off a you-just-came-from-a-tanning-bed type of vibe. That's why we're helping you through the purchasing process in five easy steps:
Colour
New body shimmers from brands like ColourPop come in 16 different tones, which can be overwhelming for those who've never used a glitter lotion, oil or spray before. So, if you're a first-time user, start by asking yourself: do you want to play up your natural tan or layer on a funky colour?
If you want to increase your natural tan, play it safe the first time around and choose a bronze shade. If you'd rather switch things up, start with lighter undertones such as soft pink or gold.
Fragrance
Whether or not you like fragrance, the majority of the body oils on the market contain it. If you have sensitive skin, this may be something you want to avoid when choosing a body shimmer unless you can find something that's natural and not synthetic. However, fragrances – particularly tropical scents – can be a nice little touch on days spent around the pool with friends.
Concentration
Most body shimmers have very concentrated formulas if they're oil-based, but there are also body shimmers that contain various concentrations of sparkle. For example, Patrick Ta's Major Glow Body Oil is very sheer compared to Acqua di Parma's Rosa Nobile Shimmering Body Oil, which "dresses" the body in a veil of glitter.
A method for determining the concentration of a body shimmer is to take a look at the size of the sparkles inside. In the two examples mentioned above, you can see that the Major Glow Body Oil has more of a silky look to it, whereas the flecks of glitter in the Rosa Nobile Shimmering Body Oil are more pronounced.
Texture and Application
Some people are oil lovers, but many are not. Thankfully, there's a variety of body shimmer formulas available in dry oil formats, sprays, lotions, and even powders. Although the "greasy" texture of oil is a turn-off for some, using an oil-based product is one of the easiest ways to achieve a gleaming, silky-smooth look.
You may also want to consider the texture of a body shimmer for what it might do to your skin. If you are normally irritated by sprays or have blemish-prone skin that does not handle oil well, you'll probably want to go with another option. Sprays and lotions are generally less messy and easier to apply, particularly in tight places.
Ingredients
If you're a fan of all-natural products, Kora Organics' Sunkissed Glow Body Oil and French Girl Organics' Lumière Bronzée Shimmer Oil are great options when it comes to body shimmer. If your skin is easily irritated, you may want to consider a natural or organic formula with fewer ingredients. But if you want a body shimmer that doubles as skincare, consider all of the recommendations below a good choice.
Omorovicza Gold Shimmer Oil
Kora Organics Sunkissed Glow Body Oil
Fenty Beauty Body Lava Body Luminizer
Tom Ford Soleil Blanc Shimmering Body Oil
African Botanics Marula Shimmering Gold Oil
Acqua di Parma Rosa Nobile Shimmering Body Oil
French Girl Organics Lumière Bronzée Shimmer Oil
Charlotte Tilbury Supermodel Body Highlighter
Sunday Riley Fairy Godmother Shimmering Body Oil Gel
Beautycounter Glow Shimmer Oil
Anastasia Beverly Hills Shimmer Body Oil
Kopari Coconut Body Glow
Patrick Ta Major Glow Body Oil
Colourpop Cosmetics Sol Shimmering Dry Oil
Josie Maran Whipped Argan Oil Body Butter
15 of the Best Body Shimmers to Shop for Summer
Now that you've considered our criteria for choosing the right kind of body shimmer, it's time to survey your options. For as low as $16, the radiant summer skin of your dreams is within reach.
#1 – Omorovicza Gold Shimmer Oil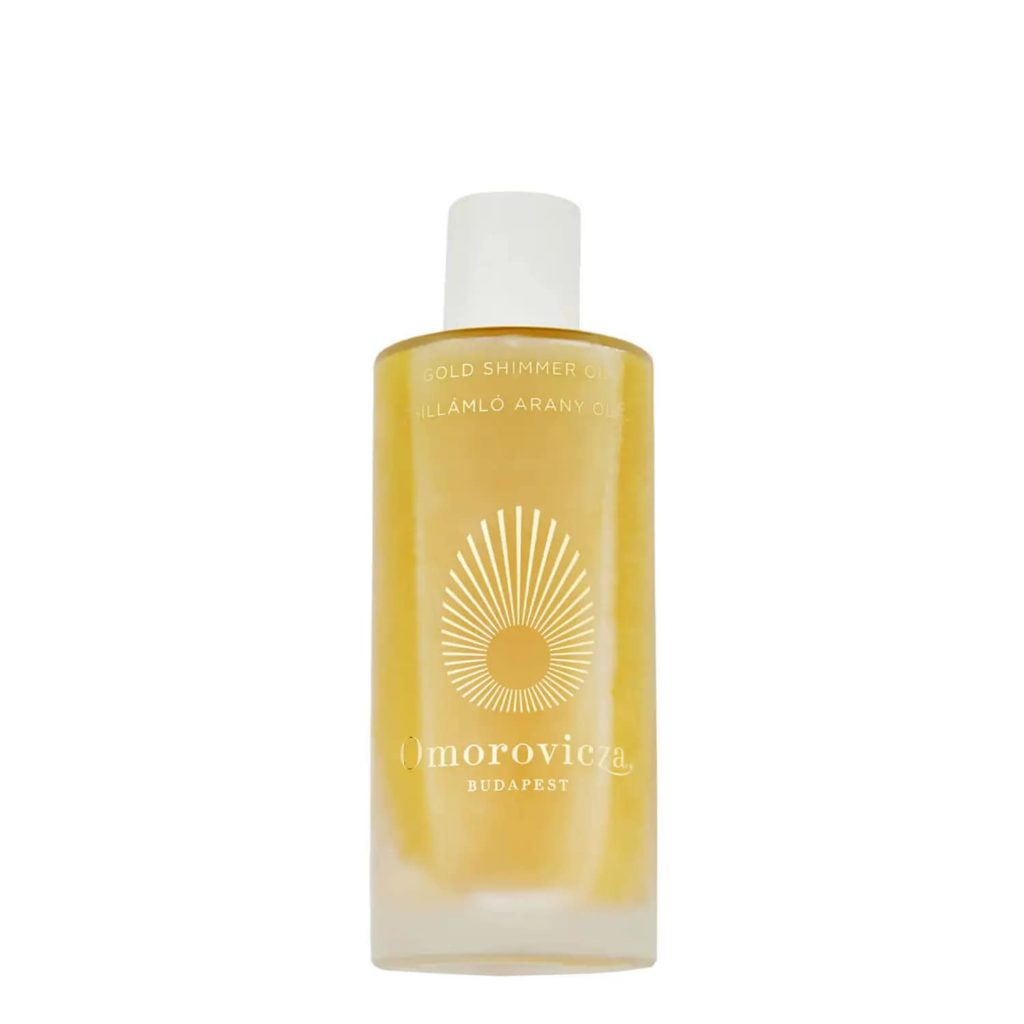 From your head to your toes, this shimmering body oil leaves you smooth, soft and glowing. Straight from Budapest – which is also known as the spa capital of the world – luxury Hungarian skincare brand Omorovicza formulated this body shimmer with colloidal gold to calm and heal micro-damage to the skin.
The subtle gold particles boost radiance to a whole new level, while the aromatic oils of calendula and rice germ gently soothe and nourish. To help increase collagen production and hydration, vitamin E was added into the mix. Basically, if you're looking for a skin-first product, you've met your match with this $82 bottle.
#2 – Kora Organics Sunkissed Glow Body Oil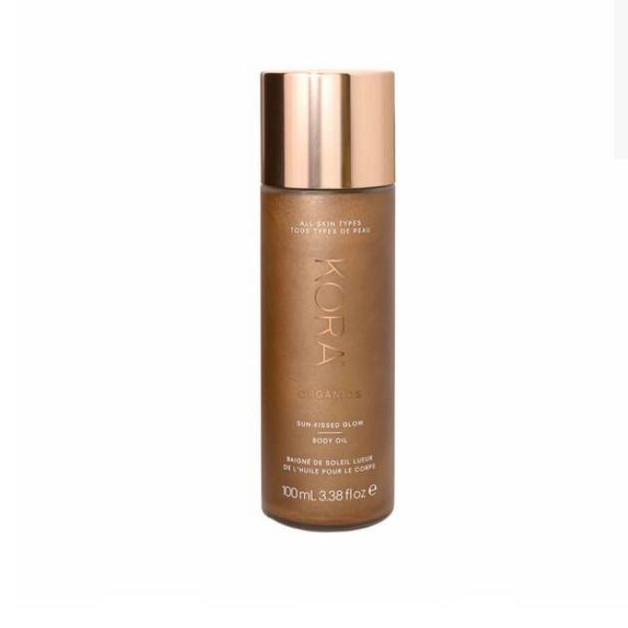 Supermodel Miranda Kerr has always been admired for her supple glowing skin, on and off the runway. If you've been wondering how she maintains her natural Aussie luminescence, look no further than her brand's Sunkissed Body Oil.
For only $38, you can be christened in the fatty acids and antioxidants that keep Kerr's skin so healthy. This bronze body shimmer contains exotic ingredients like desert date and seabuckthorn for radiance and hydration. Even better, it's scented with sweet vanilla that smells good enough to eat.
#3 – Fenty Beauty Body Lava Body Luminizer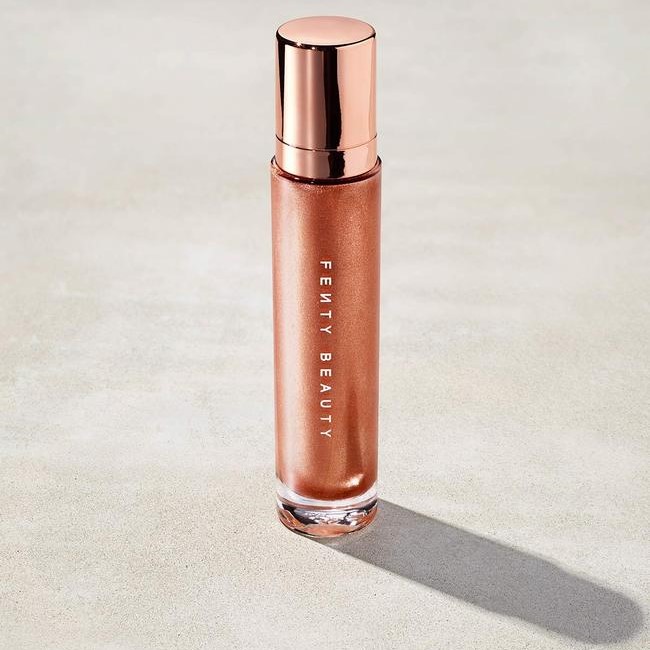 Rihanna's another celebrity with an unbelievably glowy complexion, so it's only natural that she created a product to (hopefully) help us achieve the same thing. Priced at $59, the Body Lava Body Luminizer by RiRi's namesake beauty brand, Fenty, has become a favourite of editors across the globe – and for good reason.
It comes in three vacation-inspired shades: Who Needs Clothes?! (rose gold), Brown Sugar (glistening bronze), and the all-new Cognac Candy (sparkling copper). Housed in a large bottle that could last you all summer, this body shimmer uses light-diffusing micropearls to accentuate all skin tones. It also has a light floral-vanilla scent that's perfectly seasonal.
#4 – Tom Ford Soleil Blanc Shimmering Body Oil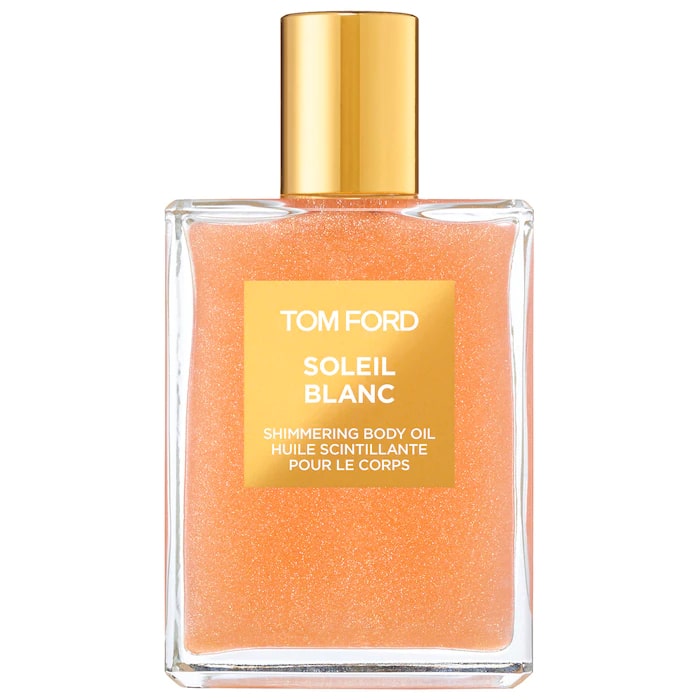 Tom Ford's Soleil Blanc Shimmering Body Oil has long been at the top of everyone's list of best body shimmers. With a price tag of $100, it's one of the most expensive out of the bunch, but there's no doubt that it's worth the splurge.
Like everything else Tom Ford, this body shimmer accentuates the sultriness of summer skin and tops it with a sensual fragrance that breathes spicy bergamot, cardamom oil, pistachio, and ylang ylang. Soleil Blanc is also available in a rose gold hue that offers a nice departure from the gold and platinum leaf the original formula illuminates with.
#5 – African Botanics Marula Shimmering Gold Oil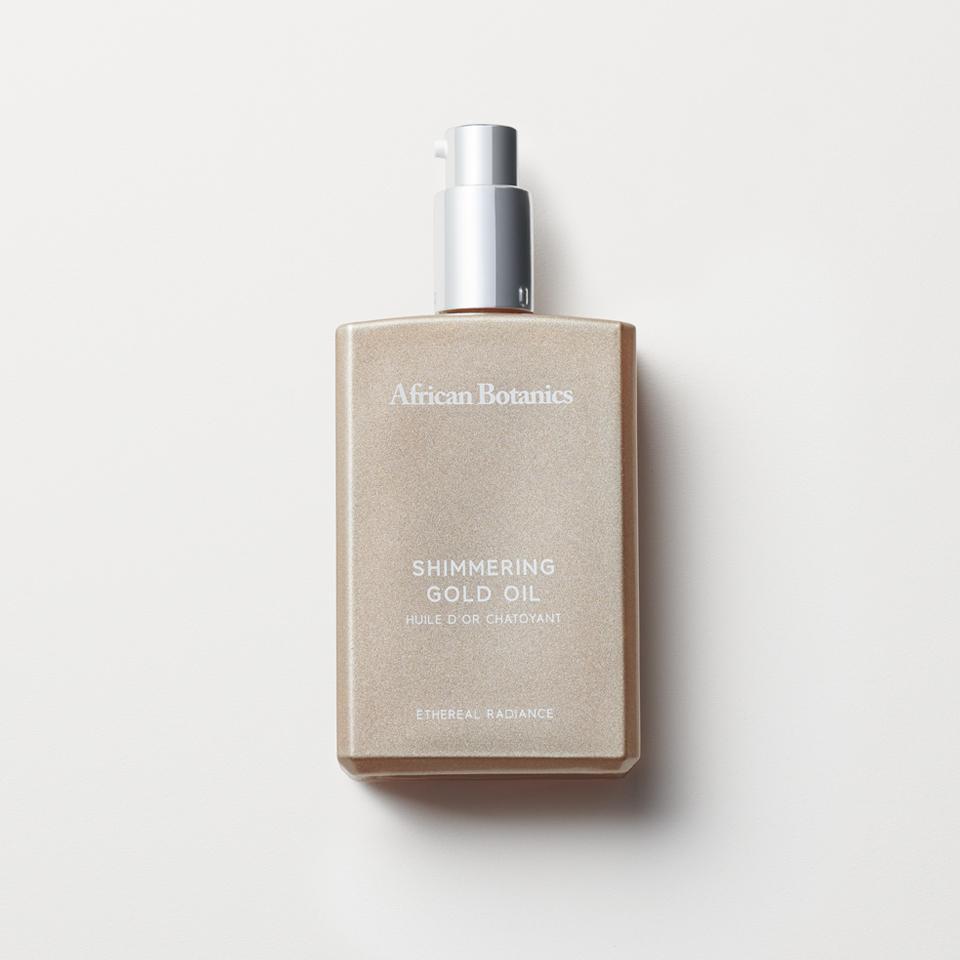 African Botanics has been sustainably harvesting wild-grown ingredients from unique hotspots of Southern Africa for years, and you get to experience them in this shimmering body oil that firms and moisturizes the skin. The best part? It compliments every complexion.
Ringing in at $110, this body shimmer is concentrated with skin-brightening marula oil, which is packed with four times more vitamin C than an orange. It can also be used on the face and hair, which helps justify the price. Is there anything better than a multi-use product?
#6 – Acqua di Parma Rosa Nobile Shimmering Body Oil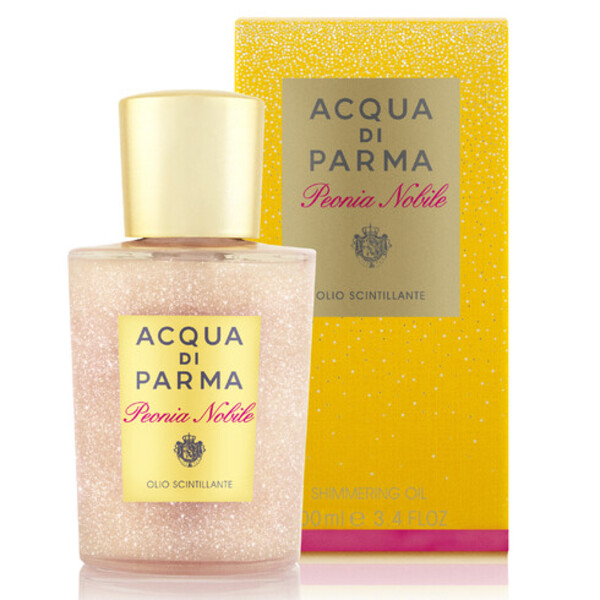 Pomegranate seed oil is regarded as a powerful antioxidant in skincare with plenty of moisturizing benefits too. For $95, you can experience it inside this shimmery body oil by Acqua di Parma, which is scented with an intriguing blend of black pepper, raspberry and peony accord, Egyptian geranium, Turkish rose, Indonesian patchouli, and musk.
Not only does this body shimmer deserve an award for scent, it also deserves recognition for the beautiful finish it leaves on the skin: sparkling, silky, and soft. In addition to pomegranate seed oil, the formula is enriched with jojoba oil and shea butter, as well as multi-reflective sparkles that provide a long-lasting effect.
#7 – French Girl Organics Lumière Bronzée Shimmer Oil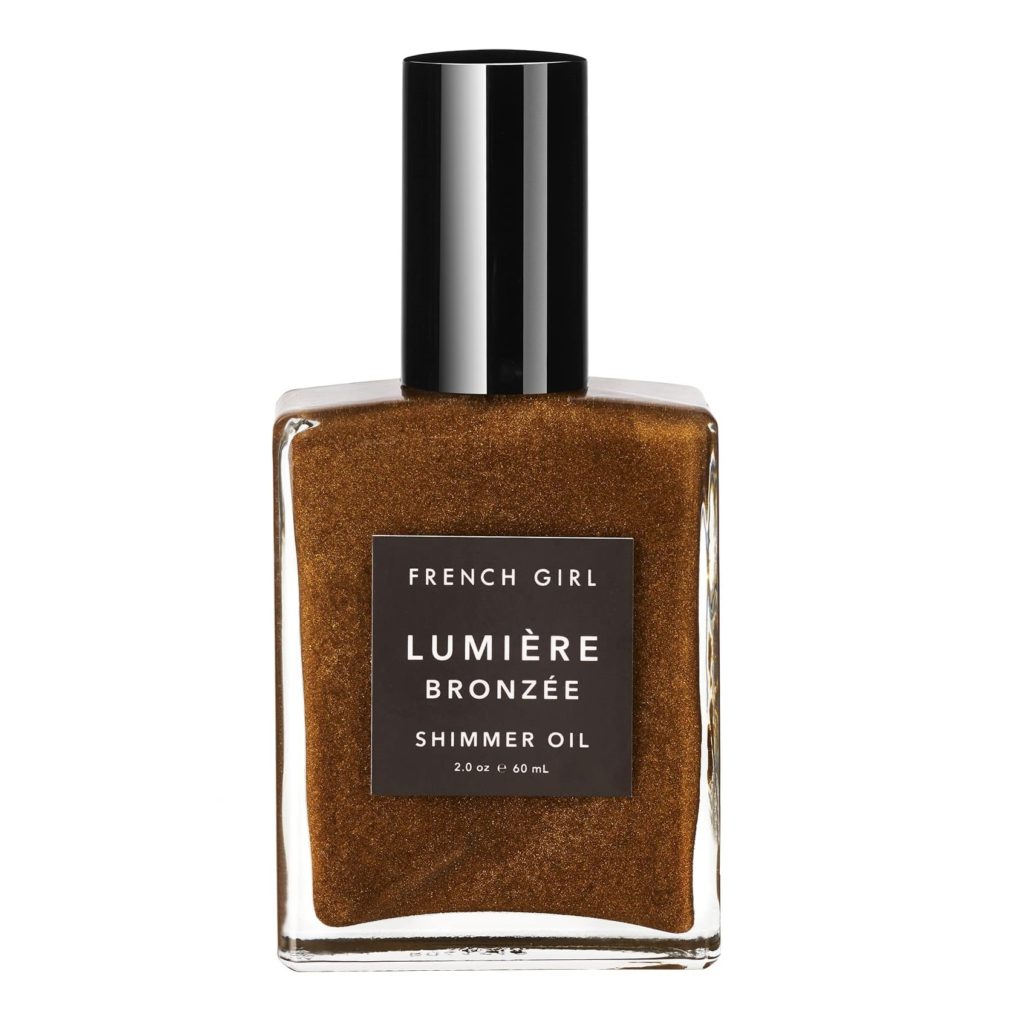 Legend has it that French girls do it best when it comes to skincare, and French Girl Organics might have confirmed that with this luxurious, shimmering dry oil for the body, face, and hair. Priced at $50, the formula is infused with mineral oxides, pigments, and fatty acid rich argan oil sourced from North Africa to protect skin from free-radical damage.
The Lumière Bronzée Shimmer Oil also contains shea butter to provide deep hydration. If you're not a fan of synthetic fragrances or have a sensitivity to them, the natural rose and sandalwood scent of this body shimmer is sure to delight your senses without causing any harm.
#8 – Charlotte Tilbury Supermodel Body Highlighter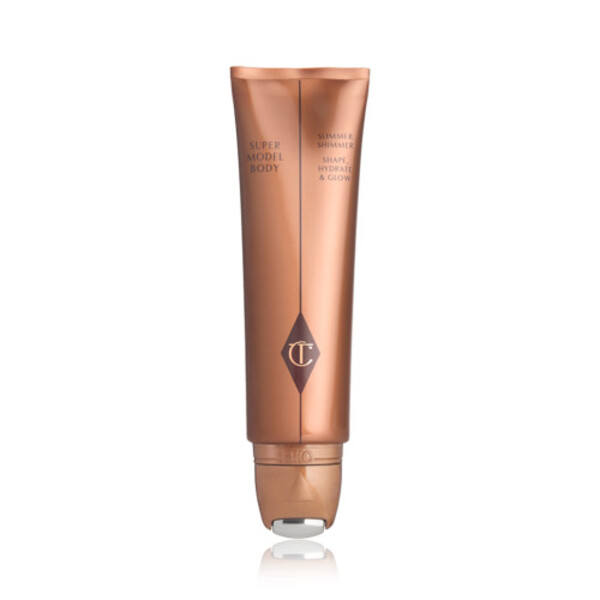 Charlotte Tilbury says that she poured all of her makeup artist secrets into this "genius" formula that contours your limbs. For $78, you'll finally be able to catch the light down the centre of them, the way a MUA would help you to.
Since it's Tilbury's favourite, the Supermodel Body Highlighter is about to become your go-to for post-holiday skin too. The star ingredients in this formula include dew-inducing wild pansy extract, hydrating hyaluronic acid, and firming caffeine. Get ready to make the pool deck your catwalk!
#9 – Sunday Riley Fairy Godmother Shimmering Body Oil Gel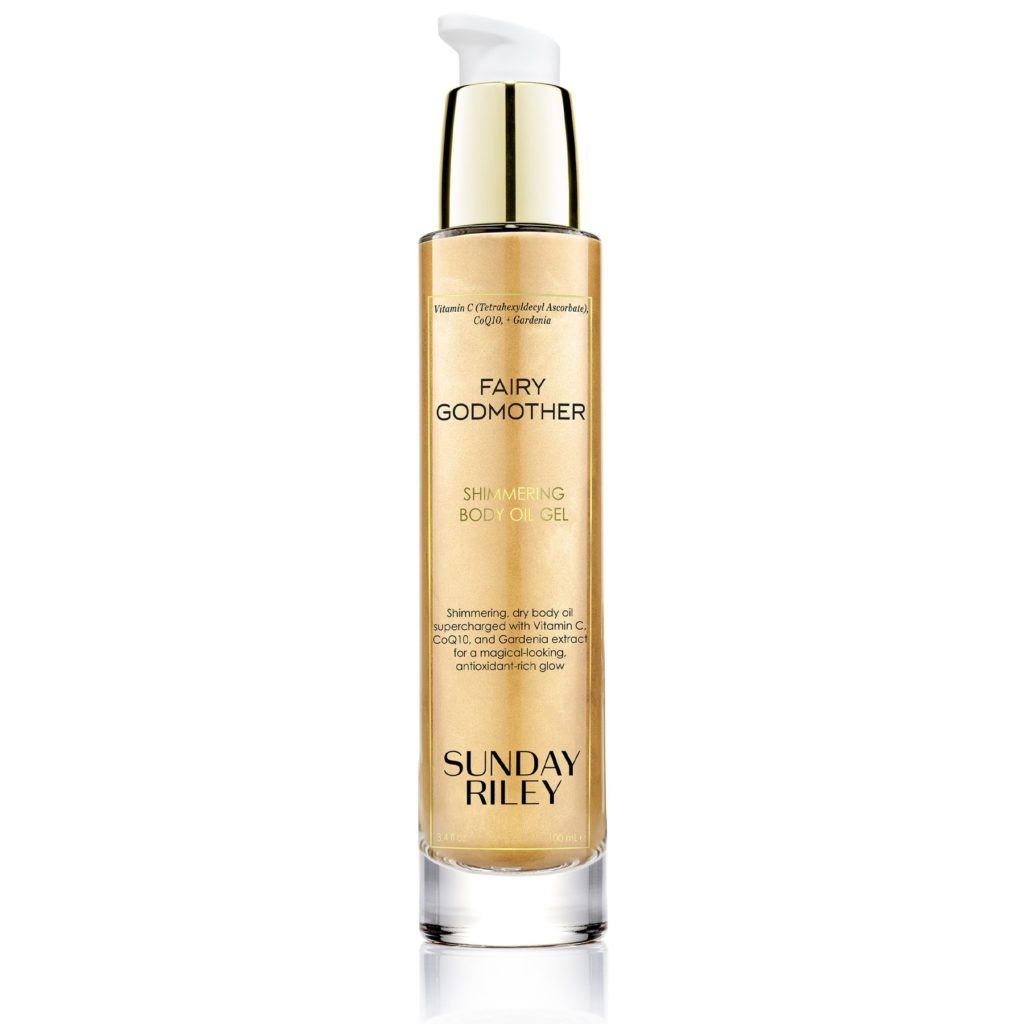 Calling all those with an aversion to oil: this dry body oil by Sunday Riley is here to save your tired summer skin. Priced at $48, the oil-gel formula instantly absorbs into the skin and gives off a golden shimmer, leaving no mess behind.
What makes this body shimmer special is the fact that it targets discolouration with a supercharged blend of vitamin C, antioxidant CoQ10, and moisturizing, tropically-scented Tahitian Gardenia extract. It covers all your bases: shimmer, hydration, and skincare.
#10 – Beautycounter Glow Shimmer Oil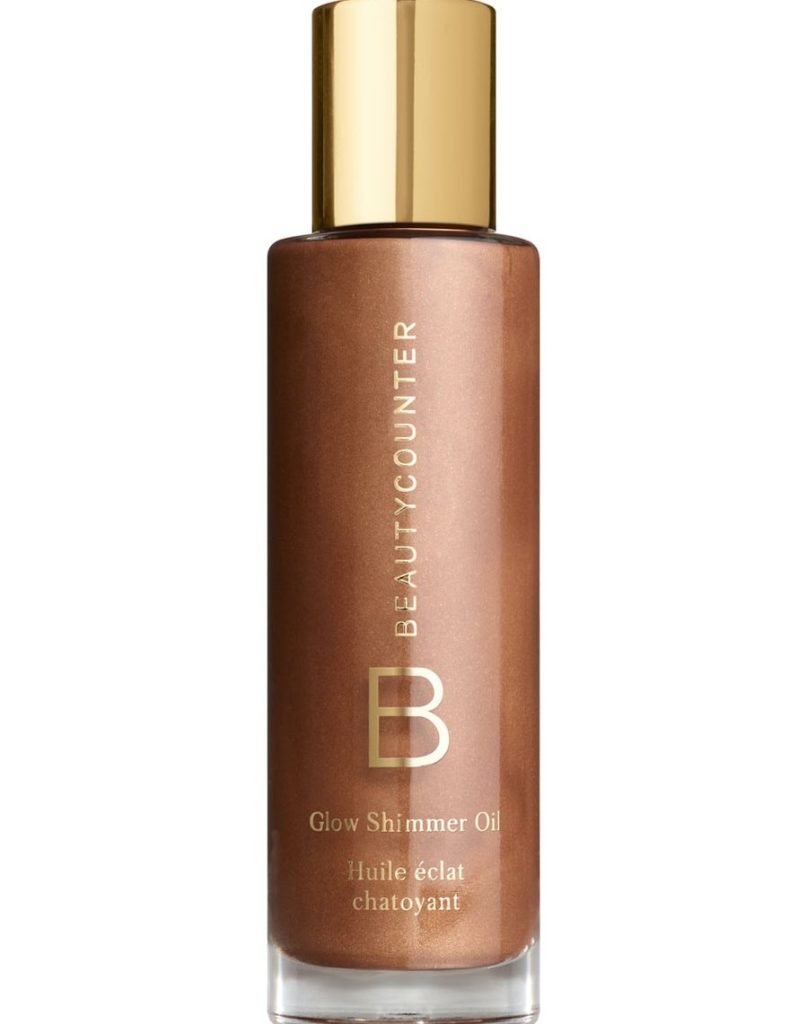 As a clean beauty brand that leaves more than 1,800 questionable or harmful chemicals out of its formulas, Beautycounter's products are generally more expensive. Except for this one! Now that it's on sale for $24.50, it seems like the perfect time to pick up the Glow Shimmer Oil.
This luxurious dry oil has high ratings in the texture department. Made with light yet nourishing jojoba, grapeseed, and sesame oils, it quickly absorbs into the skin and immediately delivers a more even glow. If you're looking for a worry-free body shimmer to throw in your beach bag or your purse, this one is worth the spend.
#11 – Anastasia Beverly Hills Shimmer Body Oil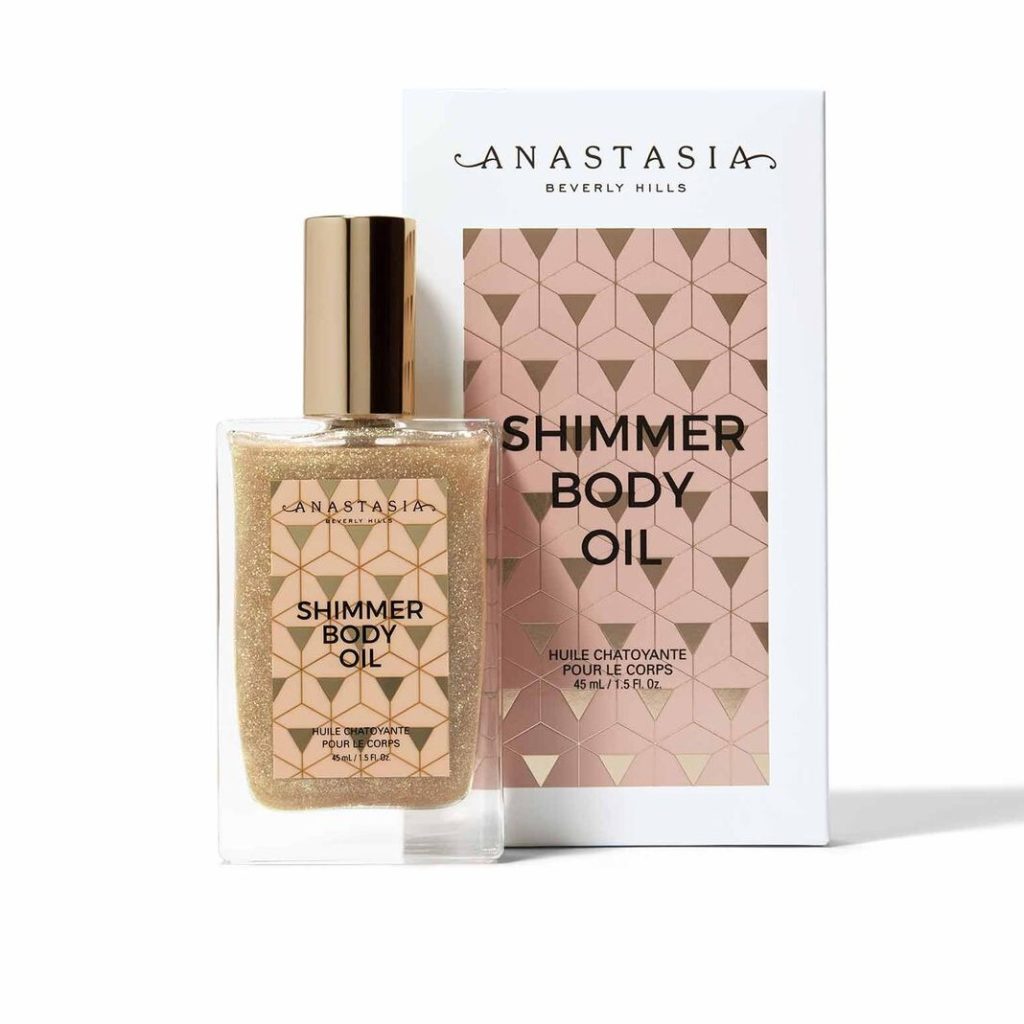 Anastasia Soare of Anastasia Beverly Hills is known for her brow enhancing products, but she's about to be famed for her Shimmer Body Oil too. At a reasonable $47, the formula feels and looks luxurious on the skin, without a heavy, greasy texture. If you're seeking a sun-kissed glow, the delicate shimmer this oil emits is exactly what you're looking for.
One of this product's best features is the super-fine mist, as it can be hard to control the amount of product you use from an open top bottle or squeeze tube. It covers the skin evenly and the sweet almond and jojoba seed oil infusion it contains softens the complexion.
The laidback coconut-vanilla scent will transport you to the Pacific, and for sensitive-skinned people, you don't have to worry – this body shimmer is dermatologist tested and noncomedogenic, meaning it won't clog your pores.
#12 – Kopari Coconut Body Glow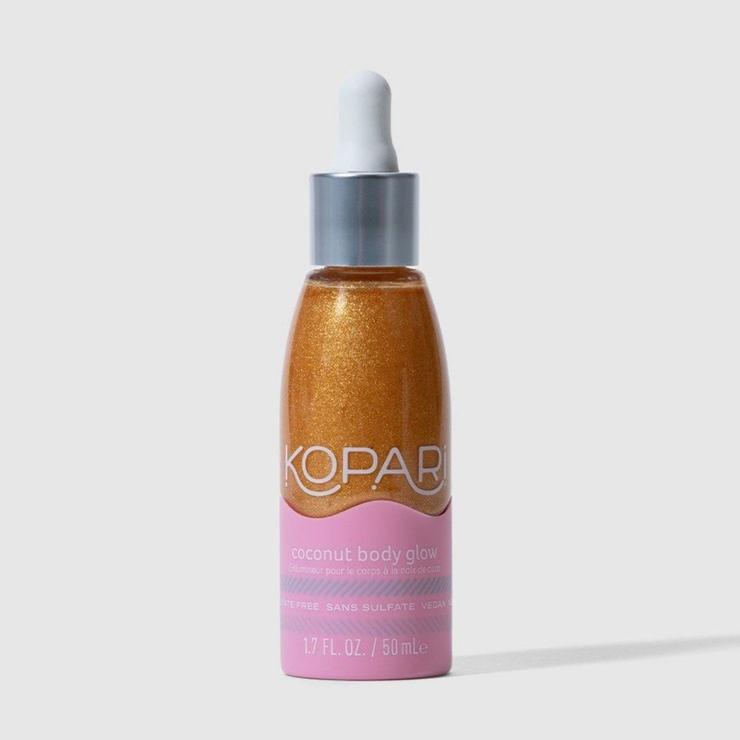 Every Kopari product starts with 100% pure coconut oil from small, sustainable family farms in Davao, Philippines. For $28, you get to experience all the benefits of that high-grade product in the Coconut Body Glow shimmer.
Using mica, a naturally pearlescent mineral that makes you sparkle in all the right places come bikini season, this emollient body moisturizer conditions you from head-to-toe with shea butter. A few drops will perfume your skin with a coconut-heavy gardenia scent, which is more than perfect for the summer.
#13 – Patrick Ta Major Glow Body Oil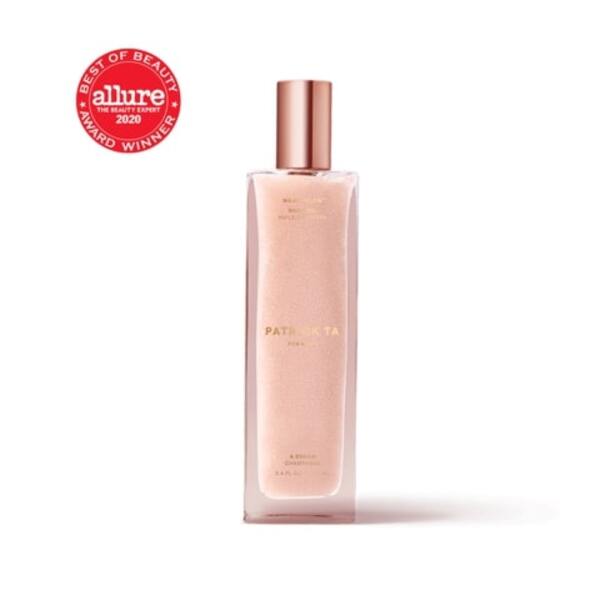 Makeup artist Patrick Ta did as good of a job formulating this body shimmer as he did the Major Glow Dewy Milk Mist. A luxe oil with an incredible perfume of jasmine and saffron, this $52 spray reaches every nook and cranny to produce a warm, luminous glow.
You can bet he didn't forget about the skincare aspect – the Major Glow Body Oil is made up of stabilized vitamin C – which absorbs neatly into the skin and supports a more youthful appearance – olive oil, and squalene. Essentially, it moisturizes and smoothes without the greasiness of your typical body oil.
#14 – ColourPop Cosmetics SOL Shimmering Dry Oil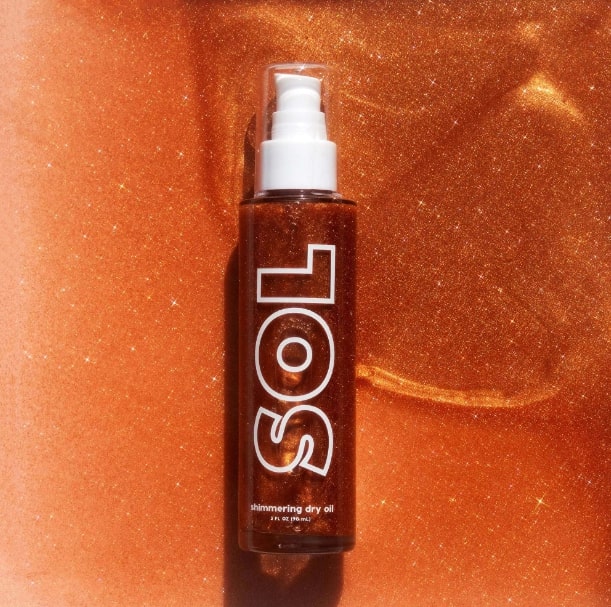 New to the ColourPop Cosmetics line, the SOL Shimmering Dry Oil is the most whimsical out of this bunch. At only $16, the lightweight dry oil formula feeds the skin with premium nutrients from coconut, argan, and marula oils. Did we mention that it gives off a multidimensional shimmer too?
Similar to many of the body shimmers included in this list, this glow oil is scented with an addictive tropical coconut aroma.​ The 16 different shades flatter all skin tones, and ColourPop offers something that most brands do not: unique pigments like 'mint julep' and 'sangria', which are more than ideal for summertime.
#15 – Josie Maran Whipped Argan Oil Illuminizing Body Butter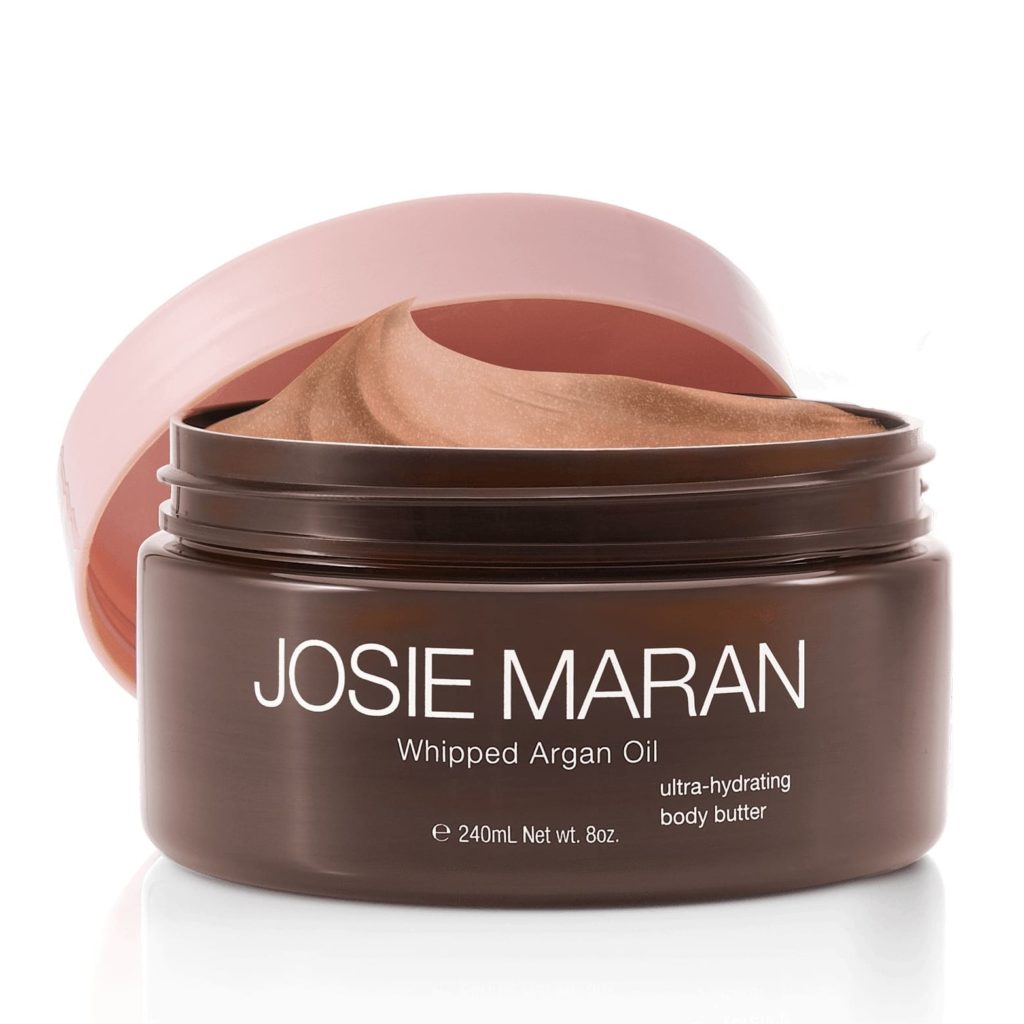 Since 2007, Josie Maran has been harnessing the power of 100% pure argan oil to create an impressive line of natural skincare products that work. Her $38 Whipped Argan Oil Illuminizing Body Butter has become a fan favourite for its creamy texture and elusive shimmer that makes the complexion look instantly more radiant.
Argan oil hydrates, nourishes, and replenishes essential fatty acids in the skin, which softens the appearance and texture. And while that's ideal for the summertime, so is the light vanilla-peach scent of this indulgent skin smoothie.
Which body shimmers are the most affordable?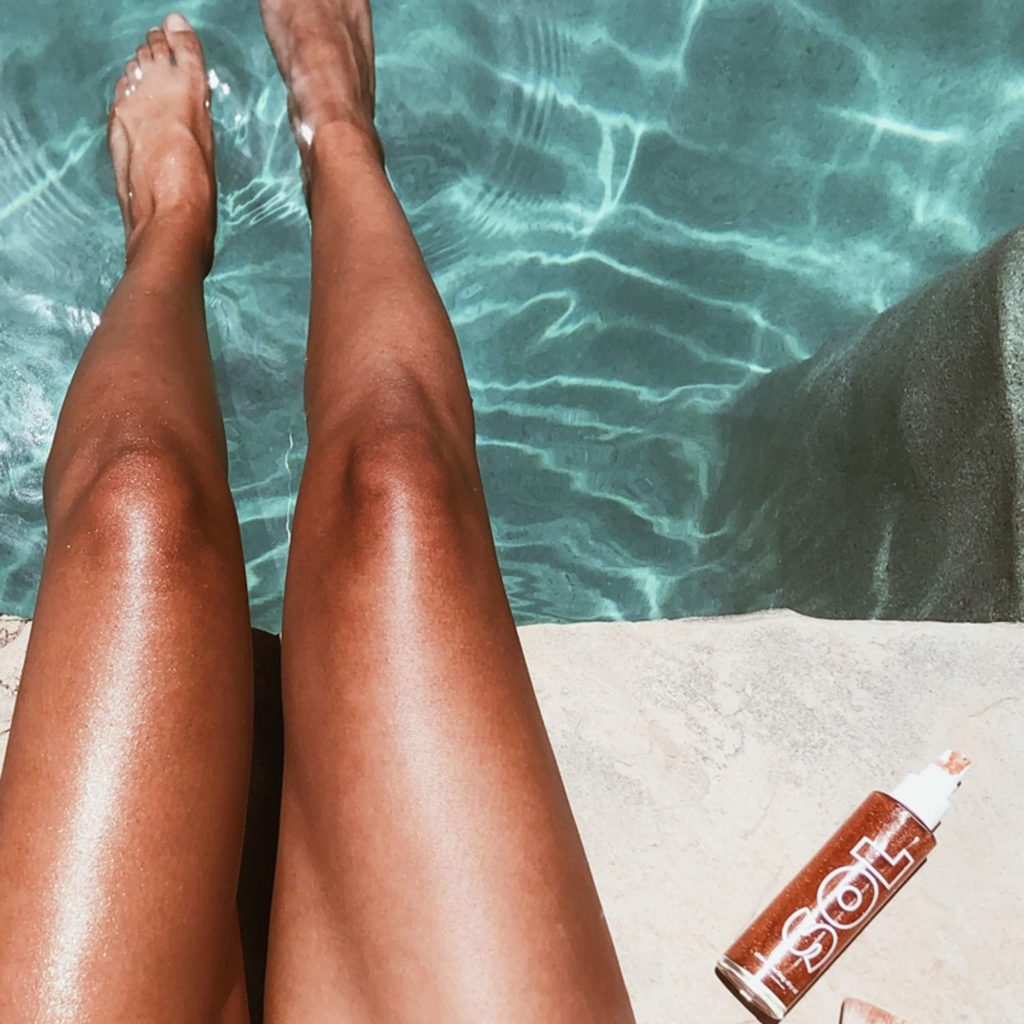 The majority of the body shimmers on this list are between $40 to $80 – not the most accessible price point. That said, the three most affordable body shimmers are Colourpop Cosmetics' Sol Shimmering Dry Oil ($16), Beautycounter's Glow Shimmer Oil ($24.50), and
Kopari's Coconut Body Glow ($28). Cost is a major factor to consider if you know you'll be using a lot of body shimmer this season.
Which body shimmers are best for light and dark skin tones?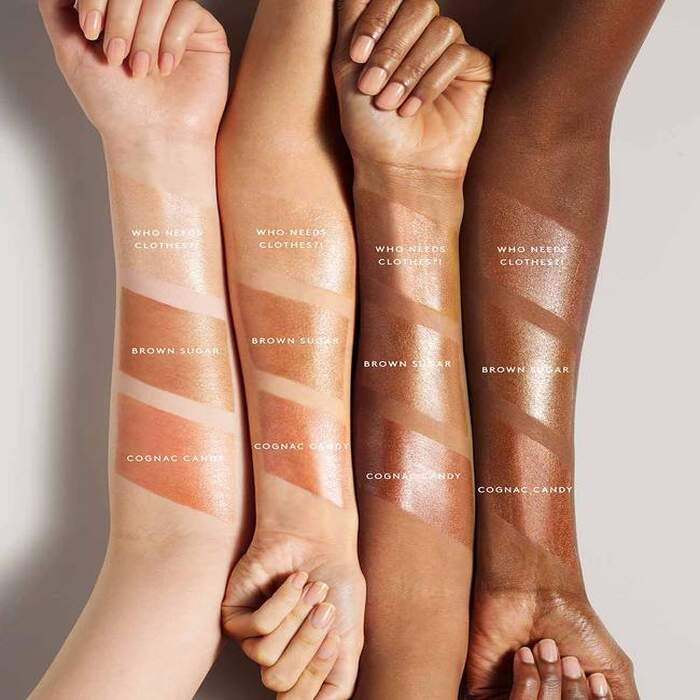 All of the body shimmers featured here are promoted as being "suitable for all skin types", but it really depends on what shade of tan/colour of shimmer you prefer. If you're looking to enhance your natural tan and wear a bit of glitter, some good options are Fenty Beauty's Body Lava in Brown Sugar, Kora Organics' Sunkissed Glow Body Oil, and French Girl Organics Lumière Bronzée Shimmer Oil.
Which body shimmers are best for sensitive skin?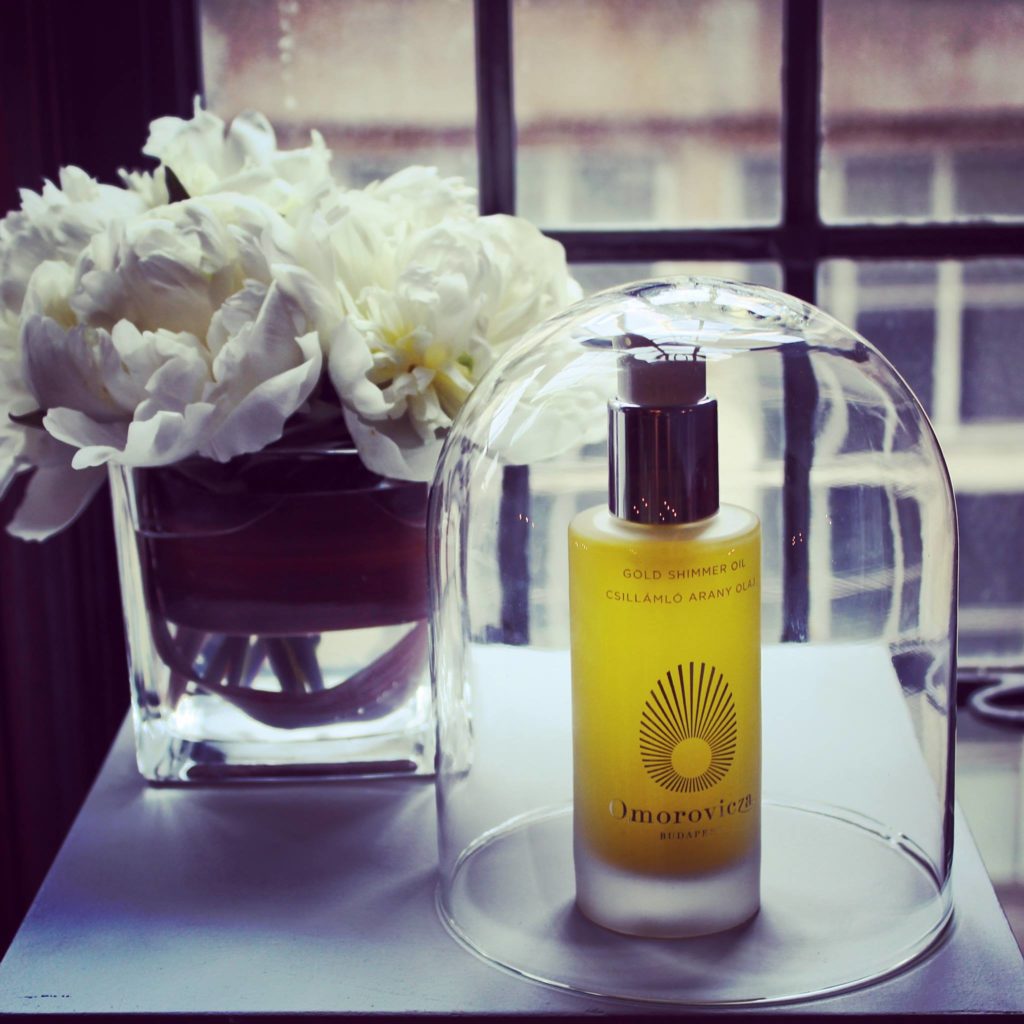 For sensitive skin, the best body shimmer may include soothing, calming ingredients such as calendula and aloe. There are times when everybody gets a little too toasty in the sun, and body shimmers can be a fun product to wear for extra hydration and protection. If you're in need of some healing, be sure to check out Omorovicza's Gold Shimmer Oil ($82).
Get Access to Exclusive Deals
Subscribe for free to get exclusive deals in your inbox. 100% privacy