15 Best Burberry Hoodies
With loungewear on the rise, it only makes sense that shoppers are looking to invest in high-quality, luxurious pieces.
And whether you're looking for something that's a little more streetwear than casual, or sleek and sophisticated, this list of the best Burberry hoodies is here with the breakdown.
We'll also share a few shopping tips to help get you started, as well as some styling tips and answers to important FAQs. By the end of our list, you'll be ready to invest in the best Burberry hoodies.
Finding the Best Burberry Hoodies
When you're shopping for the best Burberry hoodies, there are several things to consider to ensure you're getting the best bang for your buck.
The first thing to consider is the fit. If you're someone who lives in oversized hoodies and matching sweatpants, it makes sense to opt for a lengthier, baggier silhouette. And if you like something a tad more sophisticated, opt for a more fitted option.
In the same token, consider the style of the hoodie. Colors, patterns, and designs can all affect how the sweater looks, and it's important to opt for something that is in line with your daily attire so you'll be able to wear it as much as possible.
Of course, the material plays a crucial role in how the hoodie feels. If you live in a warmer climate, you may want to opt for a lightweight, breathable cotton or terry cloth.
And if you live somewhere a little cooler, try a thicker, heavier-duty fabric like wool.
Finally, the best Burberry hoodies are luxury pieces, so you should always set a budget and keep the price in mind.
The 15 Best Burberry Hoodies
Now that we've filled you in on all the important things to consider while you shop for the best Burberry hoodies, it's time to dive into the selection.
From oversized silhouettes to more fitted styles and plenty of colors to choose from, there's something for everyone.
Below, we'll share the details on the style, material, cost, and more, to give you an idea of which option deserves a spot in your list of closet essentials.
#1: Burberry Coordinates print oversized hoodie - Black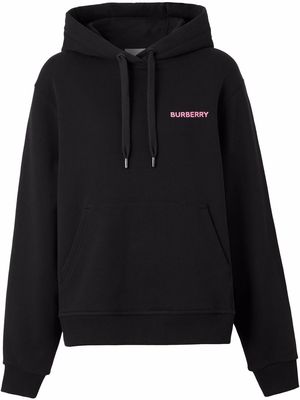 ---
#2: Burberry logo-print oversized hoodie - Black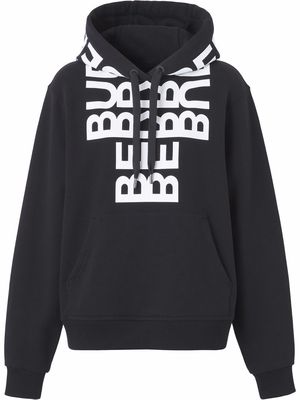 ---
#3: Burberry oversized checked hoodie - Black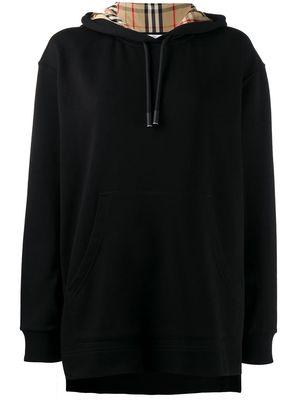 ---
#4: Burberry geometric panel hoodie - White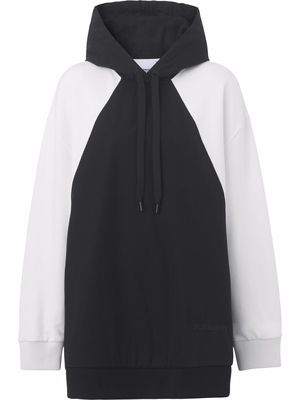 ---
#5: Burberry Horseferry-print cotton oversized hoodie - Orange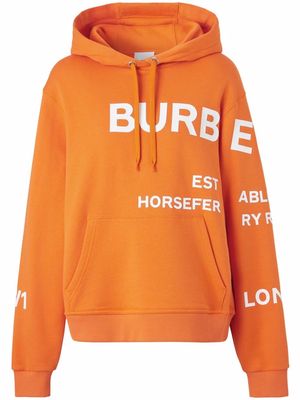 ---
#6: Burberry Horseferry-print hoodie - Black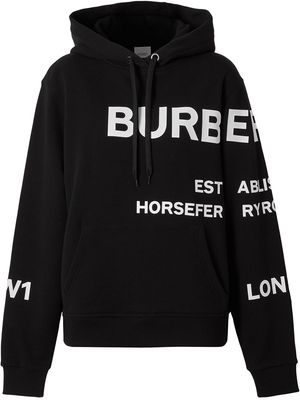 ---
#7: Burberry Horseferry-print cotton oversized hoodie - Neutrals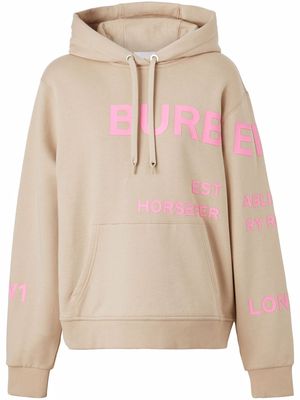 ---
#8: Burberry logo-embroidered hoodie - Black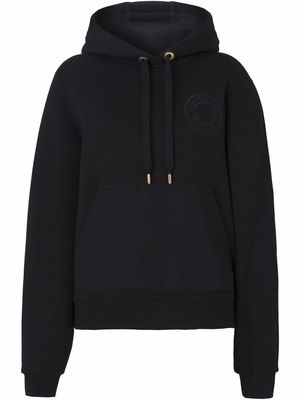 ---
#9: Burberry check-panel hoodie - Brown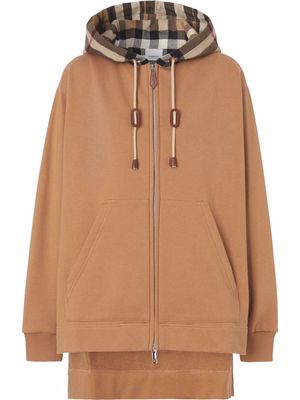 ---
#10: Burberry stripe detail knitted hoodie - Brown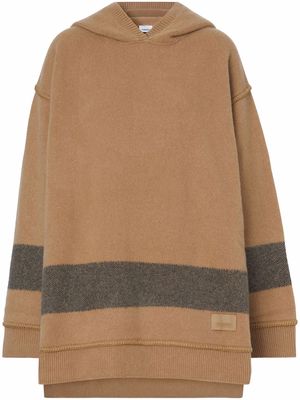 ---
#11: Burberry shark-print cotton hoodie - Blue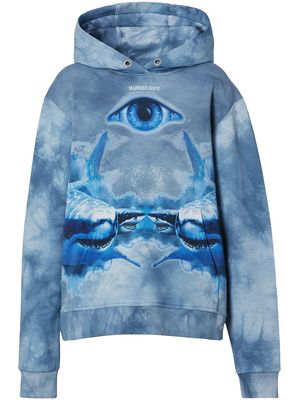 ---
#12: Burberry Horseferry-print cotton oversized hoodie - Brown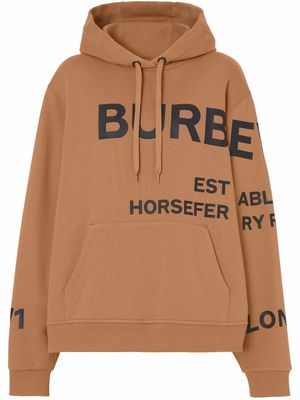 ---
#13: Burberry exposed-seam hoodie - Black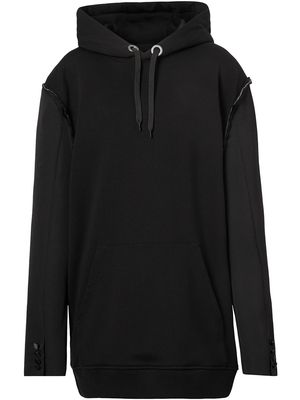 ---
#14: Burberry zipped cashmere-cotton hoodie - Grey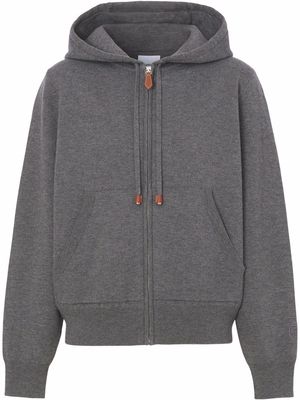 ---
#15: Burberry check-print hoodie - Brown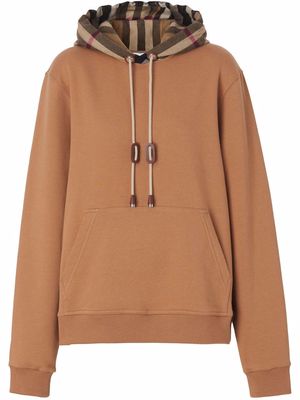 ---
What Are the Most Popular Burberry Hoodies?
Now that we've filled you in on the best Burberry hoodies, you may be wondering about the most popular options on the market. As it turns out, neutral shades and oversized styles are fan favorites.
They're easy to wear, timeless in design, and definitely a comfortable choice!
Do Burberry Hoodies Run True to Size?
Like many luxury brands, Burberry products tend to run a little on the smaller side. So, it's always important to check out the size chart on the label's webpage, try things on in store, or consider sizing up.
How Can You Tell If Burberry Hoodies Are Real?
While you should always shop for the best Burberry hoodies from legitimate retailers, we have compiled a few tips to help you authenticate the products:
The tag should be embossed with the classic "Burberry" logo.
The tag should also provide wash instructions and where the item was manufactured.
The serial number will be on the back of the tag.
Look for careful stitching and high-quality materials.
Where Are Burberry Hoodies Made?
While many of the best Burberry hoodies are made in Italy, some of the label's products are also carefully manufactured in factories throughout the world, including locations in China, Scotland, and England.
Are Burberry Hoodies Good Quality?
Known for its luxurious designs, Burberry also boasts good quality pieces. The label's hoodies feature thick, durable materials, high-quality stitching, and careful finishing touches that promise a long-lasting design.
Can Burberry Hoodies Be Unisex or Gender-Neutral?
The great thing about the best Burberry hoodies is that they are almost always unisex. The styles tend to be oversized and relaxed, with a boxy shape that is wearable for everyone.
That being said, there are also men's and women's sections on the Burberry website, so you can shop by feminine and masculine styles if you'd prefer. Remember to keep sizing in mind if you shop across the sections.
How to Style Burberry Hoodies
While the best Burberry hoodies elevate any casual look, there are a few different ways to wear them. Below, we'll share some inspo to help you get started.
Comfy and casual
All of the best Burberry hoodies can easily be paired with matching sweats and sneakers for an ultra-comfortable yet luxurious look. Opt for a bold color to keep things fun, or try a neutral for a more classy and minimal ensemble.
Sporty chic
The best Burberry hoodies can be a great option for workouts or chill days, meaning you can't go wrong with a pair of leggings and sneakers. Trade styles out depending on the look you're going for, whether that's bright and bold or neutral and simple.
---
Searching for the perfect Burberry item? We've got you covered:
Get Access to Exclusive Deals
Subscribe for free to get exclusive deals in your inbox. 100% privacy