11 Best Leather Sandals for Women
I'm sure you've been there, because myself, along with every other woman in my life, has. 'There' is where you've been walking around in your leather sandals for two seconds and your feet are already begging for you to release them from their prisons.
It is not a good place to be, but sometimes, you need to wear leather sandals because your Adidas slides are just too casual. There's an abundance of uncomfortable leather sandals on the market, which may lead many of you to be discouraged when it comes to finding a pair that won't leave you hurting.
Thankfully, we're here to help end the search. Our list of the best leather sandals for women is full of comfortable and stylish pairs that will not force you to sacrifice beauty for pain.
How to Choose the Best Leather Sandals for You
When it comes to choosing the right pair of leather sandals for yourself, you have to get the preliminaries out of the way. These are:
Style
Brand
Price
Material
Comfortability
Style
The chances are that when you are looking to buy sandals, you are looking for something you can wear every day for an extended period of time, during casual beach walks with your friends and upscale poolside lounge sessions.
There are so many styles of sandals to choose from: there are flip flops, slides, heels, wedges, open-toed, round-toed, square-toed, strappy, gladiator, and so much more. Our list is highly variable, including many different styles at many different price points. Some styles are easier to take on and off (think slides and flip flops), while others are fussier (gladiators and wedges).
Brand
High-quality leather sandals will feature sturdy yet flexible sole materials, comfortable and even cushioned insoles. Some brands produce aesthetic-oriented luxury sandals, such as Gucci and Bottega Veneta, while others produce more functional sandals, such as Dr. Martens and Birkenstock.
If you know what you want from a pair of sandals, it will be easy for you to determine the brand you need to shop from.
Price
Knowing your budget and exactly what you are investing in when you buy leather sandals is key to getting the most wear for your money. Replacing $1,000 sandals every three months is not feasible for many, so if you wear your sandals for every occasion, perhaps go the more affordable route with Dr. Martens, Birkenstock, or By Far.
If you are looking to invest in a pair of designer sandals that you may one day sell, look into which brands have the best resale value. According to TheRealReal, a couple of the brands that show up on our list of the best leather sandals hold the highest resale value (Gucci and Hermes).
Typically, luxury brands will boast better resale value than non-luxury brands, so if you are looking to invest and resell, that is important to consider.
Material
If you need a durable sandal, look for coarse leathers and rubbers, as these materials wear down a lot slower than others. If you want something a little easier on the feet, look for soft nappa leather.
When it comes to the insole, you'll want something moldable and soft, such as synthetic leather. There is nothing fun about walking around in too rigid shoes, so make sure you have ideas about which materials will bring you relief.
Comfortability
Some features make sandals more comfortable than others. The biggest culprits of uncomfortable sandals are straps that dig into the top of the foot or between the toes and lack arch support.
If you're strictly shopping for comfort over style, opt for a broader band that covers most of the foot, arch support, and make sure the sole is flexible and breathable like the options from Birkenstock and Dr. Martens.
Isabel Marant Black Lennyo Sandals, $675
Saint Laurent Tribute Flat Sandal, $775
By Far Bibi Bow Embellished Crinkled Glossed-Leather Sandals, $164
Bottega Veneta Lido Flat Sandals, $1,220
Hermes Oran Sandal, $630
Gucci Marmont GG Sandals, $595
Soludos Jenni Huarache Sandal, $187
Birkenstock France Oiled Leather Sandal, $160
Tory Burch Miller Sandal, $198
Dr. Martens Voss II Sandals, $123
Gabriela Hearst Flip Flop, $525
11 Best Leather Sandals for Women
Below are our top 11 picks for the best leather sandals for women. In each description, you'll find out more about each brand, details about the sandals themselves, and information about the prices (and sales!).
Hopefully, within this unique selection of leather sandals from all the top-performing brands, you will find something that caters to your needs.
#1 – Isabel Marant Black Lennyo Sandals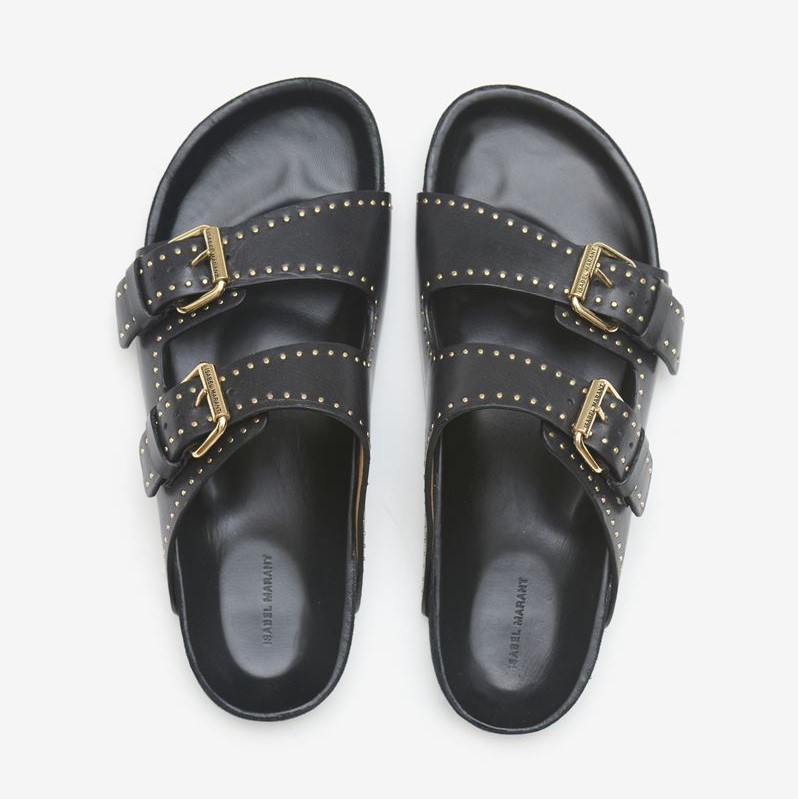 Isabel Marant is a French fashion designer who founded her eponymous label in 1995. Her brand produces footwear, clothing, jewelry, and accessories, all featuring Marant's signature boho flavor. Among many others, celebrities that have worn her styles include Kate Moss, Kate Bosworth, and Alexa Chung.
The Lennyo Sandals feature a black calfskin upper, detailed with silver studs, eyelets, buckles, and a tan-colored leather sole with rubber for grip. The Lennyo Sandals also have a logo-embossed molded footbed for comfort.
This pair of designer leather sandals screams Marant's style, which has an air of bohemian festival comfort. They're currently available for $675.
#2 – Yves Saint Laurent Tribute Flat Sandal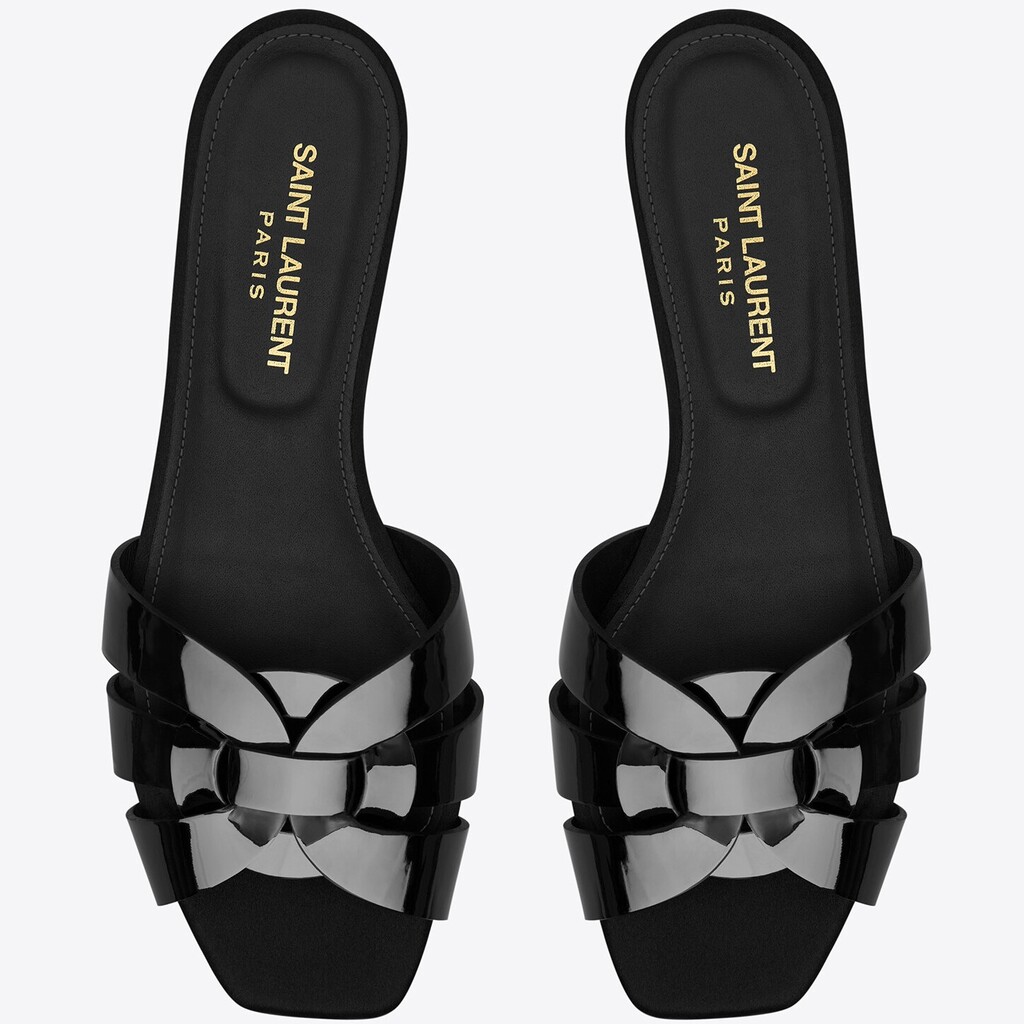 Yves Saint Laurent is French high-fashion executed with craftsmanship and expertise. Every YSL product has a sultry Parisienne vibe about it, particularly the brand's suits and shoes. The Tribute Sandal is a stunning example with its patent leather straps that are reminiscent of crochet.
These sandals are made entirely of leather, including the sole. They are slightly elevated with a 0.1-inch heel for added flair, and YSL recommends that you purchase your pair approximately half a size up, as they tend to run a bit smaller.
Find your pair in one of two colors – black or dark pink – on the YSL website for $775.
#3 – By Far Bibi Bow Embellished Crinkled Glossed-Leather Sandals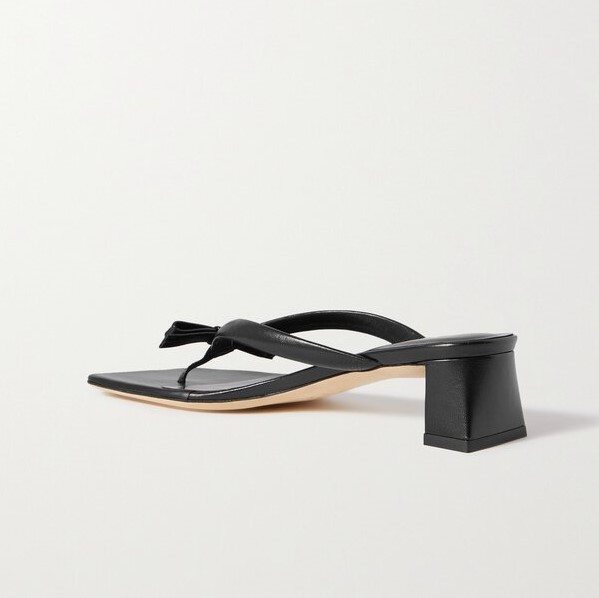 Founded in 2016 by Valentina Ignatova, Sabina Gyosheva, and Denitsa Bumbarova, By Far is a designer accessories brand that recreates classic silhouettes. The modern woman can be assured that nothing but the highest quality of responsibly sourced materials are used to make their products.
The Bibi's are influenced by 90s thong sandals, but they elevate the style to new heights with crinkled glossed leather, geometric block heels, and adorable bows. They fit true to size, and they are exclusively sold in one color: black. 
Typically, these sandals sell for $410, but they are now 60% off for $164!
#4 – Bottega Veneta Lido Flat Sandals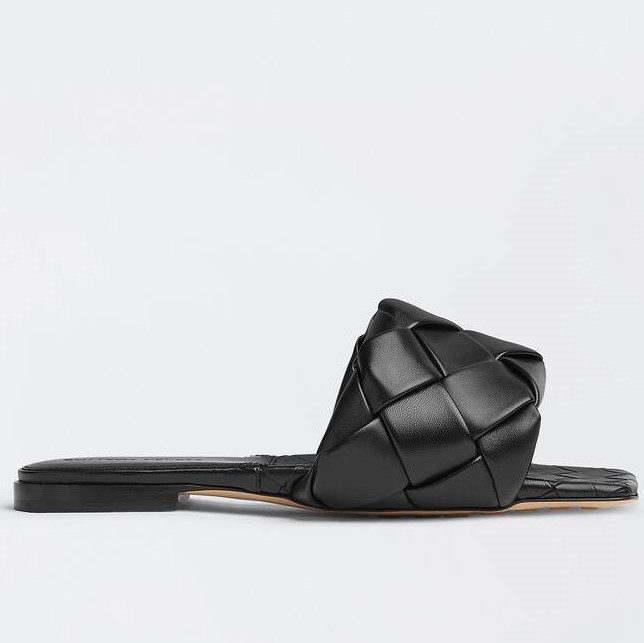 Bottega Veneta is a high-fashion brand known for footwear, accessories, clothing, and much more. The thing that makes them unique is the signature leather weaving pattern that they established called 'intrecciato'.
Intrecciato weaving is reminiscent of a checkerboard design with a luxurious, haute couture twist. That's what makes these sandals unmistakably BV.
The Lido features intrecciato in nappa leather on the upper portion of the sandal, a woven nappa insole, and a smooth cuoio outsole. These square-toed slippers with a slight heel are offered in 10 colors, including optic white, wisteria (lavender), and cane sugar (nude) for $1,220.
#5 – Hermes Oran Sandal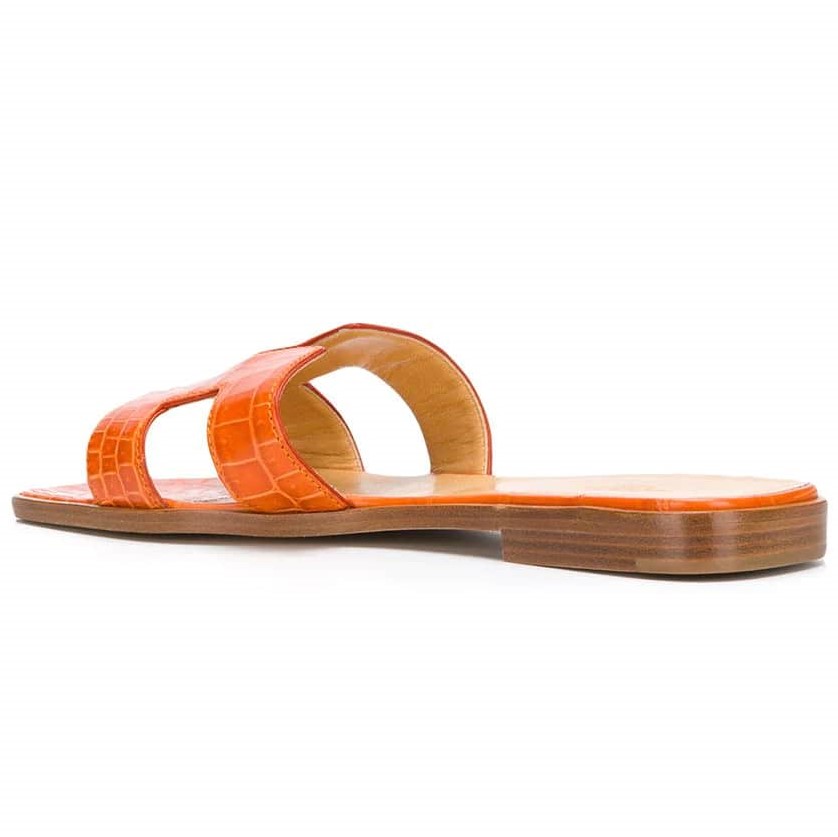 Hermes was the ancient Greek god of trade, wealth, luck, fertility, animal husbandry, sleep, language, thieves, and travel, but above all, he was known to be the messenger of Mt. Olympus.
The brand that shares his name began as a supplier of horse-drawn carriage accessories, which makes you wonder whether that connection – between the messenger god and travel essentials- is merely coincidental.
Since then, Hermes has expanded to include products of all kinds, including accessories, perfume, and leather goods. But traveling is all you'll want to do in the Oran Sandals, given their iconic silhouette that features a calfskin 'H' cutout on the band and a natural leather gold-lined sole.
Offered in 26 colors, including nude, white, and rose/fuschia, you can find your perfect shade for $630.
#6 – Gucci Marmont GG Sandals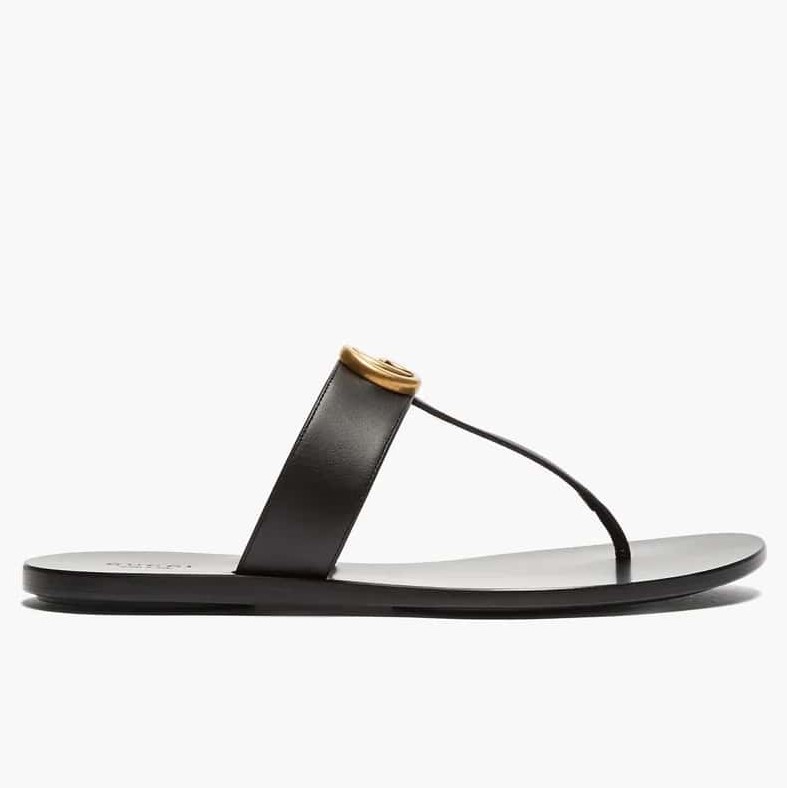 Gucci is a luxury fashion house based in Firenze, Italy founded by Guccio Gucci, hence the name. Collections from the brand include handbags, ready-to-wear, footwear and accessories, makeup, fragrances, and home decoration.
There are two signatures that Gucci is known for: the intertwining double 'G' logo and its famous red and green stripes. Unsurprisingly, the Marmont Sandals feature one of these signifiers, with a vintage-looking gold logo plaque on the vamp.
The round-toed slip-on sandals feature a logo embossed black leather footbed, a black leather midsole, and a black treaded rubber outsole. You can purchase them in their exclusive color, perfect pink, for $595.
#7 – Soludos Jenni Huarache Sandal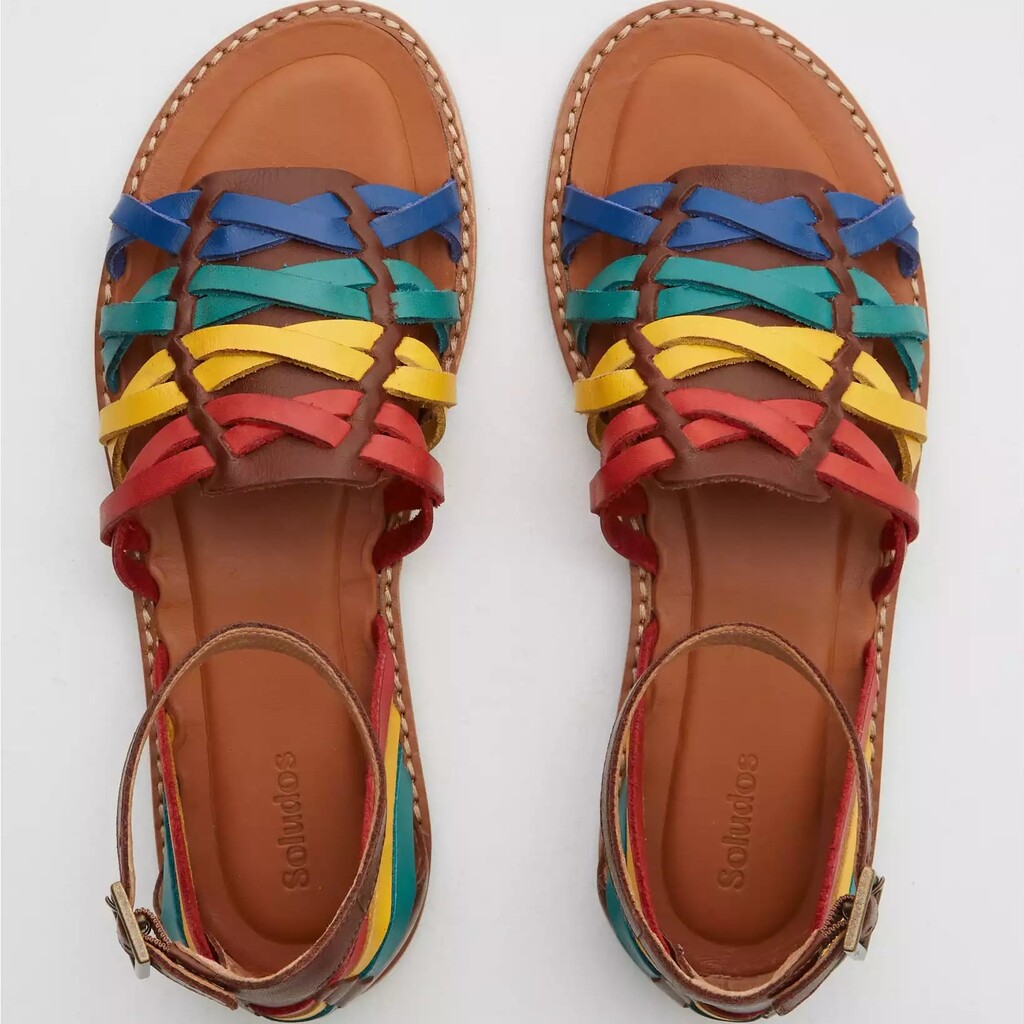 Founded in 2010 and based in NYC, Soludos produces shoes and accessories that are inspired by adventure and world travel. Soludos sandals all have something comforting and exotic about them, no matter how simple their design may be.
However, the Jenni Huarache Sandals are far from plain with their woven leather vamp that resembles traditional basket-weaving. These round-toed beauties are made from a leather upper with a rubber sole, and they feature a flirty ankle strap with a buckle closure.
For $187, they can be your new travel companion.
#8 – Birkenstock France Oiled Leather Sandal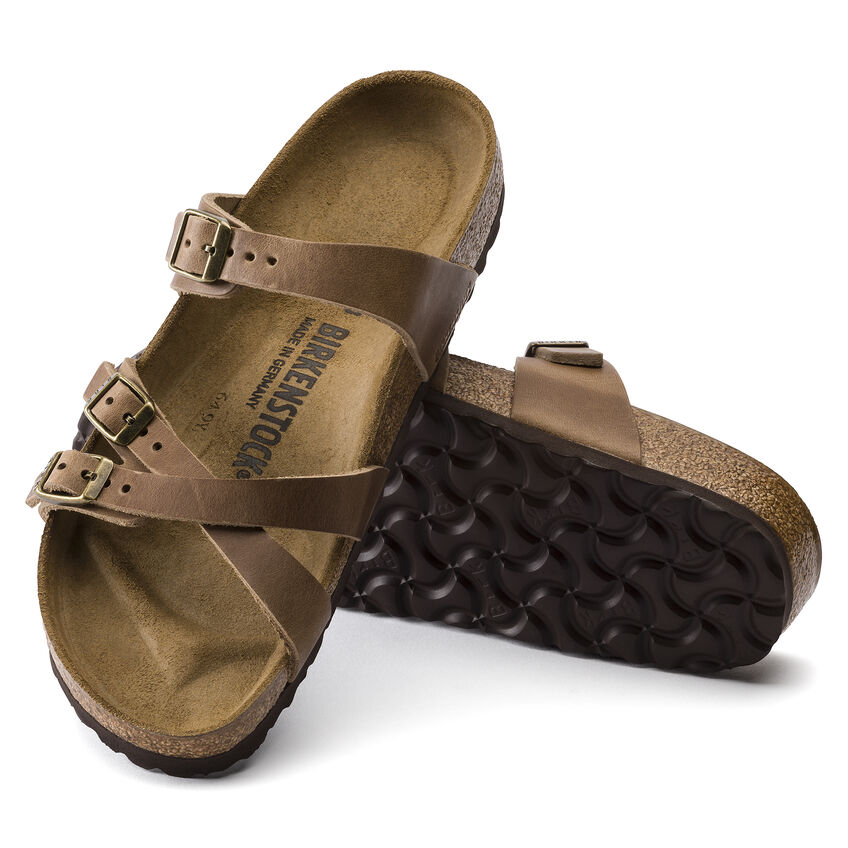 Birkenstock is a well-loved German footwear brand for its contoured cork footbeds made with layers of suede and jute, which conform to the feet. The France Oiled Leather Sandal has the signature look of a Birkenstock, but with the added allure of oiled leather.
This pair features a leather upper, leather insole, a cork footbed, and an EVA (ethylene vinyl acetate) outsole. Each of the three straps has a buckle, making the France Oiled Leather Sandal an entirely adjustable shoe.
Purchase these sandals in tobacco brown for $160.
#9 – Tory Burch Miller Sandal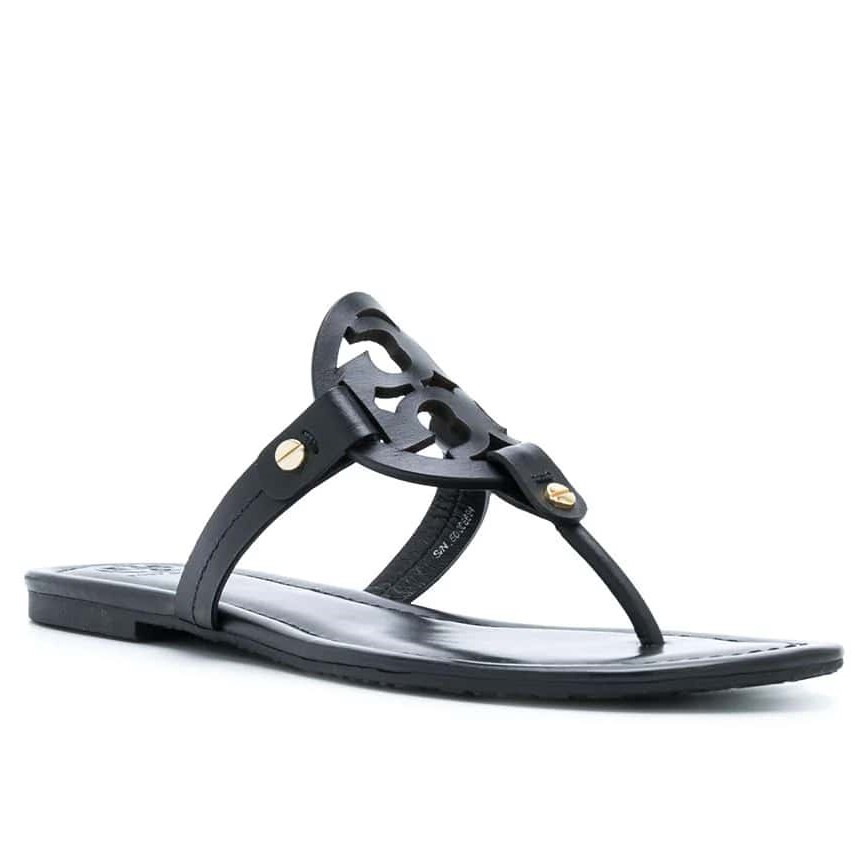 Tory Burch founded her eponymous label in 2004, and since its conception, has expanded to have nearly 300 locations worldwide. The NYC-based fashion brand sells all kinds of luxury items such as clothing, handbags, shoes, and accessories.
The Tory Burch logo – the double 'T' – appears on many of these items, including the Miller Sandal. The upper is made of leather and features a laser-cut double-T logo, a cushioned leather footbed with breathable foam, and a rubber outsole for grip.
Reviewers suggest that the shoe runs slightly small, so it might be best to go up half a size or a full size. Find the Miller in one of two colors – perfect black or vintage vachetta – for $198.
#10 – Dr. Martens Voss II Sandals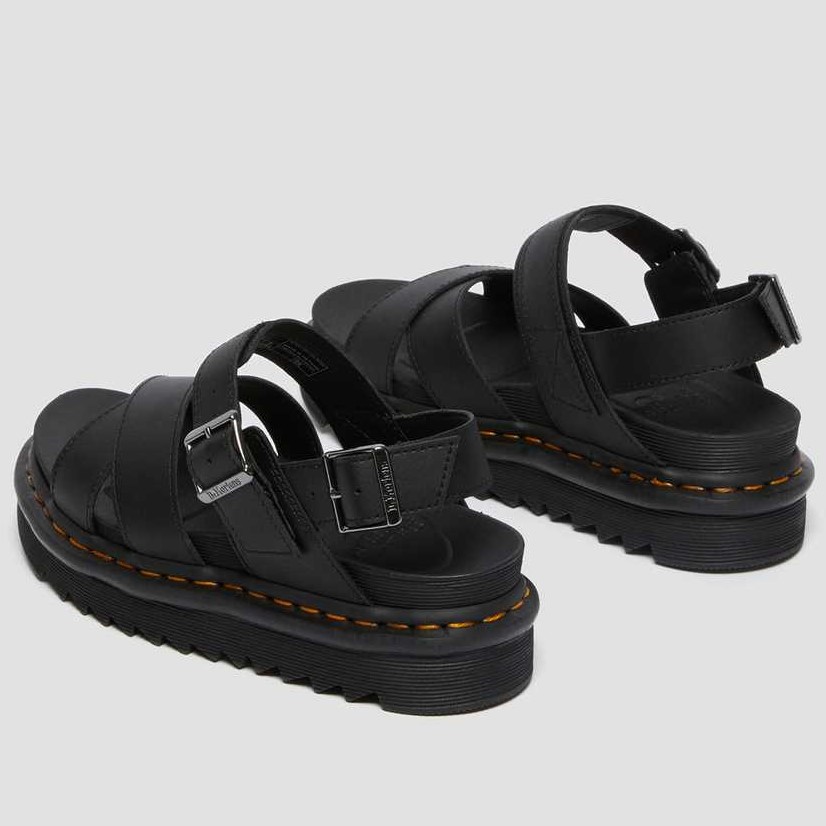 Dr. Martens, more commonly called Doc Martens, Docs, or DM's, is a British footwear and clothing brand known for producing boots that cater to individualistic, free-spirited people that express themselves through statement footwear.
What started as a modest and humble work boot became a staple piece in every edgy teen's wardrobe, including mine (I had these super chunky Docs with a huge Union Jack right on the toe).
The Voss II Sandals still maintain the edginess of a classic Doc boot but with a summer-friendly twist. Made from leather, rubber, and EVA, they feature adjustable crisscross straps, a lightweight, breathable sole with a ripple tread, and an ultra-sturdy Goodyear welt.
Similar to the brand's combat boots, these sandals will last you a lifetime for only $123.
#11 – Gabriela Hearst Flip Flop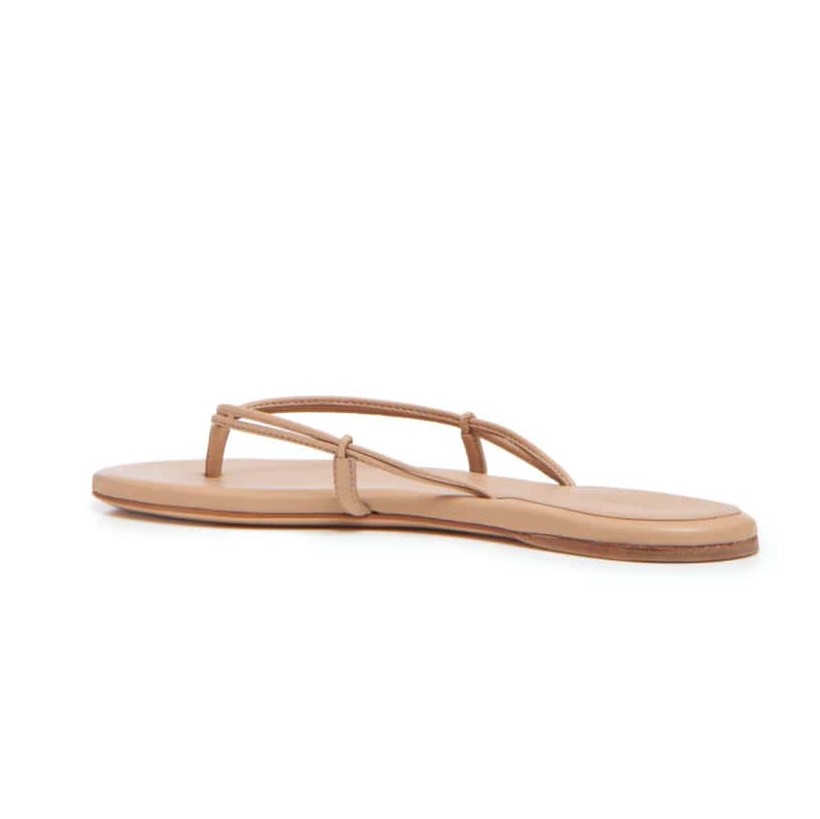 Gabriela Hearst produces women's luxury ready-to-wear pieces and accessories. When Gabriela Hearst (the designer) is not running her label, she operates her family's ranch based in Uruguay, making her quite the Jill of all trades.
The Hearst Flip Flop is a stylish Italian calfskin sandal that features a flat heel and a double rope thong. The pair fits true to size and is offered in dark camel (a nude-beige color).
Gabriela Hearst advertises these classic yet bohemian flip-flops for $525.
So, which leather sandals are most comfortable?
If you want to wear your sandals all day and all night long, then you'll want to select one of the most comfortable pairs on our list. First and foremost, Birkenstock takes the cake for the Most Comfortable Sandal because they provide tons of arch support with their cork and EVA design.
A close second would be Doc Martens for their leather, rubber, and EVA composition, adjustable buckles, breathable soles with ripple treads, and sturdy Goodyear welts.
Which leather sandals are most affordable?
The most affordable sandals on our list are the Doc Martens that carry a price tag of $123. The By Far ($164) and Birkenstock ($160) pairs come second and third. The remaining two that lie under the $200 mark are the Soludos ($187), and the Tory Burch ($198) flops.
Which leather sandals have the highest resale value?
Resale value is the amount of value a product retains upon being purchased and used. Many factors determine resale value, including the market demand for the product and precious materials.
Gucci has the best resale value of all, according to TheRealReal, followed by Hermes. The sandals made by Yves Saint Laurent and Bottega Veneta will also resell for a decent percentage of their original value in virtue of being made by big names.
How should I take care of leather sandals?
There are many suggestions online for taking care of your leather sandals, but by far, one of the most comprehensive guides is on Madewell. They suggest the following for keeping your sandals in pristine condition:
Before use, spray them with a protectant spray to help avoid stains.
After each use, wipe them down with a soft cloth to get rid of debris, then use a leather conditioner such as Lexol Leather Conditioner ($15).
Keep them away from water as much as you can because water can cause discoloration.
If they do get wet, let them dry outdoors in the shade. Dryers or direct sunlight can also damage the leather.
If they start to smell a little funky, sprinkle the insole with a bit of baking soda, then shake it off the following day.
Get Access to Exclusive Deals
Subscribe for free to get exclusive deals in your inbox. 100% privacy