10 Best Party Outfit Pieces for Women – SS23 Must-Have Pieces for Unforgettable Nights
The arrival of the SS23 season marks a pivotal moment in the world of fashion, as designers and fashion enthusiasts eagerly anticipate the emergence of new trends, styles, and sartorial possibilities.
As the temperature rises and nature bursts into vibrant life, it's time to embrace the fashion-forward energy and discover the best dress styles that will define your wardrobe this season.
Whether you're seeking an elegant ensemble for a formal event or a breezy dress for a casual outing, this guide will provide you with a plethora of options to suit your style.
10 Best Party Outfit Pieces For SS23
#1 – IRENE NEUWIRTH Swing Hoops 18-Karat Yellow And White Gold, Turquoise And Diamond Earrings
Irene Neuwirth's earrings are strung with teardrop-shaped turquoise pendants that look as though they're floating inside the diamond-encrusted hoops. They're crafted from 18-karat yellow and white gold and are truly one-of-a-kind, which makes them feel that much more special. Detach the pavé hoops to wear the huggies alone.
Highlights
Length: 5cm / 2in
Width: 3.5cm / 1.4in
Turquoise, total weight: 44.00-carats; brilliant-cut G-H VS-SI diamonds, total weight: 5.21-carats
Post fastening for pierced ears
#2 – CAROLINA HERRERA Ruffled Layered Silk-Faille And Tulle Mini Dress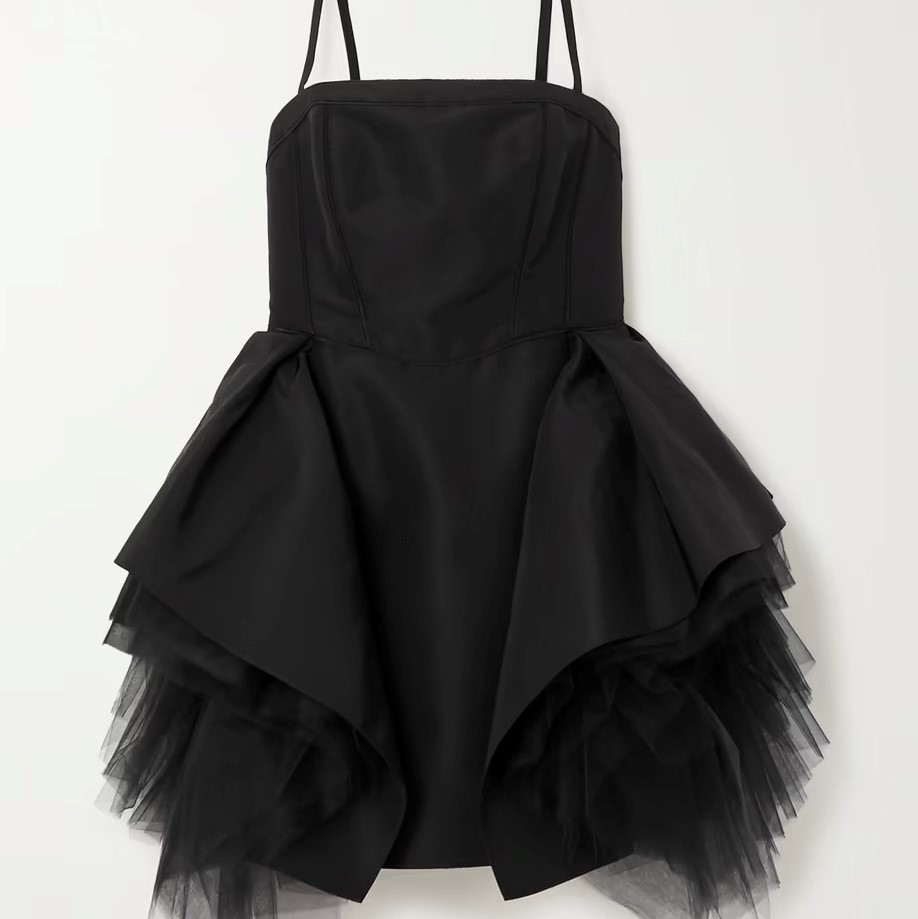 Couture craftsmanship has been at the heart of Carolina Herrera ever since the '80s; a commitment that current Creative Director Wes Gordon upkeeps. Unveiled on the Spring '23 runway in New York, this mini dress is cut from smooth silk-faille and defined by a corsetry-inspired bodice and dramatic ruffles made up of plumes of tulle. Mimic the show styling by pairing yours with colorful mules.
Highlights
Fits true to size, however those who are between sizes should take the smaller size
Those with a petite frame may wish to take a further size down
Intended to be fitted at the bust and waist, loose at the hip
Mid-weight, non-stretchy fabric
Black silk-faille and tulle
Concealed zip fastening along back
100% silk; trim: 100% nylon; lining: 100% polyester
Dry clean
#3 – NENSI DOJAKA Embellished Cutout Sequined Tulle Mini Dress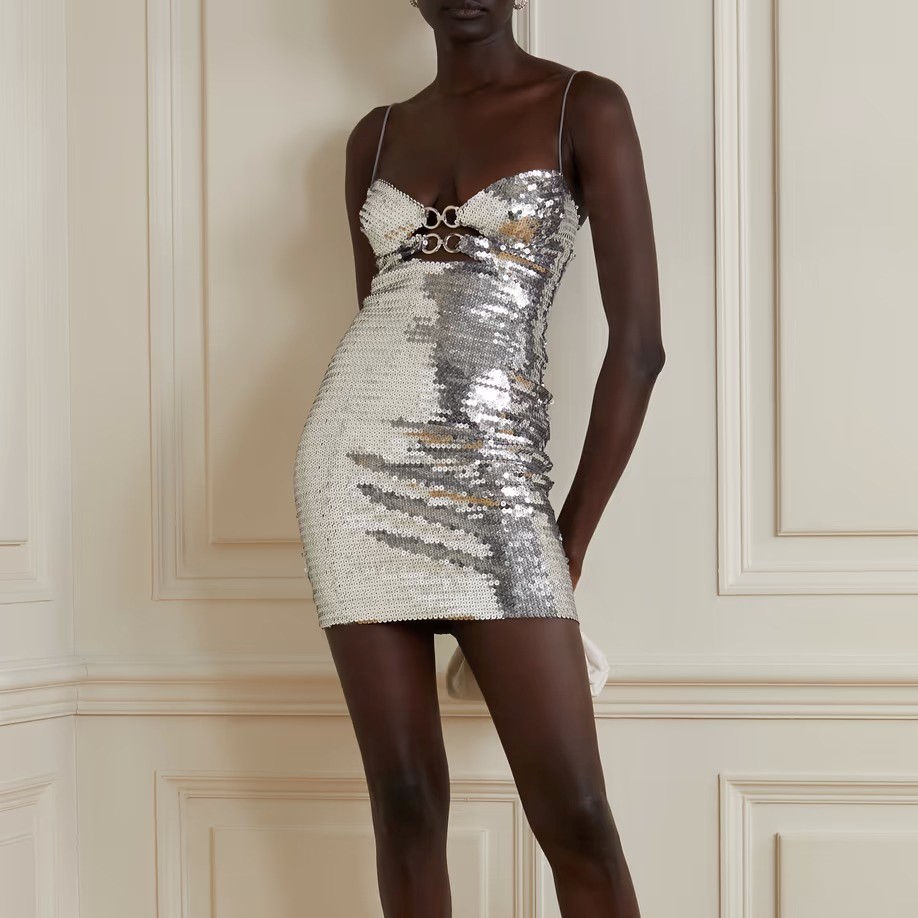 It's simply impossible not to stare at Nensi Dojaka's sequined tulle dress, so be prepared to have eyes on you all night long. A highlight from the Spring '23 runway, it has a figure-skimming silhouette fitted with supportive underwired cups and adjustable straps. The two cutouts are matched by a smaller one at the back.
Highlights
Fits true to size, however those who are between sizes should take the smaller size
Designed for a very close fit
Partially adjustable shoulder straps
Mid-weight, heavily embellished, slightly stretchy fabric
Silver sequined tulle
Hook and concealed zip fastening at back
60% polyester, 30% polyamide, 10% elastane
Dry clean
Made in Italy
#4 – GUCCI Broadway Crystal-Embellished Satin Clutch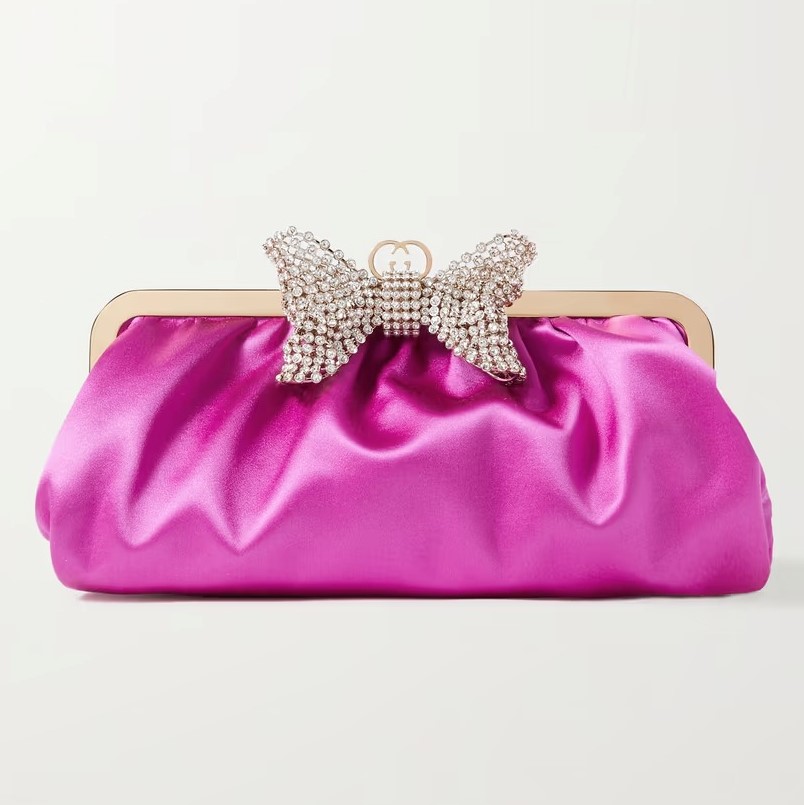 Gucci's 'Broadway' clutch is an easy way to elevate any outfit. Made from lustrous satin, it's framed by gold-tone hardware and features the brand's interlocking 'GG' motif and a crystal-embellished bow at the clasp. There's just enough space inside for your phone, cardholder and lipstick.
Highlights
Height: 11cm / 4.3in
Width: 27cm / 10.6in
Depth: 10cm / 3.9in
Fuchsia satin
Clasp fastening at top
This item has been imported
#5 – MAGDA BUTRYM Embellished Lace-Up Satin Sandals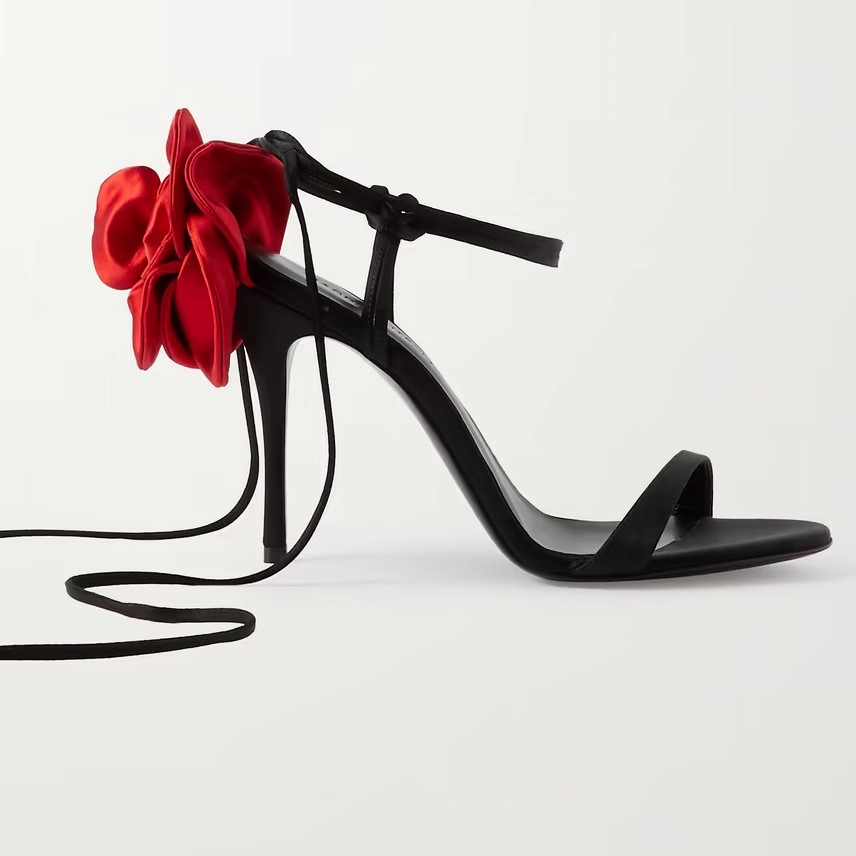 Magda Butrym's sandals flourish with a detachable rose at the toe and a fixed 3D bloom at the heel. They're made from lustrous satin with smooth leather soles. Make yours the focal point with a little black dress.
Highlights
Fits true to size, take your normal size
Italian sizing
Heel measures approximately 105mm/ 4 inches
Black and red satin
Ties at ankle
This item has been imported
#6 – VALENTINO GARAVANI Valentino Garavani VLOGO Leather Shoulder Bag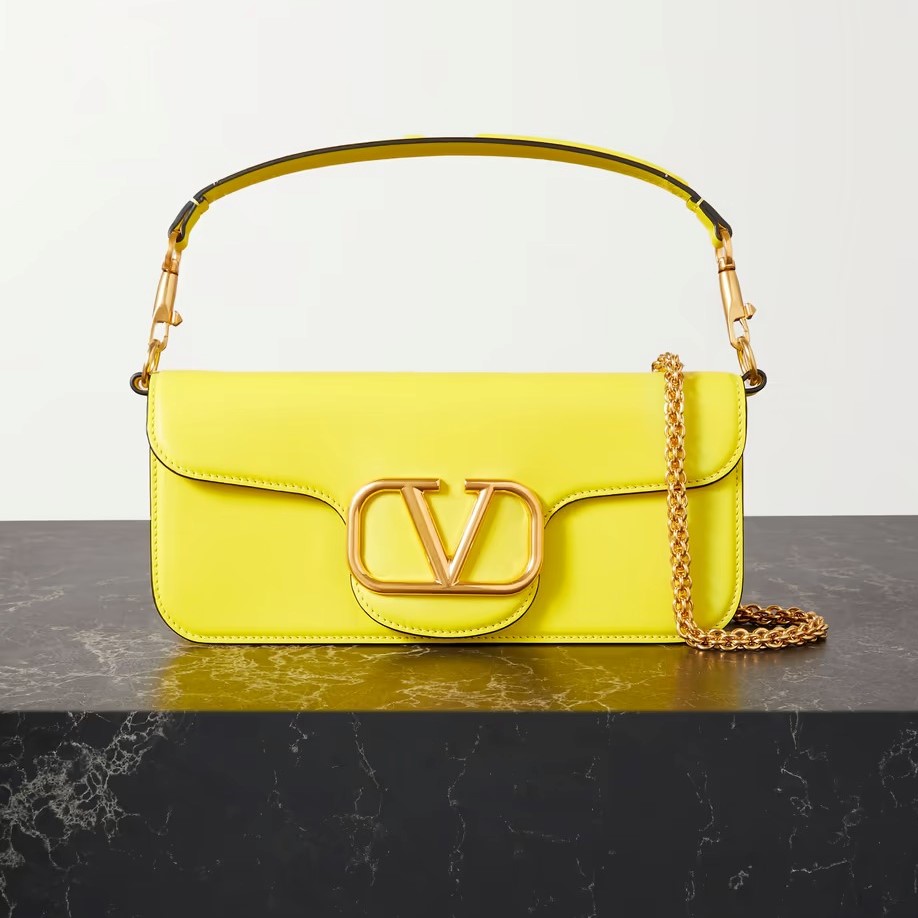 Elevate every outfit with Valentino Garavani's 'VLOGO' bag, which will draw attention wherever you go thanks to the 'Shocking Yellow' color. Crafted from supple leather, it's adorned with a gold-tone plaque and can be worn on the shoulder, crossbody or as a clutch.
Highlights
Handle Drop: 11cm / 4.3in
Depth: 7cm / 2.8in
Height: 11cm / 4.3in
Width: 27cm / 10.6in
Bright-yellow leather (Calf)
Snap-fastening front flap
Designer color: Shocking Yellow
Comes with dust bag
Weighs approximately 1.8lbs/ 0.8kg
This item has been imported
#7 – IRENE NEUWIRTH Candy 18-Karat Gold Turquoise Necklace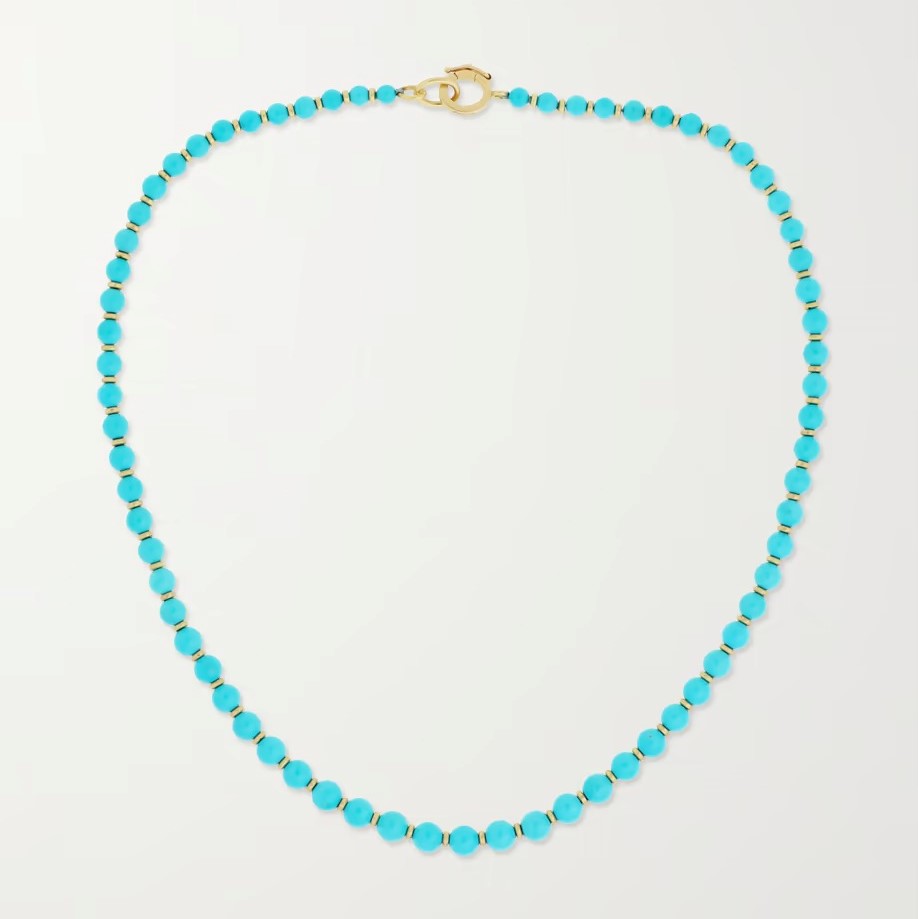 Irene Neuwirth's necklace is part of the label's 'Candy' capsule, which is filled with elevated versions of the colorful, beaded styles you might've worn as a child. It's handcrafted from 18-karat gold and strung with vivid turquoise beads, believed to symbolize wisdom.
Highlights
#8 – MARKARIAN Valerie Sequined Crepe Halterneck Midi Dress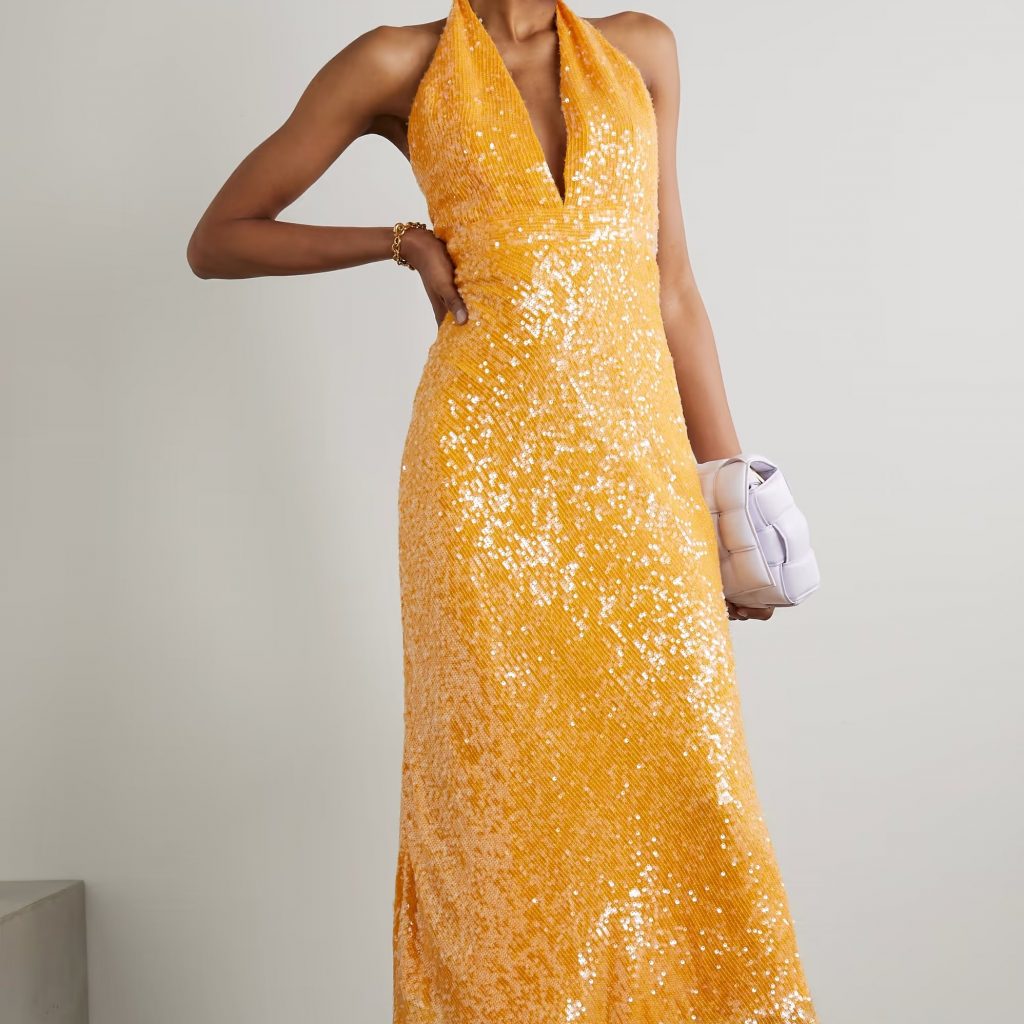 Markarian's 'Valerie' dress is embellished with scores of light-catching saffron sequins. The plunging neckline recalls the glamour of '50s and '60s Hollywood bombshells, like Marilyn Monroe and Sophia Loren. Take a cue from the Spring '23 show by complementing yours with dewy, natural-looking makeup.
Highlights
Fits true to size, however those who are between sizes should take the smaller size
Designed for a slim fit
Mid-weight, slightly stretchy fabric
Saffron sequined crepe
Concealed hook and zip fastening at back
100% viscose; lining: 100% silk
Dry clean
#9 – ALAÏA Leather Flared Pants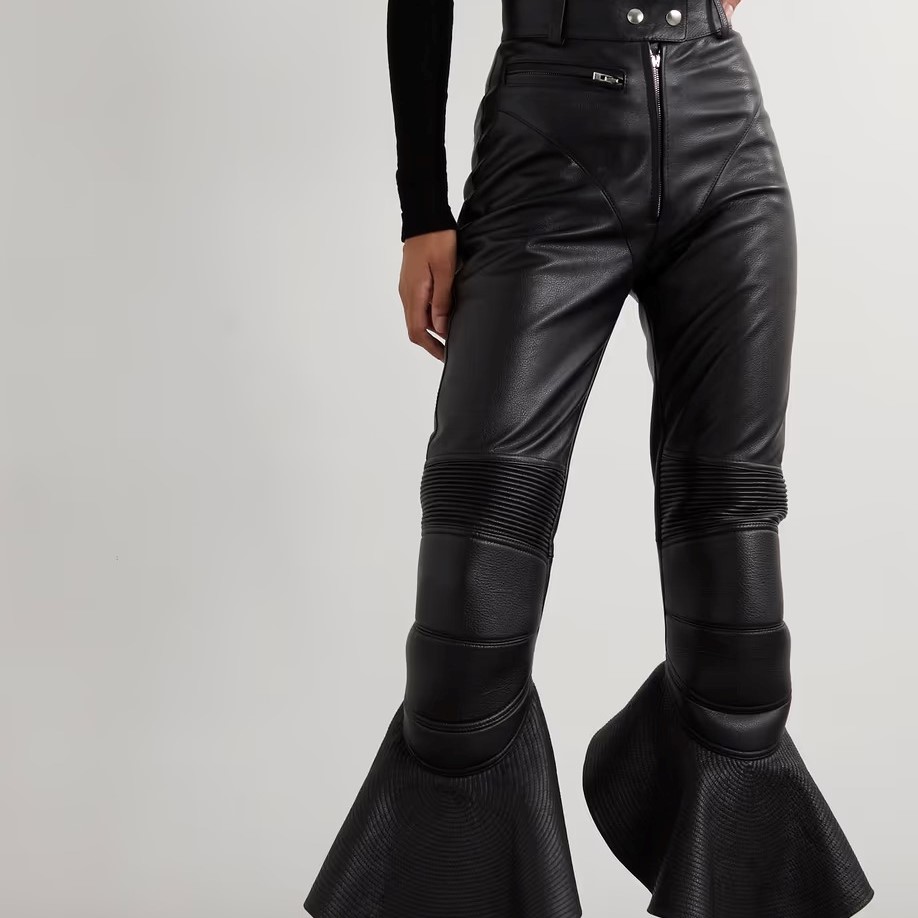 Sculptural silhouettes were a hallmark of Azzedine Alaïa's, a legacy continued by Creative Director Pieter Mulier. Cut from buttery leather, these biker-inspired pants have a slim fit with voluminous, flared hems. Complete the look with chic stilettos.
Highlights
Fits true to size, take your normal size
High-rise, cut for a slim fit with a flared hem
Supple, non-stretchy leather
Black leather
Zip fastening at front
100% leather (calf); lining1: 65% viscose, 35% polyester; lining2: 100% cotton
Specialist clean
Made in Italy
#10 – ZIMMERMANN Wonderland Embellished Ruffled Linen And Silk-Blend Gauze Gown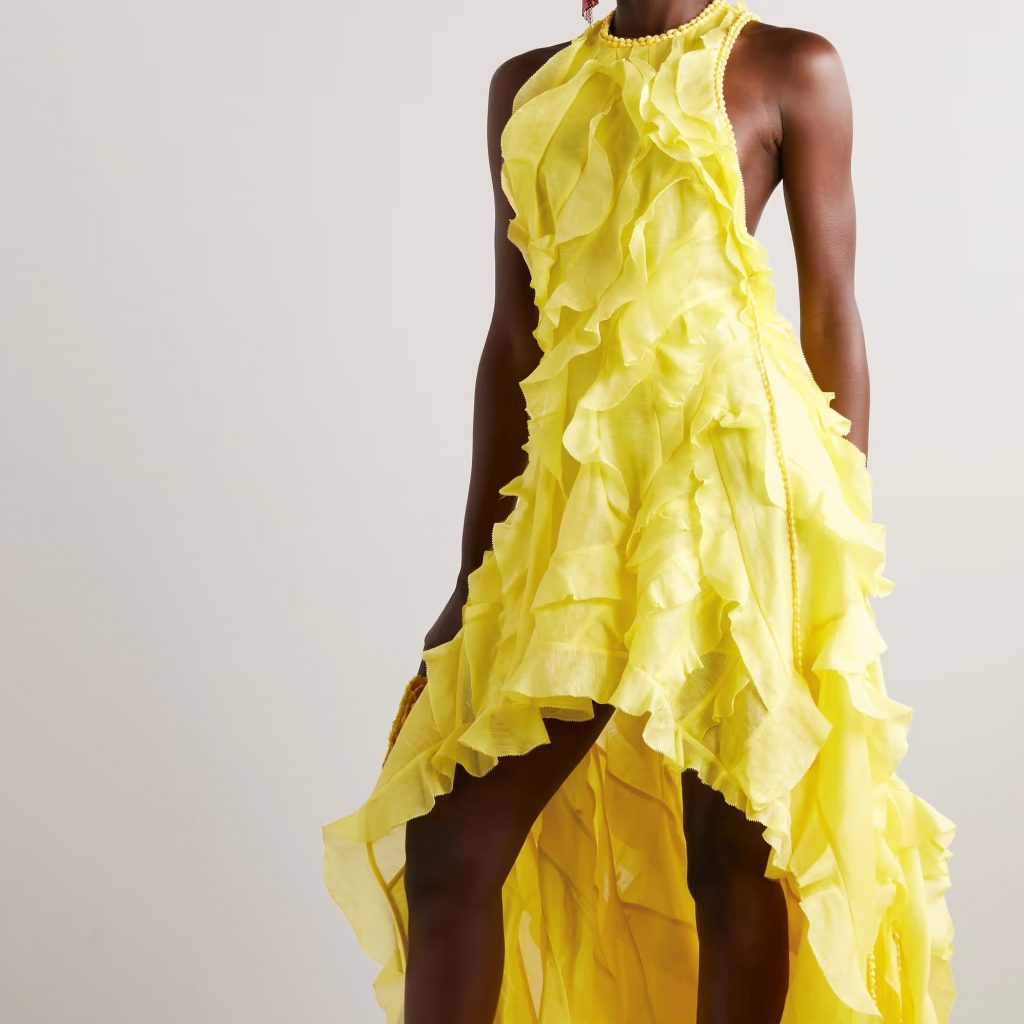 Zimmermann's 'Wonderland' gown is made from linen and silk-blend gauze and traced with frothy ruffles that move prettily when you walk. The neckline and armholes are framed with shells that extend all the way down to below your knees. Keep your makeup and accessories on the simple side.
Highlights
Fits true to size, take your normal size
Designed for a slim fit
Lightweight, heavily embellished, non-stretchy fabric
Yellow linen and silk-blend gauze
Concealed zip fastening along back
52.5% linen, 47.5% silk; lining: 100% cotton
Dry clean
Designer color: Lemon
Shell: China
This item has been imported
How to Shop for the Best SS23 Dress Guide
Choosing the best SS23 dress guide requires a thoughtful approach to ensure you find a comprehensive resource that suits your needs and preferences.
Here are some key factors to consider when selecting the ideal guide:
Reliability and Credibility: Look for dress guides from reputable sources, such as established fashion publications, renowned fashion bloggers, or trusted fashion websites. Make sure the guide is written by knowledgeable experts who have a deep understanding of the fashion industry.
Coverage of Trends: The best SS23 dress guide should cover a wide range of trends and styles that are relevant to the current season. It should provide a comprehensive overview of the key dress styles, colors, patterns, and fabrics that are popular during SS23.
Visual Inspiration: A good dress guide should include high-quality visuals, such as images or illustrations, to help you visualize the dresses and their details. Visual references can be highly influential when making fashion decisions, so ensure the guide offers ample visual inspiration.
Versatility: Look for a guide that caters to a diverse range of occasions and personal styles. It should feature dress styles suitable for various events, such as formal gatherings, casual outings, or summer parties. Versatility ensures that you can find dresses that align with your specific needs.
Practical Tips and Advice: The guide should go beyond showcasing dresses and provide practical tips and advice on how to style and accessorize them. Look for information on suitable footwear, accessories, and makeup to complement the dress styles. This will help you create cohesive and polished looks.
User Reviews and Recommendations: Before committing to a particular dress guide, consider checking user reviews or recommendations from other fashion enthusiasts. Their feedback can offer insights into the guide's usefulness, accuracy, and overall quality.
Personal Preference: Ultimately, the best dress guide is one that resonates with your personal style and preferences. Consider your own taste, body shape, and comfort level when assessing the showcased dress styles. Opt for a guide that aligns with your fashion sensibilities and makes you excited to experiment with new looks.
By considering these factors, you can choose a reliable and informative SS23 dress guide that not only provides inspiration but also helps you make informed fashion choices throughout the season.
Enjoy exploring the latest trends and selecting the dresses that make you feel confident and fabulous!
Conclusion:
As we conclude our journey through the Best SS23 Dress Guide, we hope that this comprehensive resource has inspired you, offered valuable insights, and guided you towards finding the perfect dresses to elevate your style this season.
The SS23 fashion landscape is a rich tapestry of creativity, innovation, and individuality, and we have strived to capture its essence within these pages.
Remember, fashion is an adventure meant to be enjoyed, so be open to exploring new trends, discovering emerging designers, and embracing the unexpected.
Get Access to Exclusive Deals
Subscribe for free to get exclusive deals in your inbox. 100% privacy