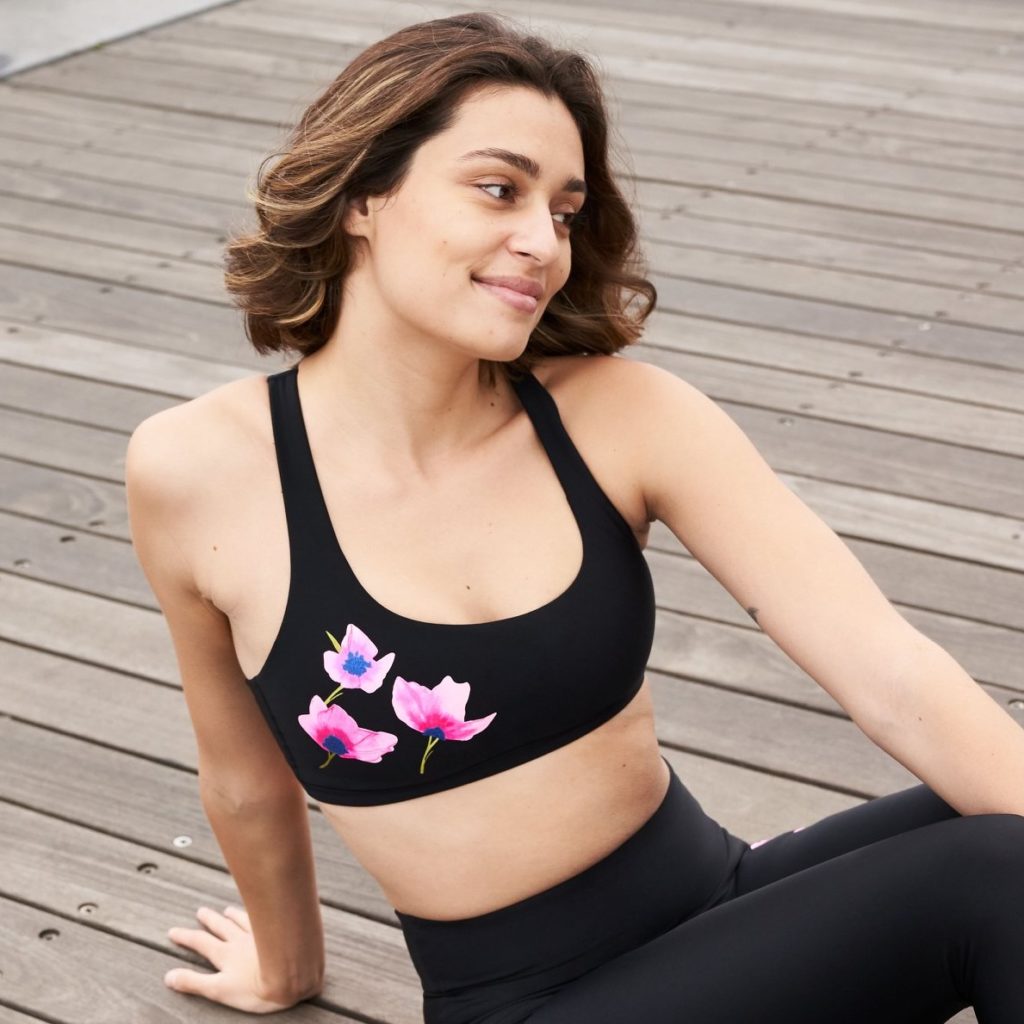 As temperatures climb, clothing gets lighter, which means strapless tops are back in vogue. But what if going strapless is not your thing? What if you yearn for more security up top? That is precisely what racerback bras offer: straps, security, and a little extra support.
When it comes to choosing a racerback bra that will reinforce your bust, doing a bit of research is necessary. Remember: Just because a product sells, that doesn't make it gold. And that's precisely the reason why we compiled a list of the best racerback bras on the market for you.
Whether you need a sturdy bra to support you through a heart-pounding workout, a lighter bra to sit underneath your open-back yoga tank, or even just a cool strappy bra to wear with your favourite pair of leggings, you're bound to find something that caters to your needs and wants.
How to Choose the Best Racerback Bras for You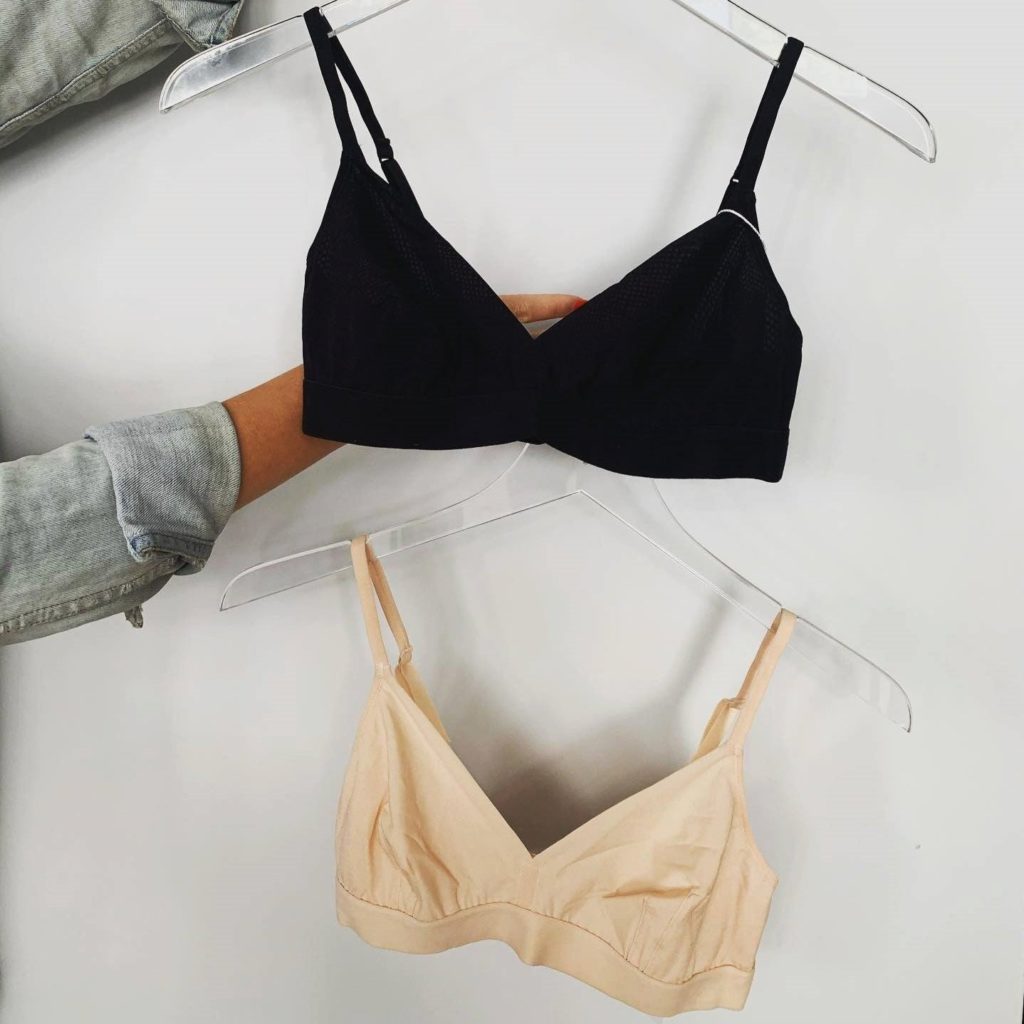 If you are picking bra based off of style points, then brand or colour may be important to you. But if you're choosing a bra based on how it props you up, you might be more interested in size and the comfort.
On the other hand, if you're looking for a versatile bra that shape-shifts into anything you need it to be, convertibility is the feature to consider. That said, there are some aspects that seem to matter in any case:
Brand
When it comes to choosing a brand of racerback bra, you need to investigate:
The principles of the brand
The style that it promotes or embodies
The quality of its products
Its dependability
Regarding the first point, do the brand's ethical values align with yours? Do they promote or embody the same or similar ideologies that you do? As for the second, have you looked into the style of the brand? Does it sync up with yours?
The last two considerations, quality and dependability, are what you should expect from a high-quality bra brand that delivers on its promises. All these factors come into play when you are choosing a company to invest in.
Size
Size is completely dependent on your body, which is why it is tough to give pointers and tips about what you want to look for. Of course, it goes without saying that it is wise to know your bust size in order to get a racerback bra that will fit you just right, otherwise you run the risk of squeezing yourself to death or having a saggy-bra situation.
Comfortability
When it comes to comfort, there are lots of things you want to consider. The most cited culprits of bra-uncomfortability are the straps. Thin shoulder straps can dig into your shoulders, which is why we recommend bras with thicker, wider straps.
After the straps, the most common complaints are about underwire. Sometimes, we need a strong underwire to keep our bust in place, but if you absolutely hate the feeling, then a wireless bra may be more your speed.
For optimal comfort, you'll want to look for a bra made with more comfortable materials like cotton, linen, silk, nylon, and polyester. If you want to avoid 'boob sweat', then look for breathable fabrics like bamboo, lightweight polyester, and cotton.
Colour
The next feature that you will want to consider is the colour of your racerback bra, which again, is largely dependent on what you intend to wear the bra under. If you plan on wearing lightly coloured clothing, then you'll probably benefit from choosing neutral or skin tone coloured bra.
If you want a bra that you can wear with a variety of clothing items, then choosing a universal shade like white, black, navy, or grey might be a better idea. However, if you want something fun that will add a pop of colour to your look, then look into trendier neon colours and cool designs.
Convertibility
The final thing to consider is the bra's convertibility. If you want to get the most out of your bra, if you want a versatile piece, then this consideration is worthwhile. Some bras allow for the straps to be adjusted or even removed completely so that you can wear it a variety of ways, which ultimately justifies the price of the bra that much more.
Spanx Bra-llelujah! Lightly Lined Racerback Bra, $68
Lululemon Ebb To Street Bra Light Support, $58
Paco Rabanne Logo-Band Sports Bra, $155
Balmain Logo Print Lycra Sports Bra, $110
Cosabella Soft Cotton Racerback Bralette, $35
Calvin Klein Modern Cotton Stretch Cotton Blend Soft-Cup Bra, $45
Natori Euphoria Front-Close Bra, $99
Nike Indy Mesh Trimmed Dri-Fit Sports Bra, $35
Adidas by Stella McCartney Mesh Panel Medium Impact Sports Bra, $53
Tory Sport Seamless Racerback Cami Bra, $39
Nike Swoosh Dri-FIT Racerback Sports Bra, $38
Kiki de Montparnasse Amour Bandeau Bra, $105
Reebok x Victoria Beckham Logo Sports Bra, $51
Skims Fits Everybody T-Shirt Push Up Bra, $85
14 Best Racerback Bras for Every Body
Finally, we've gotten to our list of the 14 best racerback bras for every body. They prioritize functionality, style, and comfort, and they ring in at a wide variety of accessible prices. Hopefully, our suggestions make a comprehensive and useful guide to finding the perfect racerback bra for you. Without further ado, here are our favourites:
#1 – Spanx Bra-llelujah! Lightly Lined Racerback Bra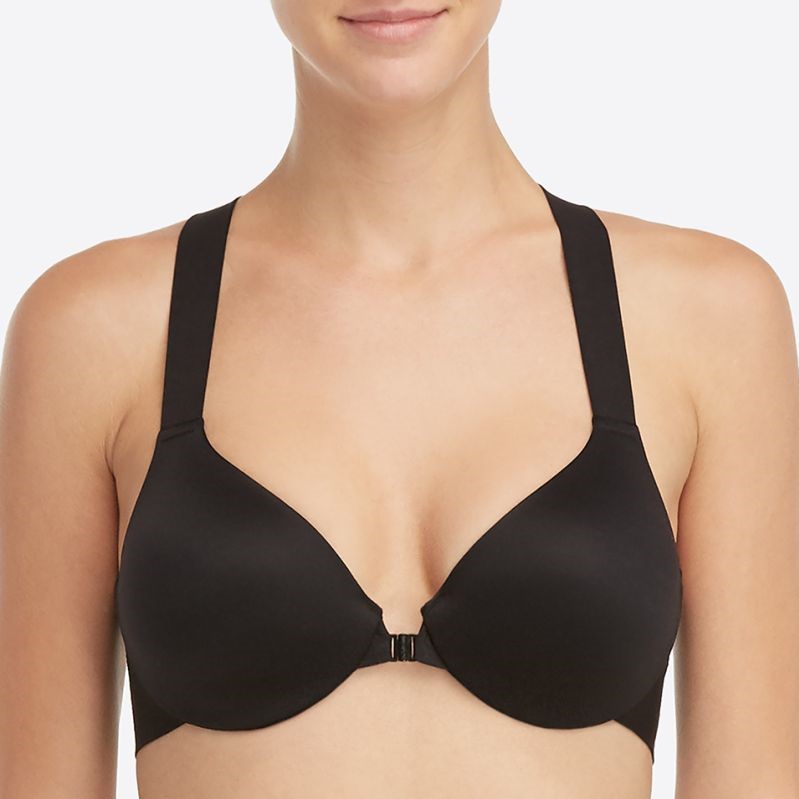 This best-selling racerback bra from Spanx is ideal for those who want a comfy, quality, racerback bra that doesn't look bunched up under clothing. It uses SPANX SmartStretch Straps and lightly-lined foam cups, as well as an all-hosiery back and front-closure design to smooth lumps and bumps.
Basically, it minimizes bulk in an instant. The two colours, black and naked, come in band sizes ranging from 32-38 and cup sizes ranging from A-DD. The only thing this bra is missing is convertibility, but this is overshadowed by the notable benefits it brings. You can purchase this bra on Spanx's website for $68.
#2 – Lululemon Ebb To Street Bra Light Support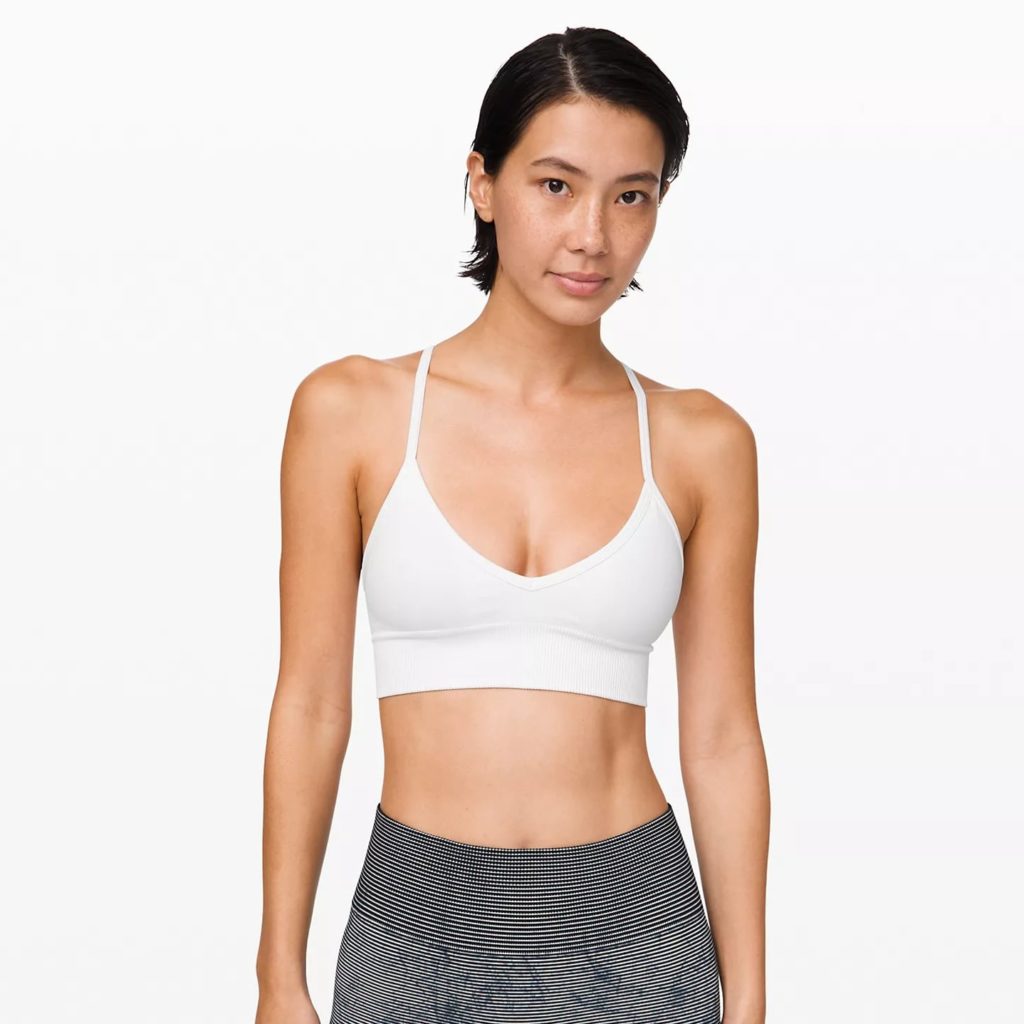 During yoga sessions, this 88% nylon and 12% elastane racerback bra is a soft, flexible, sweat-wicking dream. It's also convertible, and you can wear the straps straight or cross them into a racerback style. Plus, it has pockets for the cups so that you can remove them if you prefer.
The limiting feature about this bra is that it is intended to provide light support for A and B cups, so it may not be for individuals who either have bigger bust sizes or who are looking for lots of support. This bra is being offered on Lululemon's website for $58.
#3 – Paco Rabanne Logo-Band Sports Bra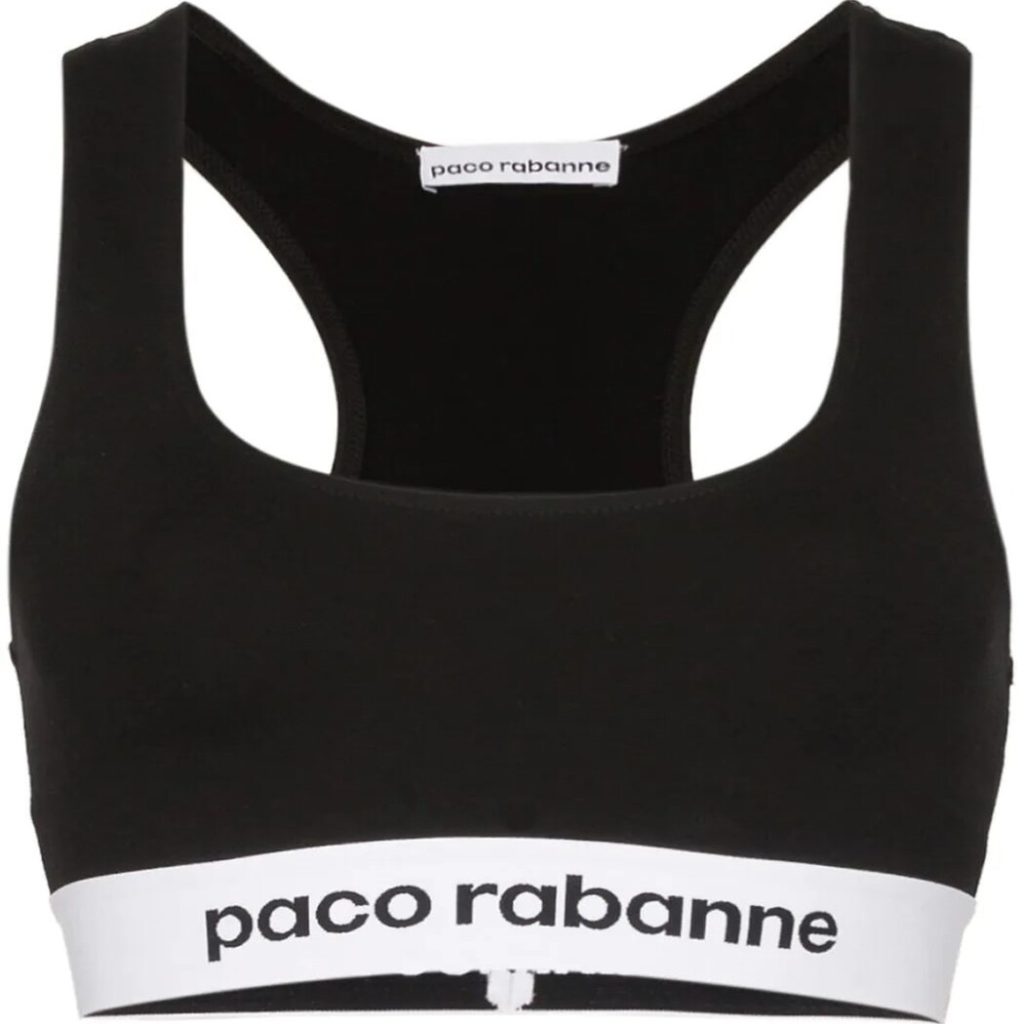 The thing that makes this bra unique is the name it represents. Paco Rabanne is a Spanish brand that has been an influential and notable name in fashion since the 60s. This particular piece features a scoop neck, racer back, and comfort-stretch fit.
The bra itself is composed of 84% viscose, 11% polyamide, and 5% spandex/elastane, which makes it a good choice for the style-conscious, cozy-minded shopper. And it's now available at Farfetch for $155.
#4 – Balmain Logo Print Lycra Sports Bra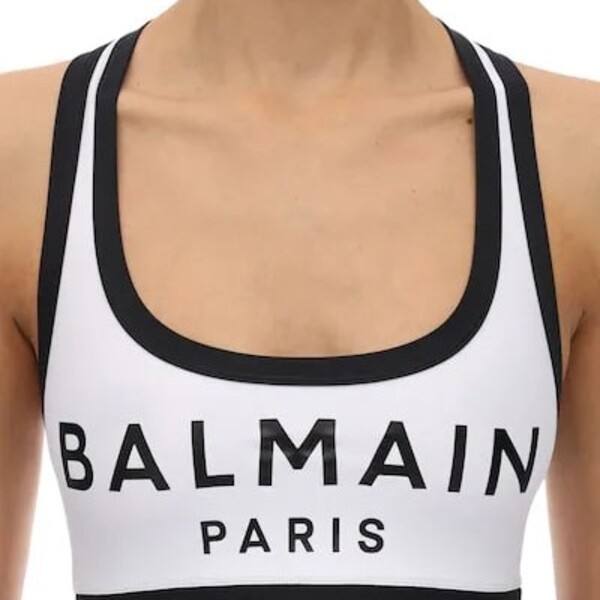 Here, we have yet another racerback bra option for the brand-oriented shopper. Balmain, a luxury French fashion brand, has been around since the 40s. This design is a testament to the company's motto of subtle sophistication, featuring a halter neckline, a racer back, and a contrasting colour trim with a logo dead center.
Composed primarily of polyester and elastane, this bra is a comfortable, yet fashionable pick. Luisaviaroma offers this bra for the price of $184, but it is currently being sold at a 40% discount, thus trimming the price down to a more affordable $110.
#5 – Cosabella Soft Cotton Racerback Bralette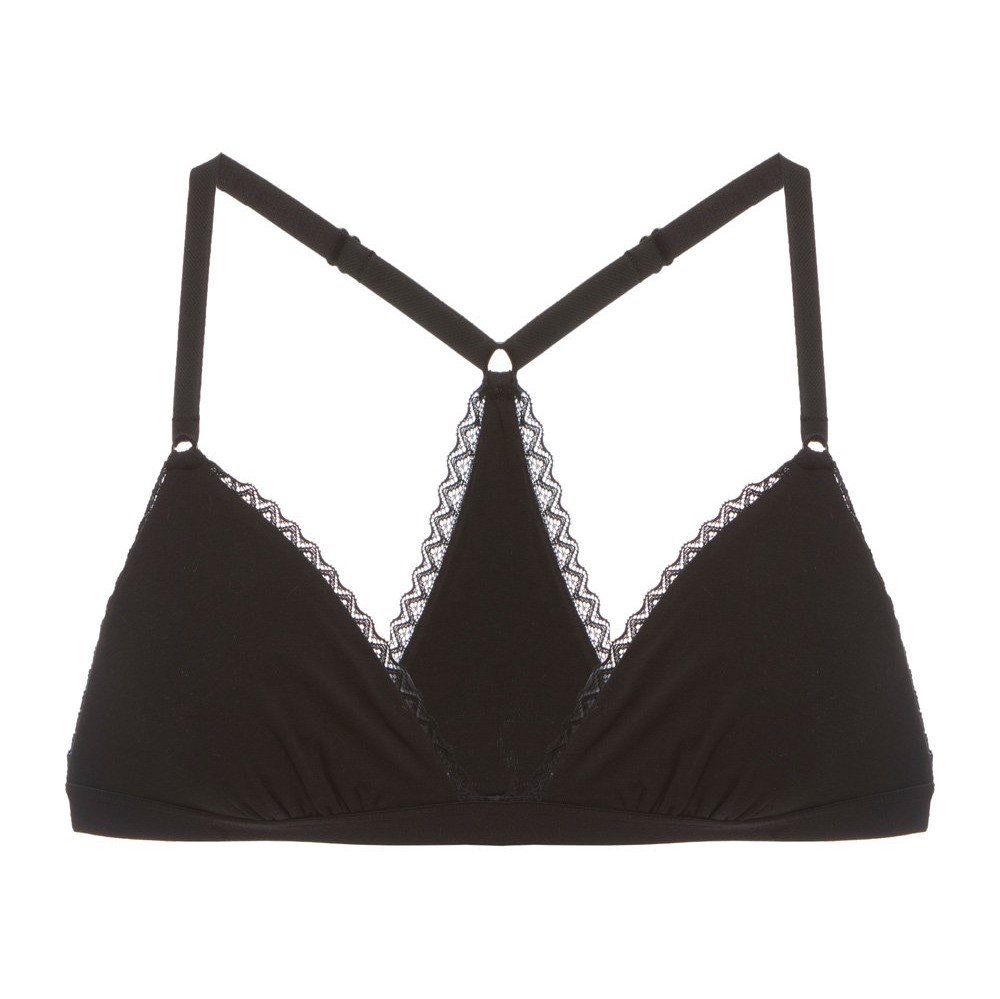 This Cosabella style is something for the shopper that aspires to have their racerback mimic a soft, flirty bralette. This gorgeous lace-trimmed design is made primarily of cotton, giving it an ultra-comfy feel and aesthetically pleasing look.
Although it does not convert or offer a ton of support, it works as more of a peekaboo style or dainty underpiece. It's offered in three sizes – small, medium, and large – and it's currently available at a lowered price, ($35), down from the original $70 tag.
#6 – Calvin Klein Modern Cotton Stretch Cotton Blend Soft-Cup Bra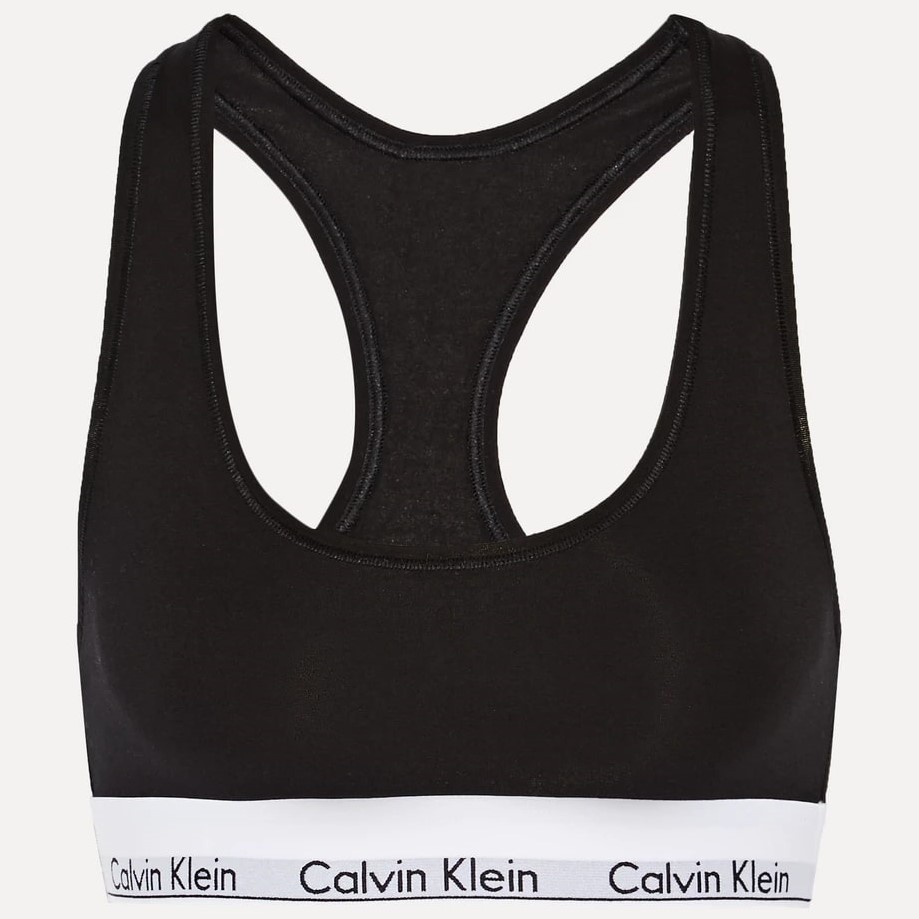 If there is any brand that is immediately recognizable due to its signature logo and undeniable dependability, it is Calvin Klein. This slip-on racerback bra is made of 53% cotton, 35% modal, and 12% elastane, and you can match it to your favourite pair of CK underwear.
The soft-cup bra comes in standard neutral colours like black, grey, and white, which makes it a versatile choice underneath casualwear. Plus, it's available on Net-a-Porter for a modest $45.
#7 – Natori Euphoria Front-Close Bra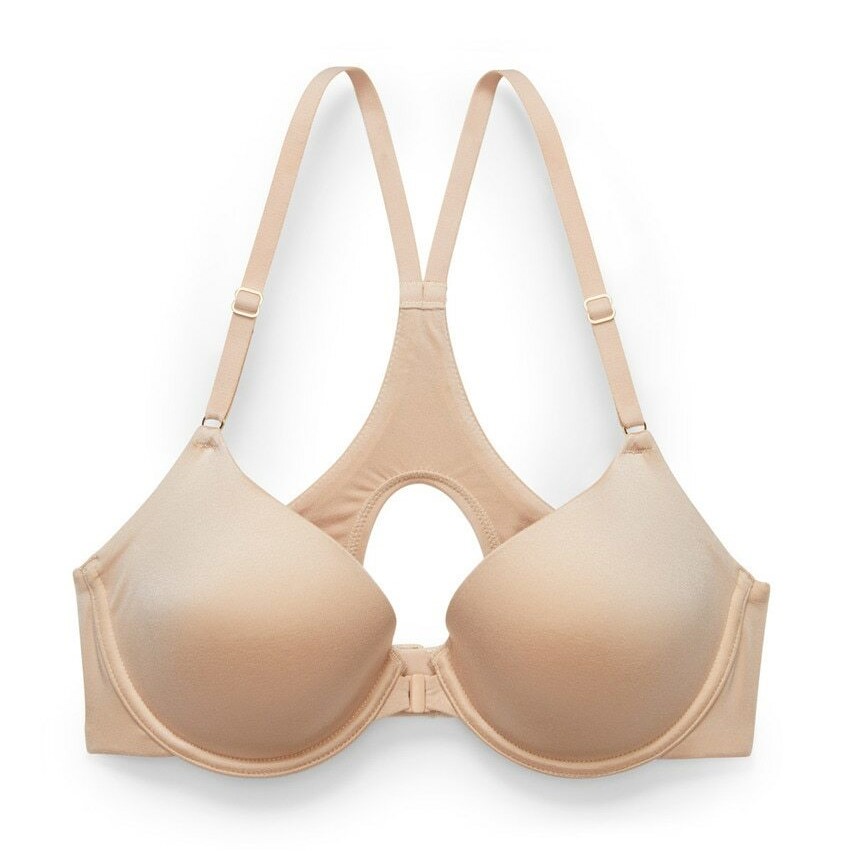 This Natori bra puts comfort and proper fit at the forefront, just as its name suggests. It has a front-closure and a non-adjustable racerback silhouette that ranges in sizes from 30 to 36 in cups A to DDD.
The body is made mostly of nylon with a hint of spandex, while the cup lining is mostly polyester with a touch of spandex. The straps adjust at the front and the two-ply fabric back is tag-free, which eliminates the itchiness and annoyance that normal bras cause. You can buy either colour – cafe (beige) or black – on Natori's website for $99.
#8 – Nike Indy Mesh Trimmed Dri-Fit Sports Bra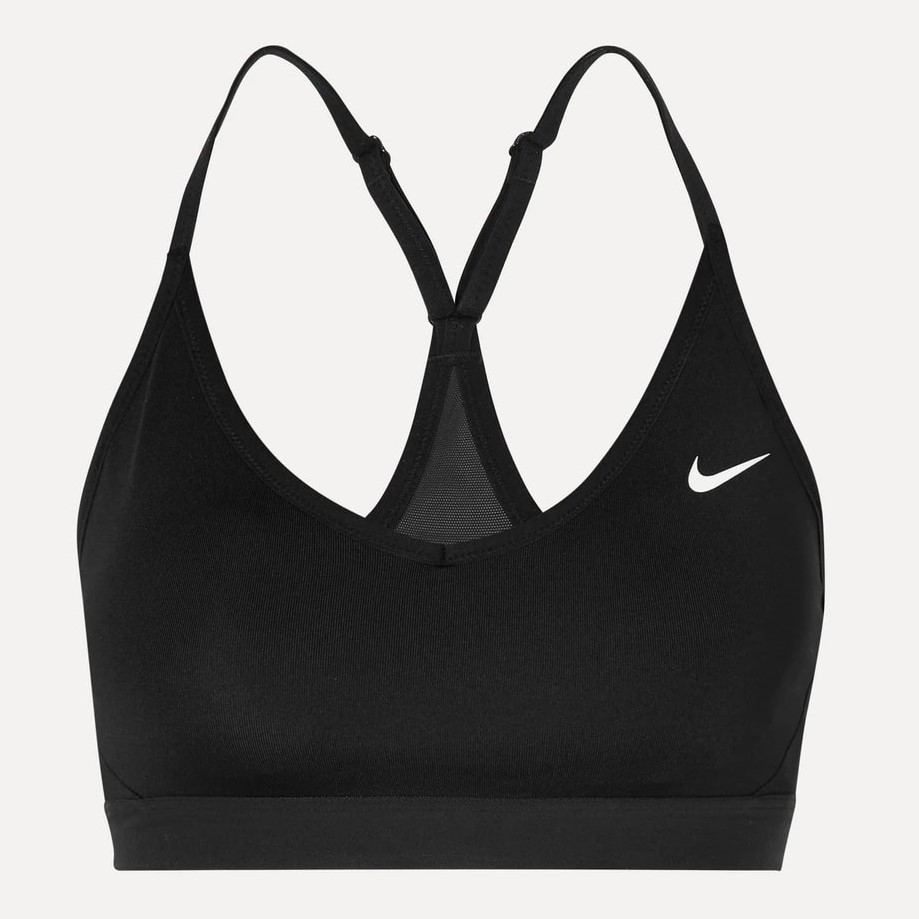 Created to provide light support, this bra is made from Nike's Dri-FIT material and trimmed with mesh for moisture-wicking breathability. It features adjustable straps and removable padding, which makes this bra customizable to your comfort preferences.
Bonus: You can get this sporty slip-on racerback on Net-a-Porter for a measly $35.
#9 – Adidas by Stella McCartney Mesh Panel Medium Impact Sports Bra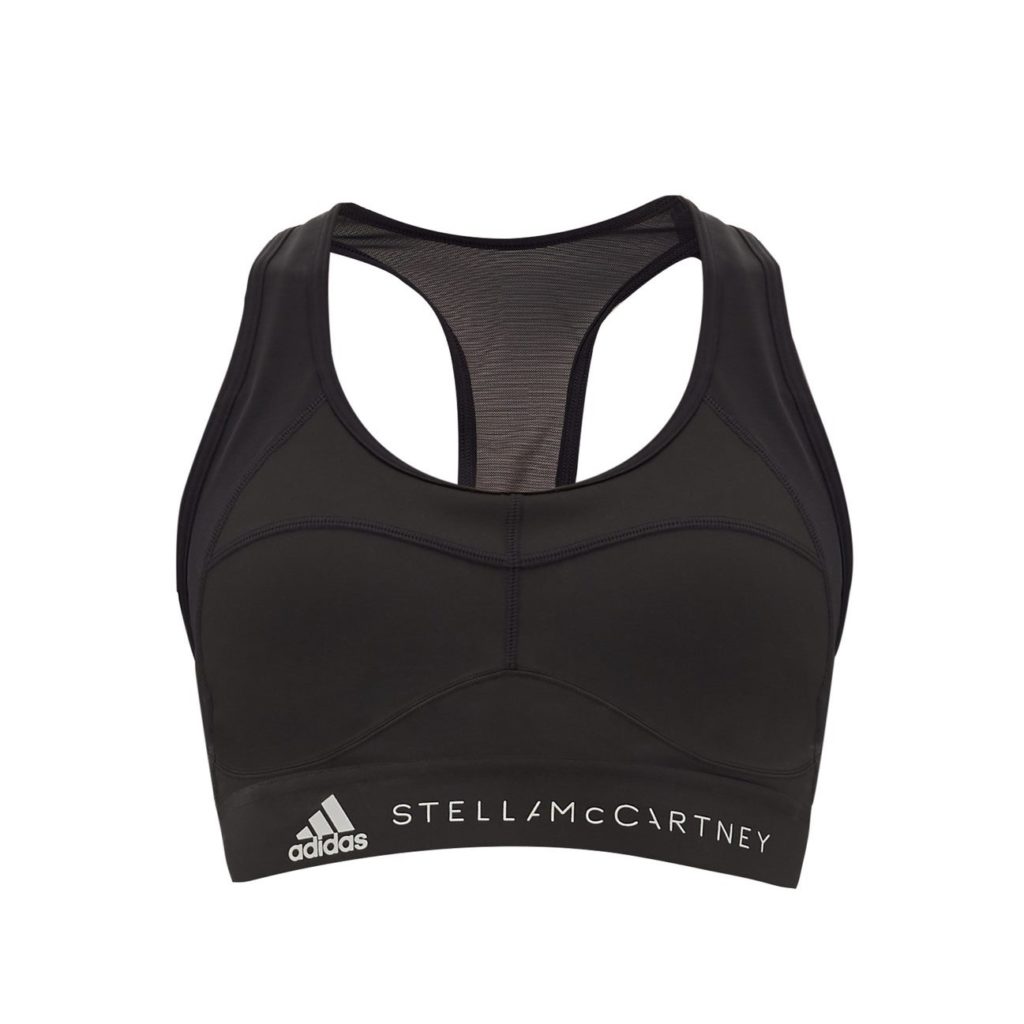 Intended for medium-impact sports, this Adidas by Stella McCartney bra is made of mid-weight technical material that wicks away sweat and compresses to secure your bust and keep it dry. It has mesh panels in both the racerback and the front as well as a robust band for equal amounts of security and breathability.
Plus, the cups are removable so that you can customize the amount of coverage you get. For the style savvy, name-brand lover, the Adidas and Stella McCartney logos are front and center. You can purchase this super sporty racerback on Matches Fashion for $53 – duty free.
#10 – Tory Sport Seamless Racerback Cami Bra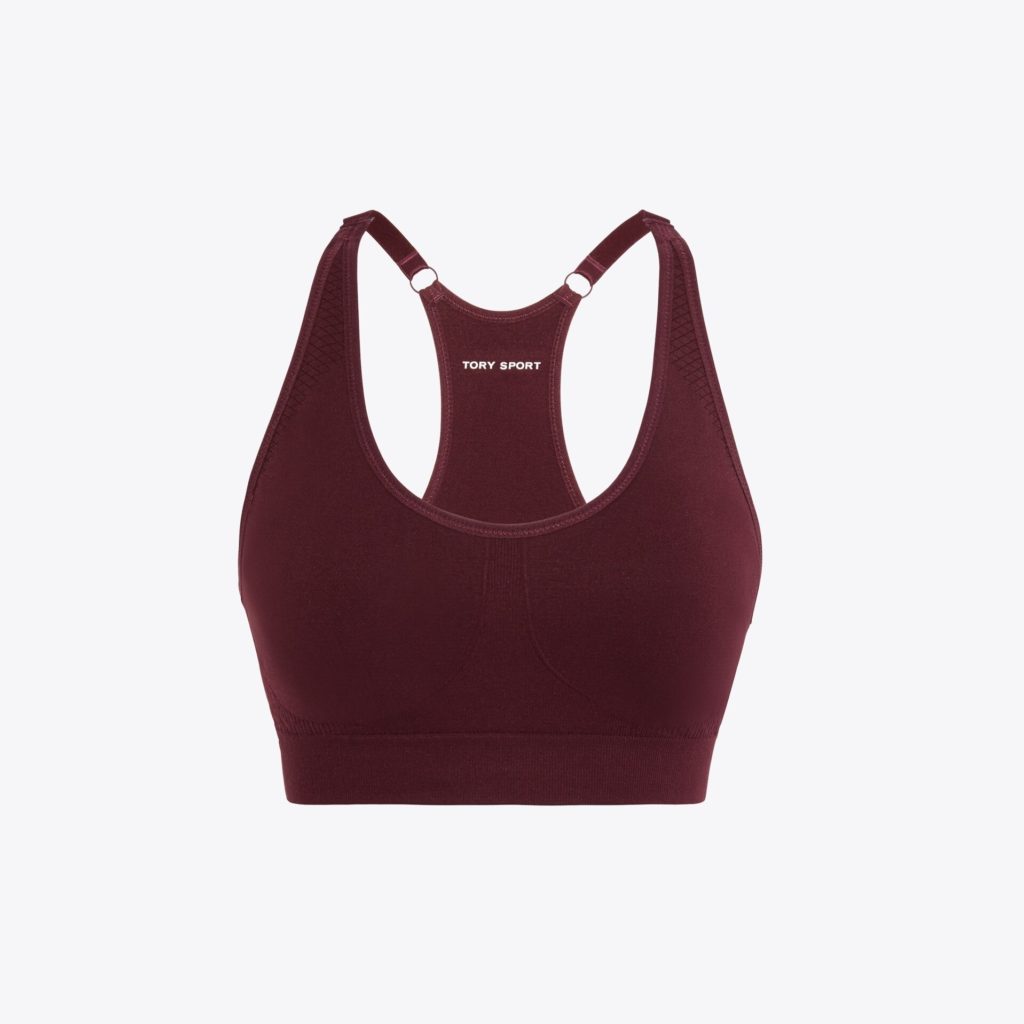 This seamless racerback bra is designed with the uniqueness of each wearer in mind. It offers comfort, medium support, breathability, and compression that molds and moves with the body. It also comes with adjustable elastic straps and removable soft molded cups.
All that said, the thing that makes it a true standout is the material: a nylon-spandex blend that produces a seamless look under clothing. And fortunately, there's a massive markdown in the price, as it normally retails on Tory Sport for $65, but you can get it on sale for $39.
#11 – Nike Swoosh Dri-FIT Racerback Sports Bra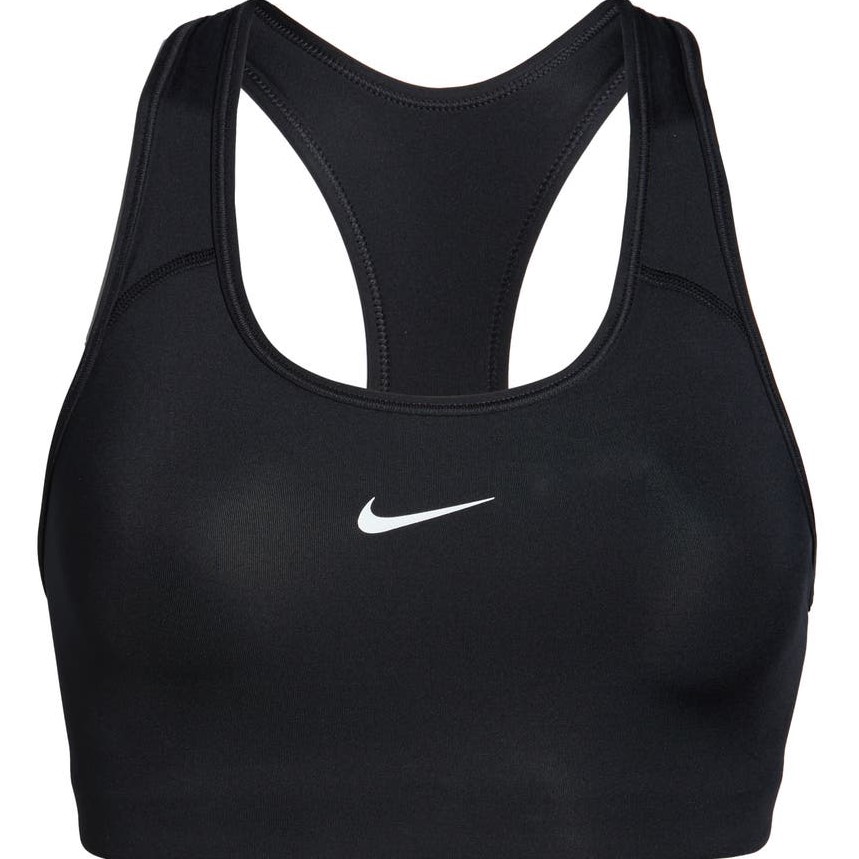 As with the other Nike bra mentioned in this list, the $38 Swoosh Dri-FIT Racerback Sports Bra features moisture-wicking Dri-FIT technology. It is made out of 82% recycled polyester and 18% spandex for optimal comfort, flexibility, and compression.
It also comes in a variety of fun colours that range from neutral to neon, and it has a single-padded insert for smooth shaping. A note about sizing though: according to Nordstrom's website, the bra runs small, so it is best to purchase the next size up from what you'd typically buy.
#12 – Kiki de Montparnasse Amour Bandeau Bra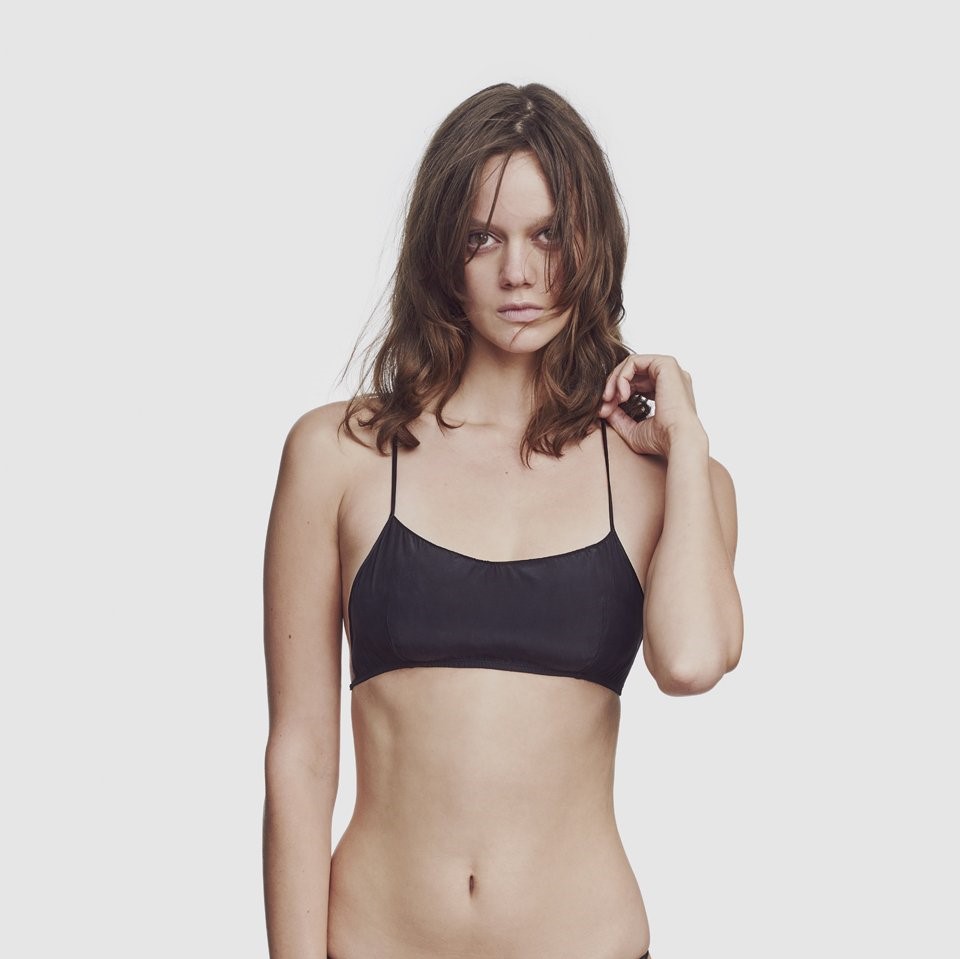 This design from Kiki de Montparnasse combines soft support, simplicity, modernity, and sexiness into one racerback bra, which is more of a bandeau with a racerback than it is a true racerback. Made of 100% silk, you can only imagine the lightweight and comfortable fit it provides (that is, until you try it on).
The Amour Bandeau Bra also has adjustable straps at the back and no closures, making it simple to pull on and wear at any time. Luckily, it's also on sale for $105, which is a massive drop from the regular price of $175.
#13 – Reebok x Victoria Beckham Logo Sports Bra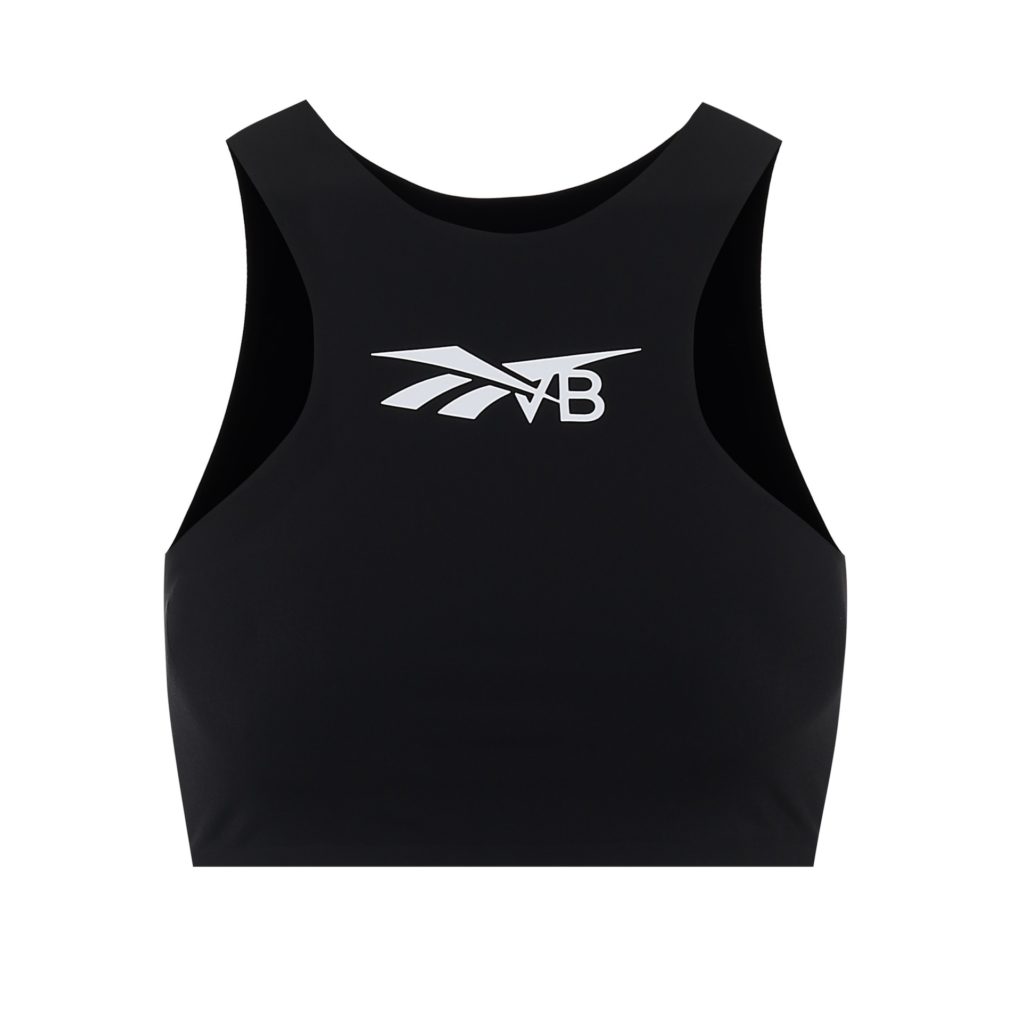 This racerback bra is another product of a super-stylish collaboration with a sportswear brand, except this time it involves Mrs. Beckham and Reebok. It gives off all the cropped jersey vibes in VB's most famous colour of choice: chic, plain black.
Made from 5% polyamide and 41% elastane, it's the perfect mix of comfort, flexibility, and high-fashion. It does run small though, so it's recommended that you purchase a size larger than you typically would. But hurry – it's now on sale now for $51 – a whole 30% off the usual $73 price tag.
#14 – Skims Fits Everybody T-Shirt Push Up Bra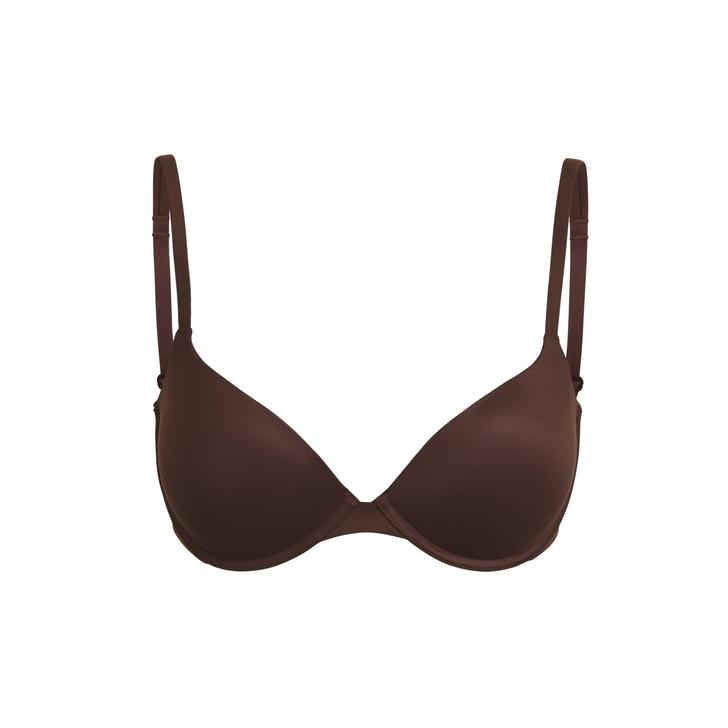 What we love about this beautiful t-shirt bra from Kim K is that it comes in a variety of fleshy colours, making it an inclusive and versatile piece that suits every body. The nylon and spandex material is responsible for making this bra breathable, comfortable, and soft as a kitten.
In addition, it comes with adjustable straps, full-coverage cups with extra padding, and an adjustable hook-and-eye back closure for the shopper who craves a fully customizable experience. You can purchase this everyday racerback style on Skims for $85.
What are the most supportive racerback bras?
Now, there are two kinds of support: daily support and active support. Our list of the best racerback bras offers you both, but when it comes to active support, the Adidas/Stella Mccartney collab, the Tory Sport bra, the Nike Swoosh Dri-FIT racerback, and the Reebok/Victoria Beckham collab should be your go-tos.
For daily support, the Skims and Spanx racerbacks will hold you up and provide you with several other features (like disguisable colour) that make them ideal for casual, everyday wear.
Which brands carry the most inclusive size ranges?
Spanx, Natori, and Skims not only carry sizes that are labeled 'small', 'medium', and 'large' – they've created sizes that are suited to particular bodies, and have added features that upgrade the whole bra-wearing experience, like integrated padding and adjustable back closures. Therefore, they win awards for being the 'most inclusive'.
Which racerback bras are the best for exercise?
When it comes to choosing a racerback for exercise, you really need to consider two things: moisture-wicking technology and support.
Nike's Dri-FIT technology is an easy first choice, but polyester is also one of the best materials for sweat-management. So if your racerback contains this material, you're all set for the gym. 
Which racerback bra is the best for everyday wear?
If you're a personal trainer in a gym or you move around a lot, you might want a bra that offers high support, such as the options from Adidas, Nike, and Lululemon.
However, if you want a bra that will give you more moldability, security, and comfort, then the options from Skims and Spanx will do the trick.
Get Access to Exclusive Deals
Subscribe for free to get exclusive deals in your inbox. 100% privacy