10 Best Summer Jewelry Brands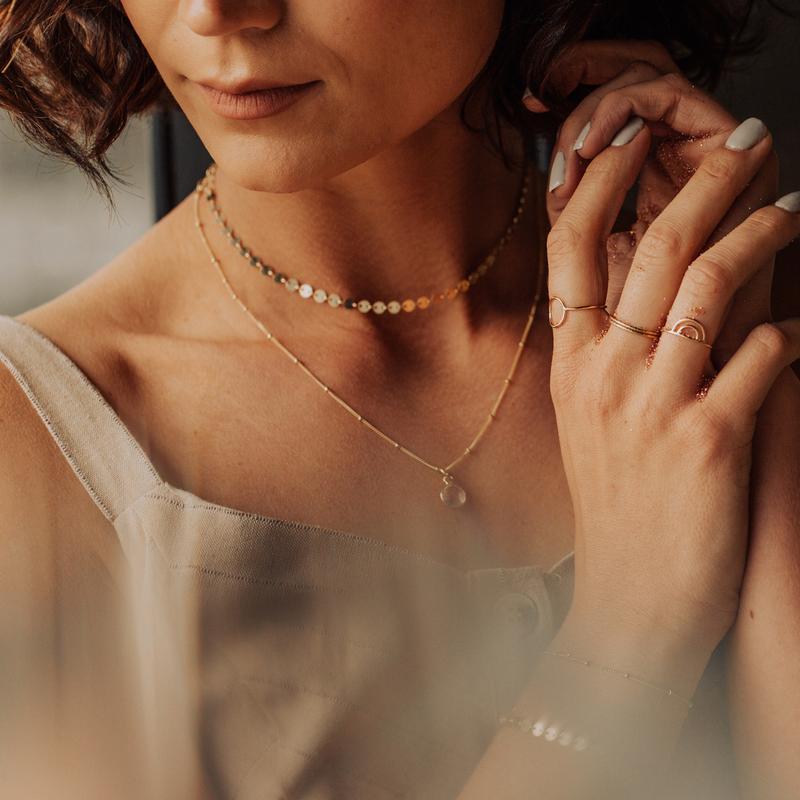 When it comes to shopping for seasonal trends, stocking up on jewelry offers you an easy and economical way to accessorize with the times. The best summer jewelry brands of 2021 are all about expressing yourself and being bold, and the number of brands that have emerged with this mode is through the roof. 
This year, the lines between men's and women's accessories were blurred even further, which reflects a larger cultural shift: why can't men wear pearl necklaces too? Thanks to English heartthrob Harry Styles, a string of lustrous beads is no longer gender-specific.
From bright colours and layers, to beaded bracelets and bangles in larger-than-life sizes, everyone can enjoy crowning themselves in jewels. One thing's for sure: whichever maximalist jewelry trend you choose to wear, it will do nothing less than elevate your OOTD.
How to Style the Biggest Summer Jewelry Brands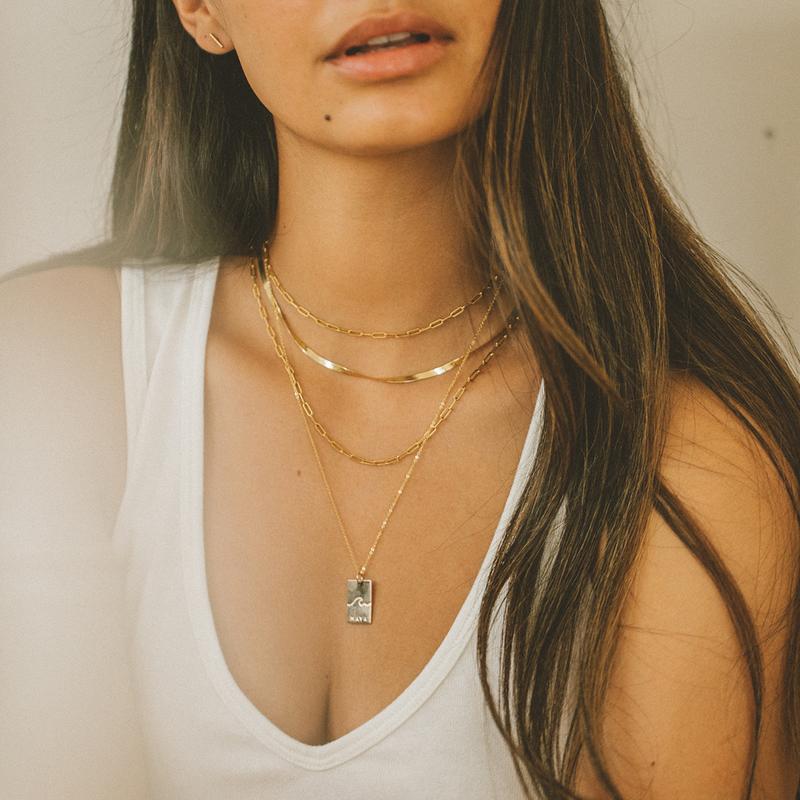 This summer's biggest jewelry brands include something for everyone, including fans of eccentric shapes and colours to those who prefer the classics. When shopping for trends you wouldn't normally wear day-to-day, you may wonder how to style them. Not to worry – we've got you covered. Consider the following before making your purchases: 
Placement
2021 has spoken: the more jewelry, the merrier. Layering has become a trend, and you can pile on anywhere from two to 20 necklaces to complete a look that suits you. Luckily, layering necklaces, bracelets and rings follows the same formula, and stacking various sizes of chains, beads and pendants is 'in'.
True Curated Designs 24/7 Valiant Coin Pendant can be paired with a pearl necklace from In Gold We Trust Paris. Adding the beaded Éliou's Tami Bracelet to a stack of other coloured beads creates the epitome of beach and camp trends. If you love layering rings, try Mejuri's Monochrome Dôme Ring with other thin stackers on a single finger.
Colour
Gone are the days when everything needed to match. We've learned that mixing metals, colours, and textures isn't a faux pas. The bolder, brighter, and bigger the colour mix, the better. Basically, there is no right or wrong when it comes to colour combinations.
Size
There's a reason for the saying 'the bigger the better'. Mega-sized earrings, chunky bracelets and statement necklaces are all in season. If you're not usually into larger pieces, mix them in with smaller ones you already own to get more comfortable with the size difference. You won't regret making the transition – we promise.

True Curated Designs 24/7 Valiant Coin Pendant
Éliou Tami Bracelet
Roxanne Assoulin Summer Stripes Eyeglass and Mask Chain
Mejuri Monochrome Dôme Ring
Dauphinette Baby Silk Orchid
Baublebar Amanita Locket Charm
Lizzie Fortunato The Arc Cuff
In Gold We Trust Paris Pearl Necklace
Cult Gaia Dita Earrings
JW Anderson Oversized Chain Bracelet
Where to Shop the Best Summer Jewelry
One of the best things about shopping for this year's trendiest summer jewelry pieces is that there are no limits to how you style them. We gave you a few pointers for shopping the biggest summer jewelry brands, but now it's time to discover the best brands to shop for yourself. 
10 Best Summer Jewelry Brands That Are Trendy
#1 – True Curated Designs 24/7 Valiant Coin Pendant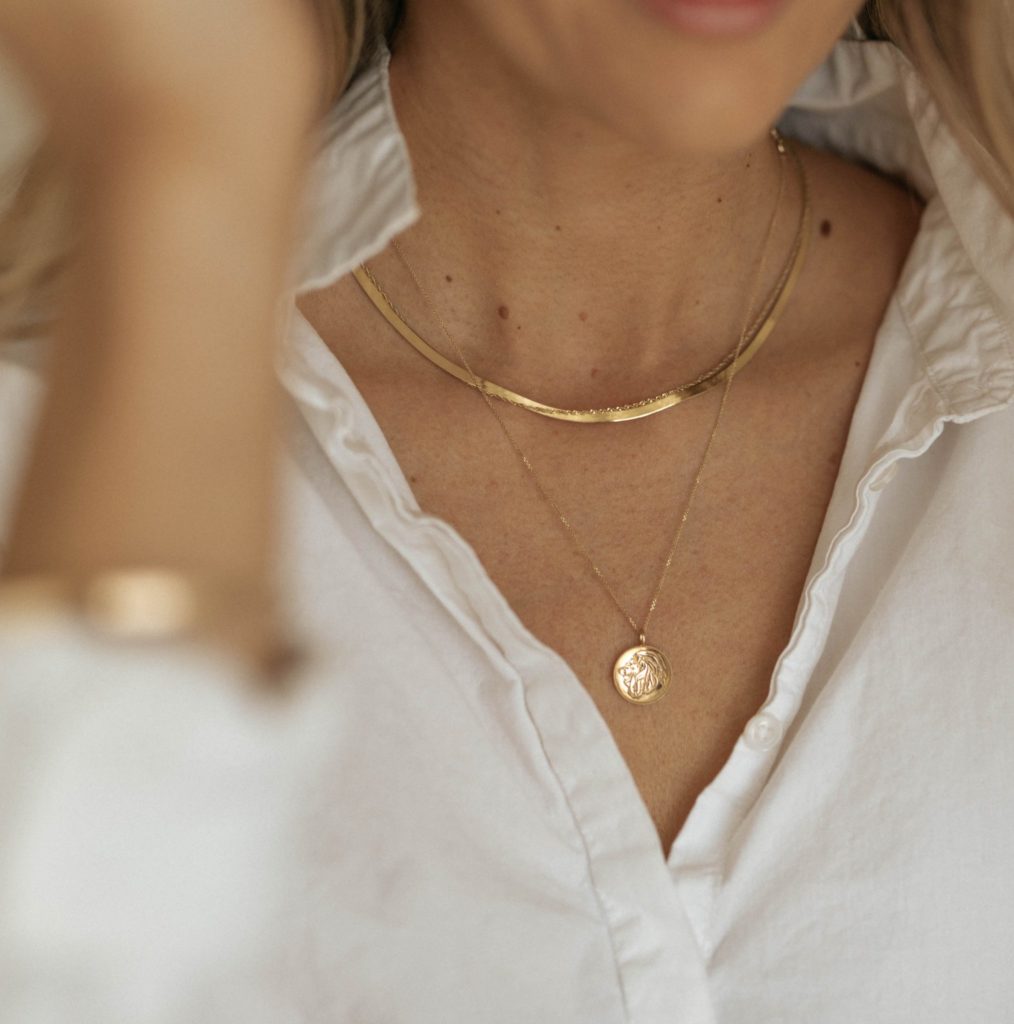 We love supporting female-owned businesses, and Vancouver-based True Curated Designs makes it easy. The online luxury shopping site focuses on creating Pinterest-worthy engagement rings and fine jewelry, like the 24/7 Valiant Coin Pendant; a piece you wish your grandmother handed down to you.
It has an elegant vintage feel thanks to the intricate lion motif and versatile 15mm size that can be added to a chain of any length you choose. Priced at $249, it may cost more than a thrifted pendant but we don't mind. It's a show-stopping conversation piece that looks great stacked with other necklaces.
#2 – Éliou Tami Bracelet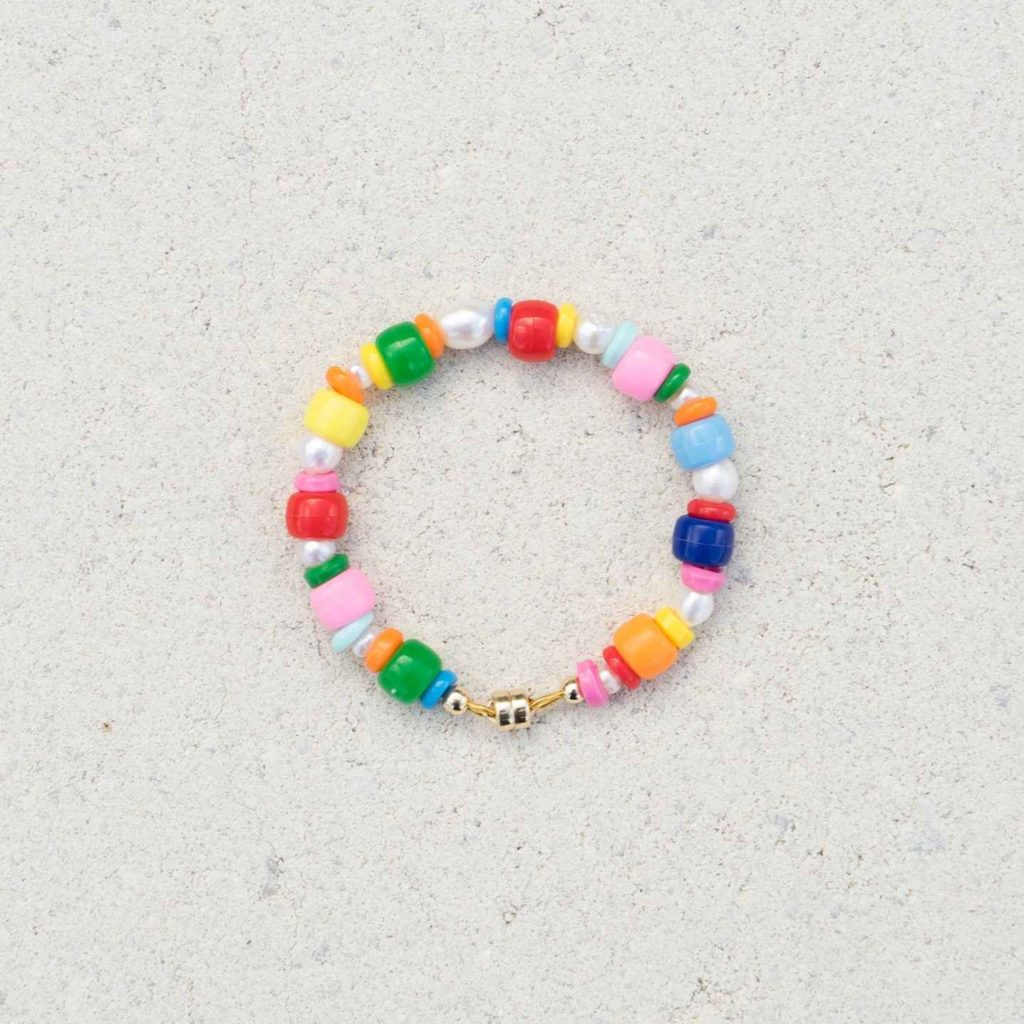 If you love the craft jewelry trend, you've probably heard of Éliou. Founded by two women who have a passion for creating jewelry, they hand make each piece using rainbow-coloured beads, pearls and other natural materials like shells. The brand's overall aesthetic is reflective of a chic 90s summer camp, and you can spot kitschy Éliou designs on everyone from Kendall Jenner to Dua Lipa to Harry Styles.
The limited-edition Tami Bracelet is a beach-inspired piece that has multicolored pony beads and a gold-filled magnetic closure. At an affordable price of $40, we love how Éliou accessories – and the craft jewelry trend – is accessible to everybody.
#3 – Roxanne Assoulin Summer Stripes Eyeglass and Mask Chain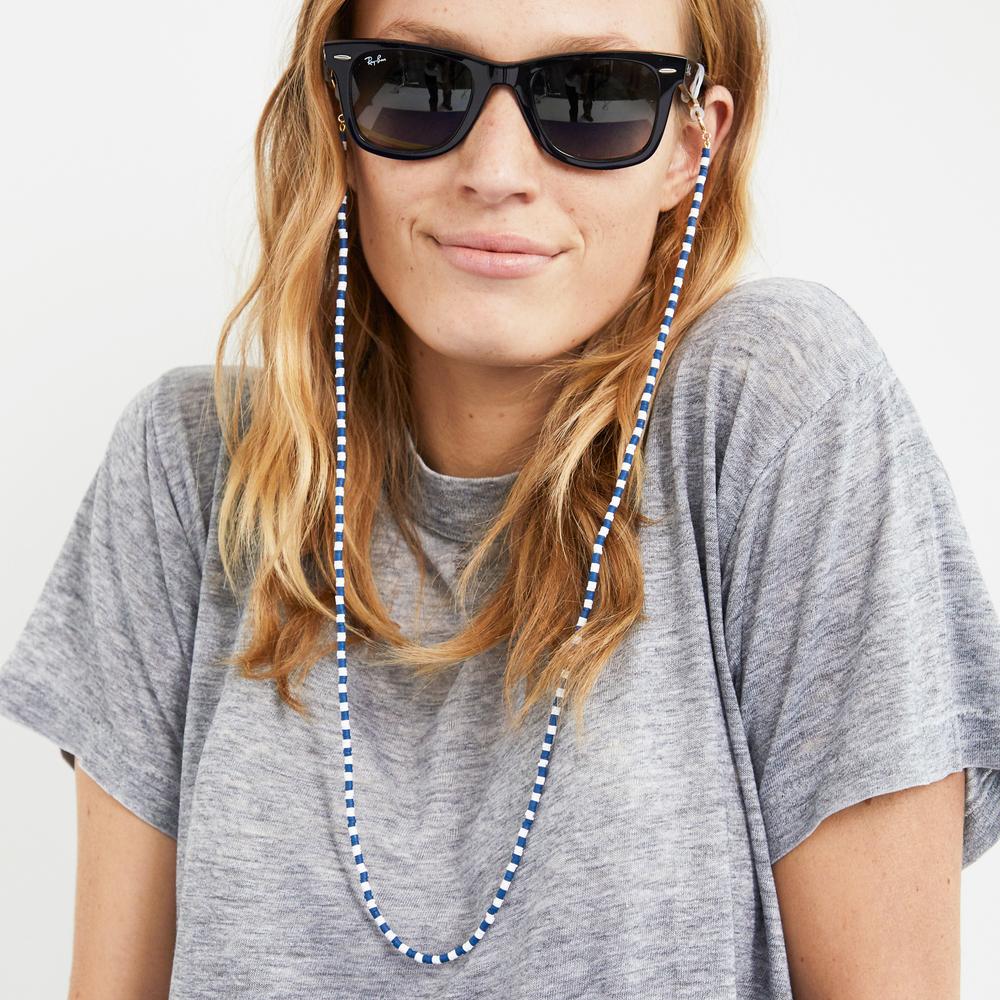 Roxanne Assoulin is no stranger to the fashion world, as the designer has been creating products for J. Crew and Bloomingdales for years. Her namesake brand expresses her personal style, and we're obsessed with the quirky pieces she makes.
We tend to see nautical clothing and accessories pop up with every summer cruise collection, but now we're seeing boat-inspired stripes stick around thanks to the birth of the mask chain. The Roxanne Assoulin Summer Stripes Eyeglass and Mask Chain is a beaded blue and white design with detachable silicone eyeglass fasteners and a spring closure. It combines function and fashion for $75.
(H3) #4 – Mejuri Monochrome Dôme Ring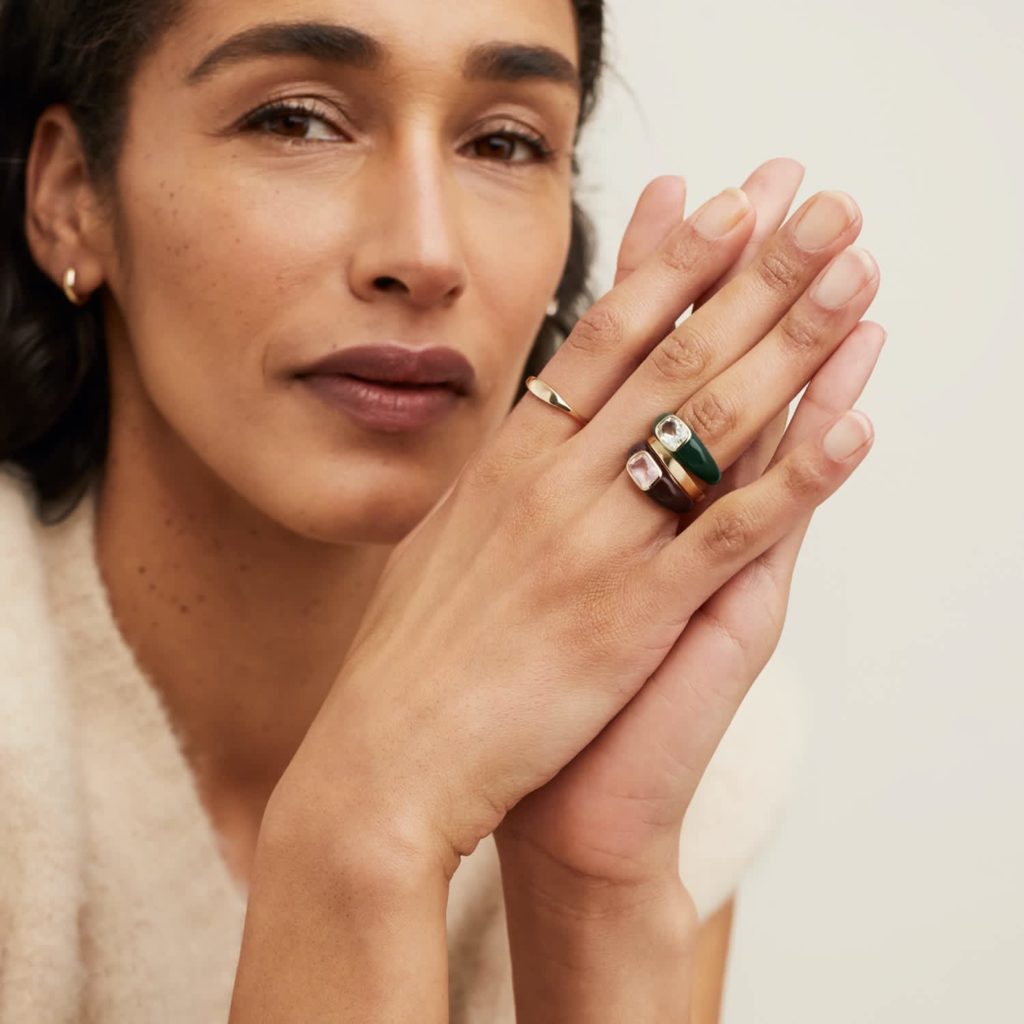 Toronto-based Mejuri has created a lane for itself in the fashion industry by selling affordably-priced fine jewelry for the every day in trendy yellow gold hues. This season, the brand released its take on the popular enamel ring – a chunky, colourful, Y2K-inspired accessory.
Unsurprisingly, Mejuri found a way to make it appeal to adults with the Monochrome Dôme Ring. It comes in two finishes: 18-karat gold vermeil with dark green enamel or 18-karat gold vermeil with rose quartz and brown enamel. For $125, you can style it alone or stack it with a plain band when you play dress up.
#5 – Dauphinette Baby Silk Orchid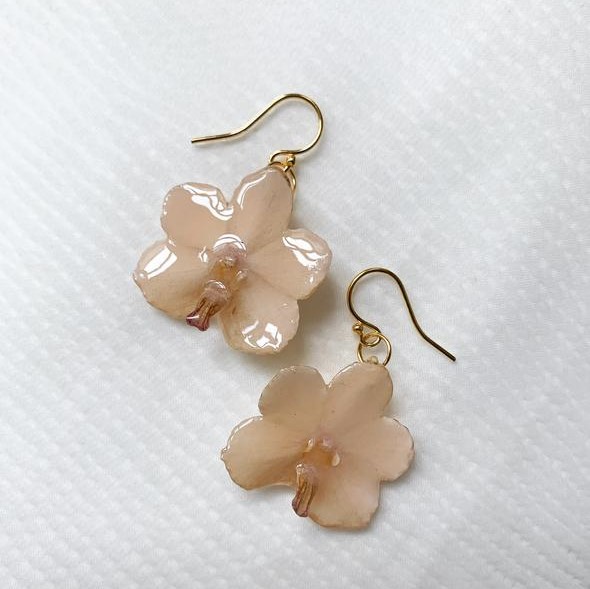 If you haven't seen the resin jewelry trend, you probably haven't been on Instagram lately. Dauphinette became known for its one-of-a-kind resin jewelry pieces that are made with real flowers, and they come in all different colours and sizes so that you can mix and match accordingly.
The Dauphinette Baby Silk Orchid is preserved in tree resin, and because all Dauphinette accessories are made with fresh garden flowers, each piece varies in size, shape, and colour. These dainty earrings come in gold or silver and retail for $34 (per earring).
#6 – Baublebar Amanita Locket Charm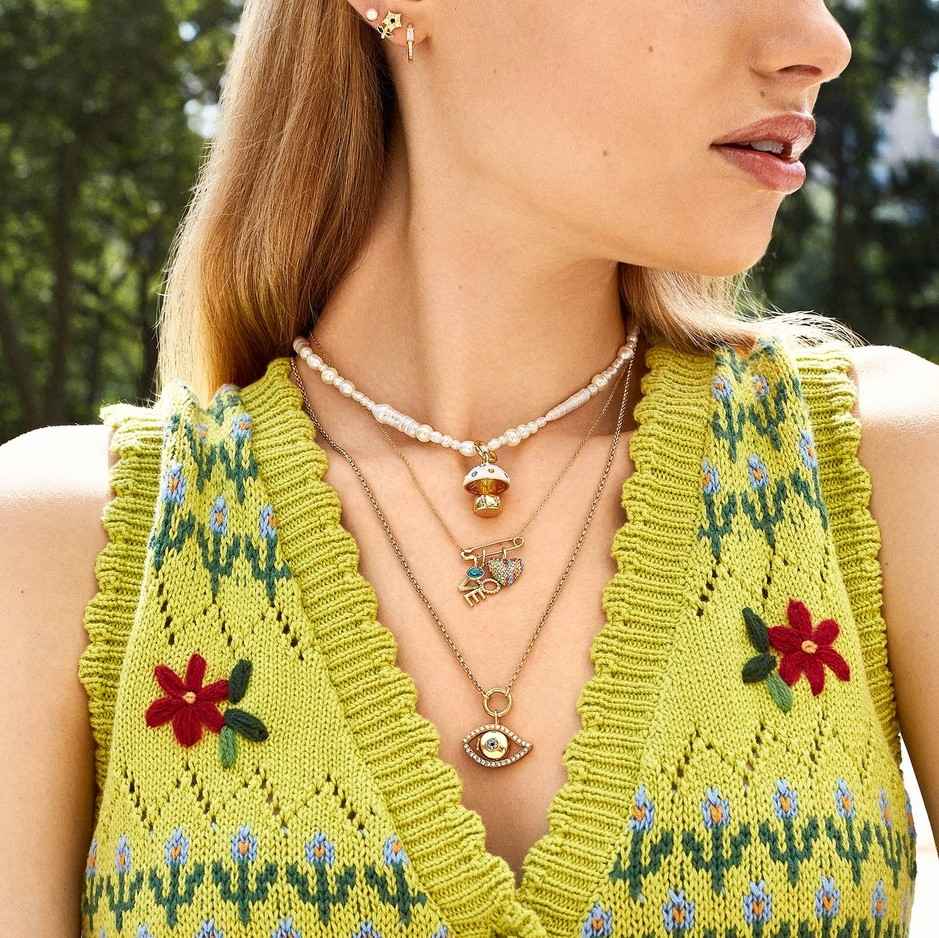 Affordable fashion jewelry giant Baublebar pumps out products for every occasion and trend, and now that charms are on everyone's list of must-haves, the e-tailer has stocked an enormous selection of trinkets to add to any bracelet or necklace.
If you love kitsch then you will love the $25 Amanita Locket Charm – a tiny mushroom with a white cap, multi-coloured stones and a shiny gold stem. It gives off all of the Alice in Wonderland vibes, especially with the addition of the small functioning door on the stem (how cute is that?!).
#7 – Lizzie Fortunatoo The Arc Cuff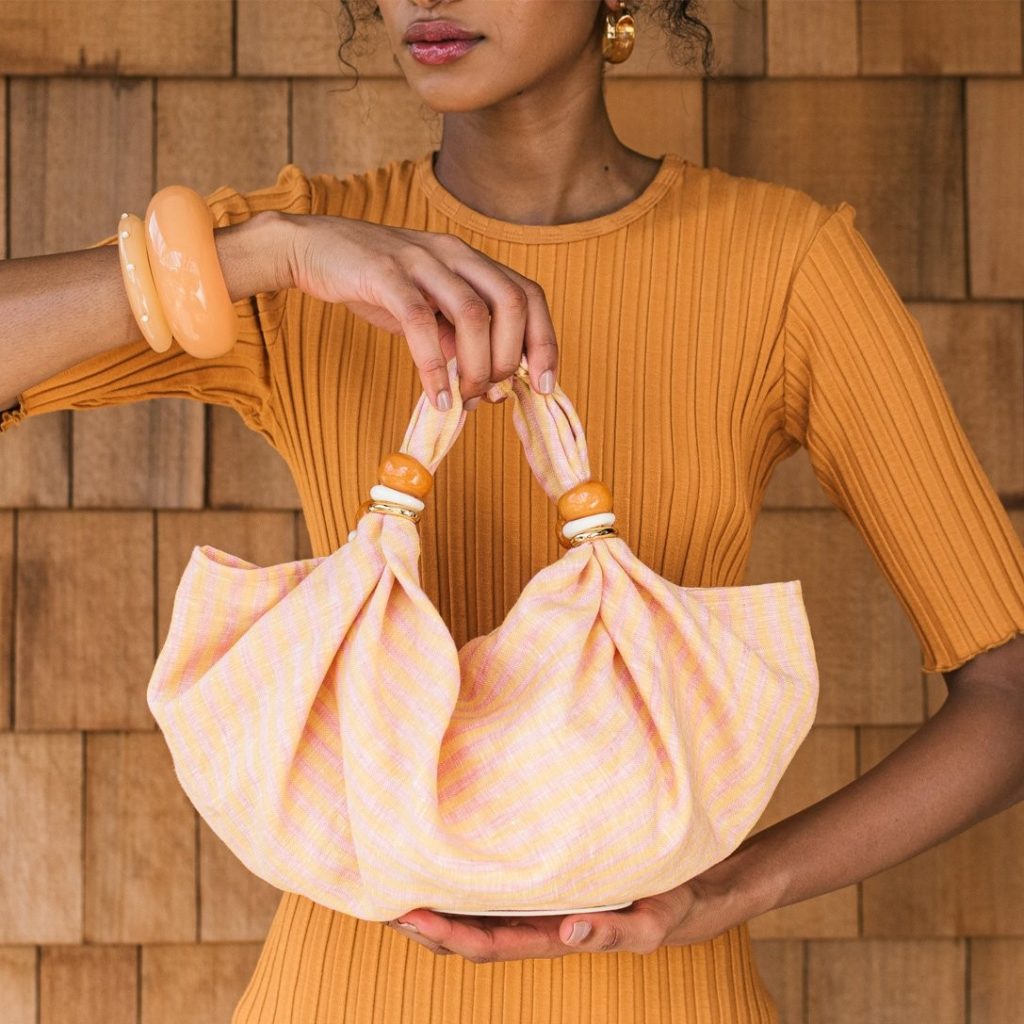 Luxury jewelry brand Lizzie Forunato makes handcrafted statement jewelry that looks like art, and now that bangles are back in style, they're producing the biggest and baddest in the game. The acrylic Arc Cuff is made out of a hued lucite – another super trendy material, especially when it comes to earrings – anc weighs in at $195.
Plus, it comes in the most delicious colors: apricot, lemon, persimmon, magenta, tortoise, lilac, electric blue, caramel, dark brown, indigo, lime, chocolate, clear, limoncello and redwood. After you peep the shade range, you won't just be buying one.
#8 – In Gold We Trust Paris Pearl Necklace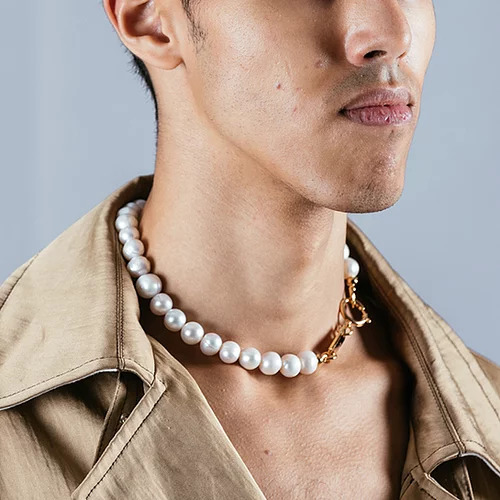 Parisien brand In Gold We Trust makes functional and contemporary unisex jewelry that overrides gender-specific labeling. A changemaker in jewelry design, the company's chain link and shell-adorned items allow you to layer on one of the season's biggest trends: pearls.
The In Gold We Trust Paris Pearl Necklace is made out of white natural freshwater pearls, brass and 18-karat gold plated details. It comes in a small, medium, and large size – from daintiest to boldest. It's handmade in France and retails for $308.
#9 – Cult Gaia Dita Earrings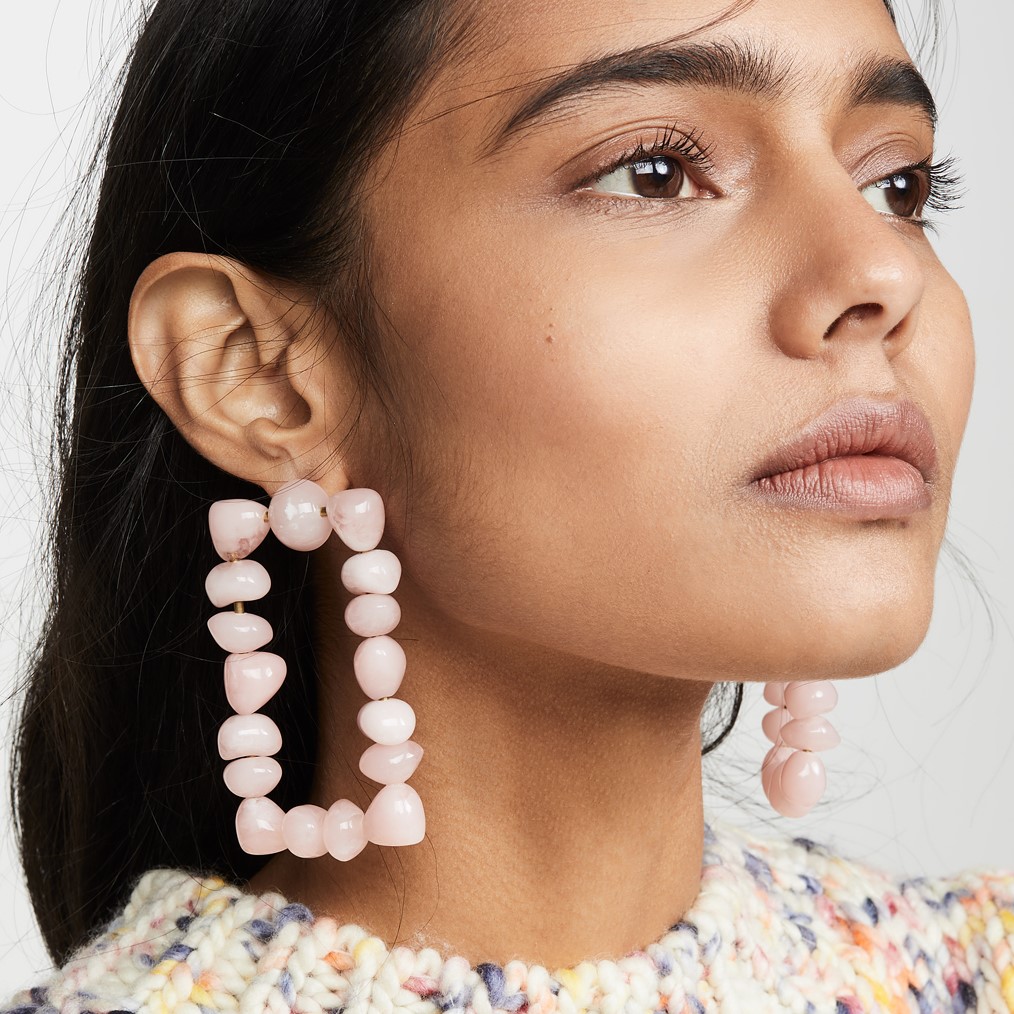 If you remember the wooden Ark bags that were everywhere on social media a few years ago, then you know of Cult Gaia. Now Insta-famous, the Cult creates standout heirloom pieces that take inspiration from women and nature. Keeping with the oversized trend, the Dita Earrings are both delicate and statement-making.
Featuring 100 per cent freshwater baroque pearls and brass gold details, their chandelier design frames the face and clips onto the ear for a lightweight feel. Priced at $128, they're every maximal-minimalist's dream.
#10 – JW Anderson Oversized Chain Bracelet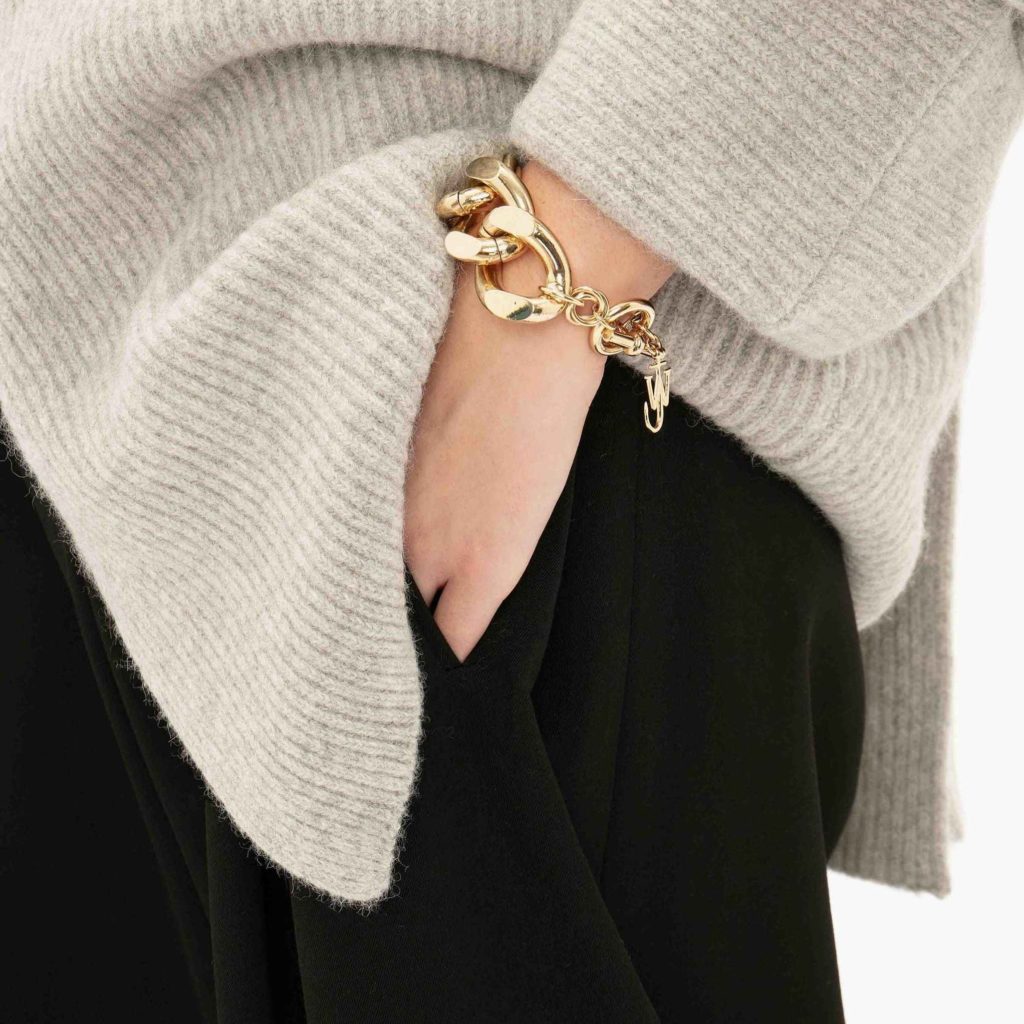 JW Anderson is known for creating award-winning ready-to-wear that's effortless, versatile, timeless and modern. This season, he's taken to the oversized chain trend, especially for the fact that it can add interest to any outfit; from a simple black t-shirt to a cable knit sweater.
The Oversized Chain Bracelet has a nautical appeal to it, featuring a t-bar closure and JW anchor charm. Ringing in at a hefty $390, chains will always be in style, so this isn't a bad wrist decoration to invest in..
Which Summer Jewelry Brands are the Most Timeless?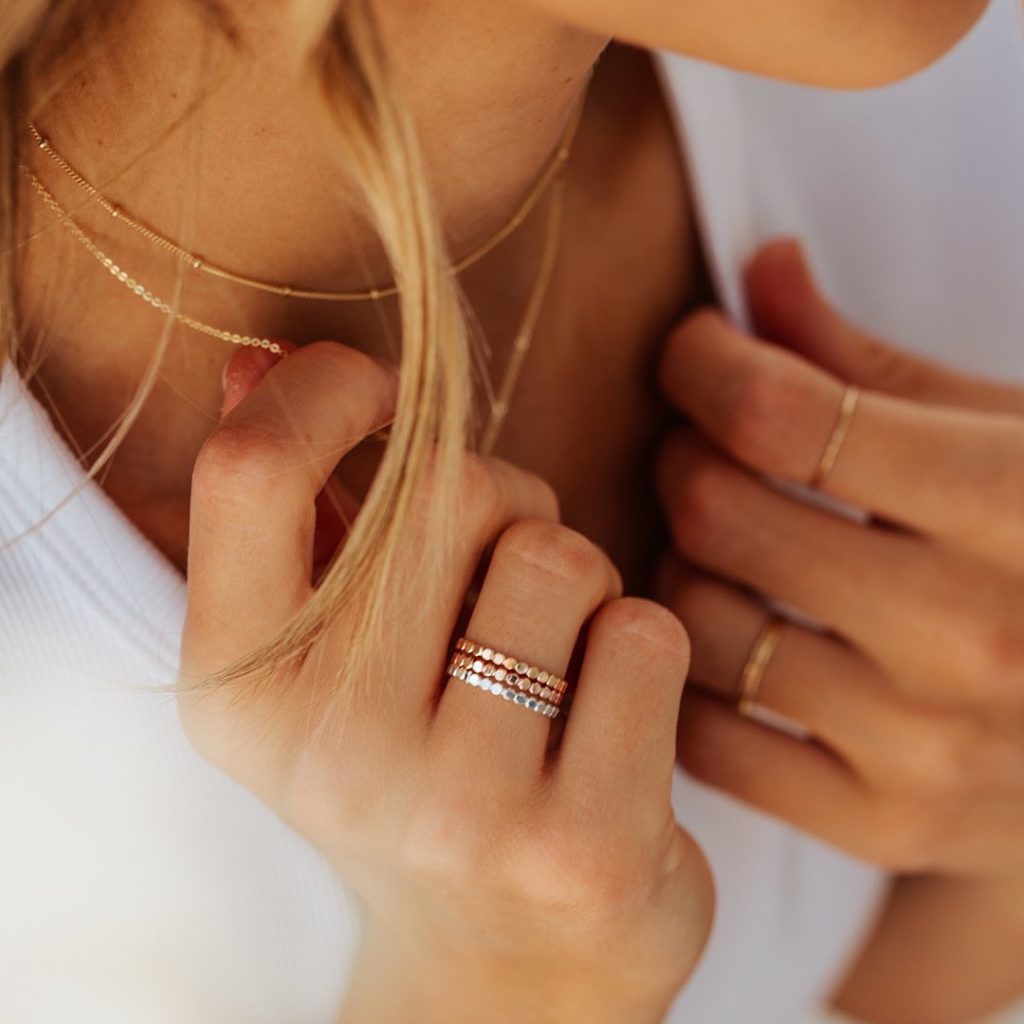 If you are going to shop a jewelry trend, you're probably not expecting it to stay in style for very long. But that isn't always the case – some jewelry trends are actually timeless. Pearls are the most ageless of them all and chains are another trend that is here to stay.
Which Summer Jewelry Brands Can I Wear During Other Seasons?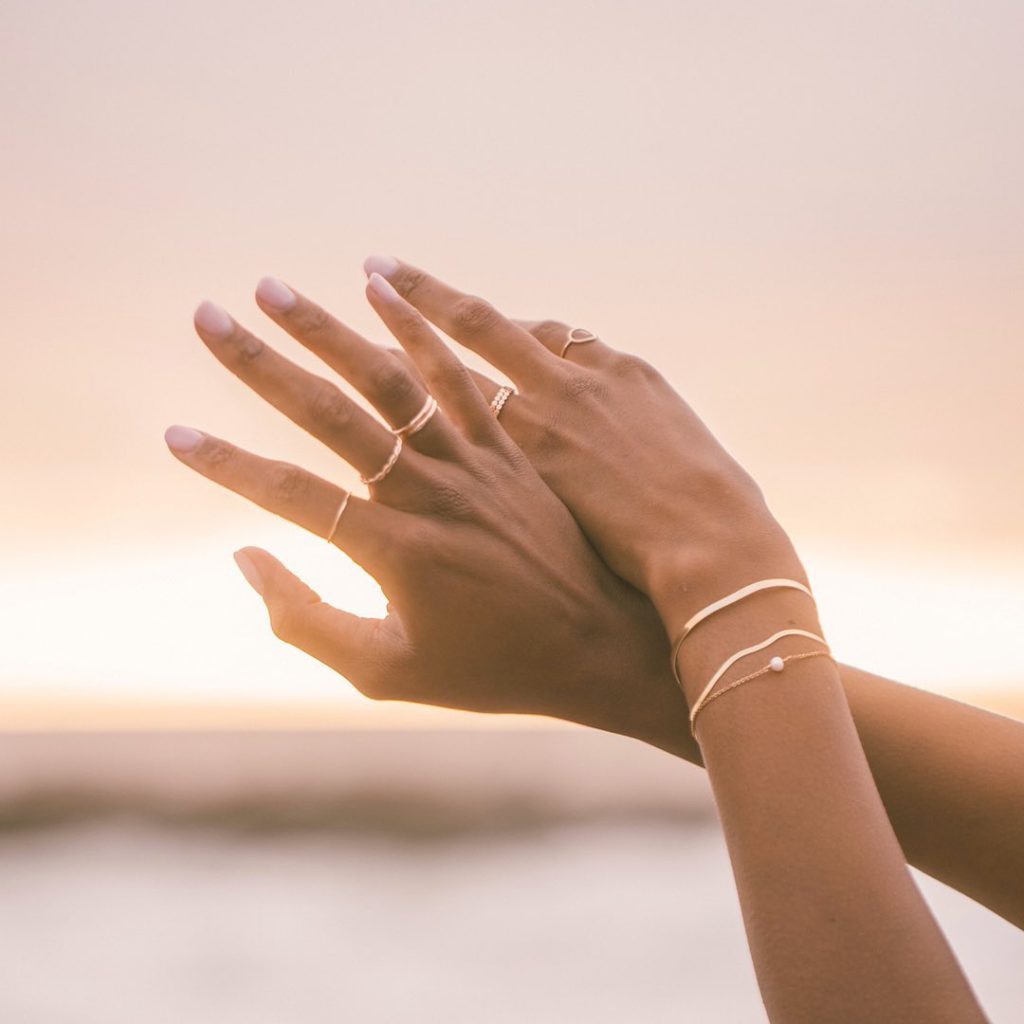 Although this is a list of summer jewelry trends, some of them work during other seasons too. You may not want to wear beachy pearls, beads, or resin flowers in the fall or winter, but chains, cuffs, pendants, and enamel rings can be worn throughout the year.
Chain bracelets and necklaces can dress up chunky fall sweaters, while cuffs can make an all-black outfit look effortlessly chic. Mask chains are going nowhere (until masks do) and enamel rings in dark colors make the perfect fall statement piece.
How Should You Care for Summer Jewelry?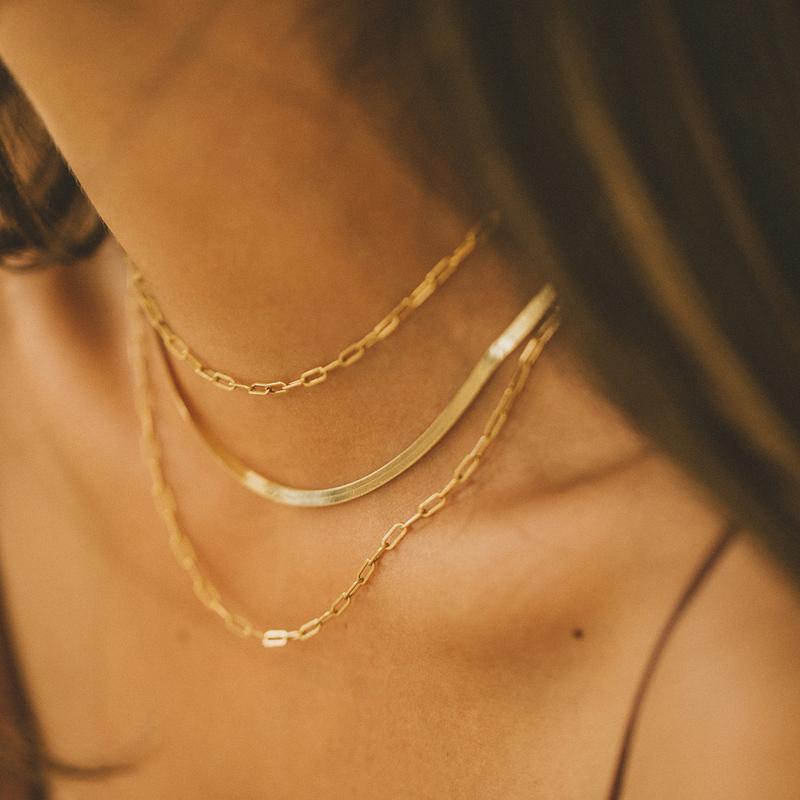 For all of the different materials listed, you'll want to use different techniques to keep them clean. Here's what to do to keep your summer jewelry looking brand new:
Resin jewelry is sensitive because it is not waterproof, so you should always take it off before getting wet.
Clean gold and silver chains with soapy water, then lay them out to dry.
Wipe pearls and beads with a soft cloth or a damp cloth, then dry them off.
It is best to store all of your jewelry away from sunlight to prevent damage, and regardless of which summer jewelry trend you choose to wear, any of the aforementioned options will update your style for the season.
Get Access to Exclusive Deals
Subscribe for free to get exclusive deals in your inbox. 100% privacy