13 Best Unisex Fragrances Of 2023
For many years, perfume was a gendered commodity. What we mean is that women's perfume solely contained sweeter, lighter, more floral notes, whereas men's fragrances were strictly bolder, muskier, and more expressive.
If you take a retrospective glance at the past few years, you'll see that these tendencies are slowly starting to fade out due to greater awareness about gender identity issues, which has led to a call for stereotypes of either gender to be discarded.
As you would assume, manufacturers aim to answer society's call for inclusivity so that their products will be successful, which is why more and more fragrance companies are now dropping gendered marketing strategies and producing unisex fragrances.
Today, men can enjoy scents that were previously thought to be feminine, while women can enjoy scents that used to be framed as masculine. That's why we felt it was important to present you the best unisex fragrances to come about in 2022.
How to Choose the Best Unisex Fragrances
The truth is, there really are no rules or guidebooks to follow when it comes to choosing the right scent for you because it is mostly dependent on your expression, taste, and desires. That said, there are a few factors that you might want to consider before beginning your search.
You will want to think about which brand you'd like to buy from, what price range you want to stick to, the type of packaging you'd like your product to come in, what type of formula you want to apply, and most of all, how you'd like it to apply it.
In the sections below, we'll give you all the details on how to navigate the process.
Brand
The brand you choose depends on your style and your budget. If you know that a particular brand embodies values that you do, you might want to navigate towards them. Some brands are more dedicated to producing cruelty-free, vegan, or ethical items than others are.
If you have a luxury budget, then you have some wiggle room to tread into the waters of Tom Ford or perhaps Le Labo. If you are on a tighter budget, then you might want to keep to more affordable brands such as MCM or Calvin Klein.
Packaging
One of the coolest things about unisex frgrances is their unique packaging. Given that they are unbound by gender norms and other stereotypes, their bottles get ultra-creative and derive inspiration from almost everything, from medicine to alcohol to buzzing nightclubs.
If you are the type of person that appreciates artistic elements in your perfume bottles or you just like to collect them afterwards, unisex fragrances offer you more than just scent.
Formula
This is probably one of the biggest considerations to be had about unisex fragrances, as your safety and health lies in the hands of choosing a good formula. There are both ethical and health-based concerns to think about here, such as allergies and skin conditions.
If you have super sensitive skin, you will want to lean towards natural ingredients because they are of a higher quality and less likely to irritate your skin. Harsh chemicals have no place in the human body or on the human body, so make sure to look out for things like phthalates and synthetic musks. Also, make sure to know your allergies before you buy.
Application
Are you the type of person who wants to spray and walk away? Then you will want a spray bottle. Do you like the traditional class of a vaporizer pump? Then you can find that on a unisex perfume bottle, although it is a little bit rarer. Are you looking for something convenient that you can just roll onto your skin? Again, these are all things to consider while browsing.
Gucci Mémoire d'une Odeur Eau de Parfum, $116
MCM Eau de Parfum, $65-$95
Byredo Mojave Ghost Eau de Parfum, $190-$270
Thom Browne 09.27.65.01 Vetyver and Cucumber, $237
Commes de Garçons Copper Eau de Parfum, $230
Tom Ford Tobacco Vanille, $200-$815
Malin+Goetz Cannabis Eau de Parfum, $120
Maison Margiela REPLICA Jazz Club, $85-$166
Calvin Klein CK One, $70-$84
Le Labo Santal 33 Eau de Parfum, $225-$1210
Atelier Cologne Lemon Island, $80-$235
Maison Valmont Storie Veneziane Verde Erba I, $395
Loewe Agua Miami Classic Eau de Toilette, $141
13 Best Unisex Fragrances
Below you'll find our choices for the 13 best unisex fragrances on the market right now. These items range from luxury to non-luxury, light to bold, and everything in between. Each description will talk briefly about the brand and the product itself, followed by a bit of information about the price or price range if there are multiple items, given that fragrance companies typically offer varying sizes of a product.
#1 – Gucci Mémoire d'une Odeur Eau de Parfum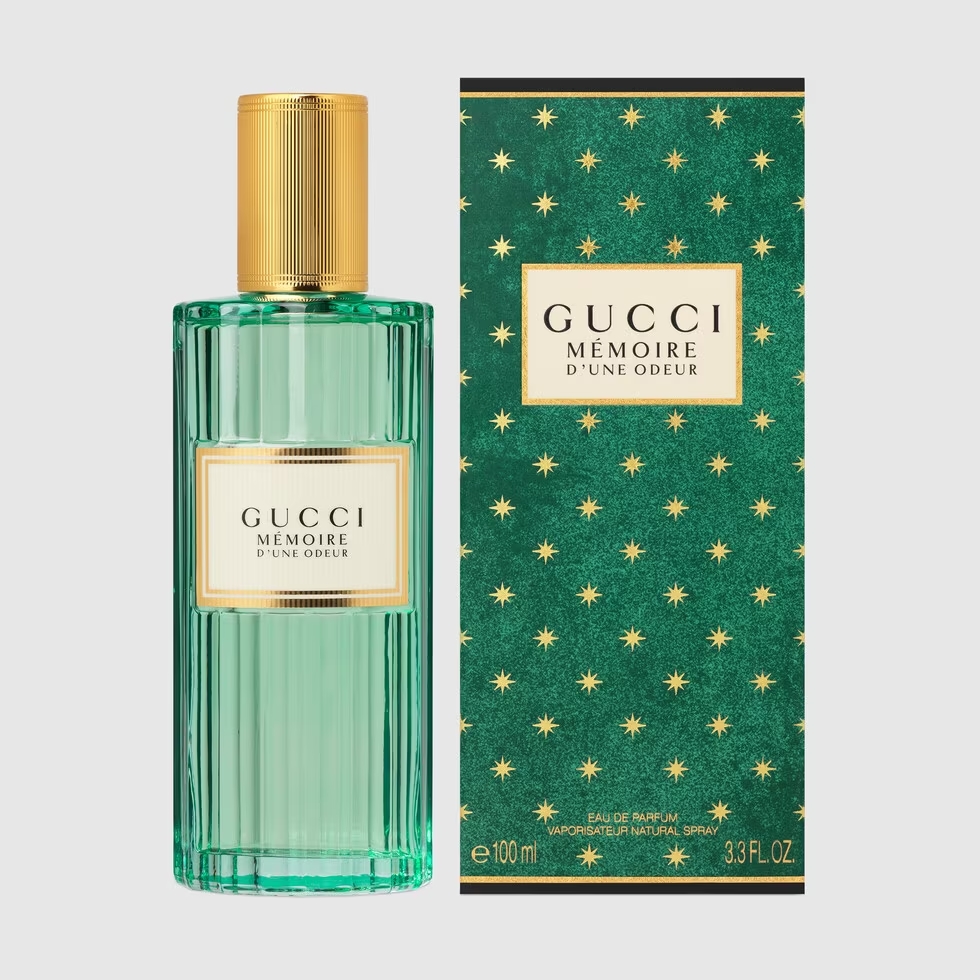 This blend was envisioned by Alessandro Michele, creative director of Gucci, and given life by Spanish master perfumer Alberto Morillas. This unisex, layerable scent with a woody and earthy aura contains key notes like Roman chamomile, coral jasmine, and vanilla, blending together to create an enigmatic, timeless, unexpected experience to the wearer.
The bottle comes in three sizes – 40ml, 60ml, and 100ml – and is a ridged mint-green cylindrical structure, decorated with a gold cap and a gold and beige label with black lettering. The style of the bottle embodies natural elements such as golden skies and light seafoam. Embark on this olfactory journey for the price of $116 (60ml mid-range).
#2 – MCM Eau de Parfum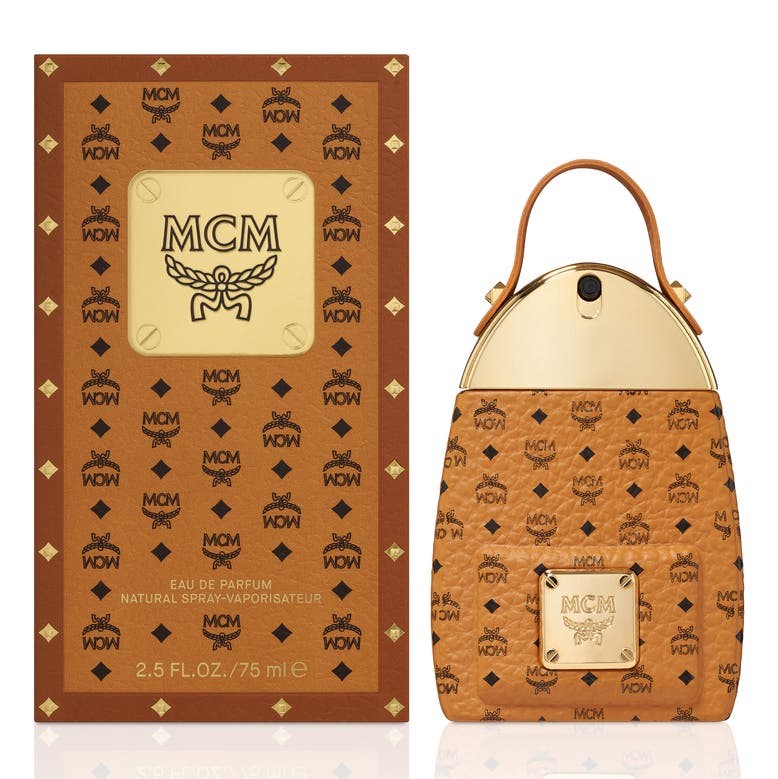 'MCM' stands for 'Michael Cromer Munich', named after founder Michael Cromer and the location of the brand's origin: Munich. The iconic symbol is meant to represent prestige, which is exactly what the label has achieved with their reputation of producing luxury leather goods. It has since expanded to include other items in its repertoire, such as the MCM Eau de Parfum: a floral, woody fragrance that is advertised for women, but it can be worn by men too.
Top notes of raspberry and apricot interplay with mid-notes like white peony, jasmine absolute, and violet leaf. The dance is concluded with base notes of white moss, vanilla, ambrox, and sandalwood.
Packaged in a gorgeous tan bottle that is meant to look like a leather handbag with gold accents, a notable nod to the company's true roots, the price range for the various sizes is $65 to $95.
#3 – Byredo Mojave Ghost Eau de Parfum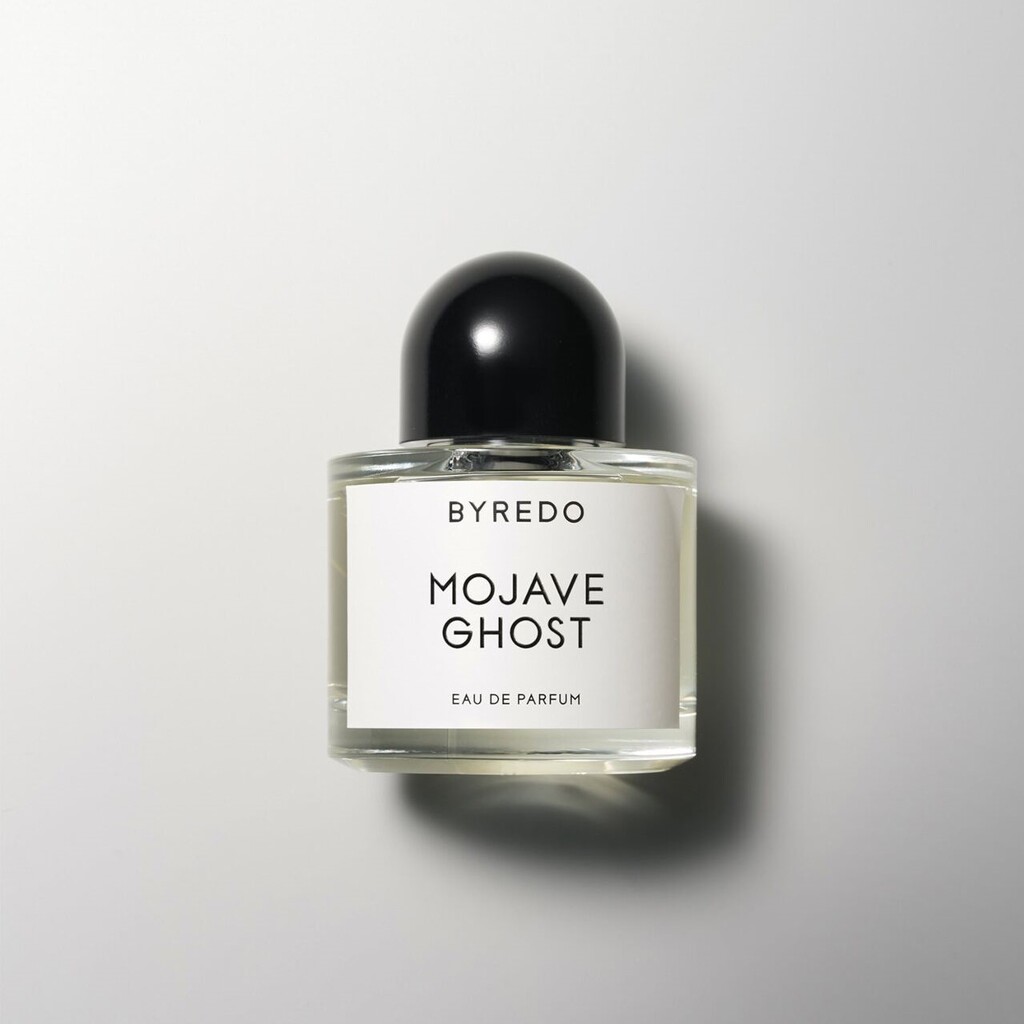 Byredo created this bewitching concoction to pay homage to the Mojave Ghost flower. The blossom itself has translucent to cream-coloured petals that have pink and purple dots on the inside, and Byredo perfectly captured the scent of this beauty with an eau de parfum.
Featuring top notes of ambrette and Jamaican nesberry, middle notes of violet, sandalwood, and magnolia, and base notes of chantilly musk, crisp amber, and cedarwood. The aromatic fragrance embodies the daring and dynamic nature of the flower.
Nordstrom offers it in two sizes, with the price ranging from $190 to $270.
#4 – Thom Browne 09.27.65.01 Vetyver and Cucumber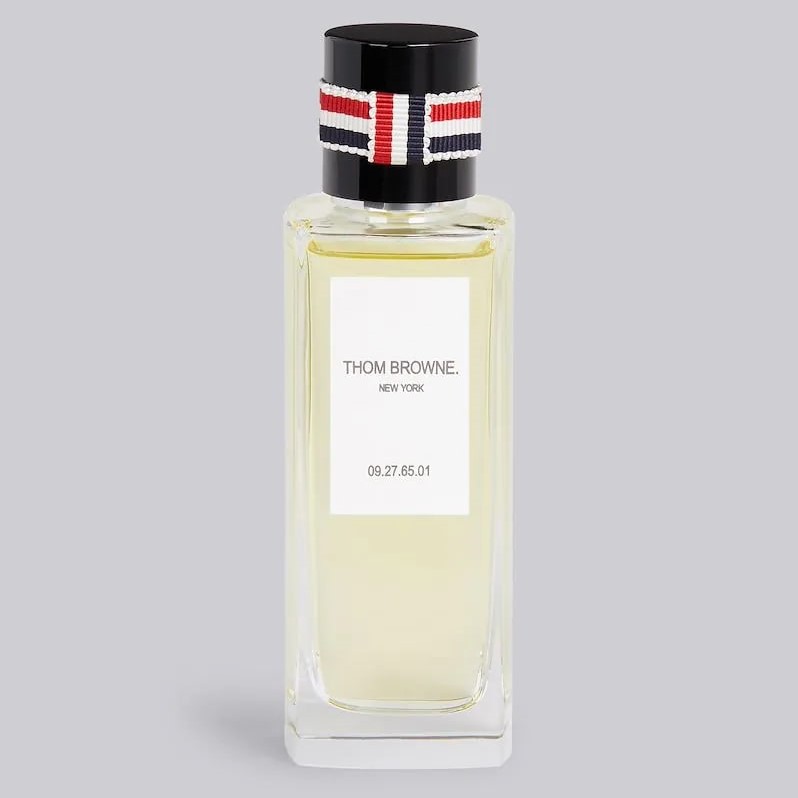 This fragrance is one in a series that features the key ingredient vetiver, or in French 'vetyver'. Vetiver is a plant that can be used for medicinal reasons or for aromatherapy, as it relieves insomnia, nervousness, and joint and muscle pain.
Vetiver smells earthy, woody, musky, and leathery, which traditionally makes it more 'masculine'. However, this unisex fragrance puts a refreshing spin on the norm, combining it with other essences for a more holistic and inclusive experience.
Cucumber, green squash, and traveller's tree lead into the heart of the fragrance which contains lentisque oil orpur, lentisque absolute orpur, and angelica root oil. Notes like Thom Browne's Vetyver Blend, cedarwood, and earth musk lie at the close.
Bottled in a clear glass container with a white label on it, it's topped off with a black cap wrapped in a ribbon patterned with signature Thom Browne striped colours. Purchase this masterpiece on Thom Browne for $237.
#5 – Commes de Garçons Copper Eau de Parfum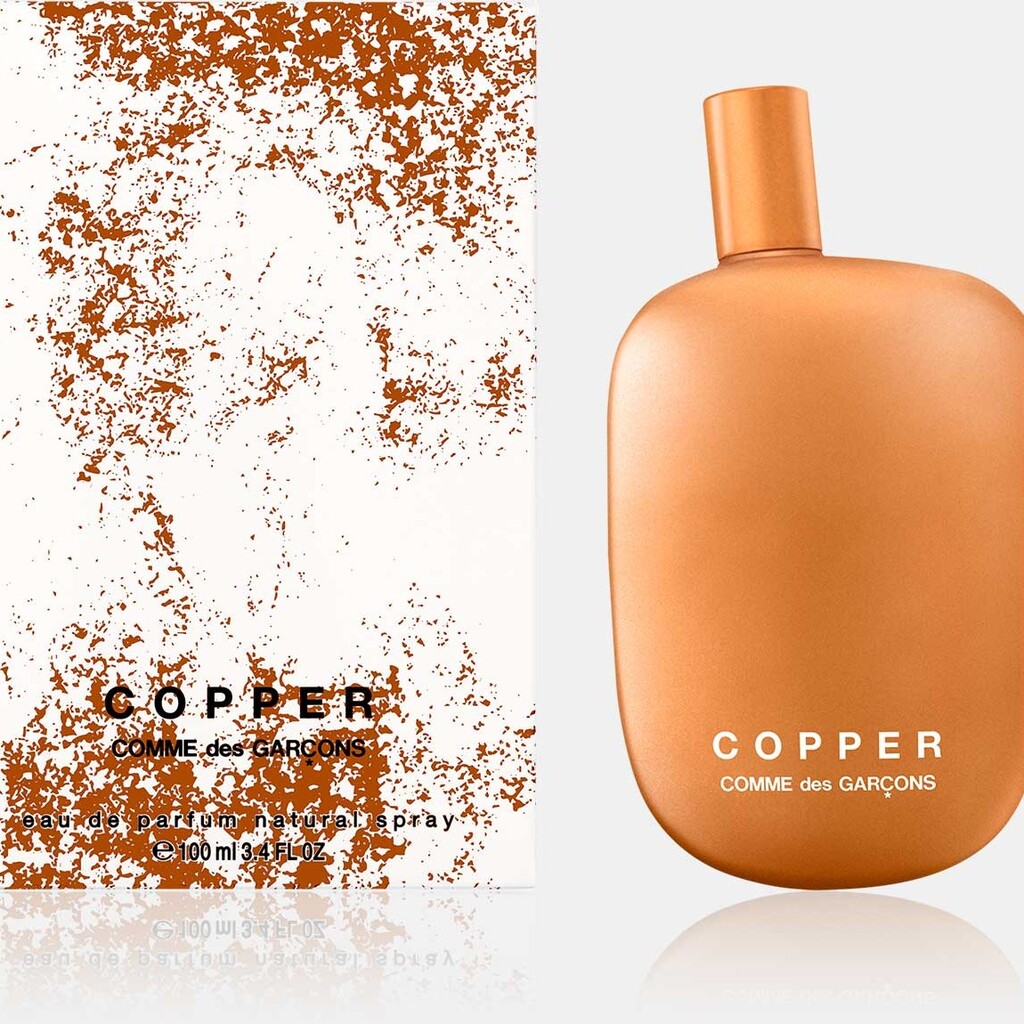 Comme des Garçons is a Japanese fashion label that was founded by Rei Kawakubo in Paris. The brand is known for its high-fashion rebellion with a focus on equality and acceptance. CDG believes in freedom through style and being blind to things that create hard lines in society such as gender, sex, age, andn class.
Copper is a fragrance that symbolizes the manifold of identities in its distinct blend of Iranian galbanum, Peruvian peppercorn, Madagascan ginger, and Ethiopian myrrh, among several other natural and synthetic ingredients. The bottle is a coppery oval shape with the cap off-center, making it just as fun and ambiguous as the scent it carries.
Find Copper on Holt Renfrew for $230.
#6 – Tom Ford Tobacco Vanille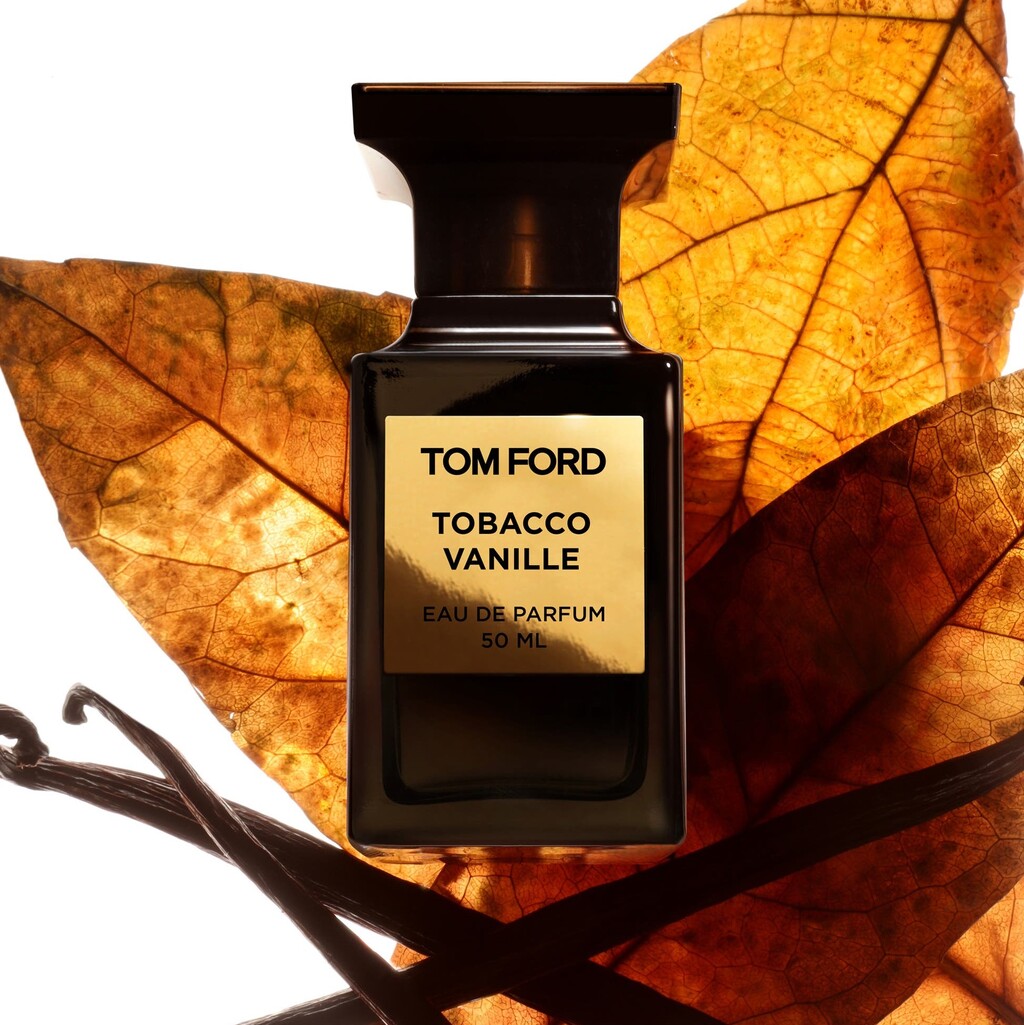 Tom Ford's sleek, sophisticated, luxurious style comes through in the design of this scent's 50ml and 100ml bottle, which looks like a fusion between a picturesque structure and a chess piece. The deep brown glass is decorated with a gold label with black lettering on it. The 248ml bottle has the same sharp aesthetic, but the cap is a shiny pearl-like piece that is tied off with a gold string that has the TF logo hanging off of it.
The warm and spicy scent features key notes such as tobacco leaf, ginger, and vanilla accented with tonka bean, cocoa, and wood sap. The fragrance is reminiscent of the musk and opulence of a 'gentleman's club', as Tom Ford describes it. It oozes confidence and class, and the unisex, layerable scent ranges in price from $200 (30ml) to $815 (248ml).
#7 – Malin+Goetz Cannabis Eau de Parfum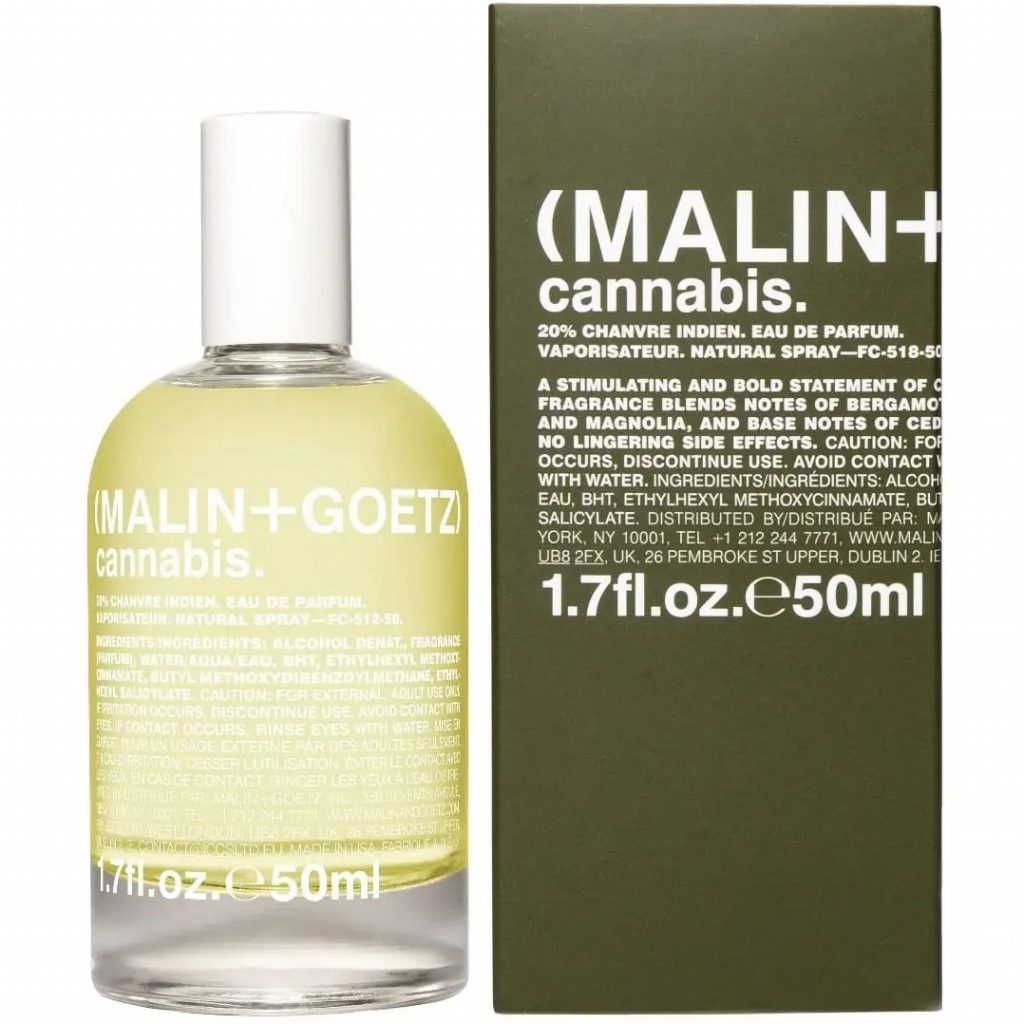 Founded in 2004 by Matthew Malin and Andrew Goetz, the brand boasts design-conscious products that are made with natural ingredients and sensitive skin in mind. Everything is cruelty-free and made locally in New York to limit the carbon footprint of the production process.
The Cannabis Eau de Parfum for individuals of every skin type and gender. The earthy, herby, woody fragrance is meant to capture the essence of cannabis with key notes like black pepper, muguet, and sandalwood. Accents like magnolia, bergamot, cedarwood, and patchouli bring to mind memories of lazy uplifted weekends and evenings, making this olfactory cocktail an indescribably devilish yet undoubtedly nostalgic experience.
The vessel is a minimalist nod to apothecary bottles with its clear glass, white transparent lettering and silver cap. Lift your spirits with this fragrance offered on Sephora for $120.
#8 – Maison Margiela REPLICA Jazz Club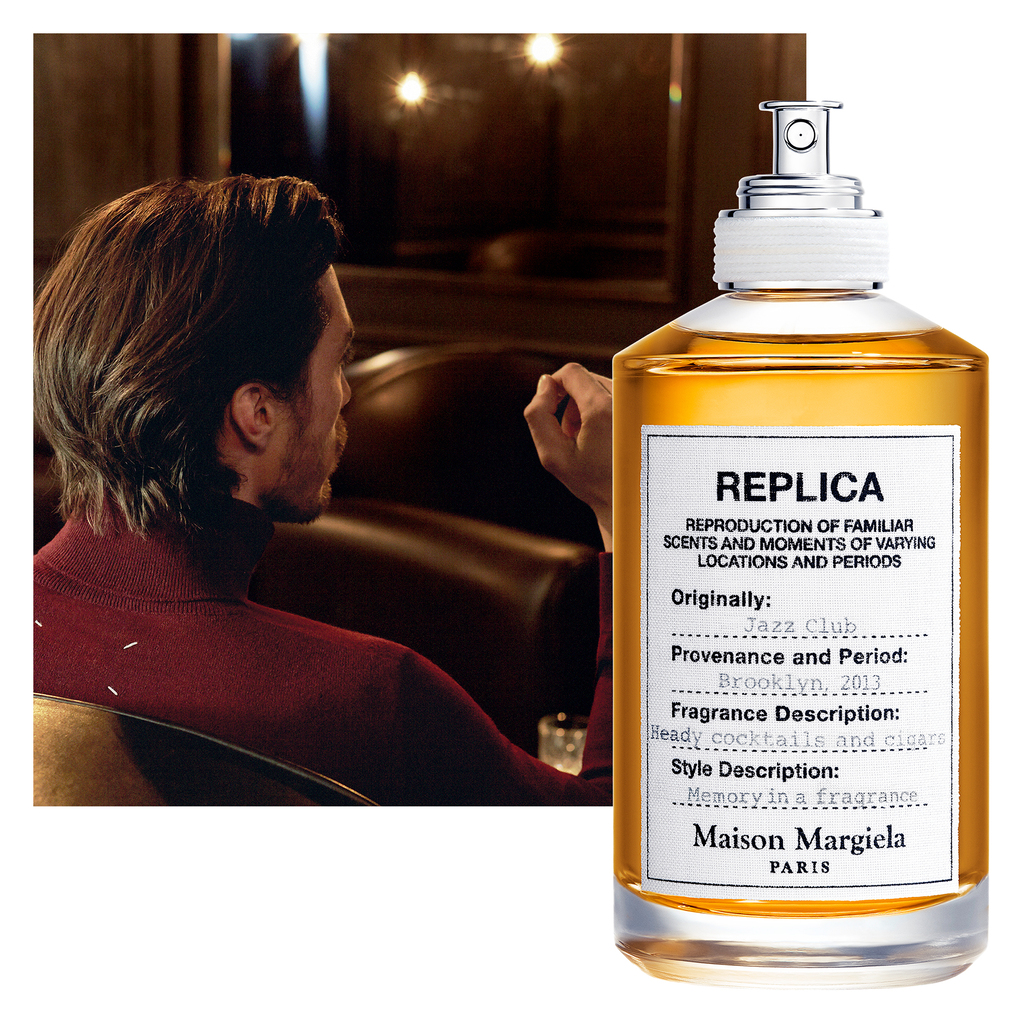 Maison Margiela is a luxury French fashion house that was founded in 1988 by Belgian designer Martin Margiela. The brand is diverse and versatile, producing both haute couture artisanal pieces and pret-a-porter collections made for the modern, sophisticated individual.
'Replica' Jazz Club is inspired by the atmosphere of a Brooklynn jazz club, embracing the iconic scents of aged liquor, cigars, and leather. Pink pepper, rum absolute, and tobacco leaf absolute are the main players in this fragrance, although it contains other notable scents like vanilla, neroli oil, and lemon.
The bottle is designed to look like an apothecary jar with its cotton label and black ink text. The price range of this scent is $85 (30ml) to $166 (100ml).
#9 – Calvin Klein CK One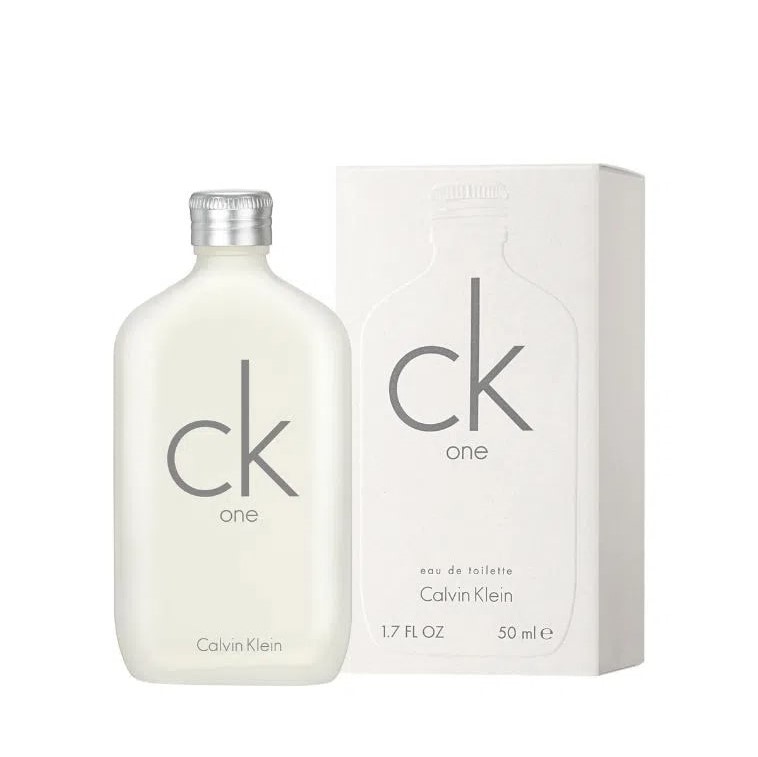 This CK fragrance encapsulates the classic comfort, style, and simplicity of Calvin Klein. The bottle is somewhat flask-like with bold black lettering on it, and it's topped with a standard silver twist cap. Stylistically, it doesn't have many bells and whistles, but that is exactly what we would expect of a clean, pure fragrance profile.
The eau de toilette spray balances brightness and deep sensuality with spicy cardamom and musky bergamot, intertwined with fruity pineapple, and papaya. It all comes together with floral notes like rose, violet, and jasmine to produce a relaxed, yet luxurious scent.
Sephora offers this fragrance in the price range of $70 (50ml) to $84 (100ml).
#10 – Le Labo Santal 33 Eau de Parfum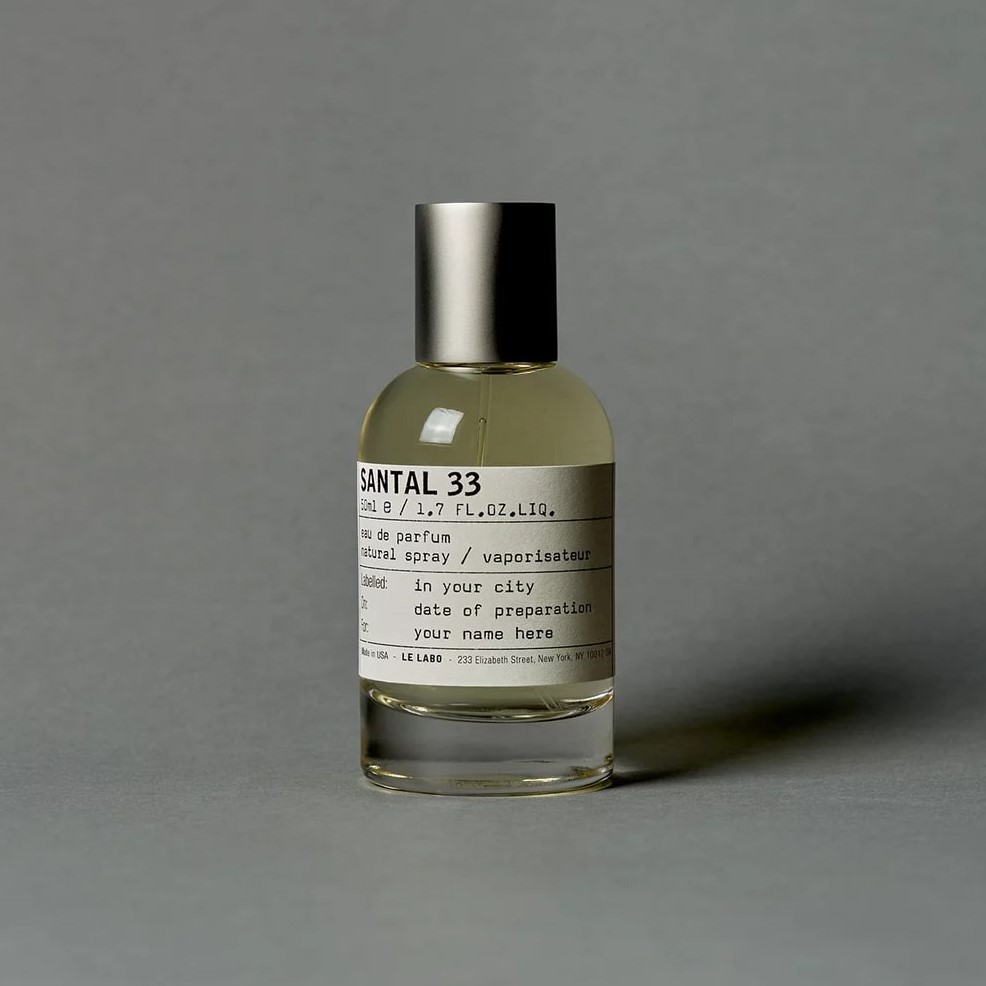 Le Labo is an Estée Lauder perfume brand based in New York City that focuses on the creation of unique fragrances that capture luxury and pure, artisanal craftsmanship. This is reflected in Santal 33, which is inspired by images of the American West. Iconic frames of horse rides at dawn and cowboy campfires elicit the strong ideals of pure freedom and strong, independent masculinity.
Spicy, leathery, musky, and smokey notes like cardamom, iris, violet, and ambrox give the fragrance its unisex appeal and comforting, yet addictive, aura. The bottle is a simplistic, yet rustic clear glass with an aged label and a silver cap.
The depth, sensuality, and charm will make you want to break out into a Southern drawl. Le Labo offers this fragrance in the price range of $225 for 50ml to $1210 for 500ml.
#11 – Atelier Cologne Lemon Island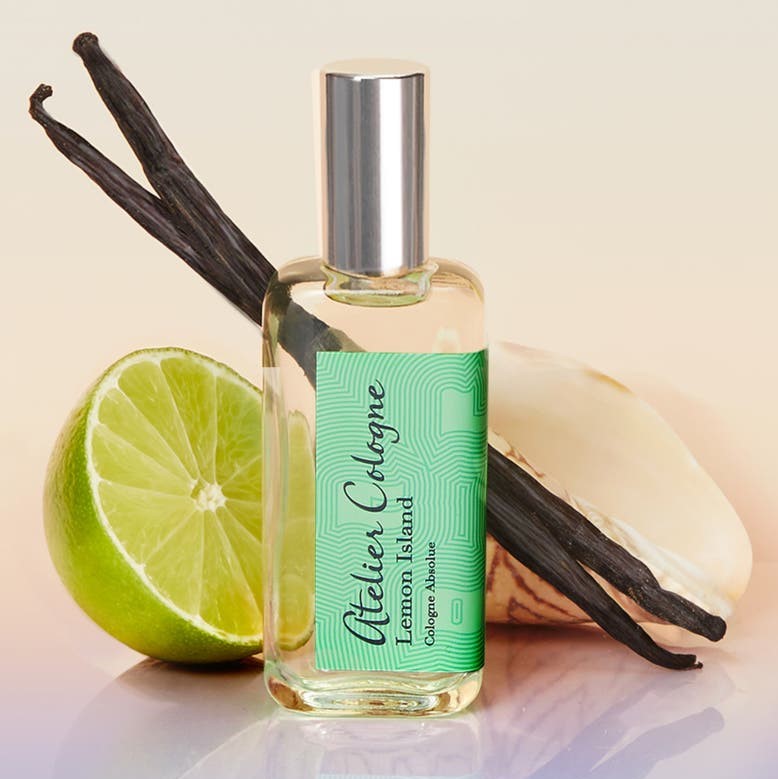 This refreshing scent combines olfactory notes like lemon from the Indian Ocean, jasmine from India, and vanilla from Madagascar to reproduce the feeling of waking up on a bright, sunny morning in an earthy eden. In this unique unisex fragrance, 92% of the ingredients are of natural origin, inviting users into a citrus-based connection with the natural world.
The bottle is reflective of its organic contents, as it's made of clear glass and decorated with a bright green label. The fragrance is offered individually and sold as part of a set as well, which is great for every occasion.
The 30ml and 200 ml bottles come with a free travel case and are offered in the range of $80 (30ml) to $235 (200ml).
#12 – Maison Valmont Storie Veneziane Verde Erba I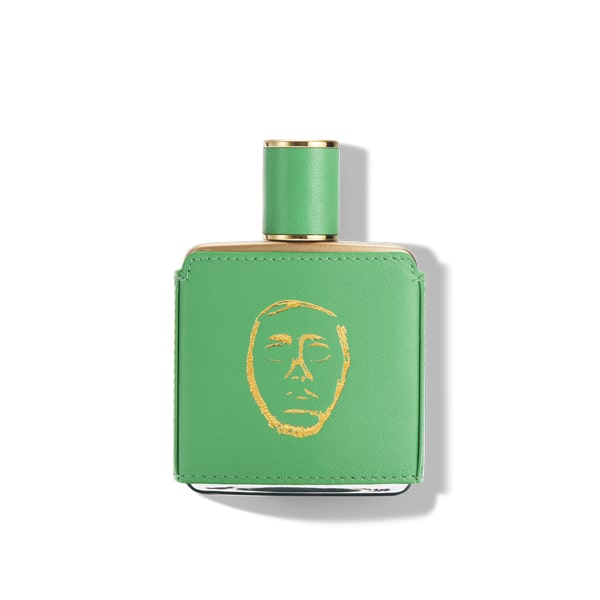 La Maison Valmont, situated in Berlin, embraces the city's dedication to traditional German architecture with an edgy, modern, sharp twist. President and creative director of the Valmont group Didier Guillon envisioned 'La Maison' as the leading center of fine skincare and relaxation.
The Verde Erba I perfume embodies the splendour, warmth, and whimsy of Ventian dawn with its leading notes of syringa flower, papyrus essence, and sweet vanilla. The floral fragrance is bottled in a stylish green leather flask that features a gold painted facial outline.
Truly a work of art, the entire package reaches out to people of all kinds in a warm, floral embrace. Purchase Verde Erba I on La Maison Vermont for $395.
#13 – Loewe Agua Miami Classic Eau de Toilette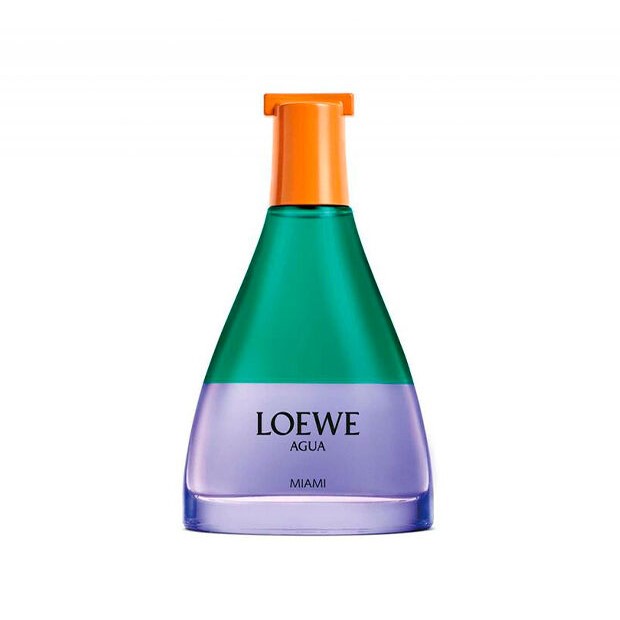 Loewe is a Spanish luxury fashion house, founded in 1846 by Enrique Loewe Roessberg. The eponymous, gender-bending brand specializes in leather goods, perfumes, clothing, and many other fashion accessories. Agua Miami is one such product that showcases Loewe's dedication to Spanish sophistication.
Top notes of Italian tangerine, bitter orange, and lemon meet heart notes like petitgrain, neroli, and lily of the valley in a dynamic, sparkling dance. Then, base notes like musk and iris enter to captivate users in a deep and sensual flowing aura.
The bottle is made of smooth green glass and it's topped with a wooden lid, reminding us of Miami's sweet, sunny beaches. Holt Renfrew offers this scent for $141.
Which unisex fragrance has the best staying power?
The thing that usually determines how long a fragrance will last on your skin is its chemical stability. Deeper, woodsier notes like musk, amber, and leather are more stable than others, so they will likely have more staying power. As follows, the products on our list that would 'stick' for a long period of time would be Le Labo's Santal 33 and Maison Margiela's 'Replica' Jazz Club, given that they feature predominately musky, leathery notes.
Which unisex fragrance is the most affordable?
There are a couple of options that are super affordable on our list of best unisex fragrances. These are the MCM Eau de Parfum ($65) and Calvin Klein's CK One ($70). Even their larger bottles do not break the $100 mark, whereas the other fragrances begin above it.
Where are the best places on the body to apply fragrance?
The best places to apply your fragrance are either moisturized areas or warmer areas such as your pulse points, the insides of your elbows, your chest, your neck, and even the back of your knees. The most important thing to note is that you shouldn't apply it to areas that you cover up with lots of clothing, as it will dull the scent. The area that you apply it to should be exposed to air to prolong the scent's staying power.
Which unisex fragrances are best for everyday wear?
Have you ever caught a whiff of somebody's scent and thought to yourself that it was a bit much for the middle of the day? If so, then you probably picked up on an evening scent as opposed to a daytime scent: there is a huge difference!
Evening scents are typically heavier, deeper, and more heady, whereas daytime scents are lighter and more subtle. For the daytime, you want scents that have a presence, but strike a balance between intensity and subtleness, so it might be best to opt for citrusy, light, and aqueous scents. Loewe's Agua Miami and Atelier's Lemon Island strike a balance between sweet and fruity, which enhances your presence the perfect amount.
Get Access to Exclusive Deals
Subscribe for free to get exclusive deals in your inbox. 100% privacy