10 Best Vacation Clothes for Women – Effortless Style for Your Getaway
Planning a vacation is an exciting opportunity to escape the daily routine and indulge in relaxation and adventure. As you envision your dream getaway, one aspect that should not be overlooked is your vacation wardrobe.
Elevate your vacation style with designer clothing that combines comfort, versatility, and a touch of luxury. In this article, we'll explore some essential designer vacation clothes for women that will ensure you look effortlessly chic while embracing the spirit of your destination.
Whether you're lounging on a tropical beach or exploring a vibrant city, these designer pieces will help you create unforgettable looks and make a stylish statement wherever you go.
Check out these 10 amazing wardrobe pieces to pack for your next vacation.
#1 – ZIMMERMANN Raie Scalloped Striped Crocheted Cotton Sweater
Even your summer wardrobe needs great knitwear – Zimmermann's 'Raie' sweater is crocheted from brightly colored cotton in retro stripes. Flared sleeves accentuate the relaxed feel and the scalloped edges will draw attention to your wrist stack. Style it with the matching shorts.
Highlights
Multicolored cotton
Slips on
Hand wash
This item has been imported
Fits true to size, take your normal size
Designed for a slim fit
Cropped sleeves
Mid-weight, open knit
100% cotton
#2 – CHLOÉ + NET SUSTAIN Owena Leather Platform Sandals
It's rare to find a shoe that's equal parts comfortable and chic, but Chloé's 'Owena' sandals strike the perfect balance. They're set on platform soles with cushiony support. Gold rivets and a polished buckle add subtle embellishment.
Highlights
Only available in full sizes, go up to the nearest whole size if you take a half size
Italian sizing
Buckle-fastening ankle strap
Designer color: Cloudy White
This item has been imported
Rubber sole measures approximately 50mm/ 2 inches
Off-white leather (Calf)
#3 – CHLOÉ + Eres Cutout Embellished Swimsuit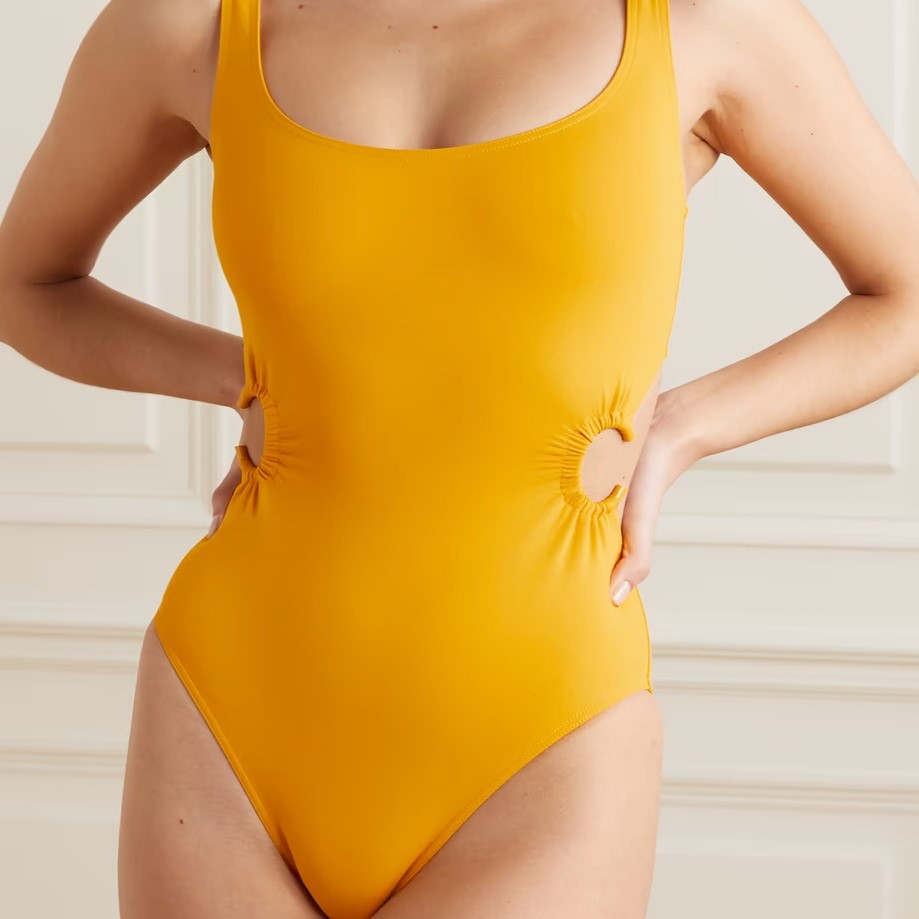 Chloé and Eres' swimsuit has a dramatic cutout back that creates the illusion of separates from the reverse. It's made from stretch fabric that's subtly gathered along the C-shaped side embellishments, and offers medium brief coverage. We also have the black version in our edit.
Highlights
Fits true to size, take your normal size
Medium brief coverage
Yellow stretch-polyamide
Clasp fastening at back
84% polyamide, 16% elastane
Machine wash
Designer color: Dark Honey
Lotion, sunscreen, oil and chlorine can cause discoloration of this item; this is not a manufacturing defect. Please follow care instructions to keep your swimwear in the best condition
This item has been imported
#4 – LOEWE + Paula's Ibiza Embroidered Raffia Tote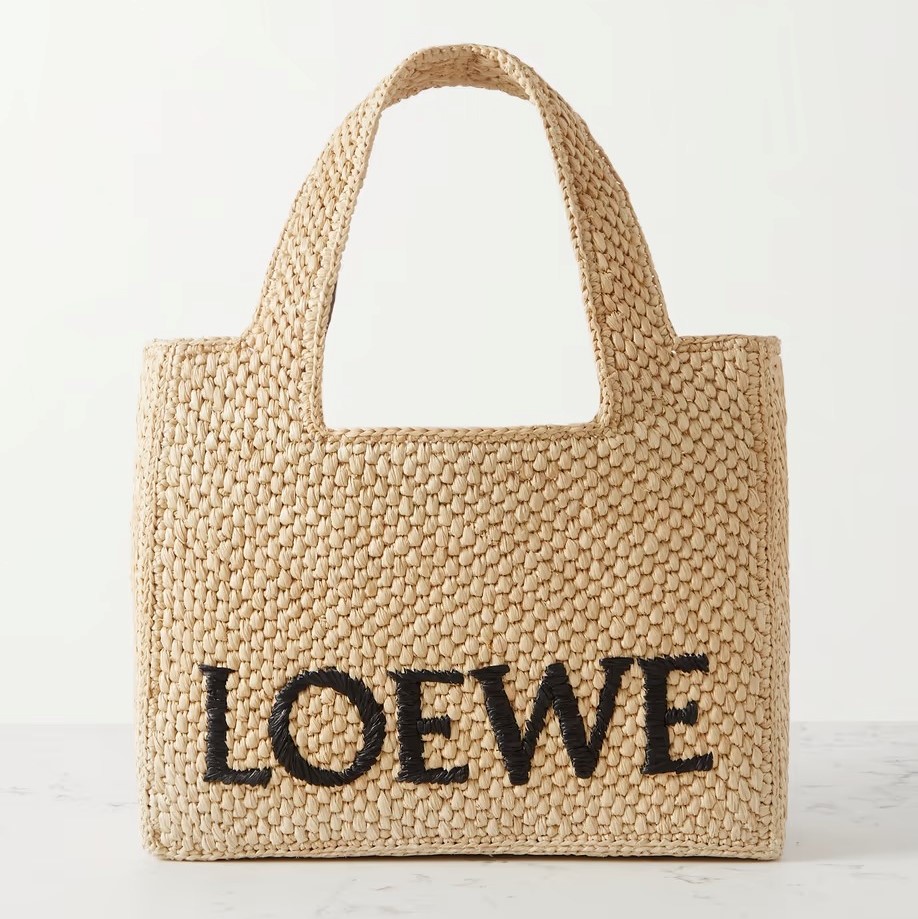 Designed in collaboration with Paula's Ibiza, Loewe's tote is woven from raffia and embroidered with the house moniker. Topped with two handles that feel comfortable to carry, it has plenty of space inside for a vacation essentials, like a paperback and sunglasses.
Highlights
Min. Strap Length: 88cm / 34.6in
Handle Drop: 14cm / 5.5in
Depth: 11cm / 4.3in
Max. Strap Length: 110cm / 43.3in
Height: 19.5cm / 7.7in
Width: 24cm / 9.4in
Raffia
Open top
Comes with a dust bag
This item has been imported
#5 – GUCCI EYEWEAR GG Square-Frame Gold-Tone Sunglasses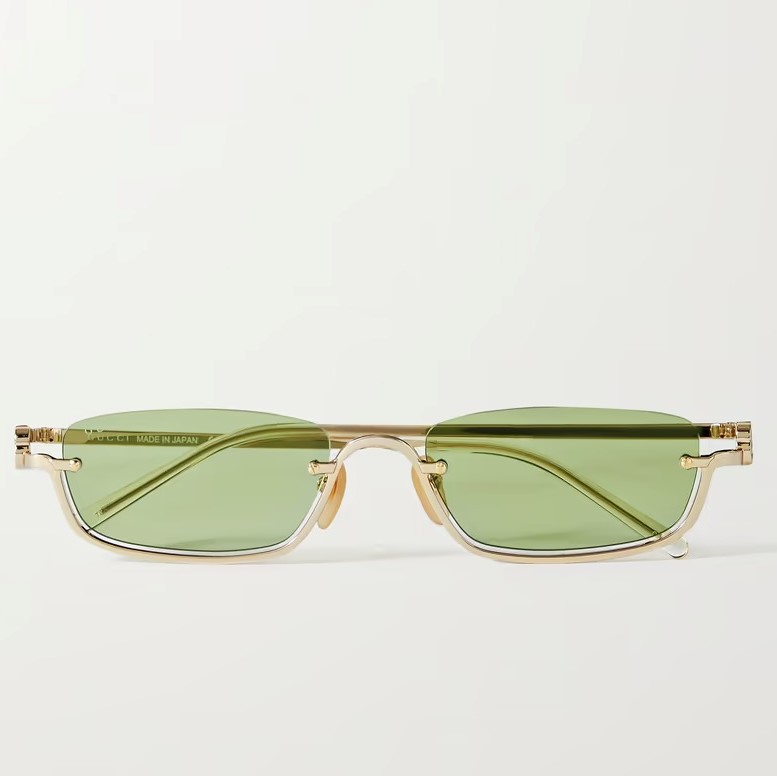 See things afresh with Gucci Eyewear's sunglasses. Gleaming gold-tone metal traces the lower half of the square green lenses and joins the arms with 'GG' monograms. The narrow shape and exposed edges mean they're best kept in the accompanying case when you're not wearing them.
Highlights
Square Frame
Height: 3cm / 1.2in
Width: 15cm / 5.9in
Gold-tone metal
Come with a case
100% UV protection
Made in Italy
#6 – LA DOUBLEJ Hendrix Cropped Printed Cotton-Blend Bouclé Straight-Leg Pants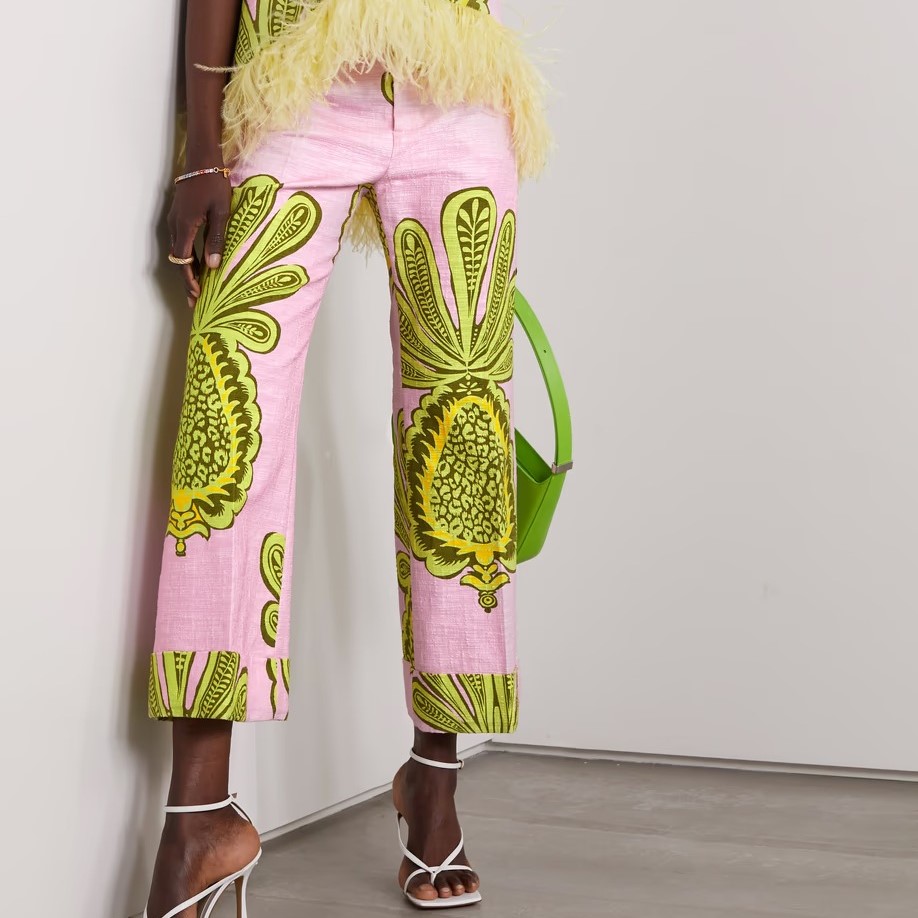 La DoubleJ's' 'Hendrix' pants will carry an outfit with their bold, playful pineapple print. Exclusively designed for us, they're made from cotton-blend bouclé with neat pleats through the straight cropped legs. Wear them with the matching top and heels for alfresco dinner dates.
Highlights
Fits true to size, take your normal size
High-rise designed for a straight-leg fit
Cropped length
Lightweight, non-stretchy fabric
Baby-pink, tonal-green and yellow cotton-blend bouclé
Button and concealed zip fastening at front
98% cotton, 2% elastane
Dry clean
Made in Italy
#7 – RUSLAN BAGINSKIY Oversized Straw Sunhat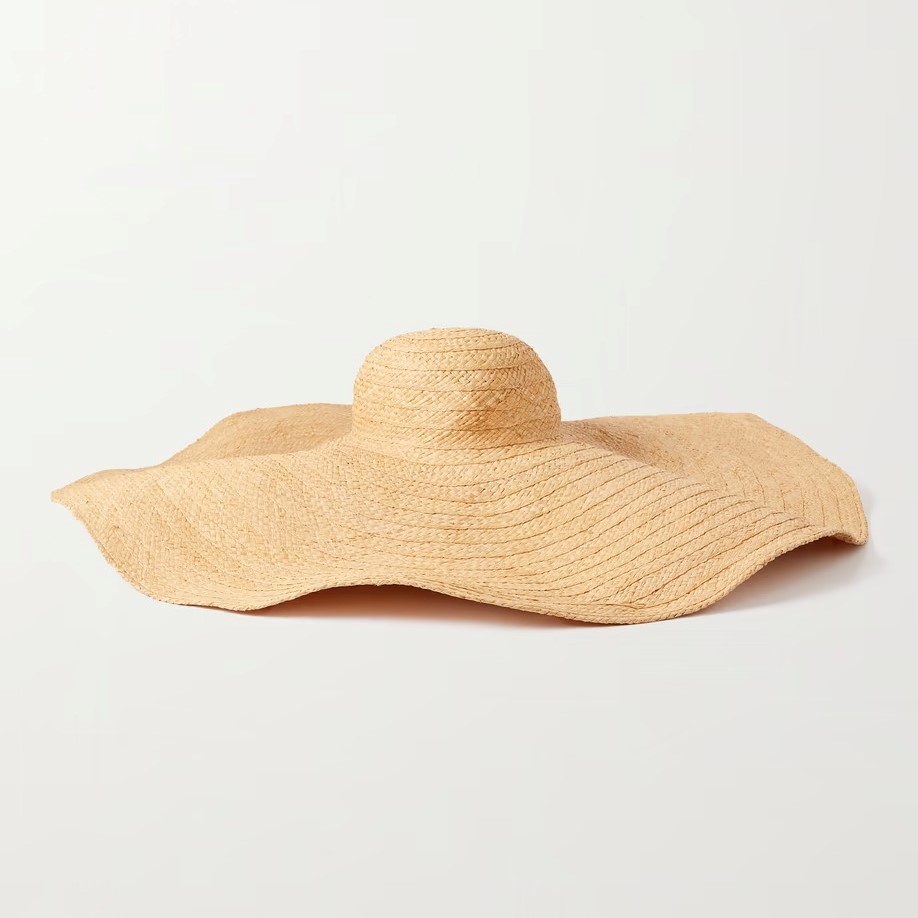 Ruslan Baginskiy's oversized sunhat points to the designer's love of glamorous dressing. Lightweight but durable, it's been woven from lengths of straw using traditional millinery techniques. Complement yours with dark sunglasses.
Highlights
Straw
100% straw
This item has been imported
#8 – ZIMMERMANN Raie Guipure Lace-Trimmed Linen Blouse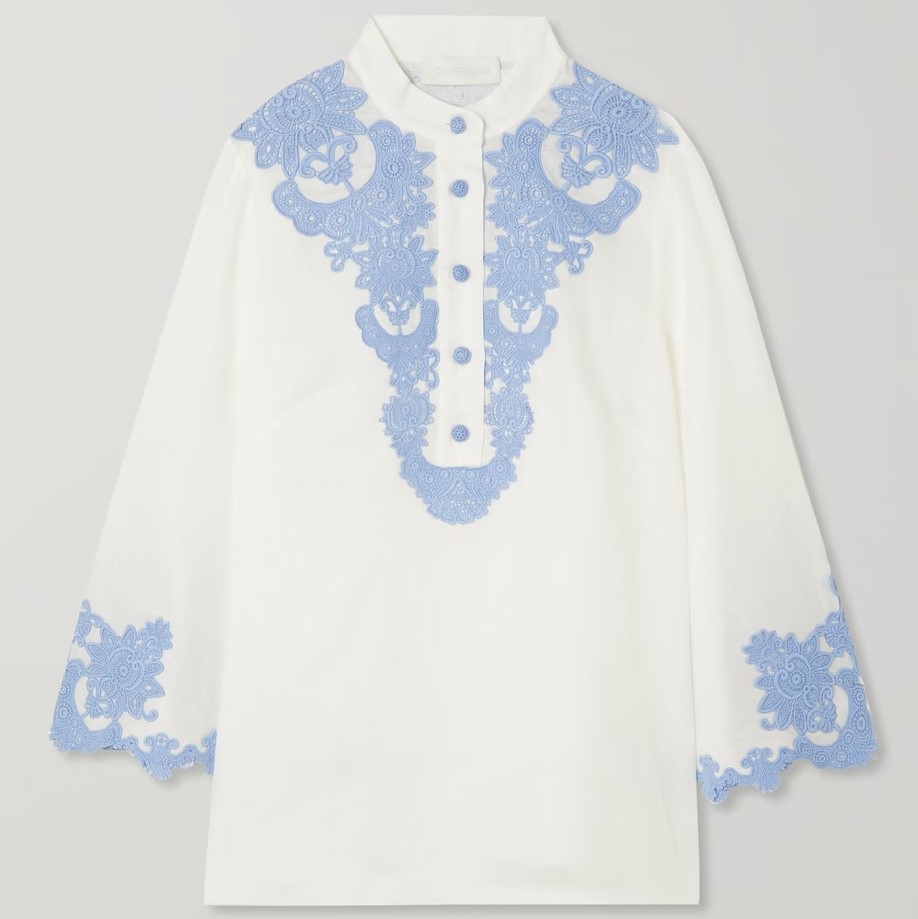 Zimmermann's 'Raie' blouse is part of the label's bright and breezy Spring '23 collection. Cut from linen, the loose silhouette is framed by wide sleeves and sky-blue guipure lace. Style yours with denim shorts and espadrilles for al fresco lunches.
Highlights
Fits true to size, take your normal size
Designed for a loose fit
Lightweight, embroidered, non-stretchy fabric
Ivory linen, sky-blue guipure lace
Button fastenings along front
Fabric1: 100% linen
fabric2: 100% cotton
Dry clean
This item has been imported
#9 – MISSONI Mare Asymmetric Striped Knitted Coverup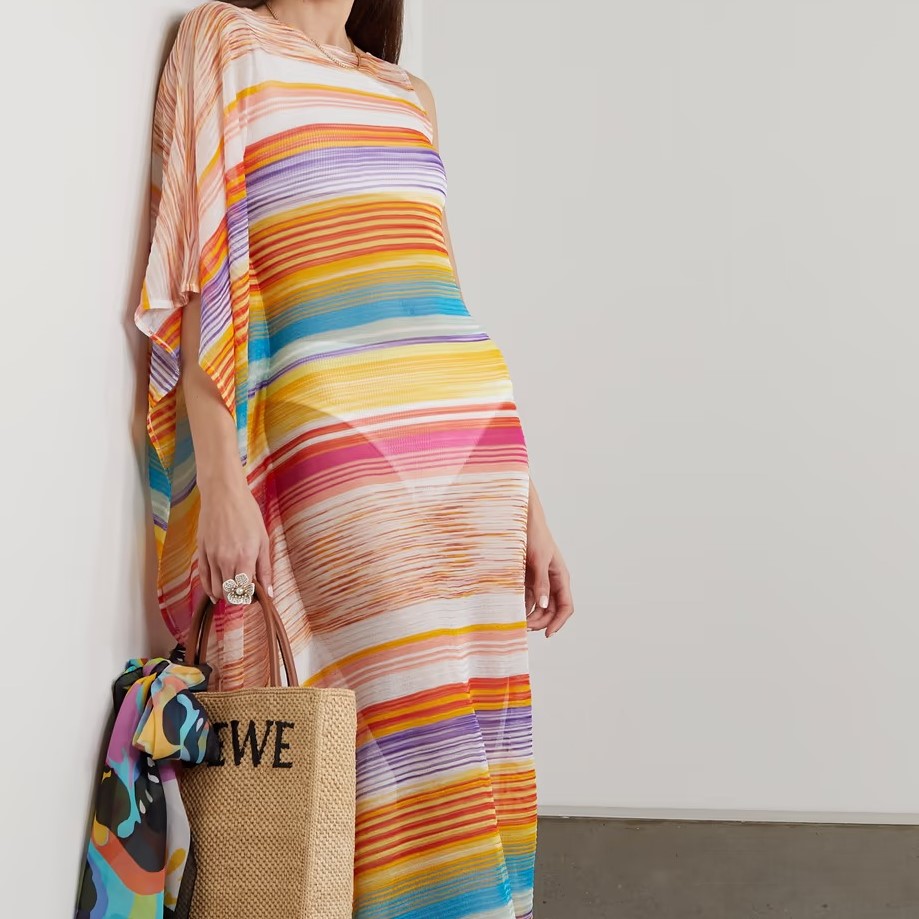 Missoni Mare's coverup is effortlessly glamorous. It's knitted with graphic stripes in the palette of a tropical sunset and has a single rippling sleeve. Wear yours with a straw hat and an equally colorful necklace when lounging poolside.
Highlights
Fits true to size, take your normal size
Designed for a slim fit
Lightweight, open knit
Multicolored viscose
Slips on
100% viscose
Dry clean
Made in Italy
#10 – CHLOÉ + NET SUSTAIN Escala Recycled Cotton And Hemp-Blend Denim Shorts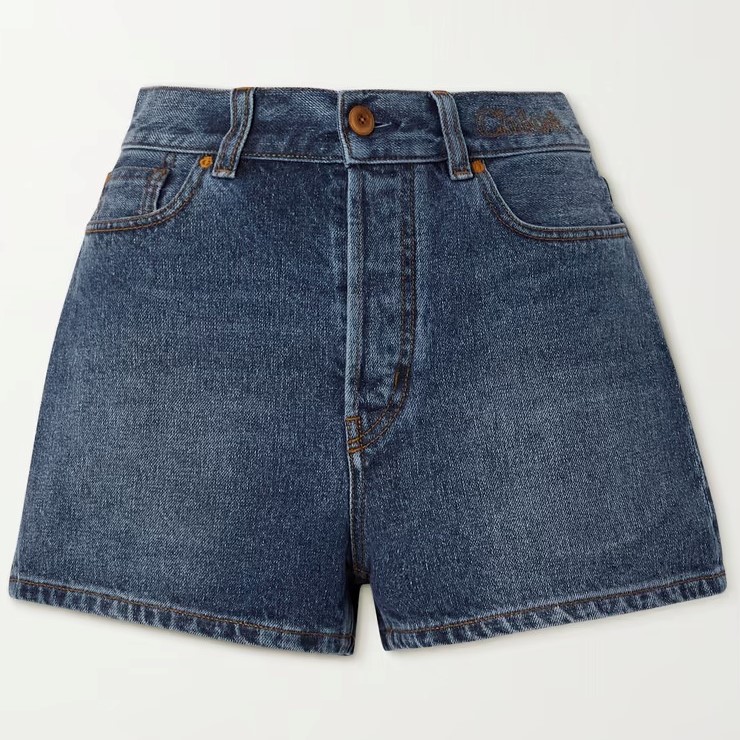 Chloé's 'Escala' denim shorts are made using a blend of cotton and hemp and sit high on the waist. Style them with your top tucked in to keep the embroidered logo lettering on show.
Highlights
Fits true to size, take your normal size
High-rise, designed for a slim fit
Mid-weight, non-stretchy fabric
Blue cotton and hemp-blend denim
Button and concealed zip fastening at front
87% cotton, 13% hemp
Designer color: Dusky Blue
This item has been imported
How to Shop for the Best Vacation Clothes For Women
Consider the Climate and Activities: Start by understanding the climate and the activities you'll be engaging in during your vacation. Whether it's a beach holiday, a city excursion, or a mountain getaway, the weather and planned activities will influence your clothing choices. Opt for lightweight, breathable fabrics for warmer destinations, while layering options and cozy materials are ideal for cooler climates.
Prioritize Comfort: Vacations are all about relaxation, so prioritize comfort when selecting your vacation clothes. Look for soft, stretchy fabrics that allow for freedom of movement. Opt for pieces with relaxed fits, elastic waistbands, and breathable materials to keep you comfortable throughout your trip. Consider versatile items that can be dressed up or down, providing flexibility for different occasions.
Embrace Versatility: Packing space is often limited, so opt for versatile pieces that can be mixed and matched to create multiple outfits. Choose a color palette that coordinates well, allowing you to easily combine different items. Consider items like maxi dresses that can be dressed up for a night out or dressed down for a casual day of sightseeing. Versatile separates such as a lightweight cardigan or a pair of tailored pants can be paired with various tops to create different looks.
Invest in Quality: While it may be tempting to opt for budget-friendly options, investing in quality vacation clothes can make a significant difference in both comfort and longevity. Designer brands often prioritize high-quality materials and craftsmanship, ensuring that your clothes will withstand the rigors of travel and remain in good condition for years to come. Look for reputable brands known for their attention to detail and durable fabrics.
Consider the Destination's Culture and Style: When choosing vacation clothes, take into account the cultural norms and local style of your destination. Respectful dressing is essential, particularly in conservative or religious areas. Research the local customs and dress codes to ensure your clothing choices align with the local culture. Additionally, consider incorporating elements of the destination's style into your outfits to embrace the spirit of the place you're visiting.
Pack Efficiently: As you select your vacation clothes, keep in mind the limitations of your luggage space. Opt for lightweight fabrics that can be easily rolled or folded without creasing. Consider using packing cubes or compression bags to maximize space and keep your clothes organized. Plan your outfits in advance to avoid overpacking and to ensure you have appropriate options for various occasions.
Conclusion:
Choosing the best vacation clothes for women involves finding a balance between comfort, style, and practicality. By considering the climate and activities, prioritizing comfort, embracing versatility, investing in quality pieces, respecting the destination's culture, and packing efficiently, you can curate a stylish vacation wardrobe that allows you to enjoy your getaway with confidence and ease.
Remember, the key is to select clothes that make you feel fabulous and ready to embrace new adventures while effortlessly reflecting your personal style.
Get Access to Exclusive Deals
Subscribe for free to get exclusive deals in your inbox. 100% privacy