How to Wear Black Pants and Brown Shoes – A Style Guide
Black Pants and Brown Shoes: Break the Mold!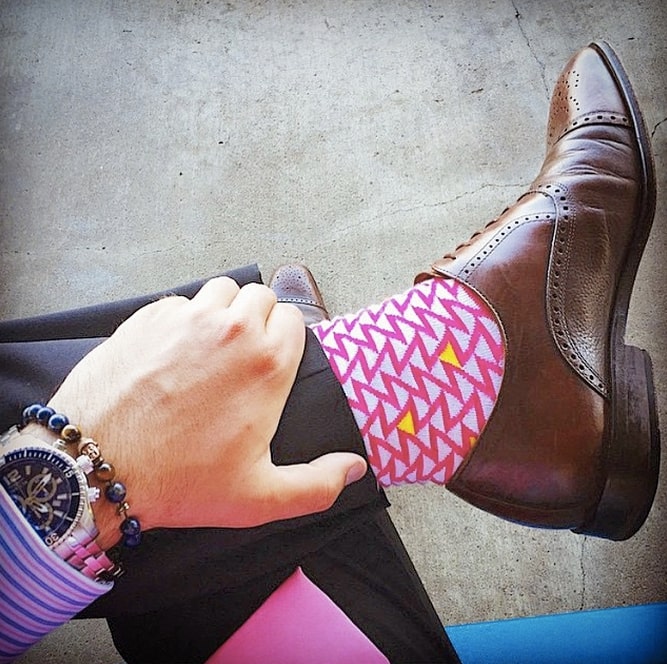 Credit: Soxy
It is a truth universally acknowledged that black pants and brown shoes are acceptable when it comes to menswear. Generally viewed as the more common alternative to wearing all black, this pant and shoe combination can be elevated or dressed down with a few simple wardrobe tweaks and style tips.
Can I wear black pants with brown shoes?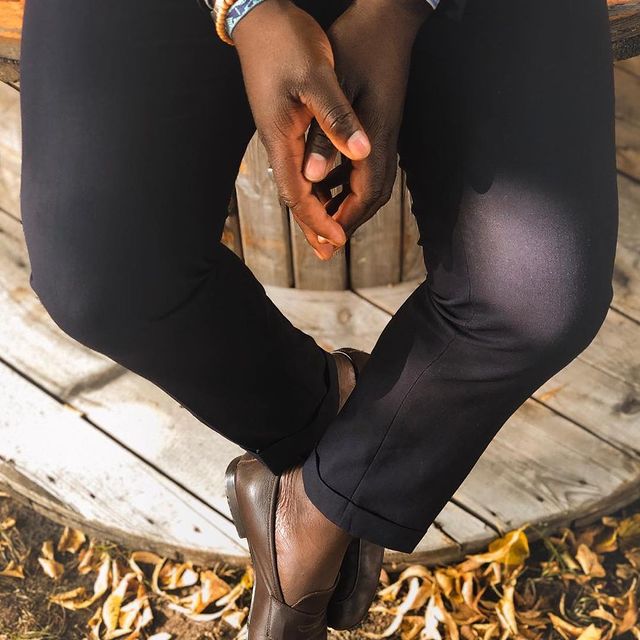 Credit: pierre_cedric_senghor
The answer is yes! Historically, brown shoes were viewed as informal wear, from the color to the style of the shoe, while black shoes were considered de rigeur. To wear black pants and brown shoes together would be considered a serious faux pas.
But fashion draws influences from everywhere and everyone, and that eventually became popular with the mainstream crowd. Brown shoes, for example, were a favorite of Edward, Prince of Wales, whose style was influential in the 1930s. By the 1950s, menswear ads featured illustrations of men in navy and black suits with brown shoes.
As menswear dress codes have evolved and relaxed, brown shoes and black pants became more commonplace, although style tips such as "no browns after six" still float about. But personal style is about bending and breaking the rules. Knowing the following can help you experiment with style and put your own spin on outfits:
Choosing the right color shoes
Picking out dress socks
The proper events for formal shoes
How to accessorize
It's all about the shoes: choosing the right shade of brown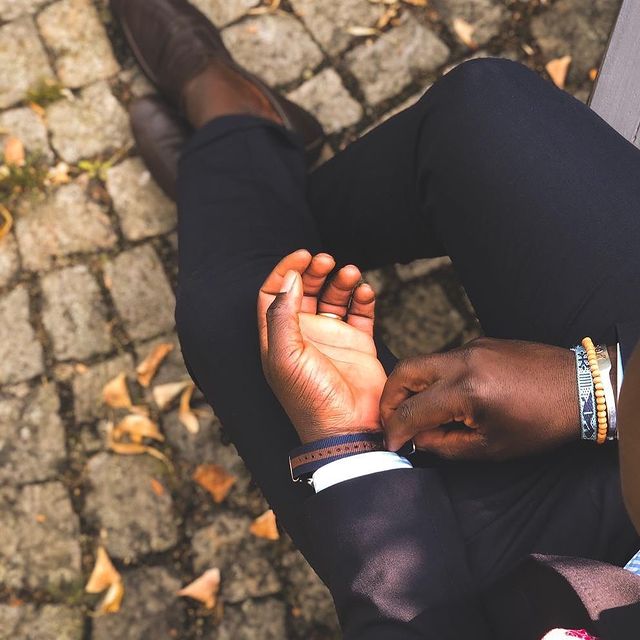 Credit: pierre_cedric_senghor
The general rule for brown shoes is the darker, the better. Any shade from standard brown to the deepest, reddest brown is deemed as acceptable footwear to wear with black pants.
But why brown shoes? Simply put, brown shoes are much more versatile than black shoes, as they come in a range of colors and styles to suit every type of event. Think about it – more often than not, the everyday man's wardrobe will have more pairs of brown shoes versus one or two pairs of black shoes.
Common and popular shades of brown include:
Mahogany
Walnut
Dark brown
Chestnut
Cocoa
You'll notice that many brown shades have names derived from nature; pairing an earthy-toned brown shoe with black pants is always a good idea.
When pairing brown shoes with black pants, it's important to stay away from tan shoes. Visually speaking, the contrast isn't pleasing to the eye when wearing light shoes and dark pants or outfits. This rule only holds true for tan shoes, as white sneakers and dark pants work out fine.
So, play it safe by sticking with darker toned brown shoes when wearing black pants. This also applies to any other color combination, like grey pants and brown shoes.
However, there's still room to experiment with brown shoes! Two-toned brown shoes have become popular recently, and there's a wide variety of styles to be found. Some brown shoes will mimic the style of classic black-and-white saddle shoes, with two different tones of brown leather.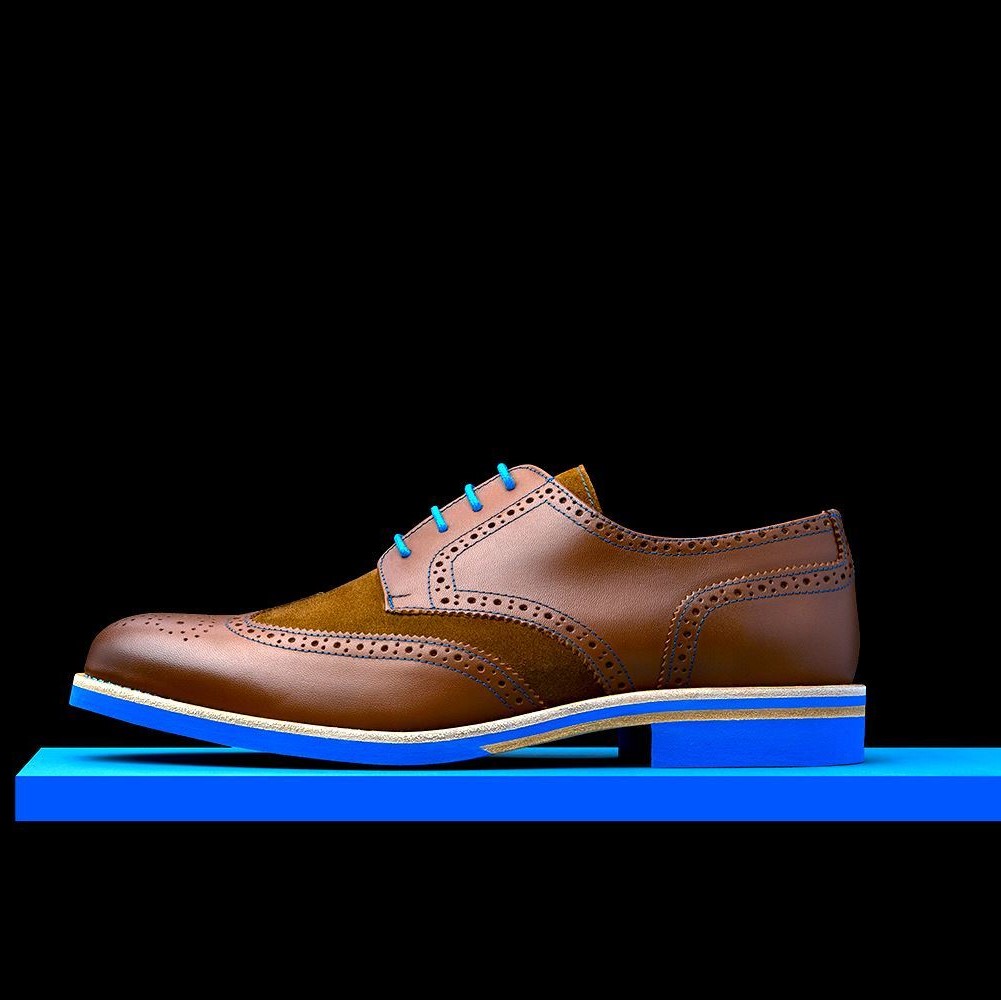 A pair of classic wingtip shoes can get a modern update with colorful soles or colorful laces, as seen from Bold Society Shoes. These can pack a punch, as the accent color is usually bold or bright. But it's an easy way to "dress up" a brown shoe and make it unique.
What men's socks to wear with brown shoes and black pants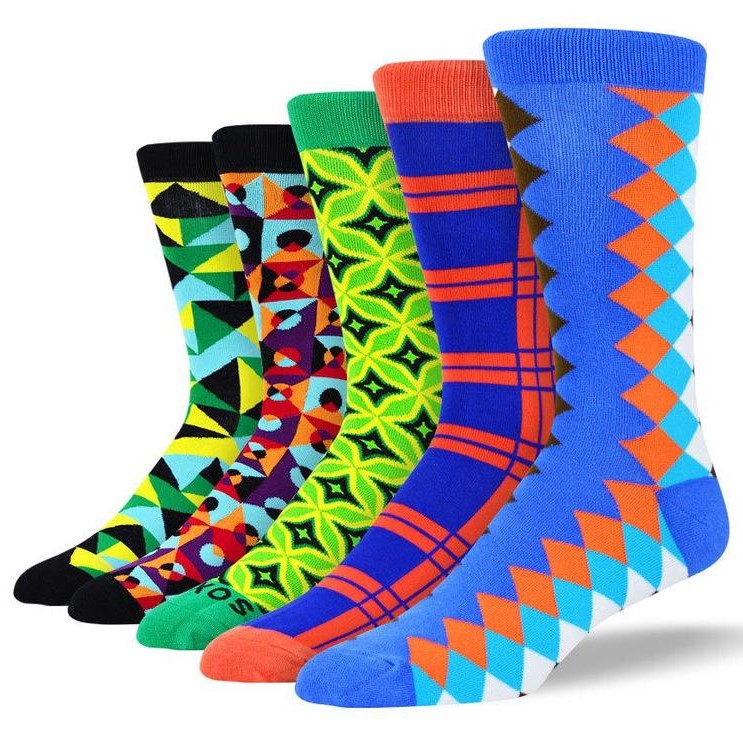 With those basics down, it's time to move on to the other half of footwear: socks. Socks tend to be overlooked when it comes to menswear, but they can inject some much-needed color or personality into an outfit. When wearing black pants and brown shoes, socks are the best item to play around with colors and patterns.
Soxy is a premium lifestyle brand that prides itself on its unique socks (and other accessories). Boasting an array of bright colors and funky patterns, Soxy promises high-quality, comfortable, fun socks for every occasion. In addition to a "best socks guarantee," Soxy's socks also feature:
Engineered elasticity so socks stay up
Manufactured with combed cotton for ultra-softness and to adapt to the shape of the foot
Pre-washed to reduce shrinking
Reinforced heel and toe areas to prevent rips
With black pants and brown shoes being two neutrals, technically any color combination is possible, whether you're sticking with solids or patterns. But picking out the right sock depends on a few certain factors:
Do you want your socks to stand out, or blend in?
Are you working all day, or hitting the gym afterwards?
Is the event formal or casual?
Stand out or blend in? Most of the time our socks are hidden, except for when we're sitting down or wearing cropped pants. If you want your socks to be the center of attention, a bright color or a funny sock pattern, like a cityscape, will definitely draw eyes downward. If you're looking for a more subdued transition, a subtle pattern and muted colors would work better.
Working or working out? There's socks, and then there's athletic socks. Usually white, short, and of a thicker material, athletic socks don't really belong anywhere else outside of a gym, a sporting event, or as grillmaster attire. It's best to pack athletic socks in a bag alongside with a change of gym clothes.
Formal or casual? The more formal the event, the more formal your shoes and socks should be. This doesn't mean you have to wear silk socks, or sock garters, but your socks should be solid, dark colors so as not to stand out. Navy, black, brown, and even dark purple would all be acceptable for a formal event. The only time an exception to this rule can be made is for a summer wedding, where dress codes are slightly more relaxed.
Once the style of dress sock is determined, then you can move onto colors. As mentioned before, almost any color combination works with black or brown. Dark colors work just as well as bright colors due to contrast. Think about a large color wheel, or the large pack of Crayola crayons, where all the colors are bunched together in an aesthetically pleasing way. The human eye innately knows what colors look best and vice versa, and it all comes down to preference.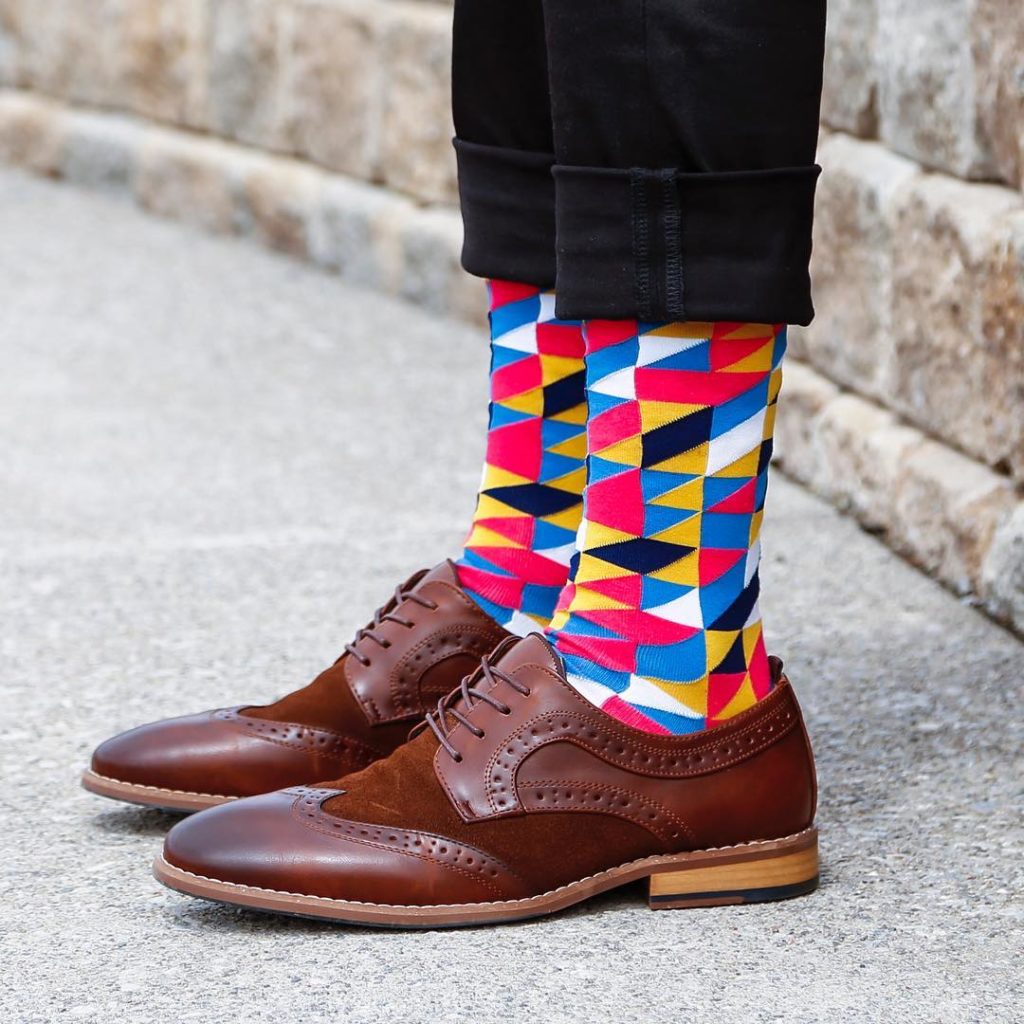 Credit: Soxy
When choosing cool socks to pair with black pants and brown shoes, you can choose to either match or contrast the socks with shoes or pants, providing different options. For example, green polka dot socks against a dark green background, plays up the contrast with the brown shoes, while the dark green almost blends with the black pants.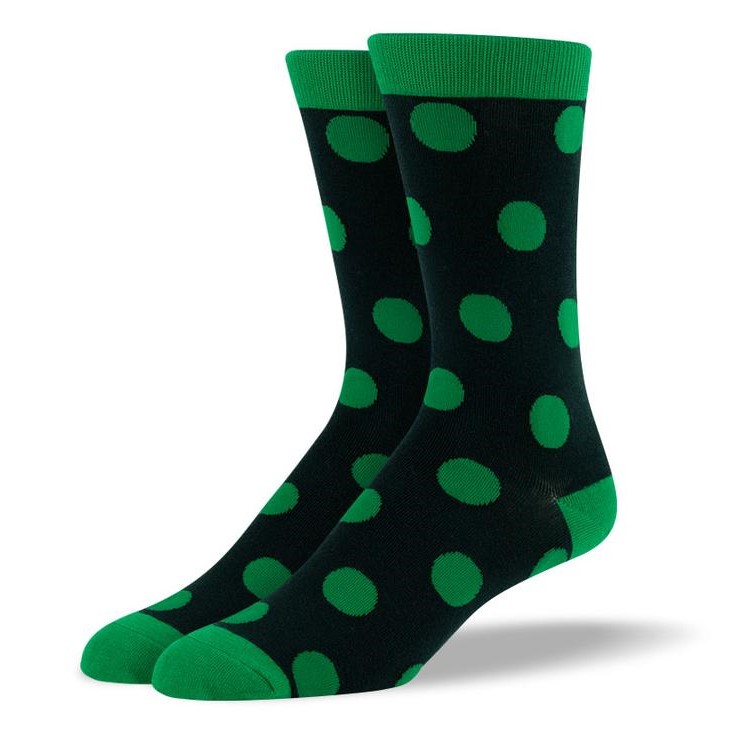 Introducing crazy socks takes the overall look to the next level, and it's these small details that can improve a person's sartorial sense. Experimenting with patterns and colors is encouraged, and the best way to do that is to start off with subtle details before switching to bold ones. Check out this chart below for some color recommendations.
RECOMMENDED COLOR AND PATTERN COMBINATIONS
Plain black pants
White, pink, or blue shirt
Cognac shoes
Blue patterned socks
Pinstripe black pants
Grey, navy, or green sweater
Dark brown shoes
Polka dot purple socks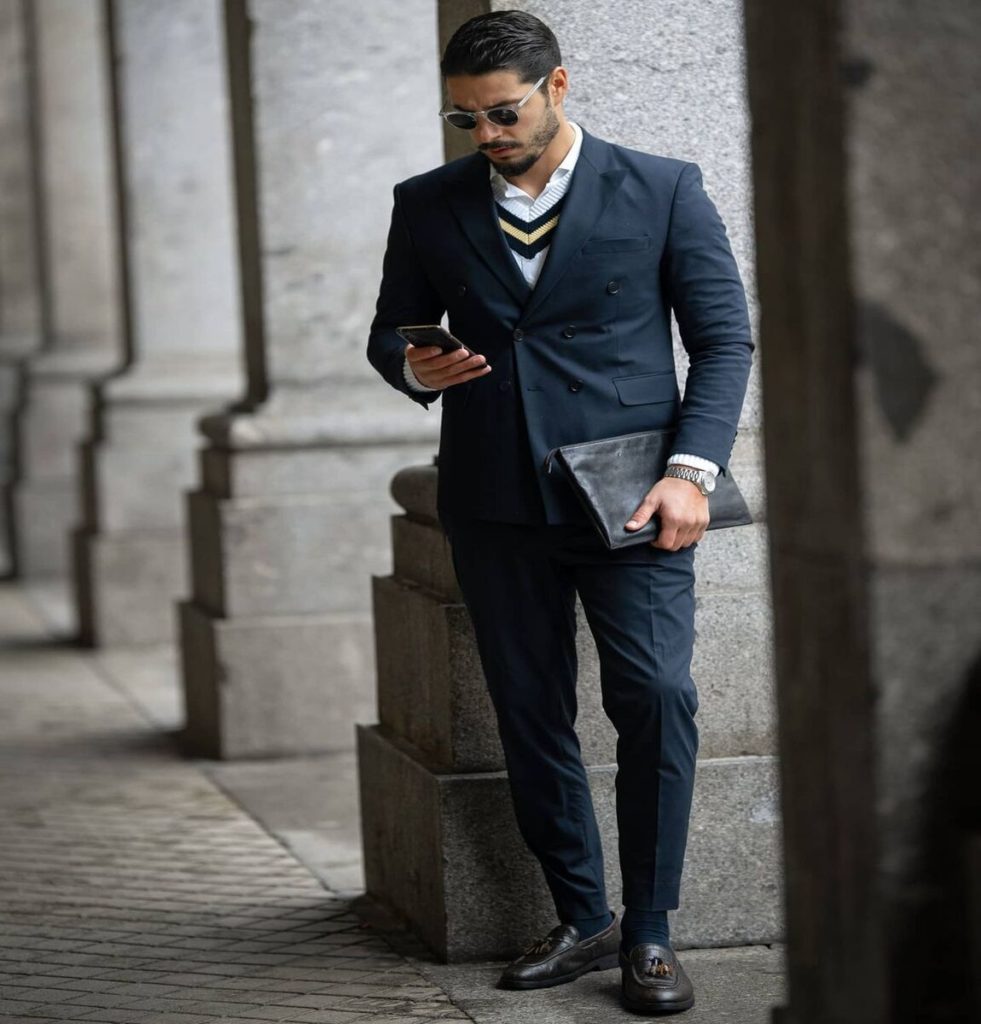 Credit: brunomartins71
Black pants are basic, we know. As the standard of pants for evening wear and casual wear alike, it can seem like there aren't many options. However, that's simply not the case.
One of the easiest ways to switch out plain black pants is to introduce patterns, like pinstripes, or florals or unique fabrics, like leather or velvet. Obviously, an event would dictate whether leather or velvet pants are appropriate, but the option is there.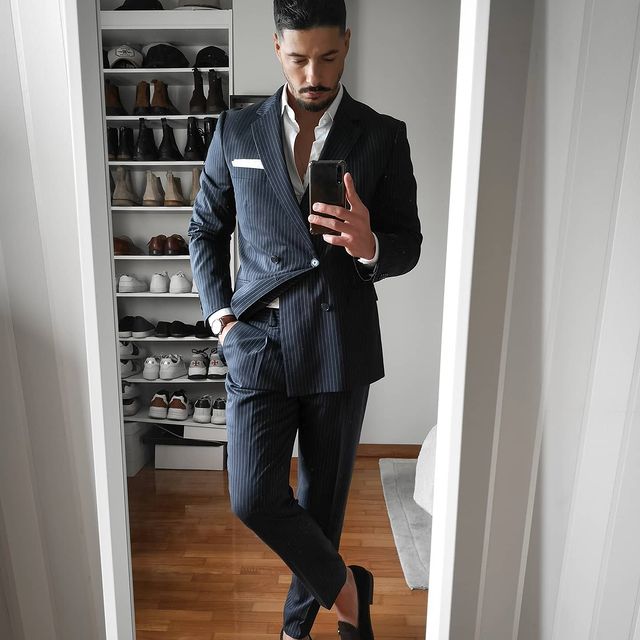 Credit: brunomartins71
The pattern on black pants doesn't have to be loud either—the pinstripes can be thin, or any other colors present can be muted so as not to be overpowering. But black patterned pants means you can attempt pattern mixing with your dress socks, which is another stylish way to elevate an outfit, as long as you keep the brown shoes plain. Pattern mixing is successful when you keep the colors in the same family, or the patterns in the same family. For example, black pinstriped pants would pair well with grey striped socks or even black and white polka dot socks, but they would not fare so well with a bright novelty pattern.
What about the top half? What color shirt can I wear with black pants?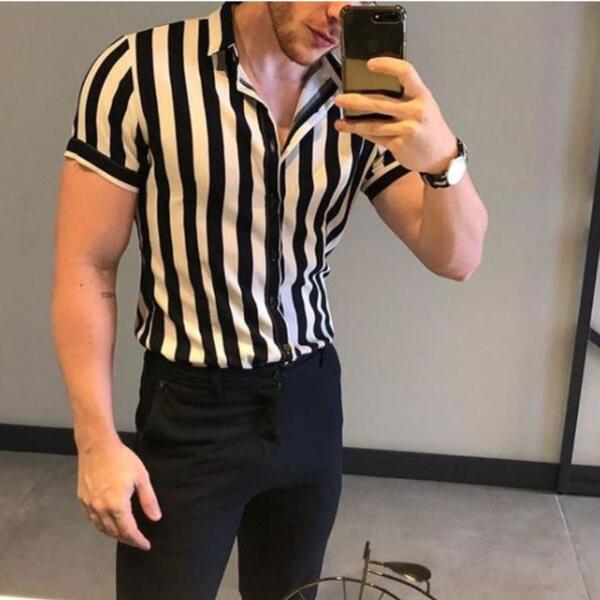 Credit: gentlemenslounge
To keep black pants and brown shoes streamlined, the key is to limit the rest of the colors in the outfit. This can seem daunting at first, but it provides an opportunity to experiment with color for the rest of your outfit pieces.
Starting with a black jacket to complement the black pants and brown shoes, almost any kind of shirt can be layered underneath – button-down, t-shirt, turtleneck, v-neck sweater, etc. Layering is perfect to keep you comfortable all-year round, especially if the jacket is of a lighter weight material.
The classic choice is to go for a white or light-blue shirt, but other light pastels, like pink or lavender also work really well with black pants and brown shoes. If light colors aren't your thing, darker shades like navy, forest green, and eggplant also work really well, either with or without a black jacket. You can even wear all black for a monochromatic look, but have the brown shoes visually break it up.
Brushing up on color theory can also help when it comes to determining which colors go together.
| | | | |
| --- | --- | --- | --- |
| PRIMARY | SECONDARY | TERTIARY | NEUTRAL |
| Red | Orange | Red-orange, Yellow-orange | Black, white |
| Yellow | Green | Yellow-green, blue-green | Brown, tan |
| Blue | Purple | Blue-violet, red-violet | Navy (in fashion) |
Looking at these colors on the color wheel. It can help with visualizing how these colors will look near or opposite each other.
Other factors to consider when picking out colors are the seasons, too. Black pants and brown shoes are appropriate all year long, but other colors are more popular during certain times of the year. The shift is usually from light to dark, with lighter shades being more prevalent during spring and summer, and darker colors being more prevalent during fall and winter.
If trying to color match all the components of a suit seems a little daunting, stick with fun socks. Soxy's designs are sure to add color and style without being too loud or distracting.
Matching the dress code with brown shoes and black pants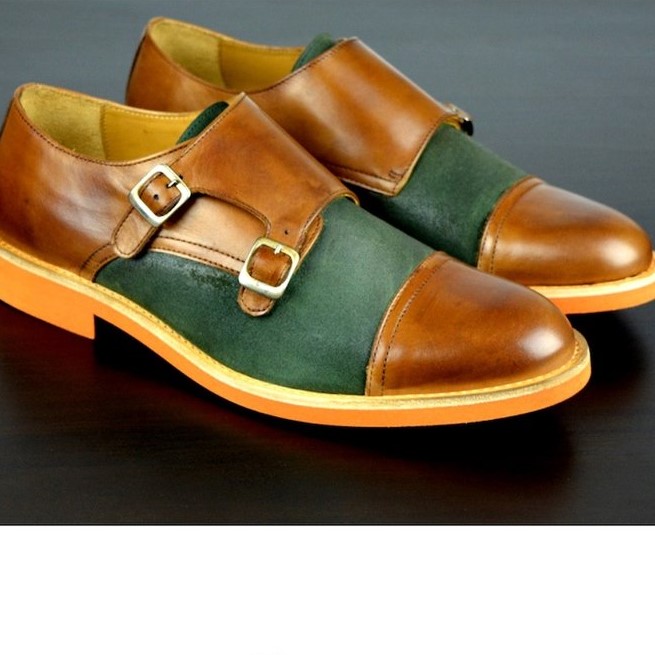 Credit: Soxy
Brown shoes are appreciated because they're so versatile, but they're not always appropriate for an event. This is in part to the history behind brown shoes, and how they evolved from informal wear to professional wear.
The decorative brogues on brown shoes, for example, are historically informal. The design of brogues traces back to peat farmers in the UK, who needed to drain their shoes from walking through muddy lands. And while brogues were also considered to be country walking shoes, you'd be hard pressed to find someone wearing brogues in muddy fields today, as we now have sneakers and boots made for more appropriate terrain.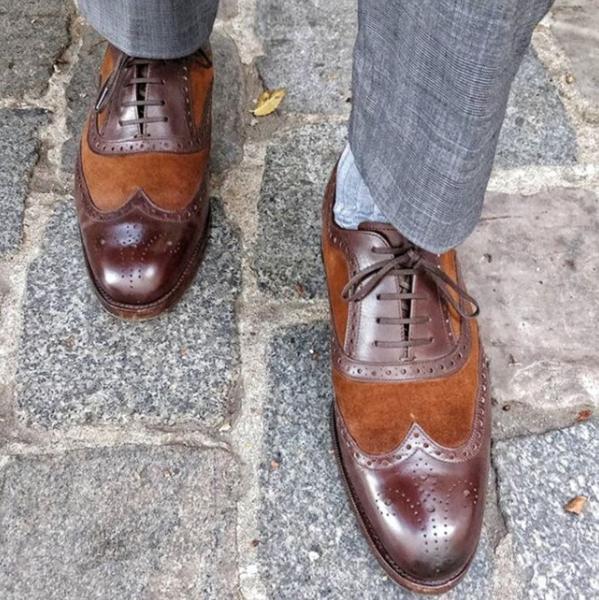 Image source: diavoloesqueries
Just like the Prince of Wales made brown shoes popular with the upper and working-class, trendsetters during the Jazz age breathed new life into brogues with two-tone spectator shoes. Today, brogues are ubiquitous on men's and women's shoes, and come in various designs.
The general rule of thumb of formalwear is that the fancier the event, the darker the suit and shoes should be. Black pants and brown shoes are perfectly appropriate, as long as those brown shoes are much darker in color, like mahogany, or chocolate brown.
Another part of dress code that's tricky is all the different terms that get thrown around: business casual, business formal, black tie creative, etc. Conferences, weddings, fundraisers, and even happy hours can all ascribe to different dress codes, so it's important to understand what they mean and how to dress properly. White-tie and black-tie are considered the most formal, so those are the only two times where brown leather dress shoes and black pants would not be acceptable.
There is some leniency, and some fashion rules can be broken with the right sense of style. Since black pants and brown shoes are considered standard menswear, it's not too hard to be well-dressed for these events.Even mixing it up with a nice, gray shirt can pass as formalwear.
Pair accessories with black pants and brown shoes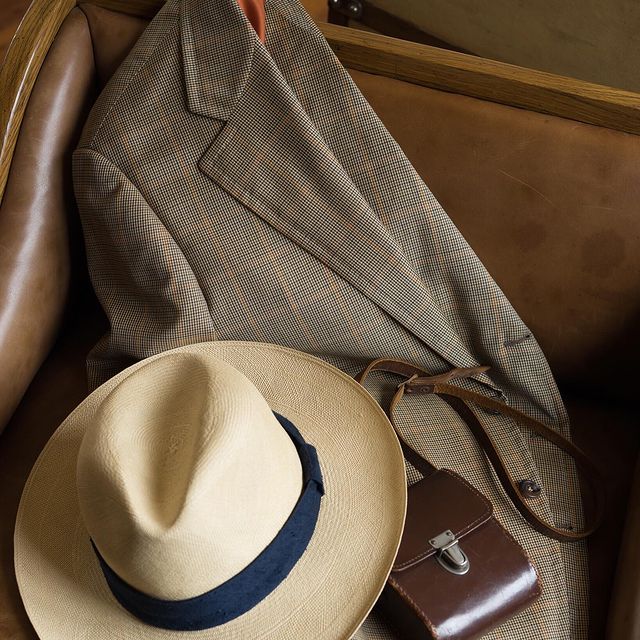 Credit: theanthology
"The devil's in the details," is a common phrase that can be applied to fashion, as the last step in pulling a look together is the accessories. You can wear as many or as little as you like, as accessories help to highlight an outfit. The following are considered popular men's accessories
Hats
Belts
Ties, bowties, and pocket squares
Watches and jewelry
Glasses
Bags
Men's hats also come in a wide range of styles and colors to complement someone's person style. Unless you're going for a completely casual or sports look, avoid the baseball cap.
Just like women sometimes match their purse with their shoes, men can match their belts with their shoes. But that's not a hard rule, as a black leather belt still pairs perfectly with brown leather shoes.
Ties, bowties, and pocket squares are ideal accessories when wearing a full suit, and they can be used to play with different shades and hues of the same color for an extra sartorial punch.
A leather-banded watch is a classic accessory that's not only stylish, but useful.
Prescription glasses or not, glasses are the latest accessory to get rebranded from geeky to geek chic, now that they can be customized in different styles and colors.
Last but not least, a solid leather bag or briefcase is the ultimate accessory for cool, stylish swag.
Is it possible to wear all of these accessories with black pants and brown shoes? Yes, but it's not recommended, as too many accessories can actually overwhelm an outfit and make it look weighed down. Just like you want to keep three to four colors total in your look, you also want to limit your accessories to that same number.
Need some black pants brown shoes style inspiration? Check out these Instagram accounts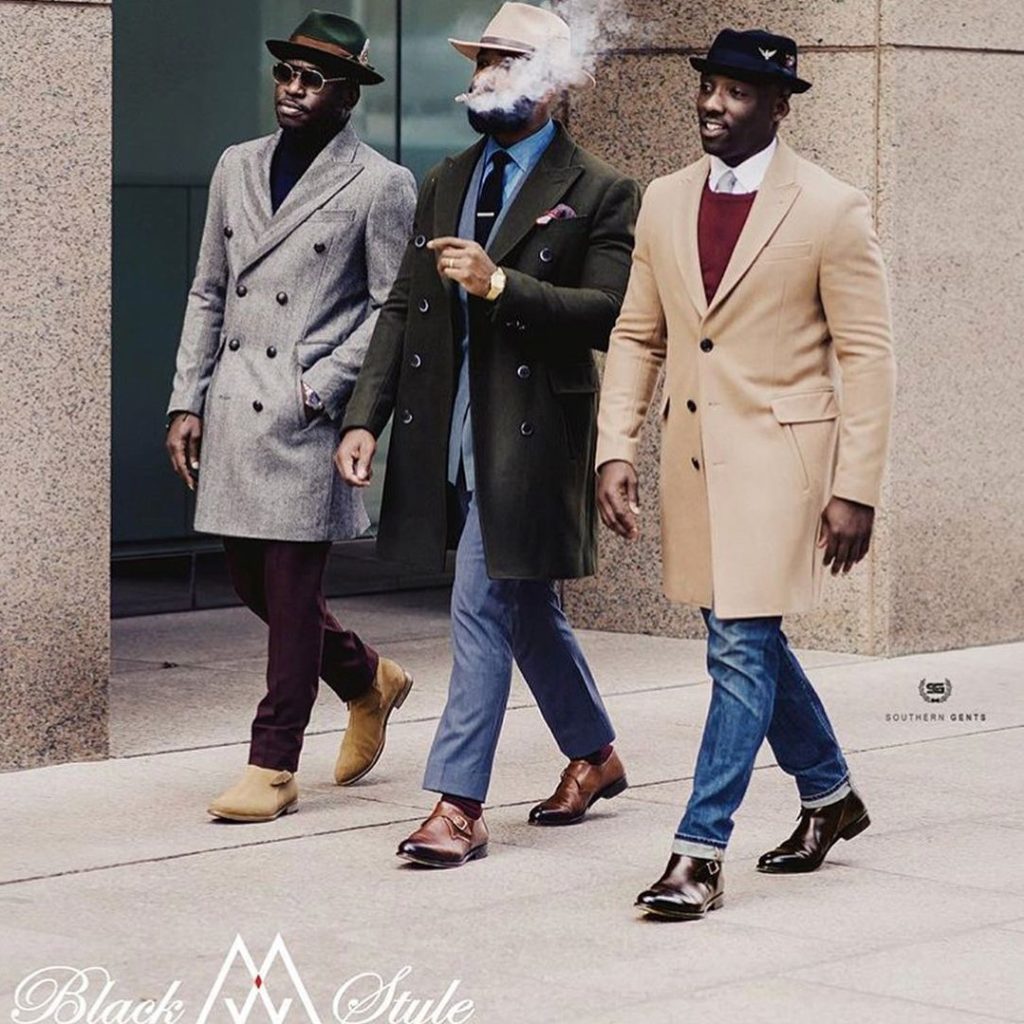 Credit: andrekohnjr
Still unsure of how to style black pants and brown shoes? The best way to learn is by looking to other people for inspiration to see all the different ways to style black pants and brown shoes. Outside of men's magazines, Instagram is one of the best resources to find inspiration, due to the sheer number of users. These select Instagram accounts dedicated to men's style and menswear are definitely a good resource:
@theanthology
@soxy
@gentlemenslounge
@andrekohnjr
@davidbeckham
The Anthology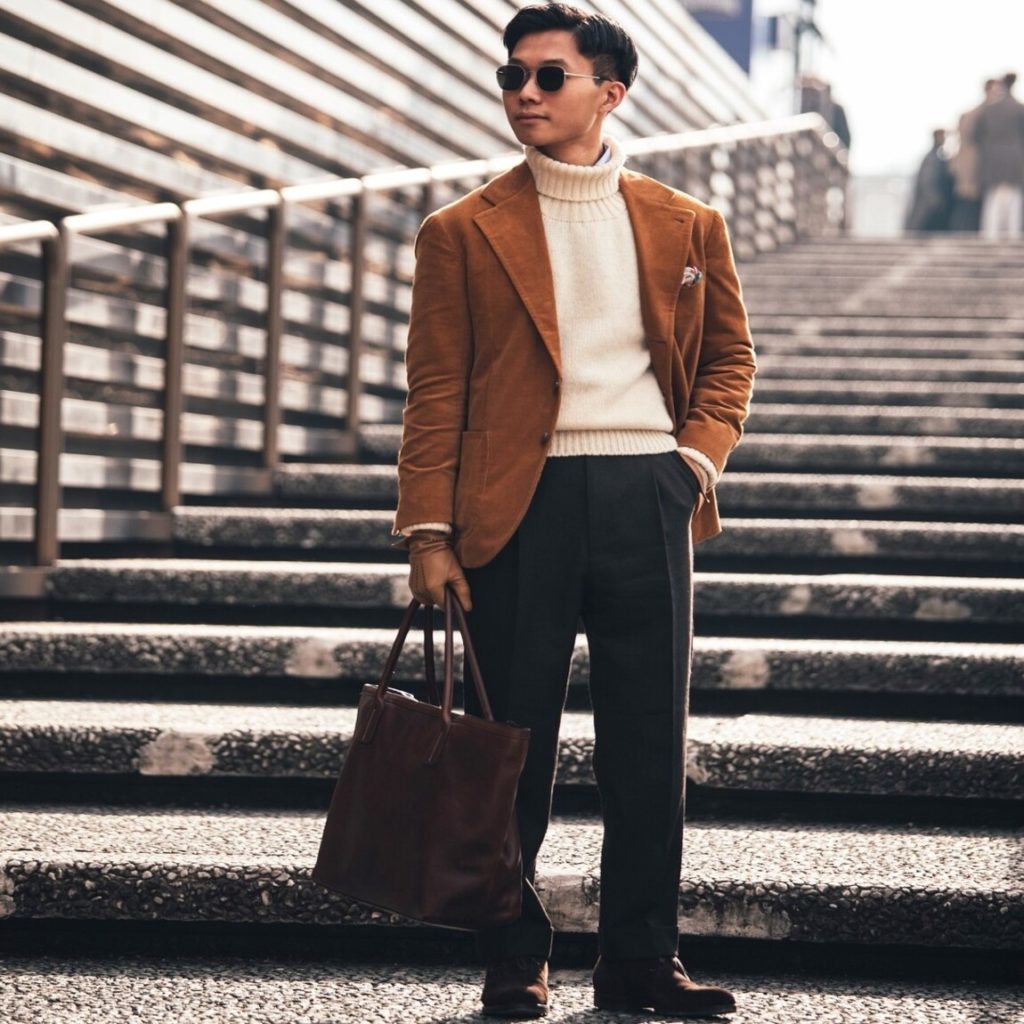 Image source: theanthology
@theanthology specializes in bespoke tailoring, meaning your suit pieces will always fit well. Many of their captions provide style tips and information on different types of fabrics and textures found in the suits they make.
The color palette on @theanthology leans towards professional, neutral colors, but they provide great examples of how texture and color can be used to upgrade standard outfits – think twills, alpaca-linen blends, and dark teals and greens. The majority of their feed centers around suit jackets and pants, featuring full suit outfits or suit separates, and makes a case for building a capsule collection around a bespoke suit.
Soxy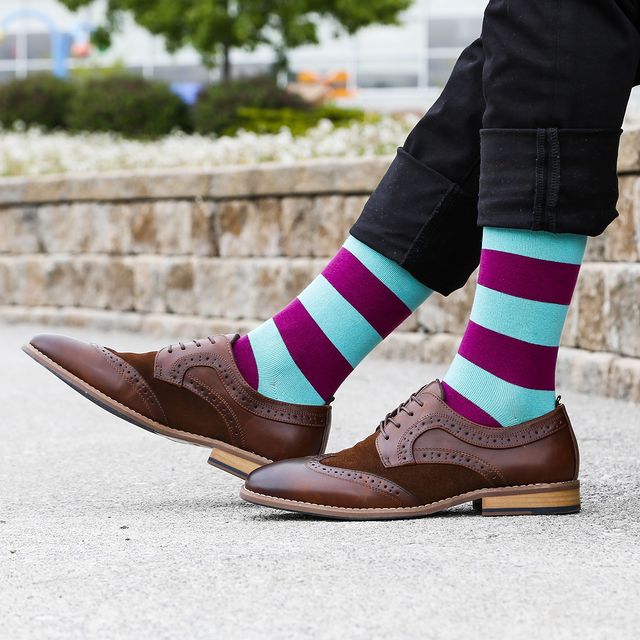 Image source: soxy
The majority of Soxy's Instagram feed shows photos from the ankles down, showcasing their most well-known products: socks and shoes. The unique socks are paired with a wide range of pants and shoe styles, introducing bold, stylish combinations that are easy to play with. Soxy, for example, will usually pair the patterned socks with the colorful-soled shoes, showing how well the colors go together. It's like looking at the color wheel in action, and is a great place for guys looking to add some pizzazz to their outfit.
Gentlemen's lounge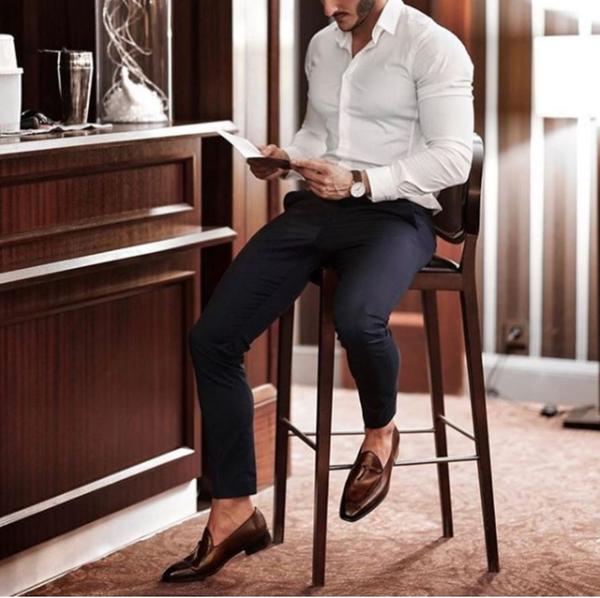 Image source: gentlemanslounge
The Instagram account @gentlemenslounge features a variety of looks from professional to dressed down to casual, showcasing the versatility of menswear. Their curated feed is a great source of inspiration for color and style, using photos from brands, celebrities and influencers in the men's fashion field.
Many outfits on the feed are classic, but not underwhelming, proving that simplicity is best when it comes to dressing up, and there are plenty of brown shoes and black pants outfits featured, highlighting how well the two go together. It's the little details such as the straps on the shoes or the addition of a pocket square that pull an outfit together and can provide inspiration for accessorizing and color matching.
Andre Kohn Jr.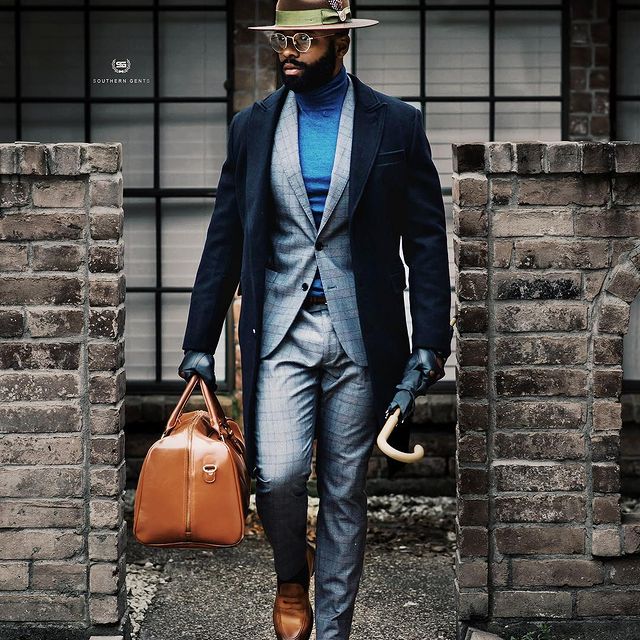 Image source: andrekohnjr
Andre Kohn Jr has a signature look, and that is pairing a hat with his outfits. While his Instagram feed is a mix of lifestyle-blogger photos and family life, it's still a source of inspiration for the impeccable, personal style. Besides wearing suits in rich colors like wine and royal blue, @andrekohnjr has a flair for accessorizing, whether that's with a velvet bow tie, leather gloves, or one of his signature hats. He definitely encapsulates "fall weather style" when it comes to his choice of coats and layering as well. Kohn's outfits show the fun side of fashion risks and how to elevate classics.
David Beckham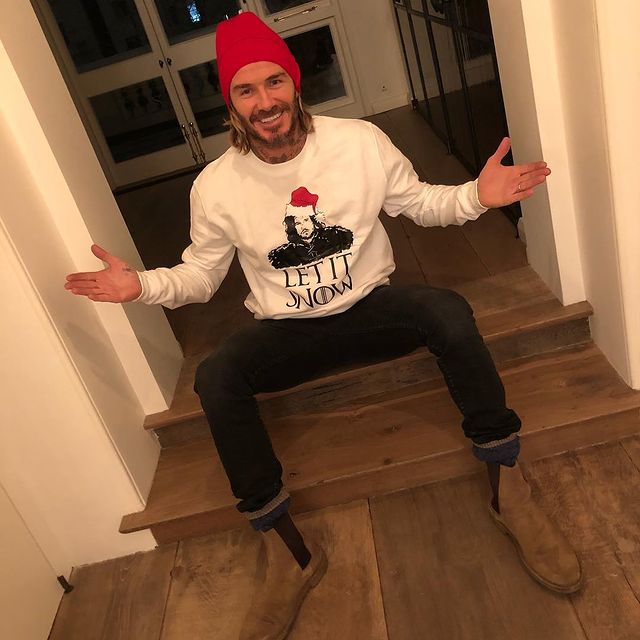 Image source: davidbeckham
The British soccer star is a legend in his own right, known for his many hairstyles and being nominated as People's Sexiest Man Alive. Of course, celebrities get help from stylists when it comes to dressing up for red carpet events alike, but Beckham is still considered a fashion icon along with his wife Victoria and can rock a suit well. He's partnered with brands and designers like H&M and Kent & Curwen, bringing his signature elegance to the collections. While his personal style is much more relaxed and casual, it's still polished and put together, relying on classic fits and colors. It's really the man that makes the clothes, after all.
Get Access to Exclusive Deals
Subscribe for free to get exclusive deals in your inbox. 100% privacy