How to Style Brown Shoes and a Black Shirt Without Looking Like a Fashion Victim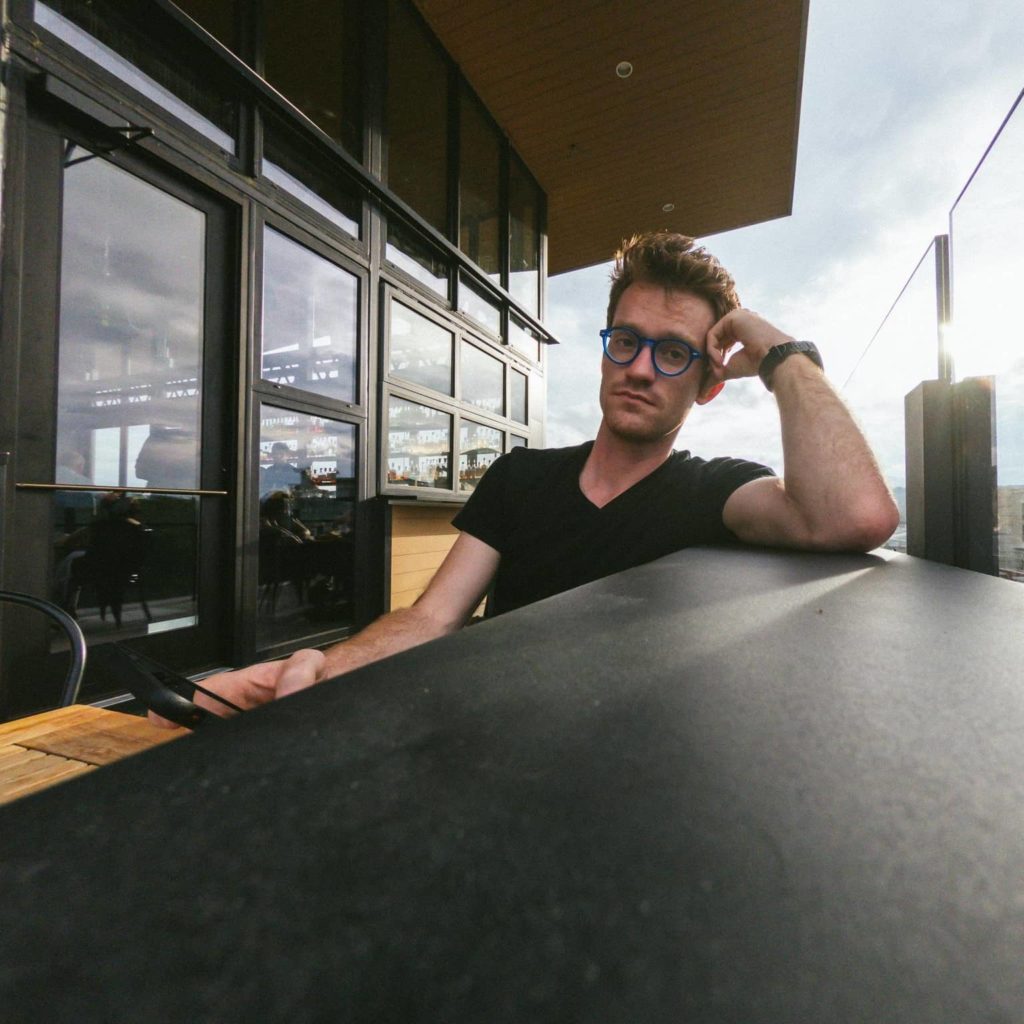 The 'Brown Shoes- Black Shirt' partnership is an essential combination for the everyday man as we move into a society ever-focusing on sustainable style.
For the majority of men, holding onto a minimal capsule wardrobe, which doubles down for both work and play, is the ideal scenario to house this combination. Enabling infinite outfit customizations, a capsule wardrobe means that each piece works with one another seamlessly to create an ever-lasting apparel selection with a timeless style. Using this approach, your wardrobe can become more ethically-sourced, as you can focus on buying more sustainable pieces instead of contributing to the fast-fashion trends we see today. 
Brown shoes offer a simple and understated touch of color to an otherwise potentially monochromatic collection and can certainly bring youthfulness and creative fun to your outfit. Choosing the most appropriate shade and style of brown shoe has the ability to provide the 'suited and booted' with a chic edge, or alternatively dress up a less formal ensemble.
Maybe you've previously wondered: can I wear brown shoes with a black shirt?
Although some may see black and brown as a clashing color selection, we think that the well-versed mix of darker colors brings a welcome sense of security in the somewhat garish fashion world. Wearing a black shirt can often bring an air of culture and class to your outfit, whilst also relaxing your style if worn untucked or slightly looser, such as when the shirt is unbuttoned. A black shirt is a safe bet because, in both formal and casual situations, as there aren't many occasions for this classic choice to emerge as inappropriate.
But what can pairing a black shirt with brown shoes add to your outfit?
Firstly, this specific combination tends to work year-round. Obviously, blacks and browns are usually associated with fall and winter, but due to the classical nature of this matchup, you'll stay cool in the eyes of the public in summer too.
Wearing brown shoes with a black shirt can add a modern flair to otherwise drab attire. These days, there are plenty of men and women who tend to keep away from any news of fashion and trends, but choosing a bold brown brogue sends a beacon of style to other nearby dapper-dressed individuals. This look can possibly enhance your credibility as someone 'in the know' on appearances. This could even be useful in office situations, for example when attending a job interview or asking for a raise, as the black-brown scheme exudes confidence.
Finally, the black shirt and brown shoes are not exactly innovative "now" creations. Surely we all look back on old photographs with garish trends that immediately date us, but these basic pieces in black and brown wouldn't dare to go out of style. The timeless nature of this means that it's hard to go wrong when choosing to pair brown shoes with a black shirt.
So, the following guidelines are for men who:
Are looking to find out exactly which styles, shapes, and shades of brown shoe pair with black shirts
Want to build their capsule wardrobe but are unsure of the staple pieces
Want to learn how to quickly edit an outfit to transform it in casual-to-formal situations
Famous Faces Sporting a Black Shirt with Brown Shoes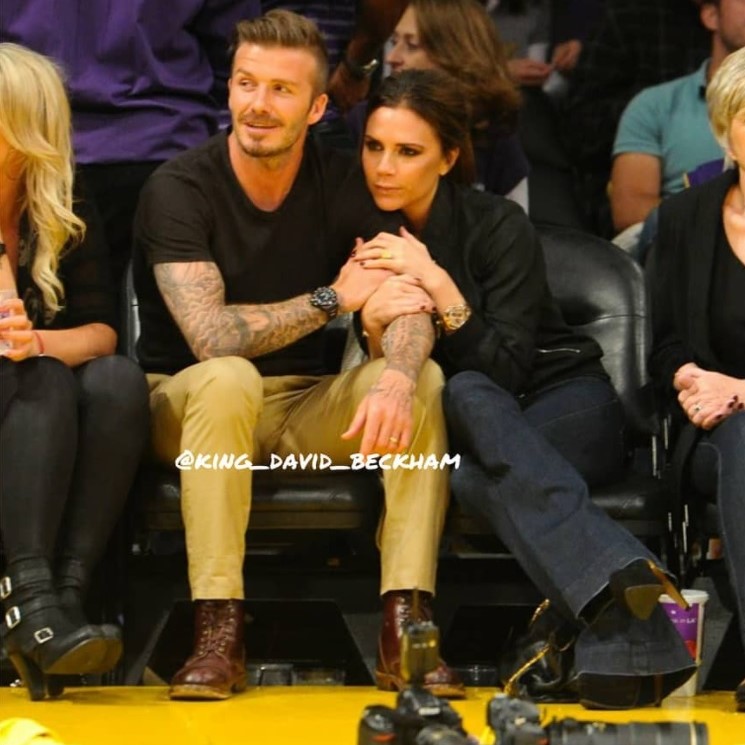 Here we have some examples in two very different contexts to show that the 'brown shoe, black shirt' combination can really work any time, anywhere.
If you're looking to take some style inspiration from the infamous football player, David Beckham, check out the image above. He wears a casual ensemble featuring various textures (leather, cotton, etc.) in a very casual style. The brown shoe pairing adds just a touch of color, bringing the whole outfit together and adding to the edgy finish. Similar outfits should be worn to casual events or in everyday wear scenarios.
If you'd like to find more genius styles like this khaki pants and brown shoes combo like David's, it's easy to find and follow a few hashtags on Instagram for outfit inspiration to appear in your feed. In this case, we'd suggest '#streetwear' or '#menstreetstyle'.
Alternatively, a Swedish influencer Erik Kapanen wears a semi-casual dark outfit with a black shirt to accompany his light brown suede or faux-suede shoes, and a coat in a matching color. Once again, this is an excellent pairing, and where his trousers sit just above the ankle, they really allow the shoes to command attention. Although he is wearing dressy trousers, Erik's brown shoes add a touch of effortless, casual vibe to the look as they bring a cool sense of style to a usually dreaded event – a trip to the airport.
You're able to find similar looks on Instagram by following relevant hashtags. For example, if you're looking for style inspiration to wear a black suit with brown shoes, try searching for, and following: '#suitedbooted' or '#suitup'.
Black Shirt and Brown Shoe Considerations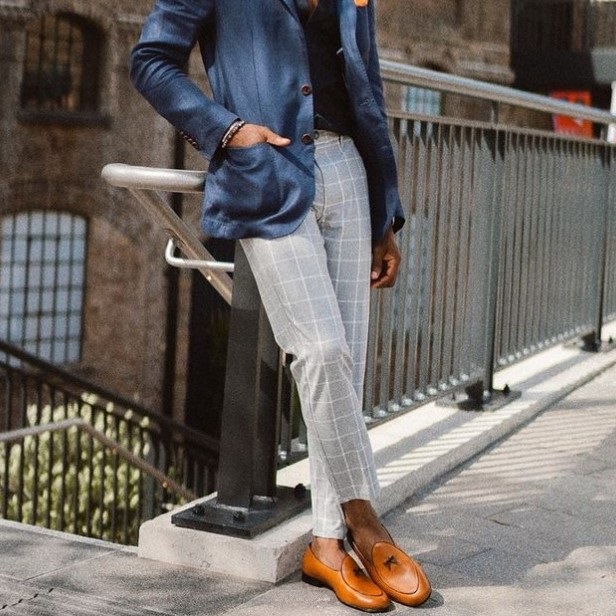 There are several aspects to think about when choosing your black shirt. These would include:
Material
Style
Patterning
Cut/ Fit
Do you prefer the look and feel of cotton, linen, polyester, or a blend? These materials have varying levels of breathability, softness, shrinkage, and likelihood of wrinkling, so it's important to select the best shirt material for your lifestyle and individual preferences. Plus, if you are looking for a single black shirt in your capsule wardrobe, perhaps 'washability' is a strong factor in determining which material you choose. If you're looking for a wildcard option, why not try a black denim shirt or plaid!
Are you looking for a formal black dress shirt to wear with brown shoes? A black button-down oxford shirt would enable your formalwear to take on a sleek, sophisticated look. Or, maybe a more casual style works better for you. In that case, a looser, more versatile shirt could better favor your needs.
On some, wearing a black shirt can create a contrast between skin color and clothing. Even better if you have a darker complexion or dark hair, a black shirt will frame your face and highlight your features well!
Now onto the perfect shoes to match!
Although the term 'brown shoes' might awaken a dull and stale bone in your body; this type of footwear can offer you anything but boring options if you choose carefully. Let's take a look at a few examples:
| | | |
| --- | --- | --- |
| Shoe Type | Description | Perfect Occasion |
| Image source: Bold Society Shoes | These leather or faux-leather wingtips are shining from the rooftops! Their 'untreated wood' feel means that they can bring a more natural feeling to any outfit, so wear them if you're out of your comfort zone! | Formal occasions, such as weddings where you'll be wearing a suit. |
| Image source: aldenmadison | The shoes to the left here are classically cut and colored brown shoes. They are your everyday gentleman's shape and will bring a timeless class to any outfit. | These are perfect for your 9 to 5! Their understated nature compliments the office environment faultlessly. |
| Image source: butyrajpl | These tanned boat shoes are perfect for a more casual affair. Traditionally worn in the summer around the harbor, this pair is sure to dress up your shorts and shirt combo in the warmer months. | On holiday! Always choose boat shoes over socks and sandals! |
| Image source: Bold Society Shoes | Similar to the first pair of brogues; these suede-striped, dark brown shoes emulate 'rough and ready'. The added texture brings masculine energy to any wardrobe. | The darker hue on this pair call to be worn in winter or colder months, and could be used to either dress up a casual outfit, or dress down a more formal suit. |
| Image source: Bold Society Shoes | This pair is our wildcard! A seemingly classical fit and material (dark brown leather). The wide green band just before the toe could provide comfort to those whose feet get rubbed in more classical formal brown shoes | Pair these shoes with occasions as you see fit! Since they're our 'wildcard' option, you play by your own rules, at your own risk! |
Unfortunately, it's not that simple. Shoe choice is more than just style and color and it can really make or break your entire look. To understand which type of shoe would suit you, it's best to think about your own general style as well as the occasion you'd like to wear the outfit. Once this is considered, learn how to pull off the look below:
How Can I Wear Brown Shoes with a Black Shirt?
Brown shoes and a black shirt can be worn in a variety of ways, and these are just some:
Wear it preppy
Add some fun
Take it seriously
Winter is coming
Smart casual
Wear it Preppy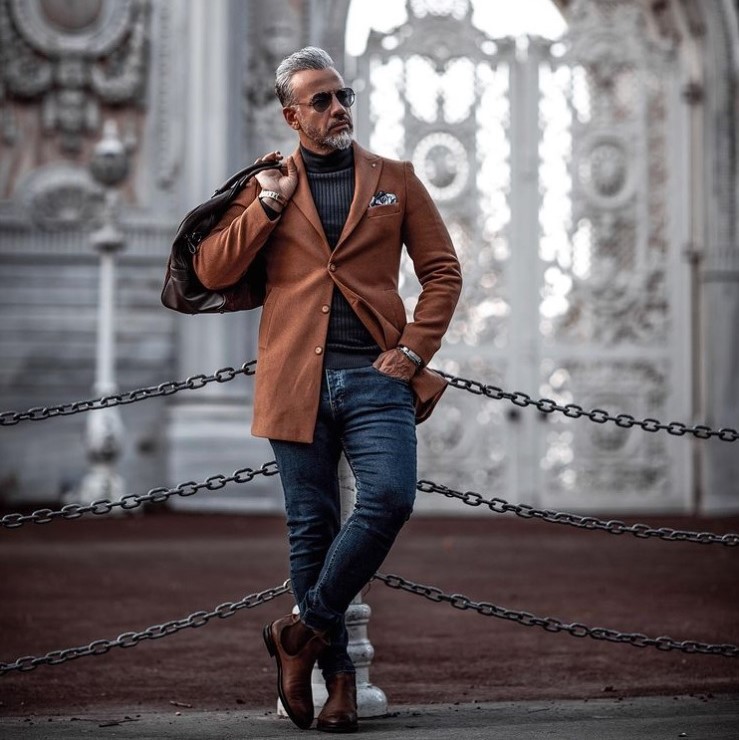 The example above nails the preppy look like a pro. This black turtleneck shirt is paired with a brown coat and a fashionable bag, whilst the smart brown brogues in-keep with the collegiate theme of 'Prep Style'. The addition of jeans here only adds to the authenticity of the outfit; with their straight leg fit both stylish and practical. Overall, this outfit suits the hipster or preppy male and is a great mix of smart and casual. You could take this to the next level wearing chinos instead of jeans! Take inspiration from this look if you're:
attending classes
going on a first date
hanging out on the weekend
Add some Fun
Add some funny (but fashionable) socks! Find some suggested pairings below to break the ice on a date or simply stay comfy while keeping your feet warm.
The Wingtips are a pretty serious pair of shoes, usually worn to the office or another professional situation, such as a client meeting. As such, in keeping with the professional theme is important. These thin striped dress socks are the perfect remedy for keeping your toes warm whilst getting your head down at work. Plus, this understated look won't distract your clients or co-workers!
The Double Monks are a smart, stylish shoe choice for the suave male. You might wear these attending a wedding, and would do particularly well-matched with a light grey suit with brown shoes, along with your classic black shirt. Therefore, these men's socks fit with the light-hearted, relaxed theme of a wedding by adding some funky patterns to your otherwise smart outfit.
Since Boat Shoes are a summer staple, you'd usually pair them with a casual black t-shirt and some shorts. However, wearing shoes without socks not only means your feet tend to produce more perspiration, but also put you at a higher risk of developing certain fungal foot infections. Therefore, we've chosen a bundle of fun no-show socks to protect your extremities without compromising your look.
Take it Seriously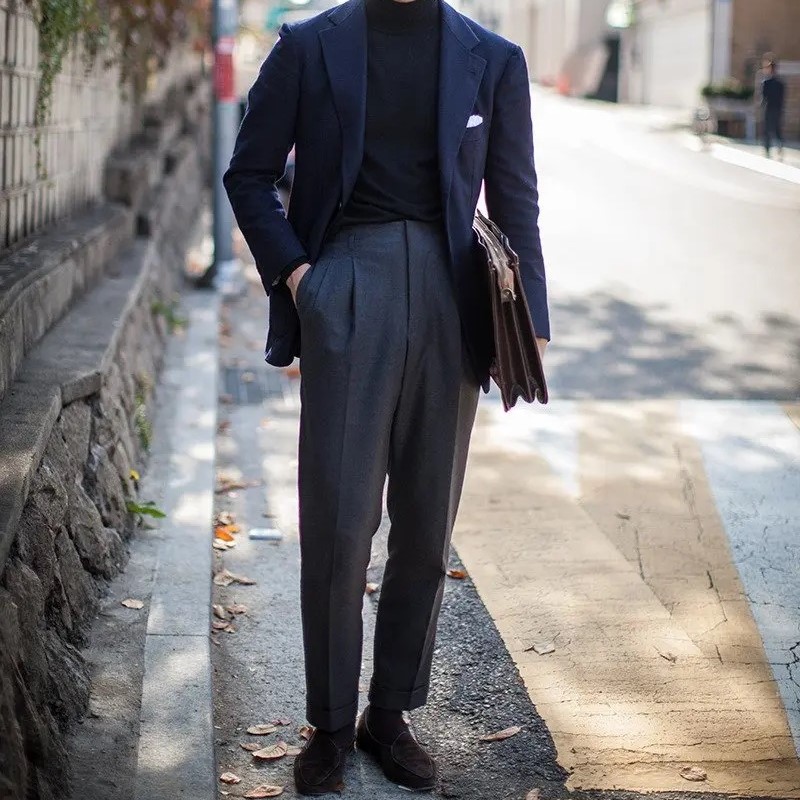 The Holy Grail of 'Brown Shoe, Black Shirt' must be a suited look for style-conscious professional male. Avoid fashion blunders at the office by choosing to house encompass your with a statement two-piece shirt. To pull off this look, ensure your suit is tailored to fit your body shape, as this will contour to your best features.
Sometimes however, a black shirt can feel overworn or excessive for certain situations; in which case, a red shirt brown shoes combination is the perfect substitution! The warm nature of red would complement the earth tone of brown shoes perfectly. Plus, it's fine to experiment with different shirt colors as long as you can avoid the clashing of colors between items.
Winter is Coming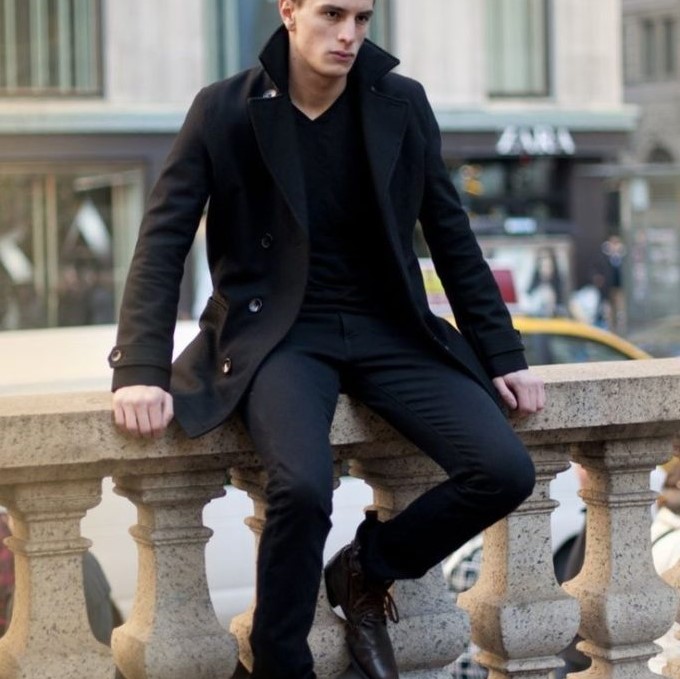 In the winter, you're likely to be wearing layers upon layers, but choosing to pair a black sweater with brown Chelsea boots is excellent for the weather. Full of comfort; this combination ensures your style survives through a cold climate and enables you to keep warm while continuing to serve looks year-round. To go above and beyond, you could try out this look with some higher cut lace-up brown boots, such as Timberlands. These are cold weather staples and would cement the winter nature of the look.
Smart Casual Dresscode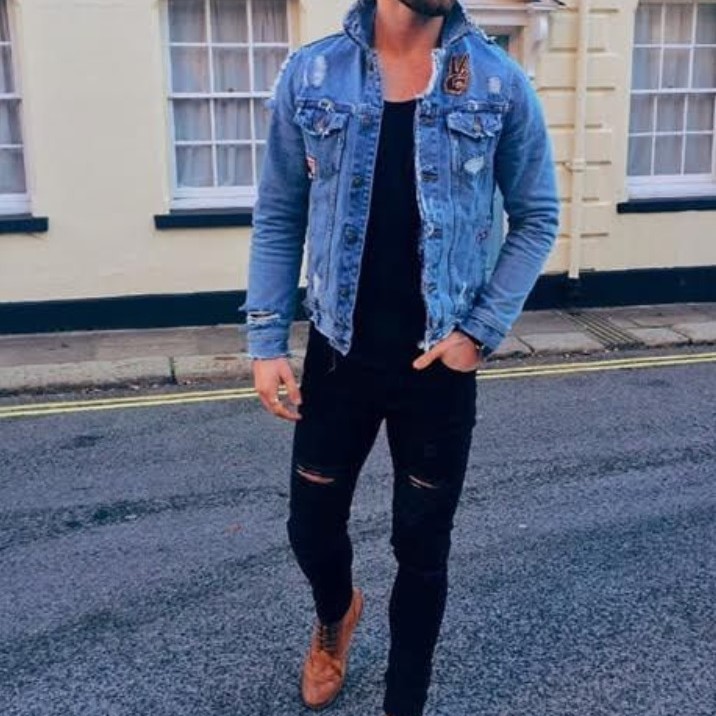 Smart casual is all about choosing tanned, or light brown shoes to compliment a casual black shirt, such as a t-shirt. As you can see in the image above, the use of distressed denim ties the look together, but, in the summer, you could substitute in a grey shirt with brown shoes. This would create a relaxed vibe, but beware of sweat patches on grey! One way to combat the hot weather is to switch your fabric! Instead of wool, try linen as it's a more lightweight fabric that enables air to flow more easily, therefore keeping you cooler for longer.
Wondering…
What your boss thinks about 'black shirt, brown shoes'?
What your date thinks about 'black shirt, brown shoes'?
What your friends think about 'black shirt, brown shoes?
What your Boss Thinks about 'Black Shirt, Brown Shoes'? Wearing a black shirt and brown shoes to the workplace oozes an assured sense of confidence. If you're looking for a pay raise or a promotion, this look would effortlessly suit your purpose, as you'll be cruising around the office looking suave and sophisticated. The mix of darker colors in your outfit conveys a very powerful personality, and effectively enables you to grab your opportunities at the top of the food chain.
What your Date Thinks about 'Black Shirt, Brown Shoes'? Wearing black and brown to a date instantly gives off an 'effortlessly cool' vibe, as your date will immediately know you've got style. Remember that when keeping it casual, the only thing worse than being overdressed, is being underdressed! If you turn up to your date as composed as your outfit looks, you will immediately relax the atmosphere and set the scene for a good time.
What your Friends Think about 'Black Shirt, Brown Shoes? If you're hanging out with mates on the weekend, wearing a black shirt with brown shoes can bring a minimal edge to your look. Whilst your friends might admire your outfit from afar, they could also end up coming to you for style advice if you're nailing all the classics looks like brown shoes with a black shirt.
Tying it all together within your General Style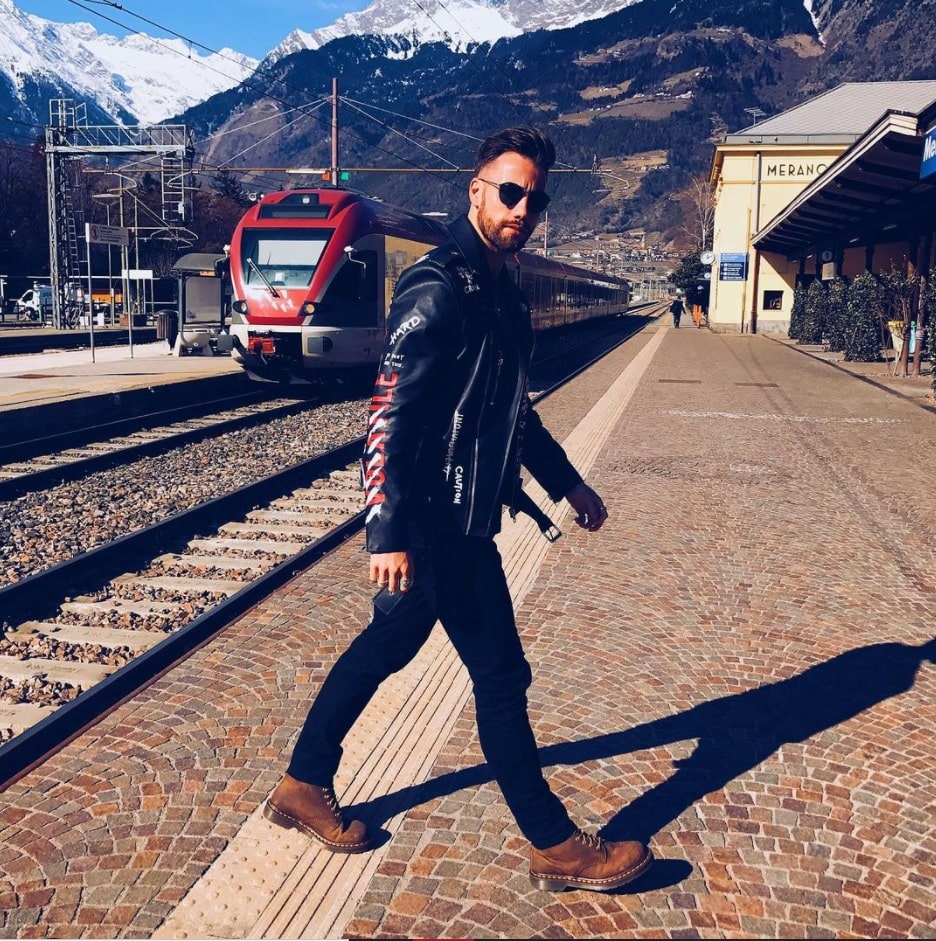 Whilst the black shirt, brown shoe combination needs no further introduction, the more fashion-conscious reader might prefer some extra clothing recommendations to bring the whole outfit together. For example, what to wear on your lower half?
For a more casual affair, the black shirt blue jeans brown shoe combination is ideal. Denim is as classic as the black shirt, brown shoe combination we've already established, and so pairs perfectly with the outfit. Jeans bring a relaxed, laid back sense of style, which is usually a 'safe bet' for any occasion. Plus, with over 1 billion pairs of men's jeans sold globally, you're likely to find a pair in your own wardrobe.
In the warmer months, a pair of chino or tailored shorts could work well with a brown loafer or boat shoe choice. Low-thigh length shorts are recommended to prevent an overly youthful appearance since this is the most universally flattering shape for men. Fundamentally, wearing shorts focuses on comfort, so you should try numerous styles until you feel confident and comfortable.
The ultimate touch to this would be including a dark, or black belt with brown shoes to boost the overall look. This adds an element of quality which can balance your entire outfit. This item is particularly useful when wanting to add shape to your silhouette because it will cinch at the waistline and create a clear divide between the top and bottom halves of your body.
How to Keep Up with Fashion Trends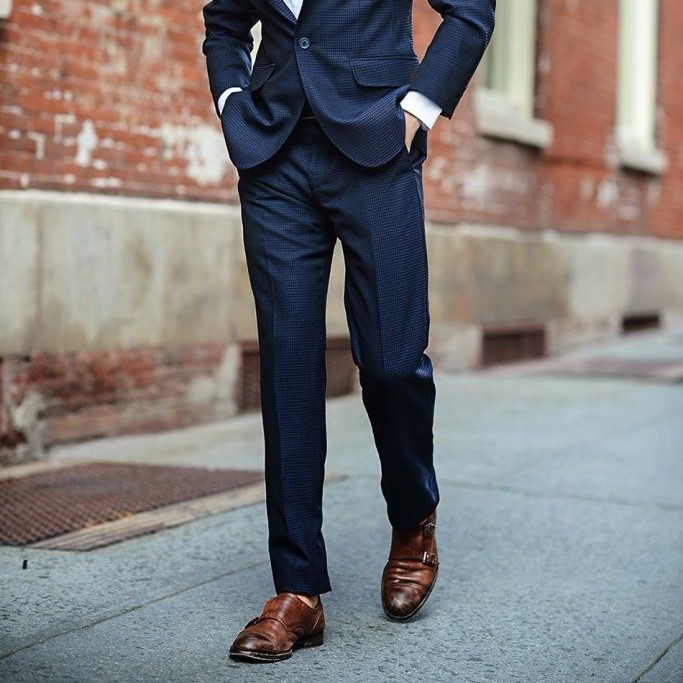 If you're wondering how to keep up with the current trends and stay in line with what works, people-watching could be a great place to start. By looking at pre-existing street style worn by those around you, you should get a good idea of which colors are currently in season, as well as general styles of tops, bottoms, and footwear. One approach to accomplishing this is to sit in a coffee shop on a busy street for an hour or so and either sketch down or write a list of the outfit combinations you see that you think work, and that you could pull off too.
Also, both Instagram and Pinterest have vast collections of outfit inspiration. Your Pinterest search could include keywords and phrases such as:
Black shirt brown shoes
Formal men's style
Casual summer brown shoe men
Alternatively, on Instagram, you may need to be more creative with your hashtag searches, since these are often shorter than general search terms. Here are some examples:
#brownloafers
#blackshirt
#mensformal
You can also (usually!) avoid fashion faux pas by taking inspiration from images of celebrities. Choose 5-10 famous fashion-forward figures that you admire, and complete a quick google search for the men. Remember to search for various scenarios, such as 'red carpet looks [celebrity name]' if you want insights into the more formal wear, or '[celebrity name] at the beach' if you're looking for swimwear, for example.
Nonetheless, if you are a man looking to build a long term capsule wardrobe, sustainability might be an essential factor for you to consider. And, you might not be as interested in the fast fashion trends popular today. In this case, choosing more everyday pieces that can be dressed up, dressed down, and recycled into different outfits would be more beneficial for your style. These include items such as your classic black shirt, brown shoe combinations.
These both employ neutral colors that complement most other color combinations, enabling longevity within your wardrobe. This sometimes simple look has served men for decades, so go forth and experiment to find your style!
Get Access to Exclusive Deals
Subscribe for free to get exclusive deals in your inbox. 100% privacy