5 BTS Concert Outfit Ideas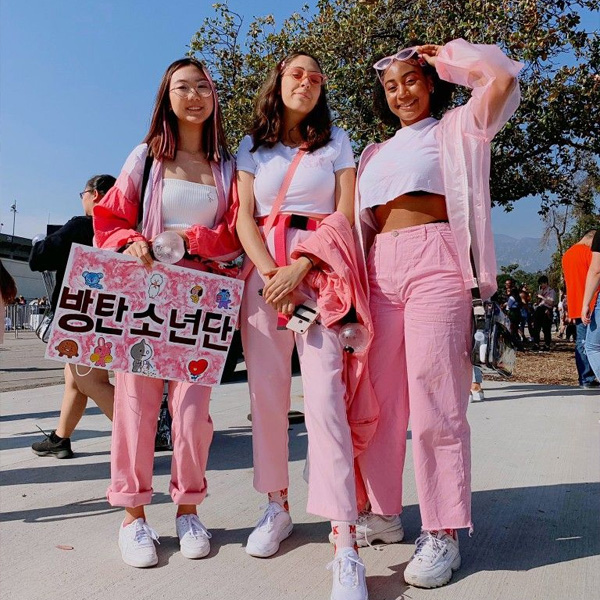 The A.R.M.Y is a high-and-mighty fandom that strikes fear in those who openly oppose it. Over the years, BTS has amassed a worldwide fan following thanks to their music and charisma.
If you're a diehard stan, then you're probably familiar with their eras. From School Trilogy to BE, the Bangtan 7 have dipped their collective toes in various genres, trends, and sounds. 
Of course, K-pop depends heavily on image. Each respective era comes with a specific fashion theme, whether that be bad-boy chic or retro finesse. If you're prepping for a worldwide tour, I'll give you some BTS concert outfit ideas.
I'll be sure to cover the majority of their aesthetics, ranging from the harness-clad look of "Fake Love" to the hypebeast vibe we saw in "MIC Drop." 
What Makes Up A BTS Concert Outfit?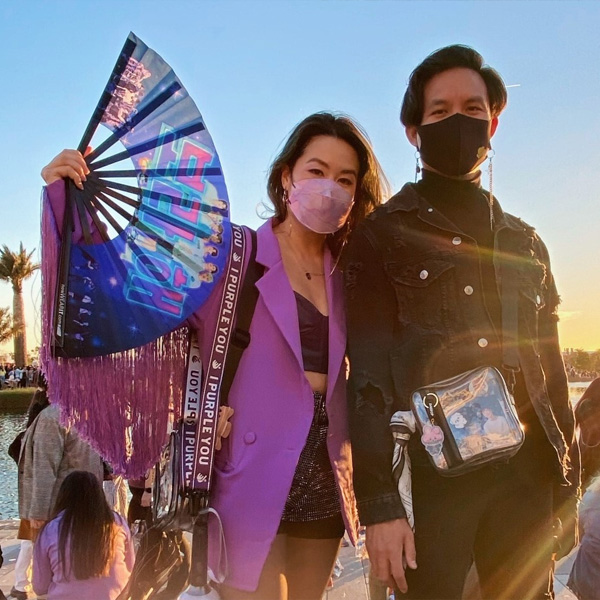 BTS-core is inspired by various types of streetwear. According to some diehard fans, each member sports a certain aesthetic.
It's worth noting that the group usually coordinates their outfits based on a song and album. For instance, the BE era seems to focus on retro fits and bright colors. 
History Of BTS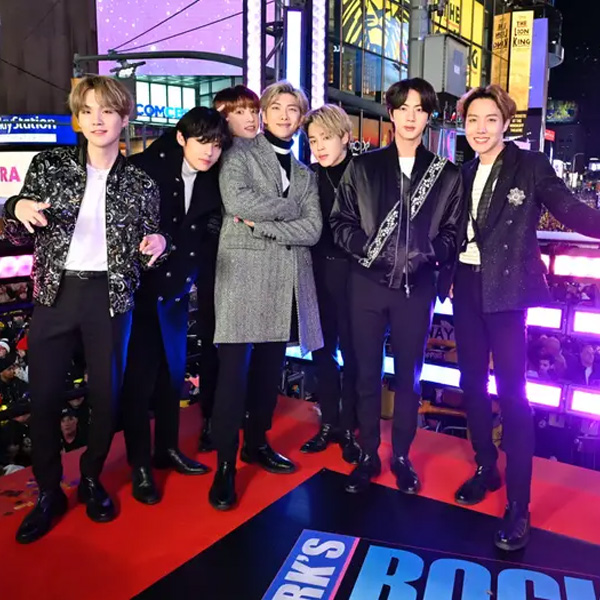 The origin story behind BTS is a prime example of talent recruitment done right. The group was discovered through various sources in 2010 and the members became trainees during their preliminary years. 
Thanks to hard work and dedication, BTS made their debut in 2013. Now known as a global force in the music industry, this K-pop band continues to make waves through dance and song.
There are currently seven members in BTS who typically go by their stage names. This includes Rap Monster, Jungkook, J-Hope, Jimin, V, Jin, and Suga. 
What Are Some Popular BTS Concert Outfit Ideas?
BTS concert outfit ideas range from the sweet and simple to the hardcore bad boy. Obviously, you can rest assured that my top-five list includes a 'dope' assortment of trendy looks. Song references aside, here are a few notable OOTDs to consider.
5 BTS Concert Outfit Ideas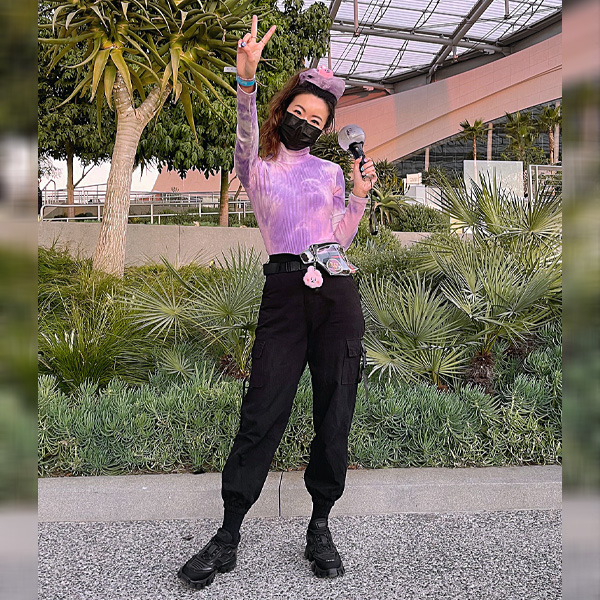 If songs like 'MIC Drop' and  'Blood, Sweat, and Tears' get your heart pumping, then it's probably best to don something a bit hardcore.
Comprised of black cargo pants, chunky sneakers, and a tie-dye turtleneck, this 'BTS concert outfit ideas' contender will ensure you'll stay snug and stylish from beginning to end.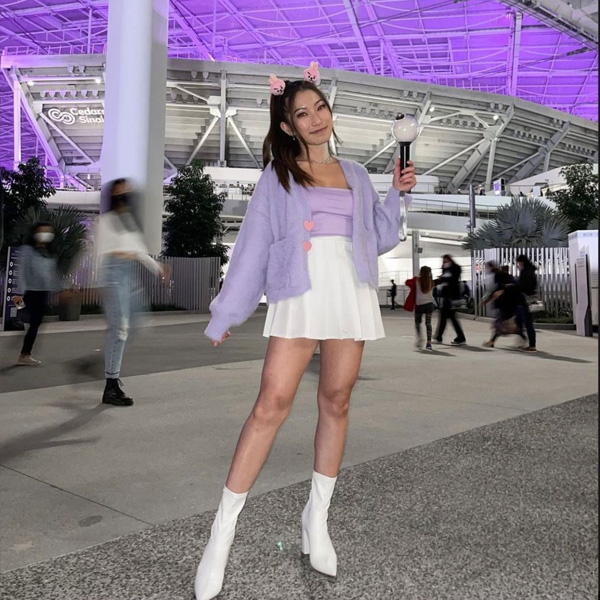 Aside from "Black Swan" and "Fake Love," the Bangtan Boys are also known to create upbeat pop.
If you prefer "Boy with Luv" and "Permission to Dance," this 'BTS concert outfit ideas' list recommends this sweet ensemble. It features a white tennis skirt, a lavender tank top, and a matching cardigan in case the venue gets cold.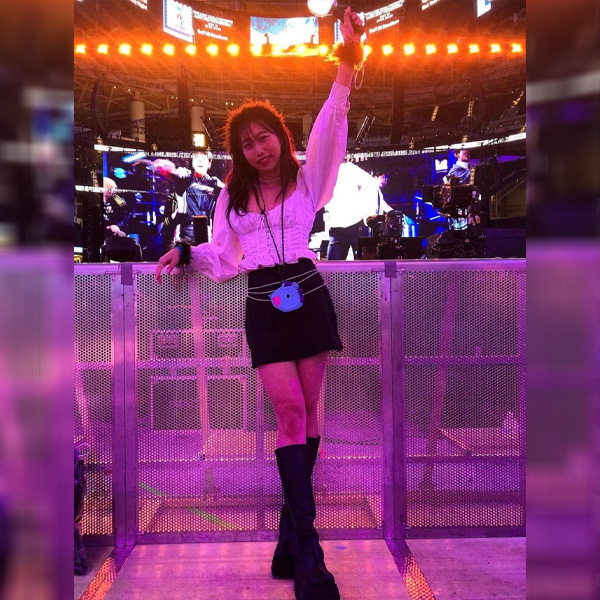 Composed of a cute white blouse and a black mini skirt, this 'BTS concert outfit ideas' contender is the perfect juxtaposition of sweet and sultry. If you have bias, I suggest adding a BT21 character, such as J-Hope's Mang.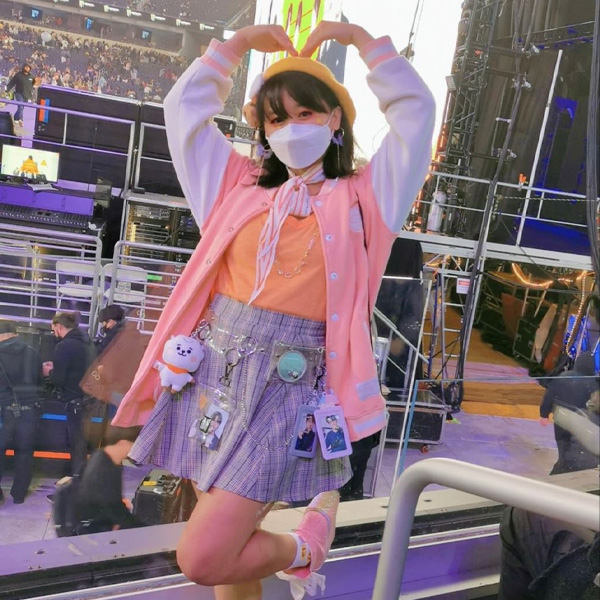 Want to make use of your fan merch? If so, this 'BTS concert outfit ideas' guide recommends using them as decorative accessories. For instance, this cute ensemble features Jin's RJ in plushie form and various photocards encased in resin.
Accentuated with a plaid mini skirt, a matching beret, and a varsity jacket, this is the perfect outfit to don if you're not fond of hardcore aesthetics. 
You can never go wrong with a classic band tee. Featuring sheer tights, knee-high boots, and a bucket hat, this 'BTS concert outfit ideas' contender keeps things relatively simple for novice trendsetters.
Fashion Tips To Avoid With BTS Concert Outfits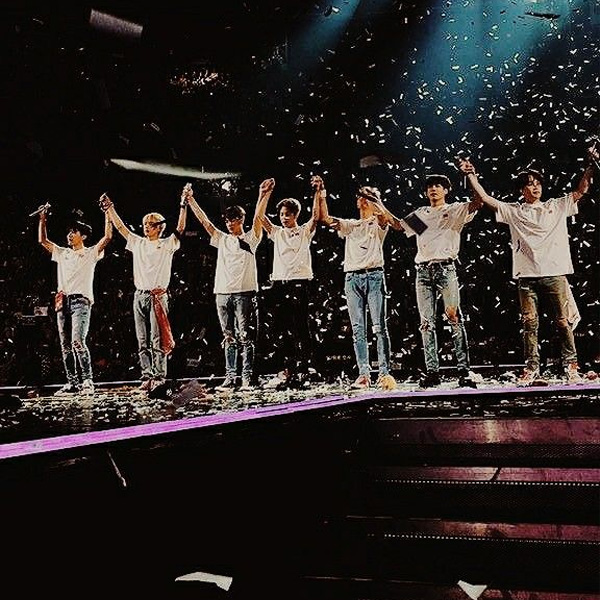 BTS concert outfit ideas are rarely simple. They often celebrate color, print, and diversity. For those struggling to put together an ensemble, I'll share some fashion tips to avoid at the venue.
Trust me, the last thing that you want to do is to upset the A.R.M.Y through your clothing choices. 
Everyday wear: This isn't the time to wear sweatpants. When it comes to BTS concert outfit ideas, you should think of bright colors, cropped silhouettes, and lots of pattern.
Stilettos: Although you're given a seat, I recommend sticking to comfy platforms and sneakers during the concert.
The no-jacket approach: In case it gets chilly, it's always best to bring a matching coat or cardigan.
Best Places To Buy BTS Concert Outfits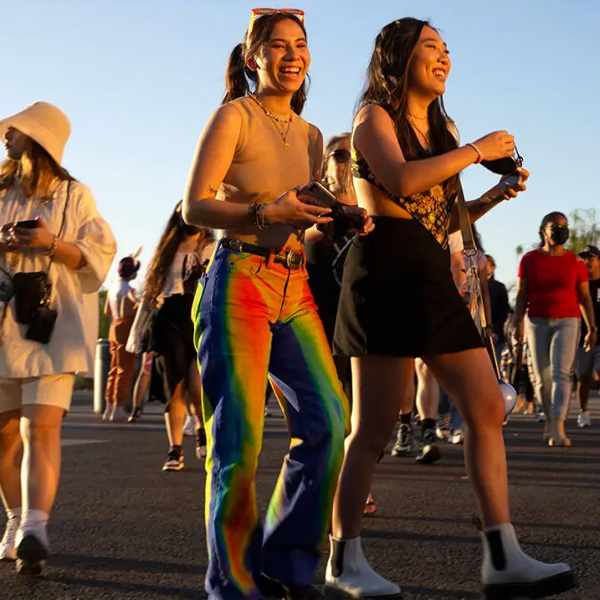 Before this BTS concert outfit ideas guide ends, check out the store recommendations below:
Hot Topic 
Dolls Kill 
Nasty Gal 
ASOS
Final Thoughts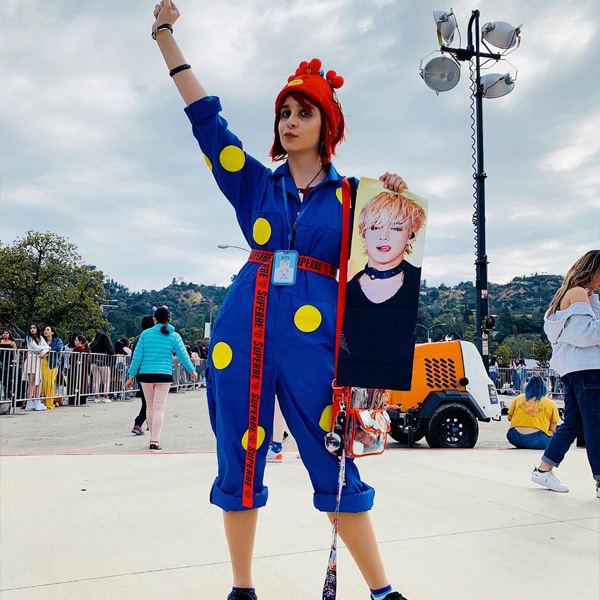 When it comes to concert outfit ideas, most invitees base their ensembles on the artist in question.
Recognizable celebs, such as Harry Styles and Olivia Rodrigo, often prefer specific fashion trends. BTS is no different, as they sport hundreds of iconic looks. 
From bookish college boy to heartbreaker, this K-Pop group are not only billboard artists but also fashion role models. Here's to hoping that you've found at least one BTS concert outfit that aligns with your current aesthetic. 
---
Looking for more outfit ideas? We've got you covered:
Get Access to Exclusive Deals
Subscribe for free to get exclusive deals in your inbox. 100% privacy