Can You Wear Black Shoes With a Navy Suit and Look Amazing?
Does black really go with navy?
You might have heard your grandmother say "Navy and black don't go together!" but what does she know, right? These days anything goes, and it just so happens that navy and black actually complement one another when worn together. The key to pairing your brown or black shoes with a navy suit is to ensure that your shoes are shiny and your suit is tailored to fit and pressed to perfection. A little bit of attention to detail pulls your whole look together and means you'll be able to carry off any style with confidence! If you're still not quite sure how to make black shoes with a navy suit look good, don't worry. We're here to help with some styling tips and inspiration that will ensure you carry off your dark blue suit and black shoes like a pro.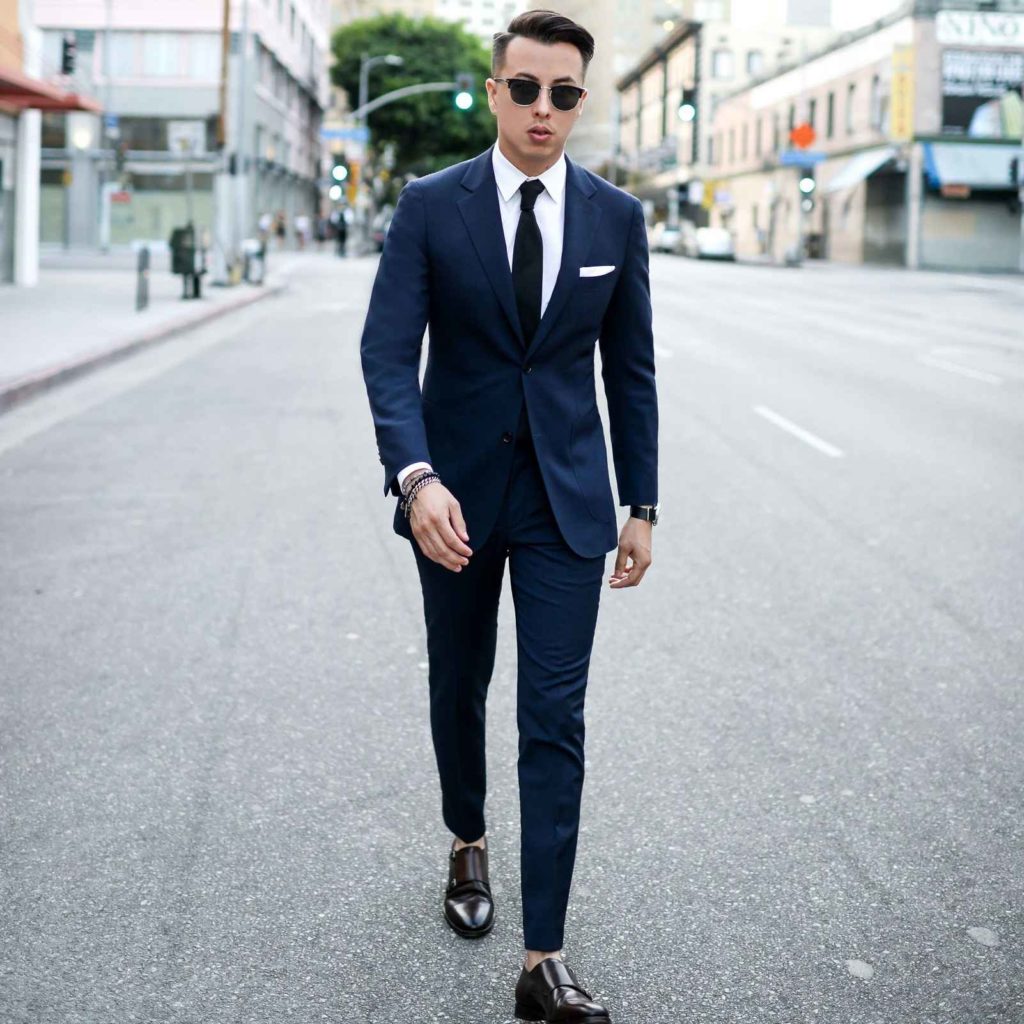 So, when might you want to pair black shoes with a navy suit?
A day at the office – this is a really smart look that's ideal if you work in an office with a formal dress code.
Client meetings, in or out of the office
Weddings
Formal events such as a meal or a corporate event
A date
That's right, brown or black shoes with a navy suit can even look great on a date, if you're going for a dapper look and dressing to impress! Black shoes are versatile too, so you can wear them with almost anything in your closet. If you're wondering what color pants to wear with black shoes, why not try a pair of charcoal greys, or some light grey pinstripes.
But don't just throw on any old pair of black shoes with your perfectly tailored suit. It's all about ensuring you select the right shoes for the right occasion, which is why we're here to help.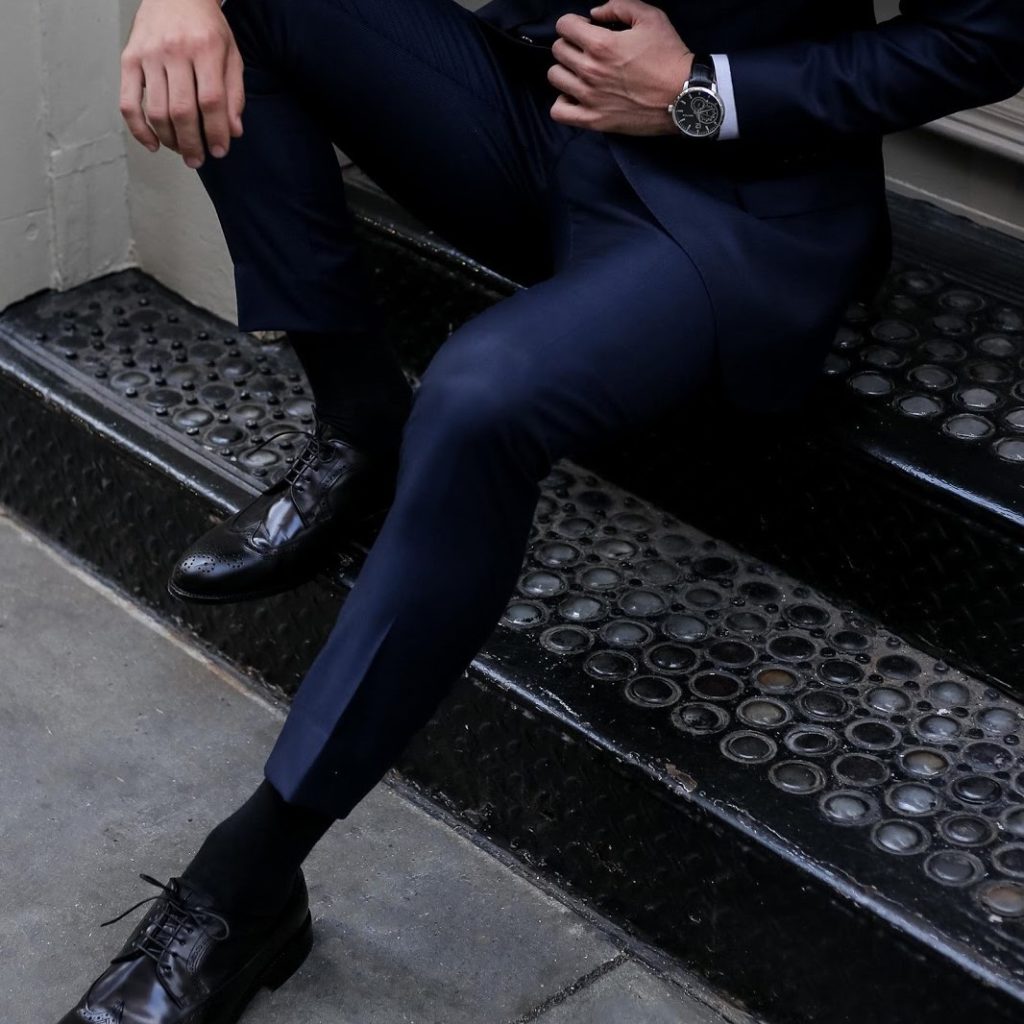 The right black shoes for the right occasion
It's important to think about what occasion you're dressing for and also put some thought into the practicalities of your outfit. For example, nobody wants to show up to a formal event wearing sneakers or be caught dead in a pair of old-fashioned brogues at a summer party. Broadly speaking, shoes fall into three categories: Office, trendy and classic – the latter is a great choice for more formal events such as weddings, funerals, dinner or corporate events. We're going to break them down for you and give you some great examples of different styles of black shoes that you can wear with your navy suit.
Trendy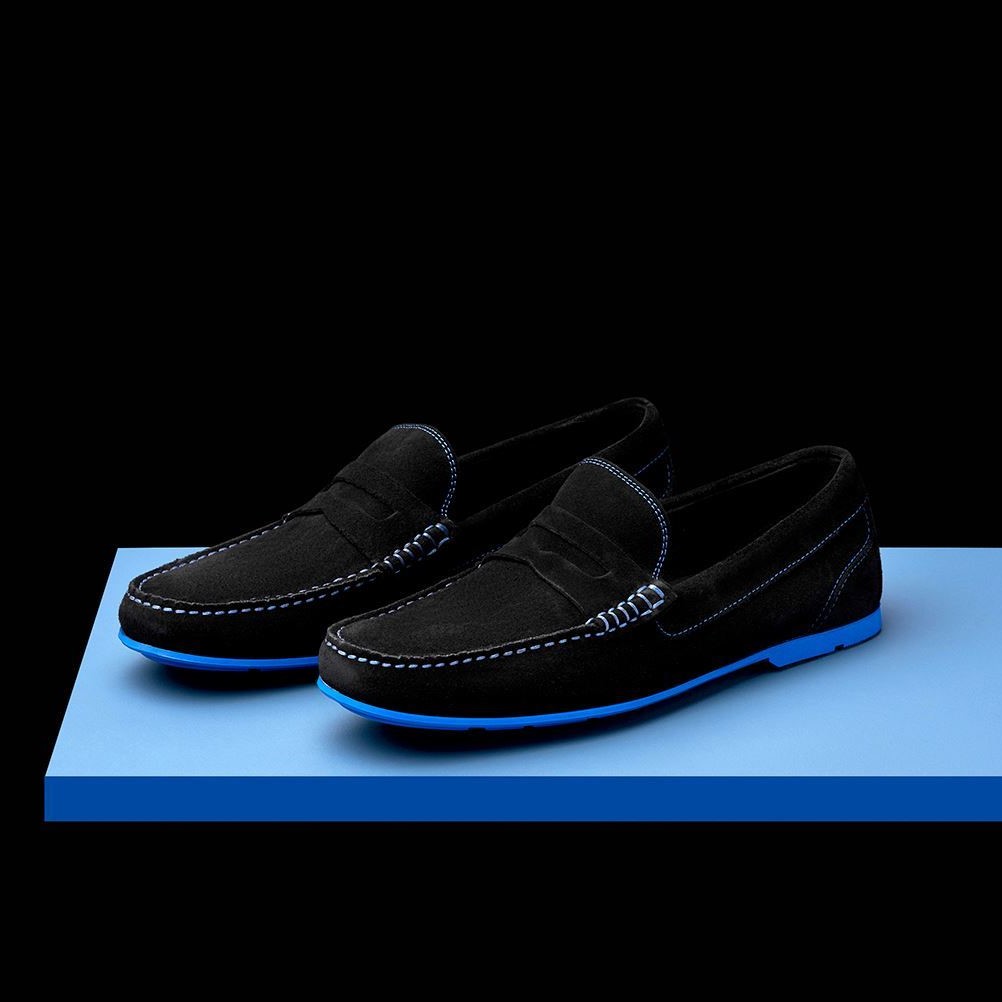 Only you know whether you can get away with wearing trendy shoes to the office – if not, save them for that date you're looking forward to this weekend. Generally speaking, a trendy shoe is one that's in fashion right now, so it's unlikely to be as cool if you're seen sporting it next year. What black shoes are trendy, we hear you ask? Well, sneakers, boat shoes and loafers are all pretty cool choices, particularly during the summer months. If you're dressing up, brogues are also a pretty cool choice if you're rocking the hipster look (beard recommended, but not mandatory). During the winter months, combat-style lace up boots or black Chelsea boots are both great, on-trend options to pair with a navy suit.
Office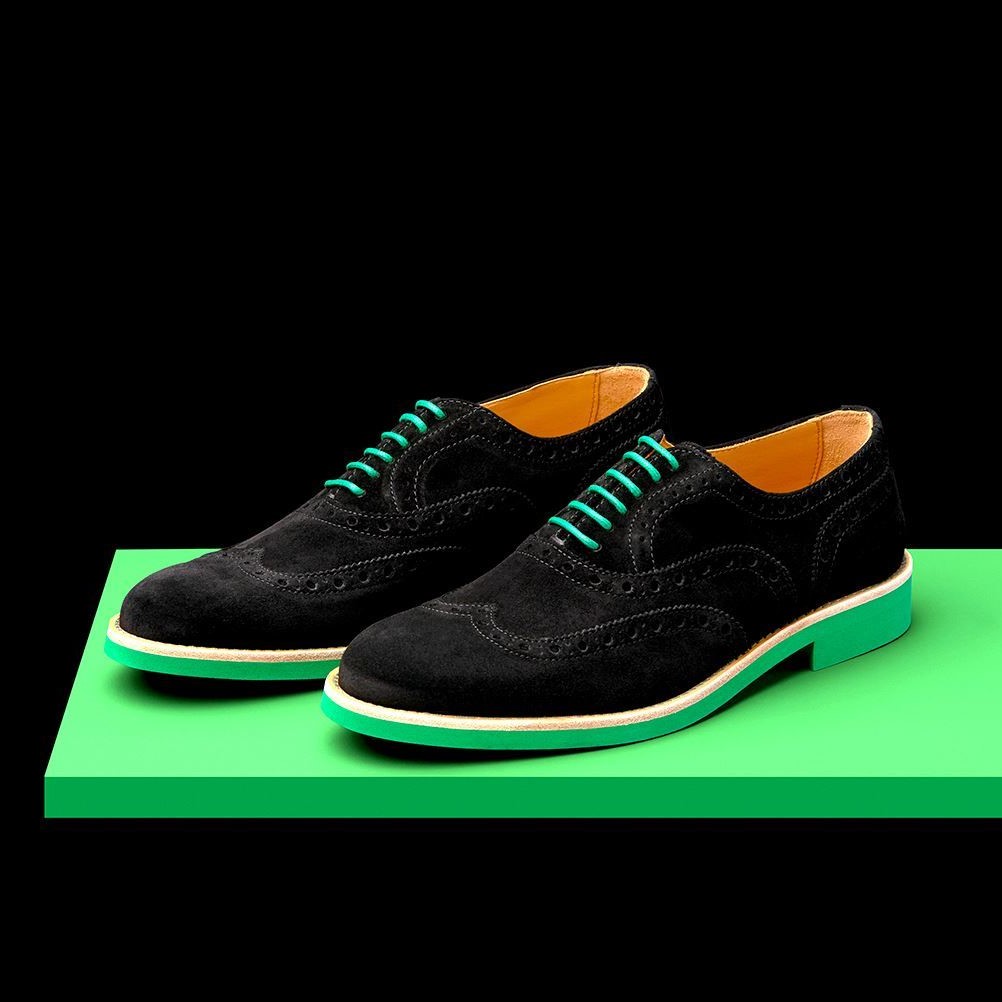 Assuming your office isn't the kind of place with ping-pong matches on a Friday, free beer, and Nintendo tournaments, you're going to want to keep your footwear pretty smart so you don't stick out like a sore thumb. Simple styles are best, and make sure they're comfortable if you're going to be on your feet all day. In winter, Chelsea boots or zip up black leather boots buffed to a high shine look great with a dark blue suit. During the summer months, polished brogues, Oxfords or derbys are ideal to add a touch of class to your suit. You can add some fun socks to inject a bit of personality into your look, or a pair of Bold Society Shoes, like their black and green suede wingtip dress shoes, which will definitely up your credibility in the style stakes!
Classic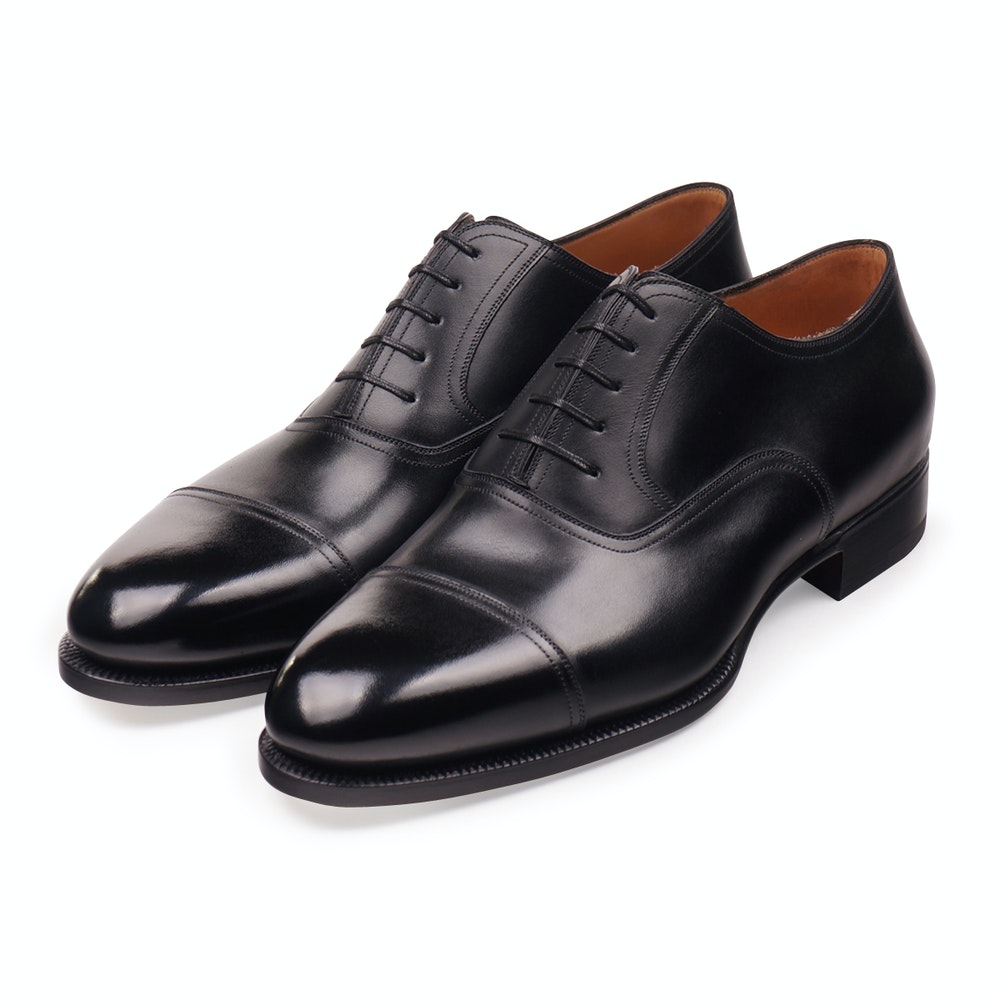 Classic styles are the ones you'll turn to again and again – they never go out of fashion. These are the shoes you'll choose for weddings, funerals, corporate events and even dinner out with your in-laws. Oxfords, derbies, brogues and Chelsea boots are all good examples of classic styles that won't look out of place, no matter where you wear them. A word of warning: Always make sure your shoes or boots are clean and polished, as nothing detracts from your look like a dirty or dull pair of shoes!
Image source: stefanobemer
Just to make sure you choose the right shoes for the occasion, we've created a handy table to help!
| | |
| --- | --- |
| Occasion | Style of shoe |
| Work event or client meeting | Classic – Oxfords, derbys, brogues or similar |
| Date | Brogues or loafers in the summer, Chelsea boots in the winter months. Black sneakers if you're feeling really trendy and can carry it off! |
| Day at the office | If your office is more casual, loafers or sneakers during the summer months and lace up boots in the winter. For a more formal option, classic Oxfords, derbies or brogues in summer and smart boots with a zip/Chelsea boots in winter |
| Weddings/funerals | It's best to keep it classic for formal events, with a pair of Oxfords, brogues or derbys. |
What colors go best with a dark blue suit and black shoes?
Pairingblack shoes with a blue pants gives you freedom to play around with any number of interesting color combinations. Because navy and black are both dark colors, you're free to keep your look dark, add pastels or even choose brighter shades to really lift your style. Starting with a simple pair of black shoes with a navy suit means you can experiment with colors and patterns to your heart's content! Here are a few ideas for patterns and colors you could try:
White
Light blue
Black
Grey – charcoal, slate or light grey
Dark green
Olive green
Lime green
Mustard
Burgundy
Pink – hot pink, salmon pink or baby pink
Royal blue
Red
Paisley, stripe, check, abstract patterns, etc.
Don't be afraid to mix and match either – often a striped shirt with a paisley or abstract pattern tie can really stand out!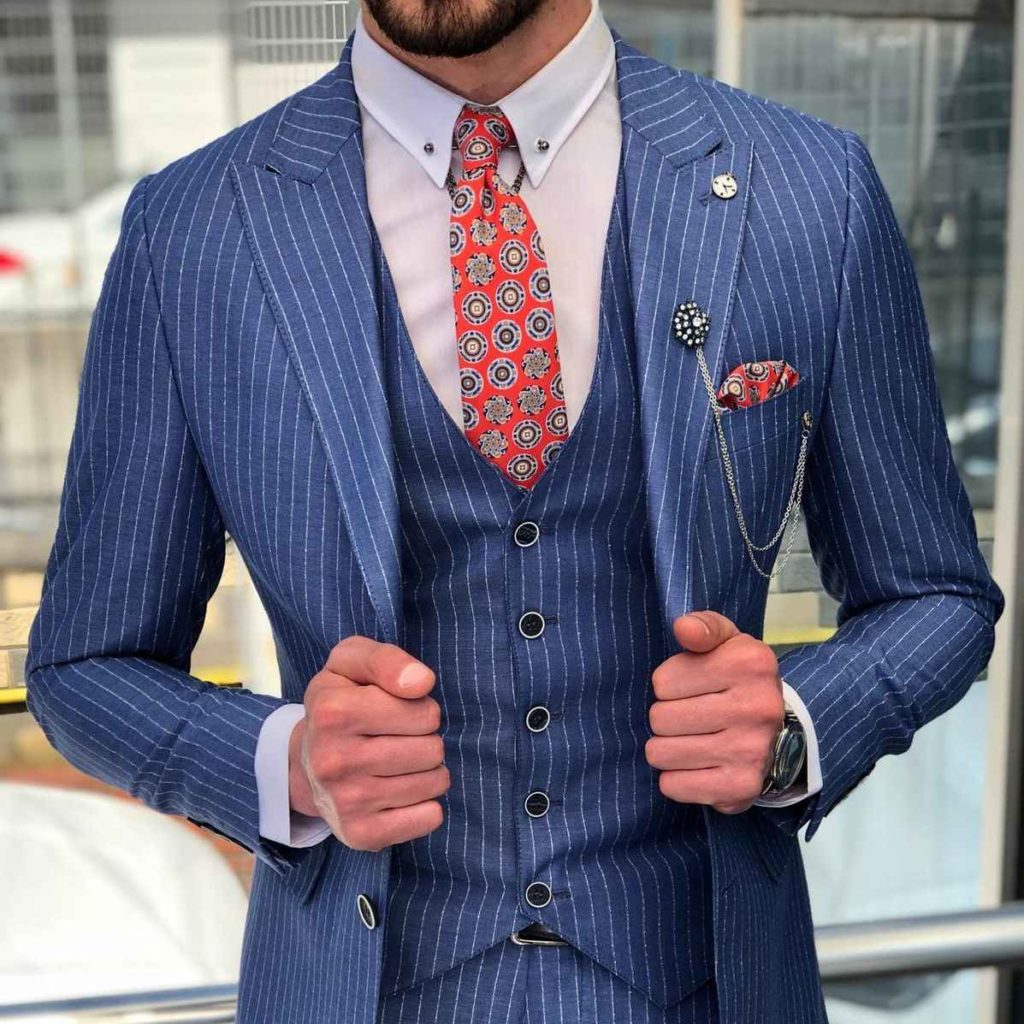 Think about the type of occasion you're putting an outfit together for before choosing which shirt, tie, dress socks and other accessories to pair with your navy suit and black shoes. Here are a few ideas to get you started:
| | | |
| --- | --- | --- |
| Shirt | Tie | Socks |
| Light blue | Navy blue (plain or patterned with a check, paisley or even a stripe) or pale pink | Navy blue, light blue or pale pink |
| White | Burgundy plain or stripe | Burgundy, black or navy blue striped |
| Burgundy | Navy, black or grey paisley – patterns with a hint of gold look great against a burgundy shirt | Burgundy, navy, dark blue or grey stripe |
| Pale pink | Navy blue, royal blue or darker pink | Dark pink, royal blue or navy blue |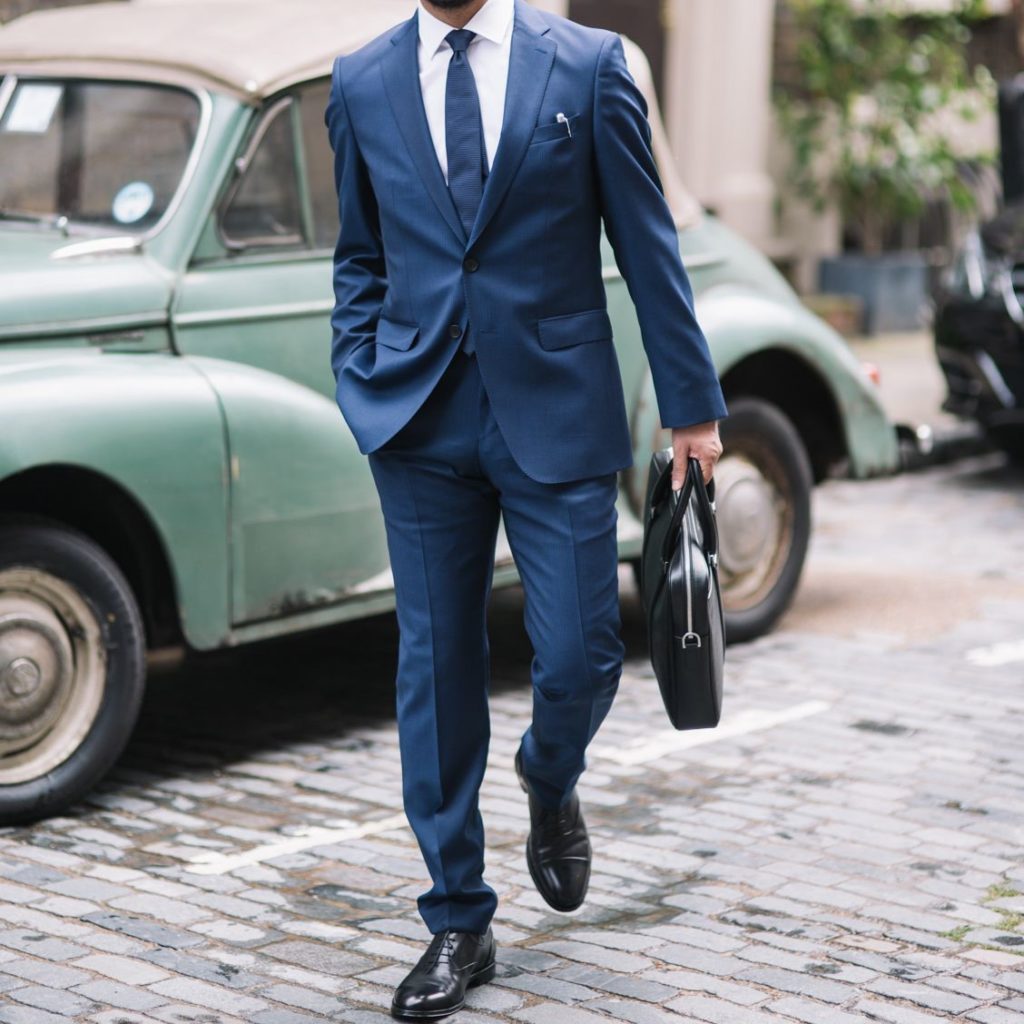 A navy suit and brown shoes is also a great look
If you've been asking yourself "Can you wear black shoes with a navy suit?" and you're still not convinced, perhaps black shoes really aren't for you. How about wearing brown shoes with a navy suit instead? Brown shoes are every bit as versatile as black and will go with most suits, not just your navy suit.A pair of tan brown shoes looks great with a pair of charcoal pants, for example.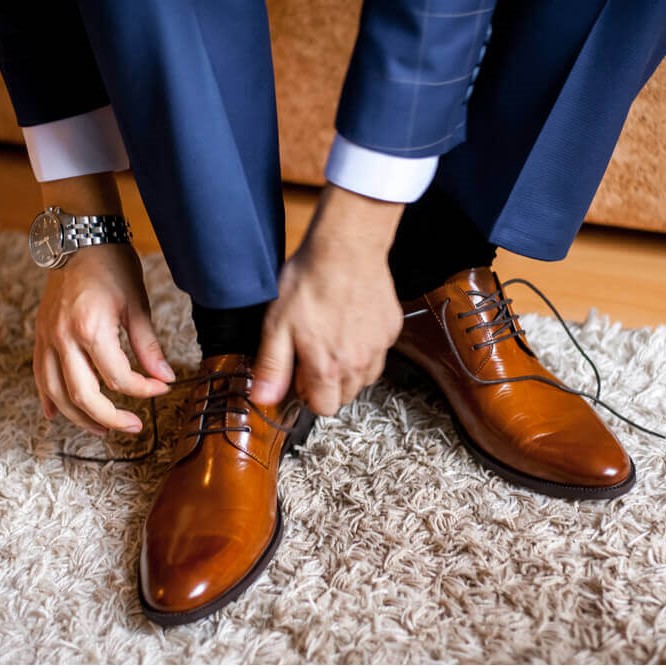 Here the shade of brown is really important, as you can't just throw on any old pair of brown shoes or boots with your tailored suit and expect to look good! These are some of the best shades of brown to wear with your navy suit:
Cognac
Tan
Burgundy
Dark brown
You'll want to consider materials too. For the office, stick with classic leather, and ensure your shoes are clean and polished. For a date or weekend brunch, suede is a stylish option that gives an off-duty vibe while still remaining smart. Ensure you give the rest of your outfit some thoughts too. Wearing burgundy oxfords with your navy-blue suit? Then you'll want to think about which color of shirt and tie goes best with the existing color combo. In this case, we'd recommend sticking to a neutral shade such as white, light grey or light blue or even opting for a dark shade like charcoal or even a black shirt with brown shoes – although a pale pink shirt can also offset burgundy shoes nicely. In fact, pink shirts look great with brown shoes!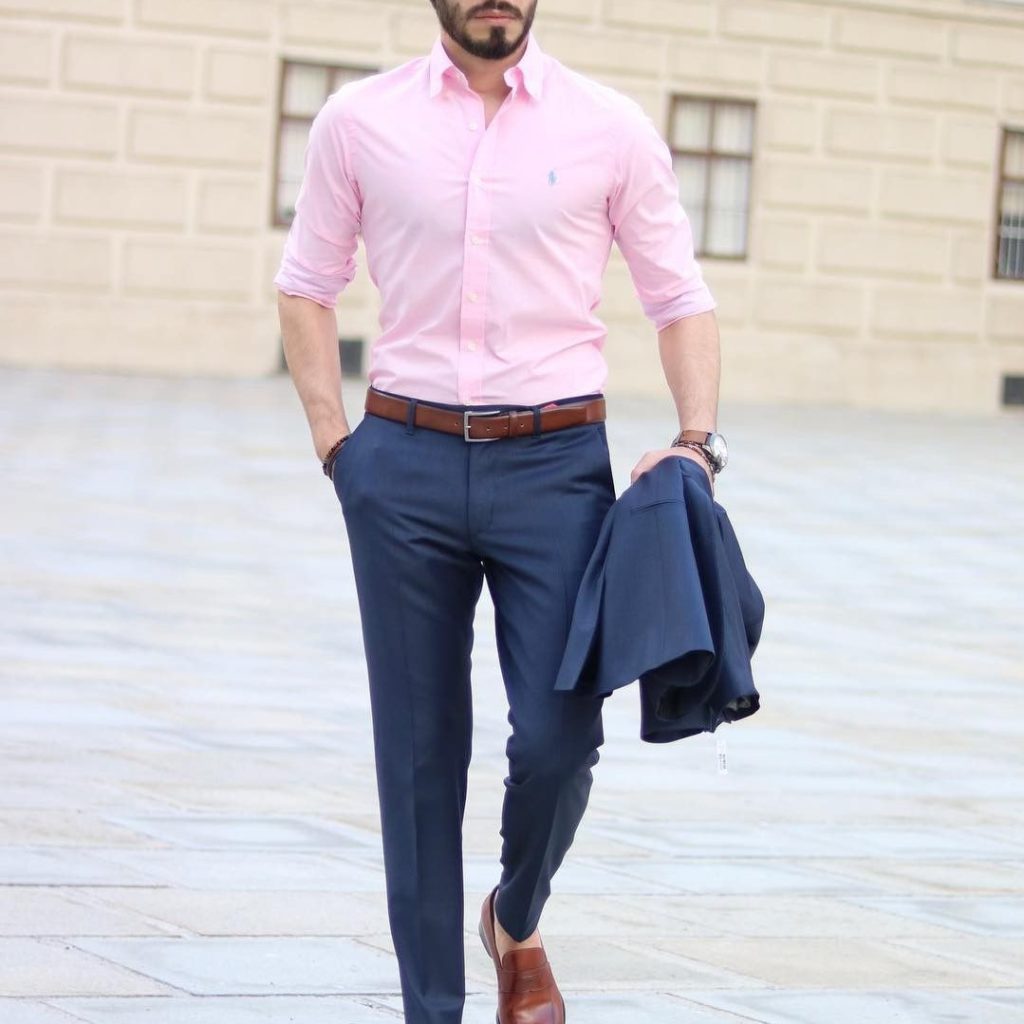 Which socks should you wear with black shoes and a navy suit?
Now you've chosen the perfect pair of black shoes – whether they're sneakers, brogues or Oxfords – and a perfectly fitting navy suit, what about accessories? Choosing the right accessories can be challenging, but this is your opportunity to express your personality with a few little touches. A watch or jewelry, a tie/bowtie, pocket square, dress socks, a bag, belt, sunglasses or a hat are all the accessories you could pair with your suit. But let's look at socks.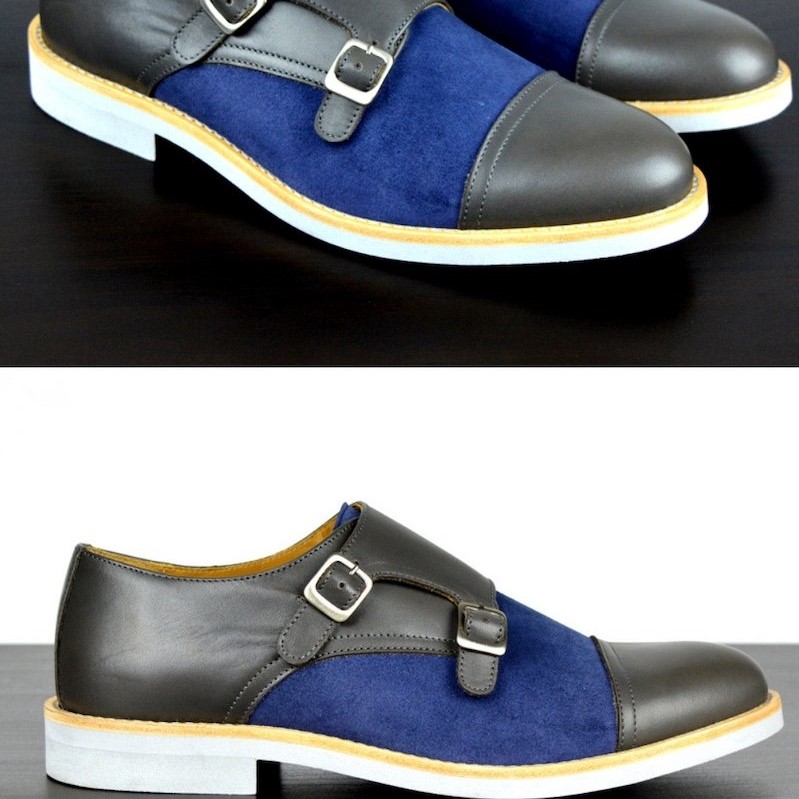 Image source: soxy
Choosing the right socks can be super fun!
Ever see a man wearing mismatched socks? Or worse, somebody wearing white sports socks with their navy suit? Just. Don't. Do. It. The right men's socks definitely make a difference when it comes to a style hit or miss, so if you're wondering what socks to pair with your black shoes and navy suit, keep reading. Here are a few things you should think about when sock shopping:
What event are these for?
Would patterned or plain be more appropriate?
Do you want to make a style statement or for your socks to go unnoticed?
What are you doing today?
For a client meeting, wedding or funeral, you might want to opt for dark colored, plain socks, while for days at the office or a date, you can probably get away with patterned.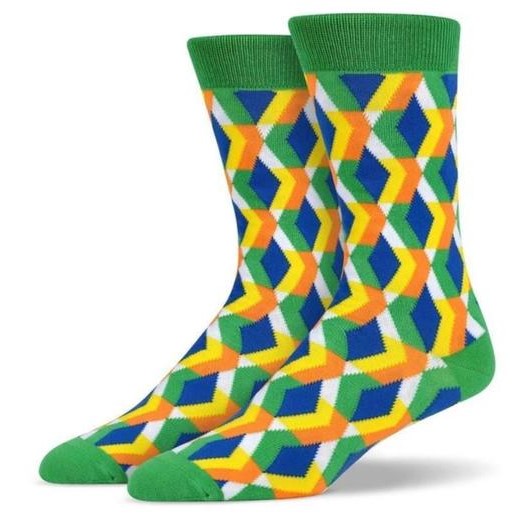 Lime green socks with a navy suit are going to make you look a little adventurous – but if they go with your choice of shirt and tie, you could make it work! For something a little less outrageous, burgundy, pale pink or dark pink are all good choices to pair with your navy suit. Blending in with the crowd is easiest in dark socks in black, navy blue or grey – and you could even wear a pair with a subtle pattern like a stripe.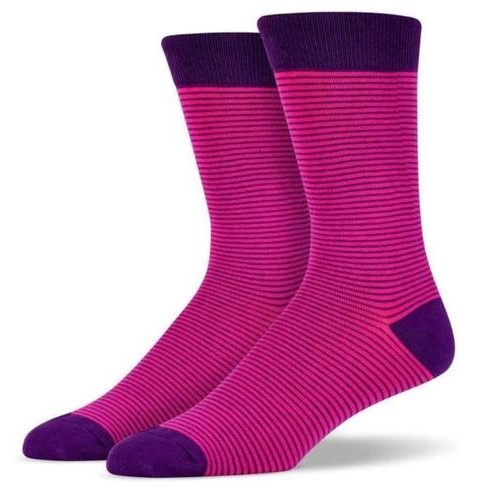 Packing a spare pair of socks depending on your plans could save the day. Nobody wants to wear athletic socks with their navy suit, or be caught wearing crazy patterned socks in a funeral.
For most occasions, socks are essential, so don't ruin your stylish look by going barefoot in your shoes!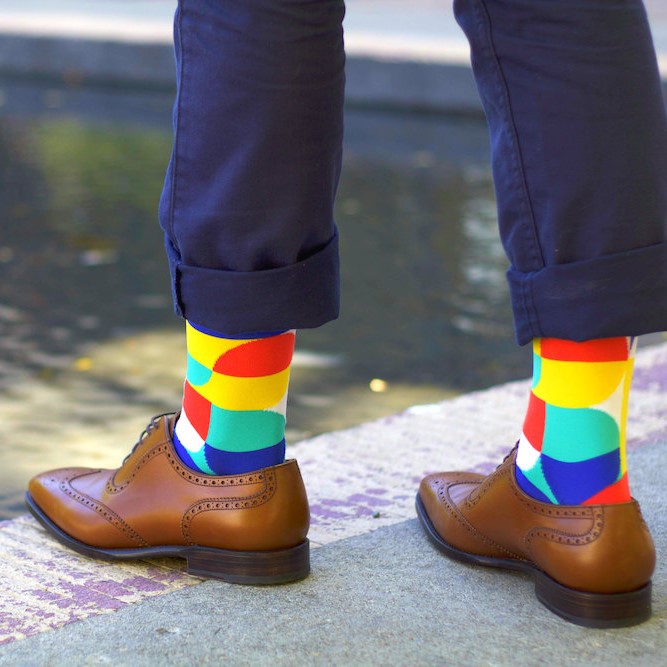 Image source: soxy
Why choose loud socks with a navy suit and black shoes?
Loud socks are a great way to express your personality while ensuring your feet are comfortable and dry. You can find dress socks, no show socks, and athletic socks on that will perfectly complement your snazzy outfit. In case you want to know any more about Soxy loud and funny socks, here are some fun facts:
Soxy Socks are produced in beautiful Seoul, South Korea, in a family-owned factory.
Soxy have delivered over 1 million pairs of socks to men and women in over 40 different countries.
Soxy Socks are fully knit socks. They're not machine pressed, but stitched thread by thread with a 220 needle (this helps them create complex patterns).
Soxy socks are made from 75% combed cotton, 20% polyester and 5% spandex, so they're not only incredibly soft but also really durable too.
They have a hand-linked seam, which means they're formed by linking the two sides of the sock together to fuse the toe and base.
Soxy Socks are pre-washed, dried, and ironed to eliminate further shrinking by 95%!
Unlike some socks, they won't fall down while you're going about your day, as they're engineered to ensure perfect elasticity.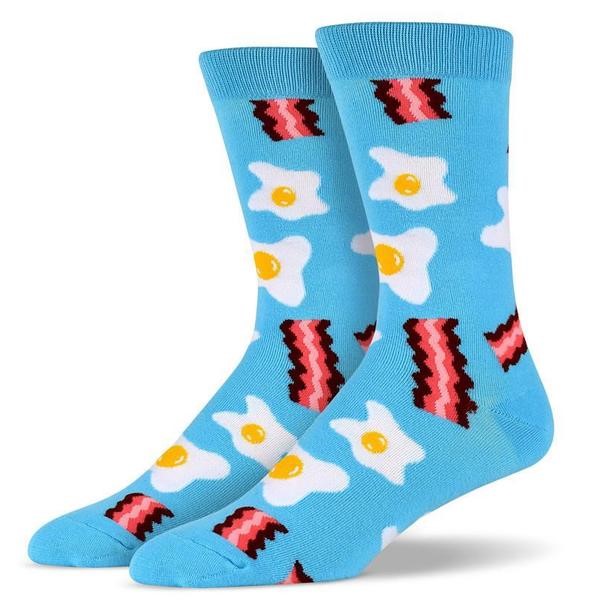 These bacon and egg novelty socks are the perfect pair of socks for that special breakfast date with your true love, for brunch with your mates, or even a day at the office, if your work dress code is casual enough! Bonus points if you're a chef!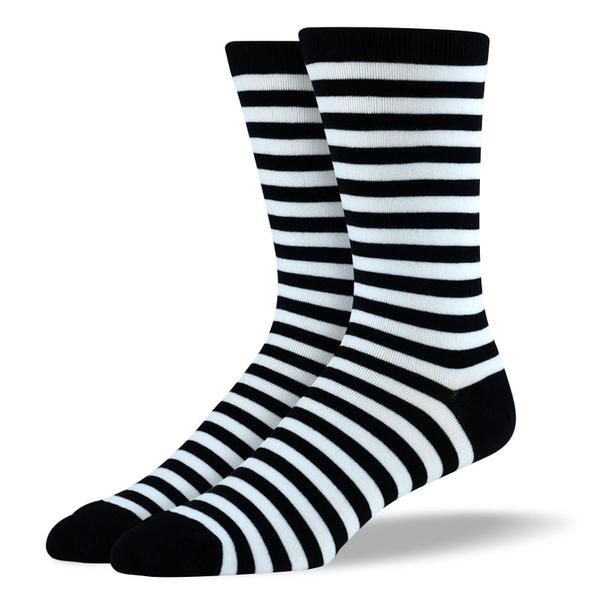 For something a bit more formal, we love these black and white striped men's socks. They're going to go with everything, not just your navy suit, and are sure to become a wardrobe staple.
If you're feeling bold and playful, teaming thesedark pink polka dot socks with your black shoes, navy suit and a pink shirt is definitely going to get you noticed – for all the right reasons! We love the bright color and fun design of these socks, and they're a great way to let people know that you take your style seriously, but not yourself!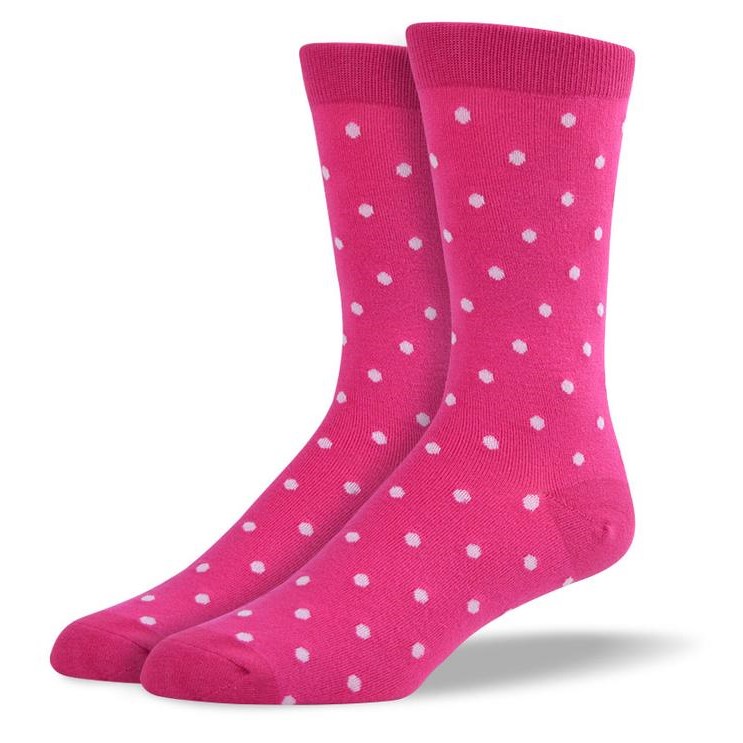 Last, but definitely not least, we're definitely ordering a pair of these funky astronomy socks in shades of purple and pink. These are a great addition to any black shoes with a navy-blue suit, as they'll blend in nicely while injecting a bit of personality into your outfit, great for less formal events or a day at the office.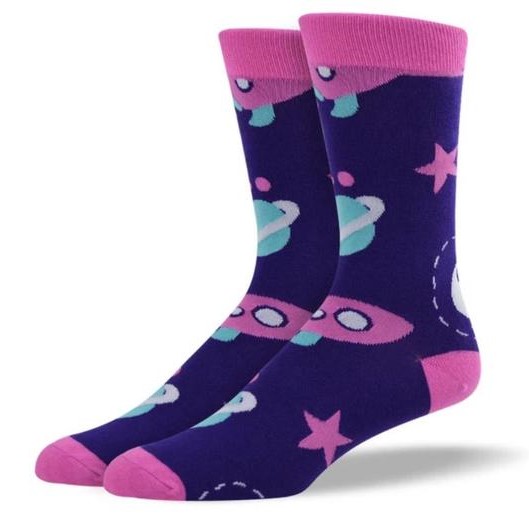 How to make sure your navy suit fits
So now you've chosen the perfect dress socks, back to the suit. The number one most important thing to remember when choosing a suit is to make sure that it fits. There's nothing worse than looking like you've stepped out of the house wearing your Dad's suit – so take the time to get something that's properly tailored to fit you! The best way to do this is to have a suit made for you. But if that's out of budget, or you have an event coming up and simply don't have time, at least shop for a suit somewhere where you'll be measured to ensure a perfect fit, or buy off-the-peg and take your suit to a tailor to have it adjusted to fit.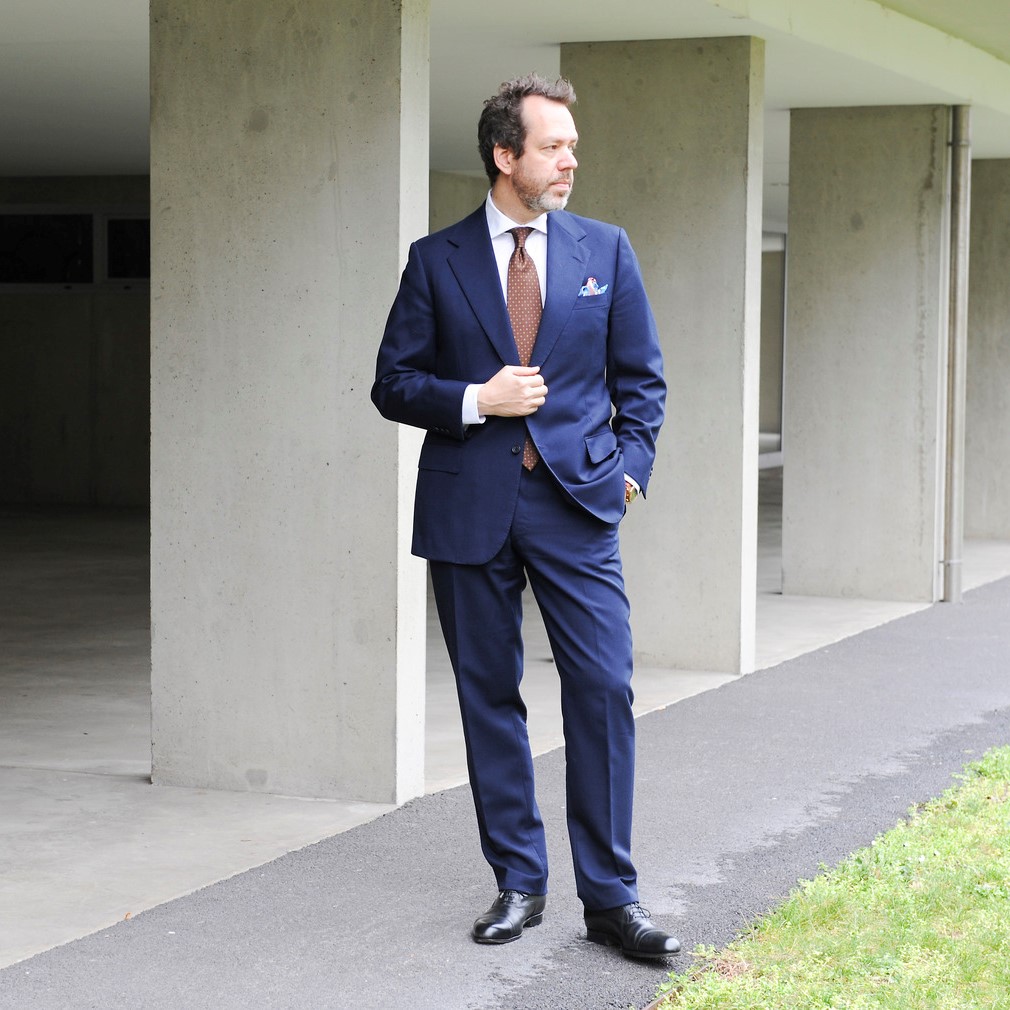 A well-fitting suit makes the difference between a dapper gentleman and somebody who got things a bit wrong – and nobody wants to be the latter. It goes without saying that when pairing black shoes with a navy suit, you should ensure your shoes are a good fit too, particularly if you're going to be wearing them all day (or night). Try shoes on with the socks you plan on wearing with them, if possible, and remember that your feet will be warmer during the summer months than in winter, so allow a little room when purchasing shoes.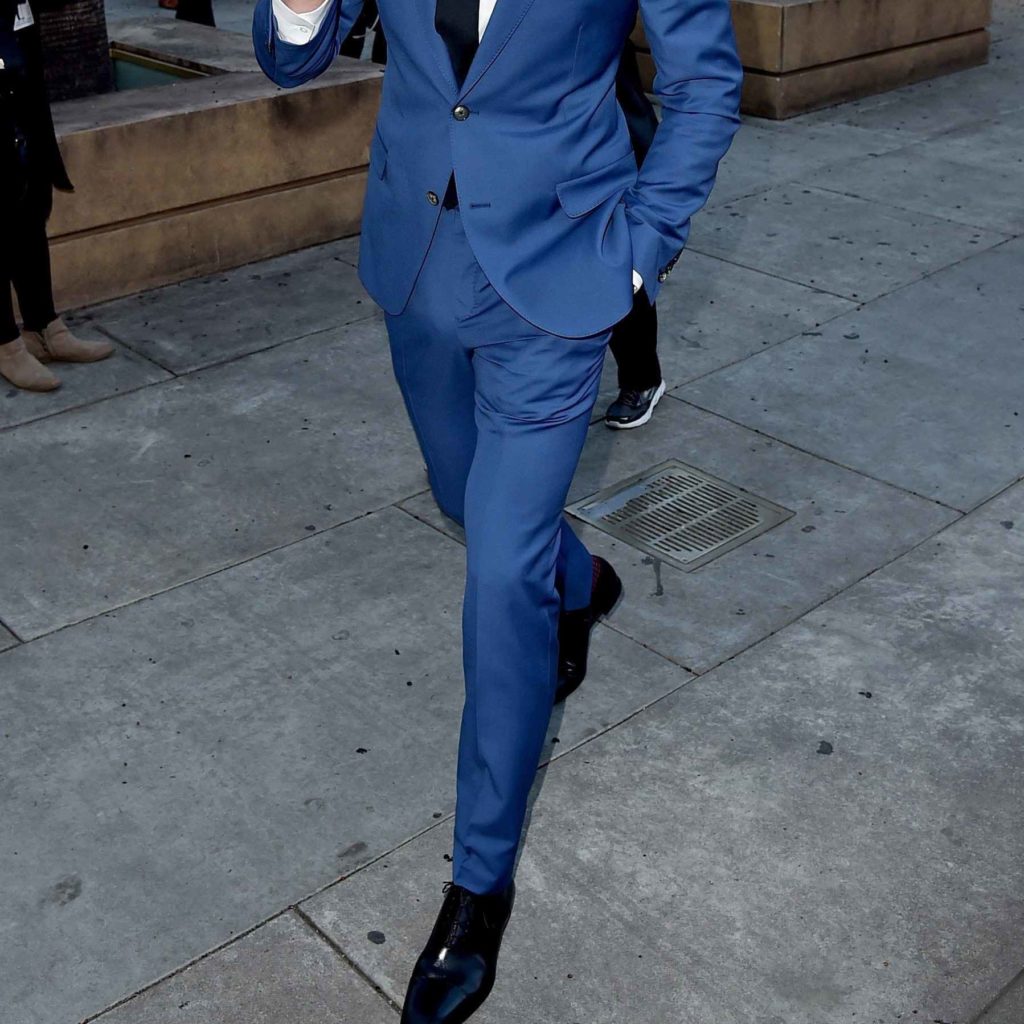 Want more navy suit and black shoes inspiration? Follow these Instagram accounts
Sometimes we all need a little bit of visual inspiration when it comes to getting our look just right, and where better to look for it than Instagram? We've got some suggestions for Instagram accounts to follow if you're looking for style inspo.
Mensuits
Not just great for dark blue suit and black shoes images, mensuits Instagram is packed with images of dapper gents. If you're looking for suit inspo, this is a great Instagram account to follow. As well as suits, you'll get ideas for shoes, ties, belts and other stylish accessories. This is also a great account to follow if you struggle with color or pattern combinations, as sometimes they feature images with color combos you wouldn't expect or normally put together yourself! Next time you're stuck for style inspo, head for mensuits!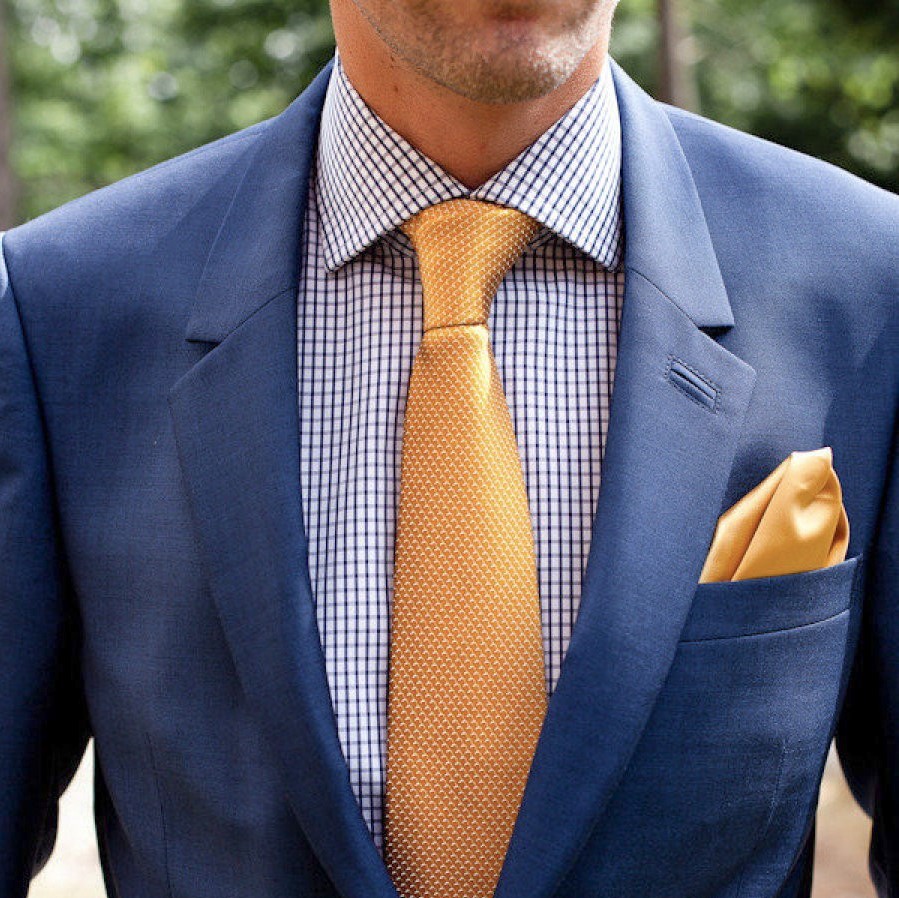 The.swiss.gentleman
Marvin Walker's Instagram account is a style hub – and he has a website too. This Swiss computer science graduate seems to know a thing or two about sharp dressing, making his Instagram account a great place to head for fashion inspo. Unsure what shirt to pair with your black shoes and navy suit or looking for the right style of shoes to go with your suit? We recommend checking out this Instagram account for some great images – and there are lots of different styles and colors of suits to inspire you too!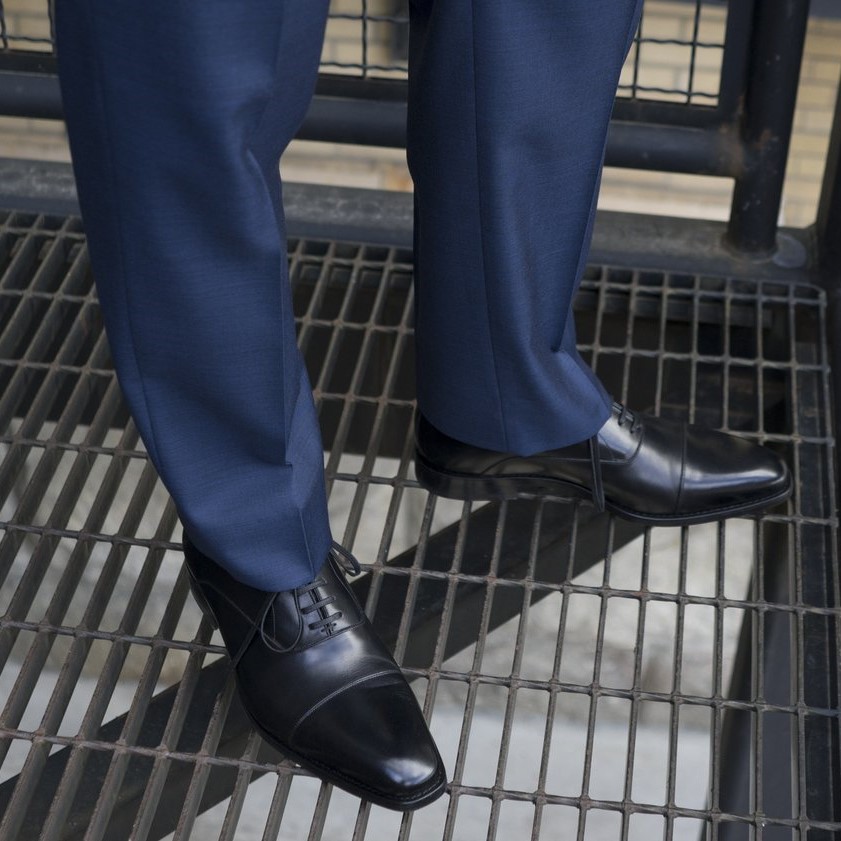 Ggdecoman
Although this insta account won't give you that much inspiration when it comes to pairing suits and shoes, it's great for those wondering which socks complement their shoes, pulling your whole outfit together. There are loads of different pictures of colored and fun socks with black, brown and tan shoes, so you'll never be left wondering "Do these socks go with these shoes?" ever again!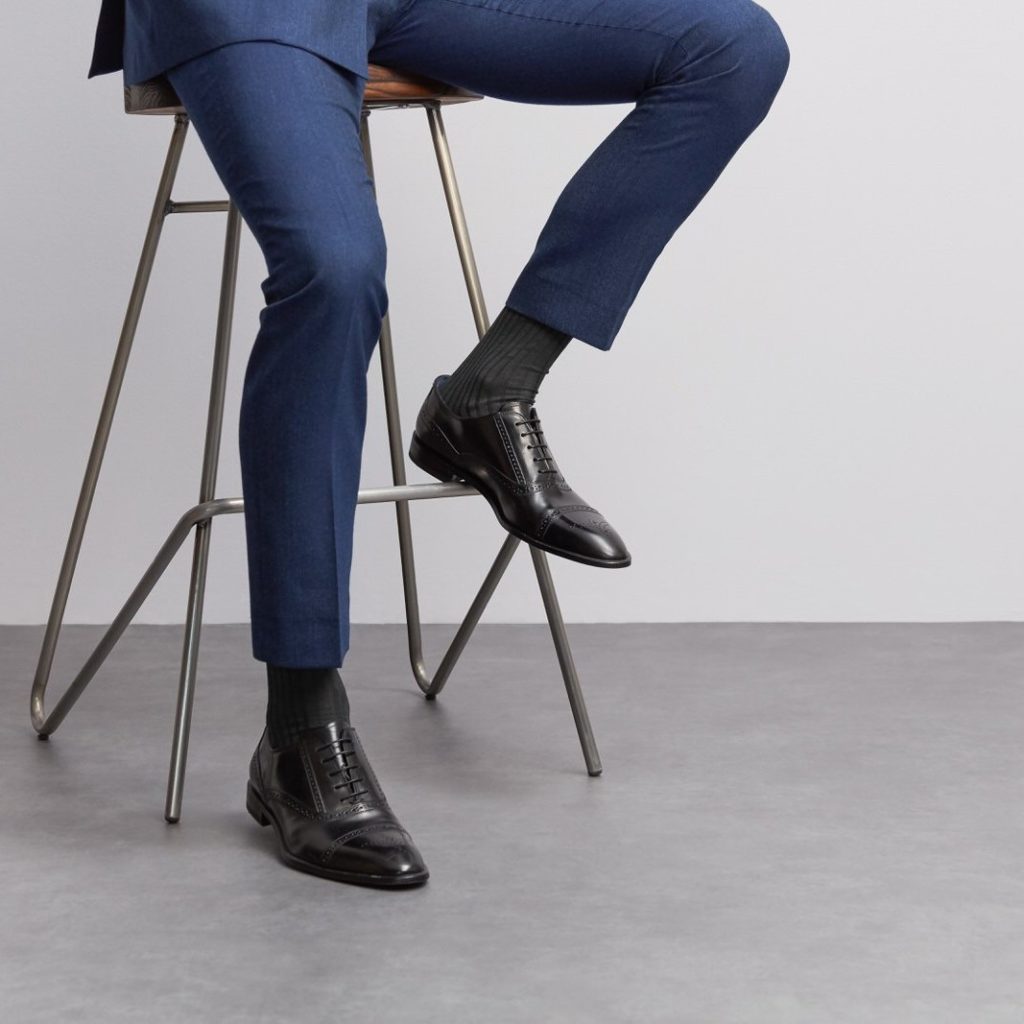 mensuitsmagazine
Need a daily dose of suit inspo? Mensuitsmagazine is the account you need to be following, now! This account is updated daily with the latest images of stylish men in suits of all colors. It's also a great place to get inspiration on accessories from belts to ties and pocket flashes. We particularly love that they often feature really colorful suits and unusual combinations of colors and patterns, to help you put together looks you might never think of yourself!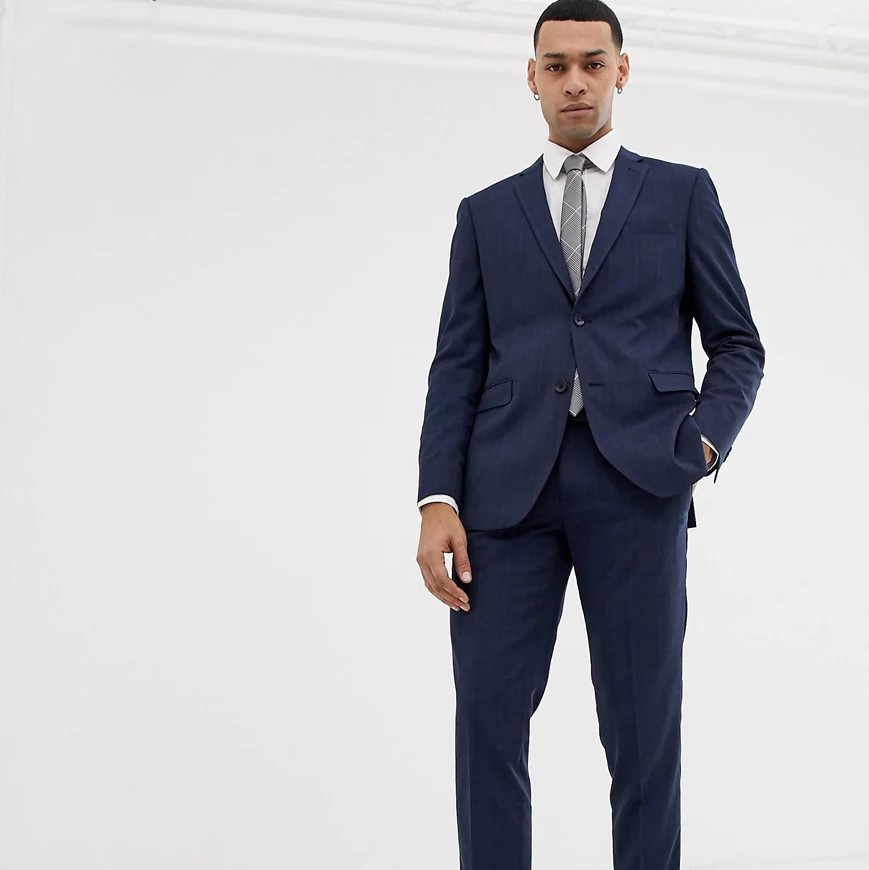 Davidgandy_official
British model David Gandy can always be relied upon to share stylish photos on his Instagram, making it a great place to get your suit inspo on. It's little wonder this stylish guy used to model for Dolce & Gabbana, as he always looks great, and shares lots of photos of his suit-and-shoes combos on his instagram. Next time you're in need of a little Old Hollywood-style fashion inspiration, check him out!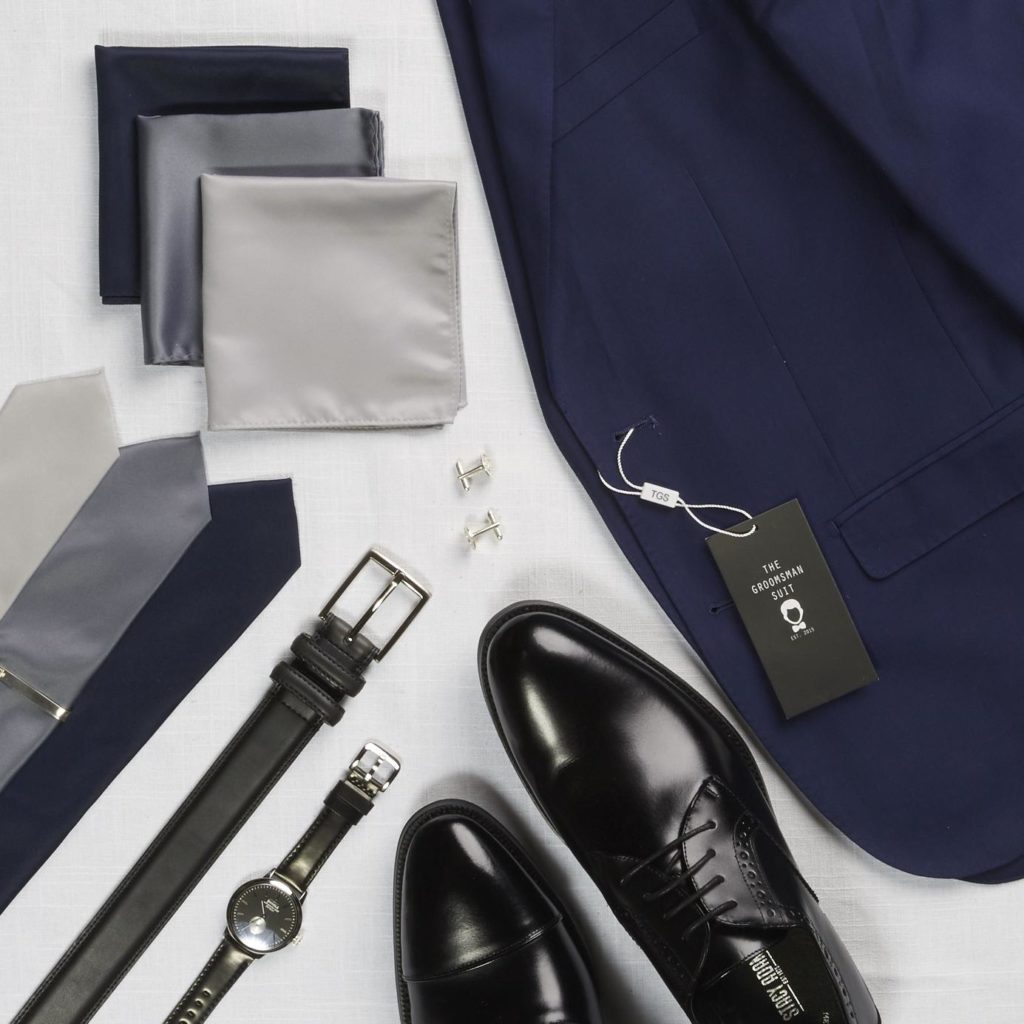 All you need is a navy suit, black shoes, and an air of confidence
Remember, it's not so much what you wear as how you wear it. While a perfectly tailored suit and polished black shoes will get you so far, your attitude is what determines how you carry off an outfit. Walk tall and be confident and you'll find you can carry off even the brightest colors and the boldest patterns and look damn good while doing it. Even if you don't feel as confident as you'd like in your outfit, we say fake it til you make it and act like you're the most stylish man in the room. Chances are, everybody else thinks so too!
Get Access to Exclusive Deals
Subscribe for free to get exclusive deals in your inbox. 100% privacy