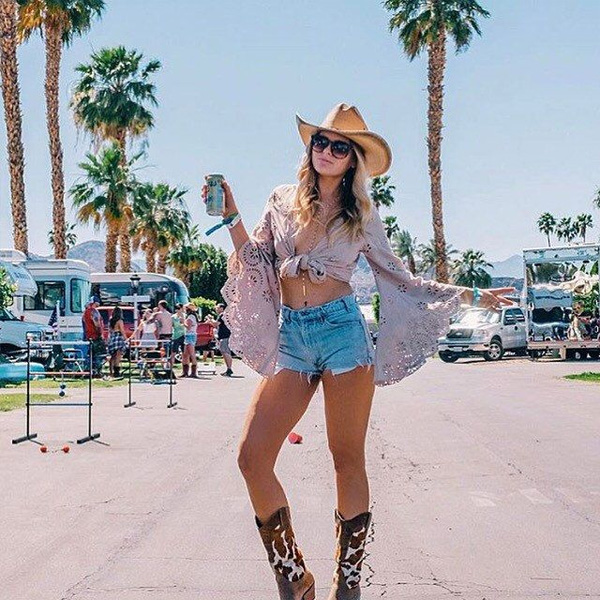 After a night spent staring up at the pale moon comforted only by Townes Van Zant's heartbreaking tales of ennui, you might say to yourself, "this experience could only be better if I was surrounded by equally lonely strangers," and start looking into country concert outfit ideas.
I'm joking, but there really isn't anything that matches our human capacity to bond with others through music. 
That being said, you're going to want to wear the right clothes if you want to look like you really know your Florida Georgia Lines from your Eric Churchs. That's why I'll supply you with a few country concert outfit ideas in this article. 
I'll also give you some country concert outfit ideas related to:
winter country concert outfit
outdoors country concert outfit
night country concert outfit winter
country concert outfit men's edition
men's country concert outfit
plus size country concert outfit
country concert outfit fall
cute outfit for country concert
What Makes Up a Country Concert Outfit?
The most essential part of most country concert outfit ideas is denim.
It doesn't matter whether it's a jean jacket or a pair of Levi's 501s; as long as you're wearing it, you're more than halfway to a great outfit.
History of Country Concerts
Country concert outfit ideas couldn't exist without the music, so let's talk about that for a quick second. Country music is a uniquely American artistic genre. 
While folk and folk-adjacent music styles are a part of every culture's history due to the prevalence of acoustic instruments and verbal storytelling, there aren't any that make the little ladies start square dancing like country music.
The genre evolved as a coagulation of blues, gospel, and roots music, eventually solidifying itself in the 1940s as a style of its own. 
Performers like Willie Nelson and Dolly Parton brought country music closer to critical consciousness and received high praise from journalists and fans.
Country's ensuing popularity meant that people wanted to see musicians live, and artists happily answered the call.
The history of country concerts largely followed a logical progression until the 1990s when a lone gentleman in a black hat injected some fuel into the medium's veins.
Garth Brooks took his concerts to the next level with an approach that was closer to that of a rock concert. He added pyrotechnics, large backing bands, and huge speakers to thrill audiences. His 2014 world tour was among the highest-grossing tours of all time.
What Are Some Popular Country Concert Outfit Ideas?
Seeing as how country music is so mainstream nowadays, it's not necessary for you to break out the chaps and the spurs. 
Simple country concert outfit ideas for men and women usually include a pair of light-wash jeans, a flannel shirt, and cowboy boots. There's plenty of room to play around in that framework.
30 Country Concert Outfit Ideas
#1:
I'm going to break away from the template I just laid out in the previous section of this article. This is a cute outfit for a country concert that can help you stand out without diverging too far from the crowd. 
The black boots – Doc Martens in this case – and black dress give country concert outfit ideas like this a bit of edge while the denim jacket keeps the hillbilly spirit alive.
#2:
Here's one of the men's country concert outfit ideas that I can't get out of my head. It leans heavily on denim for the top and bottom half of the body, but country concerts are one of the only places where you can pull off double denim without anybody batting an eye.
The boots and the newsboy cap give it a slightly more refined touch than a standard cowboy hat and boots would without making you look like you belong at a poetry reading instead of a Jason Isbell show.
#3:
#4:
#5:
#6:
#7:
#8:
#9:
#10:
#11:
#12:
#13:
#14:
#15:
#16:
#17:
#18:
#19:
#20:
#21:
#22:
#23:
#24:
#25:
#26:
#27:
#28:
#29:
#30:
Fashion Tips to Avoid With Country Concert Outfits
Here are three quick guidelines of things you should avoid when creating some country concert outfit ideas:
Not including denim in your outfit
Thinking that a cowboy hat is essential
Ignoring how accessories can personalize an outfit
Best Places to Buy Country Concert Outfits
These are a few of our favorite places to search for country concert outfit ideas:
Final Thoughts
Country music concerts are relaxed affairs without dress codes, so there's no need to stress if you don't have the best country concert outfit ideas right now. So long as you dress in a way that expresses yourself, then you'll be set to have the time of your life. 
---
Looking for more outfit ideas? We've got you covered:
Get Access to Exclusive Deals
Subscribe for free to get exclusive deals in your inbox. 100% privacy
Subscribe