20 Best Designer Leggings
In this day and age, leggings are typically included on the monthly grocery list. Disposable fashion is partially to blame, given the vast amount of $5 knock-offs swamping the internet.
If you find yourself continuously disappointed with supermarket alternatives, perhaps it's time to consider leggings as a yearly expense instead. Maybe it's time to say goodbye to Walmart and say hello to Versace.
Obviously, you can find a broad assortment of high–quality leggings without forking over hundreds of dollars.
That said, those who wear them on a regular basis may find luxury brands a worthy expense. If you're looking to add to your ever-growing collection, I'll spotlight 20 of the best designer leggings.
Finding The Best Designer Leggings
Legging addicts may have trouble prioritizing their expenses, but one thing's for certain: they can sniff out fakes from a mile away.
If you're on the hunt for the best designer leggings, fabric choice is key. Keep in mind that materials such as spandex, lycra, and elastane help provide flexibility and mobility.
It's also worth noting that some designer leggings feature mesh paneling and moisture–wicking properties, which is great for athletes and workout geeks.
Other important factors include comfort level, design, and practicality. Finding a pair that ranks high in all three areas is definitely a good idea.
The 20 Best Designer Leggings
From Lululemon to Uniqlo, it's relatively easy to cop a standard pair of leggings at your local mall.
But, if you're looking to feed your legging obsession further, perhaps it's time to opt for designer brands. Trust me, there's no shortage of luxury alternatives sold at FarFetch and SSENSE.
Care for some recommendations? If so, I'll highlight 20 of the best designer leggings that are worth a try-on.
#1: Jean Paul Gaultier Green 'The Iconic' Leggings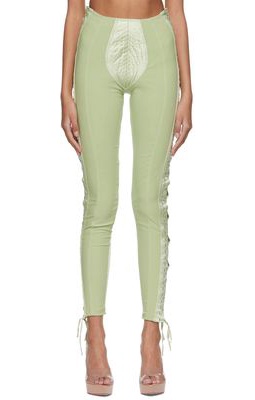 ---
#2: Rick Owens mid-rise leather leggings - Black
---
#3: Balmain monogram pattern knitted leggings - Black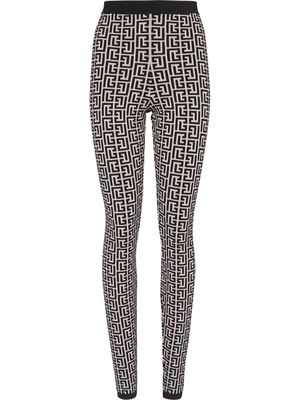 ---
#4: Stirrup Leggings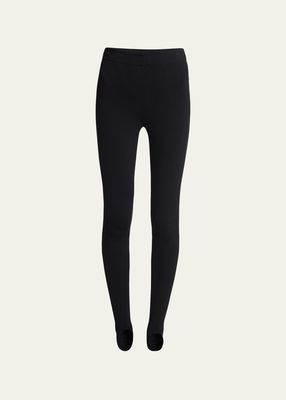 ---
#5: Versace baroque-print silk leggings - Multicolour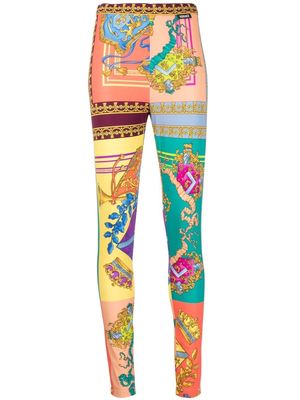 ---
#6: Burberry Black Nylon Leggings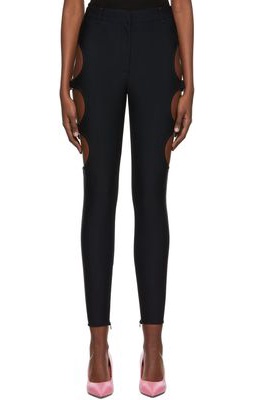 ---
#7: Moncler Genius graphic print leggings - Pink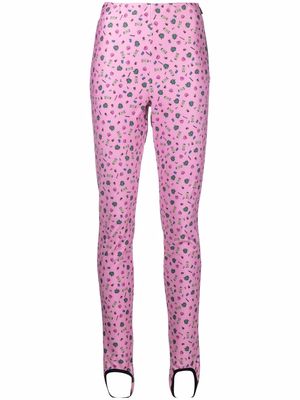 ---
#8: Philipp Plein high-rise embellished leggings - Black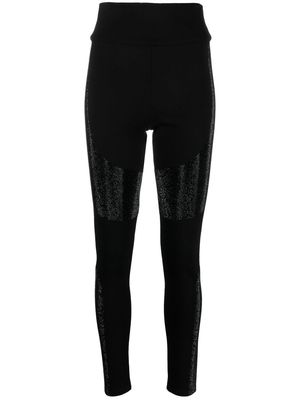 ---
#9: Givenchy Pink Viscose Leggings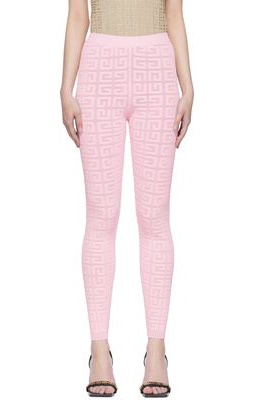 ---
#10: Saint Laurent Black Latex Leggings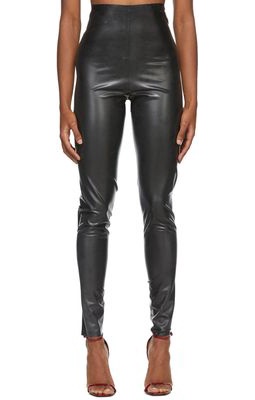 ---
#11: Branded Elastic High-Waist Leggings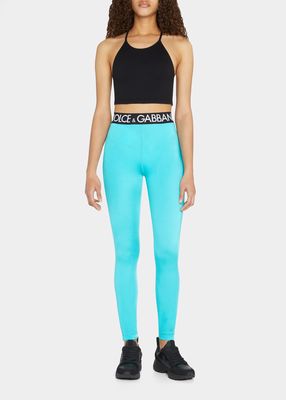 ---
#12: Zebra Leggings w/ Ankle Zips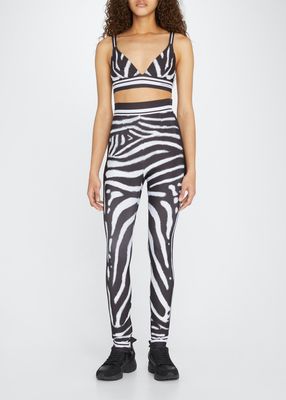 ---
#13: Paolina Russo panelled ribbed leggings - Blue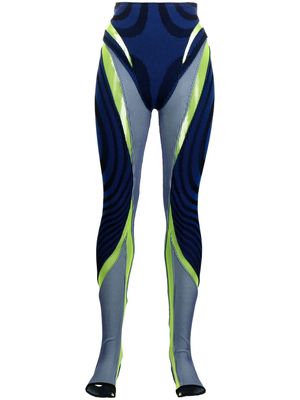 ---
#14: Yohji Yamamoto graphic-print leggings - Black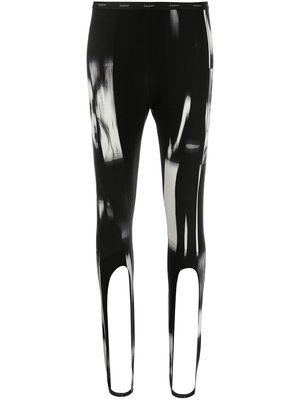 ---
#15: Gucci GG jersey jacquard leggings - Green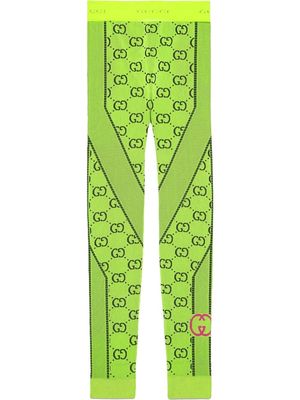 ---
#16: Dolce & Gabbana floral-print high-waisted leggings - Red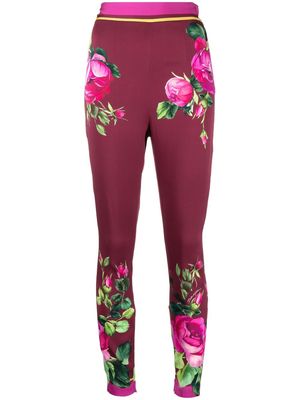 ---
#17: Logo Band Tile-Print Lycra Leggings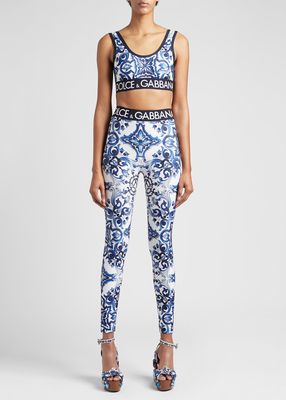 ---
#18: Sprwmn high-waisted leather leggings - Grey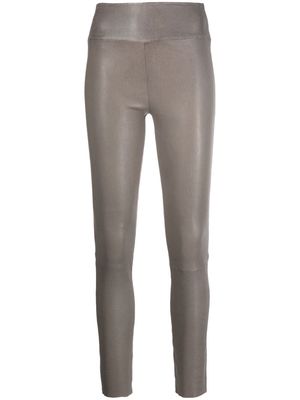 ---
#19: Isaac Sellam Experience slim-fit leather leggings - Grey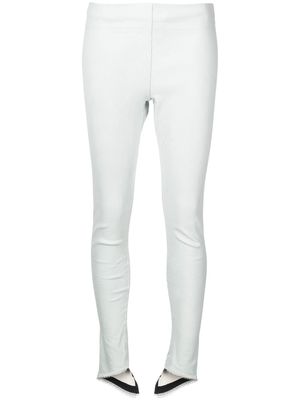 ---
#20: Versace First Line Versace Greca Signature Leggings in Orchid Black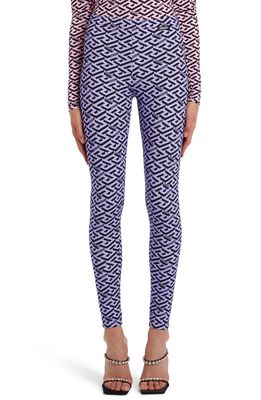 ---
What Are The Most Popular Designer Leggings?
Popularity doesn't guarantee quality, but it does give you extra style points. If you're only after the best designer leggings, I recommend that you check out the Spiral Panelled Leggings by Mugler and the Scuba Stretch-Jersey Leggings by Wolford.
Which Designer Leggings Are Currently Trending?
I can confidently say that my top 20 list of the best designer leggings only includes the trendiest styles. That said, I'm sure that I missed out on a few top-sellers.
If you're in need of additional recommendations, I'd like to include the Prada Stretch Wool Leggings, the Orion Cutout Stretch-Jersey Leggings, and the LaPointe Organic Cashmere Leggings within my lineup.
What Types Of Designer Leggings Can You Get?
Looking to simplify your shopping excursion? If so, here are the types of designer leggings that you can currently get.
Stretch jersey and cotton: Soft to the touch, these leggings are great for lazy days and Netflix binging.
Leather: Often dyed in black, these daring pants are meant for clubbing and a girl's night out.
The performance leggings: If your chosen pair features mesh paneling and moisture-wicking properties, chances are that they're meant for physical activities.
What Sizes Do Designer Leggings Come In?
The best designer leggings come in a variety of sizes—ranging from extra small to extra large. It's worth noting that most designs feature a stretchy knit, which is typically forgiving in fit.
How To Wash Designer Leggings
A good majority of leggings (whether they're designer or not) are washing machine friendly. Most of the time, you're allowed to throw them in the laundry.
I recommend using cold water and a gentle detergent to help prevent color bleeding and shrinking. In terms of drying, you can never go wrong with the air–dry method.
Are Designer Leggings Worth It?
Sorry, folks! I can't give you a straight answer to that question. It really boils down to your perception of leggings and what you can personally afford.
For those who continuously wear a pair each week, it might be worth the hefty investment. On the other hand, those who sparingly don leggings may view it as a useless expense.
How To Style Designer Leggings
Every trendsetter is open to new outfit ideas. If you're in need of some fashion inspo, I'll show you how to style your new designer leggings.
Not a fan of stiff wool trousers? If so, there's nothing like a pair of comfy leggings to put you in a good mood. Complemented with a dramatic jacket and a white button-up blouse, this chic OOTD is ready for office meetings and coffee dates.
Perfect for days when you can't be bothered, this cute OOTD features a beige shacket, a white crop top, and a pair of black leggings. If you're in the mood for some edge, I suggest swapping out the sneakers with lace-up boots instead.
Creamy in hue, this outfit plays with neutral tones and subdued silhouettes. The slim-fit leggings are a nice touch—especially for those not fond of stiff jeans and trousers.
---
Looking to stay up to date on all things designer? We've got you covered:
Get Access to Exclusive Deals
Subscribe for free to get exclusive deals in your inbox. 100% privacy