25 Best Fendi Slides
Hard work, perseverance, and talent can get you far in life. Once you've 'made it,' now is the time to relax in your $400 million dollar penthouse curled up in your Versace bathrobe.
The glamorous lifestyle of the rich couch potato is a fantasy that almost everyone wants to indulge in. But, if you're a few thousand dollars short of affording your dream house, you can easily make do with a pair of Fendi slides.
Sophisticated in silhouette, Fendi's slides exude a sense of world-class style. If anything, they should remind you of vacationing in a 5-star resort in Bali.
The brand offers a broad selection of in-season designs to choose from, including the iconic Sarah Coleman collaboration and the Baguette leather slides.
Ready to slide into summer? If so, we've gathered some of the best Fendi slides that are sure to bring the July heat.
Finding The Best Fendi Slides
Long gone are the winter months when you had to wear stifling wool. If you're looking for a more breathable option, it's time to slide into a pair of Fendi slippers.
Constructed with calf leather, Nappa animal skin, satin, and rubber, these bad boys are equipped to last through the summer heat.
Obviously, that's not to say that these designer kicks are made for high-performance activities. Instead, you should think of wearing them to casual brunches, and on short city walks.
Embellished with the brand's signature logo, it's the kind of shoe that screams, "Wow, they're rich enough to afford a pair of luxury slides."
Considering their expense, it's important for customers to find a pair of slides that aligns with their current aesthetic. We recommend opting for neutral shades such as black and nude. These two colors blend with any kind of outfit.
The 25 Best Fendi Slides
#1: Fendi - Logo-embellished Leather Slides - White
---
#2: Fendi FF interwoven slides - Brown
---
#3: Fendi - Cutout Metallic Leather Slides - Gold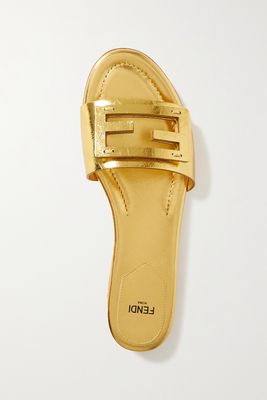 ---
#4: Fendi Fendi Reflections woven slides - Pink
---
#5: Fendi jacquard crossover slides - Blue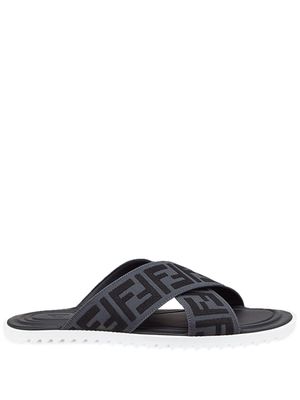 ---
#6: Fendi woven FF slides - Neutrals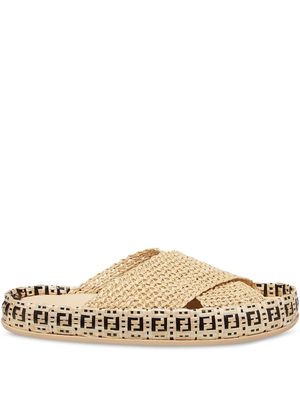 ---
#7: Fendi Kids open-toe slides - Blue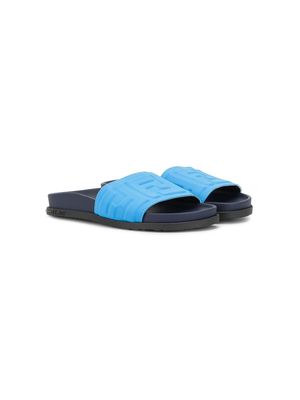 ---
#8: Fendi FF Baguette logo slides - Brown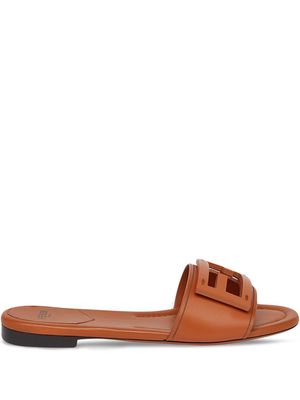 ---
#9: Fendi FF embossed logo slides - Yellow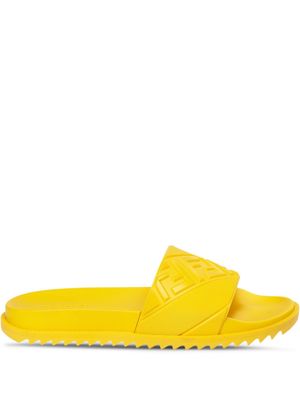 ---
#10: Fendi FF Vertigo print slides - White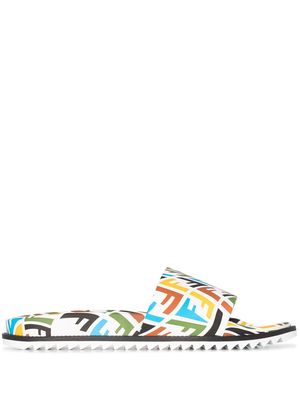 ---
#11: Fendi FF motif rubber slides - Blue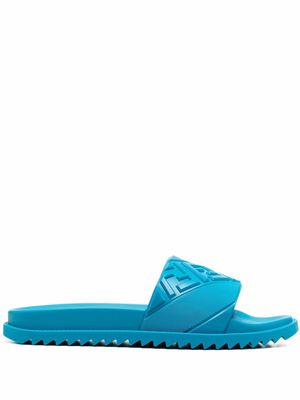 ---
#12: Fendi embossed logo slides - Grey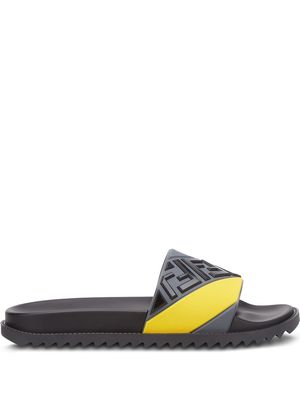 ---
#13: Fendi Fendi Reflections woven slides - Neutrals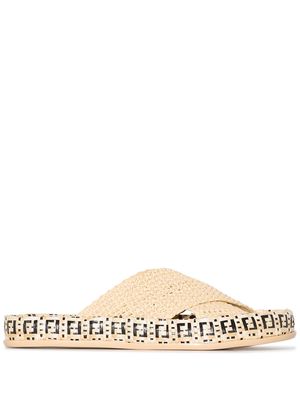 ---
#14: Fendi Kids textured two-tone slides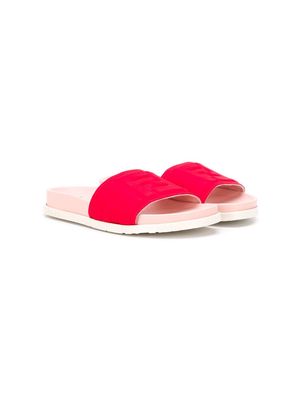 ---
#15: Fendi FF-embossed slides - Black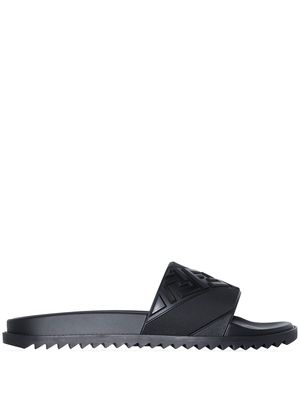 ---
#16: Fendi toggle-fastening FF-logo slides - Brown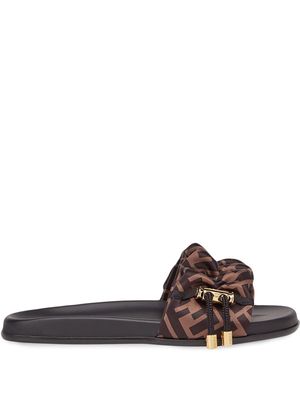 ---
#17: Fendi jacquard crossover slides - Brown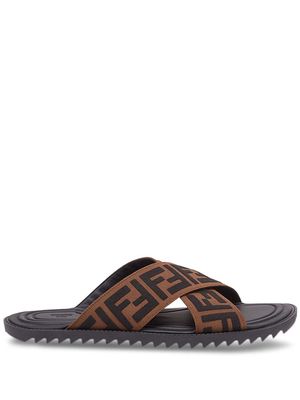 ---
#18: Rubber Slides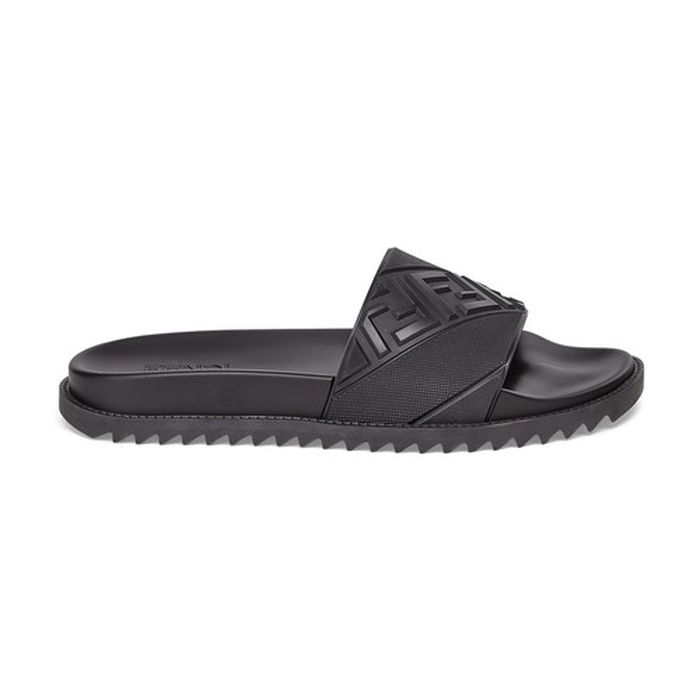 ---
#19: Canvas Slides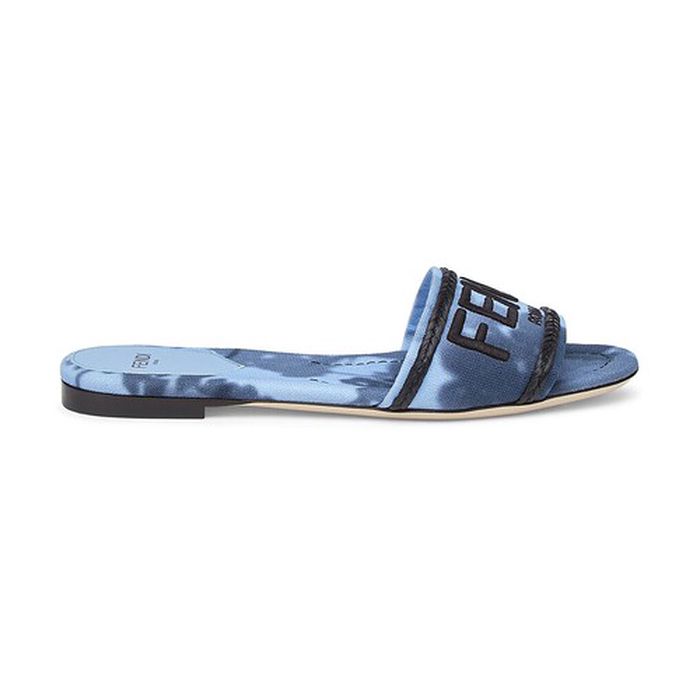 ---
#20: Fendi Brown & Red 'Forever Fendi' Fussbett Slides
---
#21: Fendi Black Reflections Slides

---
#22: Fendi Beige Raffia 'Forever Fendi' Reflections Slides
---
#23: Fendi Black Leather 'Forever Fendi' Slides

---
#24: Fendi Grey & Yellow 'Forever Fendi' Fussbett Slides

---
#25: Fendi White Woven Slides

---
What Are The Most Popular Fendi Slides?
Practical and stylish in design, the Furry Brown Fendi slides are considered a shared celebrity favorite.
So far, A-listers such as Jessica Simpson, Chrissy Teigen, and Hilary Duff have all been spotted wearing these slippers.
Due to their fuzzy band, we don't recommend donning these sandals in wet weather. If anything, they make for a great pair of lounge slips.
Are Fendi Slides Comfortable?
Compared to stilettos, Fendi slides are definitely more comfortable. Thanks to their flat-footed design, you don't have to worry about painful arches and blistered heels during the day.
Plus, the brand's selection of platforms often features a contoured footbed, which is great for those who suffer from foot pain. Breathable in silhouette, you can practically say goodbye to shoe sweats.
Despite all of this, we don't recommend wearing your $400+ Fendi slides for rigorous activities. Sports, exercise, and long walks may increase the wear and tear of your shoes.
How Do I Know If My Fendi Slides Are Real?
Fendi is an expensive brand to support. We're pretty sure this comes as no surprise. It's no wonder why most of us try our luck at thrift stores and online marketplaces.
Unfortunately, Depop, eBay, and Facebook aren't the most reputable places to cop designer shoes. But for those adamant about trying, here are some ways to easily authenticate a pair of Fendi slides.
Examine the labels: Fendi slides should indicate where they're made. Of course, it's always a good sign if the shoes in question are concealed in their original packaging.
Double-check the product's construction: Misspelled logos, printing errors, and uneven stitching are all dead giveaways of a designer dupe.
Test their durability: Counterfeits are known to have a short lifespan. If your 'Fendi' shoes feel cheaply made, then it's probably best to leave them behind.
Are Fendi Slides True To Size?
According to most customers online, Fendi slides fit true to size. We highly advise that you double-check the brand's measurement chart before checking out. Just as a reference, the company offers options from sizes 34 to 42.
How To Style Fendi Slides
It's time to spice up your Instagram feed. Fendi slides are designed to be shown off, which requires an arsenal of stylish wardrobe basics.
In need of some inspo? If so, we'll show you a few ways you can finesse your final fit.
Contrary to popular belief, you don't have to settle for head-to-toe designer clothes if you own a pair of Fendi slides. There's no shame in wearing a pair of basic jeans and a black tank top.
That said, we recommend that you take a page out of Chrissy Teigen's stylebook. Casual yet composed, this outfit is the simplest way to flex without going overboard.
Summer calls for midi skirts, blouses, and absolutely no wool coats. If you're looking to spice things up this summer, we suggest pairing your Fendi slides with a cheetah-print dress.
Accentuated with red nail polish, it's giving off major 'Cruella de Vil on vacation' vibes.
Enamored with Y2K fashion? Then boy, do we have a style tip for you. Designed as a way to accentuate your Fendi slides, we recommend strapping on a puka shell anklet.
Of course, you don't have to opt for the VSCO girl aesthetic, as you can easily make do with a simple dainty chain.
---
Looking to stay up to date on all things Fendi? We've got you covered:
Get Access to Exclusive Deals
Subscribe for free to get exclusive deals in your inbox. 100% privacy