10 Best Gucci Espadrilles
Finding The Best Gucci Espadrilles
Picture this: you're vacationing at a scenic resort in Bali. The ambiance of crashing waves and live jazz music can be heard in the background, and these sounds meld together, creating a relaxing, summery melody.
In terms of your attire, you're outfitted in a cute bikini, a summer hat, and a pair of hiking boots. You might be thinking, hiking boots?!
That controversial shoe choice has definitely dampened the fantasy, right? That's because your outfit requires something more elegant and sophisticated, like a pair of Gucci espadrilles.
Intended for summer lovin', these esparto-woven shoes convey the elegance of ordering a Sex on the Beach cocktail at a five-star resort.
Trendsetters are spoiled with multiple options when it comes to Gucci since the brand offers wedges, platforms, and classic mules. Designed for both men and women, it's practically a necessity to own a pair before June arrives.
Ideally paired with shorts, skirts, and a chilled martini in tow, we'll show you some of the best Gucci espadrilles that are on the market. We'll also provide some styling tips to help you put together your final fit.
The 10 Best Gucci Espadrilles
Summer is the season for play, adventure, and sightseeing. With that in mind, it's important to find a durable pair of shoes. While many people choose to wear athletic sneakers, some prefer a more fashionable approach to footwear.
Fortunately, Gucci doesn't cut corners when it comes to quality construction. The brand's collection of espadrilles is made with premium materials, including matelassé leather, linen canvas, cotton, and cording.
Gucci espadrilles convey a boho-chic aesthetic, but they're slightly different compared to your regular pair of woven shoes.
Most of their designs feature a monogram print and gold-tinted hardware for a more elegant touch.
Offered in various patterns and colors, we highly recommend choosing a style that'll blend nicely with your current wardrobe. Trust us, you don't want to regret your purchase after spending $600 at checkout.
#1: Gucci Kids logo-stripe espadrilles - White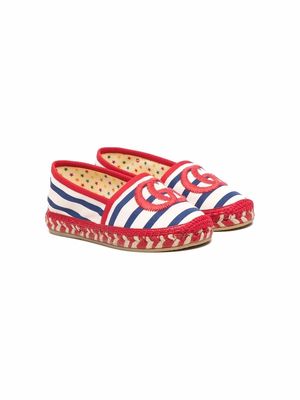 ---
#2: Gucci Beige Platform Espadrilles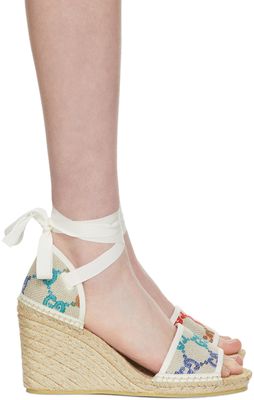 ---
#3: Gucci Kids GG striped canvas espadrilles - Blue
---
#4: Gucci White Espadrilles Platform Slides

---
#5: Gucci Web-stripe detail espadrilles - White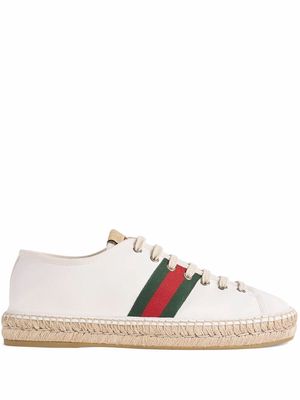 ---
#6: Gucci trimmed GG supreme espadrilles - Blue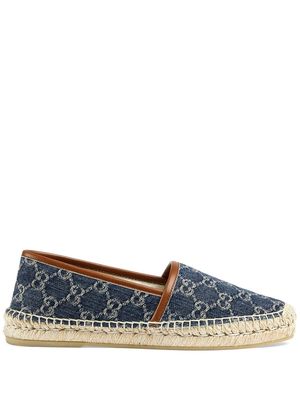 ---
#7: Gucci Double G open-toe espadrilles - Neutrals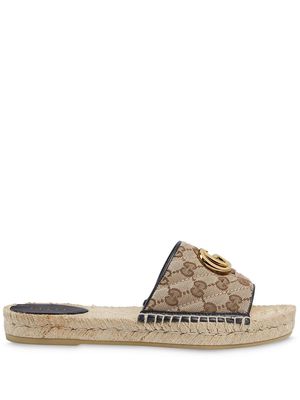 ---
#8: Gucci GG monogram espadrilles - Neutrals
---
#9: Gucci Gucci Worldwide espadrilles - Neutrals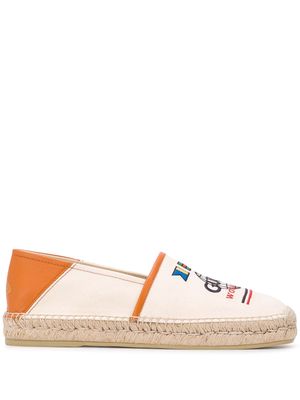 ---
#10: Gucci - GG Matelassé-leather Espadrilles - Womens - Black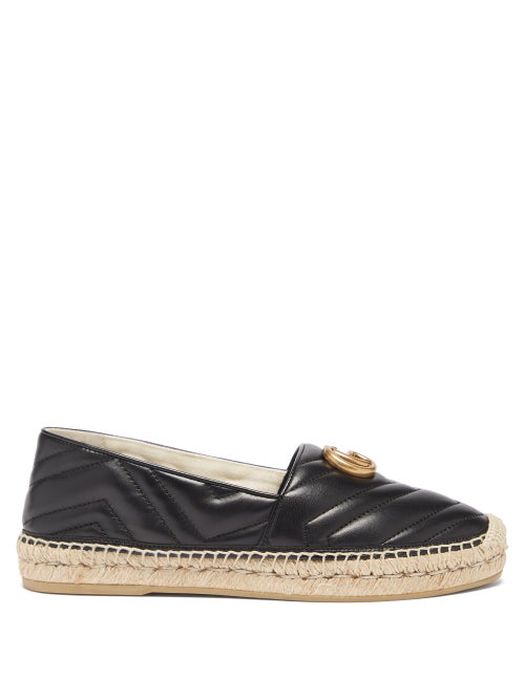 ---
625ec2227c5db
What Are The Most Popular Gucci Espadrilles
Gucci is best known for its loafers, tracksuits, and selection of Marmont bags. Sadly, all three collections steal the majority of the spotlight. So the brand's espadrille collection doesn't get that much attention.
With that said, a few celebrities have been caught wearing these shoes, including Mira Kapoor. It appears that fans prefer its flat-footed design as an alternative to high heels and wedges.
Can I Wash My Gucci Espadrilles?
Designer shoes should never be tossed in the washing machine or dryer.
The excessive tumbling and tossing combined with a submerged water bath will usually damage the shoes. Instead, Gucci recommends cleaning their espadrilles with a soft cloth.
To help maintain their silhouette, the brand suggests stuffing your shoes with tissue paper. Of course, you can always use a good ol' shoe shaper which is another solid alternative.
How Tight Should Gucci Espadrilles Fit?
Unfortunately, shoppers haven't shared much information online regarding sizing for Gucci shoes.
While there are a few forums posted on the internet, the consensus is relatively mixed. Some wearers report that the shoes are too small and others state they're too big.
So, to err on the side of caution, we recommend opting for your regular size. Keep in mind that the shoes should feel snug but never too tight.
You should be able to walk in them comfortably without the fear of getting blisters and bruises.
How To Store Gucci Espadrilles
Gucci recommends storing their espadrilles in a dry and dark space. They shouldn't be exposed to direct sunlight and humidity, since both will affect the quality of the shoes' material and silhouette.
Also, we advise customers to safe-keep their designer kicks in a shoebox to help prevent dust accumulation.
How To Style Gucci Espadrilles
Stylish ladies, summer is creeping around the corner. And trust us, you don't want to be caught wearing last year's fashion trends.
For those in need of styling inspo, we'll provide some tips and tricks on how to wear your Gucci espadrilles.
Skipped a shave day? If so, we recommend donning your best midi dress instead of a stifling pair of jeans. Flowy and breathable, this outfit keeps things simple and romantic, so it's perfect for patio dinners and sightseeing.
If you're not a fan of heels, we suggest substituting your Louboutins for a pair of Gucci espadrilles—they're a much more comfortable option.
Blazers are often paired with pleated trousers or shorts. Of course, it's never the go-to option during the warm season, but it could be a solid choice.
This chic outfit styles the classic office jacket with a graphic tee, cargo shorts, and a pair of Gucci espadrilles.
As a nod to summer, we recommend finishing the look off with a tote bag and a pair of sunglasses.
Featuring gorgeous, romantic hues, this colorful ensemble includes a rainbow skirt, a pink turtleneck, and a matching pair of Gucci espadrille wedges.
It's a great look to consider if you're headed somewhere special, such as a birthday party, art exhibit, or extravagant cocktail party. In terms of accessories, we recommend wearing a Gucci belt and a designer bag.
---
Looking to stay up to date on all things Gucci? We've got you covered:
Get Access to Exclusive Deals
Subscribe for free to get exclusive deals in your inbox. 100% privacy