Gucci Face Masks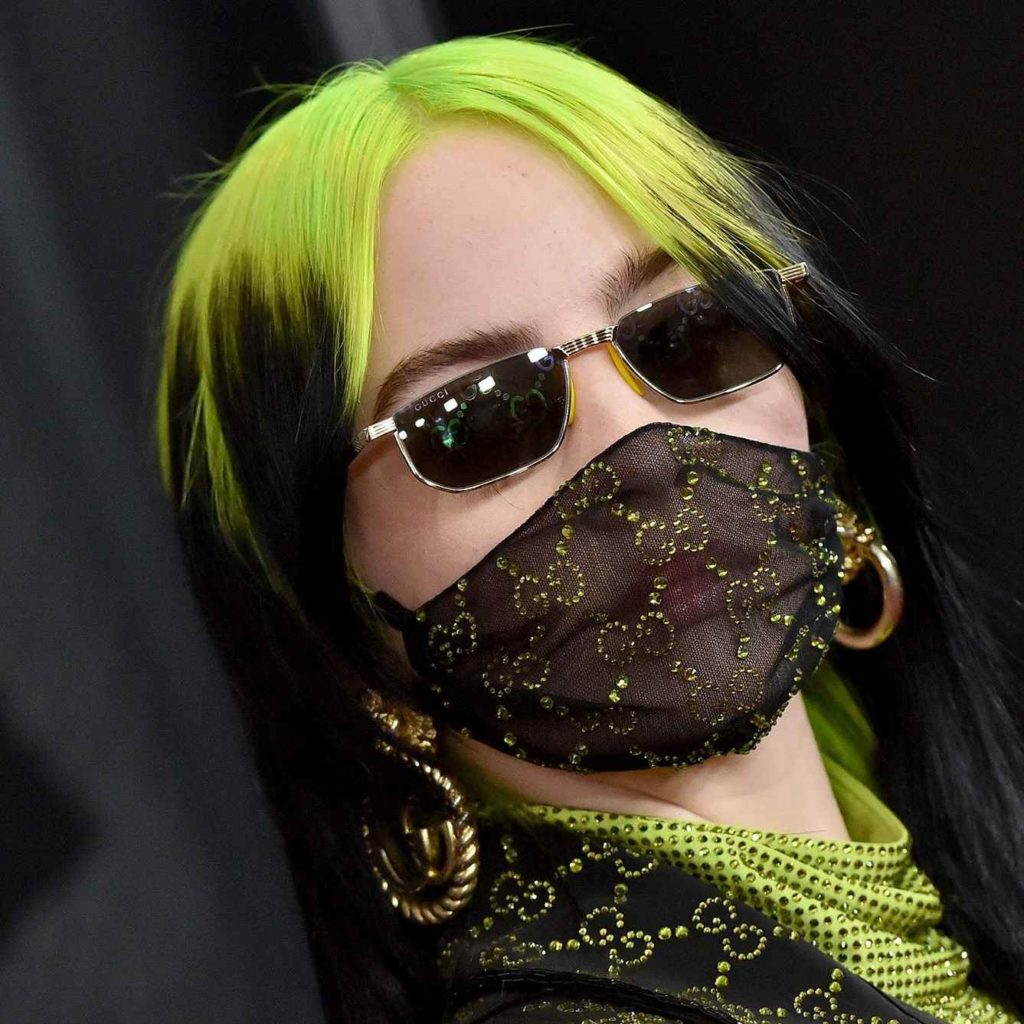 When you think of the pandemic, face masks might be the first thing on your mind. As a new addition to the accessories category, they've become a part of our everyday wardrobe, and most importantly, they keep us COVID-safe.
You may be envying Billie Eilish's custom Gucci face mask, and although Gucci has never produced its own, you can still sport the designer's iconic prints while you social distance.
How? By wearing a Gucci-inspired face mask made from repurposed designer fabrics and packaging materials.
If you love fashion, a plain face mask probably isn't cutting it when it comes to your style standards. That's why a logo-emblazoned mask is the way to go.
Even better, you can shop Gucci-inspired face masks from small businesses that need all the support they can get during this time. 
How to Shop for a Gucci Face Mask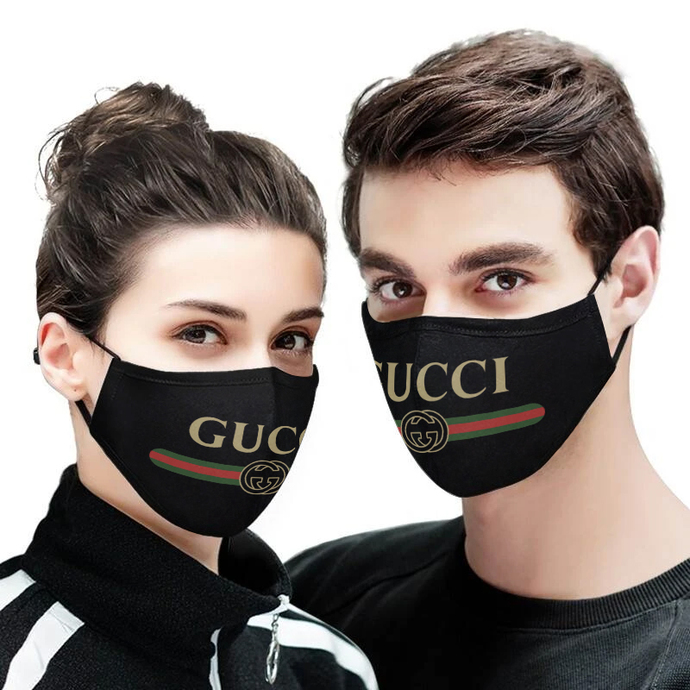 Regardless of where you're going, you need a face mask on hand. That said, your face mask doesn't have to be an eyesore – it can add to your look. Luckily, we've sought out the chicest options for you to shop, and now, we'll be taking you through a step-by-step guide on how to choose the best Gucci-inspired face mask for you.
Seller
Since you can't buy a face mask from the Gucci store, consider shopping from retailers such as Etsy, Poshmark, or small online boutiques. Small businesses have undoubtedly seen a rise in support since the pandemic began, but to help them keep the momentum going, why not purchase your Gucci-inspired face mask from one?
Material
Not all Gucci face masks are made using the same materials. The fabrics used range from polyester to cotton to dust bags to polo shirts. Overall, they are lightweight, comfortable, and ultra-breathable. It's also worth noting that all of the masks featured in this round-up are made out of non-medical grade materials, which unfortunately do not provide maximum protection against COVID-19.
Price
Since you can't buy a 'real' Gucci face mask, you can actually save money by purchasing one of our top picks. But, if a mask is made from an authentic Gucci clothing item, the price will be higher. The I'm *So* Gucci II Face Mask retails for $240, while the Gucci Dust Bag Mask rings in at $40.
10 Best Gucci Face Masks
Keeping our top pointers in mind for finding the perfect Gucci face mask, it's time to shop for one that suits your needs and preferences. Why wear a bland disposable face mask when you can snag one of these fashionable, reusable designs? Fortunately, there are more than a few unique options made of upcycled Gucci materials. Let's run through them together.
#1 – "I'm Gucci IV" Face Mask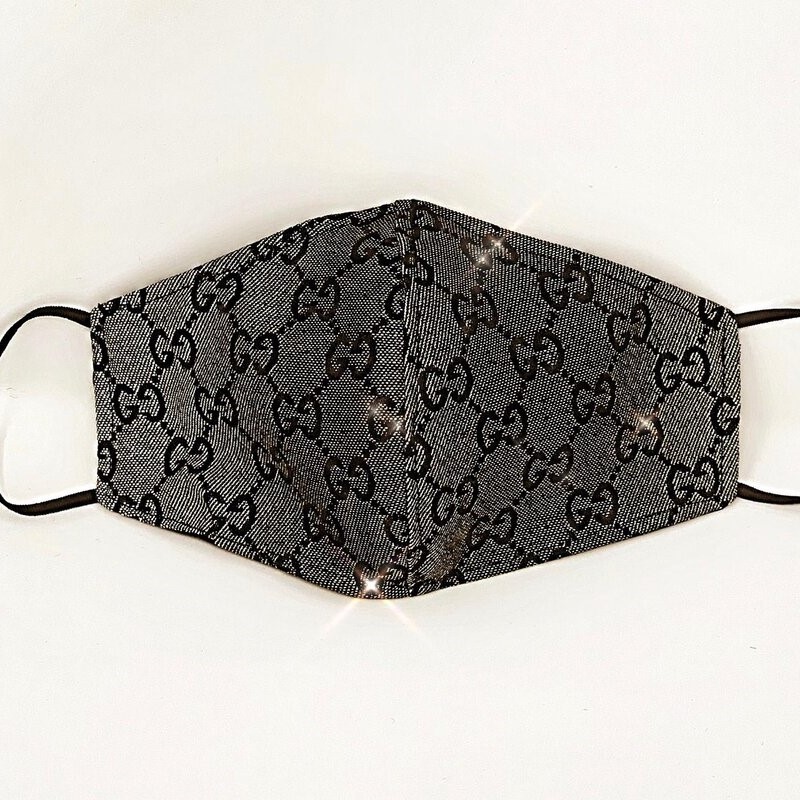 Pandemic Couture Co. creates handmade designer face masks from pre-loved luxury items. The brand was born out of the pandemic and supplies all the accessories needed to get through it.
The I'm Gucci IV Face Mask is made out of an authentic Gucci brown and tan polo shirt, and it is priced at $200. It has the iconic Gucci GG monogram pattern on both sides, and the detailing of this mask includes white plastic hardware. The single panel design costs $200 and has an adjustable elastic cord to help it fit snugly.
#2 – Gucci Inspired Face Mask in Blue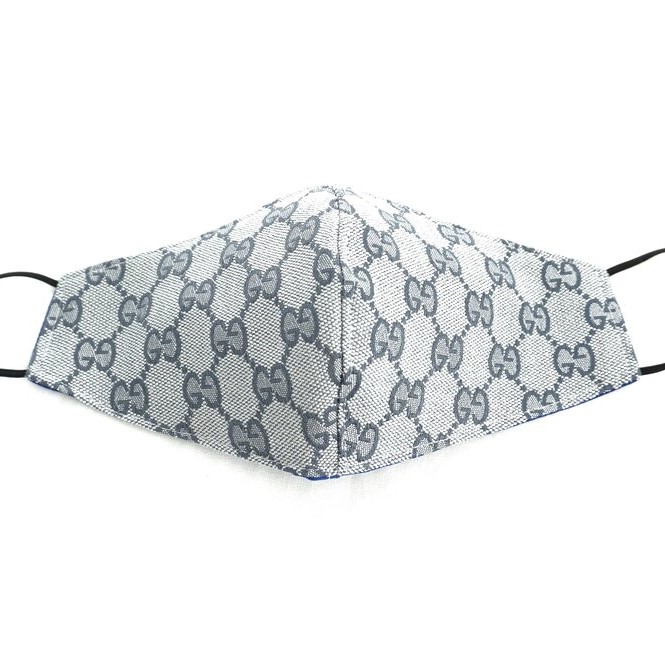 Designer Takeaway is an online store that sells consigned designer goods and designer-inspired pieces like this Gucci Inspired Face Mask in Blue. It is not made out of any authentic Gucci fabrics, but it is made out of high-quality polyester on one side and cotton on the other.
And since it isn't made from genuine designer fabrics, the price point reflects that appropriately. It has a cobalt blue interior, and it's reversible, which means you can pair it with a number of different clothing items. Plus, it's handmade in Vancouver and rings in at a much more affordable $59.
#3 – I'm *So* Gucci II Face Mask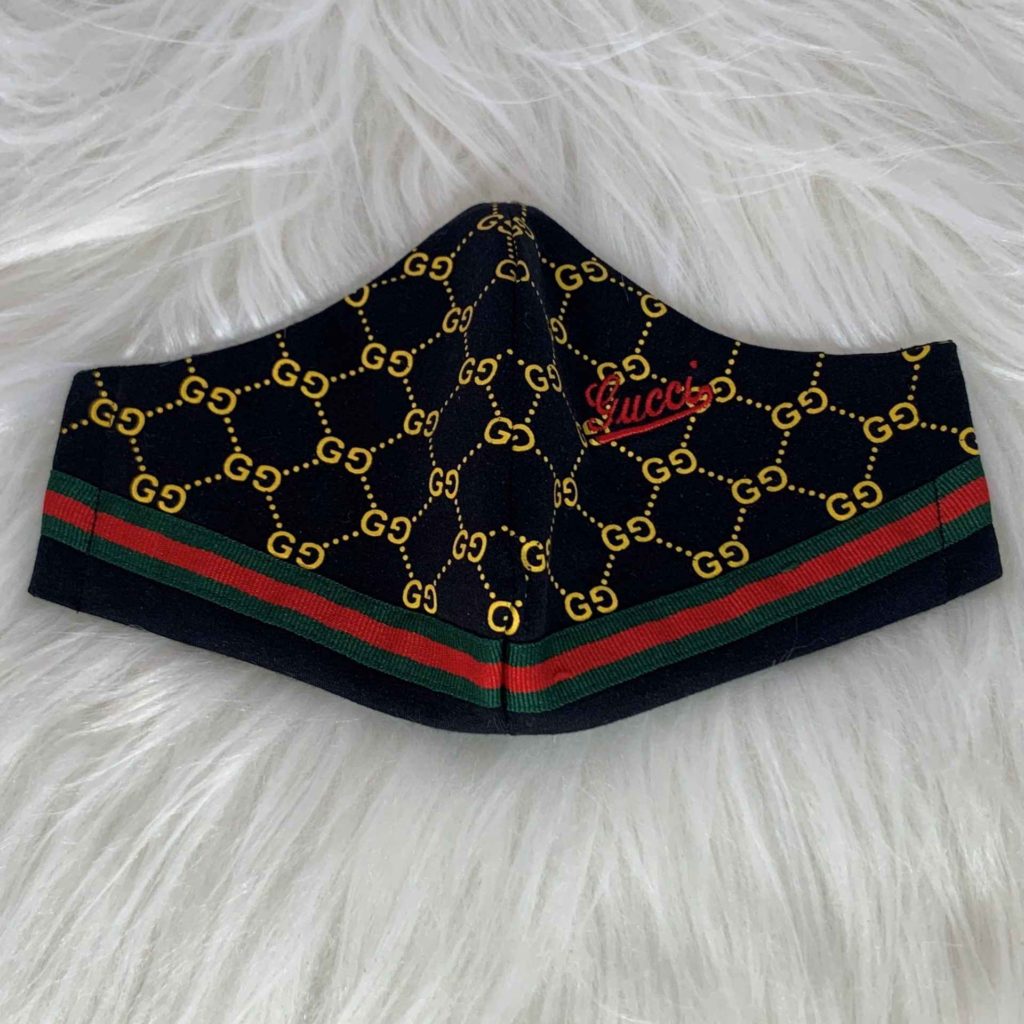 If you love the I'm Gucci IV Face Mask, then the I'm *So* Gucci II is another versatile option from Pandemic Couture Co. In comparison, the I'm *So* Gucci II has a seriously eccentric look. If you are a true Gucci lover, the green, red, gold, and black colorway screams 'Gucci' in the best way possible.
Made from authentic Gucci polo shirts, it's covered in the usual monogram GG pattern that's stitched over with an embroidered Gucci logo in red. It has two panels made from black cotton fabric, which is soft and comfortable on the face. It also has adjustable black elastic cords and black plastic hardware, and it retails for a hefty $240.
#4 – Gucci Inspired Face Mask in Black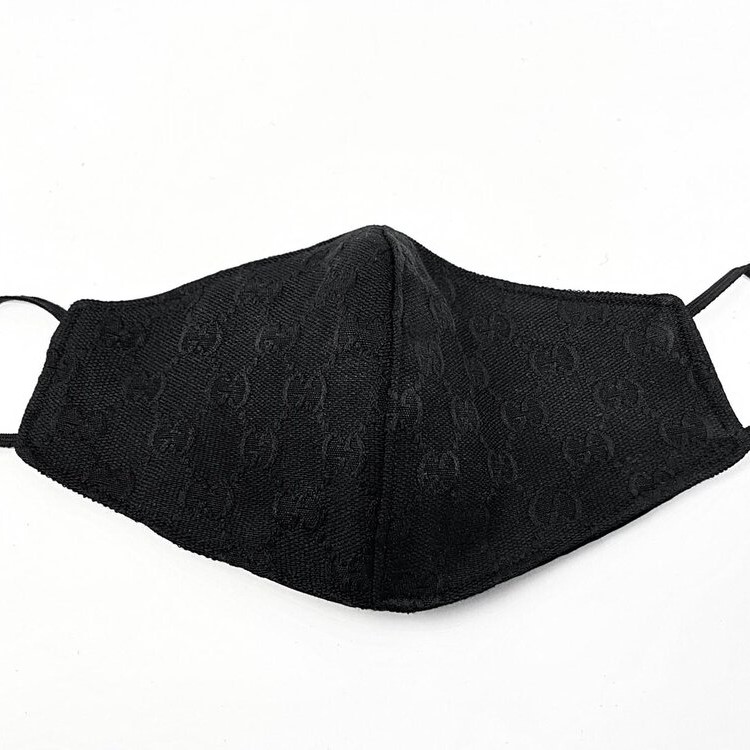 You can never have too many black face masks, and thankfully, Designer Takeaway has come up with its own take on a black Gucci-inspired face mask. Sleek and understated, the GG monogram print is not as loud as it is on some of the other options available, which is excellent if you prefer a more simple look.
Priced at $74, it has reflective fabric on one side and cotton on the other, making it reversible. The moment it touches your skin, you can feel the quality of the hand-stitched fabric. Bonus: It goes with nearly anything in your closet and is suitable to wear for all occasions.
#5 – Gucci Inspired Face Mask in Pink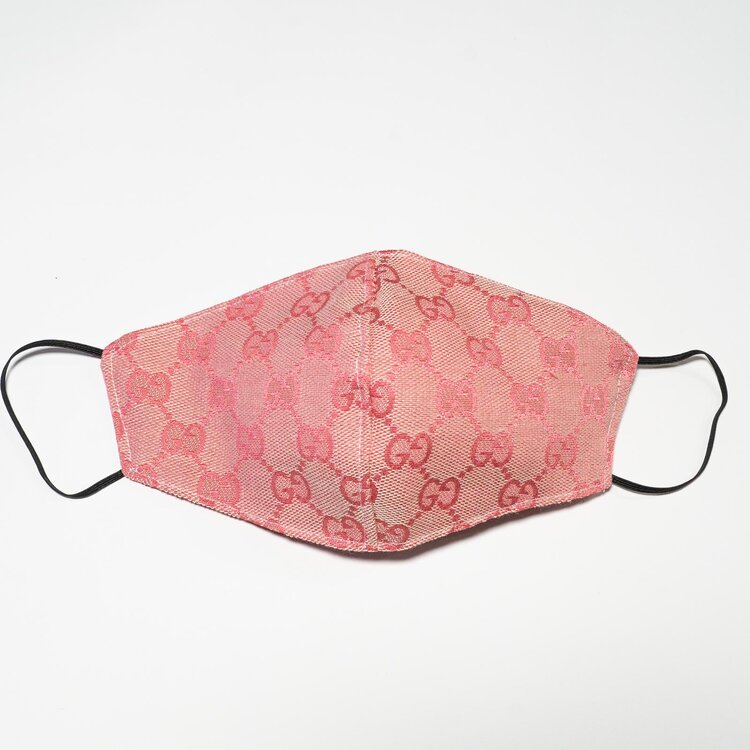 Pink is always trending, and maybe it has something to do with the fact that the color is soft, gentle, and looks great on every skin tone, no matter the shade. Adding pink into your wardrobe through a small accessory – like a face mask – is a way to add fun to your outfit.
Wearing this pink Gucci-inspired face mask by Designer Takeaway is an easy way to do that. The Gucci Inspired Face Mask in Pink is reversible and covered in a pink GG monogram print. It's made of polyester on one side and cotton on the other, and for $59, it's all yours.
#6 – Gucci Inspired Face Mask in Brown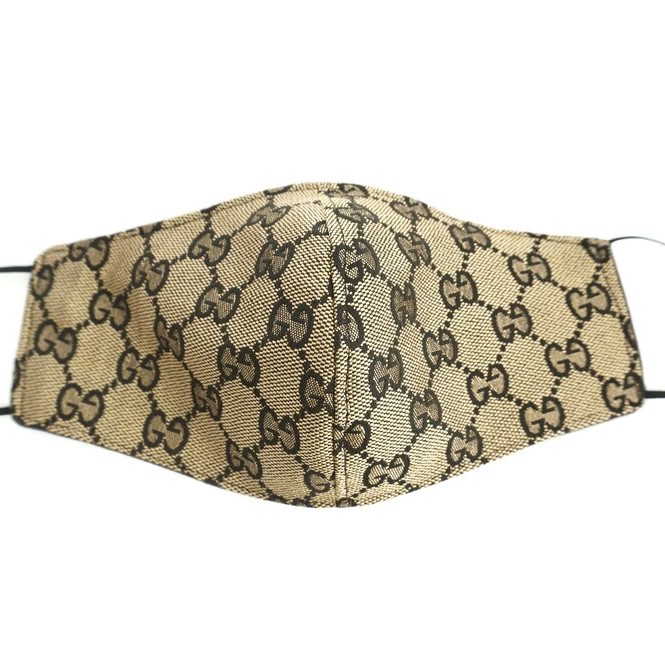 Another Gucci-inspired mask option from Designer Takeaway is the Gucci Inspired Face Mask in Brown. It's an affordable take on the classic brown GG pattern since it's not made out of any authentic Gucci fabrics, which keep the price point low.
Similar to the other designer-inspired masks from this brand, it's made out of high-quality polyester on one side and cotton on the other. It's also reversible and one of the most versatile masks out of the bunch for $69.
#7 – Gucci Dust Bag Mask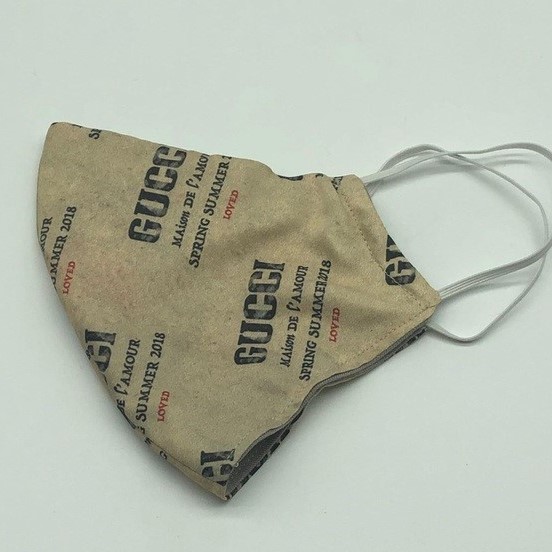 Poshmark is a great place to buy anything that's secondhand or handmade, particularly when it comes to designer wares. The social marketplace makes buying and selling both safe and easy, and Poshmark user @kirsten_fowler is promoting her own take on the Gucci face mask.
The Gucci Dust Bag Mask is made from an authentic Gucci dust bag from the summer of 2018. It has a tan base with a black Gucci font and a pop of red printed over the top. Inside, there is a neutral grey interior that is easy to keep clean. Best of all, this mask has a vintage vibe that makes it stand out from the other options on this list at only $40.
#8 – Gucci Dust Bag Mask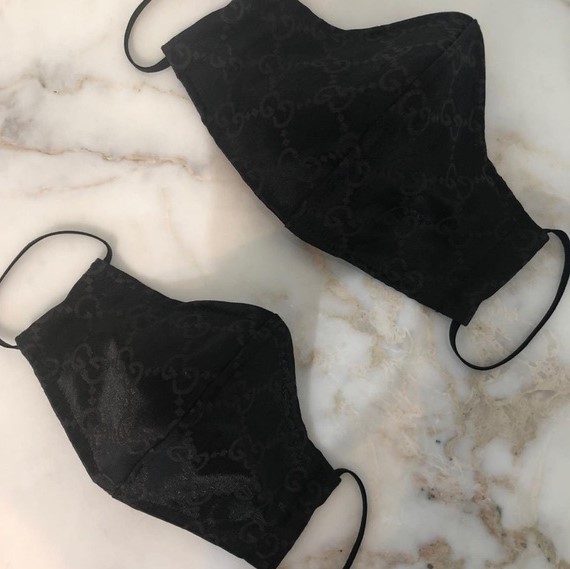 As we mentioned before, you can never go wrong with an all-black option. However, this mask isn't your classic black option – the thickness and quality of the fabric have a luxury flair, and Poshmark seller @kirsten_fowler created it for anyone who prefers a more 'simple' look.
This structure of the face mask is made out of authentic Gucci monogram dust bags. Retailing for $40, the Gucci Dust Bag Mask is straightforward to style, from an all-black outfit to even the most colorful wardrobe choice.
#9 – Repurposed Authentic Gucci Dust Bag Mask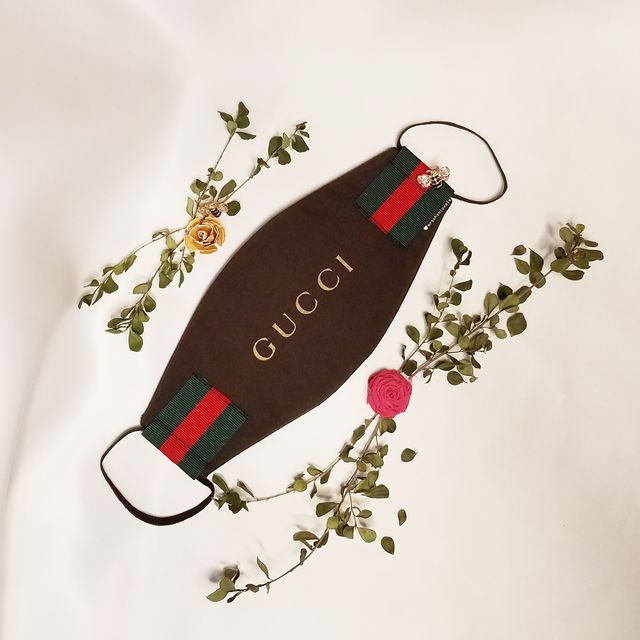 Poshmark seller @loganberrygirl is another fashion enthusiast who's done a great job of repurposing often wasted designer packaging materials into something useful: a reusable Gucci dust bag mask. Made out of an authentic dark brown Gucci dust bag, the washable machine fabric is durable and easy to care for.
Priced at a reasonable $50, it's another great example of how a dust bag can make the perfect face mask. If anything, it brings a more affordable designer item to the table for mask wearers to purchase.
#10 – Non-Medical Gucci Face Mask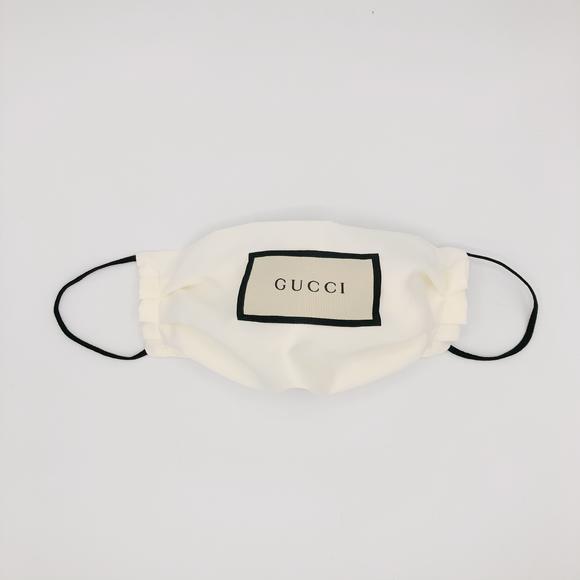 Canada's Elsie May Boutique handmakes all of its products, including their non-medical grade face masks, along with this Gucci-inspired design made from authentic dust bags. It comes in a white fabric that almost resembles linen, making it ideal for the summer.
We're big fans of how this brand is repurposing dust bags and designer logos into something useful. Priced at $45, their masks are also much more affordable than anything else from the Gucci store.
What else can I make a Gucci face mask from?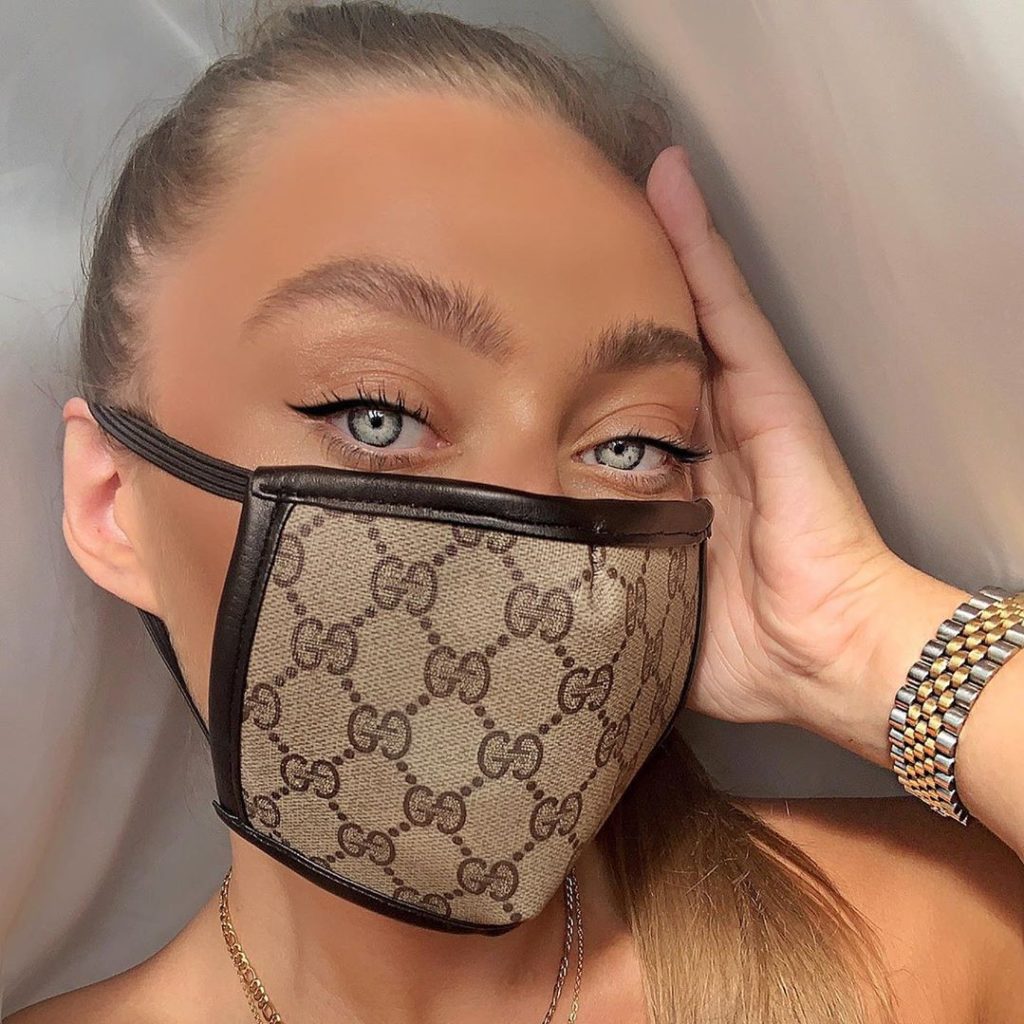 As great as all of these face masks are, you can always make your own Gucci face mask at home. Just like a lot of the face masks included in this list, you can use a Gucci dust bag from a past purchase or an older piece of clothing that you don't mind cutting up.
Another easy way to craft a Gucci face mask is by using a silk scarf from the brand. Tying a Gucci scarf behind your head is a great way to dress up any ensemble, and it offers a more breathable solution for the summertime. That said, a loose scarf may not be suitable for all public settings, some of which you may need to wear an N95 mask.
Does Gucci plan on making face masks?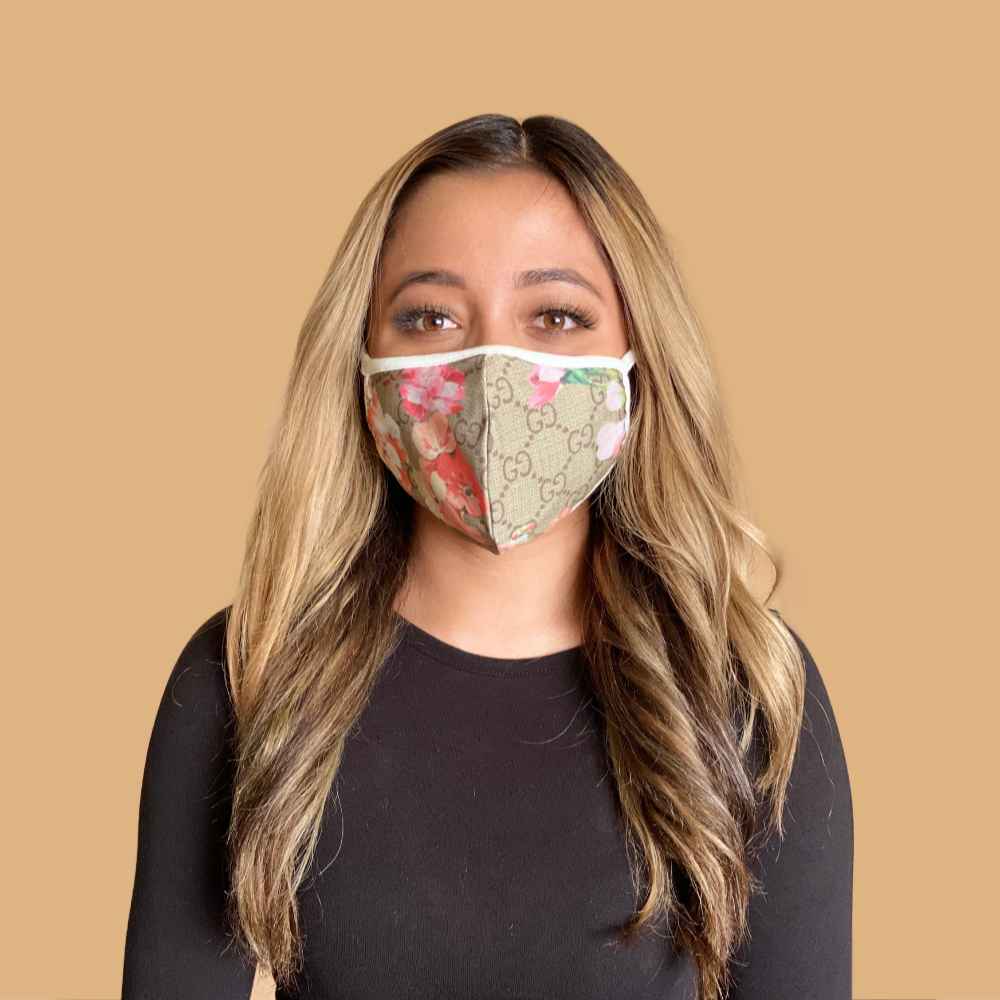 Unfortunately, the answer is no. The brand has decided not to produce face masks and has issued statements to that effect. Many other designer brands have been following suit, which inadvertently created an avenue for small businesses to make designer-inspired or upcycled masks. As much as we would love a face mask from Gucci, our top picks will do.
Where should I store my Gucci face mask?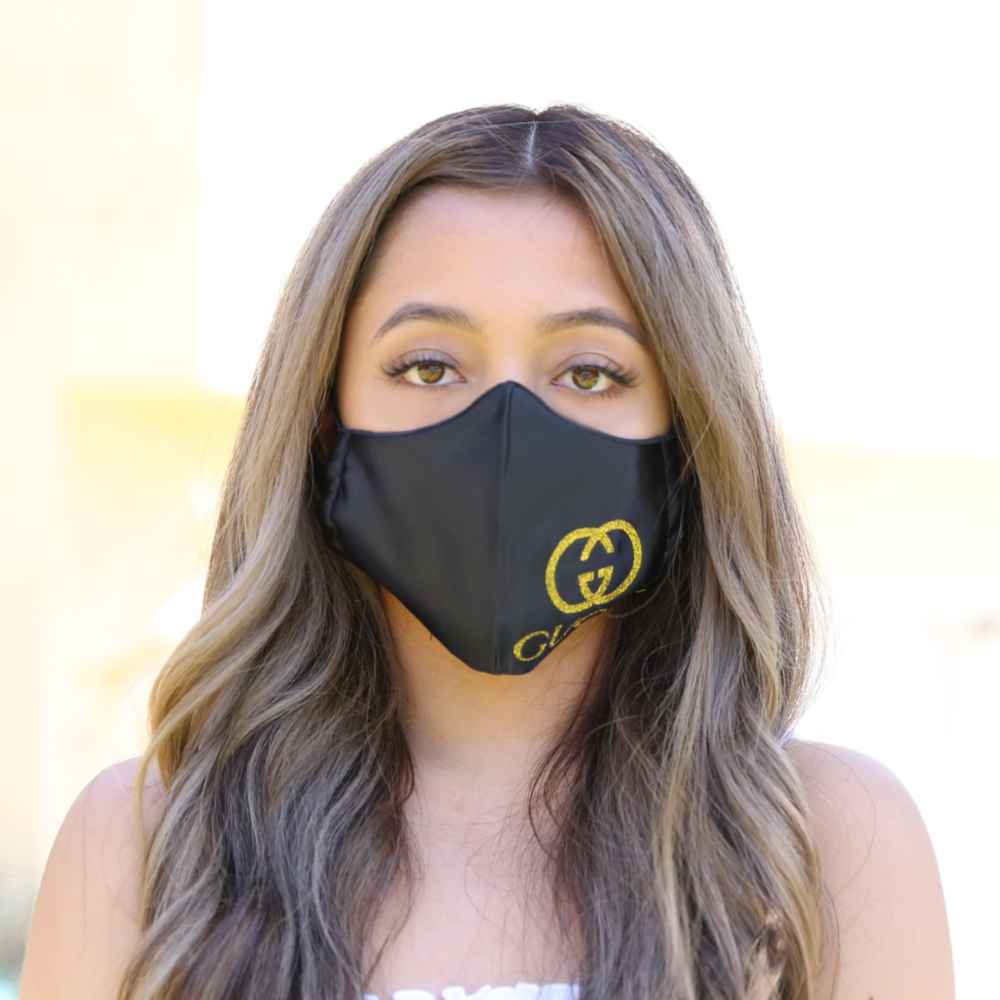 When you aren't wearing your face mask, it's a good idea to conceal it so that it doesn't get dirty or lost in your bag. A designer face mask pouch offers a place to store it when you're at home or in the car. You can also use another Gucci dust bag you have lying around if you don't want to buy a designated pouch.
Get Access to Exclusive Deals
Subscribe for free to get exclusive deals in your inbox. 100% privacy