8 Best Gucci Swimsuits
Finding The Best Gucci Swimsuits
Ironically enough, Gucci's swimsuit collection is relatively simple compared to the swimsuits featuring a mess of awkward cutouts, which populate this year's fashion trends.
Summer is the season for inventing strange ways to show off skin, and this is usually accomplished through the classic one-piece or bikini.
This haute couture designer prefers to keep things uncomplicated, which means avoiding asymmetrical crops and unnecessary straps. And this is totally off-brand for Gucci, right?
Well, you can at least count on Gucci's monogram print and its iconic logo, as they're prevalently featured in its swimsuit collection.
Designed to impress fellow trendsetters at the public pool (or at a 5-star resort), it's practically a necessity to own at least one piece.
If you're in need of some recommendations, we'll spotlight a few outfit ideas to help you get ready for a hot-girl summer.
The 8 Best Gucci Swimsuits
Swimsuits are designed to be comfy, breathable, and thin. Flexibility is another asset, as they're constructed to flatter your figure.
Luckily, Gucci bikinis and one-pieces check all four boxes, and you don't have to worry about quality here.
From the GG Stretch matching set to the Sparkling Swimsuit, the brand utilizes a unique blend of stretch jerseys made out of polyamide and elastane.
Flexible, comfortable, and resilient under stress, trendsetters can suntan and play beach volleyball with ease.
As we've mentioned, Gucci's swimsuit collection is fairly simple in silhouette.
They make up for it in terms of pattern, however, as you'll find a mix of monogram print and logo motifs in their swimwear collection. Don't worry—they also offer monochrome sets if you're not keen on showing off.
#1: Gucci logo print swimsuit - Black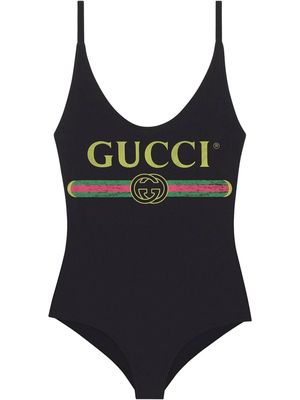 ---
#2: Gucci Kids logo-print swimsuit - White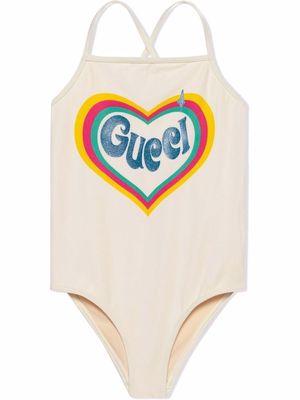 ---
#3: Gucci Double G swimsuit - Black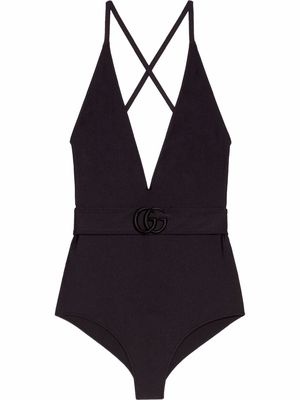 ---
#4: Gucci Kids appliqué stripe swimsuit - Blue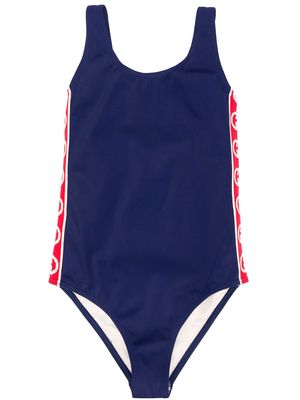 ---
#5: Gucci Double G swimsuit - Neutrals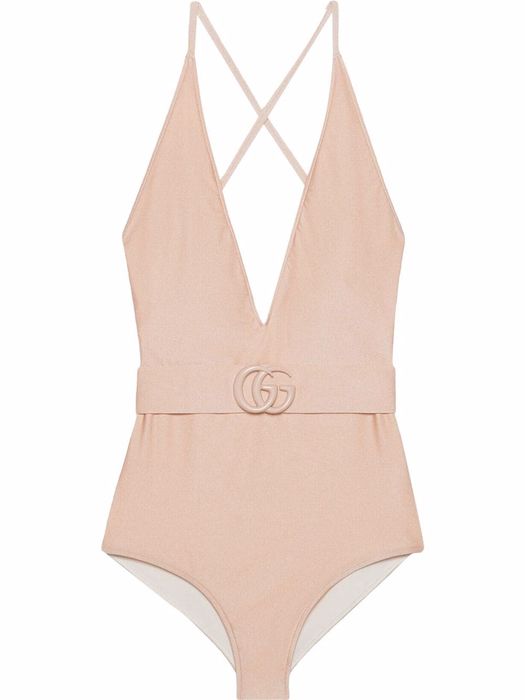 ---
#6: Gucci - GG-plaque Belted V-neck Jersey Swimsuit - Womens - Nude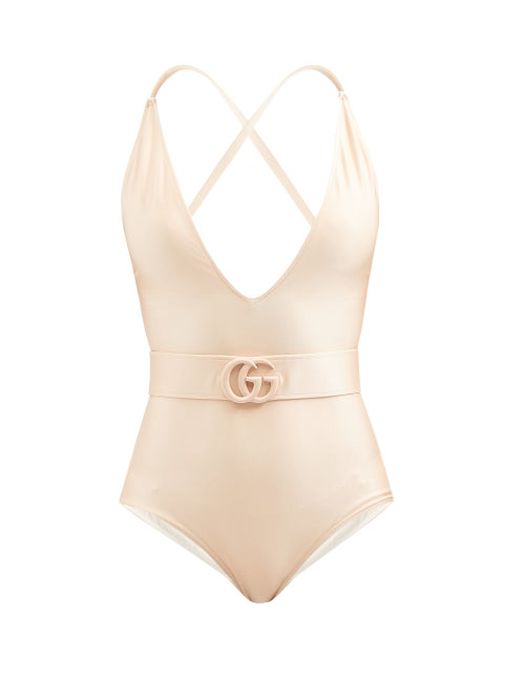 ---
#7: Gucci - GG-plaque Belted V-neck Jersey Swimsuit - Womens - Black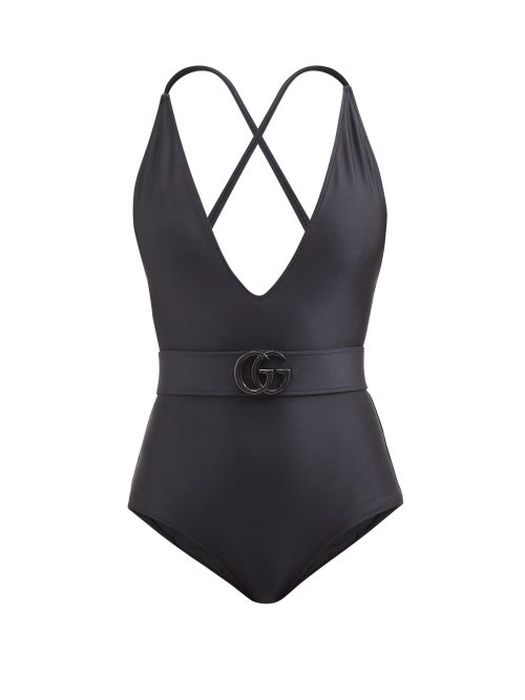 ---
#8: Gucci Black Sparkling Double-G One-Piece Swimsuit

---
What Are The Most Popular Gucci Swimsuits
It's a well-known fact that designer logos sell. With that in mind, it's not surprising that the Gucci Logo Swimsuit is everyone's fan favorite.
This simple one-piece features a scoop neckline, thin shoulder straps, and a relatively conservative thigh cut. It showcases the brand's motif at the very front, in case you've forgotten where you bought it from.
Celebrities such as Hailey Baldwin, Keyshia Ka'oir, and Salma Hayek have all been caught wearing this bathing suit during the summer.
What Types Of Gucci Swimsuits Can You Get?
Currently, Gucci sells one-pieces and bikinis on its website. Aside from cuts, swimsuits are organized by color and print. There's the classic monogram pattern, clean monochrome, and sparkle-sparkle.
It's worth noting that we did find other designs online, but they seem to be vintage pieces from older collections.
Can You Swim In A Gucci Swimsuit?
Regardless of the brand, swimsuits are made for swimming. Unfortunately, that's not the case for Gucci. After conducting some research, the brand's selection of bikinis and one-pieces isn't designed to get wet.
If you intend on wearing a designer bikini, you should stay away from chlorine to help preserve its quality. This includes thermal water as well.
So, if you can't swim in a Gucci swimsuit, what's its purpose? Well, the brand recommends fashioning it as casual wear. Trendsetters are encouraged to tuck it into skirts, jeans, or shorts.
How To Store Gucci Swimsuits
Like any other bathing suit, Gucci swimwear should be stored neatly and carefully. You don't have to worry about wrinkles or fine lines due to the nature of the fabric.
With that in mind, you can easily fold your one-piece swimsuit and store it with the rest of your wardrobe.
How To Style Gucci Swimsuits
Swimsuits are easy garments to style. Best paired with a sunhat and a beach cover-up, it's relatively painless to put together your look and get ready for a hot-girl summer.
If you're looking for outfit inspo, we'll provide some tips and tricks that'll definitely bring out the July goddess in you.
So, it turns out you can't swim in a Gucci bathing suit. For those who've already spent $300+ on a designer one-piece, this soul-destroying fact is enough to send that expensive investment to the closet depths. But hey, make lemonade out of lemons, will ya?
This stylish outfit features a Gucci bathing suit tucked into a pair of jeans. Complemented with a black leather jacket, it's an easy way to turn a summer necessity into a fall beauty.
The Mickey Mouse x Gucci swimsuit is currently sold out on the brand's website, but we see no reason why you can't substitute this garment with the logo one-piece instead.
This bold outfit is composed of a colorful patterned coat, a pencil skirt, orange socks, and a pair of gold stilettos.
It's an avant-garde way of interpreting the magic of Disney, but hey, that's haute couture for you.
We're fully aware that this is not a Gucci bathing suit, but could you imagine if it was? Accentuated with the GG logo on the waistline, it's a subtle way of flexing on the beach.
The see-through skirt paired with the cute bikini top definitely has Coachella vibes, especially with the addition of the sunhat.
---
Looking to up your fashion game? We've got Gucci galore:
Get Access to Exclusive Deals
Subscribe for free to get exclusive deals in your inbox. 100% privacy