How to Wear a Visor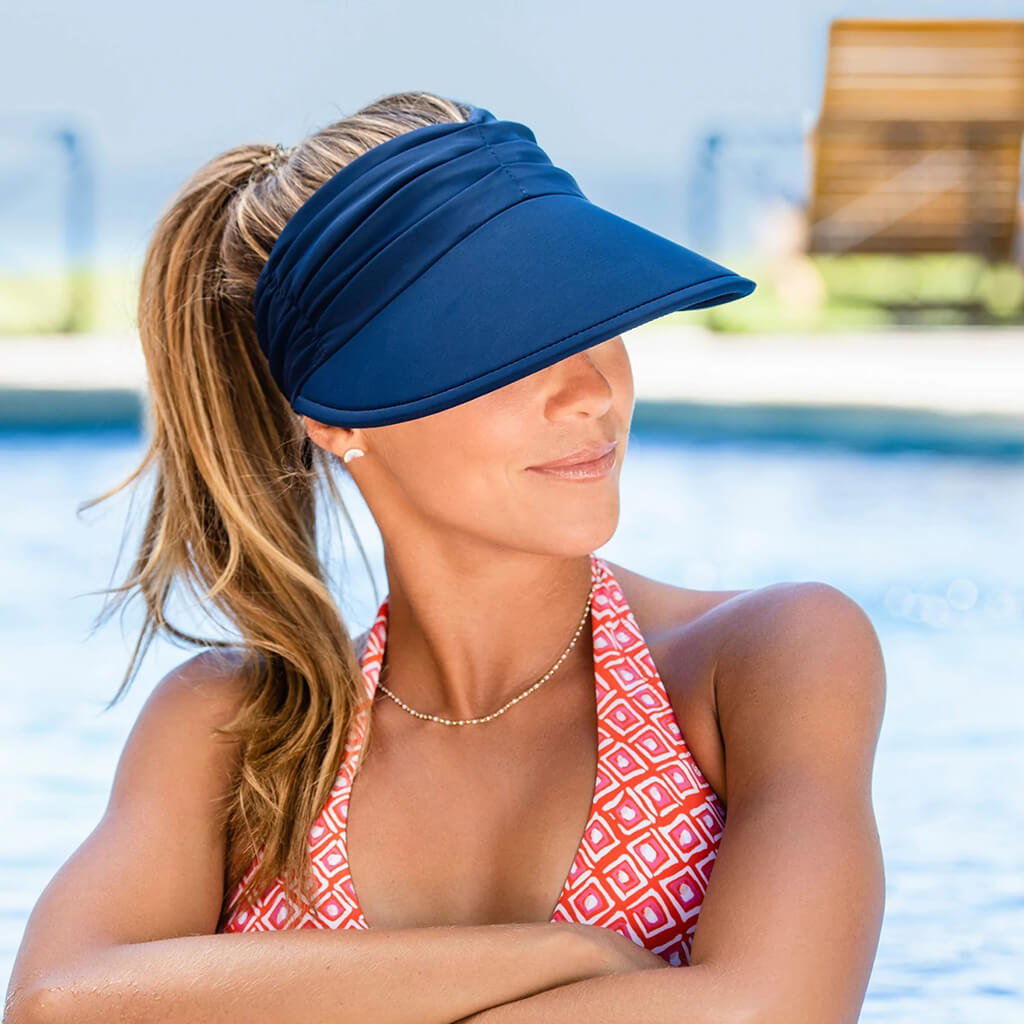 Cocking an inquisitive smirk, your father simply says, "Visors? I thought you told me they were out of style."
Fashion has a knack for recycling tacky trends into this year's latest fads. And that requires swallowing a bit of your pride and asking, "Dad, do you know how to wear a visor?" 
Associated with country clubs, summer sports, and tourist clothing, visors were always known as the 'ick' of hat fashion. For the longest time that I can remember, they were usually met with disgust by avid trendsetters.
They were typically swapped for bucket hats, straw-brimmed beauties, and the standard baseball cap. Today, the visor is now re-embraced as an elitist accessory. This whole scenario is enough to cause a headache-inducing whiplash.
Looking to join this controversial bandwagon? If so, we'll teach you how to wear a visor by featuring 11 different outfits below. Hopefully, by the end of this article, you'll understand:
How to wear a visor with long hair
How to wear a visor with bangs
How to wear a visor for guys
The history of visors
Fashion do's and don'ts with visors
Where to buy a visor
What Is a Visor?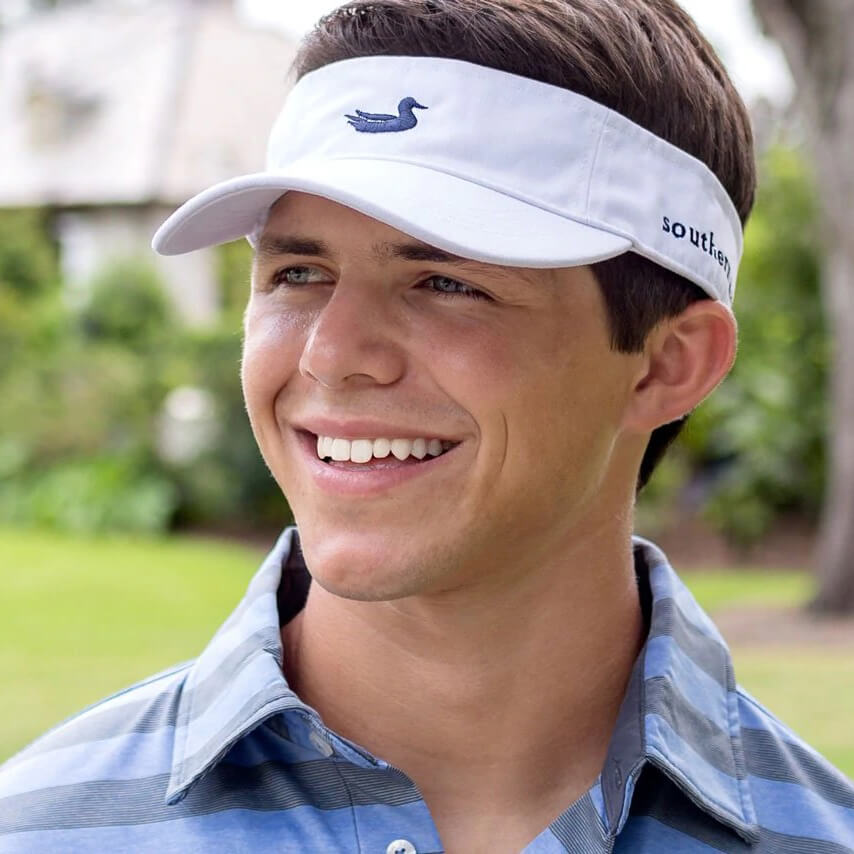 Simply put, a visor is a hat that shields your eyes from the sun. It features an extended brim on the front and a capless band that's fitted to the crown of your head. They're usually worn while playing sports to better enhance vision, such as golfing and tennis.
It's worth noting that visors come in an array of different materials and silhouettes. This can include the traditional cotton alternative for baseball visors or straw as a more fashionable option.
History of Visors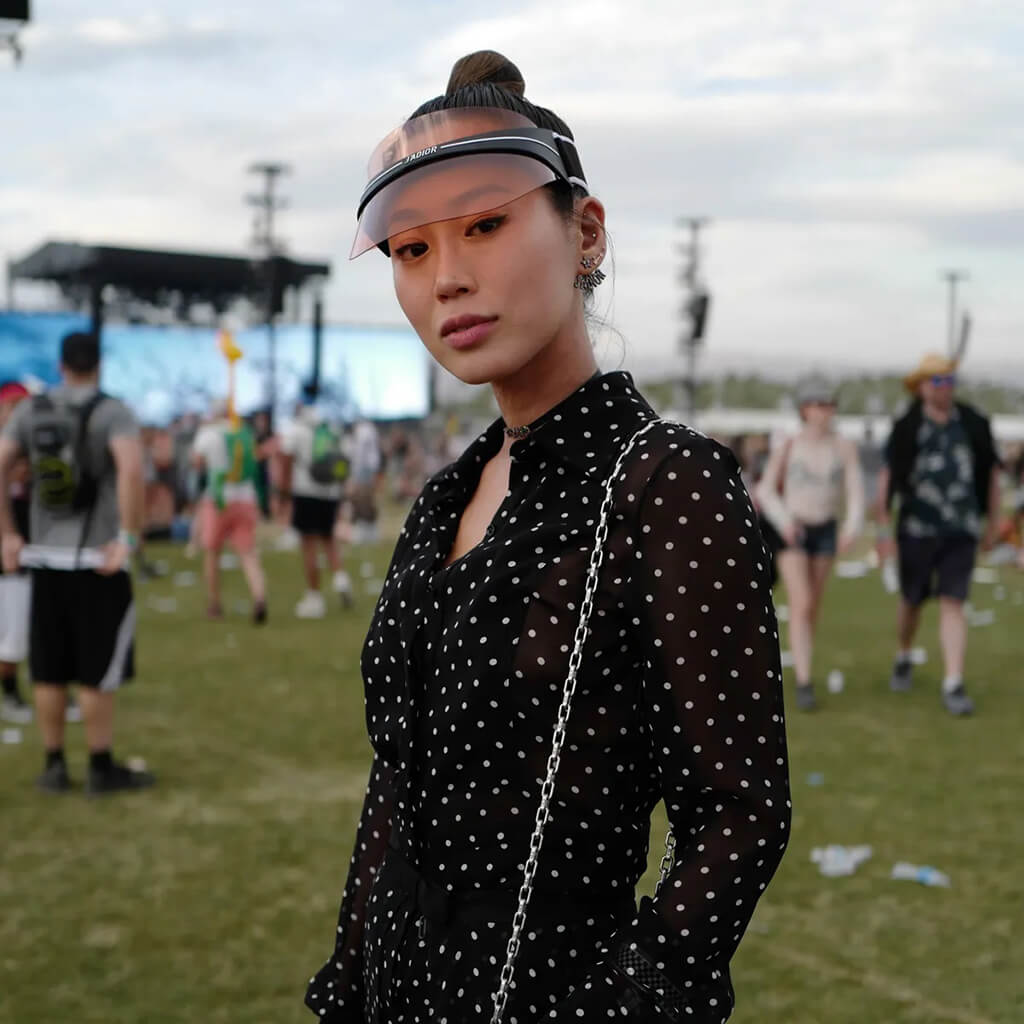 Visors have a complicated history, one that's debated by various hat fanatics. Online sources don't offer much detail about who or what produced the first-ever visor or where it came from, but most experts point to various sports teams and innovators.
But, there's one universally held truth: this hat is ubiquitous in American baseball culture. The York knickerbockers, Jesse Burkett, the Detroit Tigers, and various other headliners all had a hand in inventing this iconic headpiece.
Since its unknown birth, visors were first created as a functional headwear piece instead of a fashion statement. They were made to prevent sun glare, thereby enhancing the vision of the person who wore them.
In later years, the visor was re-adopted as a stylish accessory, such as those that were popular in the 1990s. 
When to Wear Visors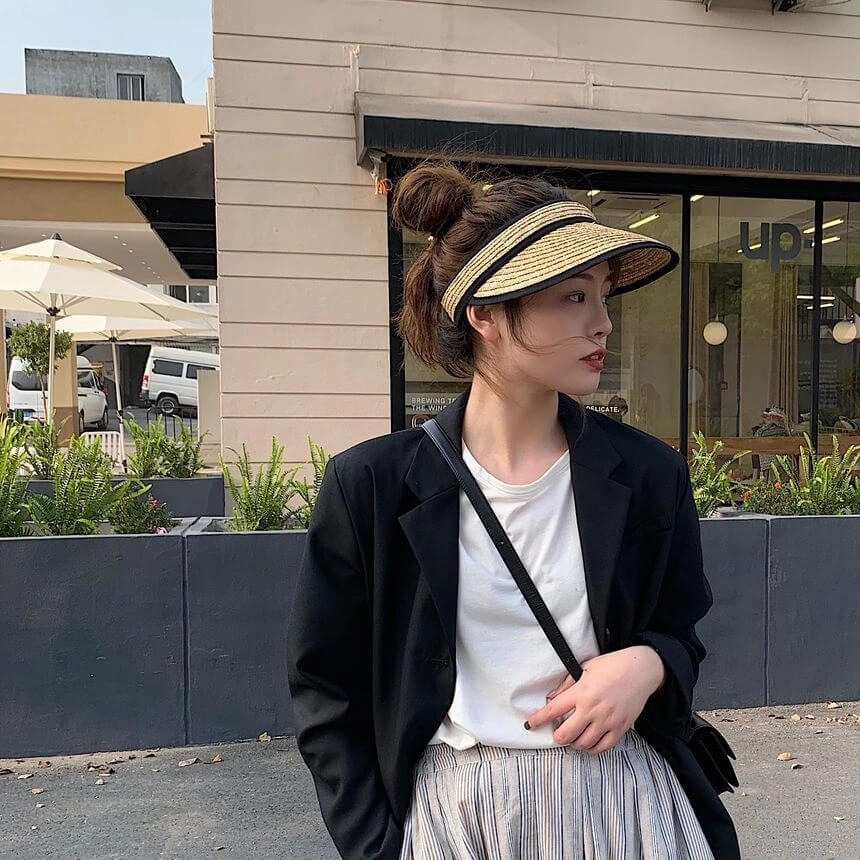 Before we address how to wear a visor, we thought it best to discuss the 'when's' first. This specific hat is usually treated as sports equipment. As previously mentioned, visors are used to prevent sun glare.
People who engage in outdoor activities, such as golf, tennis, and baseball, view the visor as a required necessity to help enhance vision. Obviously, this iconic cap has moved past the playing fields, as it's now been adopted as an haute couture classic.
Generally speaking, visors are typically worn if you want to make a statement. Its accentuated lip paired with its capless design is bound to garner some attention. They're intrinsic to casualwear, meaning that they're traditionally worn with shorts, jeans, tees, and dresses.
It's worth noting that these hats are commonly worn during summer or spring, but don't let that stop you from wearing a visor in winter.
How to Wear a Visor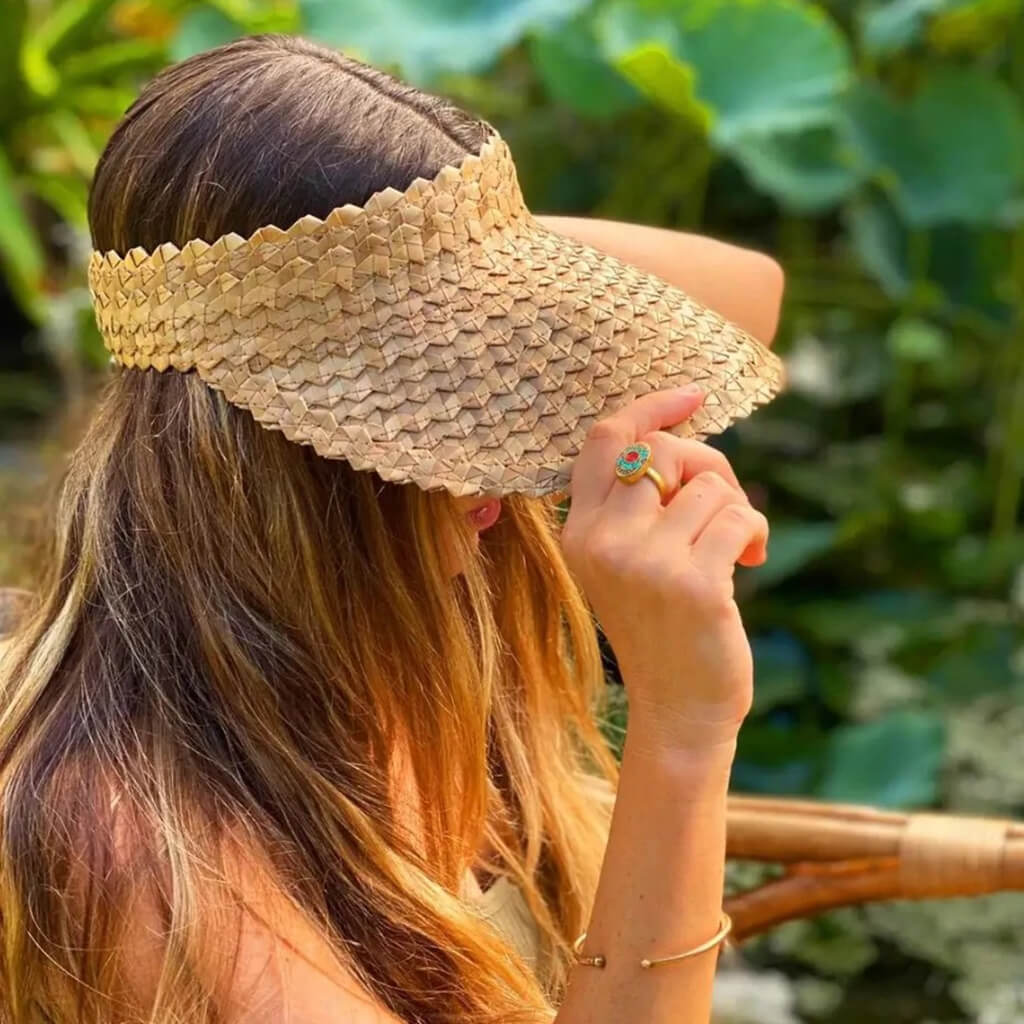 To wear a visor, you must be fearless. Like a pair of Crocs, this particular hat is known to be quite controversial. It's the type of accessory that divides people since its capless design and exaggerated brim are usually perceived as either stylish or ugly by some trendsetters.
If you're wondering how to wear a visor, first and foremost, you must wear it with confidence. 
For those keen to turn a blind eye to visor haters, we'll provide a list of 11 outfit ideas to consider. Be sure to check out our FAQ section, because we'll offer some shopping tips and suggest recommended retailers worth visiting.
11 Outfit Ideas with Visors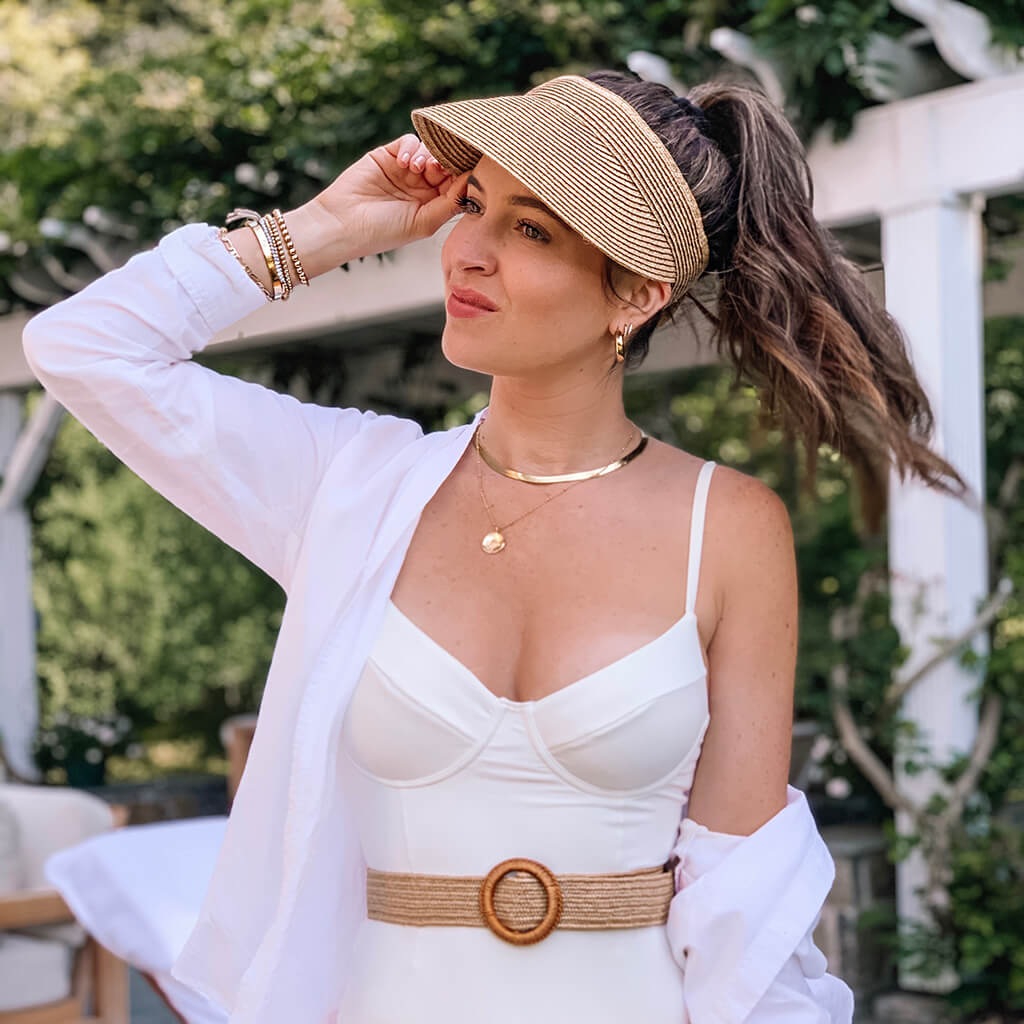 Straw hats are so boho basic. Don't get me wrong, they're obviously iconic, but every stereotypical beach bum is bound to sport one during summer. If you want to stand out, wearing a visor is a must. 
This stylish look consists of a one-piece bathing suit, a waist belt, a white button-down shirt, and a wicker hat for added pizazz. It's a great OOTD to consider if you're prepping for an afternoon of suntanning.
For shoes, we highly recommend topping the outfit off with a pair of matching espadrilles.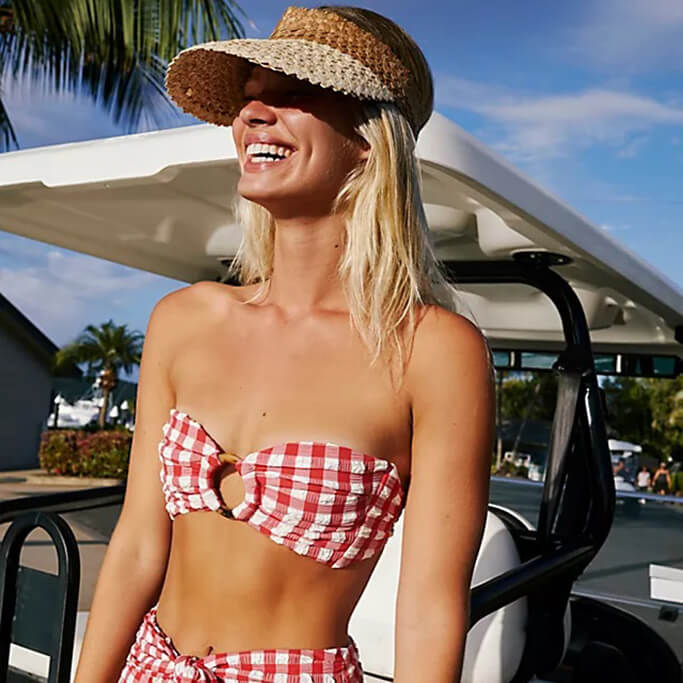 Summer calls for cute bikinis and straw hats. While it's common to don a wide-brimmed chapeau, we recommend switching things up a bit by wearing a wicker visor. 
This stylish hat pairs beautifully with this gingham two-piece bikini. Cottage-core in print, this outfit definitely screams 'resort romance' in rural Italy.
We recommend topping the look off with a lacey beach cover-up.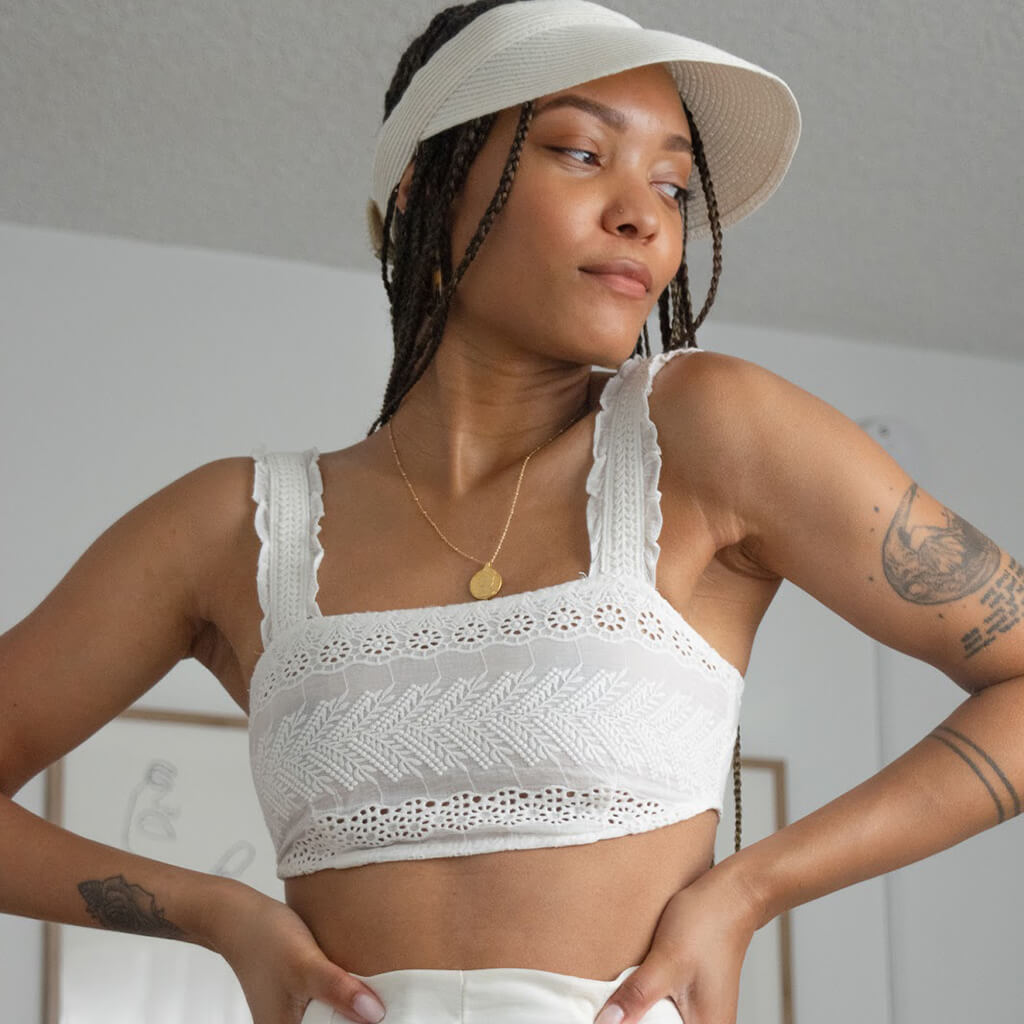 Many try to solve the 'how to wear a visor' dilemma by wearing an ugly pair of cargo shorts and a cheesy floral button-up. Tacky? For sure, which is why we recommend jazzing things up a bit by donning a matching set. 
This adorable two-piece consists of a lacey crop top and a pair of wide-legged pants. Accentuated with a ribbed visor, this look is a more romantic take on the cliché tourist outfit.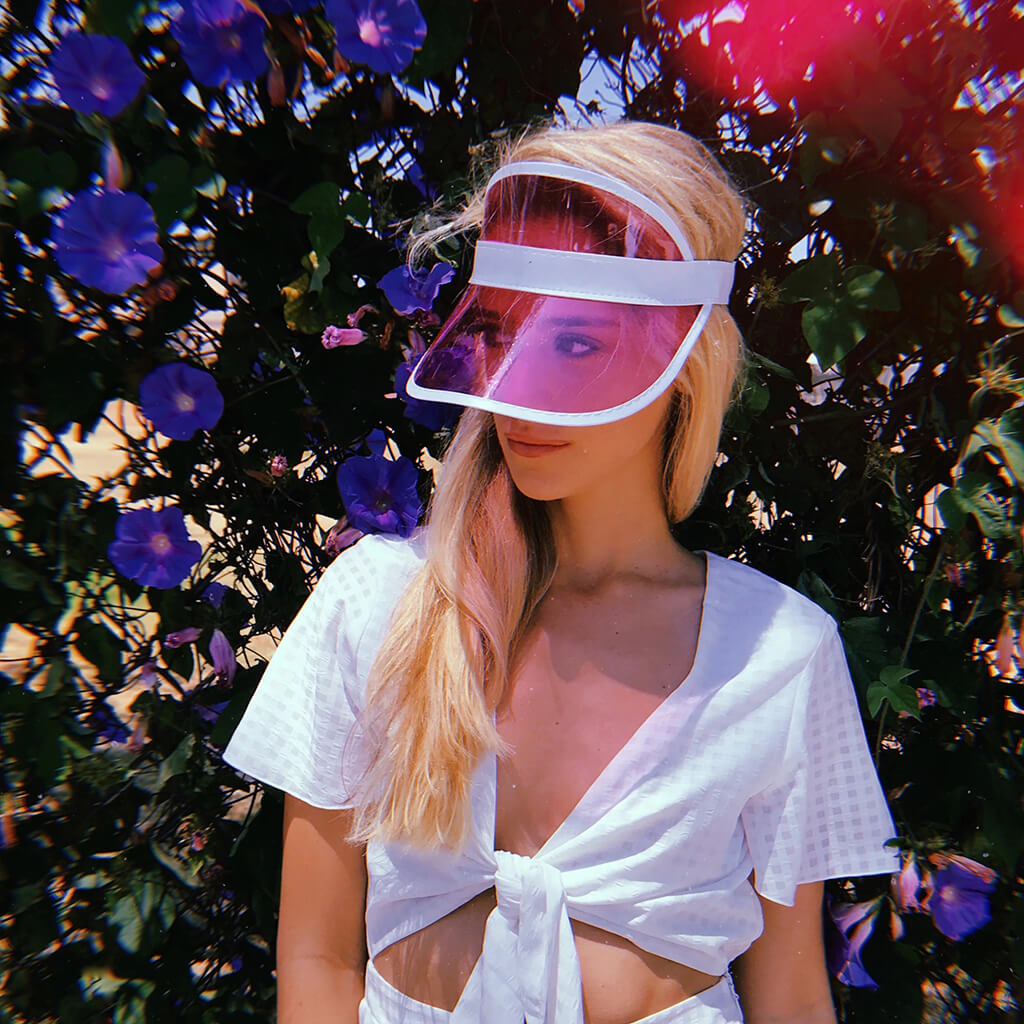 As previously mentioned, visors come in all sorts of shapes, sizes, and materials. While it's common to don a cotton or woven visor, the clear-cut hat is considered third place in popularity. 
Modern, chic, and slightly sci-fi in aesthetic, this cap blends well with tennis-themed outfits, such as a wrap top and a pleated skirt.
We highly recommend topping the look off with a pair of lace-up shoes to keep things fresh and sporty.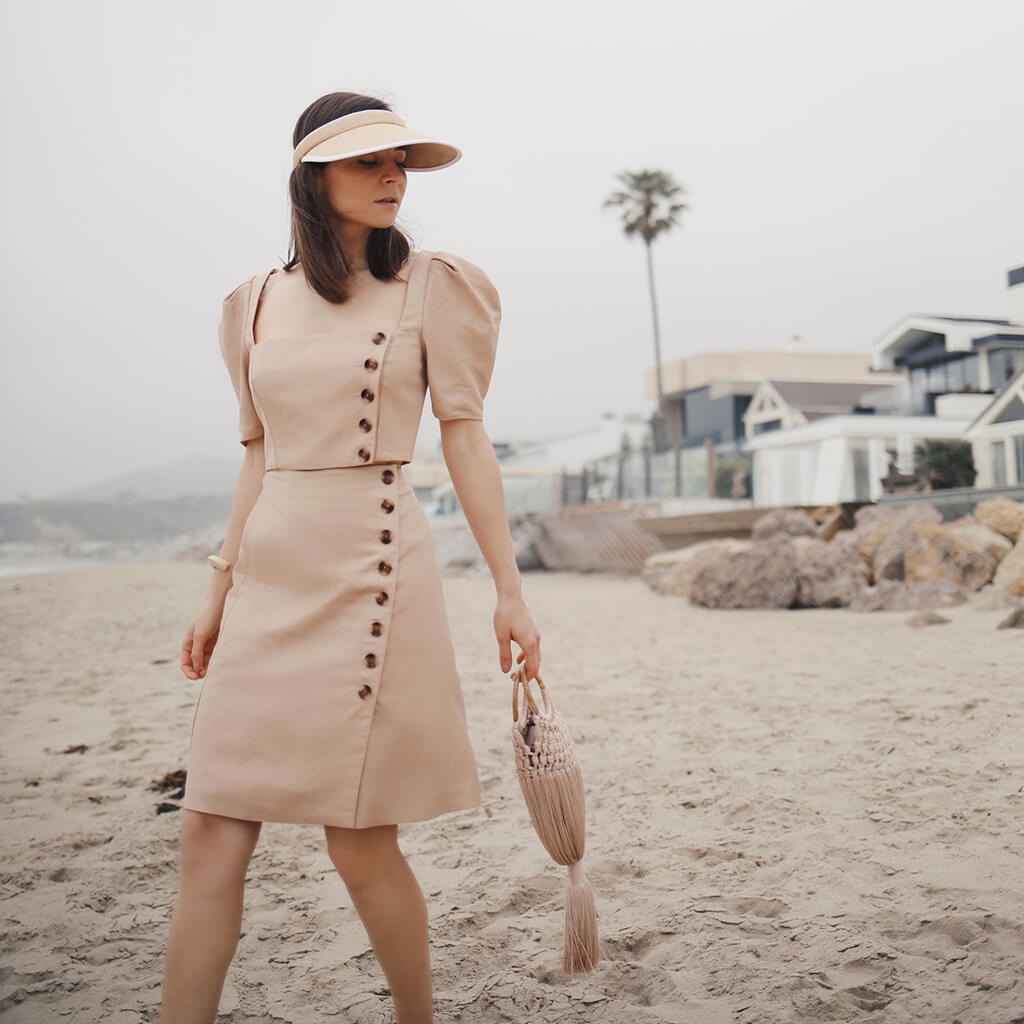 In an effort to answer the question of how to wear a visor, we usually exclude descriptors such as sophisticated, elegant, and opulent.
Contrary to popular belief, this sporty cap pairs beautifully with lady-like dresses, including this vintage number. 
Composed of a button-up blouse and matching skirt, this outfit has a 1950s vibe. Instead of opting for sneakers, why not trade your Air Force 1s with a pair of cap-toe slides for a more romantic alternative?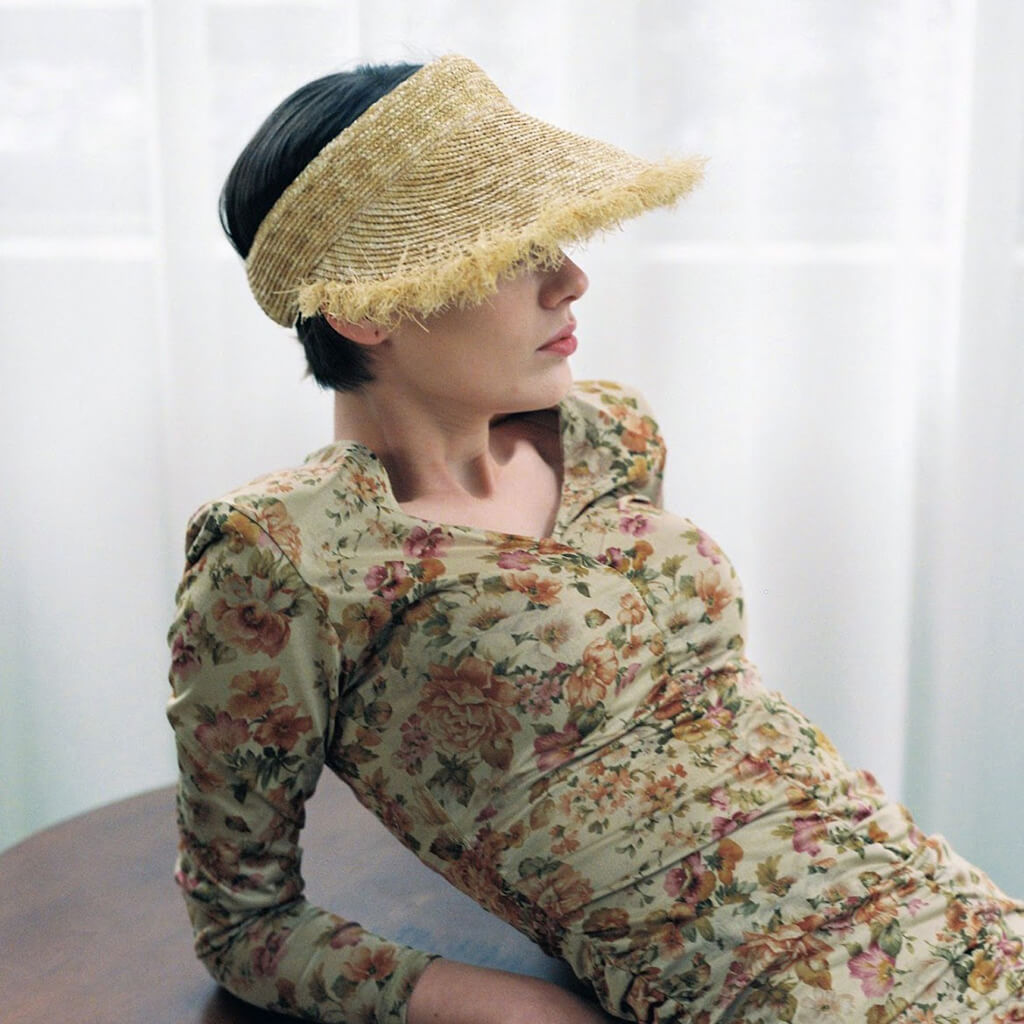 For those wondering how to wear a visor with short hair, we recommend taking some inspo from Awesome Needs. This clothing brand pairs this traditional hat with a romantic floral dress.
The accentuated brim of the cap helps to provide some dimension to your short bob. The outfit itself pairs well with the cottage-core vibe of the visor, which is made out of wicker material.
To top things off, you can never go wrong with a pair of plain kitten heels.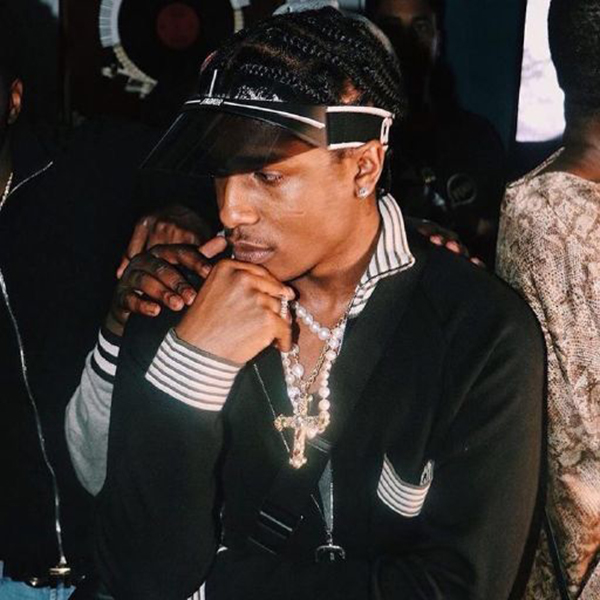 The 'how to wear a visor with long hair guys' Google search is usually met with little to no inspo pics. 
In short, this particular hat can be paired with any hairstyle, whether that be short, medium, or long. If anything, we recommend tying your 'do back with a ponytail to help keep those loose strands in place.
For outfit ideas, you can never go wrong with a fuzzy button-up and a sparkling necklace—as exemplified by A$AP Rocky.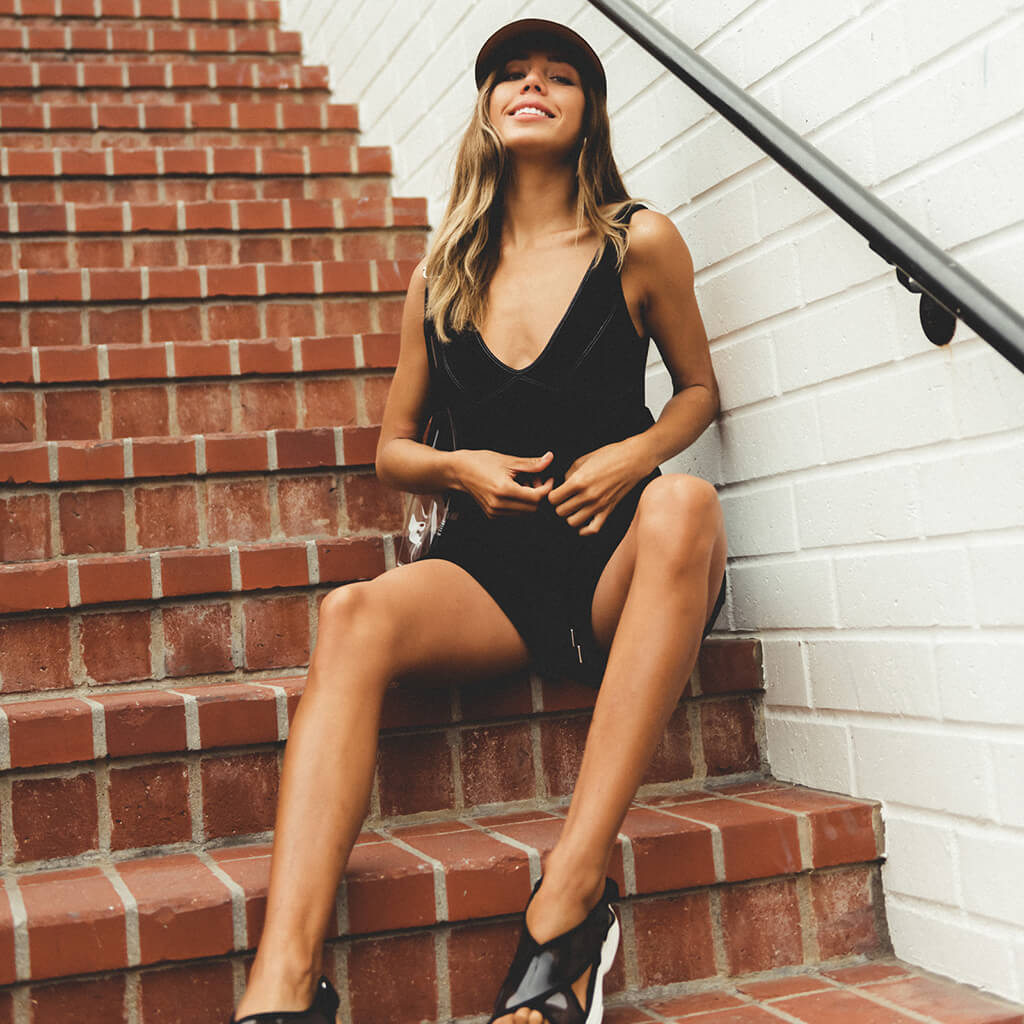 It's no secret that visors are commonly worn for sports. Whether you're gearing up for a tennis match or a casual brunch, this stylish outfit can be worn for various occasions. 
It features a black tank top with a plunging neckline, a pair of high-rise shorts, and some platform sandals for a touch of edginess.
Complemented with a matching visor, this look definitely screams 'summer in the city vibes' thanks to its Cali girl silhouette.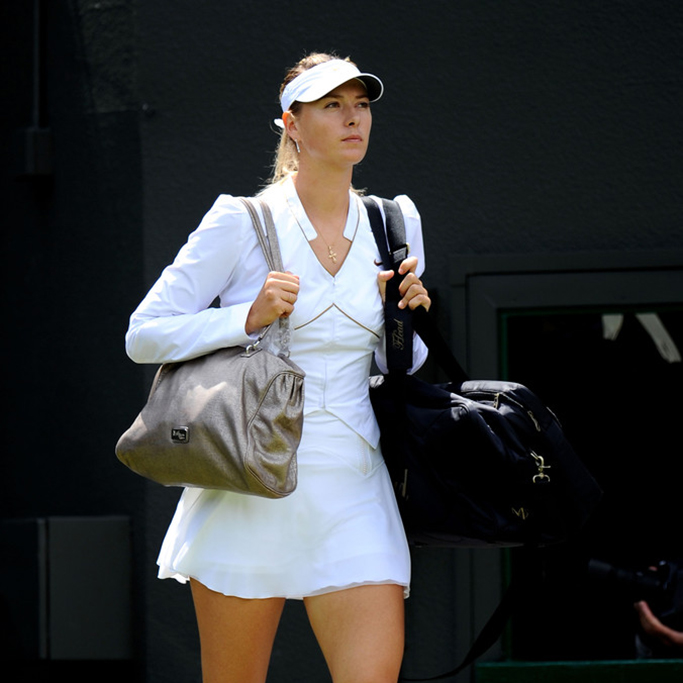 Speaking of sporty, this 'how to wear a visor' contender is definitely fit for a tennis game. Composed of a white jacket, a circle skirt, a pair of lace-up shoes, and a hat to match, this is the kind of outfit to don if you're gearing up for an intense 1V1 match. 
Naturally, this isn't the most casual ensemble to wear out on the town, which is why we recommend adding some bling. A pair of hoops and a tennis necklace can do wonders by accentuating this entire OOTD.
Trench coats and hoodies usually come with a baseball cap or a beanie to match. It's a classic go-to, but we understand if you're craving something different. So, can we interest you in a visor? 
The exaggerated brim of this hat acts as a stand-alone piece, in case you're not fond of chunky Cuban chains or vibrant sneakers. For pants, we recommend wearing a simple pair of distressed jeans.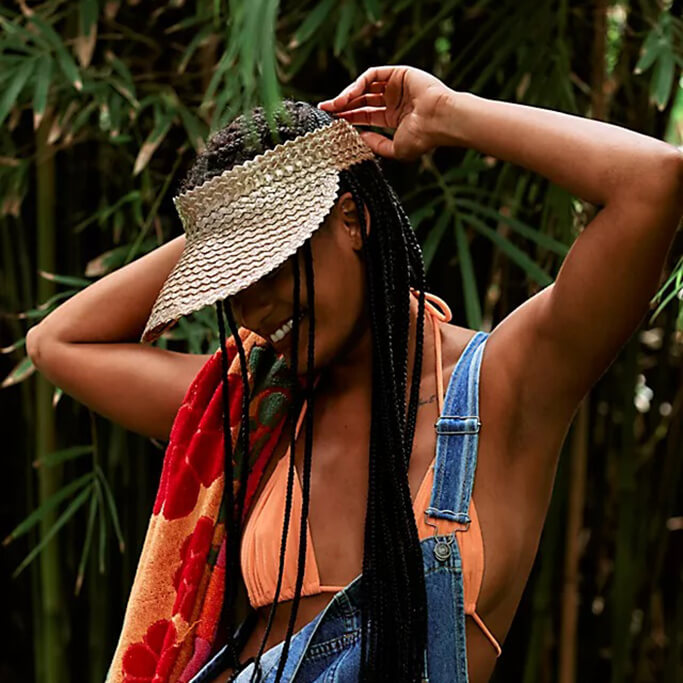 Cheese on cheese makes a wonderful macaroni casserole. It's a weird analogy, but trust me, it's the easiest way to explain why this outfit works. The tacky nature of the visor paired with the overtly corny overalls makes for a super cute OOTD.
Complemented with a colorful bikini top and a floral beach towel, this look can be your go-to ensemble for exotic vacays. 
What Type of Visor Can You Get?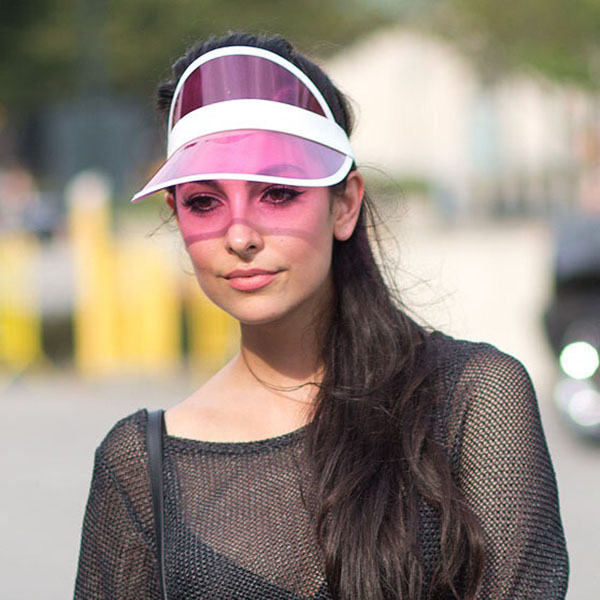 Like any hat, visors come in an array of sizes, shapes, and colors. No matter which design you get, it will still feature that exaggerated brow and capless design. But whether you choose a denim or straw visor is up to you.
From the outfits we've previously featured, we learned that visors can be adapted to suit various core aesthetics, whether that be cottage-core or athleisure.
In need of additional specifics? If so, this 'how to wear a visor' guide will provide a condensed list of trendy styles to consider.
The straw visor: Considered a must-have for summer, these boho beauties have the perfect amount of exotic flair.
The transparent visor: These hats feature a clear brim to help enhance vision. They also showcase a sci-fi aesthetic if you're looking for something more modern.
The sporty visor: This particular cap is usually made out of standard cotton. It's a great alternative to consider if you prefer traditional silhouettes.
The leather visor: This type of hat isn't the most popular on the market, but there's a good chance that it will be in the future. With its elegant shape and material, this cap exudes the right amount of class and sophistication.
How to Choose the Best Visors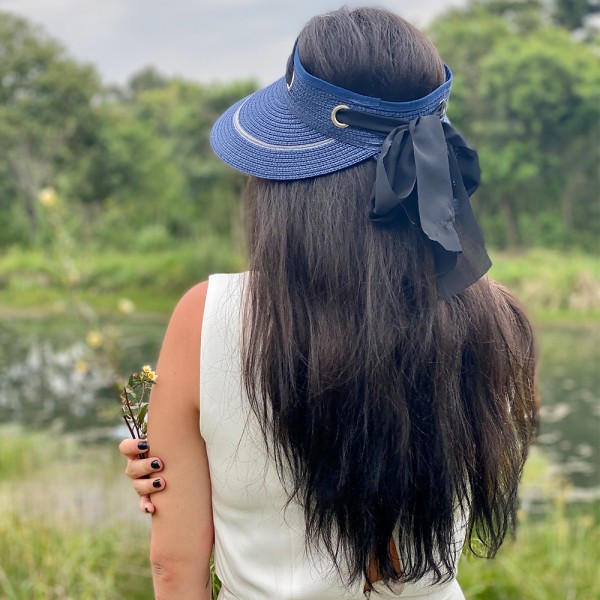 Five-dollar deals are a hard bargain to pass up. As tempting as it sounds, we don't recommend purchasing a visor for under $10. You can't count on something so cheap to be durable in construction.
Of course, that's not to say that designer brands are the only option, as trendsetters can find a wide assortment of reasonably priced visors online. 
If you intend on wearing your visor for years to come, it's important to consider four things when shopping: quality, material, fit, and design. A well-made hat should be made out of sturdy materials, which usually include canvas, cotton, polyester, wicker, and leather.
If you're skeptical about the construction of your visor, we suggest conducting a physical test. A gentle bend or squish will usually determine the strength of your hat. Those that easily wrinkle or don't' retain their usual shape are considered major red flags.
Comfort is another point worth considering. Ultimately, you don't want to settle for a visor that's ill-fitting. Thankfully, most hats feature an adjustable band, so wearers don't have to worry about 'too big' or 'too small' dilemmas.
That said, customers should always reference the sizing chart before heading to checkout. 
Lastly, design should never be overlooked. Whether it's a top, a pair of jeans, or a hat, you should choose a garment that aligns with your current aesthetic.
Of course, all of these considerations depend heavily on your personal budget. Visors (thankfully) are quite affordable, as you can usually snag one for under $40. 
How to Style a Visor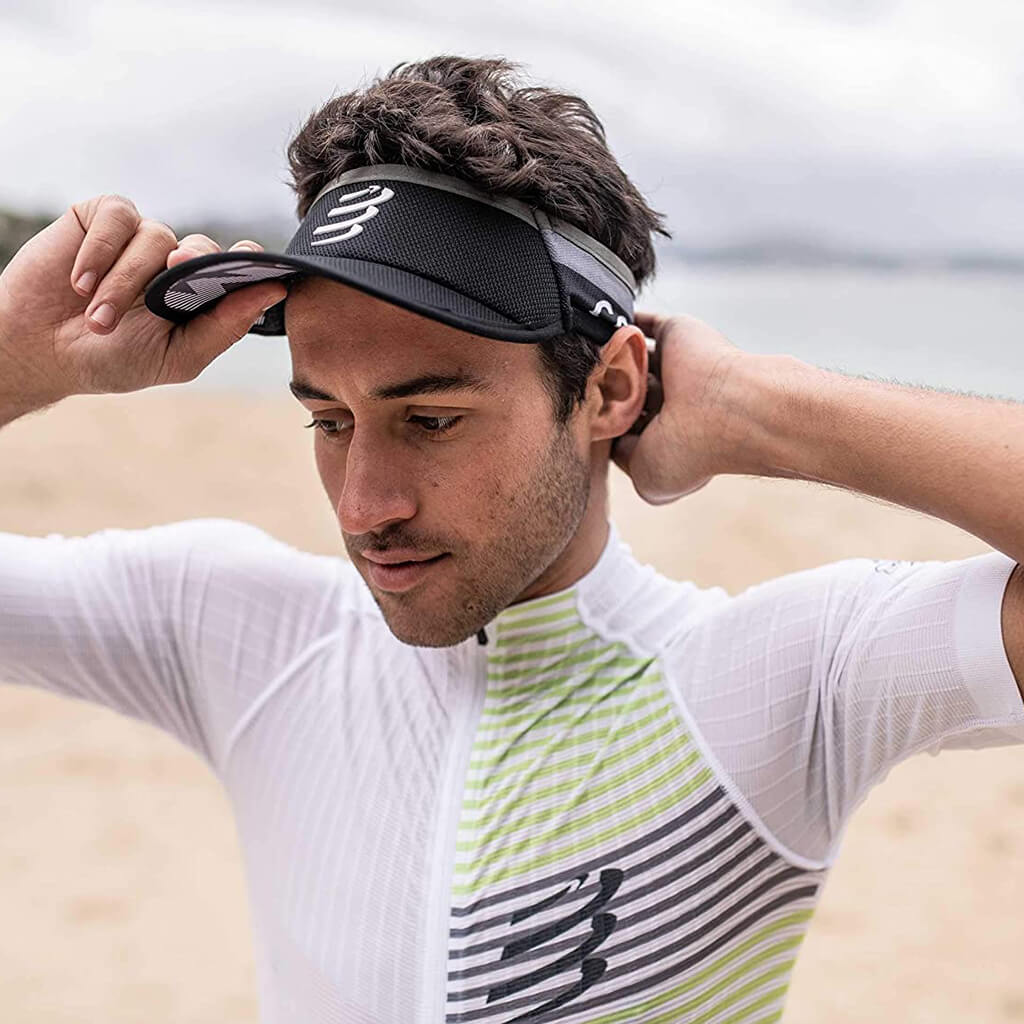 Compared to beanies and fedoras, visors are one of the most wearable hats and easiest to style. Intrinsic to athleisure, boho beach, and minimalism aesthetics, remind me again why they're considered so controversial?
For those struggling to style their capless chapeau, this 'how to wear a visor' guide will provide some fashion tips below.
Hoop earrings: Looking to add some sparkle to your ensemble? If so, you can always count on a pair of hoops for additional pizazz.
Ponytails: Visors are meant to enhance one's vision. Ultimately, wearing your hair down defeats the purpose. To prevent those loose strands from covering your eyes, we recommend sporting a cute ponytail.
Tennis skirts: It's no secret that visors pair well with athleisure looks. If you want to exude that country club vibe, a tennis skirt is an absolute must.
Embroidery: If your visor is made out of cotton, canvas, or wicker, we recommend adding an embroidered patch on the side for a personalized touch.
Fashion Tips to Avoid With a Visor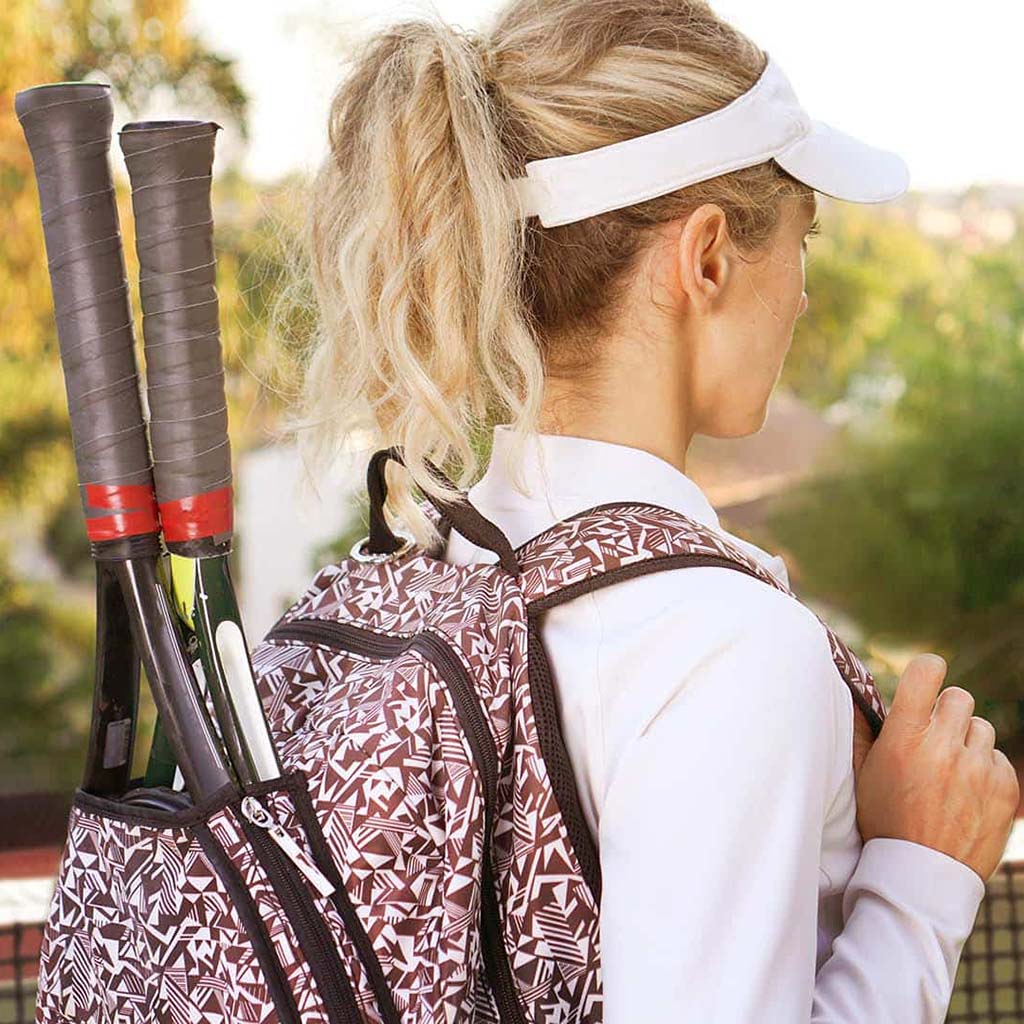 Fashion requires experimentation, inspiration, and confidence. Any substantial effort that goes into an outfit deserves some respect. Admiration, on the other hand, is debatable.
This particular hat doesn't blend with every ensemble, which is why this 'how to wear a visor' guide thought it best to review some fashion faux pas. 
The 'sideway' approach: In an effort to look 'different,' you may have considered wearing your visor to the side. Trust me, it takes away style points rather than giving them.
Boots: Visors are ideally worn with summer sandals or sneakers. Boots, on the other hand, clash with the sand-swept vibe of this particular hat.
Other headwear accessories: Scarves, headbands, and barrettes can interfere with the silhouette of your visor.
Dad sunglasses: Remember those cheesy tactical glasses that were all the rage in the 2000s? Well, there's a reason why they've never survived past this controversial decade for fashion.
How to Take Care of a Visor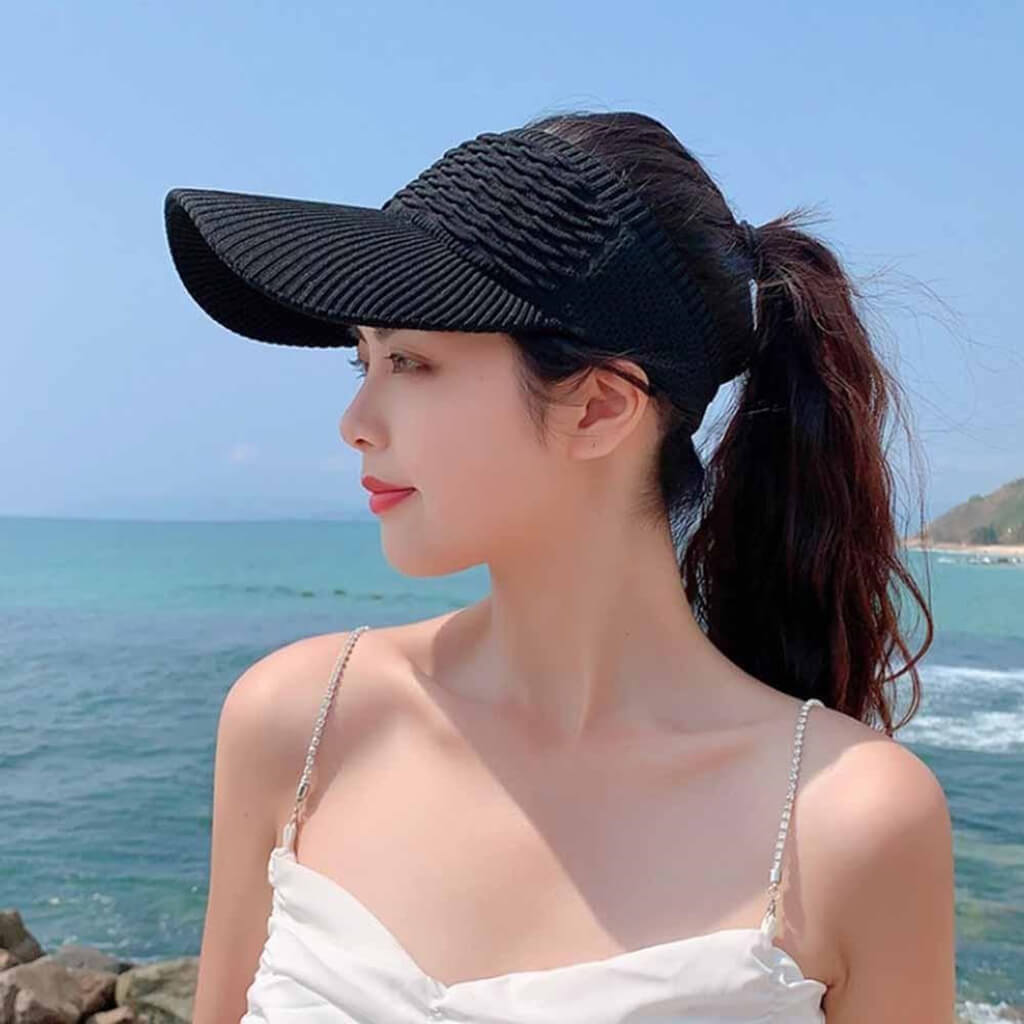 Take a good look at your well-worn beanie or baseball cap. Chances are that you haven't washed it. The amount of lint is insurmountable, and it's starting to look a little dusty.
If you bought a brand-new visor, it's time to implement some routine TLC. Below, we'll provide some tips and tricks on how to maintain your capless hat. 
Double-check the laundry tag. Some visors are machine-friendly.
Remove any surface-level dirt with a brush or a microfiber cloth.
Eliminate stains with a damp rag. Be sure to use gentle soap instead of abrasive substances like bleach.
Store the visor on a hat rack or on a shelf. It should never be folded in since this will encourage creasing and wrinkling.
Best Places to Buy Visors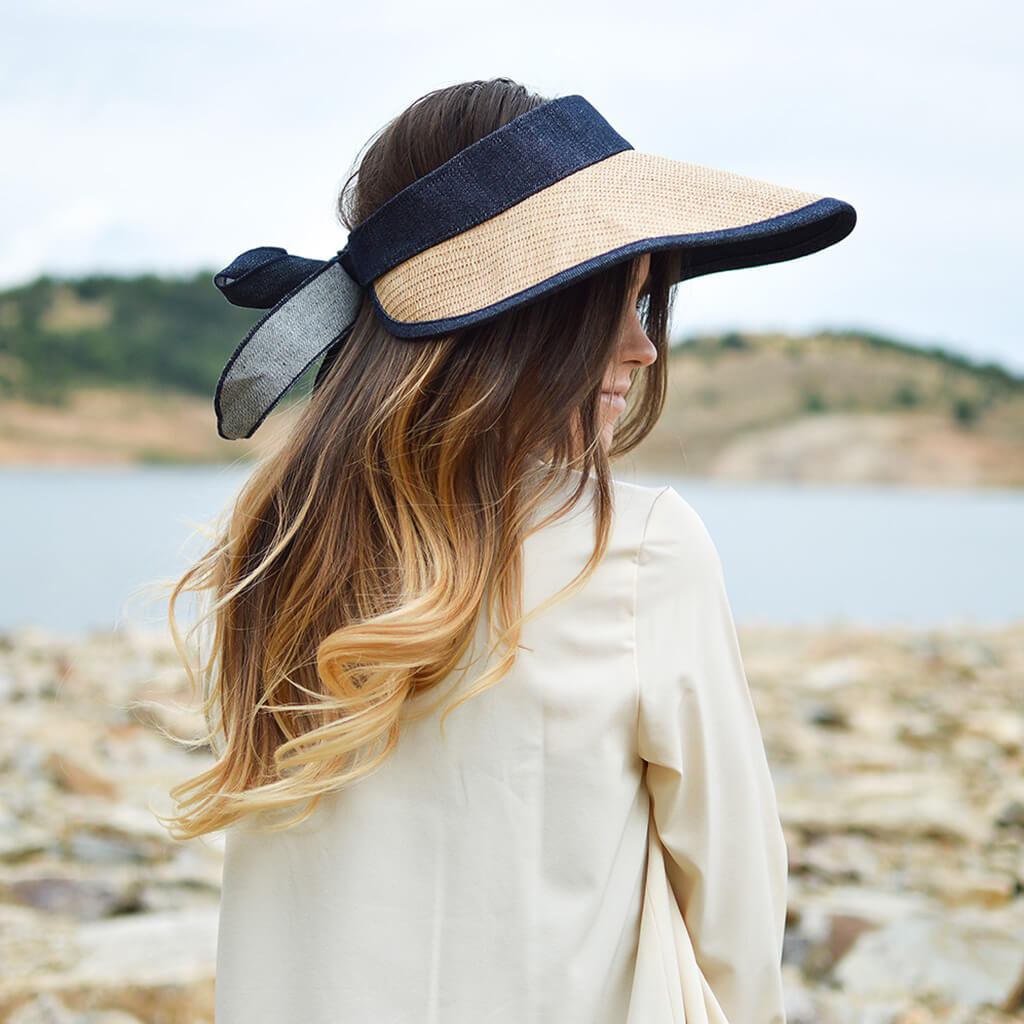 Before this 'how to wear a visor' guide ends, we thought it best to leave our readers with a few recommendations. From straw-made hats to traditional cotton styles, here are some places to cop a new visor:
ASOS
Net-A-Porter
SSENSE
Nordstrom
Free People
Final Thoughts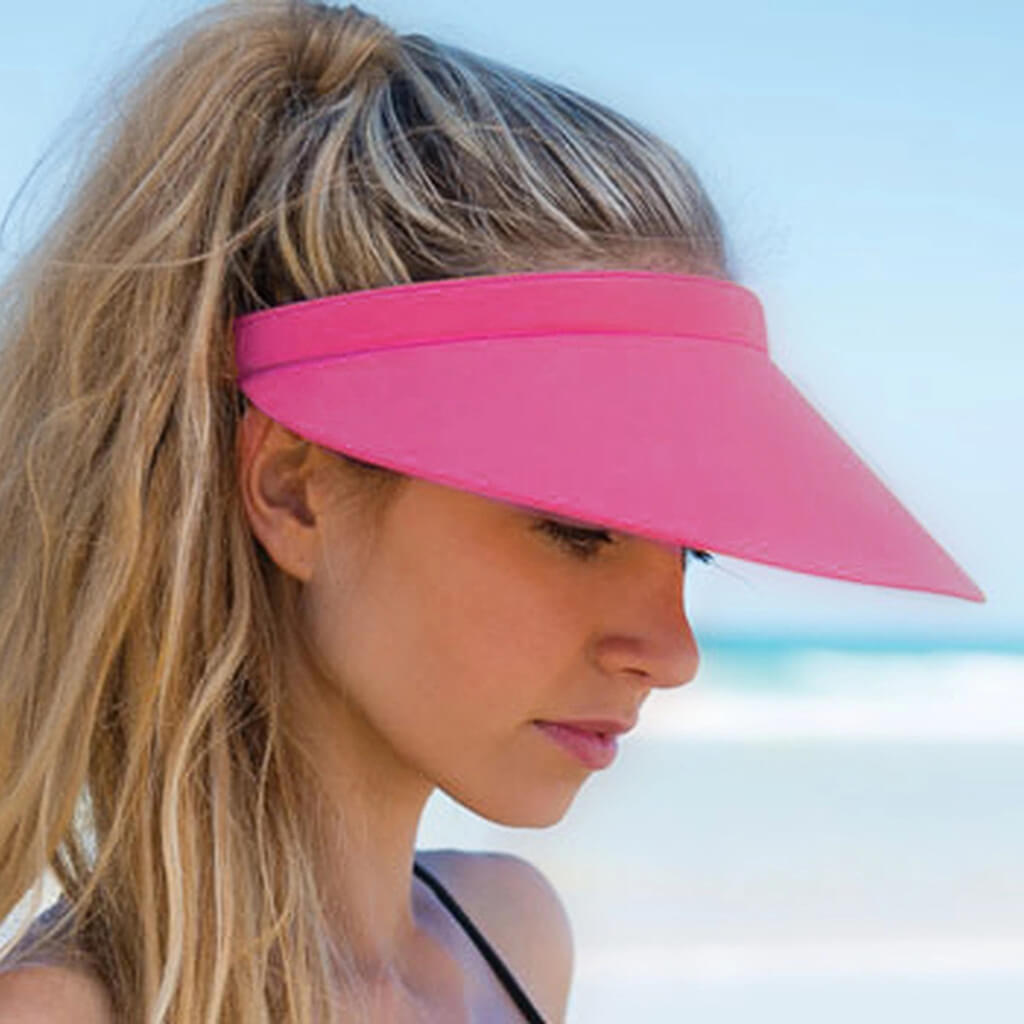 Visors, whether you like them or not, are here to stay. From tennis courts to designer runways, there's no escaping this controversial hat.
We're confident that our list of 11 outfits has changed your perception of the classic visor—since each OOTD is imbued with a sense of sophistication, class, and sporty elegance. 
From tennis skirts to trenchcoats, this iconic cap blends with a surprising amount of outfits. It's natural to have some ambivalence towards this exaggerated cap, but like a pair of Crocs, you're bound to warm up to it soon. 
---
Shopping for more hat options? We've got you covered:
Get Access to Exclusive Deals
Subscribe for free to get exclusive deals in your inbox. 100% privacy