How To Wear Boot Socks – Best Style Guide For 2023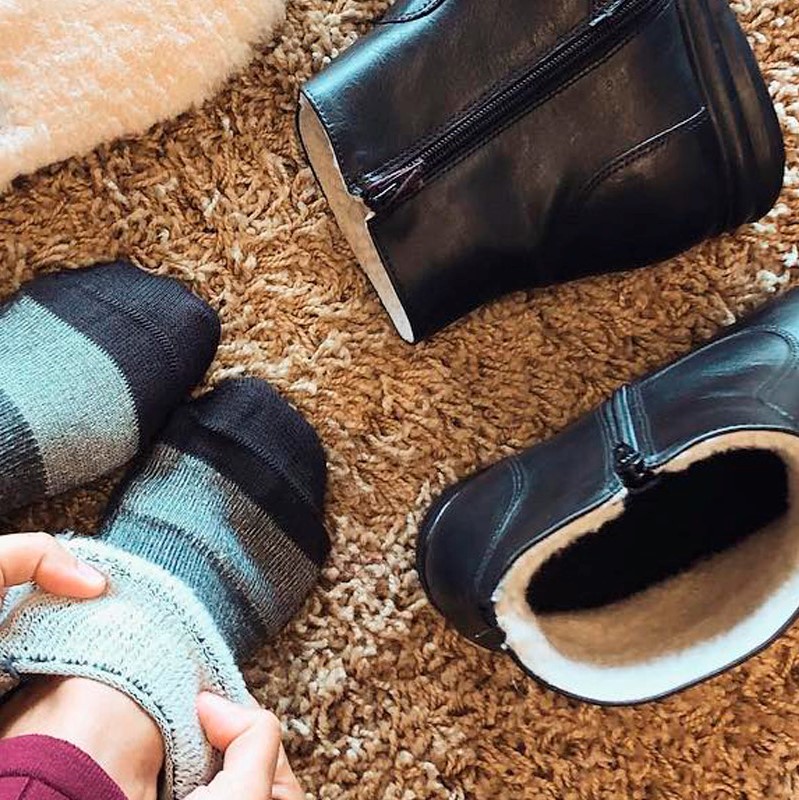 One of the most exciting parts of transitioning from the summer season to cooler weather is the opportunity to pull out your favourite pair of boots. They're both a style staple and a way to express your personality, and socks are no different.
If you haven't yet explored how to wear boot socks, it could be the knowledge that elevates your fashion. Pairing socks with boots is simple and fun, and besides upping your fashion game, learning how to wear boot socks can make you more comfortable while wearing them.
Once you develop the styling skills of how to wear socks with boots, your boots will end up lasting longer. And you won't have to keep buying new outfits to switch up your style. Joining a sock club can ensure that you have lots of socks to pair with your boots so that your look is always fresh.
Physical Benefits to Wearing Socks With Boots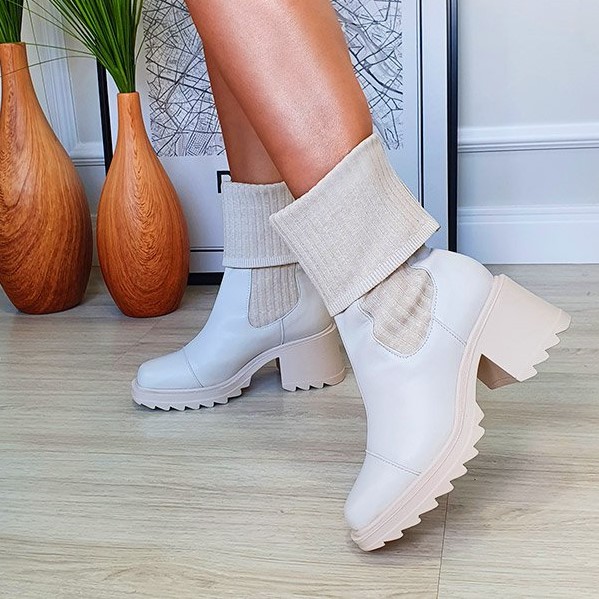 Do you wear socks with booties? It's highly recommended. One of the biggest motivators to wear socks with boots is that a good pair of socks wick away moisture and has antibacterial properties. There is nothing more agonizing than wondering if your feet smell on a date, in a job interview or when out for coffee with a friend.
In addition to staying odorless and maintaining the condition of your boots, you'll prevent the onset of blisters and calluses by wearing bare feet. Wearing socks can provide cushioning, which is beneficial to your joints and temperature regulation. Your feet will remain dry and cool in the warmer months or when you're being active.
How Do You Wear Boot Socks?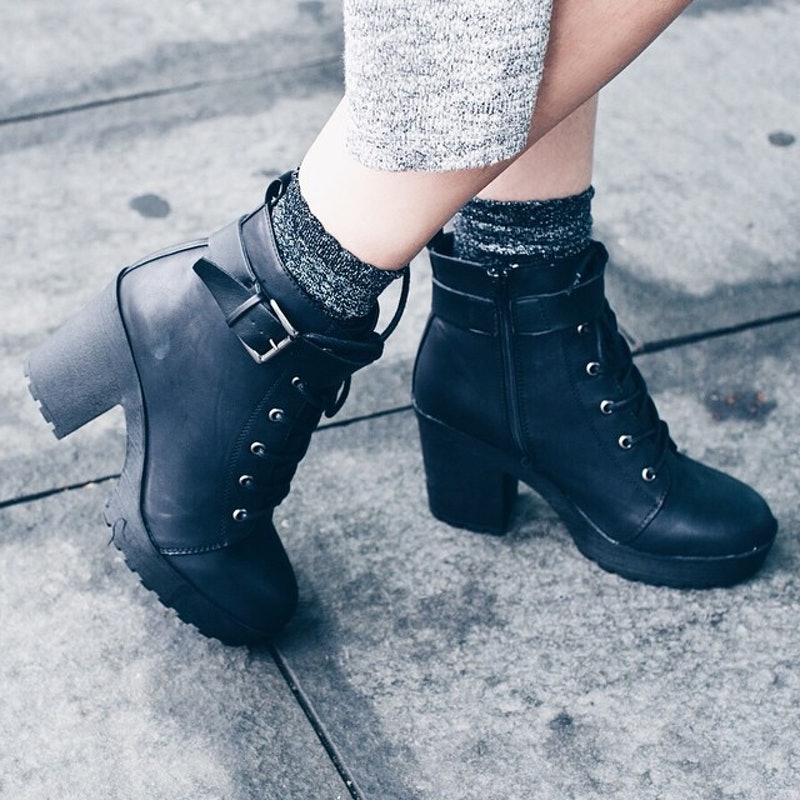 Developing the knack for how to wear boot socks takes a bit of practice and some quiet confidence. The unspoken rules of socks and fashion can feel as rigid as the old rule of thumb, don't wear white after Labor Day.
But you don't have to hold back when finding your style edge, down to your boots and socks. Just note that boots are best worn with casual and business casual outfits, which is what we'll outline in this style guide.
There are several factors that go into how to wear boot socks. There are many ways to approach your style, and you can change it around depending on your outfit, mood or the occasion. We'll go through the types of socks that go with casual and smart casual looks.
Pairing Socks With Boots: By Sock Length
If you're unsure of what length of sock to wear with your boots, consider what look you're trying to achieve. Are you looking for a playful summer look with your suave boots? Is it comfortable fall fashion you have in mind? Are you seeking a layered casual look for a cold winter day? Once you've established what you want from your look, it's easier to focus on the sock length that will convey your style.
When learning how to wear boot socks, you can apply your creativity and personal style. We'll go through what kind of socks to wear with booties and the ABCs of boot socks to make choosing your outfits easier.
Crew Socks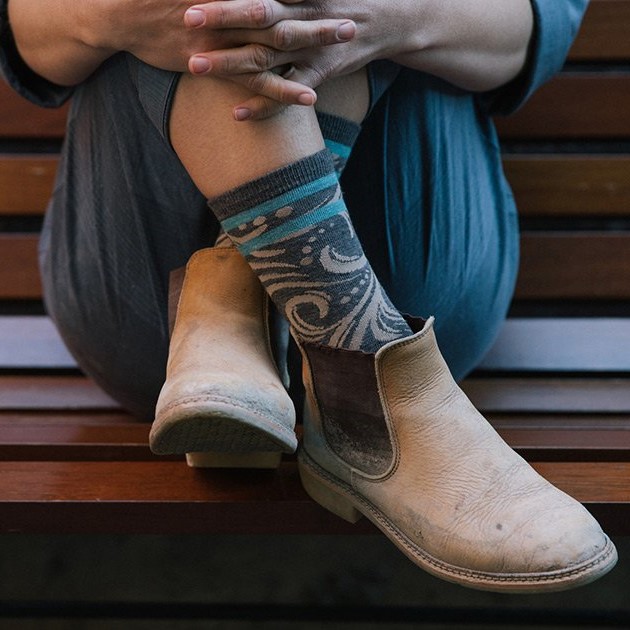 For a relaxed and laissez-faire vibe on the weekend, pair your boots with a bigger bunched sock. Wearing boots with bunched crew socks looks terrific with skinny jeans and cuffed pants, and draws the eye to texture. Use a thick sock for added effect.
Tall Socks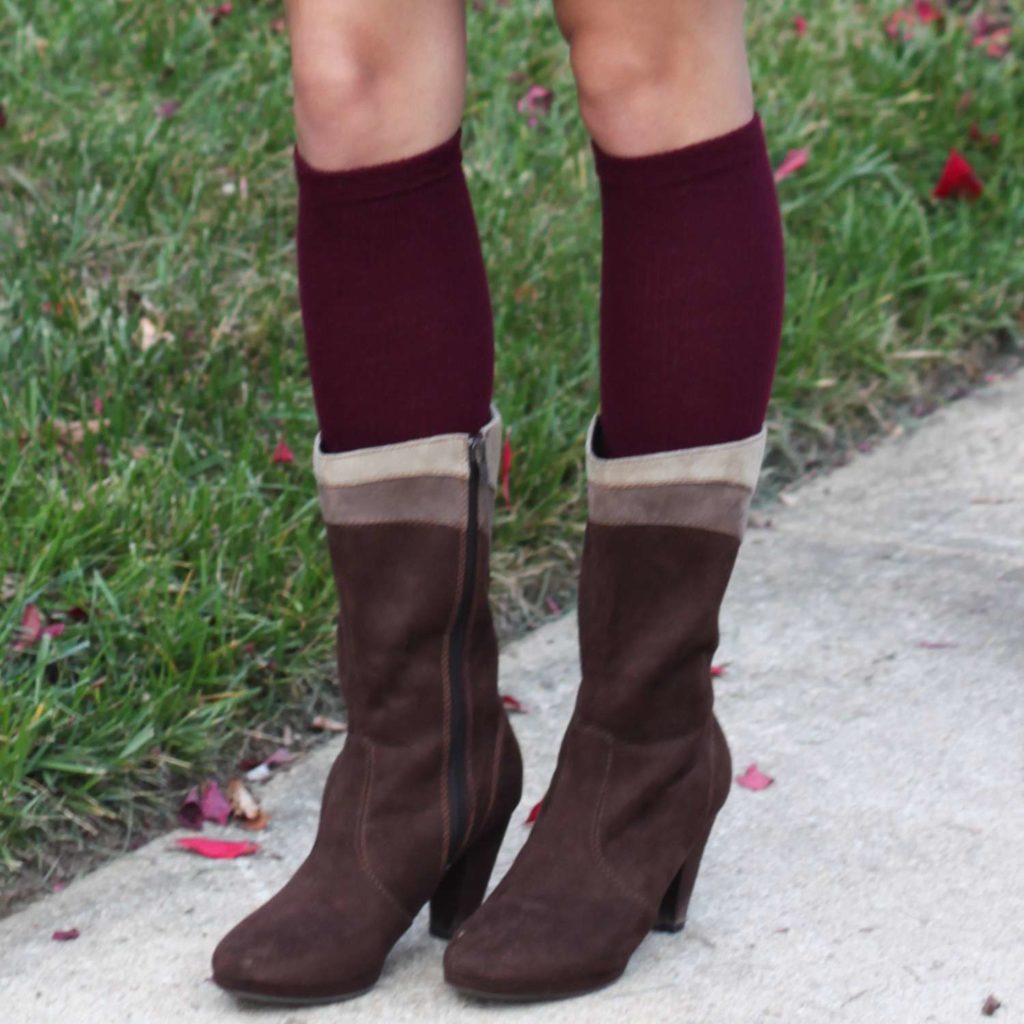 Trouser length, knee socks, and over-the-knee socks pique interest when worn under cropped pants. They'll also keep you nice and warm. Tall socks look like stylish leg warmers when paired with riding boots. When you pull your socks on, stretch them straight. If your pants reach over the socks, then roll the cuff to show them off.
Ankle Socks & No Show Socks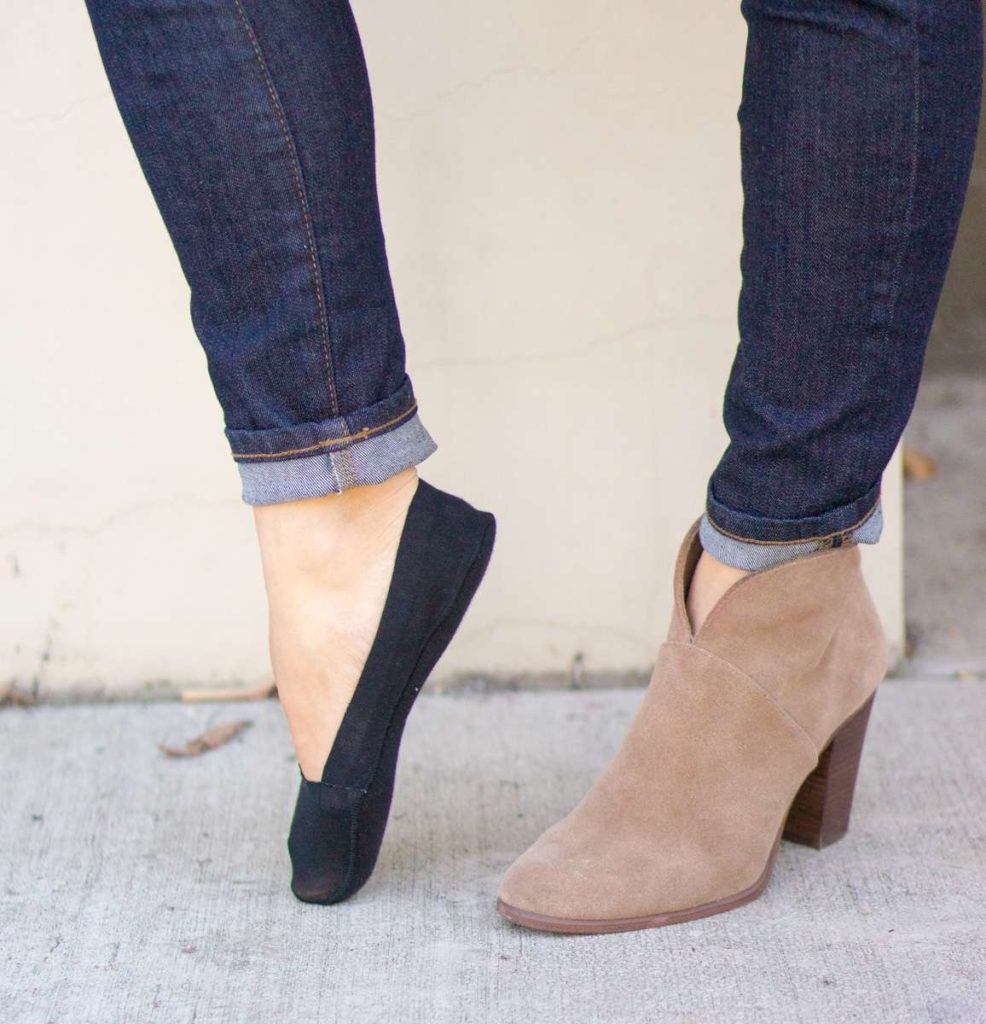 For warmer weather, an elegant style is to wear your socks with bare legs. It's the perfect chance to show off your legs and your tan, while also keeping your temperature under control when it gets humid and hot.
Do you wear socks with ankle boots in the summer? Definitely. Socks to wear with booties for a bare look are mid-calf, ankle or no show socks. This comfy and free feeling look will allow you to wear your beloved boots in more seasons. Now that you know what kind of socks to wear with booties, let's take a look at colors and materials.
Top Tips for Wearing Socks With Boots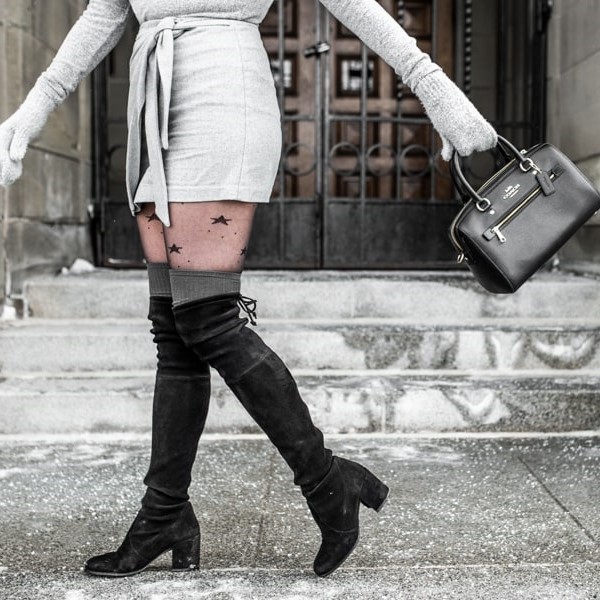 Choosing Your Sock Color
Colored socks add an element of interest and intrigue to your outfit. You can use them to match shades found elsewhere in your outfit, or they can be the pop of vibrance in an ensemble that's lacking color. If you're wearing short boots, you won't want to wear bright knee-high or thigh-high socks. Think more like a splash of color to accent your boots, not an explosion.
Socks that are neutral, in other words, black, grey, and beige, will compliment any colors you're wearing in a subtle way. If you're pairing socks with bare legs, stick with sock shades that match your skin tone. If you're not into brightly colored socks, but still want them to be noticed, grey is a good option with darker bottoms.
Choosing Your Sock Material
Sock thickness: For a crisp fall day when you're taking a hike in a pair of leggings, a thicker sock may suit your purpose. On a warm spring evening, when you are attending a casual dinner, a pair of thin socks will look classy with your boots. You can determine how much dimension you want from your socks based on the purpose of your outfit, the weather and the occasion.
Cotton
If you're looking for a soft, breathable, everyday sock, you may choose a cotton sock. Crew socks are generally made out of cotton, and you can find them in different thickness levels, and start a collection of summer vs. winter socks.
Wool
To keep you toasty in cold weather, wool socks are a better option. If you think it's worth it to invest in more expensive and durable socks, consider Merino wool: the natural fiber is moisture-wicking, fast-drying, anti-odour, and thermal regulation capabilities. Wool helps you avoid chafing and blisters that sometimes come with wearing boots. 
Socks and Boots: Choosing Your Look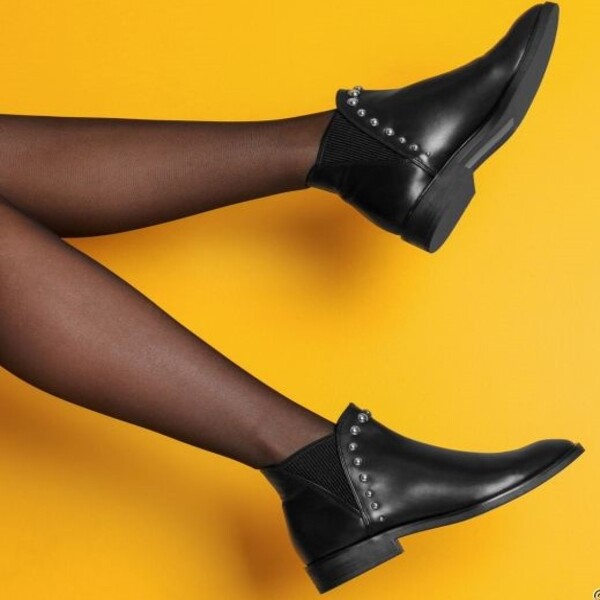 Maybe in the past, you undervalued the potential of socks to act as a key player in your fashion ensembles. By now it should be apparent to you that socks can be the difference between an ordinary outfit and a memorable ensemble. Socks can set the tone for your look, whether you are aiming to look sexy, relaxed, understated or bold.
How to Wear Boot SocksStyle/Fabric/PatternLookNo show socks, ankle socks, mid-calf socks Bare legNo show socks Black dress pantsFluffy Socks Relaxed and chicBunched socks, Crew Cozy hipsterMid-calf colorful or patterned socks Peek-a-booColored socks Coordinated outfit or splash of color Tall black socks Sleek attireBlack socks with detailing Classy and boldMesh Socks Edgy and cool
Pairing Socks With Boots: By Outfit
Jeans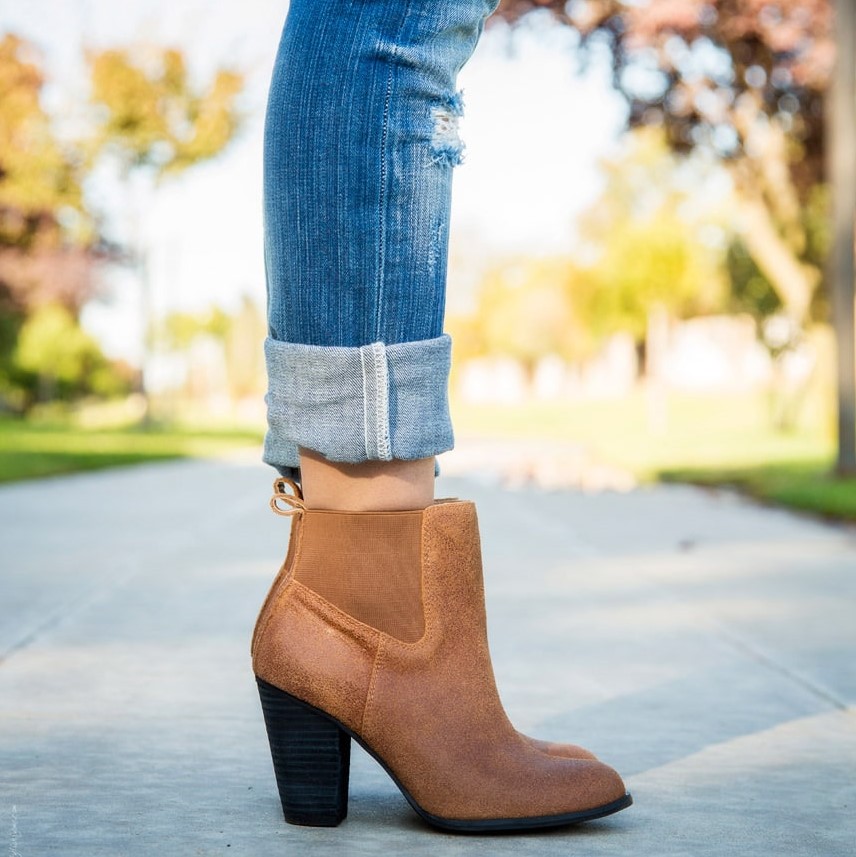 An essential part of the sock and boot lifestyle is knowing how to wear boot socks with jeans. For unique laid back look, consider wearing cuffed denim with a hint of patterned socks peeking out from the top of your boot cuffs.
You may wonder about how to wear boot socks over jeans. Another way to wear socks with jeans is to layer neutral crew socks over them. Pair that with a brown or black leather boot and that look will work for you all through fall and winter.
Khakis, Chinos, and Casual Pants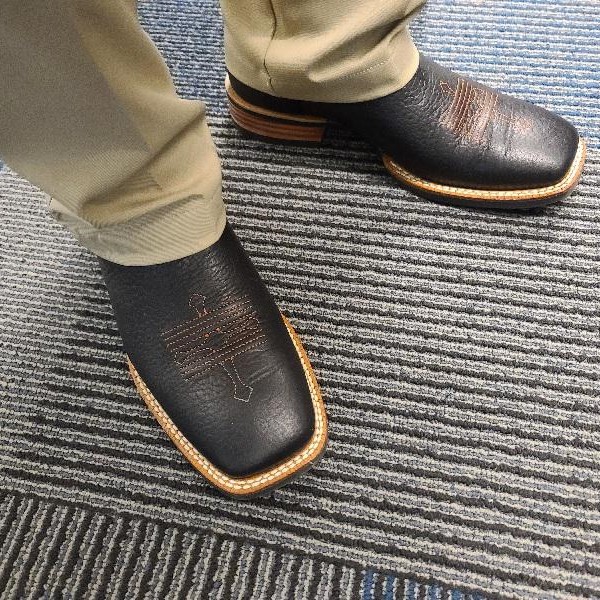 Invest in some quality over the calf socks. You'll be impressed by the way that they stay up and show off your boot. Here's a trick for when you're trying to settle on your color or pattern of socks—match it with the pants, not the boot. When in doubt, go neutral.
Skirts and Dresses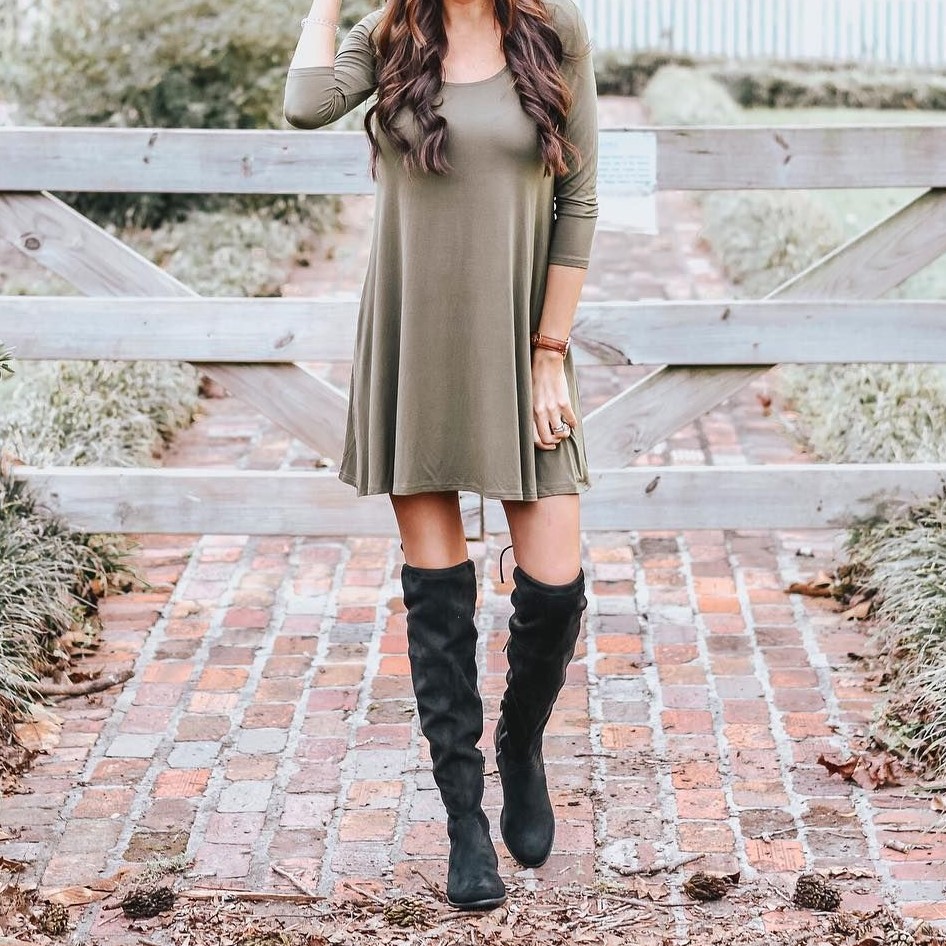 A short or tall boot looks beautiful with dresses and skirts. Adding socks is a thoughtful detail that warms and gives definition to the outfit. If the weather is chilly, you might wear tights with socks layered over the top.
Create a polished look by wearing the same color of tights, boots and socks. Choosing an all-black ensemble can create a simple and elegant look with black booties. If you're wondering how to wear ankle boots with socks, as a tip, let the sock rise 2-3 inches above your boots.
Now that we've broken down how to wear boot socks from all possible angles, you can see how easy it is. You can choose a neutral sock or show your daring personality with a bright, patterned choice.
These are style suggestions to keep in mind, but don't be afraid to get creative—despite what you hear from fashion gurus, the rules can be flexible. Especially if you have the confidence to prove that they do in fact, look fly.
Caring for Your Socks and Boots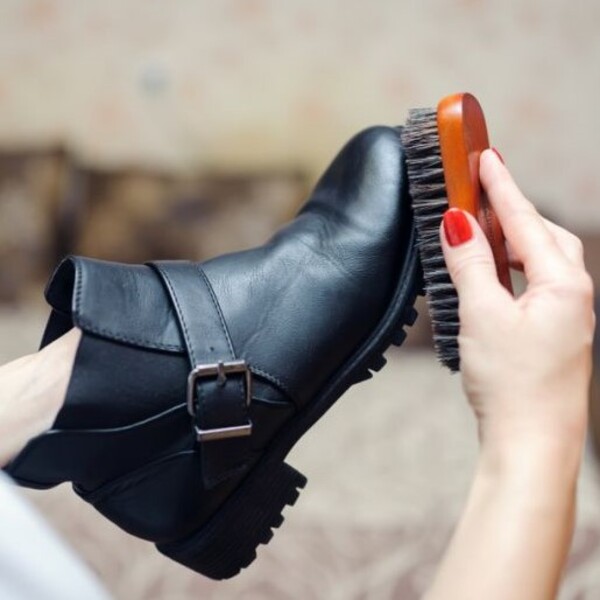 You may be dazzling onlookers with socks and boots combos, but to ensure that you can continue to do so, it is essential to care for your socks and boots. Check out our guide on how to wash your socks to keep them in great condition.
How to Clean Your Leather Boots
Remove the laces so that you can clean the boot thoroughly
Have warm, soapy water on hand and wash the laces to remove accumulated dirt
Replace the laces if necessary
Buff the boots with a horsehair brush
If possible, brush your boots after each wear but at least once a week keeps their condition
Use a damp rag and apply saddle soap to the boots
Let the boots dry for about ten minutes
How to Apply Leather Conditioner to Your Boots
Apply a good leather conditioner to counter water damage
Begin by rubbing the boots down
Use your applicator brush to test a single spot to see how the conditioner affects the leather. Spot test on the tongue of the boot
Wait a couple of hours to see how the spot comes out
Apply conditioner to a cloth and work it in making circular motions and getting into all areas of the boot
If you haven't conditioned in a while, you may need several applications
Remove excess product with another rag
Leave boots to absorb the conditioner for 12 hours
How to Clean Your Suede Boots
Method One requires a brass wire brush or suede brush, and is great after heavy use of your boots: Make light stroking movements with the brush, ensuring that the bristles remove dirt and residue. Try not to brush too hard, and brush in only one direction. You can use a suede eraser or even a pencil eraser to remove stubborn marks. If the suede looks flat, hold the boot above a kettle and let the steam work over it, then brush.
Method Two involves a little water: If your boots are wet, apply paper towel with pressure to the culprit spot. If you hold long enough, you can absorb all of the moisture. If your boots are water stained as opposed to soaked, spray a bit of water evenly over the boot. Gently brush the stains, then soak up the water with a dry sponge or cloth. Stick blank white paper in your shoes to absorb the water but be careful not to use newspaper. Leave the shoes in a ventilated area overnight. While the shoes dry, run over them softly with a suede brush to restore the grain.
Method Three involves cornstarch or talcum powder: If you've had a spill, don't fret. Pat the spot with a clean cloth and apply talcum powder or cornstarch. Leave it to sit overnight, then take a suede brush and gently use it to remove the dried powder. When the stains dry out, you can rub them with a suede cleaning block, the suede of the other shoe, an emery board or low-grit sandpaper. Once the stain is gone, spray the item once more, and use an eraser to restore the nap.
Getting Rid of Stubborn Stains
| | |
| --- | --- |
| Type of Stain | Cleaning Method |
| Blood Stains | Use a peroxide-soaked cotton ball to dab at the stain. |
| Coffee/Tea/Juice | Place two layers of paper towel over the stain and then begin using a brush. |
| Ink Spills | Blot the ink up with a paper towel. If the ink sets, use sandpaper or use a cotton ball soaked in rubbing alcohol. |
| Mud Stains | Wipe away the mud, break off larger chunks and then use a suede brush. |
| Salt Lines | Use a little bit of white vinegar with a soft rag. Let it dry and then work over it with a suede brush. |
| Oily/Unknown Stains | Use a suede brush the way you would for dirt. Then, use a nail brush with warm water to remove the stain. |
| Wax/Chewing Gum | Put your boot in the freezer to harden the gum. Break it off and use a suede brush to restore the material. |
Now that you know everything there is to know about taking care of your boots and how to wear them with socks, go ahead and assemble a killer combo.
Get Access to Exclusive Deals
Subscribe for free to get exclusive deals in your inbox. 100% privacy