How To Wear Knee High Socks – Best Style Guide For 2022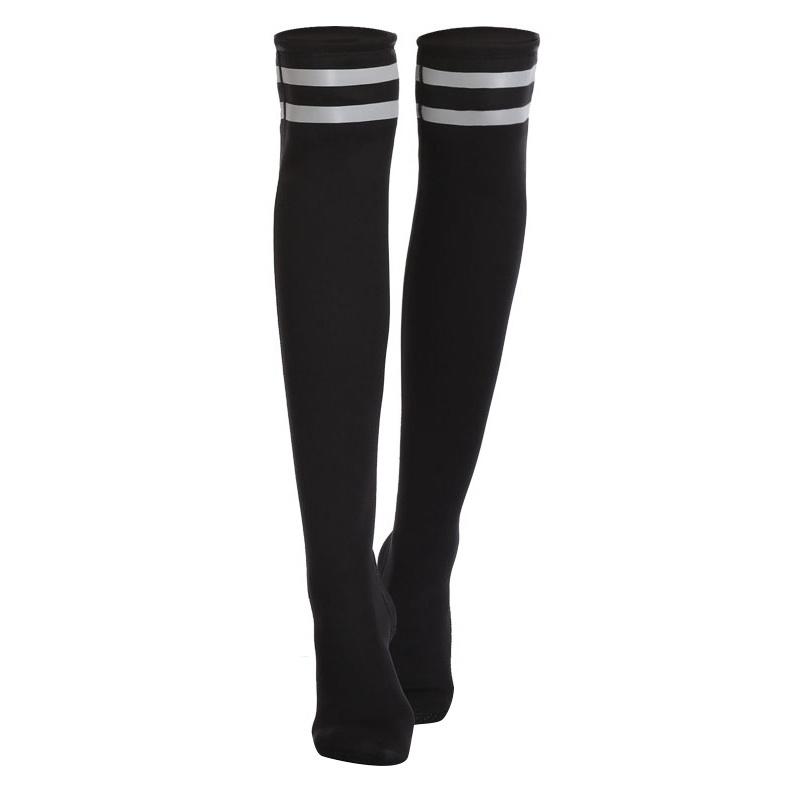 The knee high style first became popular in the 60's and 70's when it was trendy to pair them with a mini skirt, particularly with schoolgirl uniforms. A few decades later, knee high socks exploded into the fashion scene with the release of the movie Clueless (1995). Cher Harowitz incorporated knee high socks into most of her daily outfits and girls wanted to exemplify that. But what really made the trend skyrocket was when Britney Spears released her music video for "…Baby One More Time," when she gave knee high socks a new name in 1999.
Whether you want to emulate the boarding school look or have a serious case of 90's nostalgia, we'll give you all the best tips on how to wear knee high socks in 2020.
How to Wear Long Socks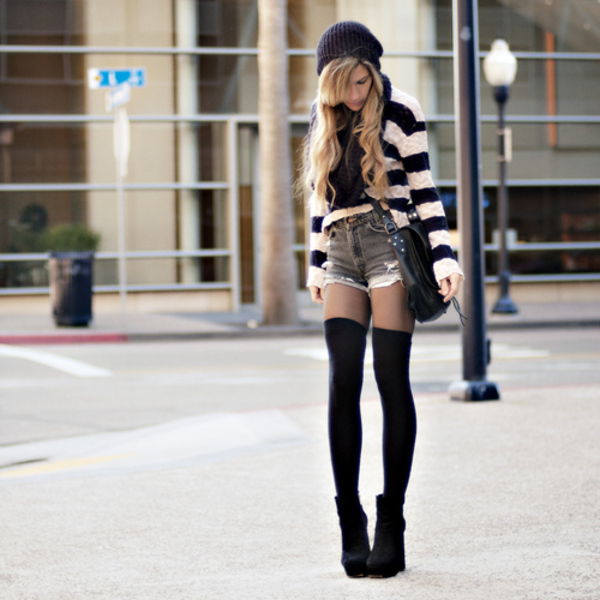 First, let's all get on the same page about what long socks are. These socks come in three lengths, which vary a little depending on your height:
Knee high/over the calf socks fall a few inches below the knee.
Over the knee socks reach a few inches above the knee.
Thigh high socks reach about halfway up the thigh.
Long socks are a must in the winter, since they keep your feet and legs perfectly toasty. The first step in learning how to wear long socks is to pick your sock. There are certain elements to consider when approaching how to wear tall socks, so let's dive in.
Neutrals
If you want your outfit to be more balanced and less attention-grabbing, sticking to neutral colors is the way to go. Colours like black, navy, brown, grey, white, and beige. These colors are called neutral because they don't clash with anything. They're really chill, they never get into fights, and they just want to have a good time. If you go with socks in neutral colors, unless your shoes themselves are non-neutral, they'll match your outfit. Alternatively, wearing bright socks with a neutral outfit can add a tasteful pop of color.
Colors & Patterns
If you're the type of person that's go bold or go home, colorful socks are right up your alley. If you really want to spice up your outfit, go with patterns like:
You want to make sure you're not clashing. If you're thinking of wearing a plaid shirt, leave the striped socks at home. In terms of colors, either match your sock to a color that's part of your outfit, or let the socks stand out on their own with a neutral ensemble.
Textures
Textured socks add a special flourish to your outfit. A distinctive long sock option would be to choose pairs with textures like:
Fish nets
Lace
Mesh
Ornamentation like: sparkles, crystals or pearls
These little sock details add interest to your outfit in a way that typical black or neutral socks can't. You can use them to change a daytime look into a nighttime look to make your outfit edgier.
What Shoes to Wear With Knee High Socks
Now that you know some longer sock styles, we'll talk about footwear. Granted, most knee socks will look good no matter what shoes you match them with, but there are some better options for shoes to wear with knee high socks.
How to Wear Knee High Socks With Sneakers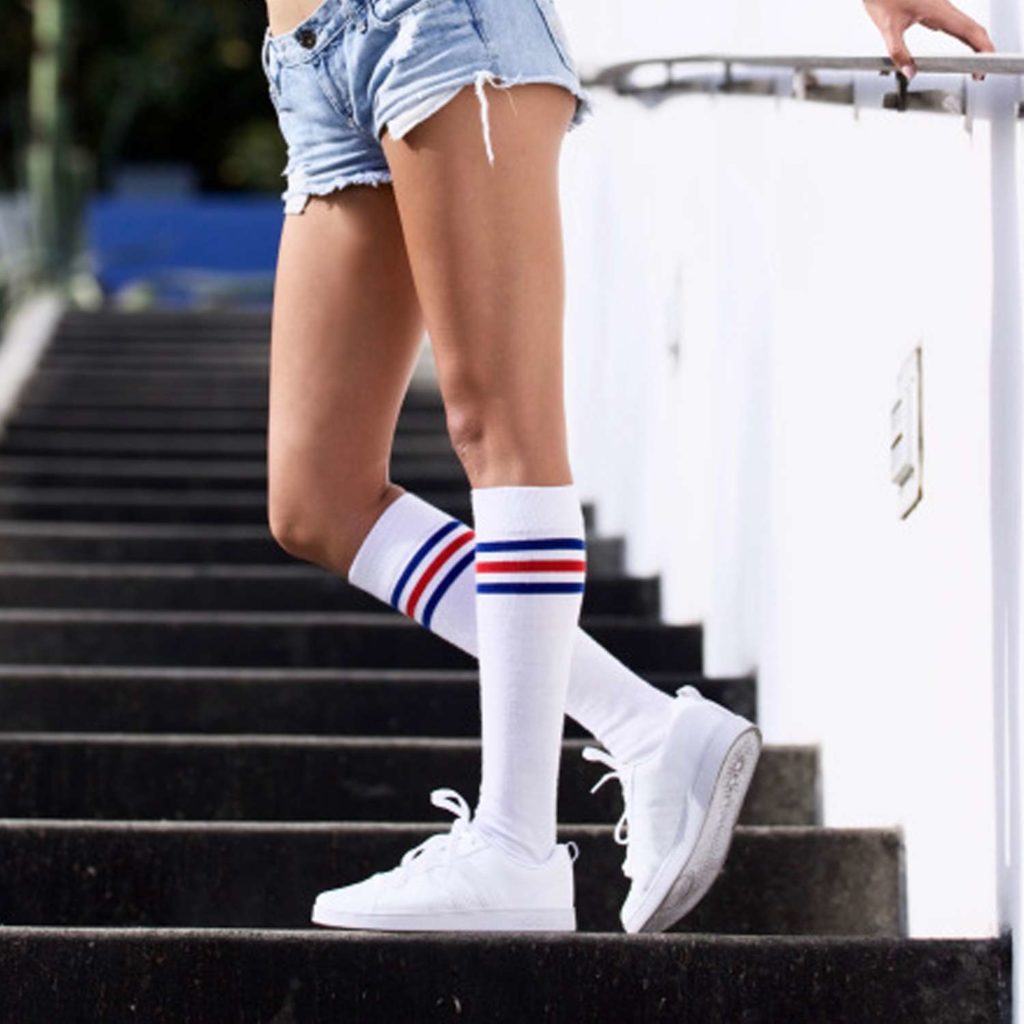 If comfort rules all for you, then wear knee high socks with sneakers. You can never go wrong with this laid back mash-up. A good way of approaching this with sneakers, if you're thinking of colorful socks: choose a one-tone or colored sneaker to keep your outfit from looking too busy. Fully white or black sneakers are nice neutral options, any colour, style, texture or pattern of knee high socks would go with them, provided your outfit is neutral.
If you're thinking the opposite, and are wondering what socks to wear with a pair of bright colored sneakers, wear more neutral long socks. If you're wondering how to wear shorts with knee high socks and sneakers, try athletic top stripes for a sporty look:
How to Wear Knee High Socks With Boots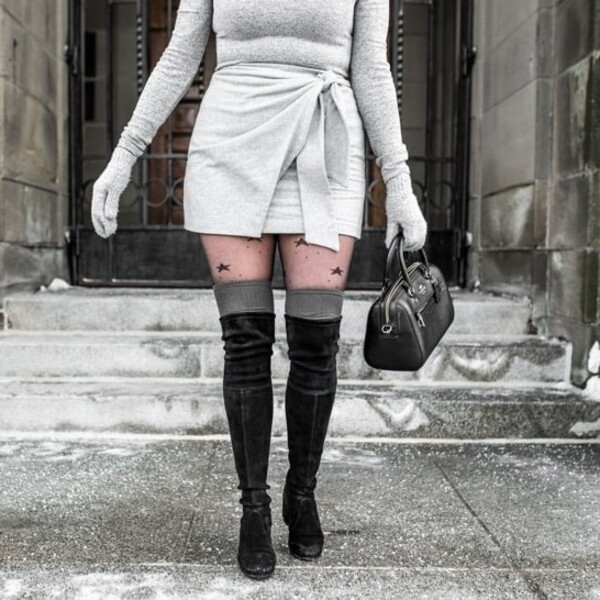 Short (Ankle, Chelsea, Chukka boot, etc.): In the cooler months, it's a good idea to wear long socks under pants. You won't see most of the socks, but they'll keep you warm, since shorter boots don't protect your legs from the elements. Check out this understated dandy look with the bold red socks. See what we mean by adding a splash of color to neutrals?
Mid to tall (mid-calf, knee high, riding boot, etc.): You can make your tall boots stand out by by pairing them with knee high socks. The trick is to have about an inch or two of the top of your sock to peek out from the top of the boots. This statement can be subtle, with neutral socks, or a pop of brightness with colored socks.
How to Wear Knee High Socks With Heels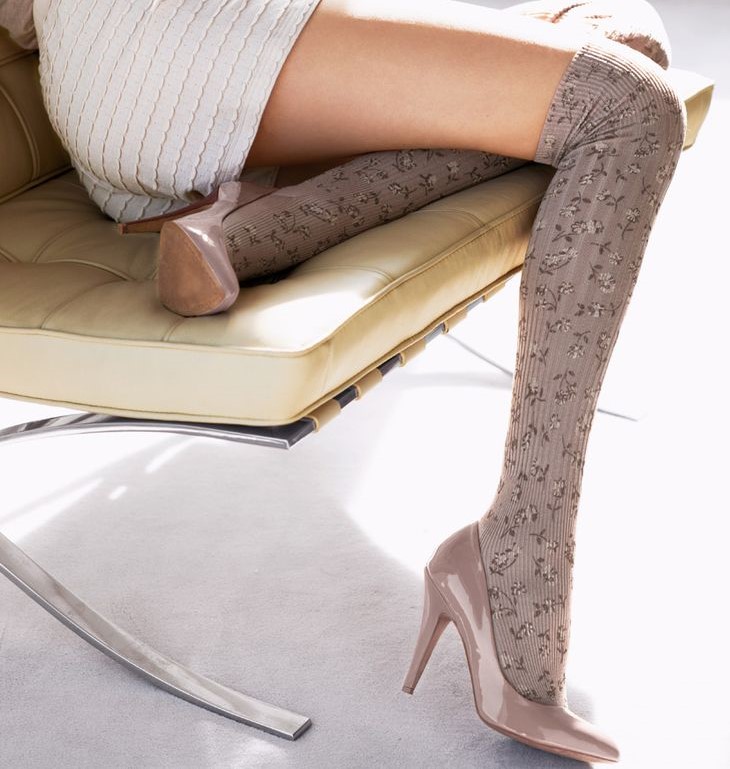 Ladies, grab a pair of heels with your long socks if you want a feminine and elegant option. If you want to make a statement, choose long colored socks to go with a neutral outfit and heels. A middle ground look would be black heels and darker colored long socks, like maroon or moss green. A classic duo is matching black heels and black knee high socks, and grey works just as well:
How to Wear Knee High Socks With Flat Shoes
Long socks look great with ballet flats, pointed toe, mules, and women's loafers when paired with a skirt or dress. They can either add warmth, variety, or a mix of both to an outfit. Men can pair knee high socks with oxfords, wingtips, monkstraps, brogues and moccasins. Contrary to what certain close-minded fashion gurus say, you can wear socks with footwear like loafers and boat shoes. For socks to work with any type of men's shoes, it's all about:
1) The kind of sock you choose
2) Complementing colors
We'll jump into types of socks after this, but first check out this long teal socks, neutral brown pants and penny loafers look: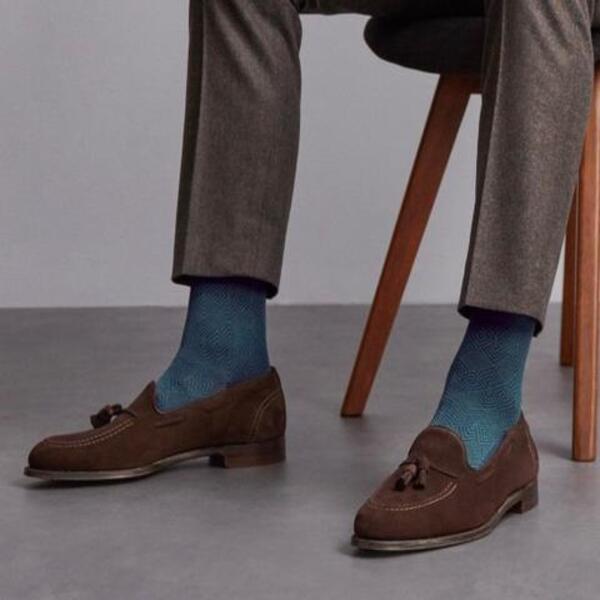 We've still got some ground to cover on how to wear knee high socks, so read on for more style insights.
How To Wear Knee High Socks For Men
Types of Socks With Casual vs Business Attire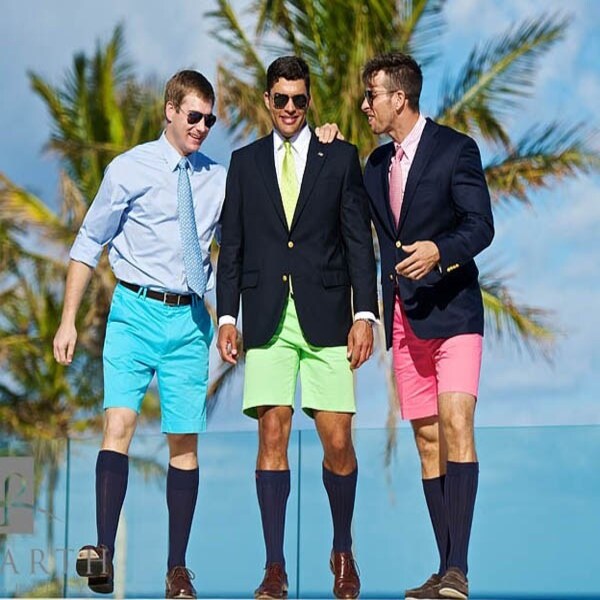 Some guys completely own knee high socks and are confident in how they style them, like Justin Bieber and Tyler the Creator. If you're a dude wondering how to wear knee high socks, we'll get into the types of socks you should be looking for, depending on occasion.
Casual shoes, shorts, and pants are compatible with casual socks (obviously). Many types of casual shoes can also be worn with dress socks, which can help turn a laid back look to business casual appropriate for the office. Wearing knee high socks with shorts is quite common in the warmer months. A simple t-shirt, long sleeve or dress shirt paired with bermuda, cargo, gym, board or denim shorts are solid choices with long socks.
Dress shoes and dress pants should always be worn with dress socks (hence their similar names). Knee high socks are the right length to wear under dress pants, as they create a clean, smooth line from foot to knee. Also, if your pants ride up when sitting down, your skin won't show. Wearing a dress sock below the calf puts yourself at risk for exposed skin, which is not appropriate in formal and business settings.
How to Wear Knee High Socks For Women
Pairing long socks with shorts, dresses, and skirts can be a great way to show some leg. A flattering technique is to match the color of sock to your shoes or boots, as color consistency creates a smooth look down the leg. Here's a neutral short boots and long socks look, courtesy of Megan Fox: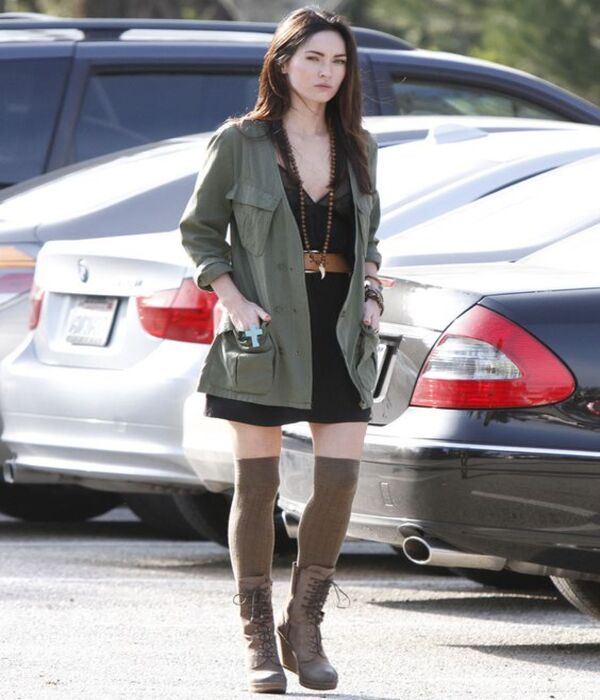 If you want to go with colorful long socks, make sure that your shoes are neutral, and/or the color matches with another shade in your outfit.
To the gals who never want to give up skirts and dresses in the fall and winter: you don't actually have to. In the fall, pair these with thick long socks. We recommend Merino wool, which is some of the warmest and coziest wool around. In the winter, double up with long socks over tights, and you'll still be able to pull off these feminine ensembles.
When Not to Wear Knee High Socks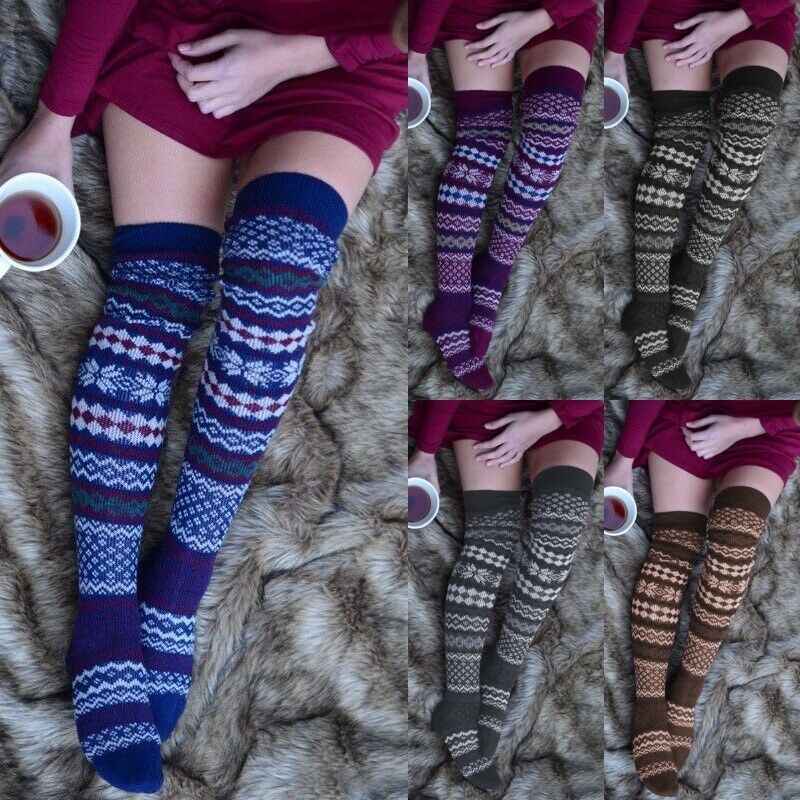 Guys are pretty much safe when it comes to wearing knee high socks. They're appropriate to wear during any occasion, barring very hot weather, when shorter socks would be a more comfortable choice. For women, part of knowing how to wear knee high socks is to recognize their limits. There are certain cases when wearing knee high socks with visible thigh (ie. with a dress or skirt) is inappropriate.
| | |
| --- | --- |
| Setting | Advice |
| In the workplace | Make sure you know the dress code of your place of work before choosing this type of outfit.You should play it particularly safe if you are heading into a job interview. |
| Formal events | It's best to play it safe with your outfit when attending these gatherings, so you don't call attention to yourself. |
| Somber occasions | Out of respect, do not wear this type of outfit at a funeral. Do not show up to court this way either, if you wanted to be taken seriously. |

Knee high socks first rose to prominence in the 60's and 70's, and their appeal is as strong as ever. They've stood the test of time and made it through countless trends. Whether you're channeling a boarding school prepster, keeping warm in the winter, or they're your preferred sock length with a suit, knee high socks are here to stay.
Get Access to Exclusive Deals
Subscribe for free to get exclusive deals in your inbox. 100% privacy