How to Wear Mom Jeans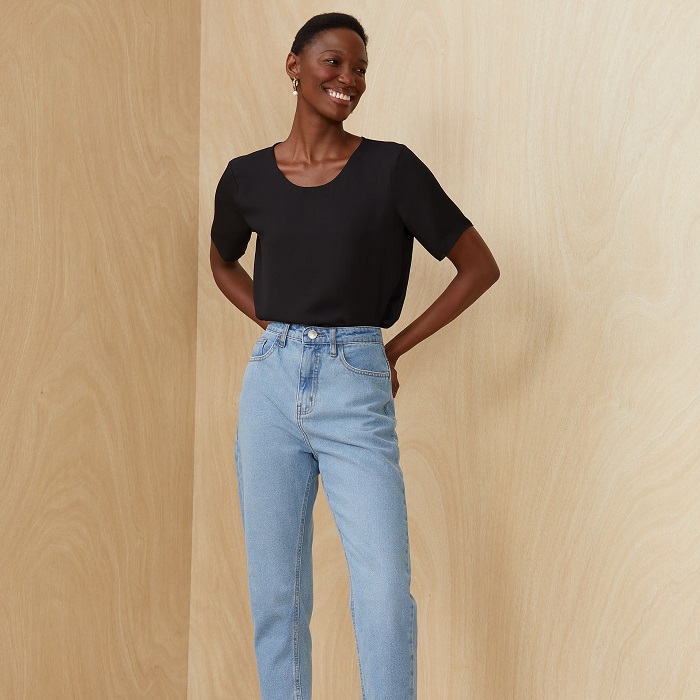 Like A&W, the family trope has entered the jean industry. We're not talking about subcategories of men's, women's, children's, or unisex here. Instead, we're referring to a cut of denim.
In the lineup, we have boyfriend jeans, dad jeans, and finally—mom jeans. So, what's the difference between these three designs? In short, it's all about fit and flare. Some versions are baggier than others, and it often denotes a type of aesthetic.
We're here to talk about mom jeans: a high-waisted pair of denim that's fitted on the top and loose at the bottom. Due to its silhouette, the 'mom' aesthetic is definitely on par with motherly culture.
Think of herb gardening, wine-dining with the gals, and taking care of the kids at home. In short, it screams maturity, something that a pair of skinnies can never offer.
For those who own a pair, you're probably wondering how to wear mom jeans. Well, you've clicked on the right article, as we'll share some styling tips and outfit ideas for trendsetters to consider. In the following segments, you'll hopefully learn:
What are mom jeans
How to style mom jeans
How to wear mom jeans plus size
Shoes to wear with mom jeans
Without further ado, let's get started!
What are Mom Jeans?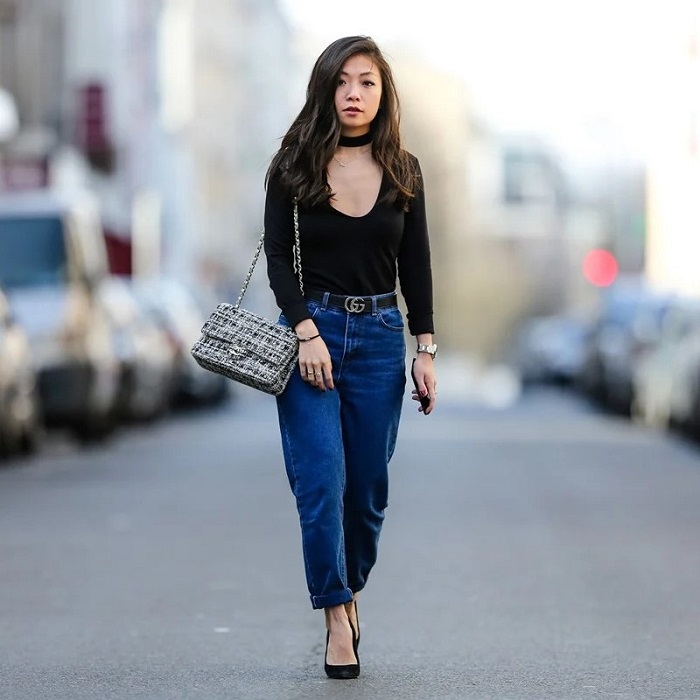 If you're an expert at 'jeanology,' you probably know that mom jeans are a specific cut of denim. They often come in a high-waisted fit and a zip-up enclosure.
Compared to a pair of skinnies, mom jeans feature a tailored fit on the waist and butt and a relaxed silhouette for legs. Don't mistake these with the iconic boyfriend jean, as this variety is known to be a lot baggier in shape.
History of Mom Jeans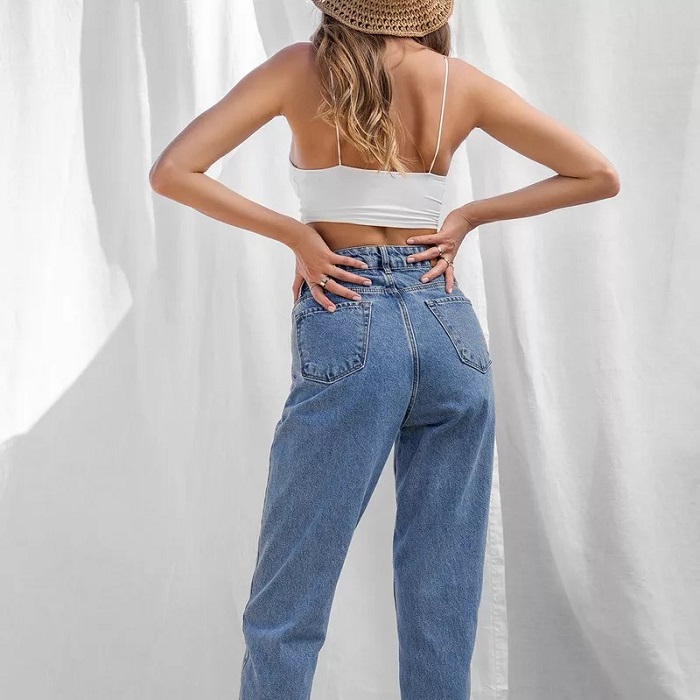 For the purposes of this 'outfits with mom jeans' article, we won't delve into the history of denim itself. The 'mom' cut has a spotted past, as historians like to point its debut date somewhere between the 1930s and 1970s.
Tailored wide-legged trousers have been fashioned for decades, as they were commonly adopted by celebrities, activists, and designers. Calvin Klein has seemingly influenced the influx of loose-yet slim-fitted jeans thanks to its 1976 runway show.
So, how did MJs become synonymous with moms? According to some fashion historians, they were simply worn by mothers in the 1970s. They were conservative but relaxed in silhouette—which was considered practical for working women at the time.
The 1980s and 90s saw the revival of mom jeans, as they became intrinsic to MTV and hip-hop culture. Along with its resurgence, SNL issued a skit poking fun at the modest cut of the jeans, quoting them as 'perfect for moms.' Today, MJs are considered cool, retro, and iconic to the VSCO girl scene.
When to Wear Mom Jeans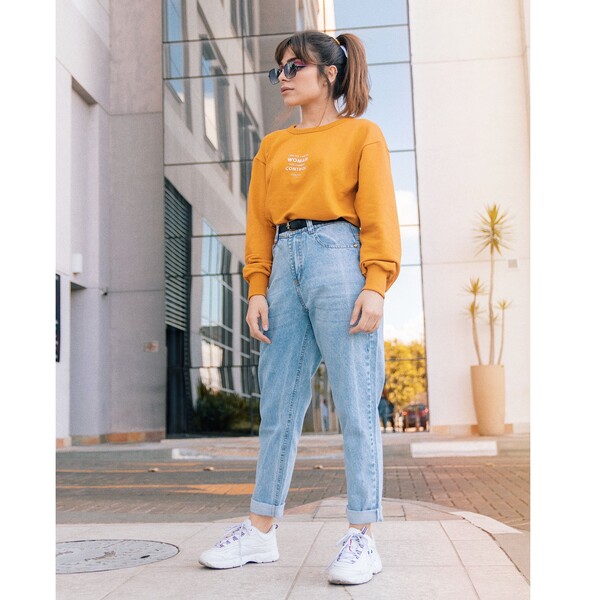 The best mom jeans are comfy, casual, and chic in design. You can wear them to brunches, hangout spots, and fast food dates. Obviously, they're not part of black-tie garb, as it's considered poor taste to don denim during a dinner party.
In some instances, you can probably get away with semi-formal events, such as birthday parties, neighborhood barbeques, or a baby shower. Of course, a fancy top and pair of shoes are a must in these types of situations—but we'll discuss this further in our 'how to wear mom jeans lineup.'
Mom jeans are commonly worn during the fall, winter, and spring. They're relatively breathable, but they can provide some insulation during those monthly chills. Summer is a no-go, given that a pair of full-length denim can often lead to perspiration. Trust me, sweats are not a stylish look.
How to Wear Mom Jeans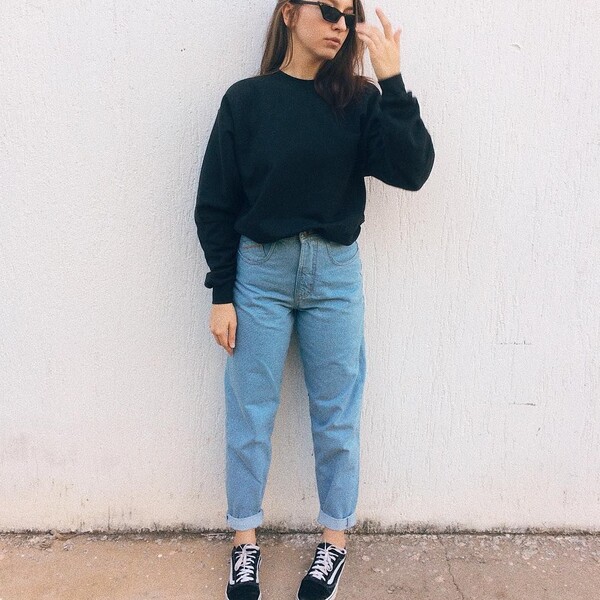 It's time to cop a pair of mom jeans. Not only are they stylish, but they're super versatile to wear. They pair with hundreds of outfits, making them a wardrobe basic that'll last forever in your closet.
Plus, the classic MJ has been adopted by dozens of core aesthetics—ranging from artcore, cottagecore, and retro fashion.
Are you wondering how to wear mom jeans with boots? Or, are you looking for aesthetic mom jeans outfit ideas? No worries; we'll address these two queries in the following segment.
11 Outfit Ideas with Mom Jeans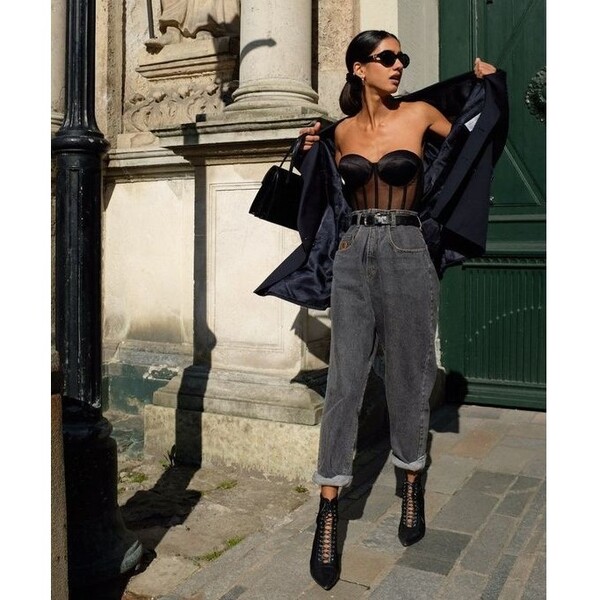 Starting off with a banger, this trendy mom jeans outfit idea features a pair of faded blacks, a sheer silk bustier, and an oversized blazer on top. It's considered a prime example of a monochrome ensemble, as this OOTD showcases varying hues of black.
Finished with a belt, corseted heels, and a cool pair of shades, it's definitely giving modern femme fatale vibes that Instabaddies will love. We recommend finishing off the look with a matching Prada handbag.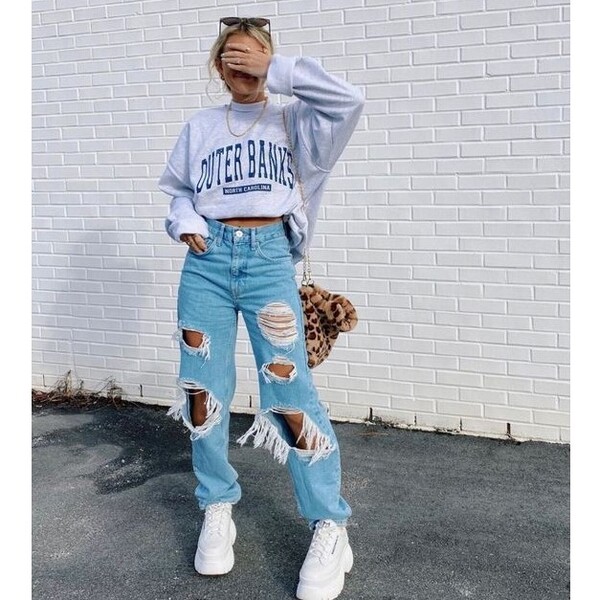 Mom jeans are known to be conservative in fit. But, I'm sure some trendsetters are willing to show a bit more skin. Considered the love child of MJs and distressed denim, this rugged pair of pants is our modern-day equivalent.
It's styled with a cropped, oversized sweatshirt with a collegiate print on the front. The addition of sunnies and a pair of chunky white kicks will do wonders in accentuating that 'coffee' girl vibe to your look.
Obviously, the only thing missing from this look is an iced white chocolate mocha from Starbucks.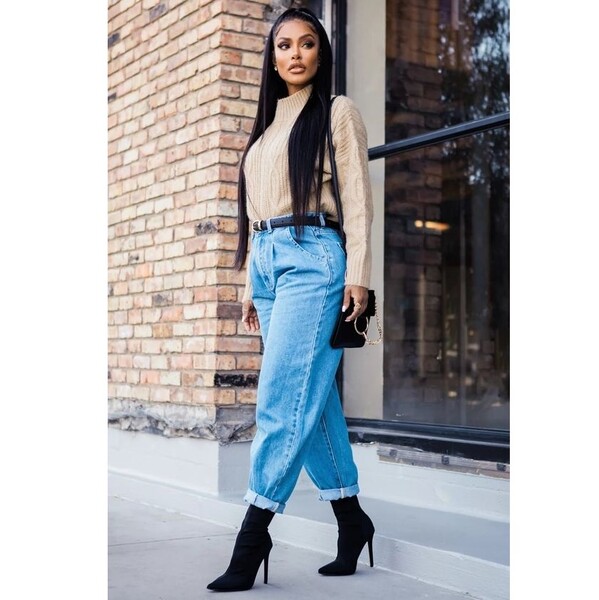 I get it; not all of us are keen on the soccer mom aesthetic. Aside from Karens, whoever said that mothers can't be cool? If you want to sport that 'jet-setting matriarch' look, we recommend this stunning outfit.
Composed of light wash MJs, a cream turtleneck, and stiletto booties, this is the ideal ensemble to opt for Insta Baddie mamas. To complement the look, we recommend wearing gold-toned jewelry and a Chanel handbag. This, ladies and gentlemen, is how to wear mom jeans with boots.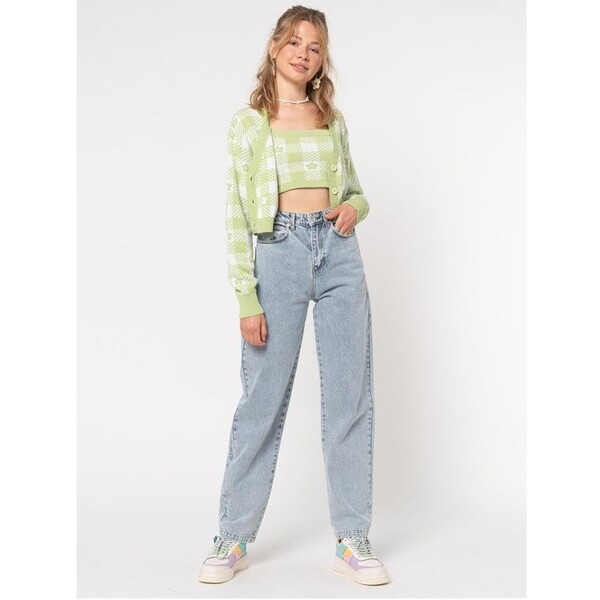 When I think of mom jeans, I think of floral bucket hats, herb gardening, and pastel watercolor. There's a direct term for this, and it's called artcore. Synonymous with vintage fashion, flowers, and bright hues, it's the perfect look to don if you're feeling creative.
For instance, this 'how to wear mom jeans' contender features a pair of light wash denim and a matching crop cardigan set. Composed of faded sage green flannel with accent peonies, it's 100% adorbs. Don't forget to finish off the ensemble with some white sneaks.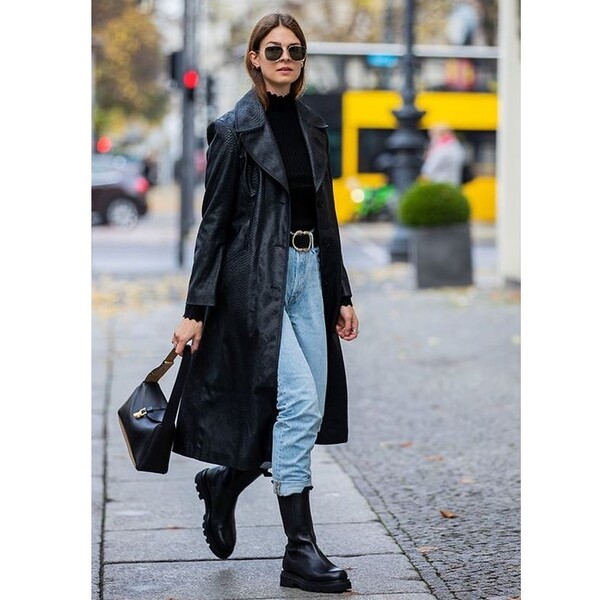 This 'how to wear mom jeans' look is giving me less 1990s Dwayne the Rock Johnson and more modern-day Matrix. Composed of a long leather jacket, light wash denim, a black turtleneck, and matching boots, it's a recommended OOTD for those in the mood for chaos.
It's definitely intimidating in silhouette, thanks to the coat and chunky nature of the shoes. In terms of accessories, why not play around with a pair of sunnies and a clutch bag?
For those wondering how to wear black mom jeans, there's nothing wrong with adding a pop of color. This stylish OOTD features a pair of faded denim paired with a dusty pink long sleeve and black boots.
Accentuated with a brown clutch bag, we highly recommend donning this look for brunch dates or grabbing coffee. Accessories are where you can have fun, as the ensemble is in dire need of a pink hair bow and matching lipstick.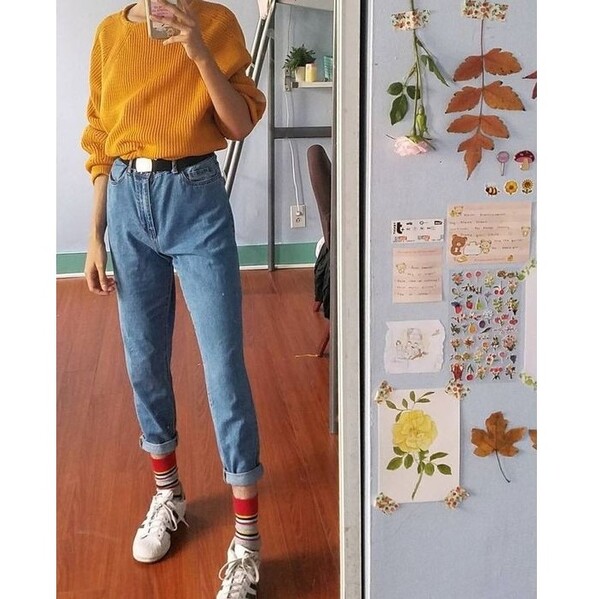 Not a fan of super long denim? If so, you always have the option to cuff them up. For example, this retro-inspired outfit features a cropped pair of light wash mom jeans styled with a mustard yellow sweater.
The multi-color socks are a must, as it helps imbue that cute, quirky vibe you're after. Plus, they keep your ankles warm. Accessorized with white tennis shoes and a black belt, this is how to wear mom jeans for those who love vintage fashion.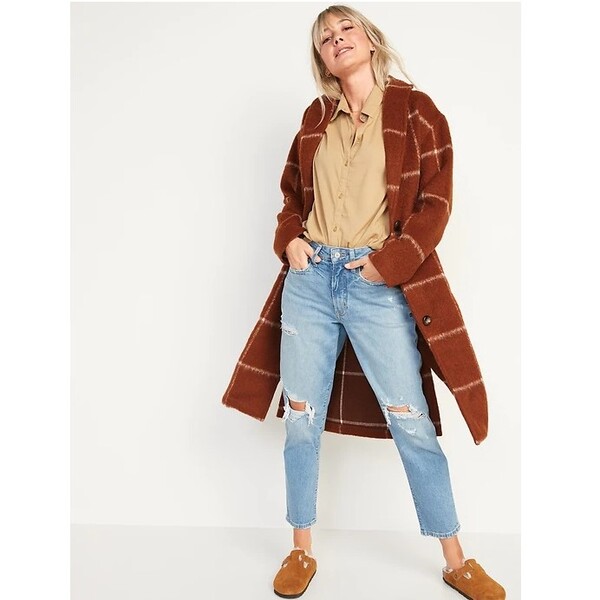 Can't figure out how to wear ripped mom jeans? The best way to style distressed denim is to opt for the 'I can't be bothered' look.
Ideal for homebodies, couch potatoes, lazy weekenders, this laidback outfit comprises a beige collared shirt, a brick-red oversized flannel, and a pair of fuzzy slippers.
I'll admit it, this ensemble requires more effort than your regular set of sweats, but it's something to consider if you're expecting guests. For those who need to run errands, we suggest finishing the look off with a matching beanie.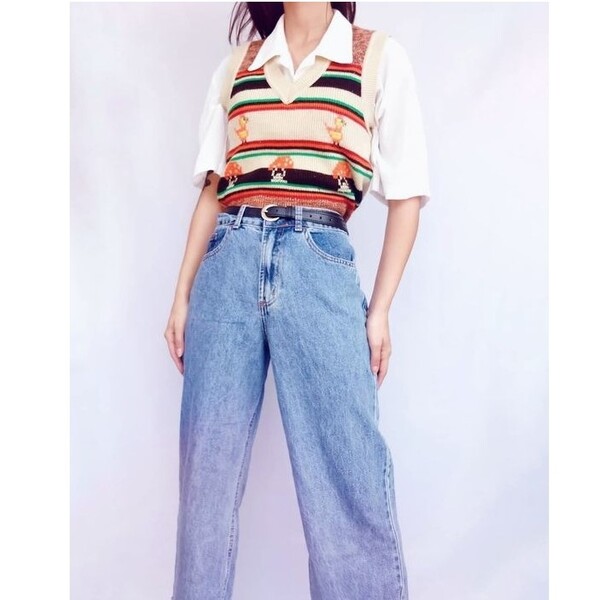 Mom jeans are intrinsic to the '60s, '70s, and '90s. Of course, it's only natural to cop the same retro aesthetic found in these three decades. If you want to go full vintage cheese, we suggest a multi-color sweater vest paired with a collared white button-up.
The bright colors of the top marry well with the light wash denim. For shoes, I'm sure a pair of Converses will keep this OOTD vibrant and youthful. Don't forget to top this 'how to wear mom jeans' look with a scrunchie and a funky pair of glasses.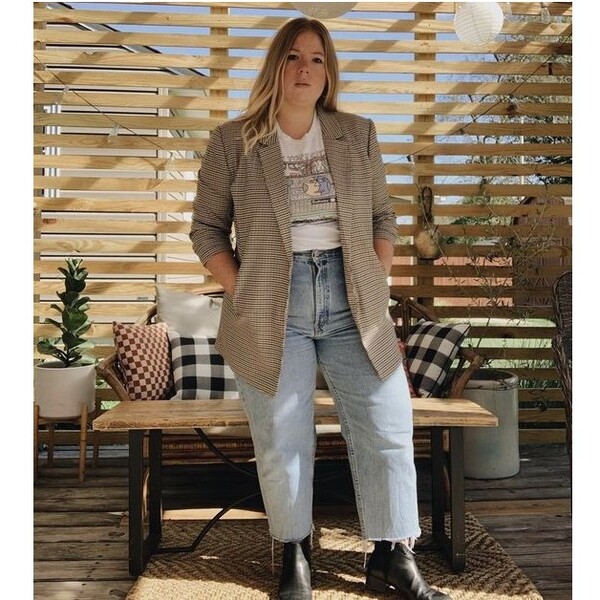 The best way to dress down a blazer is to wear a pair of mom jeans and a graphic tee. For instance, this stylish outfit features a well-fitted plaid coat, light wash denim, and a retro-themed shirt for added pizazz.
Obviously, this look wouldn't fly in corporate settings, but it's partially friendly for magazine editors and writers. Instead of sneakers, we suggest a pair of low-heeled black booties.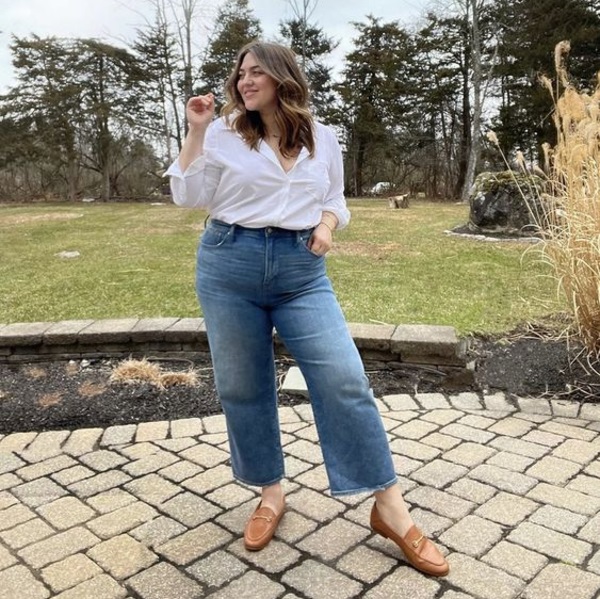 You can never go wrong with a loose white button-up. Comfy, casual, and considered a prime example of basic styling, this OOTD keeps things light and fresh for summer days. It's paired with medium-wash mom jeans and a set of brown loafers.
This look is designed to be highly versatile, as it's great for museum dates, picnics, and scenic park walks. We recommend keeping the accessories minimalistic, such as a dainty necklace or a simple pair of diamond studs.
What Type of Mom Jeans Can You get?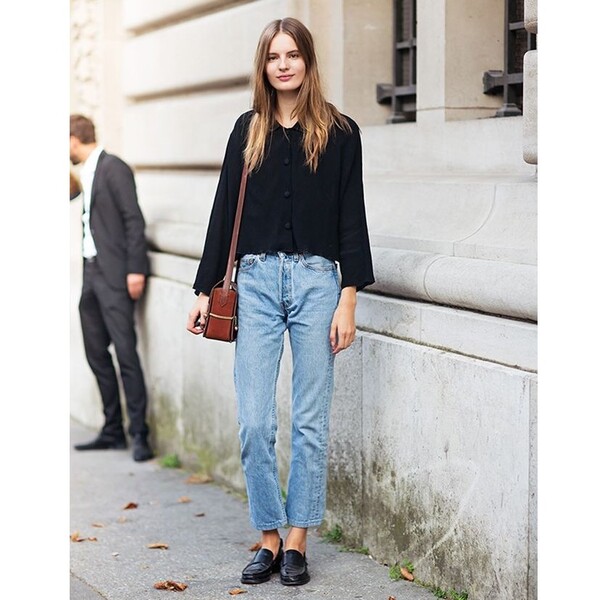 In order to answer the 'how to wear mom jeans' question, you need to be familiar with the varieties offered. MJs come in a basic silhouette: high-waisted, tailored on the upper half, and loose in the bottom half.
Designs start to deviate in cut, color, and print. To help our readers understand the vast nature of mom 'jeanology,' we'll describe a few types down below:
Distressed: some mom jeans come with ripped holes and loose threads. Don't worry; Most designs are still conservative in nature.
Light to medium wash: blue is the OG choice for many trendsetters. Once you've settled on a cut, it's time to consider how light or dark you prefer your jeans to be.
Black: Lightwash mom jeans are still considered a popular choice. But, for those who wish to deviate from the crowd, black is the way forward.
Cropped: do your jeans hang low? Do they wobble to and fro? If so, perhaps it's best to opt for cropped MJs instead. Of course, you can also choose to cuff your jeans instead.
Painted designs: I get it; some mom jeans are just too mundane in style. If you're looking to spice things up, why not paint something unique on your pair of bottoms?
How to Choose The Best Mom Jeans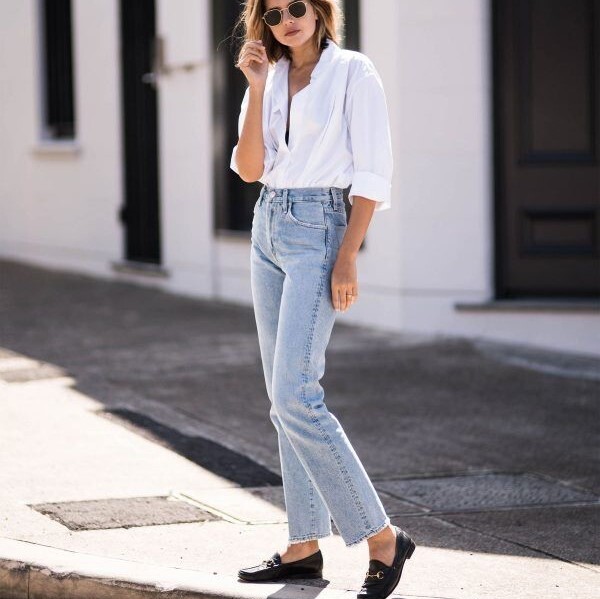 Fast fashion has a way of mass-producing jeans. Yes, it's a super cheap and convenient way to cop a pair of denim—but opting for a $20 set can often lead to loose threads and the inevitable butt rip.
By no means are we saying that designer jeans are the best option, as some luxury brands fail to meet the quality test. With that in mind, how exactly do you choose the best mom jeans? We're so glad you asked.
Whether it's mom, boyfriend, or dad cut, a good pair of jeans should offer a 30/70 blend of durability and stretch. You should aim for a mix of organic cotton and elastane.
Stiff denim, such as those made with 100% non-flexible materials, is considered a no-no in the long run. Trust me, you'll have a hard time sitting and bending half of the time.
On the other hand, super stretchy bottoms are also ill-advised, as they don't provide much structure when worn.
A well-made pair of mom jeans shouldn't skimp on traditional features. This includes pockets and belt loops.
Regarding price, you shouldn't have to pay more than $200 on a set of MJs. But hey, if the design checks all 3 boxes in terms of quality, material, and fit, you're probably looking at your forever pair.
How to Style Mom Jeans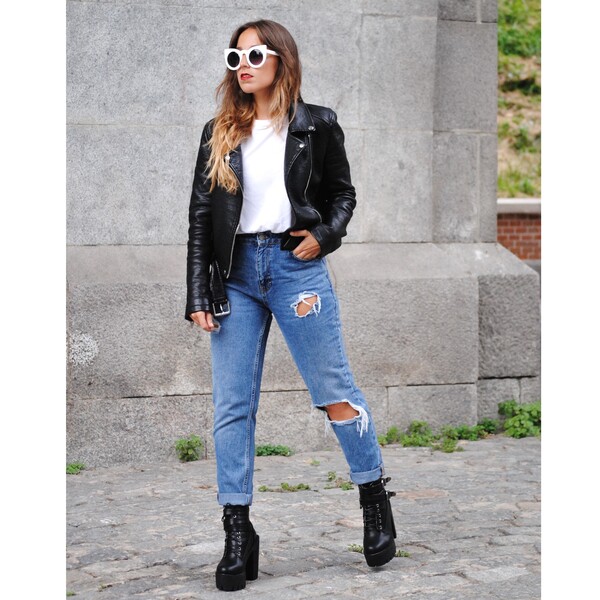 From the 11 outfits that we've featured, we feel confident that you know how to wear mom jeans. By now, you're probably familiar with some common styling themes. MJs are a super versatile garment to have, and it's easy to see why they're a closet staple.
Still unsure of how to style mom jeans? Don't worry; we'll let you in on the deets.
Crop tops: Since mom jeans come in a high-waisted fit, it's only natural to pair them with crop tops. This includes blouses, shirts, cardigans, and tank tops.
Cuffing the bottom hem: If your coveted pair is too long for your liking, cuffing them is the best way to ensure a proper fit.
The belt: Nothing 'ties' an outfit together than a standard belt. For those who want to add a more elegant spin, why not add a Gucci strap to the mix?
Cool socks: bare ankles were so yesterday. If you want to jazz up your look, the easiest way to do that is to wear some multicolored socks.
Fashion Tips to Avoid With Mom Jeans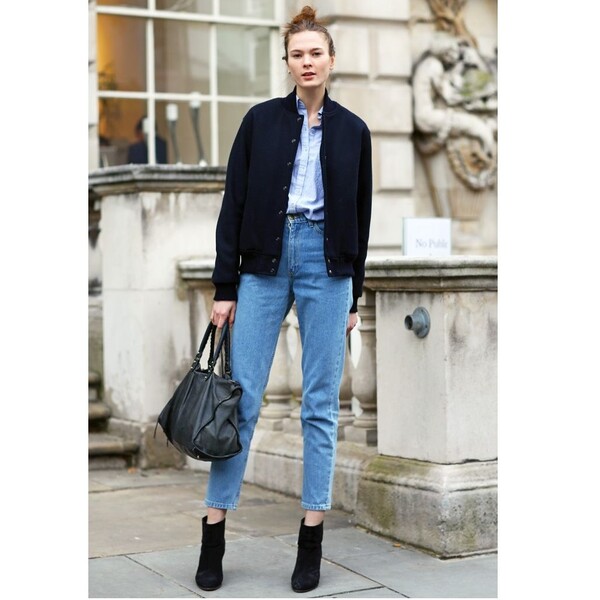 In terms of styling sins, there are lots of them associated with jeans. While I'm sure that some veteran trendsetters are well familiar with fashion faux pas, we're here to look out for the little guy. For those who figured out how to wear mom jeans, here are a few tips to avoid:
Super distressed denim: If your coveted pair is 90% loose threads and 10% pants, it's time to say buh-bye. Not only do they look tacky, but they're super inconvenient to wear and wash.
Patchwork jeans: unless you're a diehard fan of patchwork, it's probably best to avoid microtrends. Trust me, this fad will go out of style in the months to come.
The asymmetrical zipper or button: They definitely scream DIY vibes, and not in a good way. Plus, they warrant unwanted attention to your nether-regions
Chains, sequins, and excessive embellishments: While Y2K fashion is in full force, I beg of you to let go of bedazzled jeans. It's tacky, loud, and tends to blend poorly with other outfits.
How To Take Care Of Mom Jeans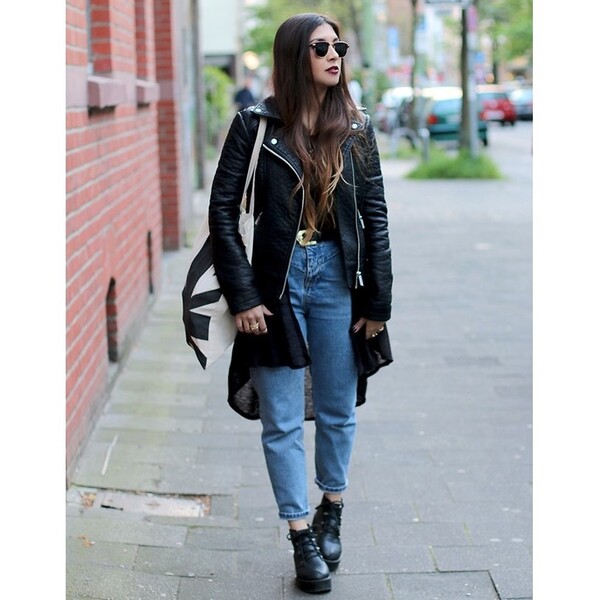 It doesn't matter if you own a $50 or a $180 pair. Jeans require some serious care and maintenance. Fortunately, most designs don't require hand washing or dry cleaning—but that doesn't mean you can mindlessly throw them in the laundry.
If you intend on keeping your MJs, here are some ways to take care of mom jeans at home.
Limit your washing cycle: Denim shouldn't be thrown in your weekly laundry cycle. This helps to maintain its structure and durability.
Wash in cold water with mild detergent: hot water is usually the common source of color bleeding. You should stay away from harsh cleaning substances such as bleach.
Air dry: for the love of God, do not throw your MJs in the dryer machine. To prevent shrinking, you should always line dry jeans.
Throw them in the freezer: I know, it's an odd hack—but I tend to believe whatever Tan France advises. Sticking your jeans in the freezer can help kill bacteria while removing any foul odors.
Best Places to Buy Mom Jeans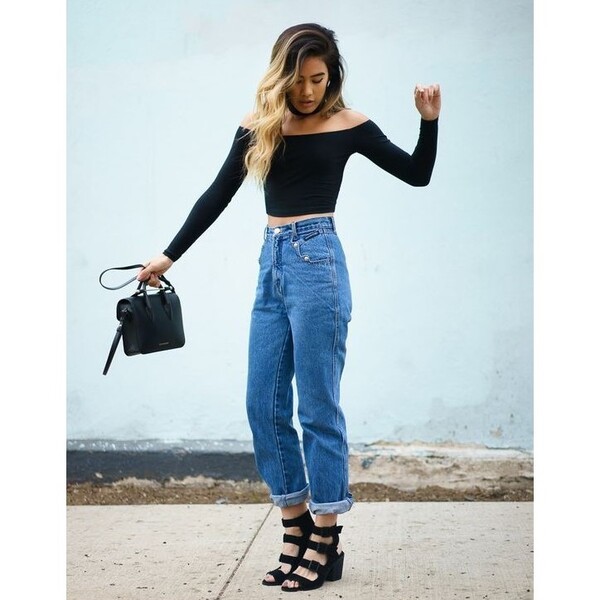 So, you finally figured out how to wear mom jeans. Now, only one question remains: where can you buy them? For those in need of recommendations, here are some reputable places to shop at:
Reformation
Levis
Agolde
Wrangler
Everlane
Nordstrom
Final Thoughts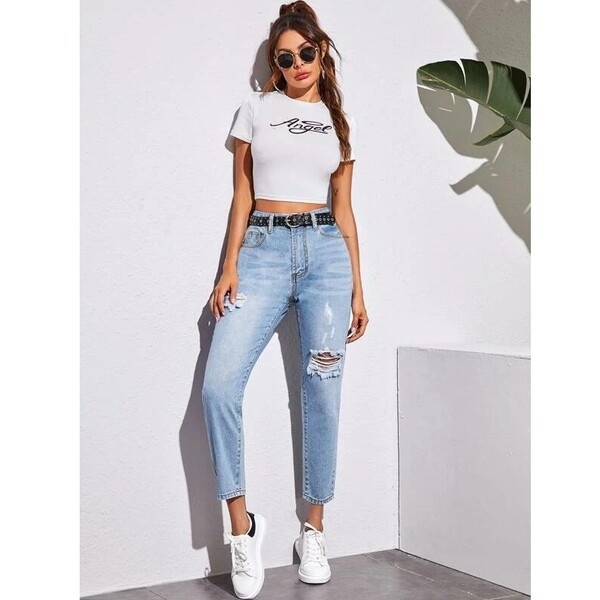 Mom jeans require no styling know-how. They're versatile, practical, and fashionable when paired with several outfits. You don't need to be a fashion wizard to create a cohesive fit.
If anything, you need a decent level of inspiration, creativity, and confidence. Hopefully, through our top 11 list, you know what to wear with mom jeans.
From cardigan crop tops to classic white-button ups, the number of outfit ideas out there is literally limitless. By now, you've hopefully learned that mom jeans aren't just passing fad; it's a wardrobe must-have.
---
Got any more fashion questions on your mind? Check out some of our other articles:
Get Access to Exclusive Deals
Subscribe for free to get exclusive deals in your inbox. 100% privacy