25 Best Louis Vuitton Clutches
Finding The Best Louis Vuitton Clutches
To 'clutch' is to hold dearly. Encased in the embrace of your hands, the object itself must offer a sense of importance. The classic Louis Vuitton carry-on is no exception, as it exudes a sense of class, sophistication, and elegance.
Signed with the iconic LV scribble, it's the type of designer bag that says, "Make way for this VIP. They are known to dabble in luxury goods."
Intimidating? Obviously, but it's the kind of awe that garners respect.
Created to be versatile, the Louis Vuitton clutch can easily be transformed into a hands-free crossbody bag.
Trendsetters can choose from a wide selection of in-season designs, ranging from the Twist PM to the Easy Pouch on Strap. Dyed in decadent colors, these luxe purses are suitable for any fashionista.
it's a candy-clad assortment of purses that look to cater to your sweet tooth.
Ideal for brunches, business meetings, and bar hopping, we've gathered some of the best Louis Vuitton clutches for trendsetters to consider. We'll also provide some buyer's insight to help justify that $1,000 markup.
The 25 Best Louis Vuitton Clutches
It's no secret that Louis Vuitton only uses the best textiles. They don't just stick to flat-textured materials, as this brand creates its own blend of fabrics.
Typically stamped with the traditional LV motif, the fashion house utilizes two types of swatches: canvas and leather.
Both varieties include their own division of subcategories. For instance, in terms of leathers, we have monogram Empreinte, epi, Machina, and new wave.
In terms of canvas, we have damier azur, monogram reverse, and damier ebene. For the lining of their bags, Louis Vuitton uses a common blend of cotton, polyester, and microfiber cloth.
Often decorated with polished emblems and the monogram pattern, it's important to consider your current aesthetic before choosing a purse.
Louis Vuitton clutches come in a variety of cuts and colors, so you should settle on a bag that blends well with your existing wardrobe.
#1: Louis Vuitton 2003 pre-owned Pochette Accessoires Cherry Blossom clutch - Pink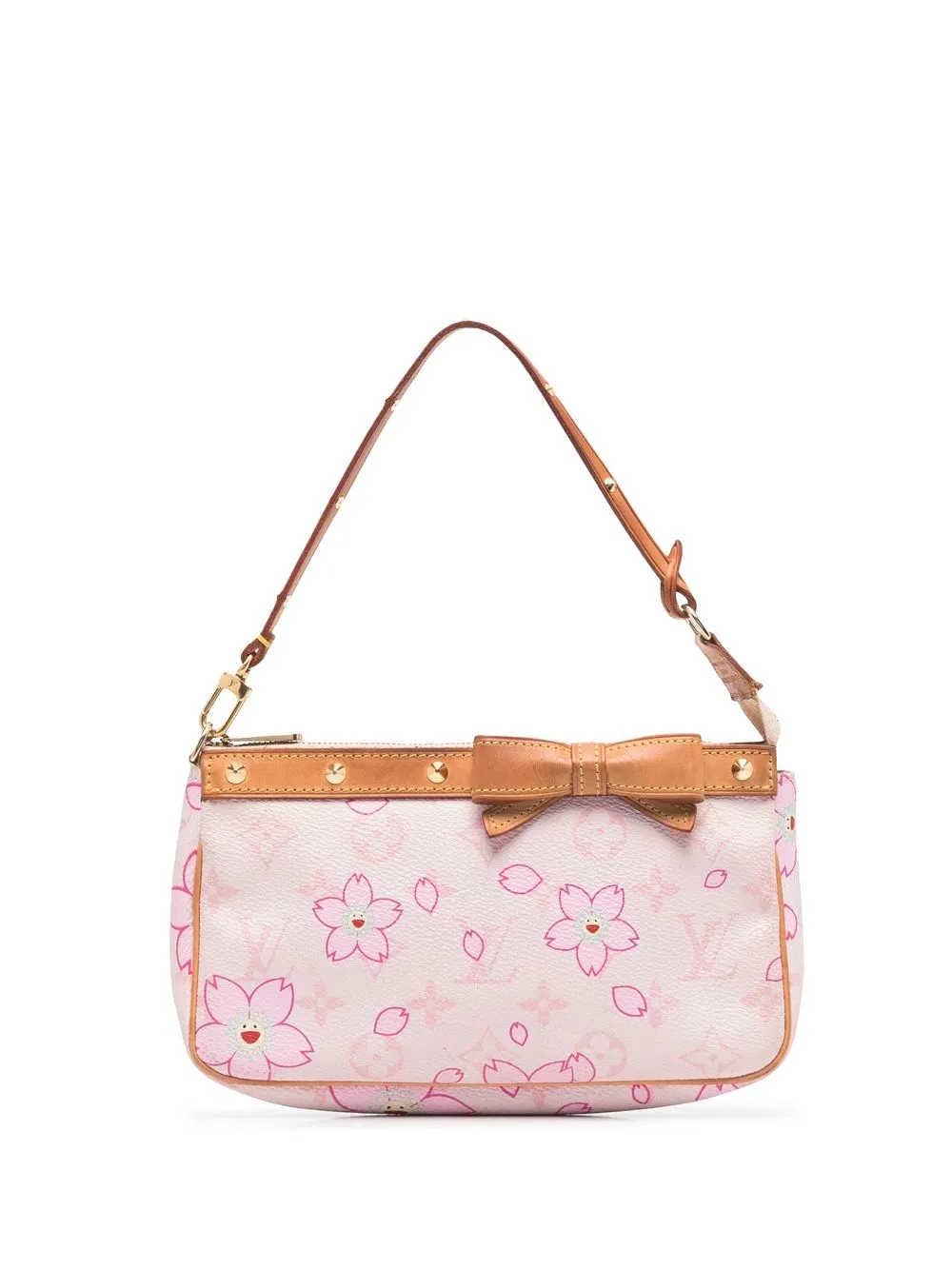 ---
#2: Louis Vuitton 2010 pre-owned Zoe clutch bag - Pink
---
#3: Louis Vuitton 2001 pre-owned Pochette Accessoires clutch bag - Yellow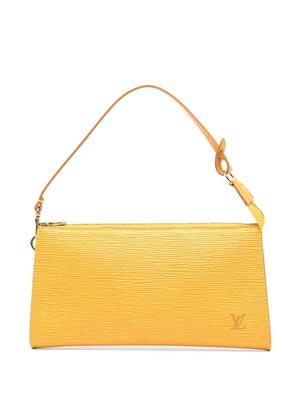 ---
#4: Louis Vuitton 2014 pre-owned Pochette Milla MM clutch bag - Brown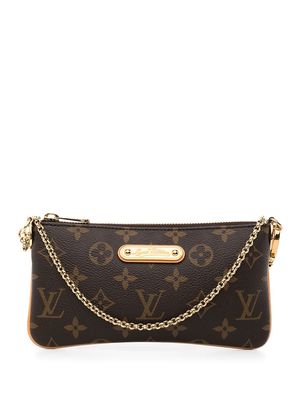 ---
#5: Louis Vuitton 2021 pre-owned Trotter Saddle Felicie clutch - Brown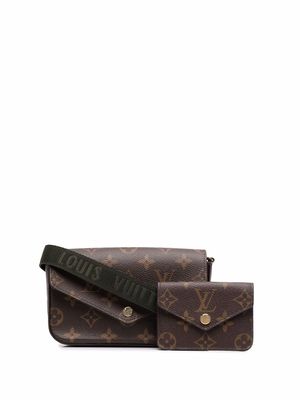 ---
#6: Louis Vuitton Felicie monogram clutch - Black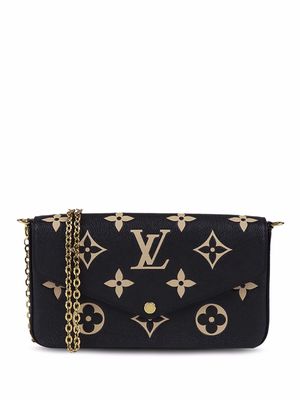 ---
#7: Louis Vuitton 2020 pre-owned mini Pochette Accessoires clutch - Brown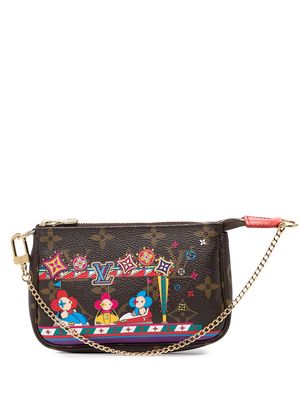 ---
#8: Louis Vuitton 2004 pre-owned Saint Louis clutch bag - Brown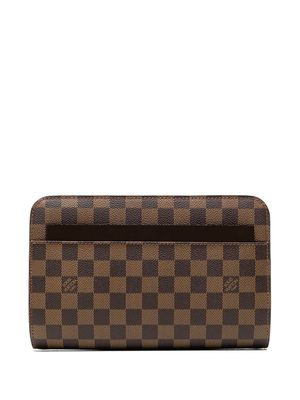 ---
#9: Louis Vuitton 2011 pre-owned Sobe clutch bag - Green
---
#10: Louis Vuitton x Takashi Murakami 2003 pre-owned Pochette Accessoires clutch - Brown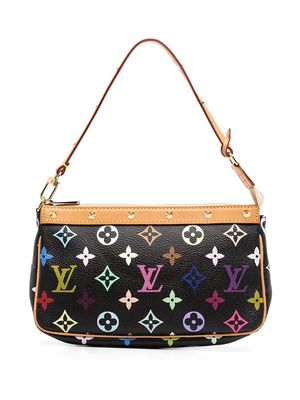 ---
#11: Louis Vuitton 1991 pre-owned monogram Damme GM clutch - Brown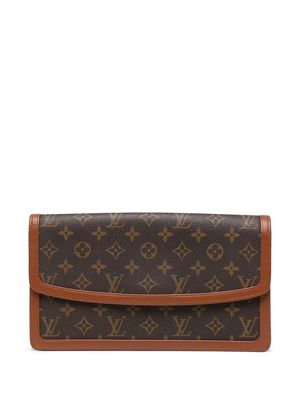 ---
#12: Louis Vuitton 2010 pre-owned monogram Orsay clutch - Brown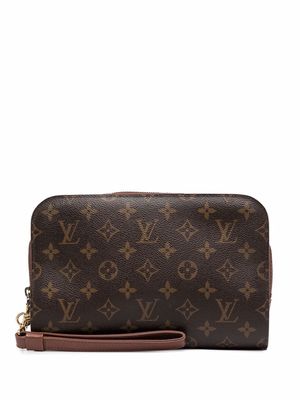 ---
#13: Louis Vuitton pre-owned Eva clutch bag - Brown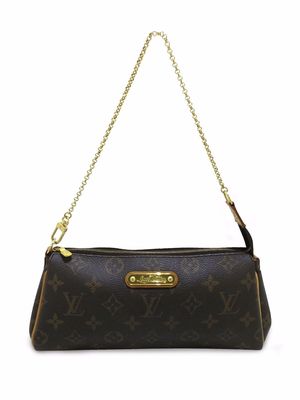 ---
#14: Louis Vuitton 2001 pre-owned Pochette Accessoires clutch - Black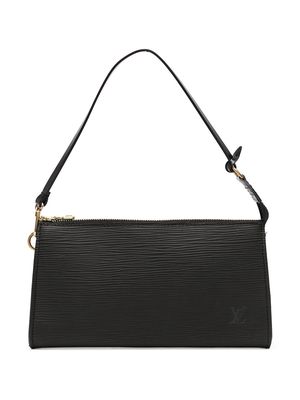 ---
#15: Louis Vuitton pre-owned mini trunk clutch - Black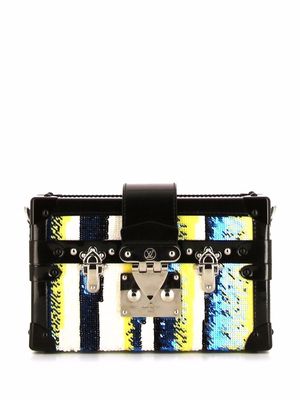 ---
#16: Louis Vuitton 2020 pre-owned mini Pochette Accessoires clutch - Neutrals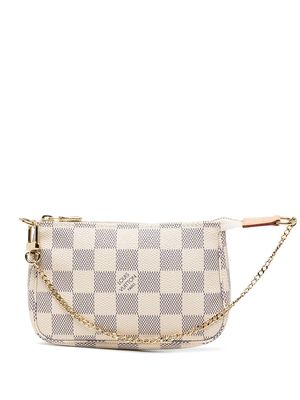 ---
#17: Louis Vuitton 2013 pre-owned Ana clutch bag - Red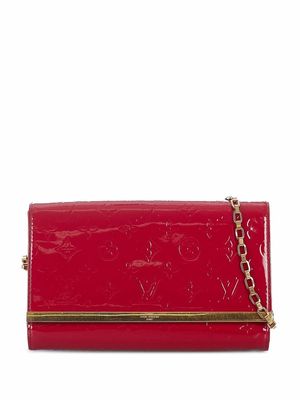 ---
#18: Louis Vuitton pre-owned Pochette Jour GM clutch - Black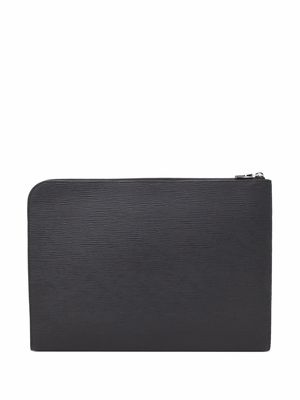 ---
#19: Louis Vuitton 1991 pre-owned Monogram clutch bag - Brown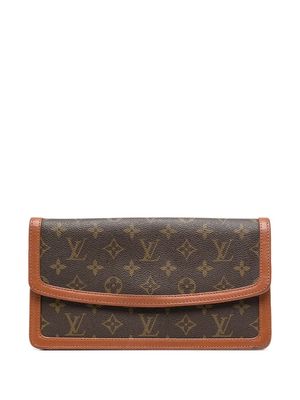 ---
#20: Louis Vuitton 2009 pre-owned Etoile clutch bag - Brown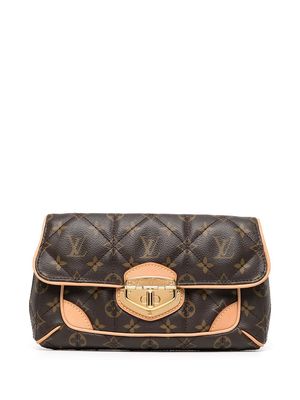 ---
#21: Louis Vuitton 2018 pre-owned Petite Malle clutch bag - Gold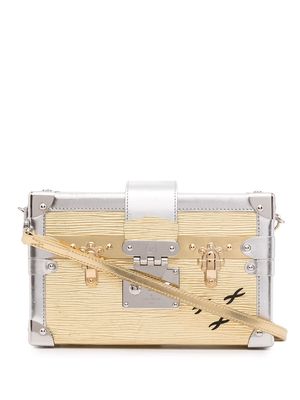 ---
#22: Louis Vuitton 2002 pre-owned Partition clutch bag - Brown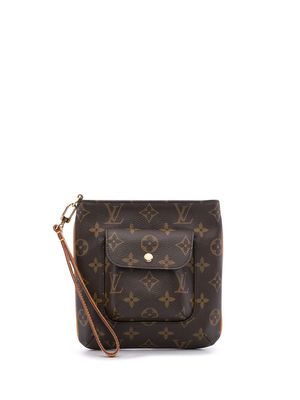 ---
#23: Louis Vuitton 2008 Monogram-print clutch bag - Black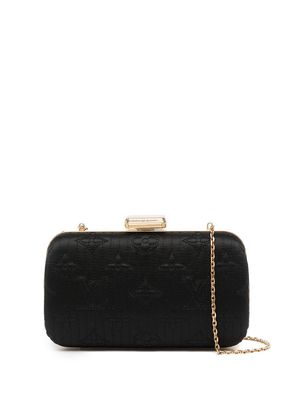 ---
#24: Louis Vuitton 2017 pre-owned x Supreme logo-print clutch bag - Red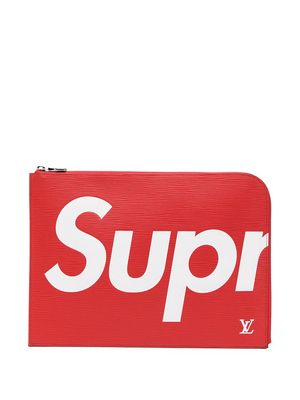 ---
#25: Louis Vuitton 2009 pre-owned Pochette Milla MM clutch bag - Multicolour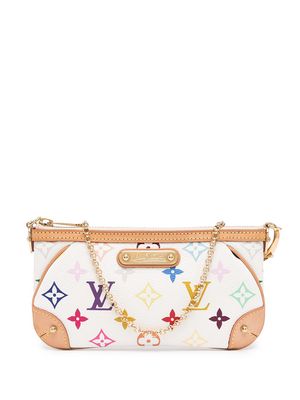 ---
What Are The Most Popular Louis Vuitton Clutches?
If you're going to spend $2,000+ on a Louis Vuitton clutch, you might as well opt for the most popular designs on the website.
From initial observation, it appears that the Coussin PM, the Twist, the Pochette, and the Dauphine are the most critically acclaimed clutches.
All four bags feature the iconic LV motif, which is great for trendsetters who are looking to openly flex. It's worth noting that these carry-ons come in an array of different colors, including pink, black, and brown.
Which Louis Vuitton Bags Are A Good Investment?
I think it's safe to say that all Louis Vuitton bags are a good investment. The brand itself is known to hold a significant consignment value.
But, if you're after the crème-de-la-crème of sought-after designs, we'd say that the bags we've previously mentioned are the most popular.
It's worth noting that this only applies to clutches, as other experts claim that other valuable collectibles on Louis Vuitton's website are the most sought-after items.
If you're well familiar with this company, then you'll know that this includes the Neverfull tote, the Speedy Bandoulière, and the Alma bag.
How Can You Tell If A Louis Vuitton Clutch Is Real?
Chancing upon a pre-owned luxury bag is not a rarity. Facebook marketplace, Depop, and eBay are full of used designer goods. But this begs the question—are any of them real?
There's a good chance that you'll encounter a dupe along the way, making it hard to authenticate a bonafide Louis Vuitton product.
Don't have 10 years of experience in authenticating designer bags? If so, no worries. We'll share some tips and tricks for trendsetters to follow.
Examine any flaws: Counterfeit bags will usually feature printing errors, uneven stitching, and overall poor construction.
Check for identification labels: Louis Vuitton's clutches have a date code sewn into the lining of the bag. It's also a good sign if the purse in question is concealed in its original packaging.
Consider where you bought it: As previously mentioned, Depop and eBay aren't the most credible places to buy pre-owned designer goods. Instead, we suggest supporting consignment shops such as the Vestiaire Collective.
Does Louis Vuitton Increase In Value?
If you're wary about spending $1,000+ on a Louis Vuitton bag, then you'll be happy to know that it's worth a significant amount if you're looking to resell it. For example, the Neverfull tote holds a consignment value of over 85%.
It's worth noting that the total amount heavily depends on the design in question and its current condition.
So we highly recommend taking good care of your LV clutch—your future self will thank you later.
How To Style Louis Vuitton Clutches
There are two ways to style designer bags. You've got the head-to-toe hypebeast approach and the minimalist flex. If you're looking to exercise both aesthetics, we'll provide a few outfit examples for you to mirror.
Sweet in silhouette, this summer-inspired fit blends together the sophistication of Louis Vuitton and the romance of ribbon corset tops. Instead of opting for a traditional skirt, we recommend wearing a pair of tailored trousers for a bit of edge.
Print on print is a difficult look to pull off. That being said, there's a general rule to follow: opt for warm tones or cold shades with no in-between.
This outfit is considered an excellent example since the blush accents on the dress pair well with the earthy hues of the Louis Vuitton bag. All of the shades in her ensemble are considered warm, giving her fit a cohesive look.
Cardi B isn't known to dabble in minimalist fashion. Case in point, this loud-and-proud outfit features a Louis Vuitton dress, a matching beret, and a cute carry-on bag.
Accentuated with strappy heels, it's the kind of look that screams, "Oh, this? It's just my Wednesday outfit—nothing special."
---
Looking to stay up to date on all things Louis Vuitton? We've got you covered:
The Best Louis Vuitton Crossbody
The Best Louis Vuitton Perfume
The Best Louis Vuitton Suitcases
Get Access to Exclusive Deals
Subscribe for free to get exclusive deals in your inbox. 100% privacy