8 Best Louis Vuitton Jackets
Finding The Best Louis Vuitton Jackets
Not only does a jacket give you some extra warmth, but it also enhances your outfit. A Louis Vuitton jacket will be a luxurious statement piece. You'll catch everyone's attention when you're walking the streets wearing it too.
The designer brand has options for men and women that suit many people's tastes and fashion preferences. They have a selection of athletic-style jackets, urban street-style coats, and polished classy ones.
The 8 Best Louis Vuitton Jackets
Finding the best Louis Vuitton jacket all comes down to knowing your style. If your fashion taste is constantly changing, then great, it means you have more options to choose from!
But, think about what kind of lifestyle you live as well. For instance, if you're a modern-day businesswoman, then you'll probably be on the hunt for a more sophisticated coat.
On the other hand, if street fashion is your preferred style, then narrow down your search for a more laid-back jacket.
Knowing where you live is important too. Climate is another big deciding factor when you're choosing a jacket. If your hometown experiences some harsh, chilly weather, then a thicker wool coat should be at the top of your wishlist.
If your city experiences a lot of rain, then be aware that a lot of Louis Vuitton materials are not the biggest fans of water droplets.
#1: Tattoo Monogram Cropped Leather Biker Jacket
---
#2: Louis Vuitton 2000s quilted jacket - Black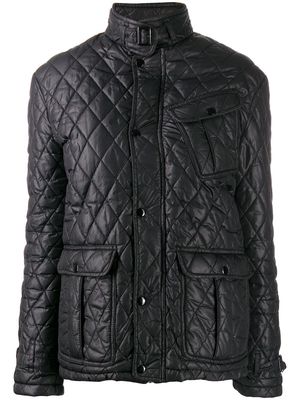 ---
#3: Long-Sleeved Lv Zip Jacket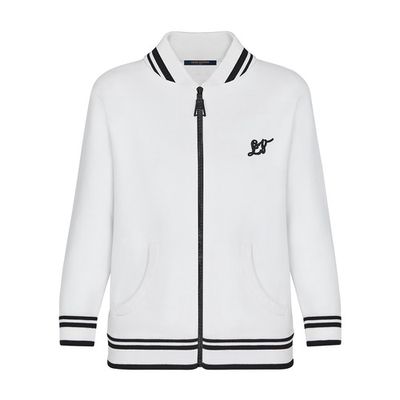 ---
#4: Louis Vuitton 2000s pre-owned reversible bomber jacket - Black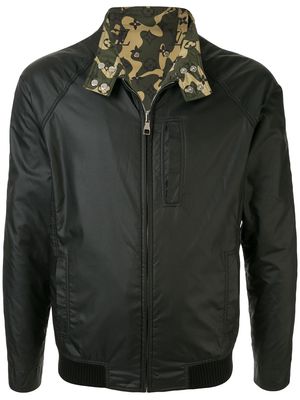 ---
#5: Embroidered Varsity Jacket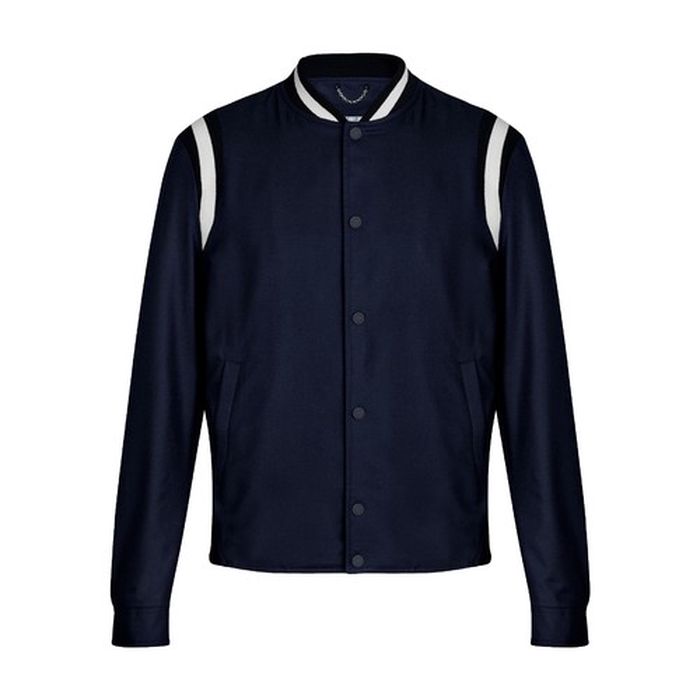 ---
#6: Mixed Leather Jacket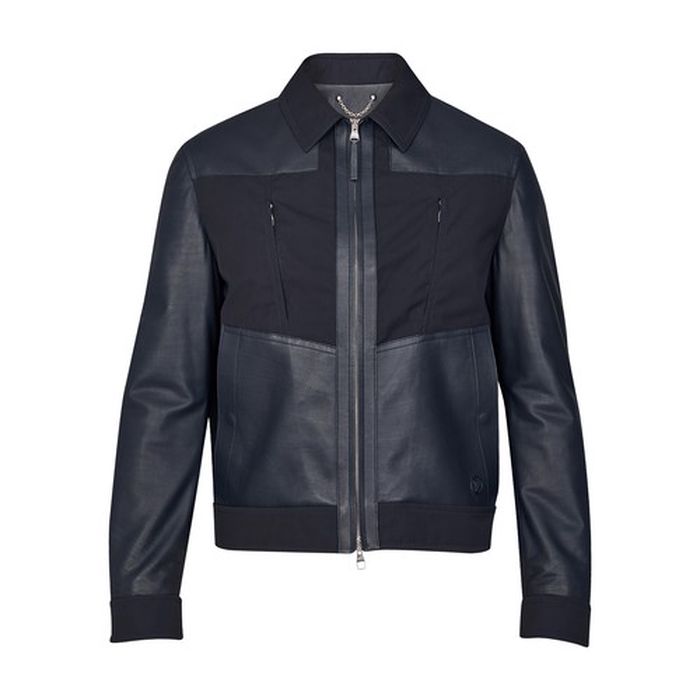 ---
#7: Embroidered Souvenir Jacket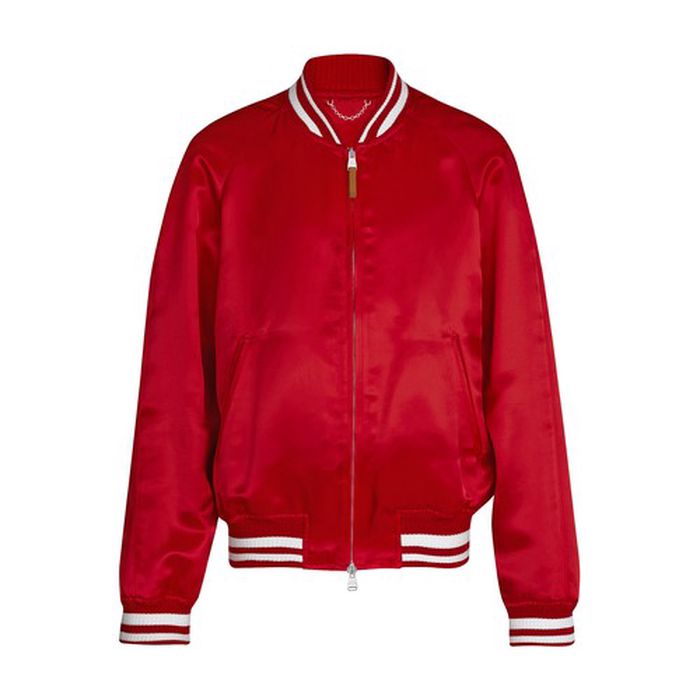 ---
#8: Surface Planet Print Hooded Safari Jacket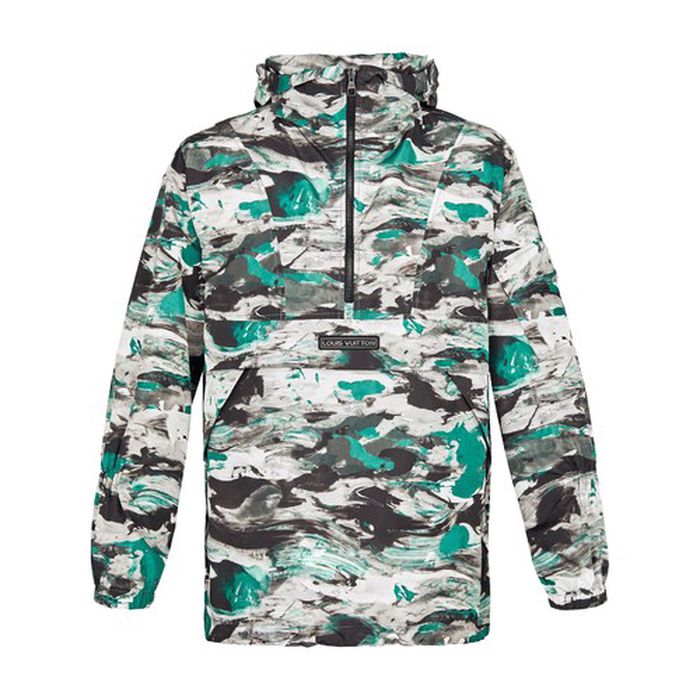 ---
What Are The Most Popular Louis Vuitton Jackets
The Monogram Jacquard Bomber Jacket, featuring the signature LV print, is a great way to honor the designer company. When you're wearing this, nobody will be asking where you got your jacket from.
The center of the jacket is plastered with the LV monogram pattern in the iconic brown shade. This sporty bomber jacket has a glam look and it's made with thick, high-quality wool and cotton. 
The Double Face Long Wrap Coat is such a sophisticated choice. This jacket will hug and accentuate anyone's figure, especially with the addition of the adjustable belt at the top of the waist.
The jacket is detailed with a black LV monogram print on the inside of the jacket, giving it a classy and edgy look. Again, this coat is made from top-quality wool for ultimate warmth.
Do Louis Vuitton Jackets Fit True To Size?
Some Louis Vuitton products tend to run a size smaller. So, when buying your jacket, it's suggested that you size up. If you're unsure which size to purchase, check out their size guide online to be certain.
How To Store Louis Vuitton Jackets
Try not to put your Louis Vuitton jacket in a crowded closet. When looking for a place to store the coat, avoid damp or humid areas because the moisture could start to affect the material.
If you want to be extra cautious, invest in a garment bag. Then, you'll be able to guarantee your jacket is safe from the elements and any possible dirt when it's all zipped up and secure.
How To Take Care Of Louis Vuitton Jackets
Leather, wool, and canvas should be kept away from water, excessive heat, sunlight, or humidity. Overexposure to any of those elements could lead to quicker wear or unwanted deterioration.
If your jacket does come into contact with heavy water, try to dry it as quickly as possible with a cloth or towel.
On their website, Louis Vuitton suggests bringing your jacket to a dry cleaner on laundry day. The professional cleaning service will make sure your jacket is getting the best care and will guarantee the longevity of your coat.
How To Style Louis Vuitton Jackets
Depending on which Louis Vuitton jacket you buy, how you style it will vary. The rule of thumb is to know the overall vibe your coat is trying to evoke.
For example, some jackets are more elegant in style, so pairing them with a dress and heels will make the most sense. While other jackets are more casual in material and appearance.
So, a varsity jacket would complement denim and sneakers best. If you follow this style tip, you'll easily be able to put together a cohesive outfit.
---
Looking to stay up to date on all things Louis Vuitton? We've got you covered:
The Best Louis Vuitton Crossbody
The Best Louis Vuitton Perfume
The Best Louis Vuitton Suitcases
Get Access to Exclusive Deals
Subscribe for free to get exclusive deals in your inbox. 100% privacy