6 Best Louis Vuitton Necklaces
The proper jewelry can truly enhance any outfit. Whether it's a chunky necklace, a dainty chain, or some dangling earrings, jewelry can tie your whole look together.
And with the right pieces, you'll appear more put together after you're finished getting ready.
Unsurprisingly, Louis Vuitton sells basic and statement jewelry that you can wear every day or for those special nights out. Below, we'll take a look at some of the best Louis Vuitton necklaces to date.
Finding The Best Louis Vuitton Necklace
Most importantly, your jewelry should always reflect your personality. For instance, if you're loud and outgoing then you'll probably prefer a chunky piece that will attract everyone's attention.
If you're more laid back and have a softer vibe, then you'll enjoy the more subtle pieces that you can wear daily.
With that in mind, you can decide whether you want a more delicate necklace with a minimal design or a bulky one that includes pendants and other details.
Next is the fun part—choosing which gold color you like the best. You'll quickly learn whether you're a yellow, white, or rose gold kind of gal.
Certain types of gold will look better on your skin tone or you might choose it based on the color of the jewelry you already own!
The 6 Best Louis Vuitton Necklaces
#1: LV Wood Necklace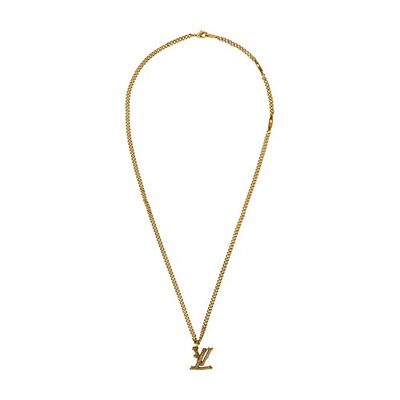 ---
#2: Louis Vuitton pre-owned Pandantif Empreinte Pave diamond necklace - Gold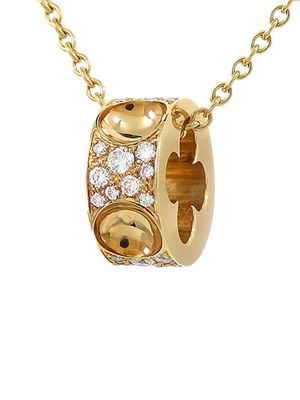 ---
#3: LV Speedy Pearls One Rank Necklace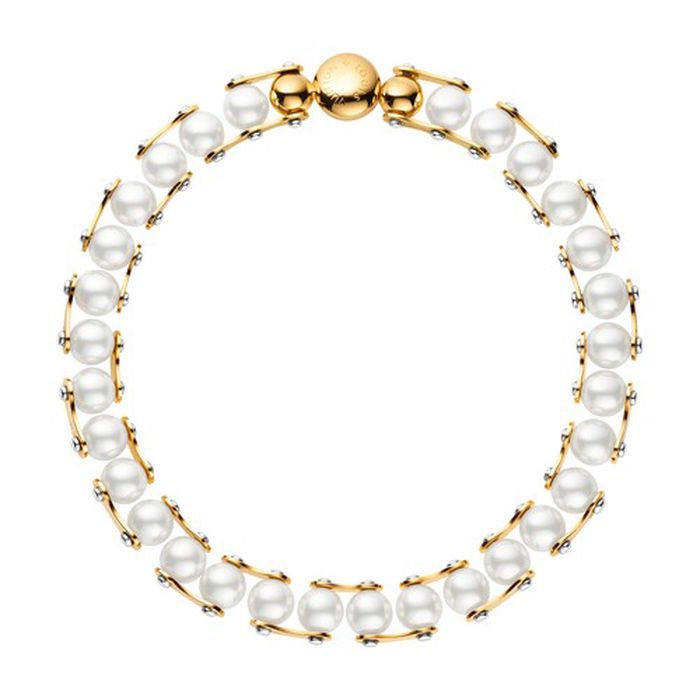 ---
#4: Louis Vuitton 2054 Chain Necklace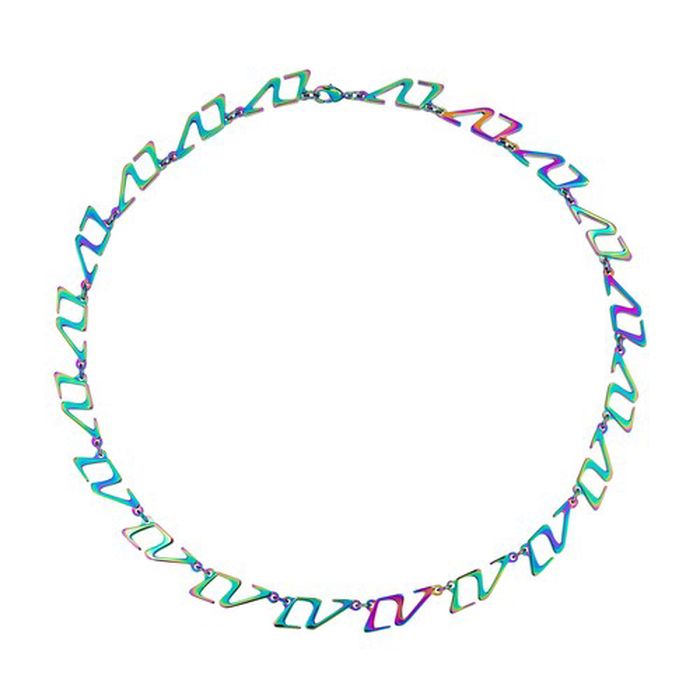 ---
#5: Trunk Lock Pendant Necklace and Brooch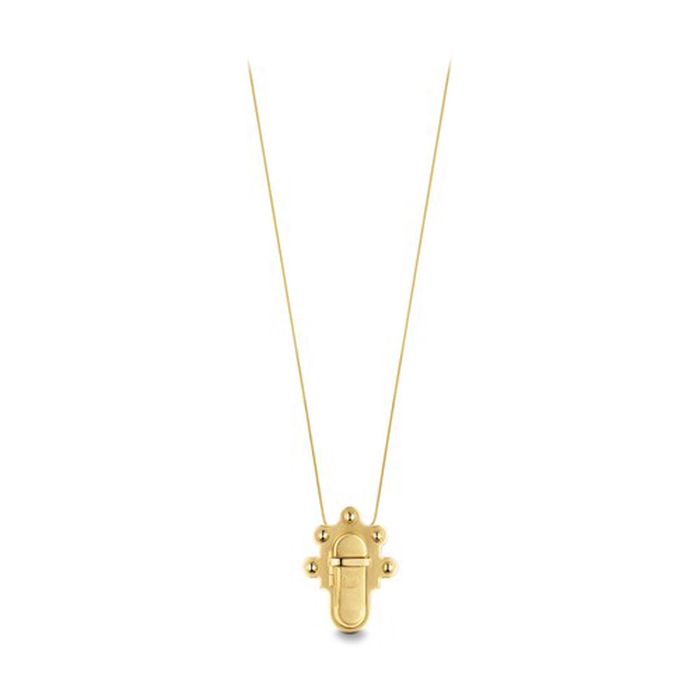 ---
#6: Louis Vuitton 2012 pre-owned x Yayoi Kusama Infinity Dots choker necklace - Black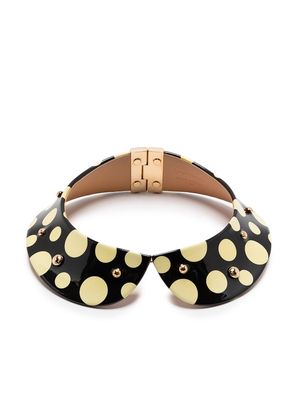 ---
What Are The Most Popular Louis Vuitton Necklaces?
The Idylle Blossom Sautoir features three gold pendants and a diamond pendant on the chain, all of which are iconic Louis Vuitton symbols.
This necklace is a popular choice since you can wear it differently depending on the day. Some choose to wear it as one long rope necklace, while others wrap it around their neck so it looks like a stacked choker.
The Idylle Blossom LV Pendant is a dainty necklace that can decorate your neck every day. This specific design is made of white gold, but this style comes in a variety of colors as well.
It's intricately detailed with a minimal LV pendant and a small diamond to the side. If you're investing in a designer necklace, it's an easy first choice due to its smaller price tag.
Is Louis Vuitton Jewelry A Good Investment?
Definitely! The brand name itself is already worth something on its own. As you already know, diamonds last forever.
And designer jewelry isn't an item that you can only wear once in a while, then it has to sit in your closet to collect dust.
It's a piece that you can wear every day without anyone calling you out for it. So, the hefty price tag will certainly be worth it.
How Do You Know If Louis Vuitton Jewelry Is Real?
Check your Louis Vuitton jewelry for a date code. A date code is a series of numbers following a letter that indicates when and where that specific piece was made.
The rule of thumb is that your jewelry can have a date code and no serial number. But, it can't have a serial number and no date code.
Basically, if there is a proper date code on your piece then it's authentic.
Why Is LV So Famous?
According to Interbrand's 2021 Top Global Brands report, Louis Vuitton is considered the world's most valuable luxury brand. It has been ranked one of the world's most profitable companies.
Since being founded in the 19th century, the brand has built a solid reputation for selling high-quality leather goods, clothes, accessories, and jewelry.
The fact that they're based in Paris—one of the most notable fashion cities in the world—doesn't hurt either. So you can trust that this fashion house knows all the trends.
How To Style Louis Vuitton Necklaces
You can get away with pairing the more casual Louis Vuitton necklaces with almost any outfit. Many girls have that 'one necklace' they wear every day.
But if you're buying a more vibrant piece then it likely will only make a grand appearance on formal occasions. However, you could use its show-stopping power to enhance a casual look too.
Another piece of advice is to stick to the same color of gold for all your jewelry pieces. So, if you have a yellow gold Louis Vuitton necklace then stick to that color scheme.
Wearing jewelry made of the same type of gold will create a more cohesive appearance for all your ensembles. Plus, you'll easily be able to mix and match different pieces in your collection.
---
Looking to stay up to date on all things Louis Vuitton? We've got you covered:
The Best Louis Vuitton Shoulder Bags
The Best Louis Vuitton Coin Purses
The Best Louis Vuitton Scarves
Get Access to Exclusive Deals
Subscribe for free to get exclusive deals in your inbox. 100% privacy