25 Best Prada Hats
Finding The Best Prada Hats
White tees, jeans, and a sturdy pair of sneakers are typically considered good investments. On the other hand, we have accessories.
Sure, accessories are a simple way to jazz up any outfit, but can you justify spending $500+ on a designer cap? Perhaps it's best to opt for something more affordable—but let's be honest—it wouldn't provide that 'wow' factor that luxury brands offer, such as Prada.
Hailed for its Re-Edition Nylon bag collection, Prada also offers a curated selection of designer caps. They typically focus on bucket hats, but you can also find baseball hats, paperboys, and straw-brimmed chapeaus in their collection.
Hats are the 'cherry on top' of any type of outfit, and Prada's caps are a way of gently reminding us that 'hey, you should never underestimate the power of a hat.'
Considered a stylish way to hide bad hair days, here are 25 of the best Prada hats that are guaranteed to spice up any outfit.
The 25 Best Prada Hats
It's no secret that Prada loves nylon. This material is utilized in its trendy selection of handbags, but it's also used in the brand's hat collection.
Yes, nylon is notoriously known for its massive carbon footprint—but you'll be glad to know that Prada uses a unique blend of regenerated yarn called Econyl.
Sourced directly from the ocean, it's the company's way of mitigating waste. Aside from this specific blend, they also use other fabrics such as cotton, jacquard, raffia, and cashmere.
If you're familiar with Prada's core aesthetic, then you probably already know that they feature lots of monochrome shades in their collections.
Their hat collection is considered a drastic deviation from their core aesthetic, as most caps are designed with sequins, wild patterns, embroidery, and bright colors.
Fortunately, they do provide more 'subtle' options for minimalists to choose from. Like any reputable cap brand, Prada offers a wide range of sizes for customers to select, which includes XS to 5XL.
#1: Prada embroidered-logo bucket hat - White
---
#2: Prada Re-nylon bucket hat - Green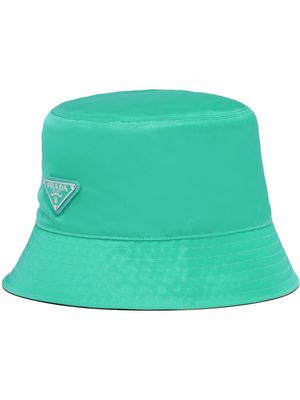 ---
#3: Prada Drill geometric-print bucket hat - Orange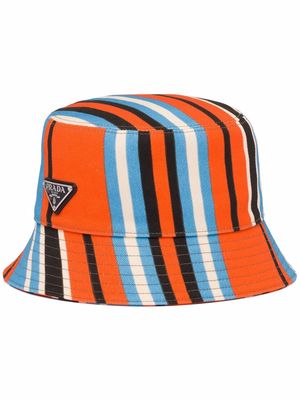 ---
#4: Prada Re-nylon bucket hat - Brown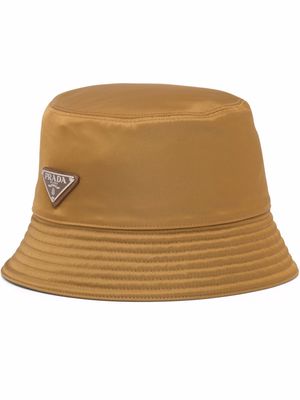 ---
#5: Allover Sequin Bucket Hat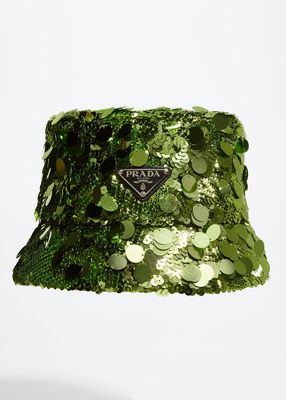 ---
#6: Striped Triangle Logo Bucket Hat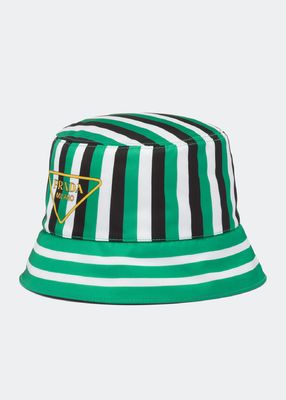 ---
#7: Reversible Bicolor Cashmere Bucket Hat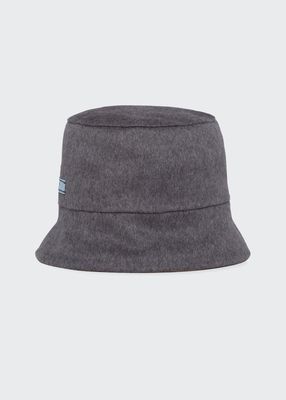 ---
#8: Fringe Triangle Logo Bucket Hat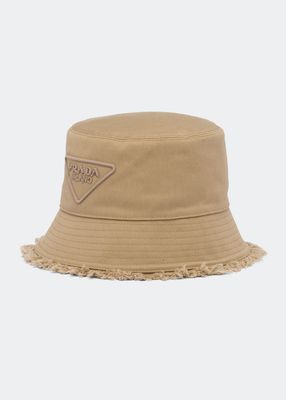 ---
#9: Prada Re-Nylon bucket hat - Neutrals
---
#10: Prada embroidered-logo bucket hat - Blue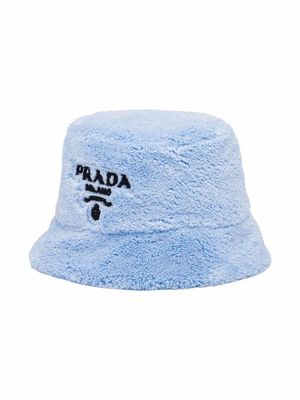 ---
#11: Prada triangle patch bucket hat - Blue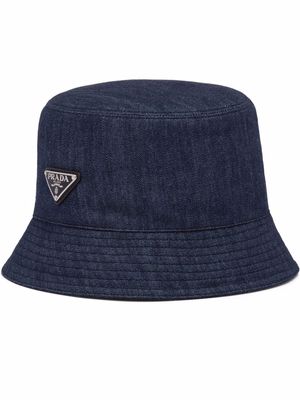 ---
#12: Prada Re-Nylon triangle logo bucket hat - Blue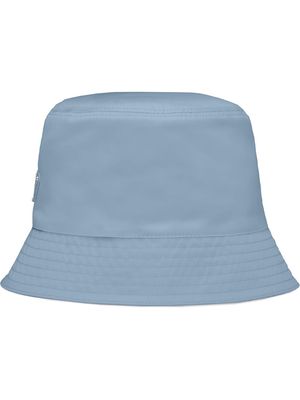 ---
#13: Prada padded trapper hat - Black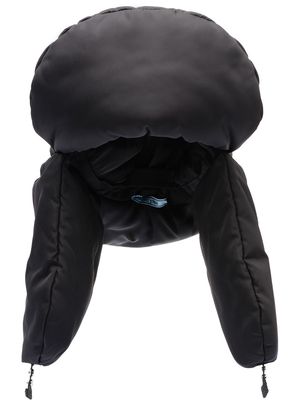 ---
#14: Prada Re-Nylon pouch-detail bucket hat - Black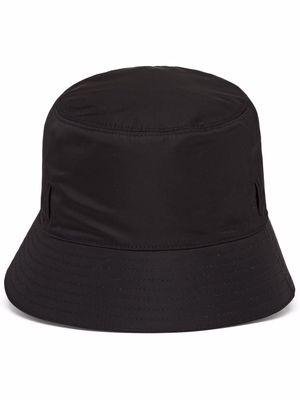 ---
#15: Prada Re-Nylon bucket hat - Blue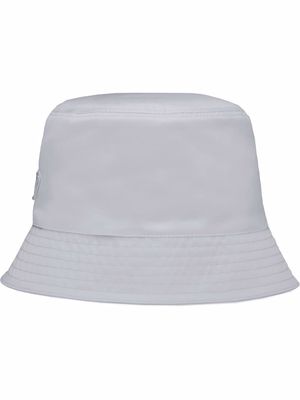 ---
#16: Prada Drill bucket hat - Green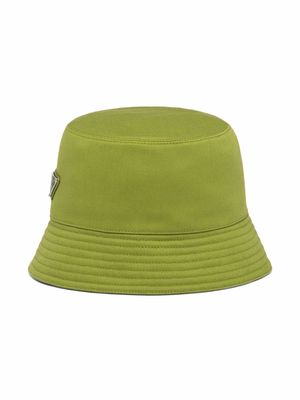 ---
#17: Prada Re-Nylon triangle logo bucket hat - Red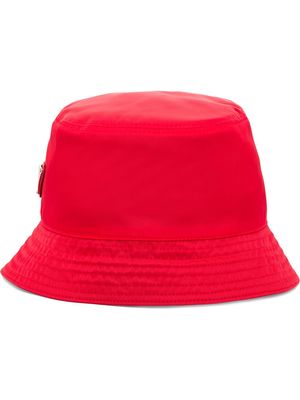 ---
#18: Prada logo triangle bucket hat - Yellow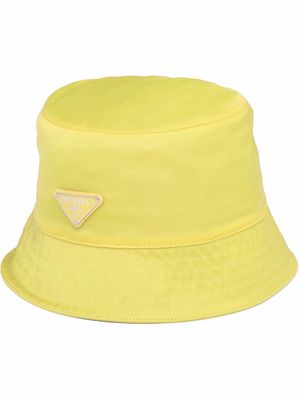 ---
#19: Prada Linea Rossa bucket hat - Green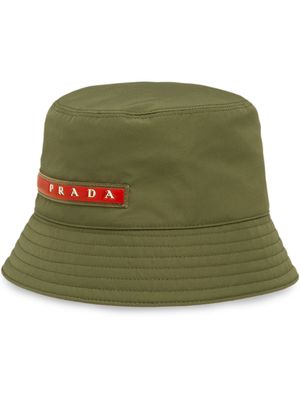 ---
#20: Prada logo plaque wool bucket hat - Blue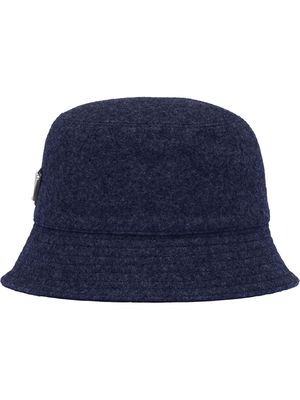 ---
#21: Prada sequin bucket hat - Black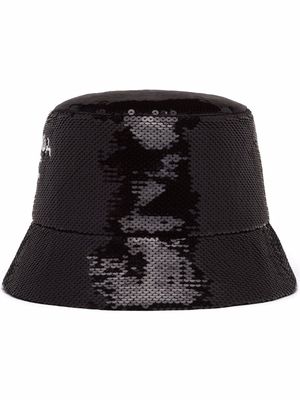 ---
#22: Prada embroidered logo woven bucket hat - Yellow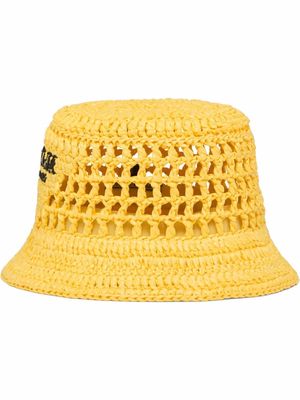 ---
#23: Prada Re-Nylon triangle logo bucket hat - Yellow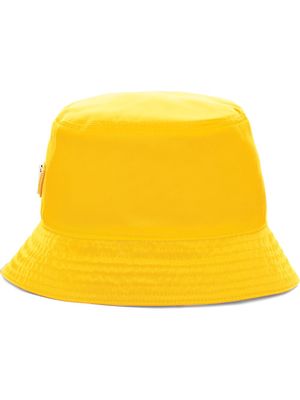 ---
#24: Prada Loden rain hat - Grey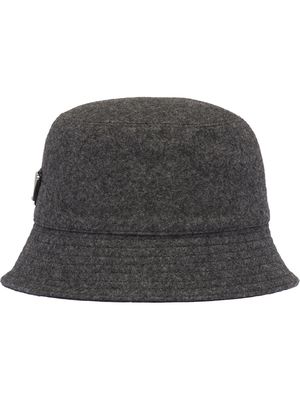 ---
#25: Prada Re-Nylon bucket hat - Red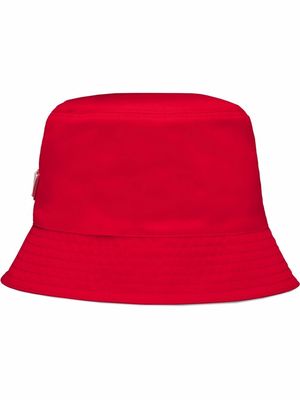 ---
What Is The Most Popular Prada Hat?
Prada's selection of bucket hats has gotten lots of celebrity acclaim. We won't be specific in terms of color, as some enjoy pink while others prefer standard black.
Refined and simple in silhouette, this cap makes for the perfect Y2K accessory. So far, this particular chapeau has been worn by Rihanna, Kylie Jenner, and Hailey Bieber.
Are Prada Hats Unisex?
At Soxy, we believe that fashion is genderless. You're free to sport whatever you like, whether that be a dress, skirt, or a pair of jeans.
Yes, Prada separates its collections by sex, but that shouldn't deter you from wearing any kind of cap. They're meant for trendsetters, haute couture fanatics, or those who simply love wearing hats.
Which Styles Of Prada Hats Can You Get?
Currently, Prada offers three types of hats on its website: bucket hats, baseball caps, and the boho-beach straw chapeau. Classic in silhouette, each design comes in a variety of colors and includes additional embellishments.
For those unsure about which accessory to get, we'll provide a nifty style guide to help streamline the shopping process:
Bucket hats: Floppy in shape, this particular hat was all the rage back in the early 2000s. It's a great way to pay homage to the Y2K fashion era.
Baseball caps: When you think of casual wear, this particular hat usually comes to mind. They're best worn with a sports jersey and a pair of basic jeans.
Straw hats: Considered a must-have for summer, straw caps can help you keep cool and look stylish during the humid months.
How To Store Prada Hats
Unfortunately, Prada does not provide explicit instructions on how to care for their hats. We recommend storing them in a dry and dark area to help maintain their quality.
Exposure to humidity and direct sunlight may affect the cap's color, silhouette, and texture. If you have a hatbox on standby, it can help prevent any dust accumulation as well.
How To Style The Best Prada Hat
So, you stand defeated in front of a full-length mirror. Your outfit is missing a fundamental element, but you can't put your finger on it.
In an effort to cure that nagging itch, might we recommend a Prada hat? Considered a simple way to spice up any OOTD, we'll show you some ways to style your new designer cap.
Bucket hats must be paired with low-waisted jeans and a crop top, right? Not necessarily. If you're craving something more modern, we recommend swapping your Y2K-inspired look for a leather blazer instead.
Featuring a white tee and a pair of sweatpants, this outfit is the easiest way to turn any early 2000s moment into a 2022 beauty.
Care for some additional accessorizing? If so, why not add a pair of statement earrings to your bucket hat-centric look?
It's a simple way to draw more attention to your face. This styling tip will also do wonders for your overall look by accentuating your facial features and neck.
In terms of design, trendsetters can opt for a traditional set of hoops or a sparkling duo of chandeliers.
It's a well-known fact that bucket hats are intrinsic to '90s fashion. With that in mind, it would be a disservice for us to not include an example of a '90s-inspired look within our list.
This outfit features a Prada bucket hat paired with a white sports bra, joggers, and Nike sneakers. Accentuated with a vintage fanny pack, don't be surprised if you're suddenly nostalgic for The Fresh Prince of Bel-Air and Clueless.
---
Looking to stay up to date on all things Prada? We've got you covered:
Get Access to Exclusive Deals
Subscribe for free to get exclusive deals in your inbox. 100% privacy