Wearing Socks With Sperrys – Best Style Guide Of 2022
Socks With Sperrys: Dressing With the Original Boat Shoe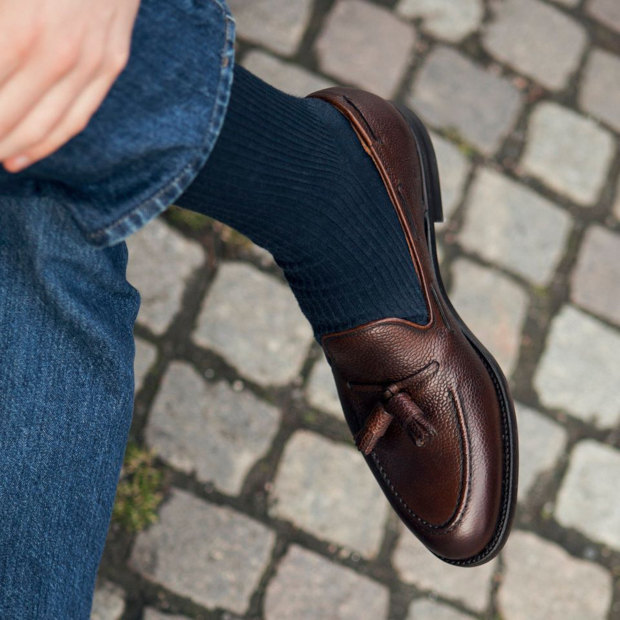 Modern menswear loves a good throwback, and boat shoes are no exception. Designed in 1935, the original boat shoe, coined the Top-Sider, remained a staple product in the boating community before becoming a favourite of landlubbers as well. Combining classic cool with contemporary style, these versatile shoes are actually pretty easy to dress. If you've got a pair of Sperrys you're just itching to break out, this guide will be your primer for how to wear socks with Sperrys.
Originally designed to keep sailors steady on their feet while above deck, a great pair of Sperrys will make sure you and your sense of style are never caught slipping. In fact, Sperrys are an easy way to keep it casual without setting foot on a single boat. Sailors and style gurus alike appreciate the Sperry's non-slip rubber sole as well as the carefully hand-stitched upper, which gives the shoe its unique profile.
Being a low-cut style of shoe, the Sperry demands that your sock game is on point. You're probably thinking "Wait, do you wear socks with Sperrys"? Let's see, shall we?
Can You Wear Socks With Sperrys?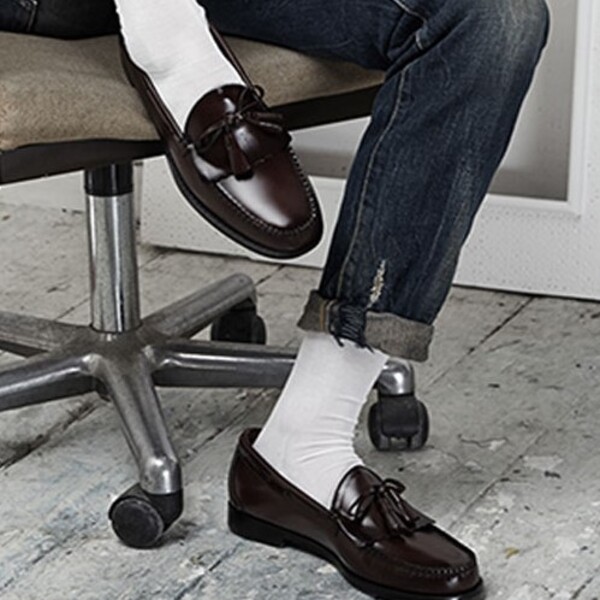 Socks and Sperrys: it's a thing! We won't leave you to guess the why, what, and how of choosing the right socks to wear with Sperrys. Advice on what kind of socks to wear with Sperrys is similar to style advice on socks with loafers. A number of fashion blogs and style guides will tell you that you must wear Sperrys without socks. They'll tell you that the low profile of the shoe simply doesn't allow for any kind of sock. This, they say, is the rule. Well, you know what they say about rules—especially the fashion ones.
Do You Wear Socks With Sperrys? Here's Why You Should
Being barefoot is great when you're say, indoors or at the beach. However, if you're planning on walking further than your mailbox, your feet will thank you for slipping on a pair of socks first. In general, it's a good idea to wear socks with your shoes most of the time for a number of reasons including:
Protection from blisters
Protection from sweat stains in shoes
Optimizing fit for footwear
Moisture absorption
Odour control
Have you ever had that annoying sensation of your feet slipping and sliding around in shoes that should otherwise fit? Leather shoes soften and stretch a bit over time. Socks can help to keep your shoes fitting properly, so you can walk without feeling your heel slip all day long.
Additionally, socks create a moisture-absorbing barrier that protects your feet and your shoes. The right socks can help solve the problem of sweaty feet. As you wear your shoes, moisture will build up on the skin, and if you're not wearing socks, you're more vulnerable to odor-causing bacteria and possible fungal infections. Your leather shoes won't fare much better, as over time sweat can stain the leather and can cause the shoes to become odorous as well.
So, do you wear socks with Sperrys? If not, maybe it's time to start. From extending the life of your shoes to added comfort, there's truly no reason not to.
How Do You Wear Socks With Sperrys?
Since we've established why it's actually a good idea to wear socks with most shoes, let's get into how you can rock your socks with Sperrys. Here are three good options for the type of socks that work best:
No Shows
Classic black
Bright and bold
No Show Socks: Hidden Gems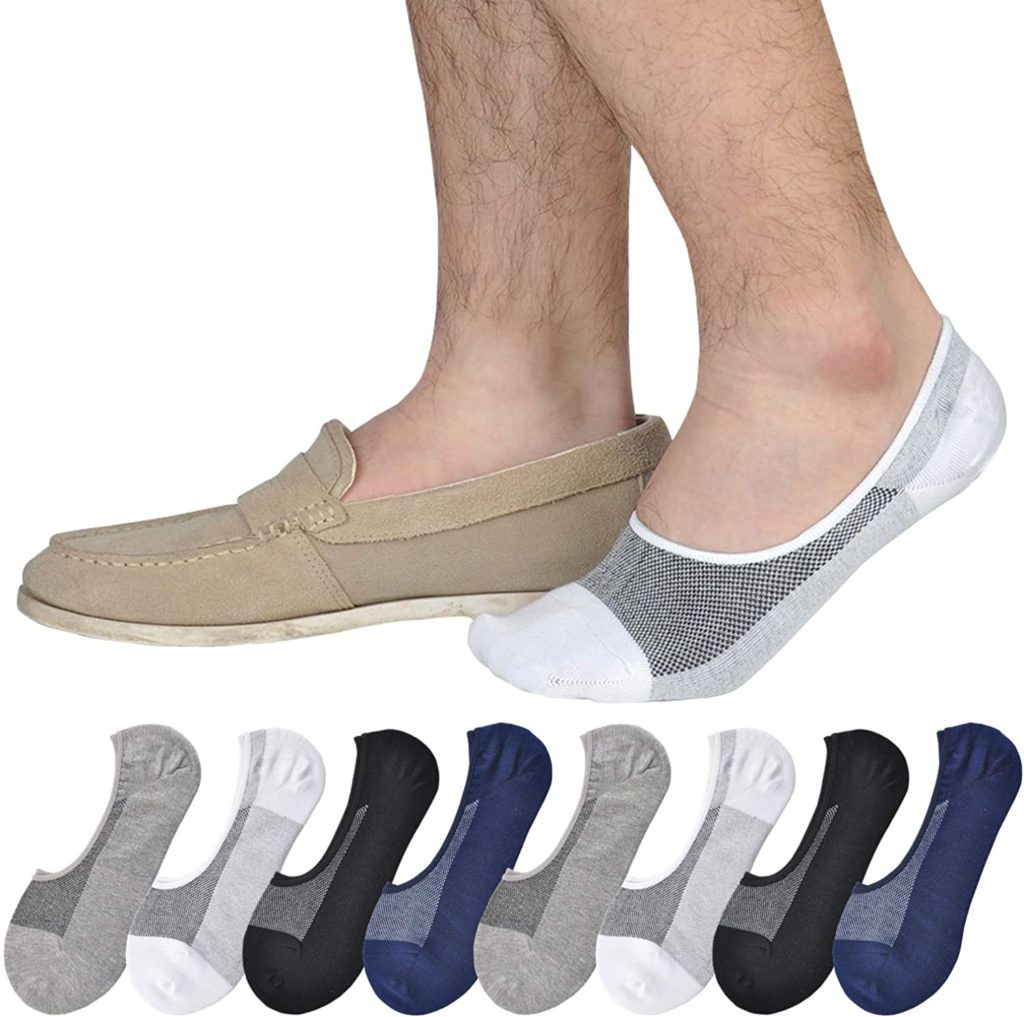 The no show sock has been a revelation for people who want to cheat the no-sock look. No show socks vs low-cut socks: no shows are virtually invisible once your shoes are on, whereas low-cut socks are usually visible just to the ankle. Many no show socks come in basic black or white, but the fact that other people can't see them is no reason for your socks to be dull. A fun pair of no shows could be a treat just for you. Soxy's no show socks for men and women come in a range of colors and patterns, like these fun pairs.
Classic Black: Dress Socks to the Rescue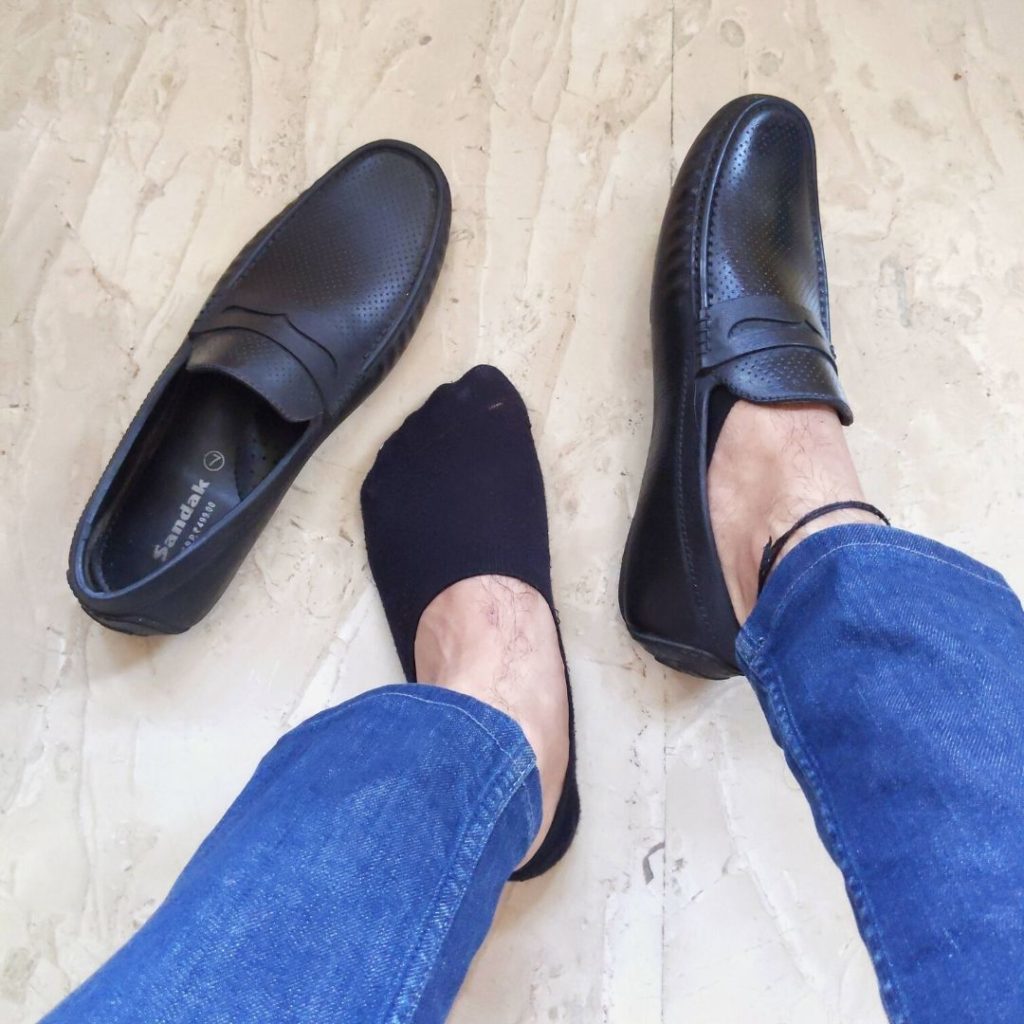 Black dress socks are a wardrobe staple for good reason. They are typically made of a thin, fine-woven material, and being neutral in color, they go with just about any outfit. Don't go and grab your thick black crew socks because those won't do. You'll want to make sure to choose dress socks, or at least a thinner, nicer pair of everyday socks to elevate the look.
While you may not want to wear black dress socks with Sperrys and shorts, you can easily pull off this combo with long pants. Do you wear socks with Sperrys and denim, khakis, or chinos? Triple yes.
Bright and Bold: Premium Socks With Personality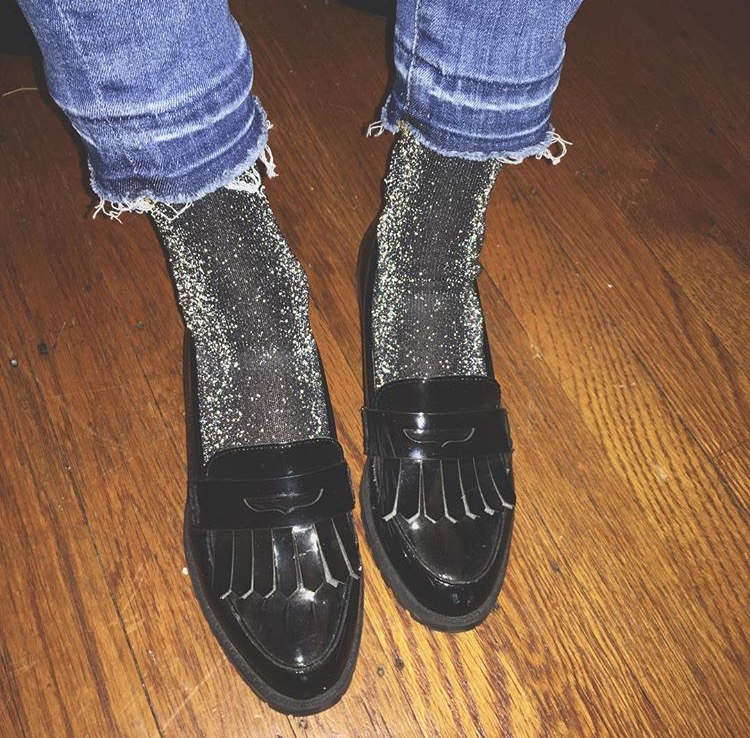 Now this is where you not only break the rule, you crumple it up and toss it out the window as you speed away. If you're truly one for wearing your sense of style on your sleeve (or in this case, ankles?), consider some bolder striped socks with Sperrys. The opposite of going no show, this look requires you to commit.
Choose a pair of socks that compliment your whole outfit while still standing out. If you're wearing neutrals, try socks with a pop of color or a fun pattern. If your outfit features a patterned top, try socks in a complementary solid color. Whatever you choose, it should be the chef's kiss to the rest of your ensemble.
Choosing the Right Socks With Sperrys
Knowing what socks to wear with Sperrys in relation to your outfit can make or break your look. Occasion and location at two determining factors in creating a winning combination. Sperrys look great with pants that have shorter hems, which is a bonus if you choose to wear socks with Sperrys. For semi-formal looks, the cut and quality of a suit can make or break the whole outfit. Once you've got that down, you can start looking at your sock options.
Business casual looks might require a more toned-down approach, depending on your industry, position, or office policies. Preppy casual looks are where your sock choices can really shine, so feel free to experiment. Here's a guide you might find helpful when you're thinking about what kind of socks to wear with Sperrys:
| | | |
| --- | --- | --- |
| Semi-Formal | Business Casual | Preppy Casual |
| No show socks | No show socks | No show socks |
| Black dress socks | Black dress socks | Black dress socks |
| Solid color socks | | Solid color socks |
| | | Bold patterned socks |
What Socks to Wear With Sperrys: Your Color Guide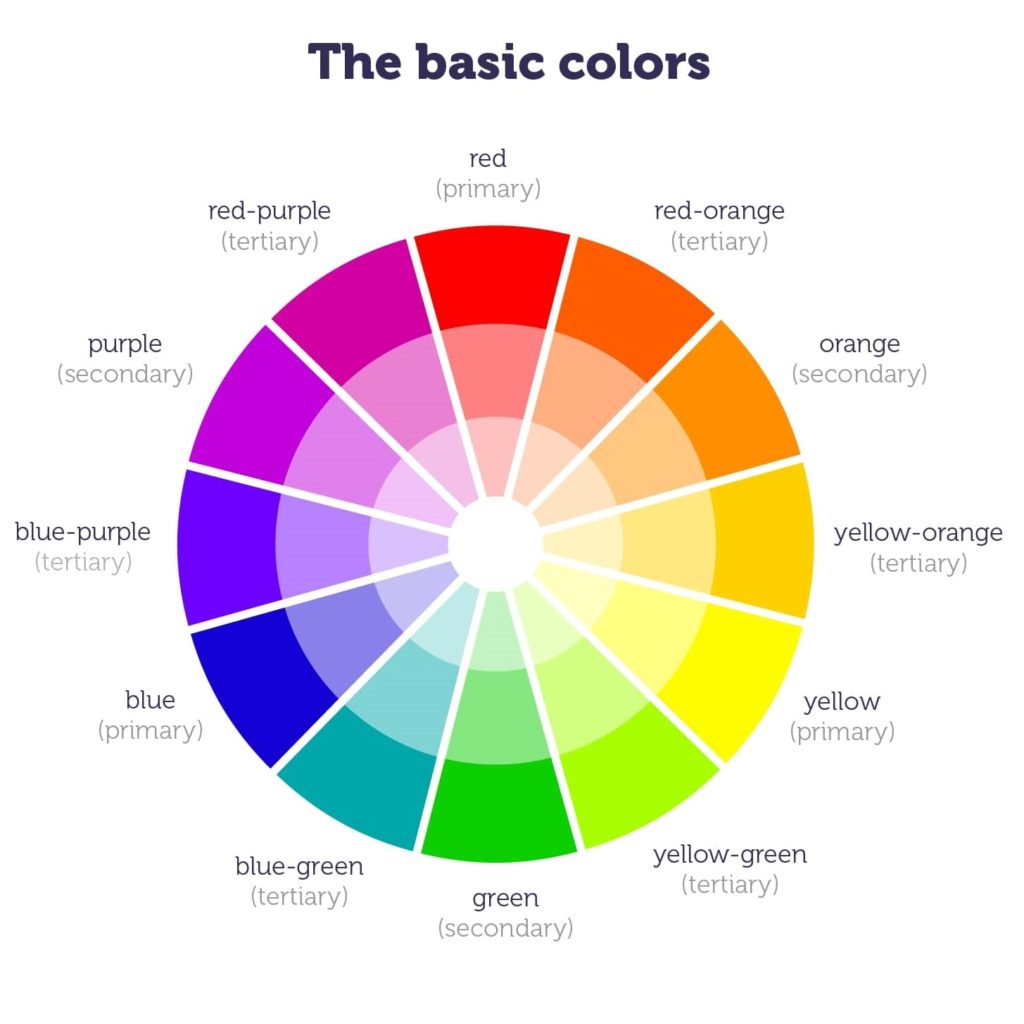 Now the question becomes, do you wear socks with Sperrys, and what color should those socks be? When you're thinking about finding the perfect pair to go with your Sperrys, it's good to have a little knowledge of color theory. Color theory combines art and science to determine the colors that best complement each other. Often, this means finding complementary colors that are opposite each other on the color wheel.
Once you've had some time to process those art class flashbacks, you'll want to put color theory into practice in pairing the right socks with Sperrys.
Socks With Sperrys: Navigating Color Theory
Since neutrals don't clash, Sperrys in the above colors are easy to wear with a range of outfits. There are a lot of color combination options for you to choose from. Typically, Sperrys are made in nice neutral colors:
Brown
Beige
Blue
Grey
Black
White
Unless your Sperrys are particularly bold or loud, it's better to focus on the main color story of your clothing. Even though neutral colors are, well, neutral, they still have complementary opposites. Brown and beige would be considered warm tones, so looking at cool tones on the color wheel is a good place to start. Let's use color theory to put together some examples.
| | | |
| --- | --- | --- |
| Neutral Color | Complimentary Sock Colors | Main Patterned Sock Color |
| Brown | NavyDeep violetGrey | Blue |
| Blue | BrownRed Orange | OrangeRed |
| Grey | YellowRedBlue | YellowRedBlue |
This is by no means an exhaustive example of the only colors you can pair with neutrals, but it should help to get you started in creating looks that match your personal style.
Mixing Neutrals and Bold Colored Socks with Sperrys
Understanding a little color theory makes the process of finding complementary colors easier. Using a navy suit as our example, let's put together an outfit full of personality in just a few steps:
Choose your shirt: neutral is best, let's go with white.
Choose your Sperrys: we need a complementary neutral here, so let's go with brown.
Choose your sock shade: black is an option, but red will add a great pop of color.
How Do You Wear Socks with Sperrys? Denim Edition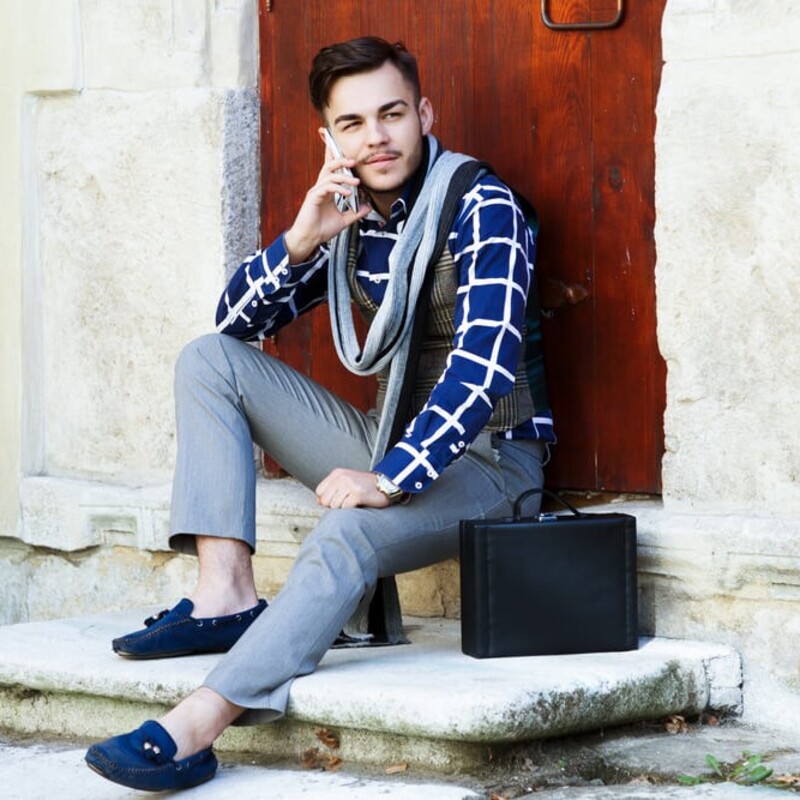 Sperrys with denim is not the classic look that comes to mind when you think about outfits that work with boat shoes. Many people prefer to wear their Sperrys with classic Khakis or chino shorts. Here's something we can all agree on though: jeans go with just about everything—boat shoes included!
Finding the Right Jeans to Wear with Sperrys
Sperrys in a similar shade and tone to your jeans will create a nice neutral base for colorful and cool socks. After you find a shade you're happy with, it's time to focus on fit. We know shorter hems are best when you're wearing boat shoes, but don't go cutting inches off your Levi's. Cuffs are classic and practical and will add an effortless style to your look.
You'll also want to be sure your jeans are more fitted throughout the leg, but especially around the calf and ankle. Here's a little checklist to be sure your jeans make the cut:
Same shade and tone as your Sperrys
Fitted through the hips and legs
Long enough to just meet the ankle, or
Long enough to cuff a couple of inches above the ankle
"Do You Wear Socks With Sperrys?": The Verdict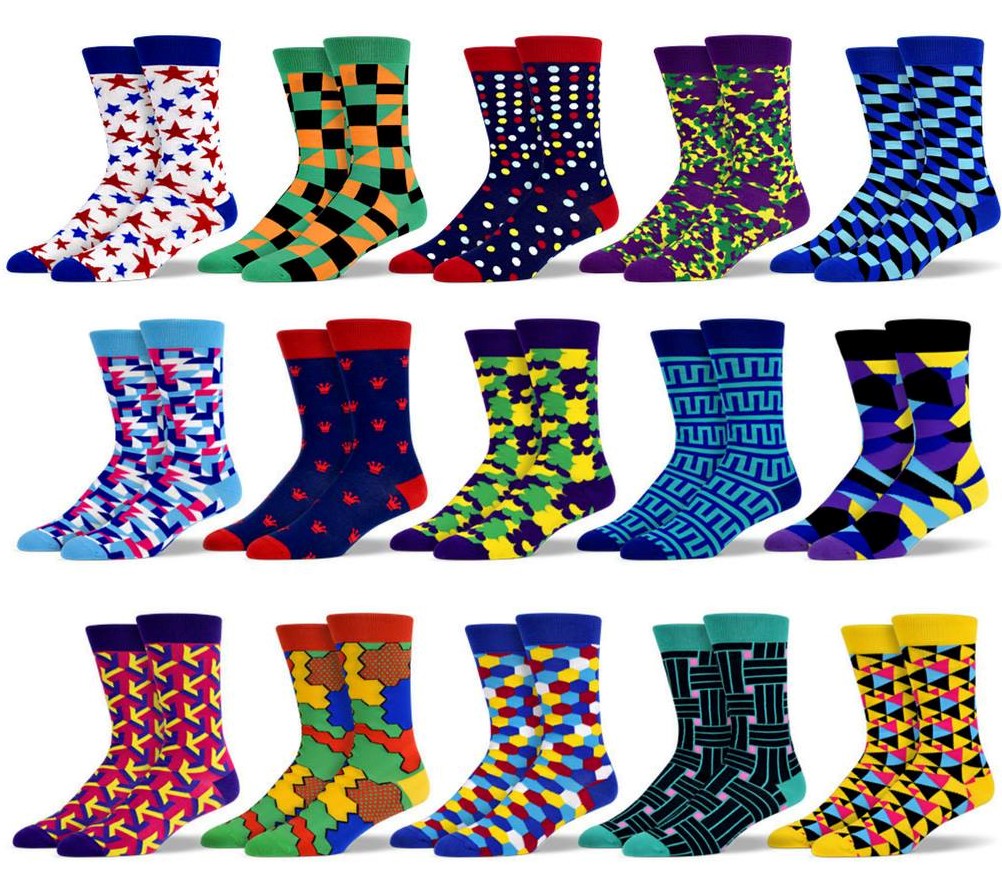 The short answer? Yes! With a range of options from subtle no show socks to bright, bold hues, your only limitations are your imagination and sense of style. If you're looking for inspiration, Soxy has pairs in patterns and styles to suit any taste.
The slightly longer answer is that Sperrys are not compatible with every situation. Do you wear socks with Sperrys to a wedding? Only if it's a beach wedding, since this footwear is not considered formal enough to celebrate two people tying the knot. Do you wear socks with Sperrys to go hiking? No, because wearing your Sperrys while hiking is a recipe for blisters.
If you're currently reading this from a winter climate, never fear: it'll be Sperry season in no time, and once it is, you'll do those shoes justice with a stellar pair of socks.
Get Access to Exclusive Deals
Subscribe for free to get exclusive deals in your inbox. 100% privacy