What to Wear to a Wedding – A Style Guide for Men
What Can I Wear to a Wedding? Choosing the Perfect Guest Attire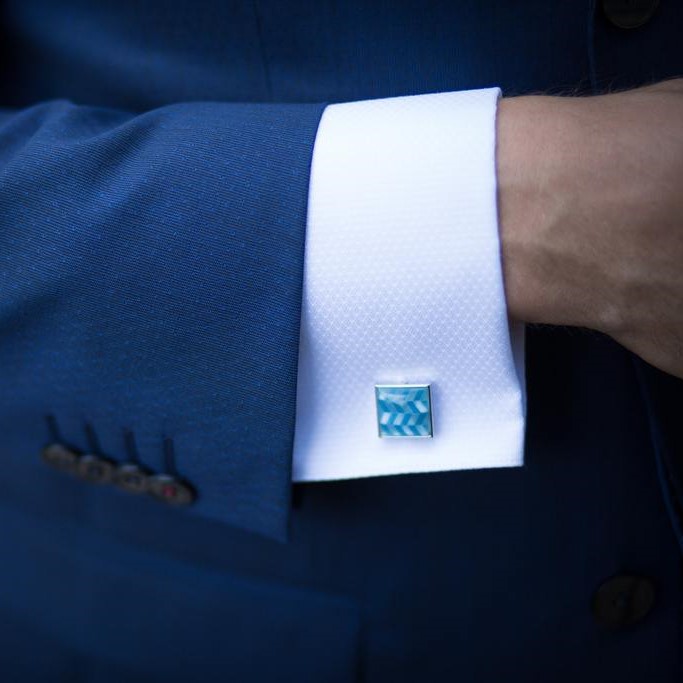 So, you've been invited to a wedding. Maybe it's a classic wedding or maybe it has a theme to it. Either way, the wedding season is the perfect time to flex your fashion muscles and show off a little personal style. At the same time, choosing an outfit for a wedding can be overwhelming, especially as a guest. So, what to wear to a wedding for men?
There are a few factors that determine men's wedding attire:
Dress code
Location
Season
Time of day
Theme
Depending on the type of wedding, a few of those factors can come into play at once. The following guide will help break down the general fashion rules and knowledge around those factors, as well as other important components of an outfit, like socks and accessories, so you'll always know what to wear to a wedding.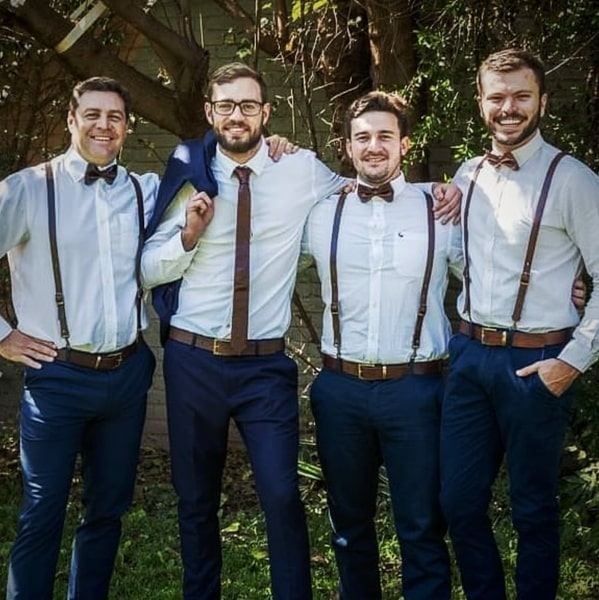 Credit: Lovedaviddesigns
What should a guy wear to a wedding?
The key to wedding attire is to be smartly dressed, but not look like you've stepped straight out of a business meeting. Yes, weddings are formal events, but they're also celebrations! They're meant to be fun and a little relaxed.
If you've ever asked yourself, "what do men wear to weddings?" the obvious answer would be a suit. But it's surprisingly not that simple, as many weddings nowadays have certain dress codes, like destination weddings. Since men's style varies greatly in both casual wear and formal wear, a simple black or navy suit would be applicable in most situations, but it might be the most boring wedding outfit.
What kind of dress codes can you expect on a wedding invite?
White tie
Black tie or black tie optional
Semi-Formal
Cocktail
Beach formal
Dressy Casual
Casual
Cultural attire
Nonstandard, like rustic-themed
White tie, black tie, and black tie optional are the higher formality levels with little leniency in what you can and cannot wear to a wedding. When in doubt, aim to wear your most formal tuxedo, and dress shirt and shoes to play it safe.
Semi-formal to beach formal means that you're still required to wear a suit, but this is where you can experiment with colors, patterns, and textures. This is where the other factors, like the season, location, and even time of day come into play.
Take, for example, a summer wedding. The general rule of thumb for seasonal dressing is that lighter colors and lighter fabrics should be worn during warmer weather, like spring and summer. So as far as what to wear for a summer wedding, and especially a beach wedding, a linen suit in a lighter palette, like tan, grey or light blue would be acceptable. Do not think of wearing sneakers or flip-flops unless the groom says it's a-ok.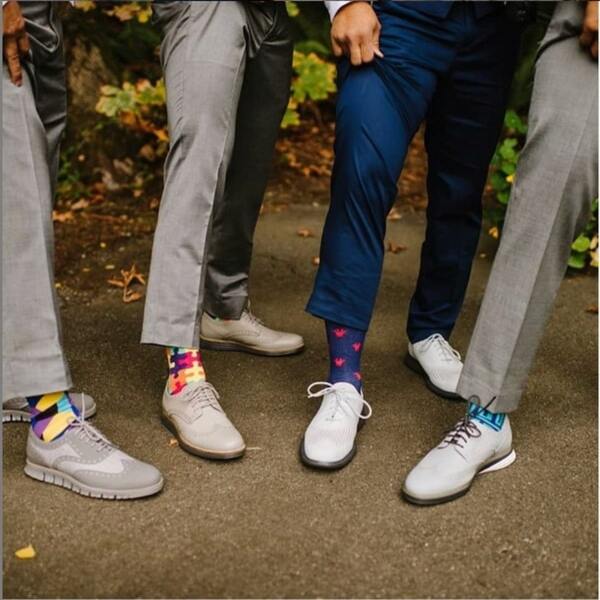 Credit: Soxy
Formal dress codes for fall and winter weddings provide ample opportunity to experiment with fabrics and colors, like burgundy velvet smoking jackets, or three-piece suits in charcoal grey pinstripes to keep warm. Darker colors tend to be reserved for colder seasons, and many wool-blend suits are perfect for staying warm and smartly dressed. Colors such as plum, burgundy, navy, and deep green would also be great for solid suits if you're just starting out with changing up your personal style. As long as you're not outshining the groom, feel free to get creative in what you're wearing. Including accessories is also a great way to add some personal style to a solid suit, but more on that later.
Lastly, there's a casual dress code and nonstandard dress code, which means a suit isn't necessary. Depending on the season, sweaters or turtlenecks would be considered just fine, and if it's warm enough out, you can forego with a suit jacket and wear a nice, crisp shirt. If you do want to wear a suit, these occasions are where a funky or novelty pattern that's still appropriate would be appreciated – like a subtle floral pattern for spring, or a nice brocade for fall.
Other dress codes to take into considerations are cultural dress codes, like a Hindu wedding. In those cases, it's best to consult the wedding party as to how to dress and where to find traditional clothing.
To sum it up, here's a chart of wedding outfit ideas for men for various themes or dress codes:
| | | | |
| --- | --- | --- | --- |
| Spring Formal | Barn Chic | Black Tie Optional | Fall Wedding |
| Blue Suit | Navy Pants | Dark grey suit | Maroon Pants |
| White Shirt | White and black flannel shirt | White shirt | Cream-colored sweater |
| Pink Socks | Plaid socks | Black socks | Striped Green Socks |
| Brown Shoes | Chukka Boots + Cowboy Hat | Patent Opera Pumps | Black Oxfords |
What kind of socks to wear to a wedding
Keeping the wedding dress code in mind socks, like accessories, are one way to let your personality shine through. It is common to see the groomsmen, for example, all in black but with matching brightly colored or brightly patterned socks. You've seen that kind of wedding photo before, where all the men hike up the bottom of their pants leg to show off their footwear. But where can you get cool socks?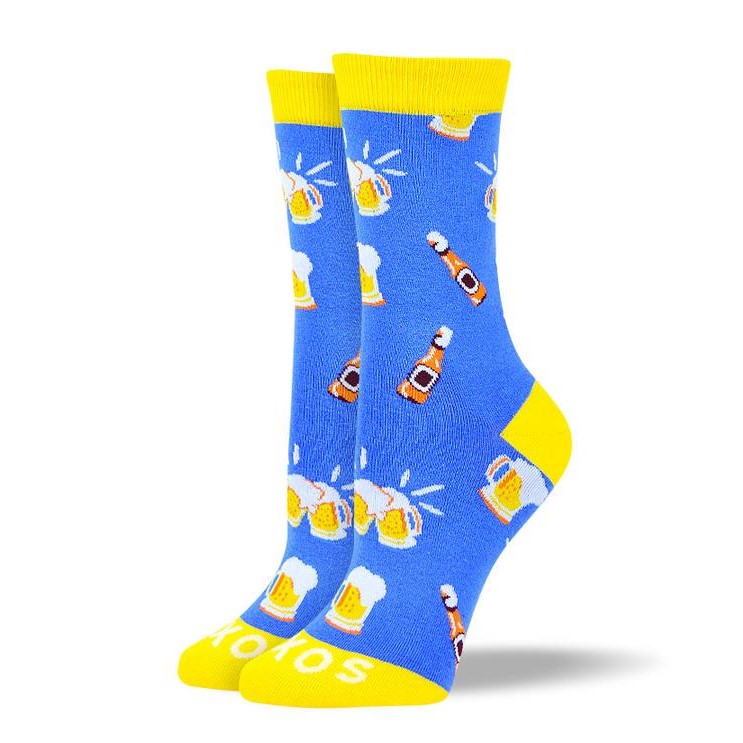 Soxy, a premium lifestyle clothing brand, caters to that need of creative, individualistic socks. Covering dress socks and athletic socks, Soxy's designs are bold, colorful, and unique. Ranging from classic patterns such as polka dots and stripes to more eccentric visuals like hamburgers or dollar signs, Soxy has a sock for every kind of personality and occasion. Soxy's line of novelty socks is perfect for a groom and his groomsmen to coordinate matching socks, especially if the majority of them all have a similar career, like lawyers or doctors, or if they all grew up in the same city, like Rome. By matching their socks, it's a common way to show more camaraderie between themselves and the groom.
What kind of socks can you wear as a wedding guest?
Outside of the stricter formal attire rules, which require dark socks, almost anything goes. Socks are one of the simplest ways to express both your personality and your fashion expertise, as they can greatly complement an outfit if paired right. The only rule is to avoid white socks, as white socks are unprofessional and are closely associated with gym socks.
The easiest way to pick out a pair of socks for your wedding outfit is to think of either contrasting or complementary colors. This requires some knowledge of the color wheel, but mostly you can rely on visual instinct. Some questions you can ask yourself when choosing socks are:
Should the socks blend in or stand out?
Patterns or solids?
Visible or no-show?
If you want your socks to be the center of attention for your wedding attire, picking a pair in a contrasting color is usually the way to go. Normally this means that the sock is a lighter color paired with a darker suit. For example, wearing teal socks with a navy blue suit would be a visually appealing contrast. Sometimes called color blocking, this is a method of choosing two or more colors and "stacking" them next to each other to create a sharp contrast. If you wanted the sock to blend in, picking a sock with a shared color of either your pants or your shoes would be the way to go. This would also visually streamline the whole outfit and make it more polished.
For most people, patterns tend to be daunting. Sometimes they're loud and multi-colored, and sometimes they're small and subtle. For those new to fashion, picking out patterns that look good can be a real challenge, which is why it's always best to start small. Patterned socks, like the ones Soxy stocks, are always a great idea when you need to add a small pop of color to a mostly monochromatic outfit. For example, purple and white striped socks are a great way to add color to a navy, grey or black suit without being too distracting, especially if the stripe pattern is thin.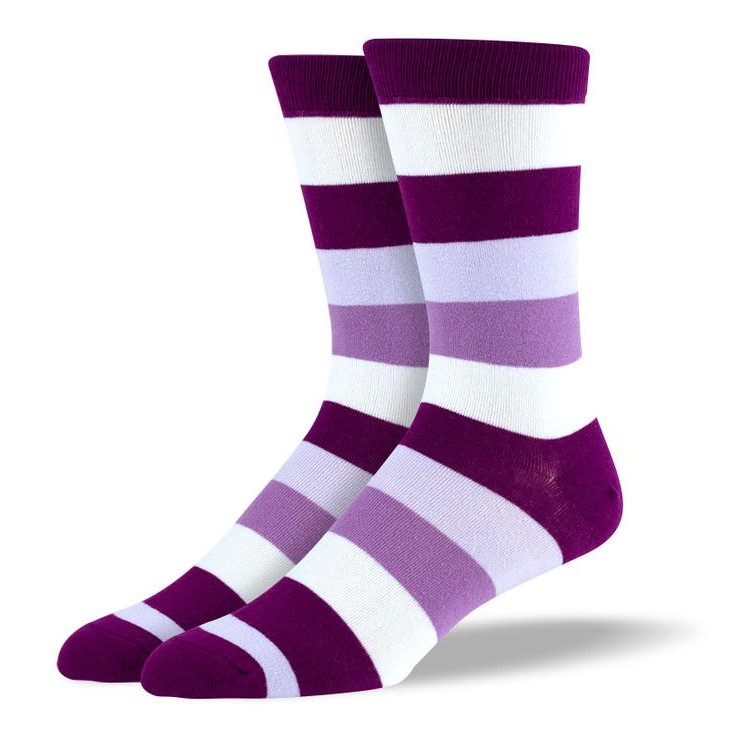 Patterned socks at a wedding are acceptable as long as it is not a black or white tie event. On the other spectrum, if your suit is patterned, solid color socks would be your best bet to balance out all the visuals of your selected wedding outfit. These are the basics when it comes to patterns, but once you've got that knowledge under your belt, you can graduate to mixing patterns.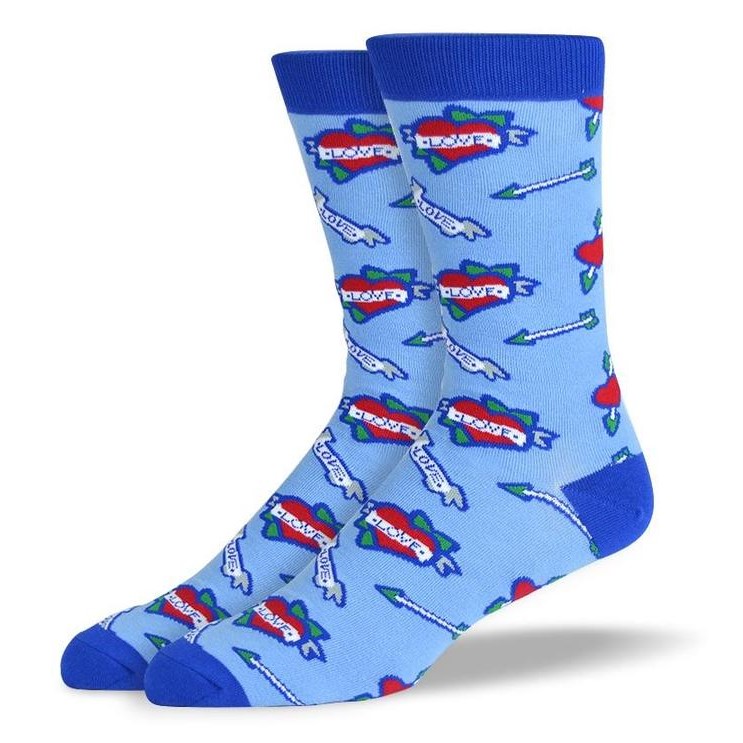 Again, socks are a great way to experiment with fashion rules and style. So for mixing patterns, it's always best to stick within a color family or a pattern size. Let's say you're attending a fall wedding and wearing a classic pinstripe grey suit. Depending on the size of the pinstripes on your suit, you can also have similarly sized stripes on your socks. Since grey is considered a neutral color, any dark-colored striped socks would pair well with the suit. If attending a casual wedding and wearing a big, bold patterned sweater, for example, pairing socks with a small pattern but in the same color as the sweater is also a good way to pattern-mix. Plus, the pants help to break up the visuals. If the pants you are wearing have a dominating, noticeable pattern – floral, for example – pick out a color from that floral pattern and find small polka-dotted socks in that color.
Most of these guidelines, of course, only apply if your socks will be visible at some point during the wedding, say for example, while dancing at the reception. If that's the case, then obviously it is in your best interest to try and keep the sock and suit outfit as polished and as stylish as possible. But if the sock and shoe combination you end up wearing results in socks not being visible, you can wear either crazy socks or plain socks, and no one will be none the wiser. If you do decide to experiment with patterns and colors while wearing no-show socks, it's a great way to test out how you feel about that particular combination.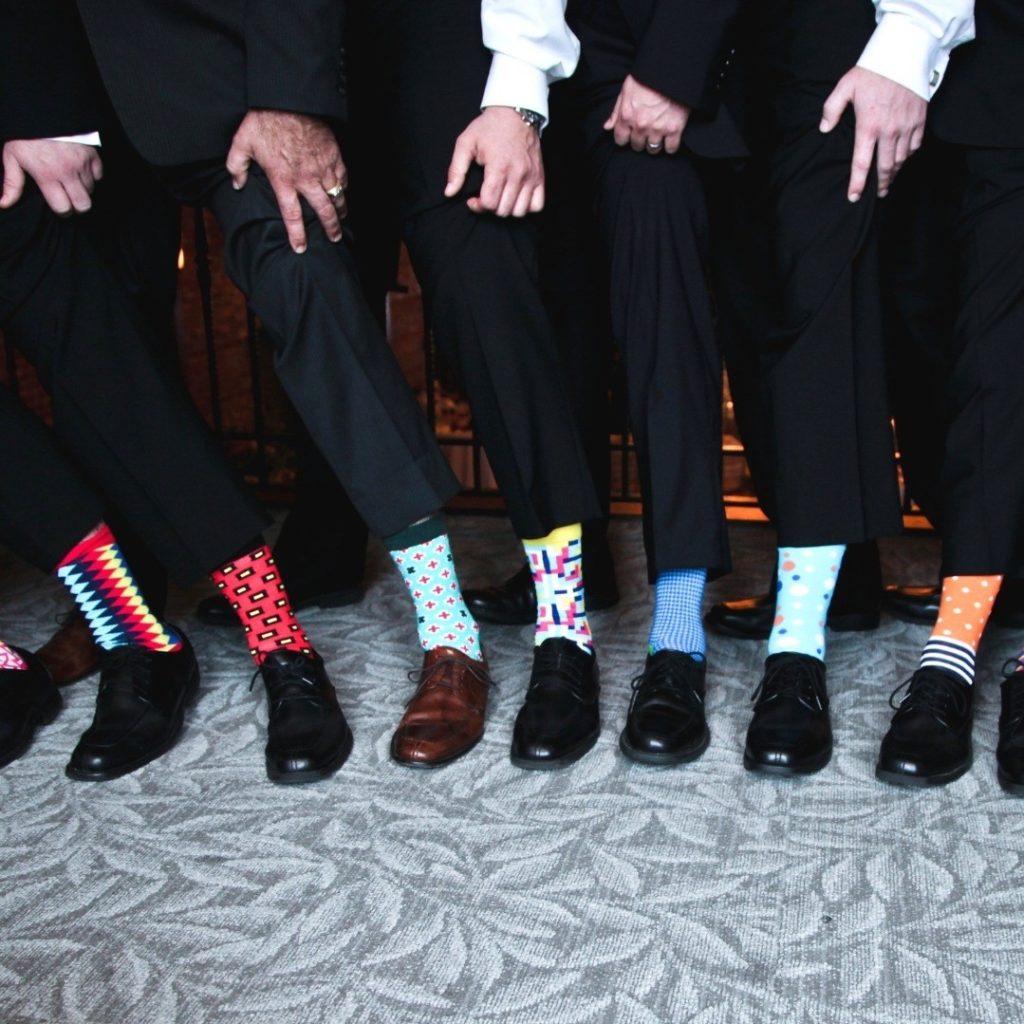 Credit: Soxy
What shoes to wear to a wedding
With the majority of the outfit picked out, the next step is to choose a pair of shoes that tie the whole wedding outfit together. Dress shoes have their own level of formality which can sometimes be hard to navigate. Throw that in with dressing up for a wedding, and sometimes the options available can be daunting.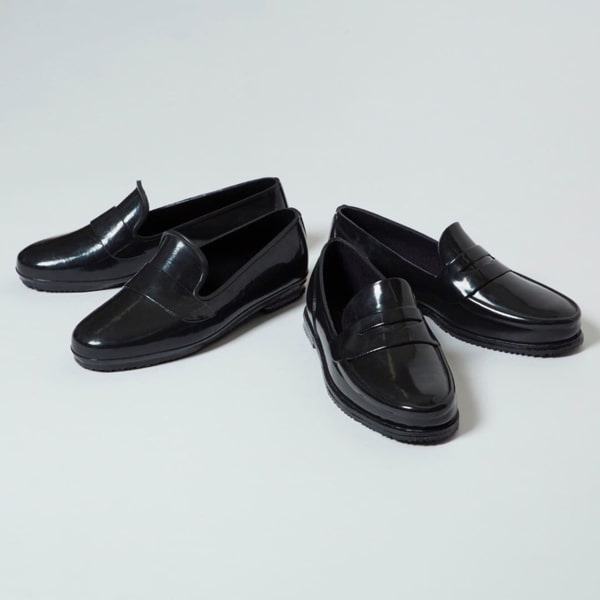 Credit: unitedarrows_official
The basics of dress shoes are that black shoes are the most formal, followed by brown shoes. Black dress shoes usually come in either leather or patent leather, and the shinier the leather shoe, the more formal it is. Opera pumps and black patent leather dress shoes are the go-to shoes if the wedding dress code falls under one of the higher formality codes.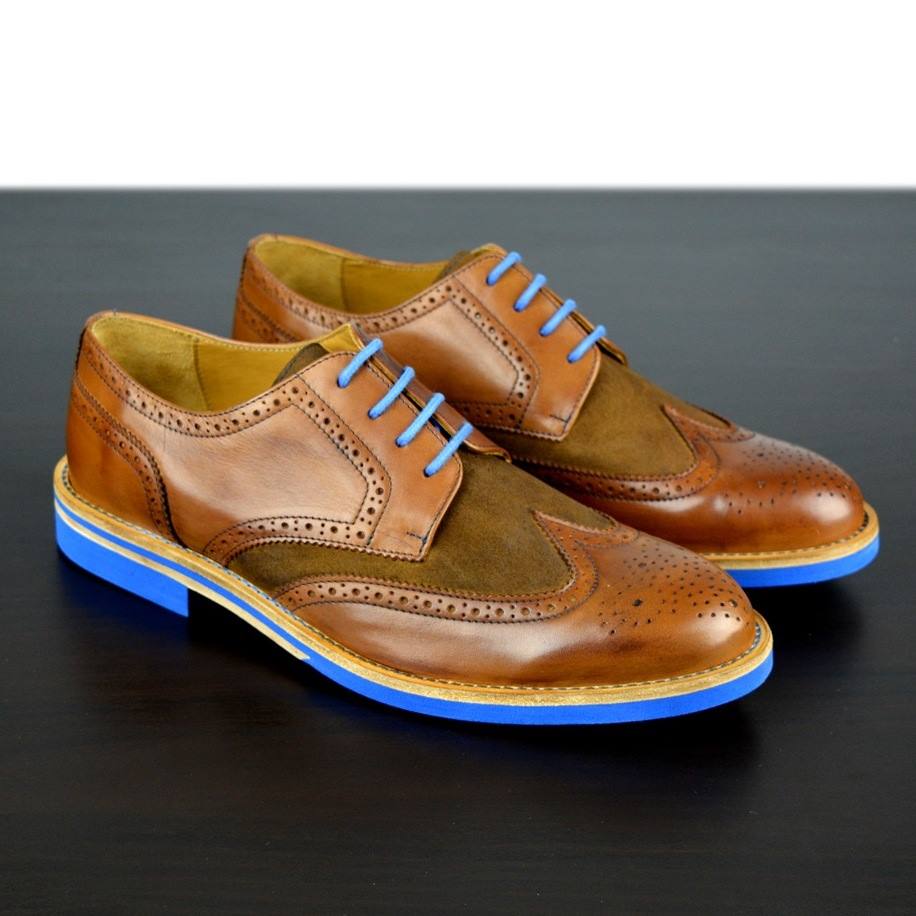 Credit: Soxy
Brown dress shoes, paired with a blue suit, for example, have a wider range of options as far as color and style, and this affects the formality of the shoe as well. Brown dress shoes also are a better option when it comes to experimenting with suit colors or patterns, as the different tones in brown shoes can complement the different tones of fabric that have been selected. Like every other formal rule, the darker the brown shoe the more formal it is. Dark brown shoes are great for dark suits that are not black, like navy, grey, burgundy, eggplant and even forest green. Many of these colors have earthy tones, so it's always a good idea to stick to brown shoes that appear to have a more natural, wood-like color.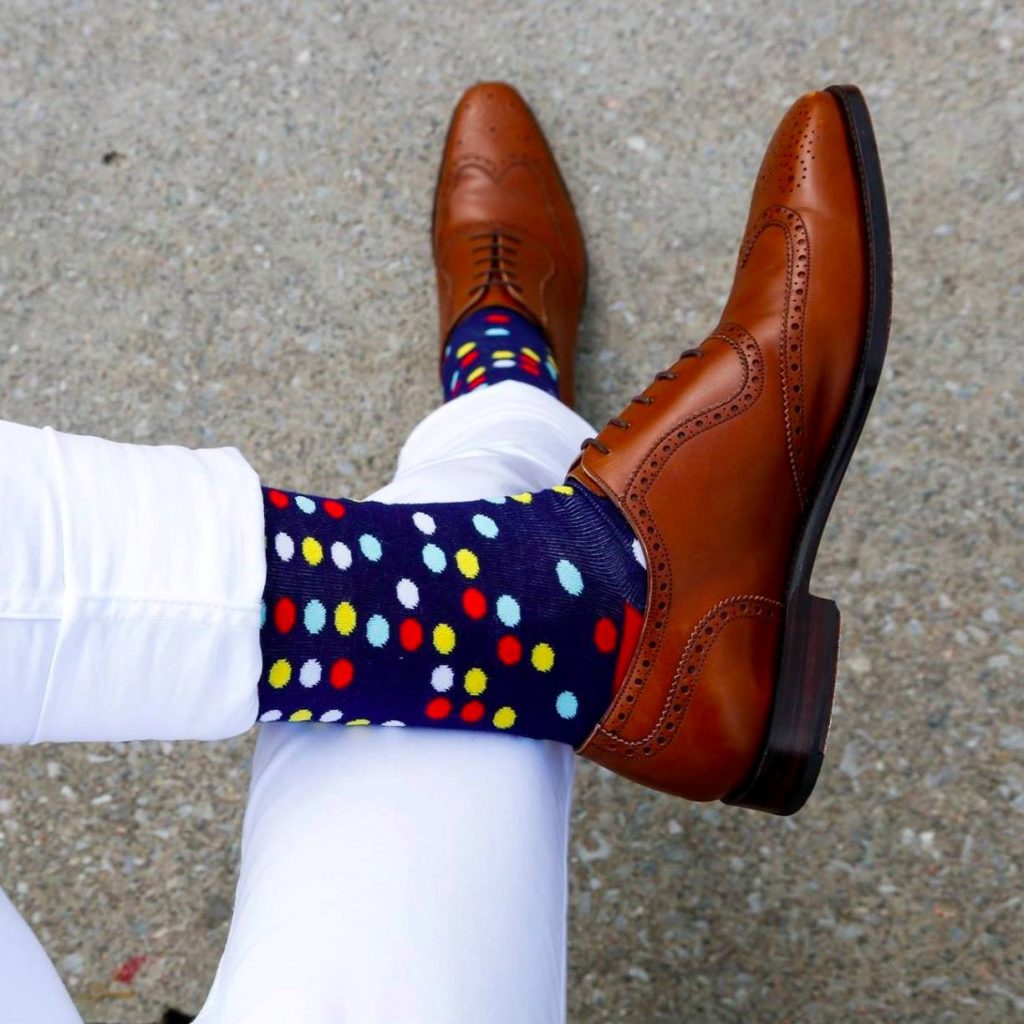 Credit: Soxy
In addition to the color of the brown shoe, the design of the shoe also has an impact on its formality. The plainer the brown shoe, the more formal it is. Designs like wingtips and brogues are considered much more common or casual, although they are growing in popularity as a formal shoe. The designs themselves of the Bruges can also affect the formality and how they look on the toe cap of the shoe.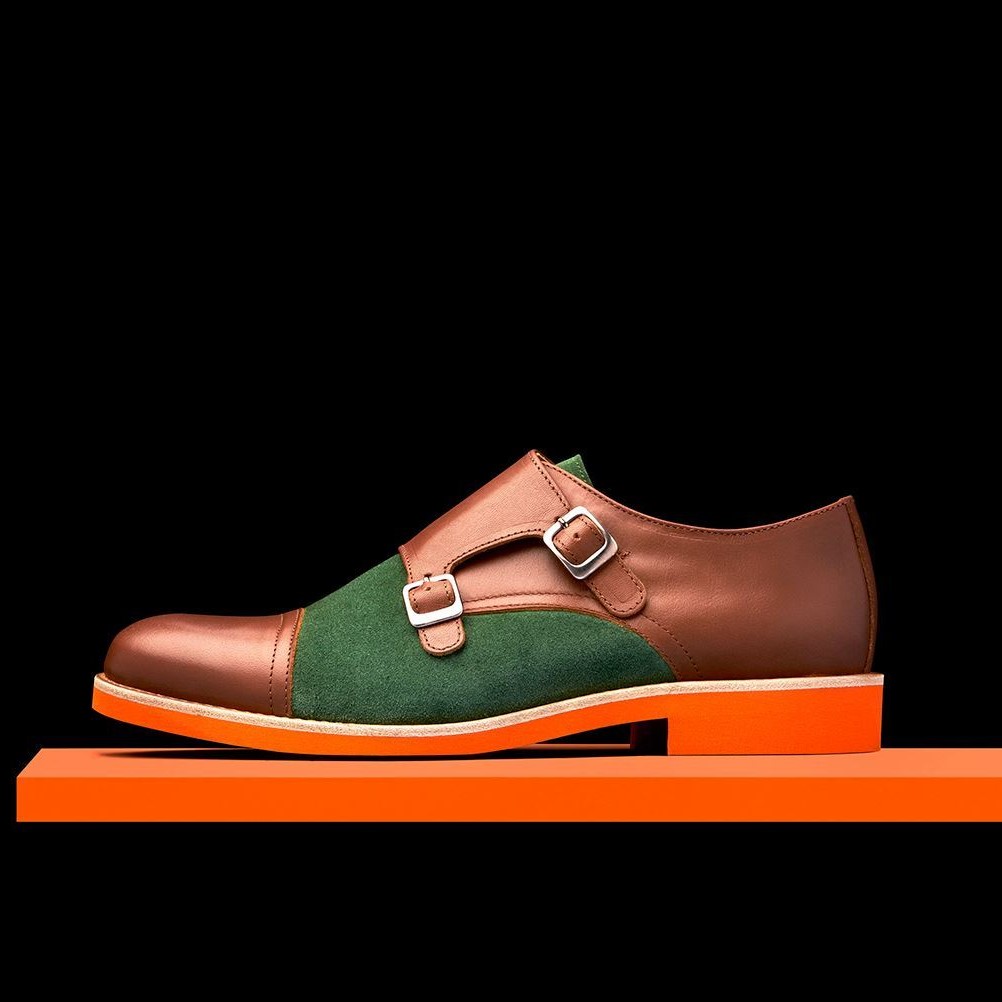 But let's say you're attending a semi-formal or dressy casual wedding and want to deviate from plain brown shoes. What kind of shoes do you wear to a wedding that won't be too flashy? Bold Society Shoes, like Soxy, makes unique shoes with a pop of color to add a little sartorial flair to your footwear. Many Bold Society Shoes usually feature a sole in bright colors such as yellow or blue, or the wings of the shoe may come in contrasting colors to the leather of the shoe. These designs are also unique to Bold Society Shoes, meaning it'll be difficult to find exuberant dress shoes elsewhere. Since Bold Society Shoes rely on these pops of color, they turn dress shoes into statement shoes, and can really punch up the polish and vibe of the full outfit. If choosing brown shoes for the outfit you're going to wear to a wedding, try and match the bottom sole color to either the socks or the pants for a nice effect.
Lastly, the material of a dress shoe is also important to its formality. Leather will always be the classic standard, but some materials and finishes can dress down the shoe and move a wedding outfit into casual attire.
| | |
| --- | --- |
| Formal | Casual |
| Leather | Canvas |
| Suede | Rubber |
| Patent | Nylon |
How to wear accessories at a wedding
The dress code for a wedding will also dictate what accessories can be worn at a wedding. Accessories can help improve an outfit, especially if it's a more casual wedding and you have decided to forego a suit. Accessories in menswear are usually considered to be the following:
Scarves
Jewelry, like cufflinks
Ties or pocket squares
Hats
Glasses
Is it possible to wear these accessories for a wedding? Sure! Items such as pocket squares or cufflinks add extra polish when wearing a suit and can be customized to either pull the look together or be personalized. Cufflinks, for example, don't need to be a standard square or circular shape. The devil is in the details, and if cufflinks come in a customized shaped pertaining to your interests, like an animal face or a superhero's insignia, it's a great way to add a personal touch to your formalwear without being overbearing.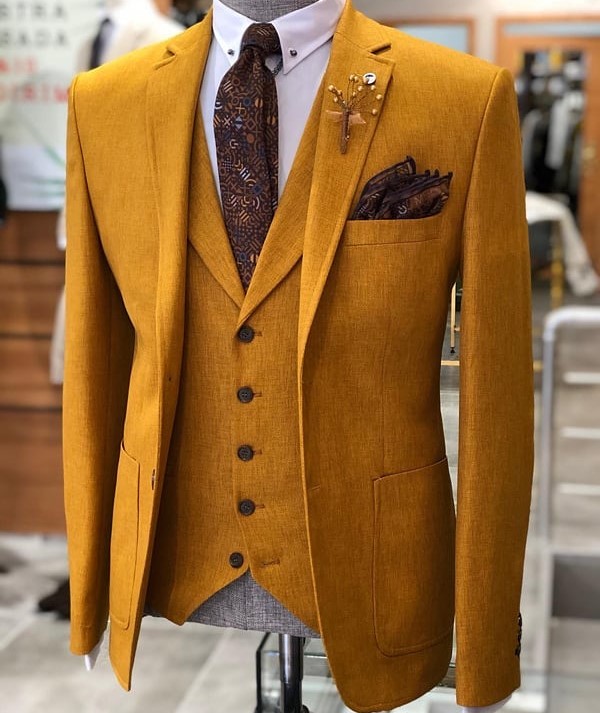 Credit: bespokedaily
Pocket squares or ties, if not required, can also be treated as accessories and used to tie in the colors of a guest's wedding attire really well. If working with multiple colors in an outfit, between the socks, shoes, and shirt, the pocket square or tie can introduce either a third or fourth color. One trick to pulling this off is by keeping the colors all within the same family. If at a spring wedding and wearing a navy suit, if the shirt and socks are light pink, the tie or pocket square can be a deeper rose color or magenta to complement the other pieces of the outfit.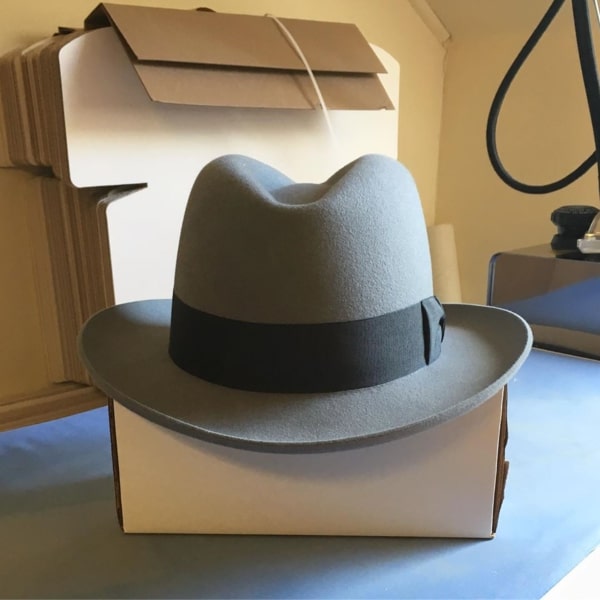 Hats as accessories for a wedding can be tricky. It's always a good idea to check with the venue first to see if they are allowed. If the wedding is taking place in a church, for example, you might not be able to wear the hat until the reception. As far as hats go, it's always a good idea to stick with classic shapes such as fedoras, flat caps, homburgs, or trilbies. The brim of the hat shouldn't be too wide, and the crown of the hat should fit properly as well. Fedoras can also be decorated or lined with a strap of leather or a ribbon of felt for extra flair. For cultural weddings, you might be invited to wear a traditional hat or cap as well.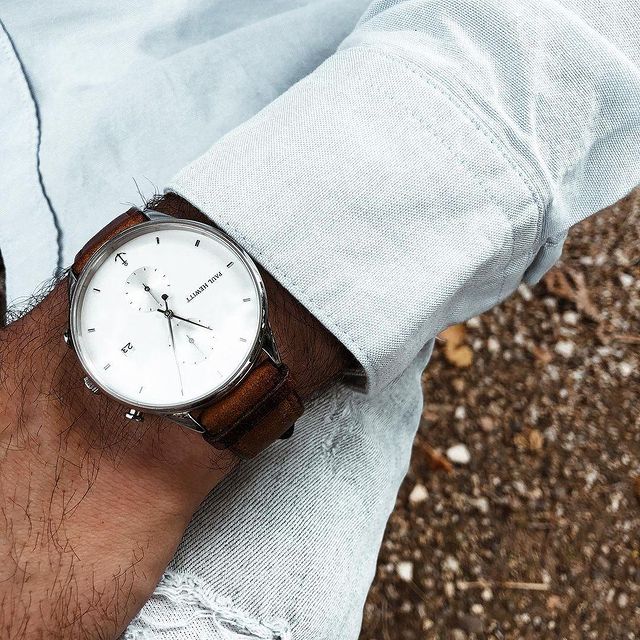 Credit: paul_hewitt_men
Other accessories like watches are pretty commonplace for formal events and are usually pretty standard with a black or brown leather band, or metal chain links. The color of the watch doesn't matter so much as the size, as you don't want to wear a watch that is too small or too big. The watch's proportions are important and are one of those small details that can make or break a complete outfit.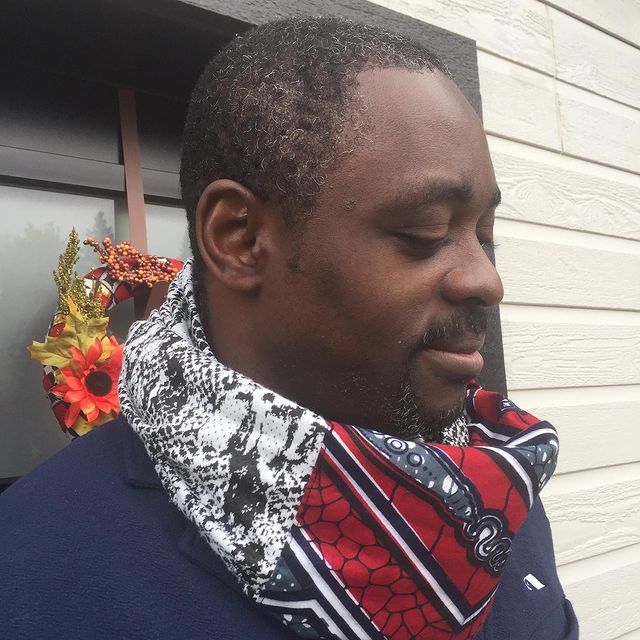 Credit: walyaccess
The last accessory to consider is a scarf. Scarves would be more appropriate for fall and winter weddings when the temperature drops. Treat a scarf like a tie, in that you don't want it to be too skinny or too wide. Finding a perfect width of the scarf will allow you to wrap it around your neck comfortably without obscuring or overwhelming the rest of the outfit you've chosen to wear to the wedding. Straight scarves would be preferred over blanket scarves or infinity scarves. Throwing in a patterned scarf against a monochromatic wedding outfit is also a great way to add some color to your final look.
What to wear at a wedding: In conclusion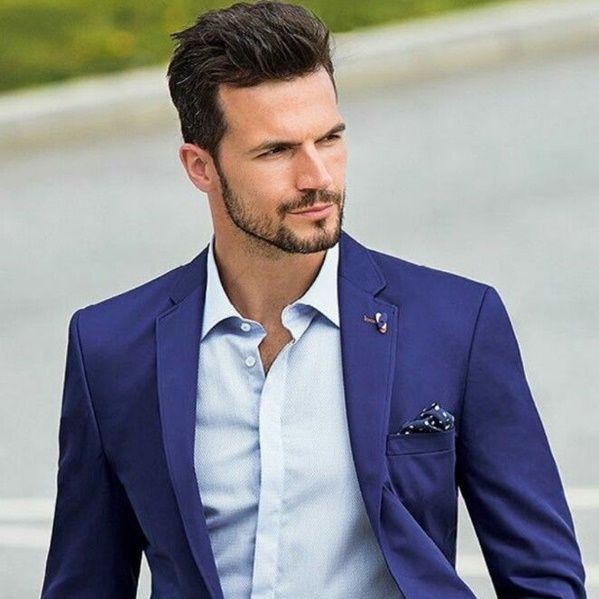 There are an estimated 2.5 million weddings per year in the United States, so the chances of attending at least one are pretty high. If you're lucky enough to attend more than one at different times throughout the year, you have the chance to experiment with outfit changes and suit styles a few different times before settling on a tried and true guest wedding attire. The things to always keep in mind when getting ready for a wedding are:
Dress code
Color palette
Appropriate accessories
By adhering to a checklist similar to this, it is possible to build an outfit that is perfect to wear to a wedding every time you get invited. Being able to switch out one or two pieces of your outfit as well can help in nailing the wedding style without investing too much time or money.
Get Access to Exclusive Deals
Subscribe for free to get exclusive deals in your inbox. 100% privacy