What To Wear With Black Shorts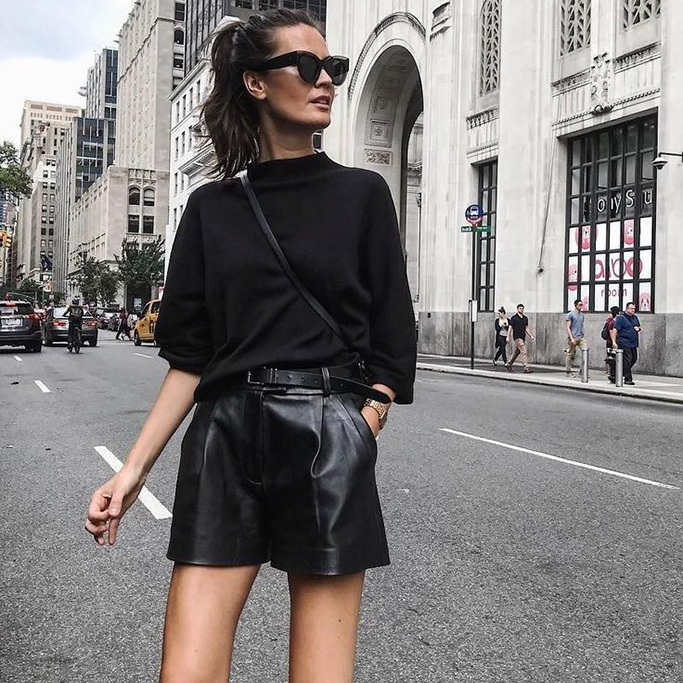 Ah, blue—it's a way to describe the ocean, someone's eyes, or a clear summer sky. It's hard to hate this hue, but we totally understand if you've had your fill. 
Fashion wouldn't be the same without this pivotal color, especially since it's traditionally used in denim. But, are you tired of blue jeans?
You're not the only one, given that many trendsetters are wondering what to wear with black shorts. 
Considered the direct opposite of traditional blues, black shorts are typically seen as the 'Chemical Romance' to your 'Katy Perry.'
It's the kind of garment that rebels against fashion norms, given its dark hue and unconservative cut. In a more positive light, this item is known to be super versatile, since it can pair with several different outfits. 
Care for some fashion inspiration? If so, we'll show you what to wear with black shorts by using 14 different outfits.
By the end of this article, hopefully, you'll know:
What to wear with black shorts female
What to wear with black shorts men
Some classic black jean shorts
Examples of summer shorts men
Types of men's dress shorts in black
When To Wear Black Shorts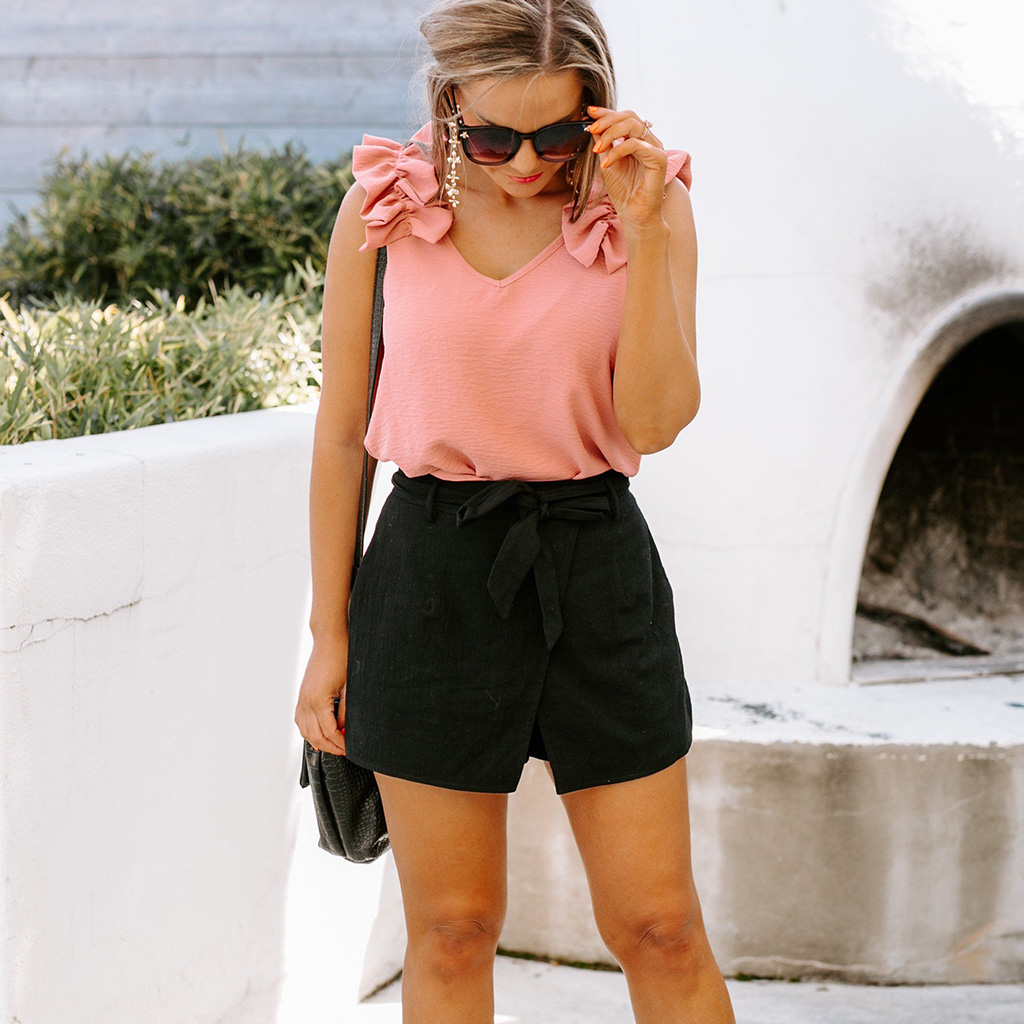 Black is typically reserved for cold weather since it absorbs heat. Shorts, on the other hand, are meant to fend off humidity.
Combining the two seems like an oxymoron, but generally speaking, this specific garment is worn strictly during spring and summer. You don't have to worry about sweat accumulation here, since their cropped silhouette allows for breathability. 
Black shorts are exclusively worn casually. They're only meant for casual hangouts, laidback events, and other everyday activities. Formal occasions such as weddings and funerals require a fancier and more conservative dress code. 
What To Wear With Black Shorts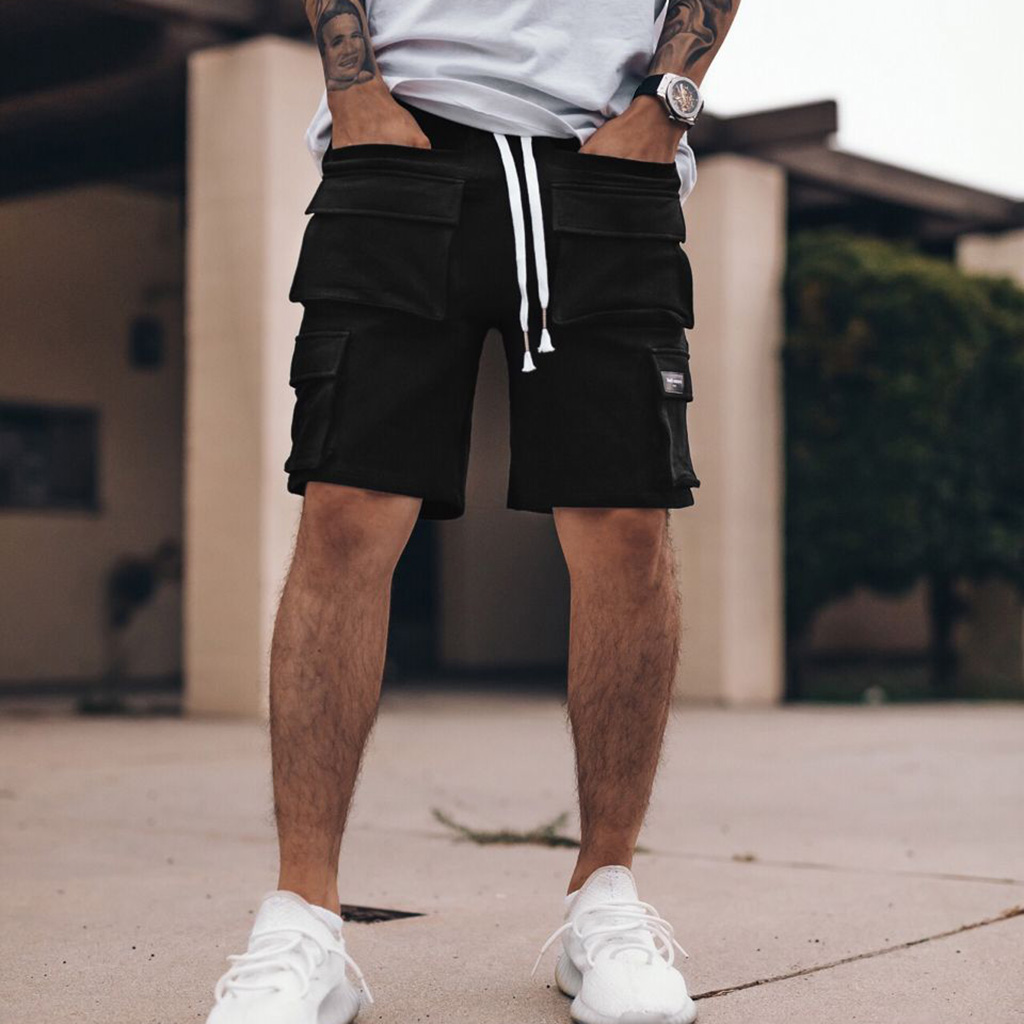 Compared to other colors, black is considered the go–to hue for many trendsetters. It's known to be super versatile, which is especially helpful in terms of outfit coordination.
As previously mentioned, black shorts are a must-have for spring and summer. Designed to pair well with tanks, blouses, and other wardrobe staples, there's definitely no shortage of OOTD looks out there.
Low on outfit inspiration? If so, this what to wear with black shorts guide will feature a few trendy ensembles worth considering.
14 Outfit Ideas To Wear With Black Shorts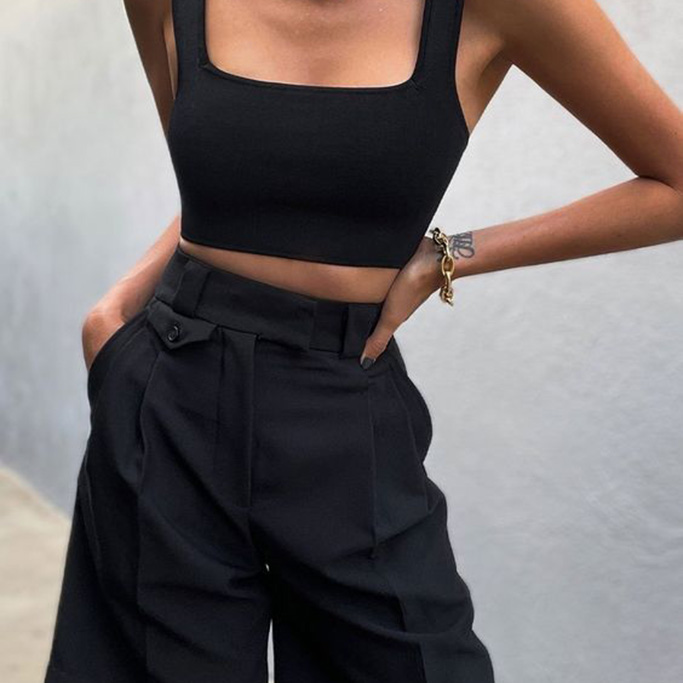 Simplicity is often misinterpreted as plain, dull, and tasteless. It's a pessimistic view to believe, especially for amateur fashionistas. Beauty can be found in minimalism, such as this stylish outfit. 
Composed of a black crop top, matching bottoms, and a chunky gold necklace, this ensemble does wonders by complementing your figure. If you don't know what to wear with black shorts, we strongly encourage you to go back to the basics.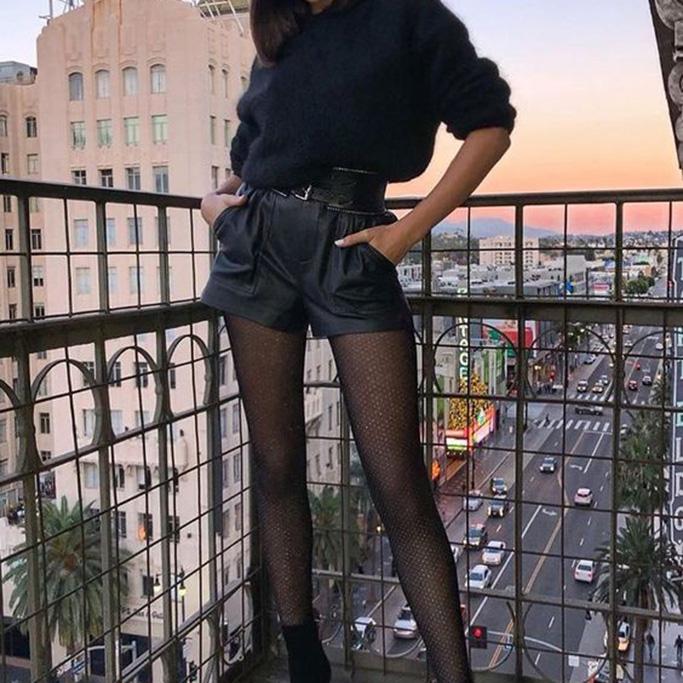 Leather pants in the dead of summer? No thank you. While it may seem counterintuitive to don unbreathable synthetics in 30-degree humidity, this outfit is definitely meant for warmer weather. 
The black shorts help to keep things airy, so you don't have to worry about chafing and perspiration.
Obviously, wearing a chunky cable knit in the middle of July isn't the smartest idea, which is why we recommend donning this 'what to wear with black shorts' contender during early fall.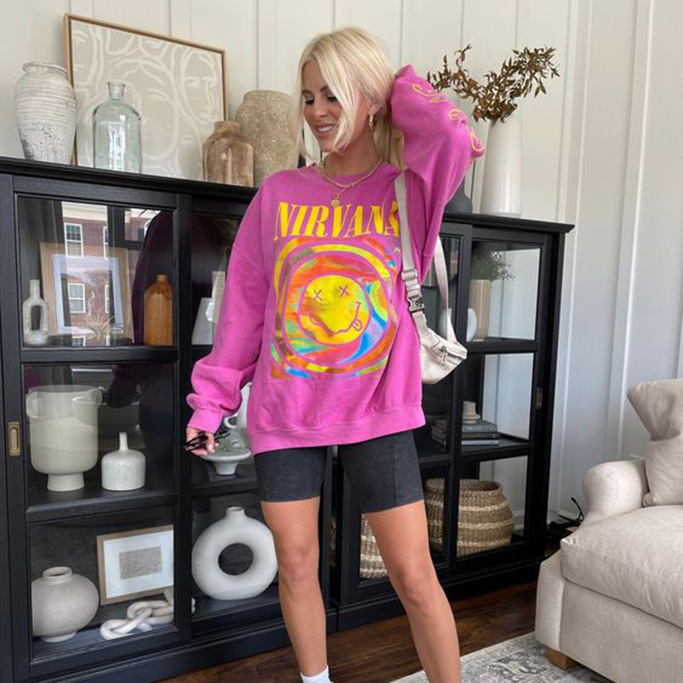 Princess Diana continues to be a legendary trendsetter. Obviously, not all of us can afford royal attire—but thankfully, Dynasty Di had a thing for casual wear. 
This 'what to wear with black shorts' outfit is no exception, as it features an oversized pullover with a pair of biker bottoms.
Relaxed in silhouette, this iconic look was a routine favorite of the princess. To help finish off the OOTD, we recommend wearing a pair of white sneakers with socks.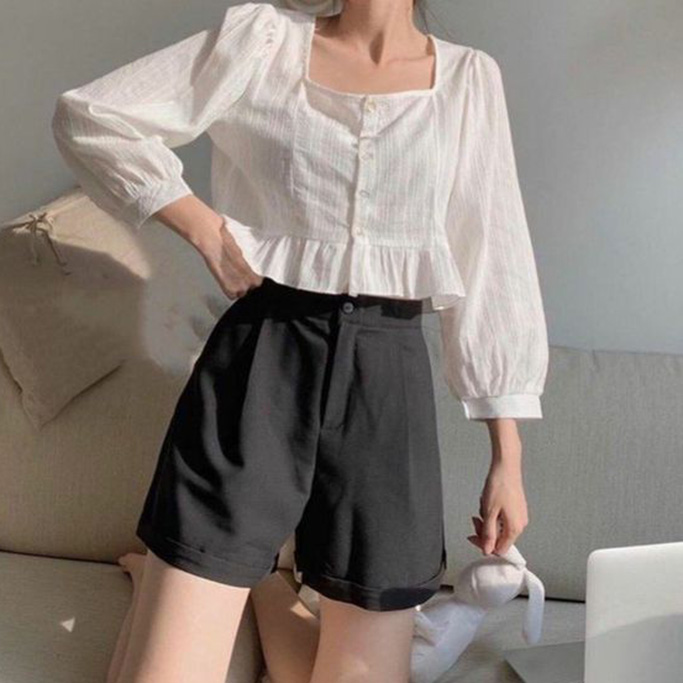 Black denim shorts are generally synonymous with alternative fashion. Of course, not all of us are fond of hard-core grunge and rock 'n roll. If you're in the mood for something softer, we suggest this romantic ensemble. 
Outfitted with a white peasant blouse and black bottoms, this simple OOTD keeps things light and fresh for sunny summer days. For shoes, you can never go wrong with a pair of original Chuck Taylors.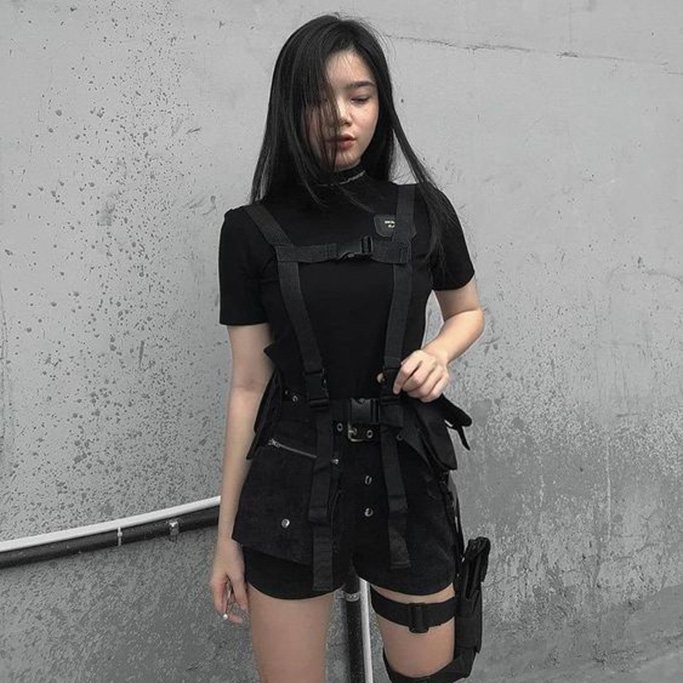 Considered a go-to for many K-pop idols, harnesses and dark clothing are typically donned to look edgier. 
Take, for instance, this sultry outfit, which features a simple top, a pair of black cargo shorts, and a flurry of buckles and straps.
It's definitely reminiscent of the Lara Croft look that Jennie wore in the "Kill This Love" music video. Dangerous in aesthetic, this is what to wear with black shorts if you're feeling a bit spicy.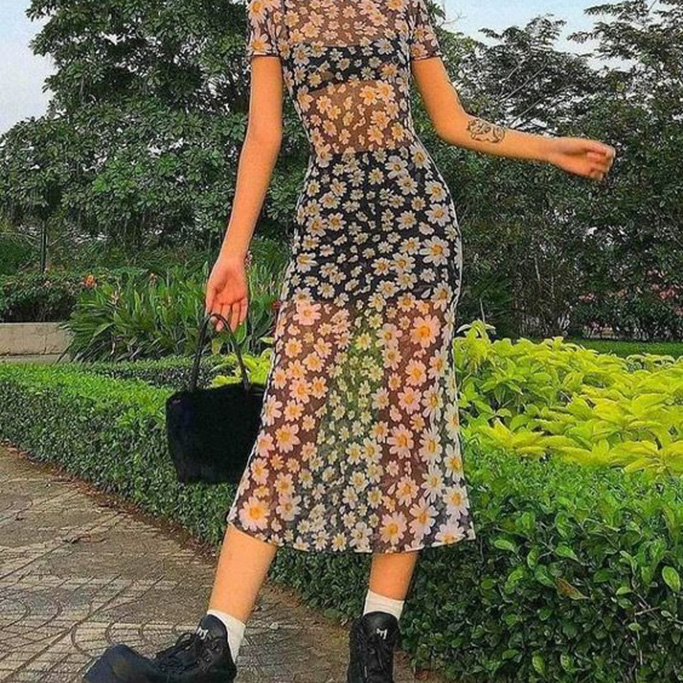 Skipped a shave day? If so, we see no reason why you should leave your biker shorts at home. Sheer dresses are considered the perfect way to disguise hair, as the fabric creates a slight blur when worn. 
The bottoms and crop top help keep the outfit modest. Plus, it acts as a great alternative in place of a slip, which may look off when paired with a chiffon skirt.
Accentuated with chunky boots for a hint of edge, this 'what to wear with black shorts' contender is the perfect mix of flower power and grunge.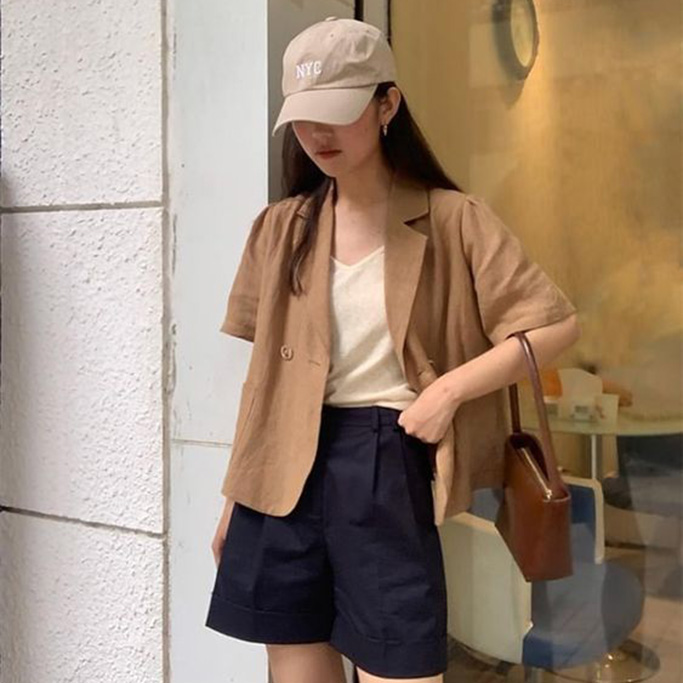 Gearing up for a coffee date? Most cafes call for a casual set of clothing, such as this cute ensemble. Outfitted with a cream top, a brown button-down, and a pair of black shorts, this OOTD is perfect for laidback hangouts or friendly brunches. 
In terms of shoes, you can either opt for a pair of open-toed sandals or chunky white Fila sneakers for a touch of streetwear. For accessories, we highly recommend finishing the look off with a baseball cap and a cute handbag.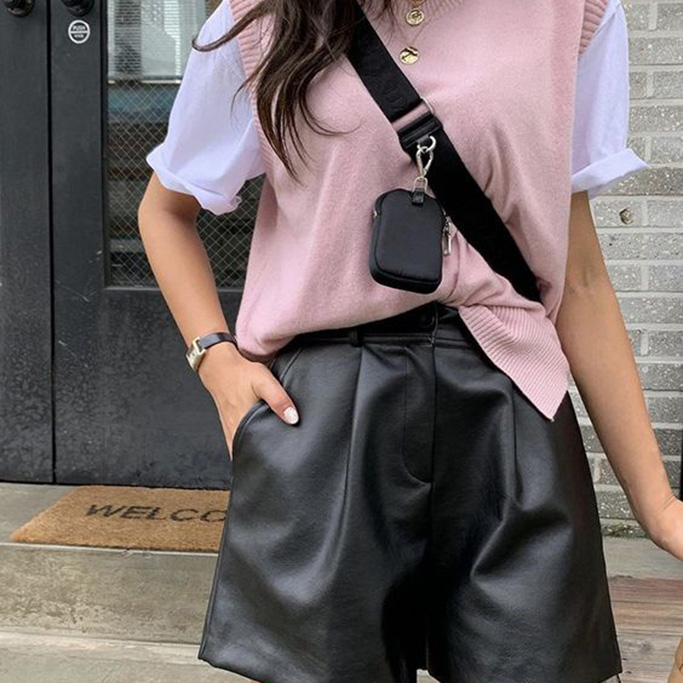 Black leather is typically associated with Instagram baddies and techwear. If you prefer something sweeter rather than sexy, we recommend this adorable outfit. 
Composed of leather shorts, a pink sweater vest, and a white shirt, this OOTD hinders on 'bookish coffee girl' instead of 'badass dominatrix.'
The crossbody bag and the gold necklace help to keep things casual for everyday use. For shoes, you can never go wrong with a chunky pair of platforms.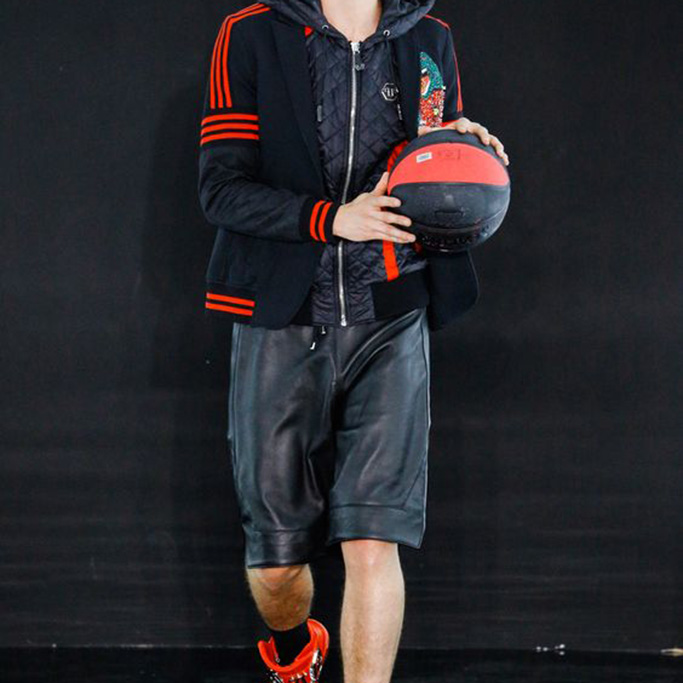 Shooting hoops with the boys requires a comfortable set of clothes. That said, we encourage you to treat the court as your own personal runway.
This fashionable OOTD features a striped jacket, a puffer hoodie, black leather shorts, and a pair of bright red sneakers. While it isn't the most practical ensemble for basketball, it can serve as a notable distraction to help you gain a few extra points.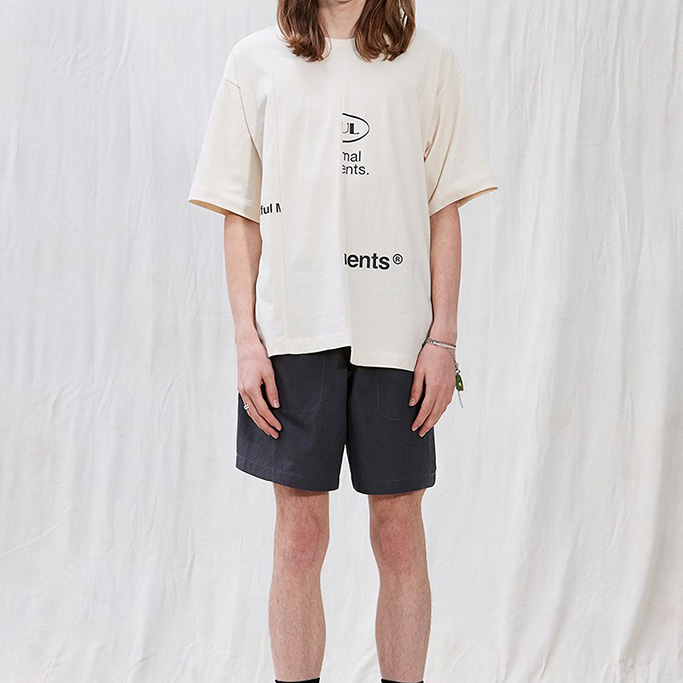 Can't be bothered to compose an outfit? If so, you can never go wrong with a simple tee and a pair of black shorts. This classic ensemble keeps things laid back for lazy days, but it's still a more stylish alternative compared to the couch potato aesthetic. 
It features a designer tee from Liful Minimal Garments, which is definitely a level-up from any Hanes T-shirt. Complemented with polished loafers, this OOTD is worthy of an Instagram post and a Netflix marathon.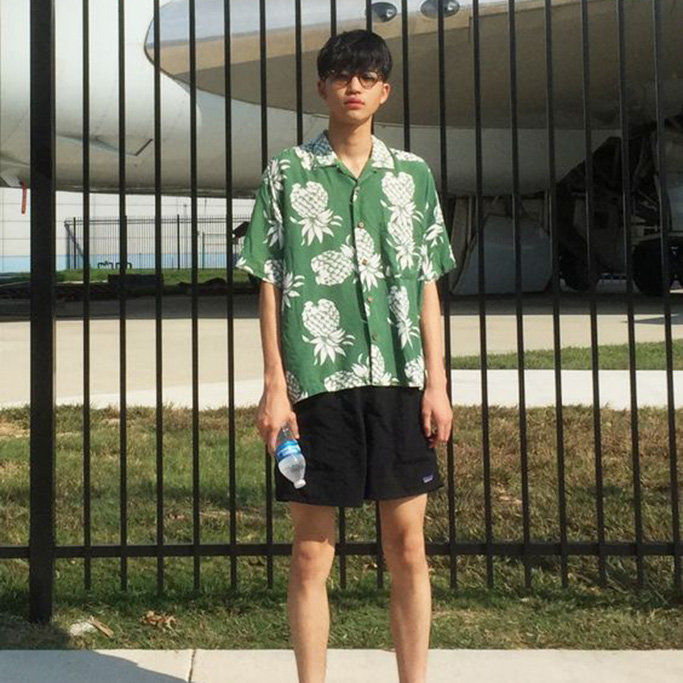 It's time to ditch those dad-themed cargo bottoms. Black shorts are where it's at, as this particular garment can help sharpen any mundane look. 
Paired with a green Hawaiian shirt and some lace-up sneakers, it's considered a more stylish version of the stereotypical tourist outfit.
Since this OOTD is devoid of accessories, this 'what to wear with black shorts' guide recommends adding a fanny pack and a bucket hat for extra pizazz.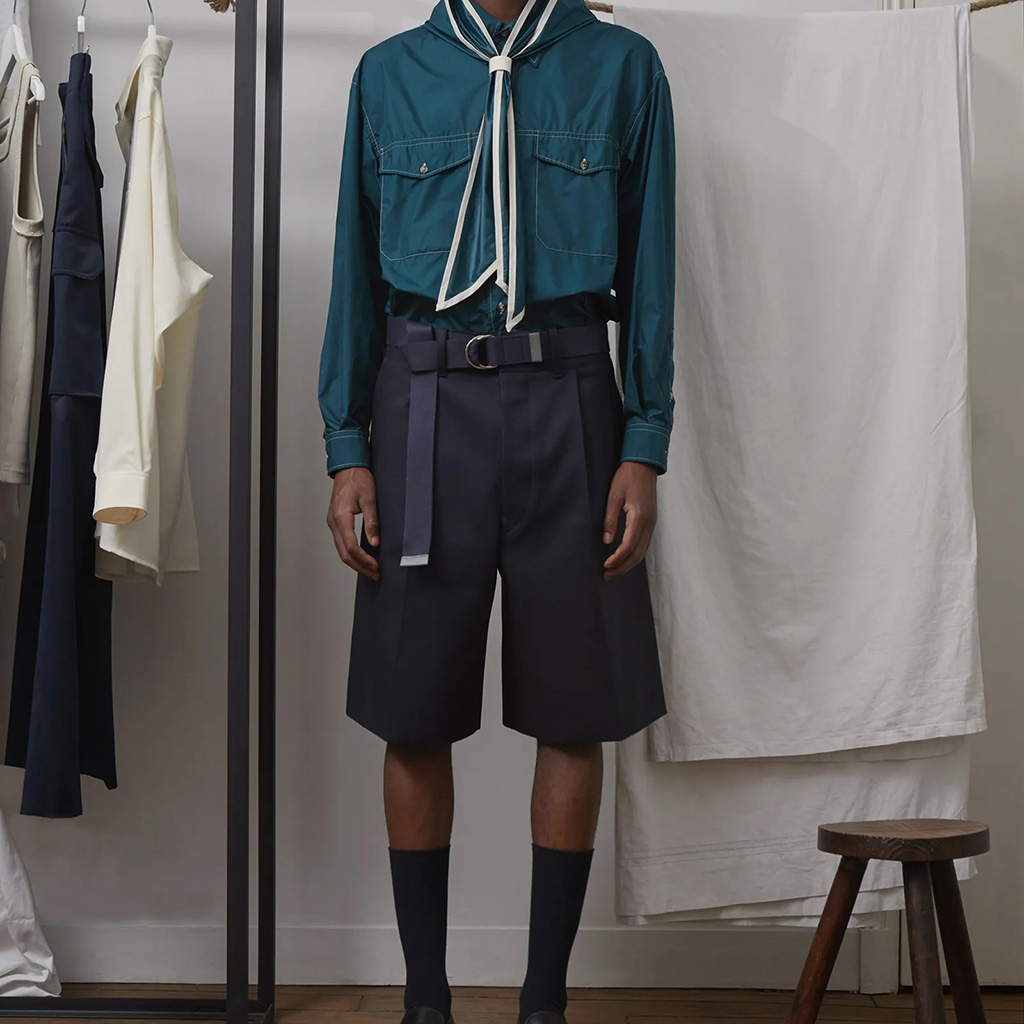 Men's summer shorts are far from sophisticated…or are they? This chic outfit manages to style black dress bottoms in a flattering manner. This is partially thanks to the teal button-up shirt and the decorative neck scarf. 
The ankle socks and matching loafers help to elevate the ensemble further—as sneakers would sully the elegance of the entire look. Best paired with a satchel, this is what to wear with black shorts if you work for a fashion magazine.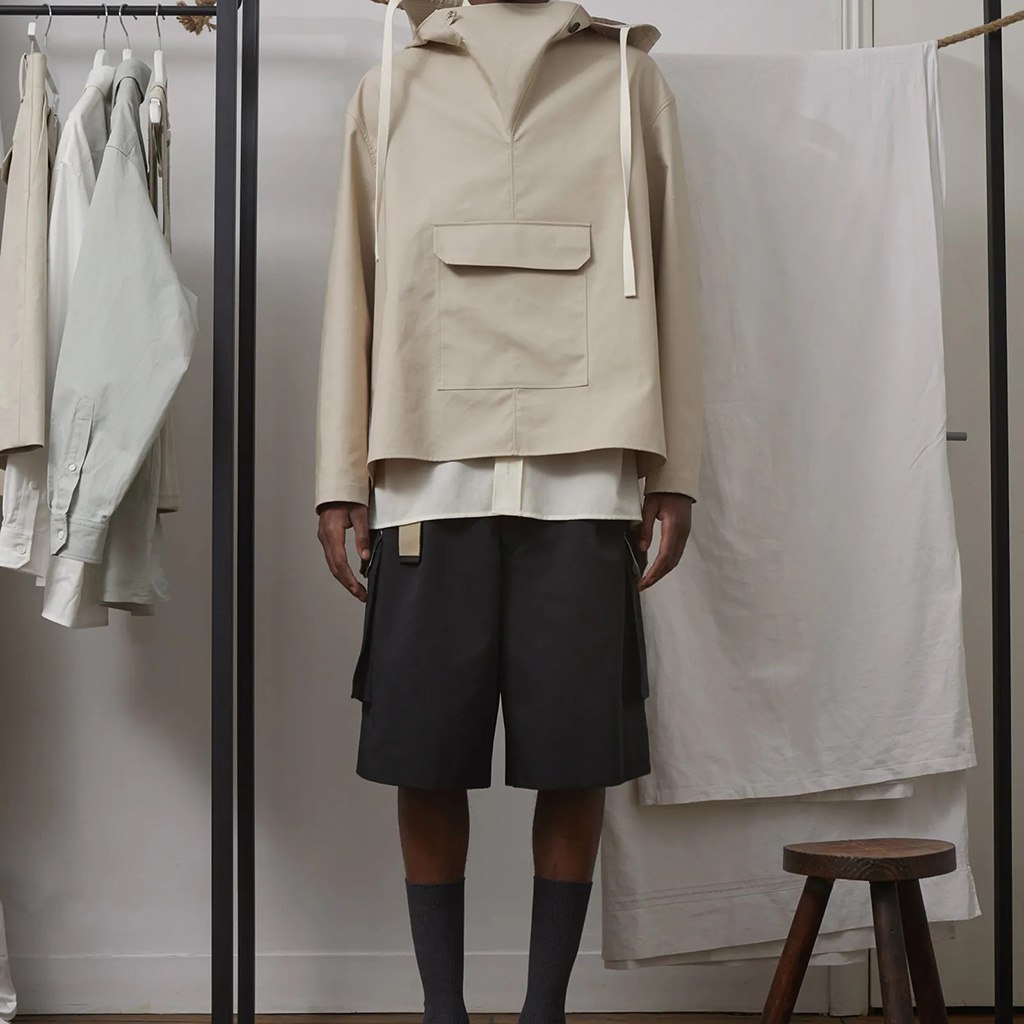 Relaxed in silhouette, this 'what to wear with black shorts' contender is exclusively reserved for gloomy days. It features a cream rain jacket, a white button-up, a pair of dark bottoms, and black loafers. 
Neutral in tone, it's the kind of look that screams 'casual afternoons in foggy London.' Obviously, Italian loafers are not ideal in muggy climates, which is why we recommend swapping them for rain boots instead.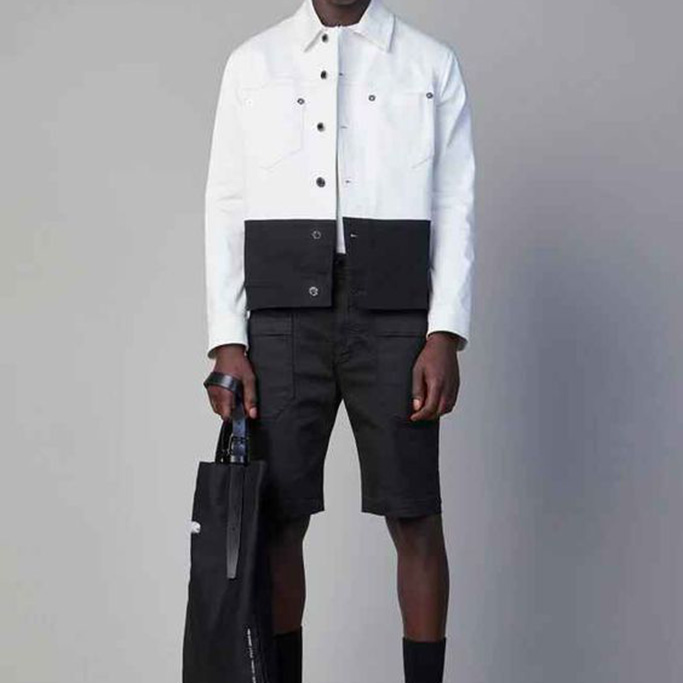 Styled to look like a one–piece, this last outfit features a dip-dyed denim jacket with a pair of matching shorts.
The color-blocked effect of the coat provides the illusion of longer legs and a shorter torso, which helps enhance your figure. The sneakers and tote bag mellow out the OOTD, in case you're not fond of bright colors. 
What Type Of Black Shorts Can You Get?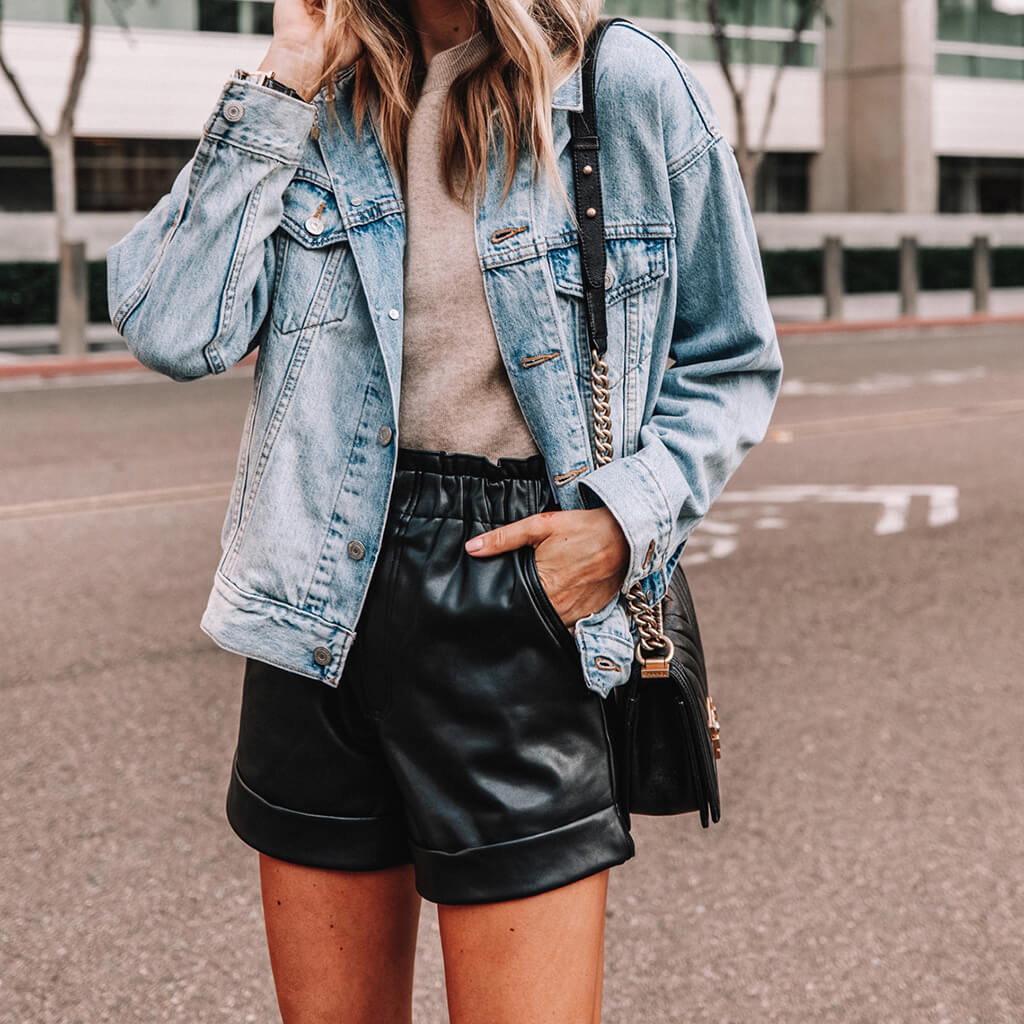 Fashion is rarely simple. From jeans to tees, there are different variations to choose from. Black shorts are no exception, given that dozens of silhouettes and washes are available.
For those not keen on perusing through rack after rack, this 'what to wear with black shorts' guide will discuss a few notable trends that are all the rage this season.
Distressed denim: Considered a wardrobe classic, this particular garment pairs well with graphic tees and button-down flannels.
Cargo shorts: This K-pop favorite is usually accessorized with harnesses and chunky belts. Aesthetics-wise, this garment is intrinsic to techwear.
Conservative dress shorts: Typically made out of soft cotton, polyester, and silk, these bottoms provide more coverage on the booty.
Biker shorts: Best paired with a loose sweater, this wardrobe basic is a super versatile clothing piece.
Athletic shorts: These bottoms are usually loose in shape. They also come with an elasticated waistband for added flexibility.
How To Choose The Best Black Shorts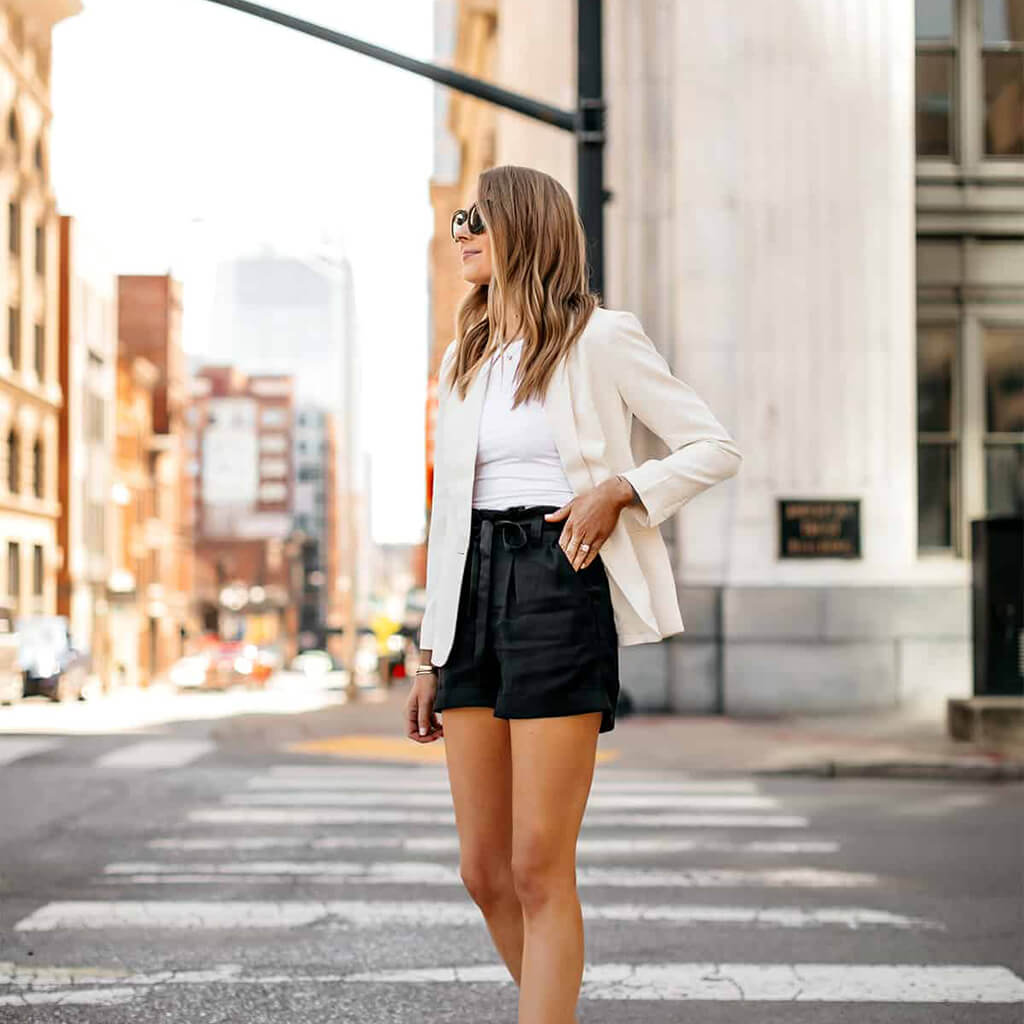 Disposable fashion is so last season. If you want to shop sustainably, it's important to consider four things when shopping for black shorts: material quality, design, comfort, and price.
These variables play a pivotal role in a garment's lifespan and practicality. If this is your first time shopping for black bottoms, we'll be sure to discuss each factor in full. 
Let's start with material quality. Depending on the design, black shorts are typically made out of cotton, polyester, spandex, and elastane.
They should feel sturdy in shape and flexible when worn, which can be easily checked by conducting a simple sit and squat test. 
Breathability is also another critical factor to consider unless you're fond of perspiration. After all, shorts are meant to be worn during spring and summer, so it would seem counterintuitive to choose thick wool over linen.
The design ensures continued wearability. At the end of the day, you don't want to be stuck with a pair that's hard to style.
So, for novice trendsetters, we recommend sticking to traditional silhouettes and neutral washes—since they typically blend with several outfits. Of course, this may not apply to maximalist fashionistas who prefer bolder aesthetics. 
When it comes to price, this 'what to wear with black shorts' guide is unable to provide an accurate estimate. It really depends on your budget and what brands you choose to support.
If we were to offer a ballpark, we recommend staying within a $100 limit. Customers can easily find an affordable pair of bottoms without resorting to designer labels. 
How To Style Black Shorts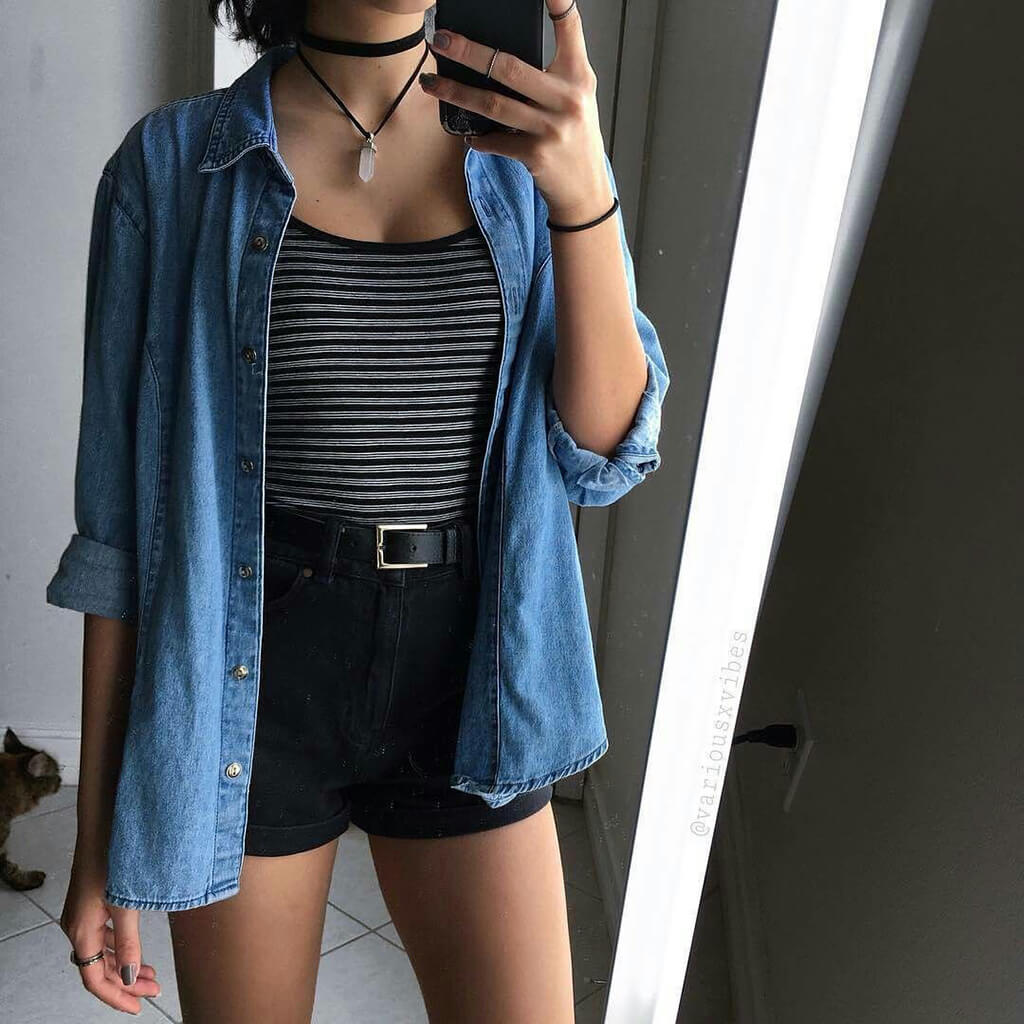 Accessories can make or break an outfit. This is especially true for black shorts, as they're typically simple in design and silhouette. For those in need of outfit inspo, we'll provide some tips and tricks that are sure to spice up your final fit.
Belts: Not a fan of low-riding? If so, a leather belt can help prevent sagging bottoms. It can also be used to accentuate your waistline.
Oversized tops: Black shorts are typically form-fitting in shape. If you're fond of the fit and flare silhouette, we highly recommend wearing a loose shirt to help create that effect.
Oxfords & platform loafers: Instead of sneakers, we suggest swapping your lace-ups with something more sophisticated.
Harnesses: Those fond of techwear should never underestimate the power of a black harness. It can transform any mundane look into an edgy outfit.
Matching sets: There's no shame in going back to the basics. If you're struggling to form a cohesive outfit, we recommend wearing a simple black top or jacket.
Silver jewelry: Instead of opting for gold, sterling silver can help keep your black outfit looking cool and composed.
Fashion Tips To Avoid With Black Shorts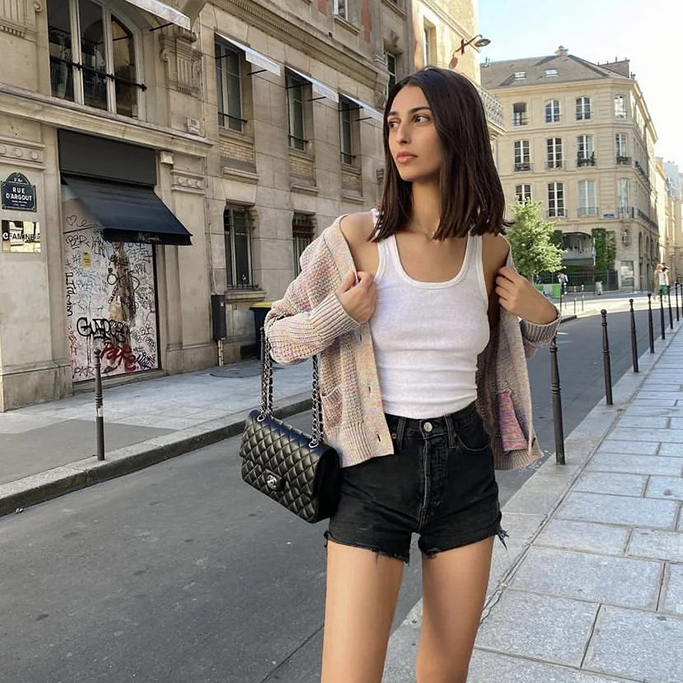 Fashion is all about experimentation. For some, it's a way to express their creativity and individuality. For others, it's a grueling necessity that requires lots of trial and error.
Black shorts are relatively easy to style, but there are a few no–nos' to keep in mind when putting together your outfit. 
If you prefer to stay on the safe side, here are some fashion tips to avoid with black bottoms:
Low-rise shorts: Considered one of many fashion sins committed in the early 2000s, we implore you to leave this style trend behind.
The super-distressed shorts: Excessive rips and holes will shorten the lifespan of your bottoms. If you're keen on DIYing your own pair of denim, we recommend making cuts a few inches shorter to ensure more room for distressing.
Suit shorts: There's a reason why formalwear calls for pants instead of shorts. Wearing cropped pants to weddings and funerals is not a good look.
Bermudas: Considered a halfway point between shorts and pants, these ugly capris should be left in the back of your closet.
The bargain deal: Fast fashion is notoriously known for using cheap materials. Trust me, you don't want to pay $5 for a thin pair of black shorts.
How To Take Care Of Black Shorts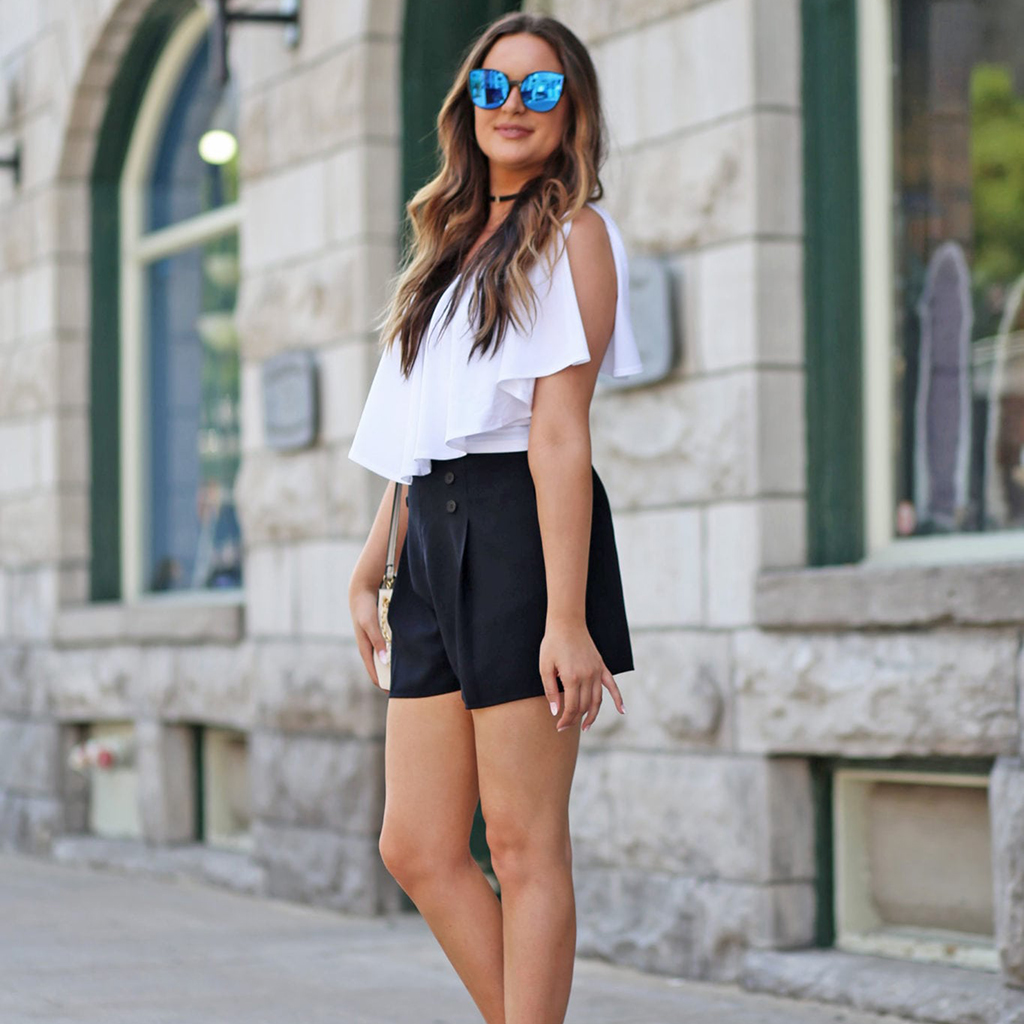 Clothes require routine TLC. Black shorts are no exception—regular upkeep will help maintain their silhouette and color. Can't be bothered to visit your local cleaner? No worries. Here are some tips and tricks on how to clean your coveted bottoms.
Double-check the laundry tag: Some shorts can only be air-dried and dry-cleaned.
Wash in cold water with mild detergent: Hot temperatures and bleach will often lead to fading and shrinking.
Tumble dry on low if necessary: If your garment is machine-friendly, we suggest setting the dial to its lowest setting to ensure a gentle spin.
Best Places To Buy Black Shorts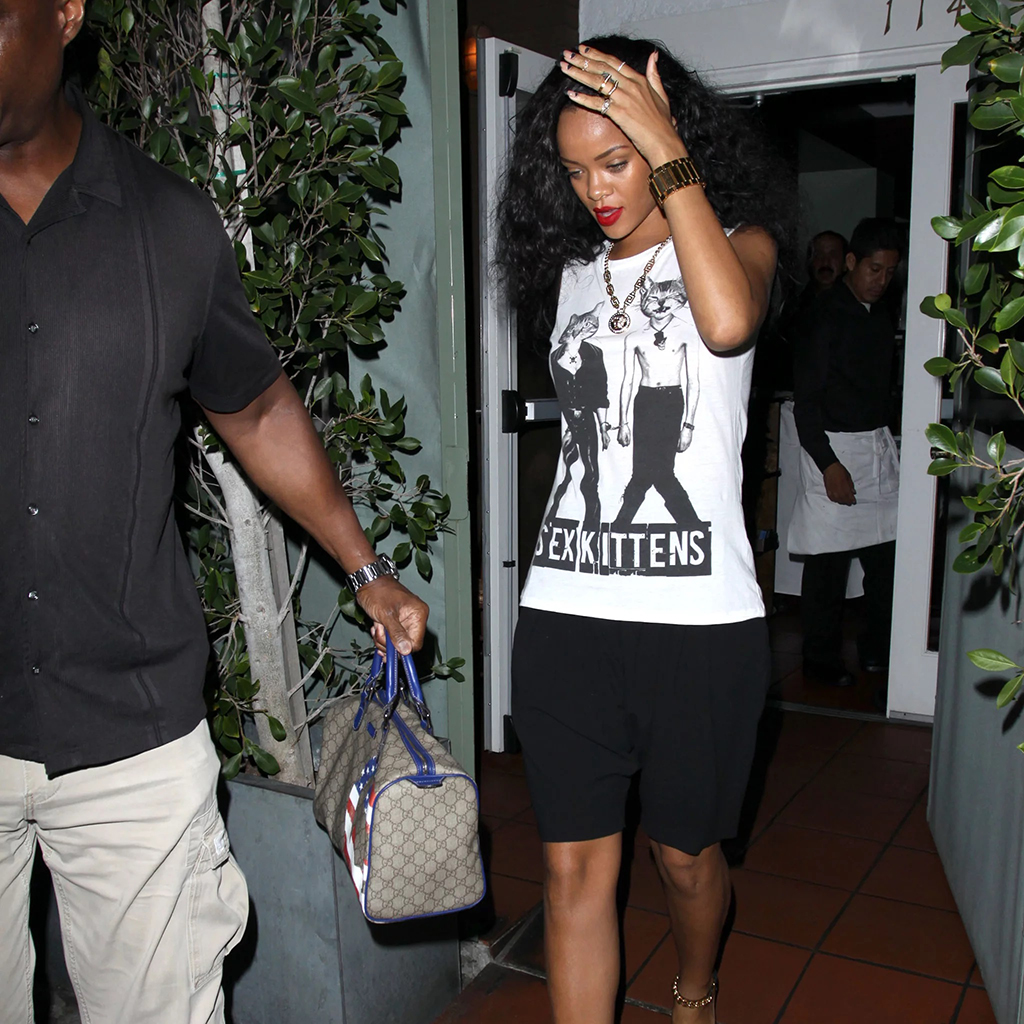 Before this 'what to wear with black shorts' guide ends, we'd like to leave our readers with a few store recommendations: 
Nordstrom 
ASOS 
Everlane 
Urban Outfitters 
Set Active 
Final Thoughts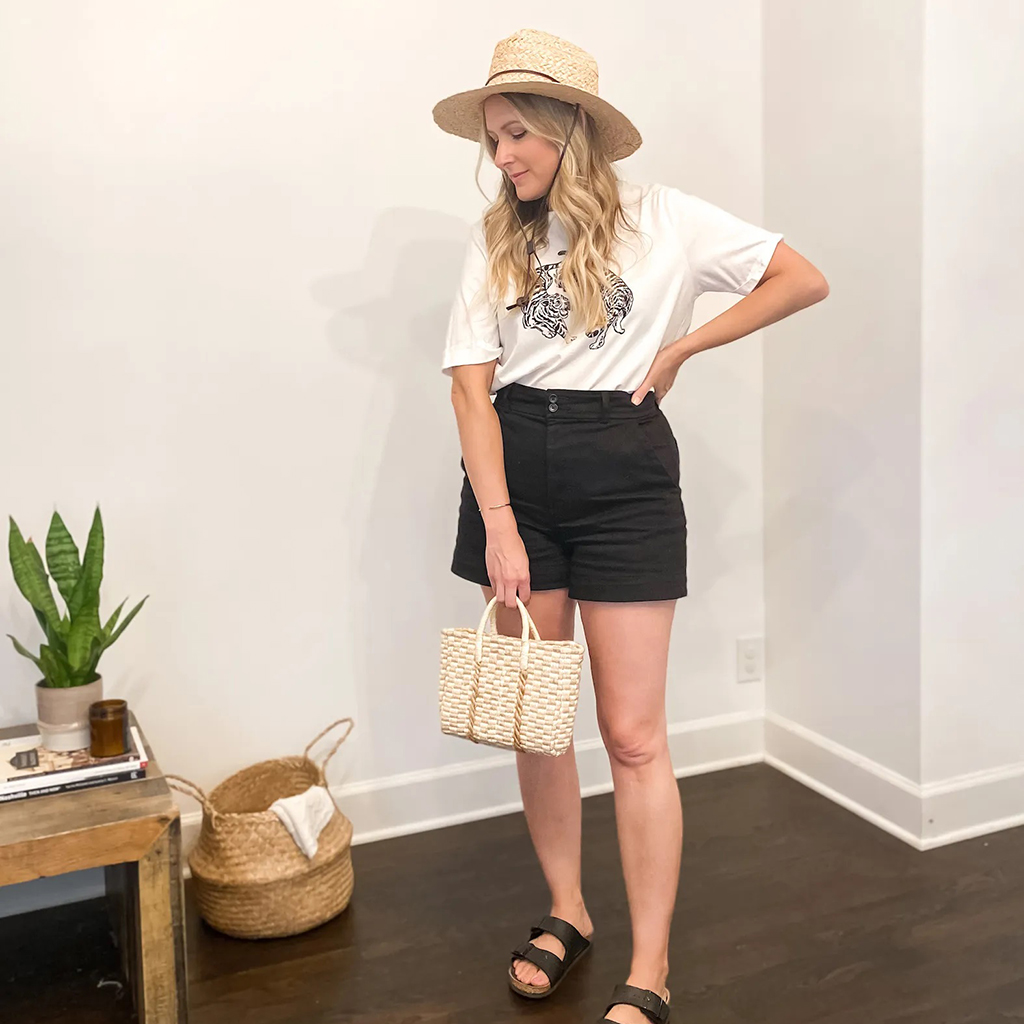 Styling black shorts should be a walk in the park. Uncomplicated in design and color, there's a reason why they're viewed as a closet staple for many trendsetters.
It's the type of garment that you'd wear on a casual Tuesday. On the other hand, it can be transformed into an Instagrammable moment if paired with the right outfit. 
After reading this guide, we hope that you know what to wear with black shorts. From grunge-inspired looks to athleisure, there are so many ways to style them.
If anything, you can view our style guide as a persuasive essay, explaining why these bottoms are regarded as a wardrobe basic.
---
Looking to up your fashion game? We've got you covered:
Get Access to Exclusive Deals
Subscribe for free to get exclusive deals in your inbox. 100% privacy