15 Best Burberry Sneakers
We've all tried on a designer heel or two, and the plain truth is that shiny shoes and a painful blister tend to go hand-in-hand.
So if you're looking to trade in an uncomfortable pair of kicks for something that keeps things classy and casual, keep reading this list of the best Burberry sneakers.
They are the perfect blend of comfortable and stylish, ideal for pairing with almost every item in your wardrobe. You can dress your new pair up with a luxury touch or down with the classic sneaker vibe.
Since we're here to guide you to the perfect pair, we'll also provide you with a list of some important things to consider followed by answers to important FAQs and styling tips. You'll have all the information you need to find your next pair of luxury shoes.
Finding the Best Burberry Sneakers
Since you're here to find the best Burberry sneakers, you already know they're an investment. So, the price tag is already the first thing you've considered. But, there's more to choosing your new kicks than that.
The first thing to consider is the overall style and color palette. If you've dreamt of all-white runners for a lifetime, this is the moment you've been waiting for. And if you'd like something a little bolder in color but still wearable, consider a pastel or earthy color palette.
Of course, plenty of support and a sturdy design is a necessity when it comes to footwear. The best Burberry sneakers should provide ample support on every spot of your foot, as well as a comfortable amount of room and a breathable fit.
You should also check out the composition of the shoe. It should be made from durable materials that repel water (if needed) and will hold up over time.
The 15 Best Burberry Sneakers
Sneakers are made for daily wear, but you may be on the hunt for a specific style. And whether you're looking for something bold and bright to compliment your cheery wardrobe or a neutral that will seamlessly transition through every trend, this list of the best Burberry sneakers has you covered.
And now that we have established how to choose from the best Burberry sneaker, it's time to check out our list. We'll share the details on the style, material, cost, and more, to help you choose your next pair of kicks.
#1: Burberry monogram-pattern denim sneakers - Blue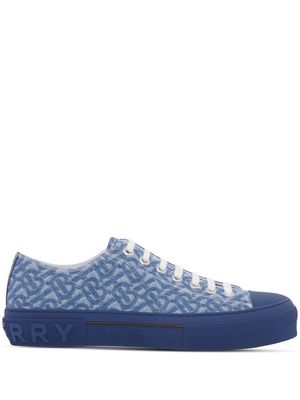 ---
#2: Burberry Arthur Story 76 Check Sneaker in Archieve Beige/White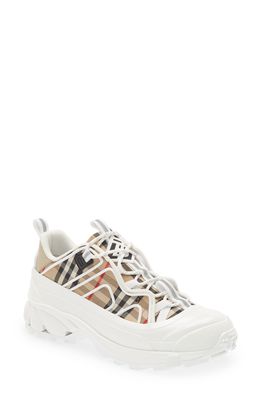 ---
#3: Burberry Beige New Albridge Check Sneakers

---
#4: Burberry Red & Beige Ramsey Check Sneakers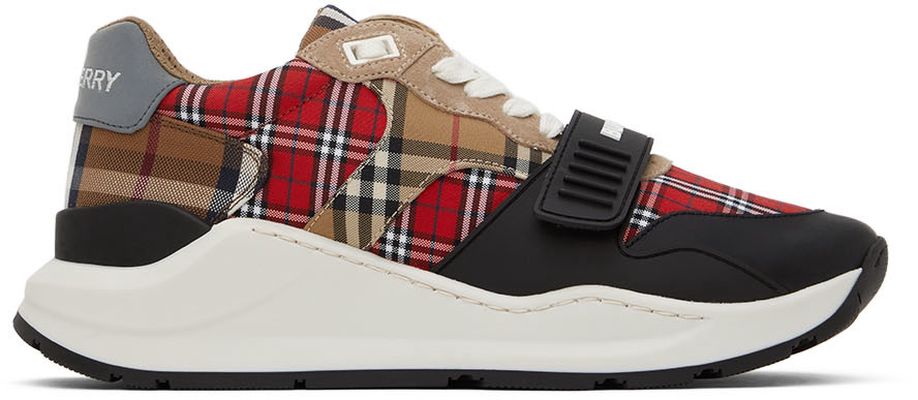 ---
#5: Burberry Black & Red Arthur Sneakers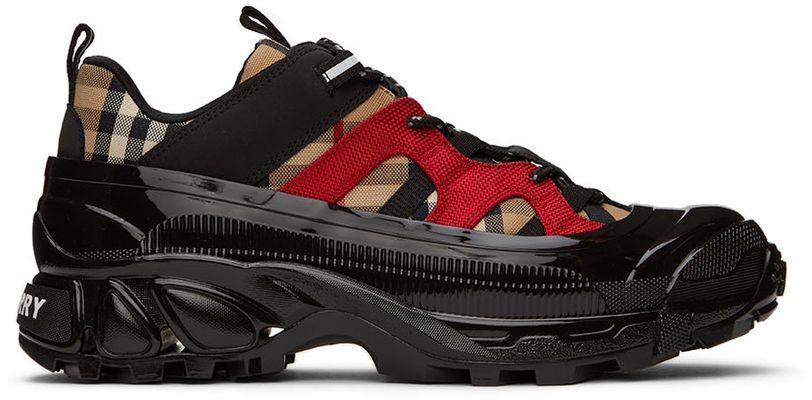 ---
#6: Burberry Brown Vintage Check High-Top Sneakers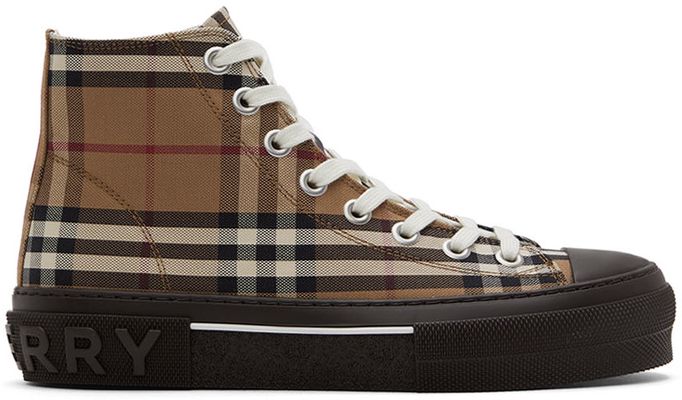 ---
#7: Burberry Jack Check High Top Sneaker in Birch Brown Ip Chk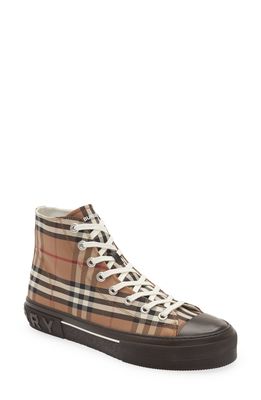 ---
#8: Burberry canvas low-top sneakers - Black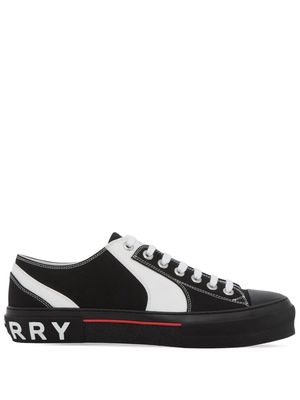 ---
#9: Burberry Sub high-top sneakers - Blue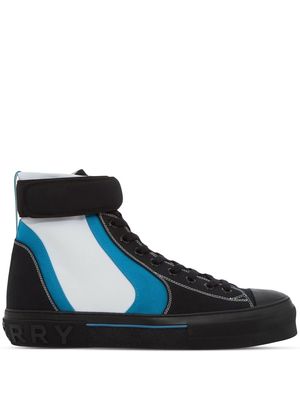 ---
#10: Burberry Gray Ramsey Check Sneakers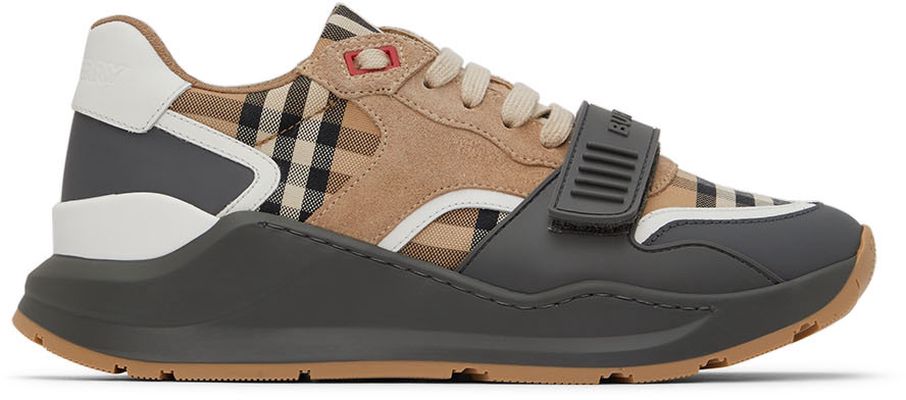 ---
#11: Burberry Brown Cotton Check Sneakers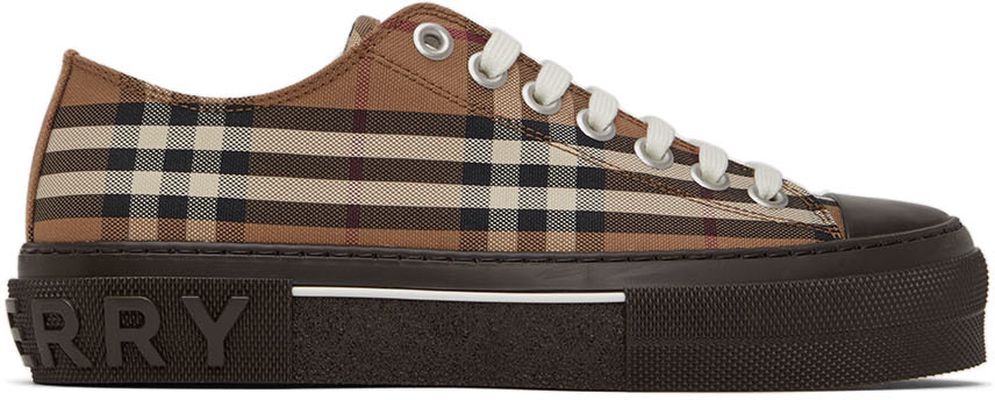 ---
#12: Burberry Beige Cotton Check Sneakers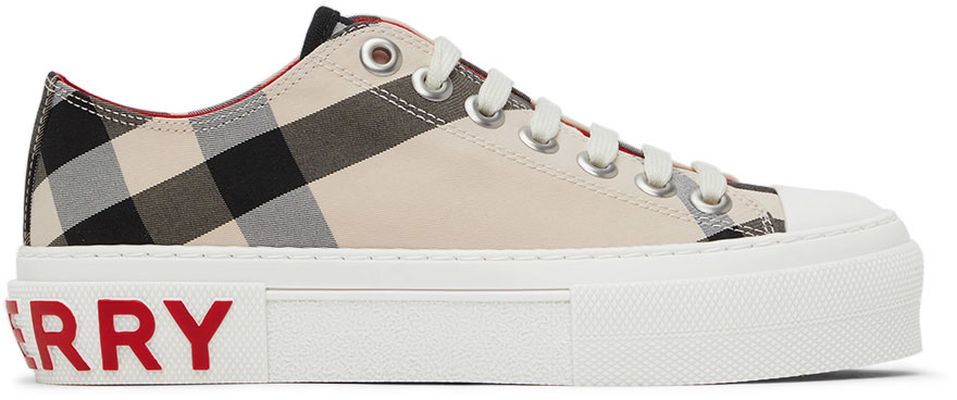 ---
#13: Men's Vintage Check Canvas Low-Top Sneakers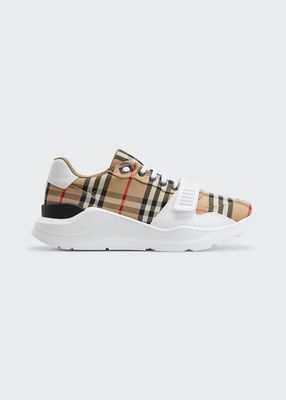 ---
#14: Burberry logo-embellished low-top sneakers - Black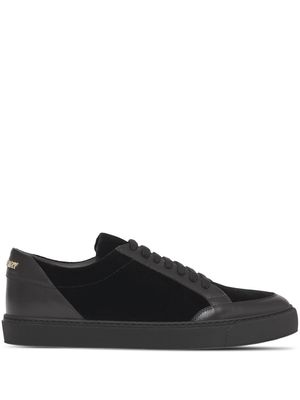 ---
#15: Burberry touch-strap high-top sneakers - White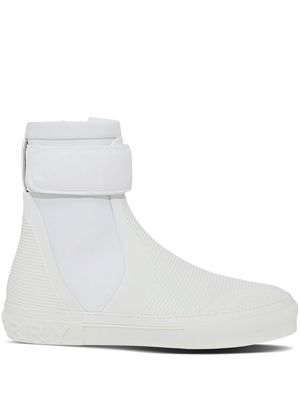 ---
What Are the Most Popular Burberry Sneakers?
While we've shared the best Burberry sneakers, you may still be on the hunt for the best-of-the-best. Fortunately, that's really all the label carries!
That being said, the most popular style is the low-top sneaker. A shade of white or the iconic vintage Burberry pattern is a popular choice since both are wearable and transitional.
Do Burberry Sneakers Run True to Size?
After searching around the web, we found that reviewers for the best Burberry sneakers do comment that some of the shoes run small. It's always important to consult the size chart or visit a store to try on a few pairs, but you may want to consider sizing up.
How Can You Tell If Burberry Sneakers Are Real?
While you should always shop the items featured in our list of the best Burberry sneakers from trustworthy and reputable retailers, there are a few key details to help determine if your shoes are the real deal:
High quality, careful stitching
Clear logos and consistent stamping
Weighted, high-quality feel
Serial number stamped on the lining
Where Are Burberry Sneakers Made?
While many of the options in this list of the best Burberry sneakers are made in Italy, the brand also crafts products in China, Poland, Romania, India, Spain, England, and even in the United States. Check the description of each product for clarification.
Are Burberry Sneakers Good Quality?
Burberry is synonymous with luxury, but we know you're wondering: are Burberry sneakers good quality? Fortunately, the answer is sweet and simple: yes!
Burberry focuses on using high-quality materials and thoughtful designs, promising a durable and high-end finished product.
How to Style Burberry Sneakers
Now that we've covered some of the best Burberry sneakers, you may be wondering how to style them. Below, we'll share some inspo pics and ideas to get you started.
Business casual
If you want to dress things down a bit for a more casual look, try out a pair of bright white, yet neutral Burberry sneakers.
Streetstyle
Ideal for daily casual wear while adding a little spice, this look features a plain Burberry tee and simple denim pants paired with a chunky, dark sneaker for an edgier look.
Sporty
A sporty sneaker is best paired with a pair of joggers and a plain tee! If you want to keep things feeling luxurious, opt for an all-Burberry look.
---
Shopping for more Burberry goods? We've got you covered:
Get Access to Exclusive Deals
Subscribe for free to get exclusive deals in your inbox. 100% privacy