8 Best Colorful Socks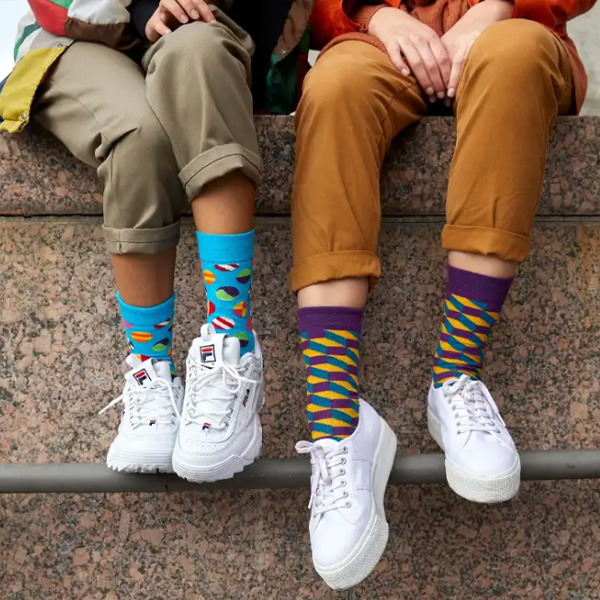 It's easy to overlook socks. Many people don't even think about how their socks play into their outfits. However, most people don't drink enough water during the day, either, so maybe you shouldn't try to be like most people.
The best colorful socks can spice up your outfits, help highlight your shoes, or tie different items together to create one seamless outfit. Today I'll be looking at socks that can accomplish each of these tasks. 
What Makes A Good Pair Of Colorful Socks?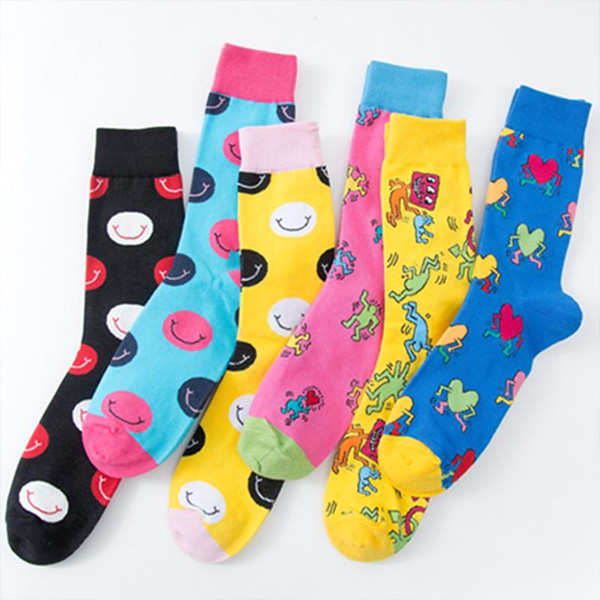 Do you know what the underrated appeal of socks is? How versatile they are. The same rules that apply to the best colorful socks for women can also be said about those for men.
That being the case, the number one rule about colorful socks is that they should be long enough to stand out in your outfit.
There's no point in buying colorful socks that hide underneath your shoes. They should at least reach your ankles so that they can be part of your outfit.
Also, colorful socks should preferably be made of breathable material so that you don't trap your foot odor in them. Actually, that should go for all socks. Material is everything when it comes to socks because an uncomfortable fabric can affect how you walk.
Finding The Best Colorful Socks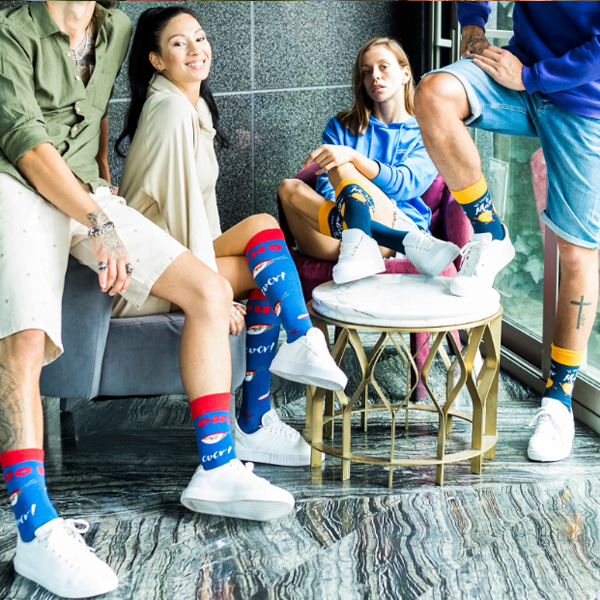 What matters less about the best colorful socks is what color they are or what designs they come in. What matters most is how you intend to use them. 
If they're made of a durable fabric and stretch long enough to be visible in your outfit you're off to a great start. Now, finding the best pair for you comes down to planning how they'll interact with your wardrobe.
So, to determine which colors, designs, and patterns you should choose, think about what you'll be wearing them with. Before you head to checkout, visualizing how the socks will look with certain pieces in your closet is always a good idea.
The 8 Best Colorful Socks
Since you know what makes a good pair of colorful socks, let's check out my list of the best colorful socks and see whether you agree with my top picks. I've chosen these items based on their price, design, material, and versatility. Let's start browsing!
1: Color Striped Socks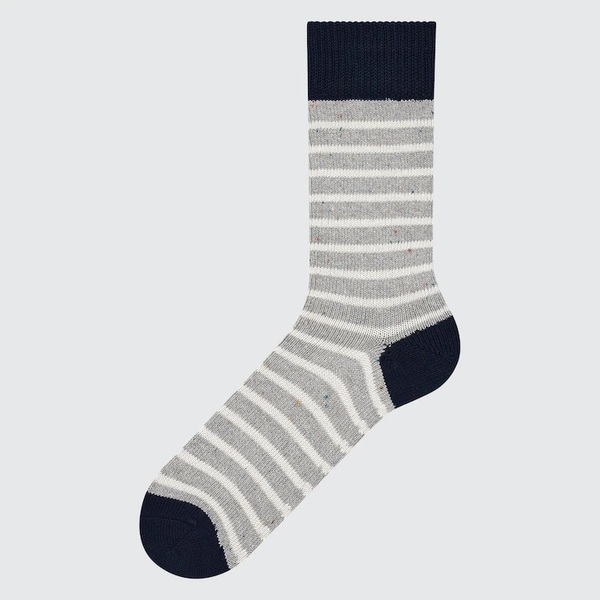 Color nep yarn adds a style accent. Comfy socks with a distinctive thick and chunky look.
Overview:
Cotton blend fabric.
With deodorizing features.
-Color nep yarn with a striped accent.
Regular length.
Perfectly thick and comfortable.
Easy to match with sneakers and leather shoes.
Price: $4.90
2: Argyle Socks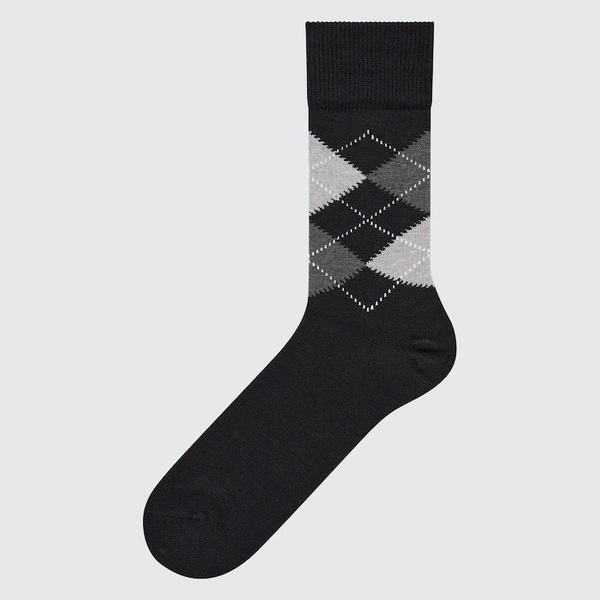 Non-constrictive ankle opening and a snug fit at the heel. Argyle pattern adds a style accent.
Price: $4.90
Buy 3 for $12.90
3: Nike Everyday Plus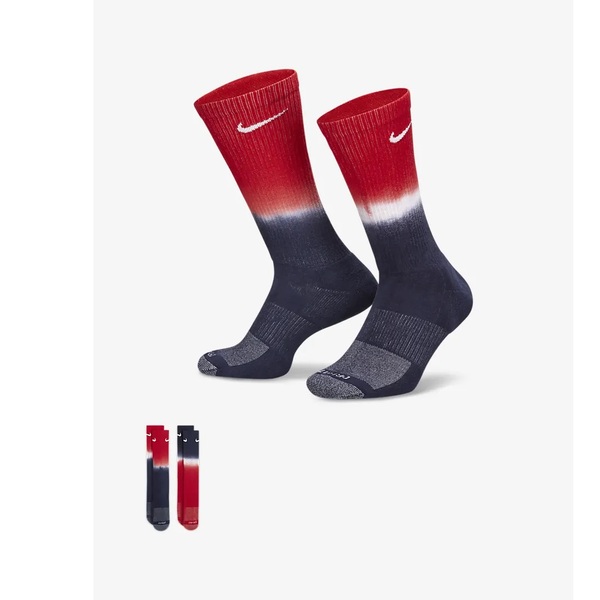 Rock the red, white and blue with the Nike Everyday Plus Socks. A dip-dye design combines national colors with a retro treatment for a little extra pizazz. Extra cushioning under the heel and forefoot and a snug, supportive arch band make these super comfortable for everyday wear.
Price: $18
4: Nike Elite Kay Yow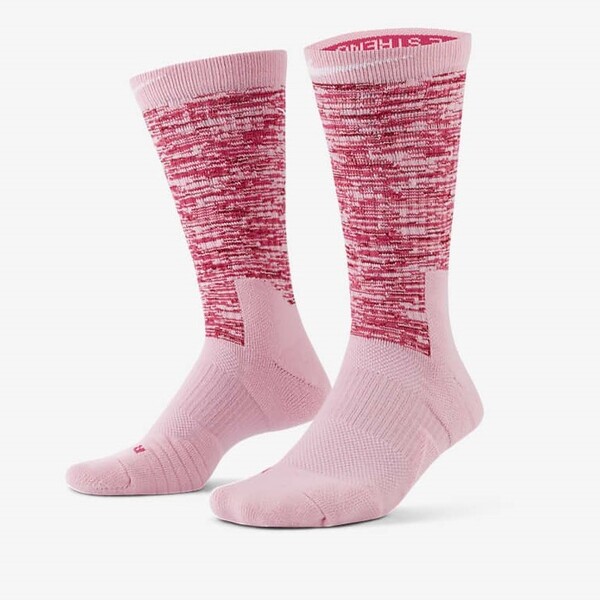 Wear your support for the Kay Yow Cancer Fund. The Nike Elite Kay Yow Crew Socks are stretchy and soft, with sweat-wicking technology. An arch band and ribbed structure help them fit snugly.
Price: $14.97
5: Los Angeles Lakers Elite City Edition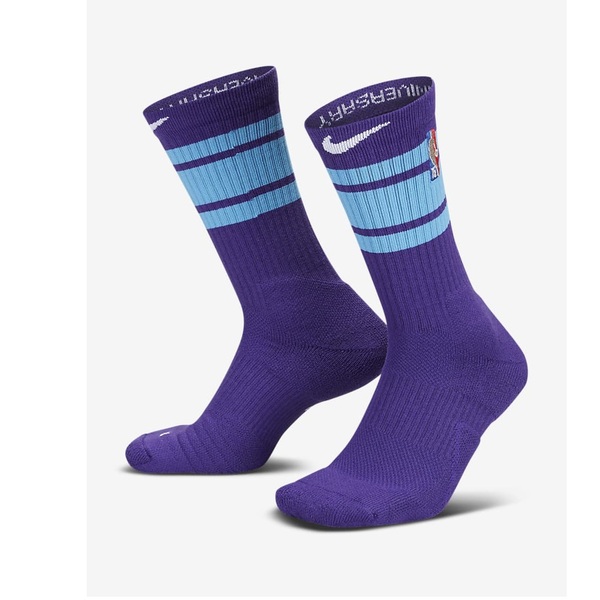 Basketball's best sock commemorates the 75th anniversary of the NBA. Inspired by decades past, the Los Angeles Lakers Elite City Edition Crew Socks connect to the season's new on-court uniform. Ultrasoft, stretchy and snug, they feature a special NBA "75" logo made with iridescent yarns.
Price: $18
6: Nike Everyday Plus Lightweight
The Nike Everyday Plus Lightweight Socks help keep your feet dry and cool with light, sweat-wicking yarns and built-in breathability. Ribbing wraps your arches for a supportive feel.
Price: $16
7: Crew Socks
Crew socks are essential, but they don't need to be basic. This soft and stretchy pair features a bold, all-over graphic by Nina Chanel Abney that adds an artistic upgrade to any outfit.
Price: $14
8: DAVID ARCHY Men's 3 Pairs Breathable Cotton Athletic Socks Soft Casual Multicolored Crew Socks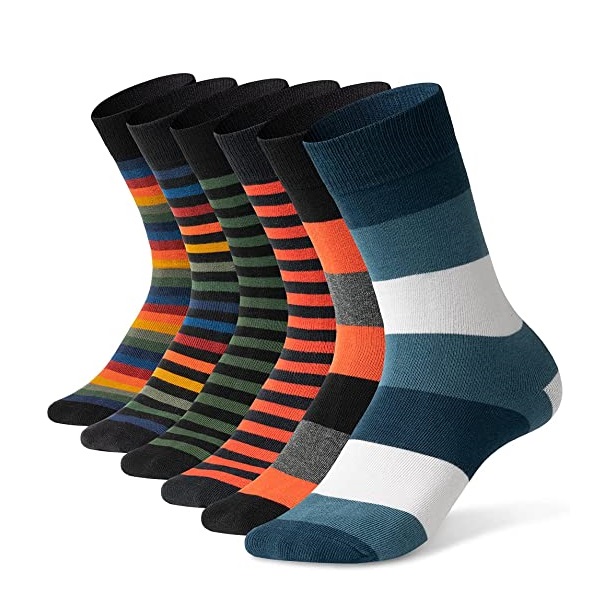 Cotton
Machine Wash
Fit US Men's Shoes Size 6-12
Machine Wash
Soft Breathable Cotton
Moisture-control keeps feet dry and fresh
Provide enough support and stability
Price: $22.99
What Are The Most Popular Colorful Socks?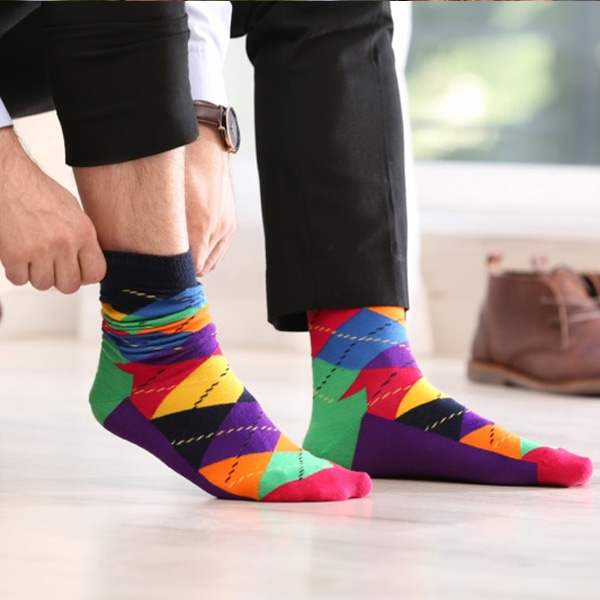 The most popular colorful socks these days come from brands like Uniqlo and Nike because they're affordable and accessible. However, there are more formal options too, like the Pantherella Dress Socks.
What Types Of Colorful Socks Can You Get?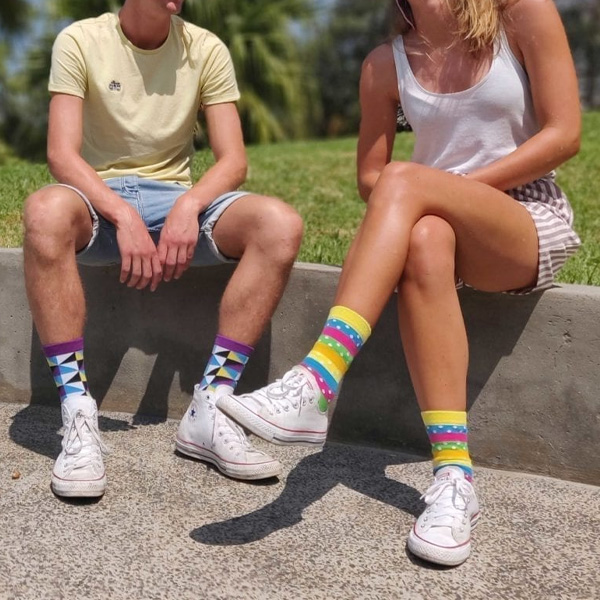 Socks are categorized based on where they end on your leg, and the same goes for the best colorful socks.
Colorful socks come in a range of styles and shapes. You can get over-the-knee socks, knee socks, calf socks (also known as crew socks), low-cut socks (these are the most common type of socks), and ankle socks.
How To Style Colorful Socks
One of my favorite ways to style colorful socks is to go all out. The brighter the socks, the better, because you're going to build your outfit around them. Match your top and accessories to the socks but wear lowkey, neutral shoes and/or bottoms to balance the colors.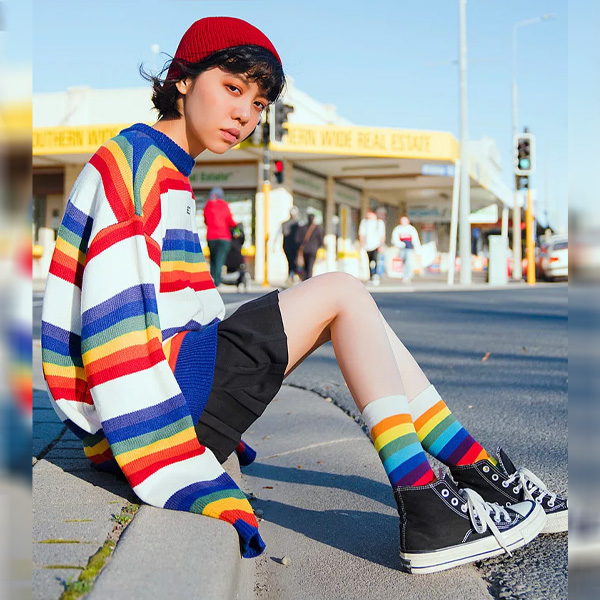 If the previous outfit was too bold for you then you can use the socks as the statement piece and keep the rest of your apparel tame. Think about wearing jeans, a plain top, and modest shoes. Then, add in a pair of colorful socks—bonus points if they're high—for a bit of pizzaz.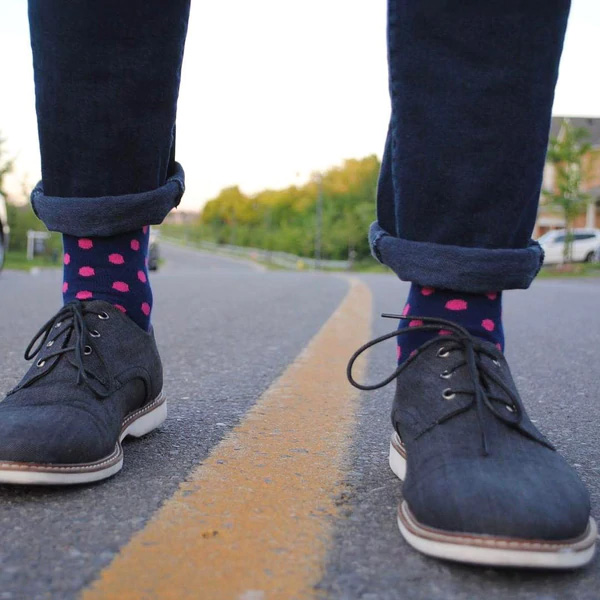 Finally, you can wear colorful socks to bring attention to your shoes. This works by matching your shoes and bottoms with each other while wearing a pair of colorful socks that contrasts with both.
The socks will break up the colors on the bottom half of your body and, as a result, direct people to notice your shoes. This is a great idea if you want to flex your newest pair of sneakers.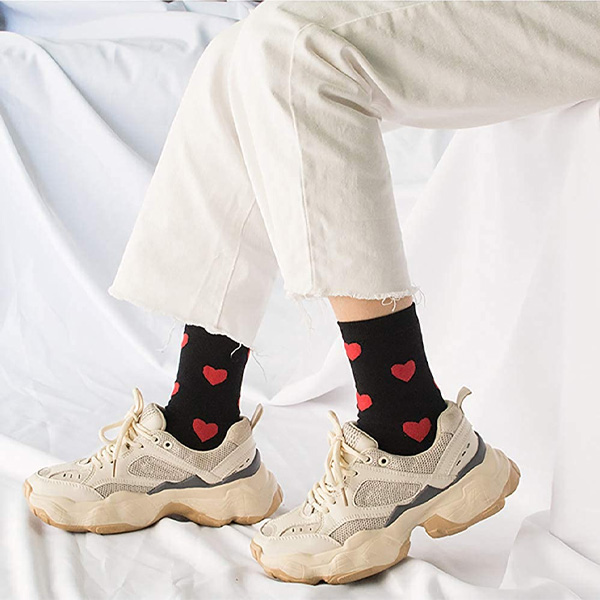 ---
Looking to up your fashion game? We've got you covered:
Get Access to Exclusive Deals
Subscribe for free to get exclusive deals in your inbox. 100% privacy