20 Best Patchwork Jeans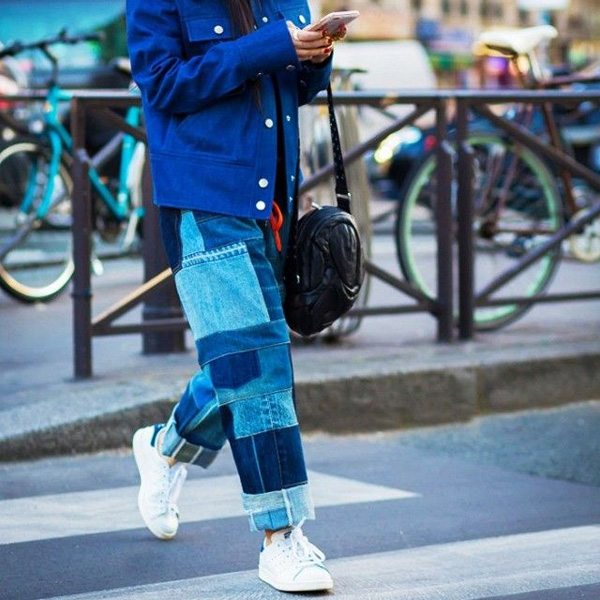 The TikTok gods have blessed us with another fashion trend (as if we don't have enough already). Patchwork jeans were all the rage last summer, and they offered the perfect blend between modern finesse and Y2K style.
Their rugged design is quite charming—given their uncanny resemblance to the hand-made quilts that grandmas are known for.
On a social platform that glorifies DIY crochet and thrifting, it seems only natural that patchwork jeans would become this year's newest fad. 
While many use their sewing machine to make a pair, some trendsetters prefer to shop for theirs online. Obviously, this prompts an important question: what are some of the best patchwork jeans out there?
From Martha Stewart to B SIDES, I've gathered the crème-de-la-crème of designs that are sure to enhance your styling prowess. 
What Makes A Good Pair Of Patchwork Jeans?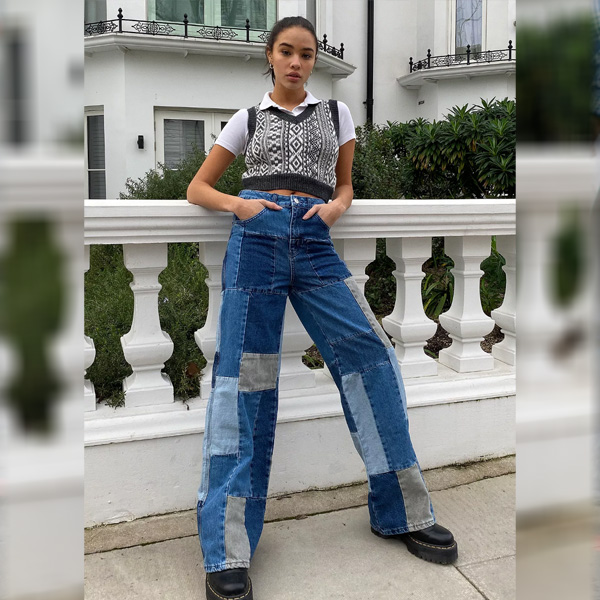 Patchwork usually refers to a type of alteration. For garments, holes are typically mended by adding a patch of fabric onto the problem area.
Don't worry, this cut of jeans is free of literal distressing, but it still exudes that classic DIY aesthetic that makes it so iconic. That said, you shouldn't excuse poorly-made designs as intentional. 
Keep in mind that good pair of patchwork jeans should still flatter your figure. Whether they're low-waisted, ribcage, or have a bell-bottom silhouette, pants should always complement your waistline, hips, legs, and butt.
Trendsetters should also choose a pair that's made out of quality materials, which usually include cotton, elastane, and twill. 
Finding The Best Patchwork Jeans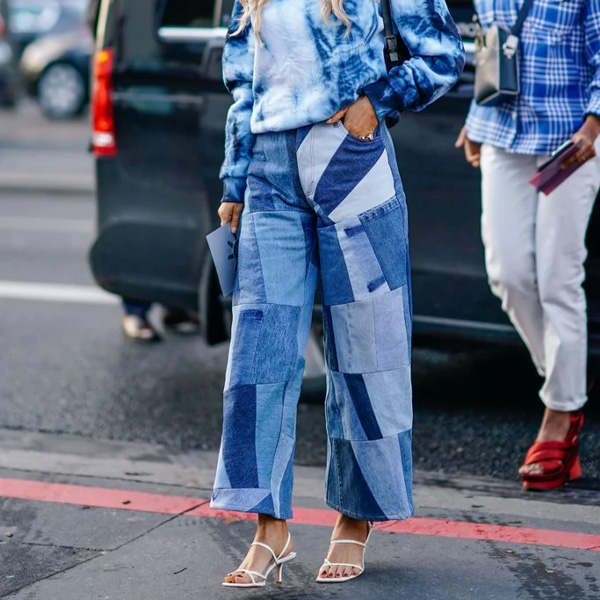 Thanks to social media, the market for patchwork jeans has grown exponentially. If you're looking to cop a pair, be prepared—there are thousands of iconic designs to choose from.
Patchwork jeans are typically organized into three distinct styles: washed denim, pattern, and alternate color. The most popular design is the final option since it's known to be easy to wear.
Those that feature additional prints or hues outside of blue are usually difficult to style. 
Before settling on a pair, it's important to consider your current aesthetic.
For instance, if 90% of your wardrobe contains monochrome essentials, then it's probably best to opt for washed denim. On the other hand, those who prefer bold colors and prints may find the last two options desirable. 
The 20 Best Patchwork Jeans
The Y2K craze isn't going out of style anytime soon. So if you can't beat 'em, you might as well join 'em. Patchwork jeans are considered a must-have for this core aesthetic.
And to go with the Y2K theme, they're typically paired with rhinestone spaghetti straps, bucket hats, and platform sandals. 
For those in need of a solid pair of patchwork jeans this season, I'm counting down 20 of the most iconic designs that are sold online. 
#1: Martha Stewart Petite Patchwork 5-Pocket Ankle Jeans
---
#2: Peace Love World Patchwork Flare Jeans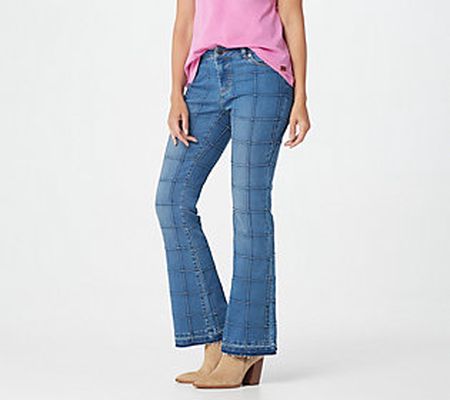 ---
#3: Tommy Hilfiger Adaptive Patchwork Straight Jeans
---
#4: Liam Hodges Unified Patchwork wide-leg denim jeans - Blue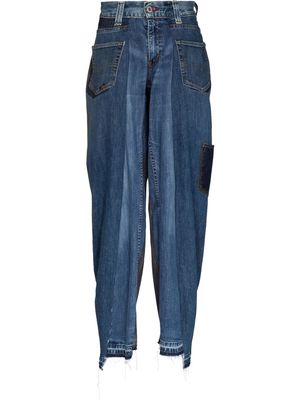 ---
#5: We11done loose-fit patchwork jeans - Blue
---
#6: Polo Ralph Lauren Patchwork Ankle Boyfriend Jeans in Louisa Wash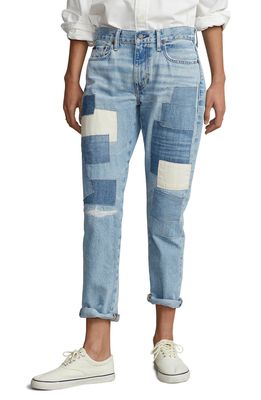 ---
#7: Purple Brand patchwork detail skinny jeans - Blue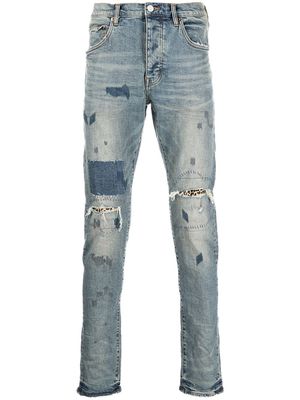 ---
#8: Children Of The Discordance patchwork straight jeans - Blue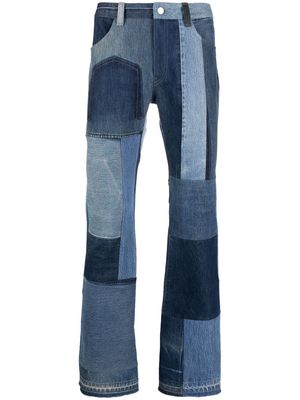 ---
#9: Andersson Bell patchwork straight-legged jeans - Blue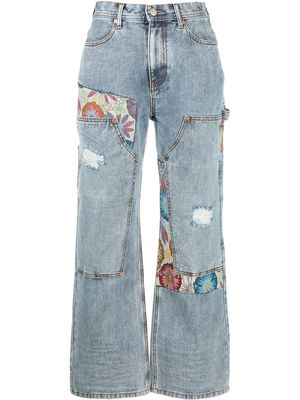 ---
#10: ERL Unisex Patchwork Fringe Flare Jeans in Blue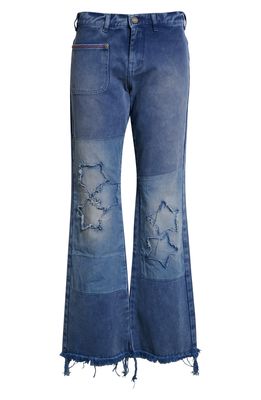 ---
#11: Who Decides War patchwork wide-leg jeans - Blue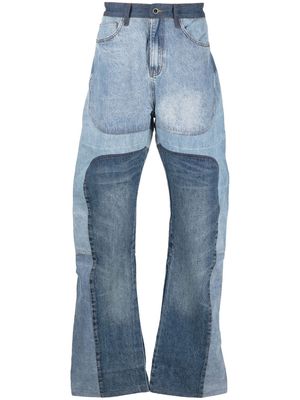 ---
#12: Le Baggy Palazzo Distressed Patchwork Jeans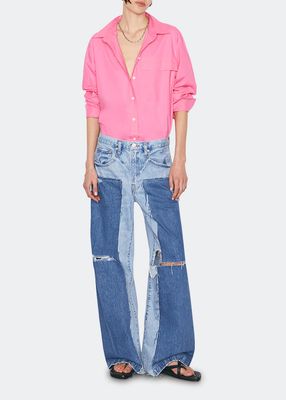 ---
#13: The Ragged Priest relaxed straight leg jeans in charcoal patchwork front-Black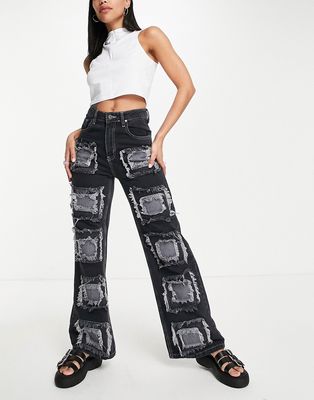 ---
#14: Who Decides War patchwork distressed jeans - Blue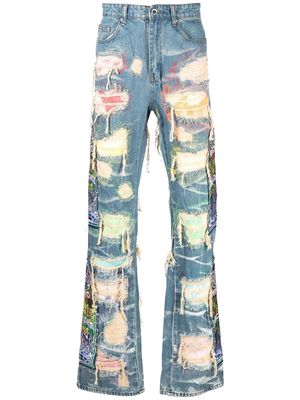 ---
#15: ERL Blue Patchwork Jeans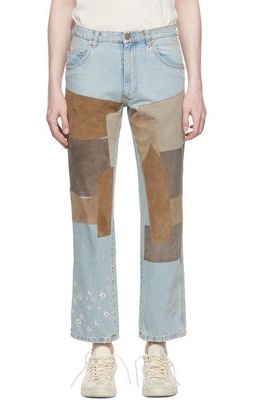 ---
#16: Closed Real-X Patchwork Nonstretch Denim Jeans in Mid Blue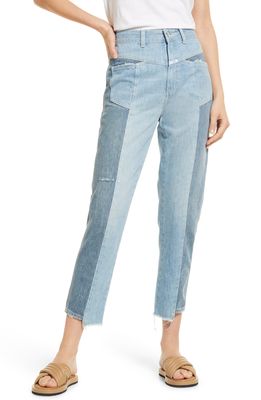 ---
#17: PURPLE BRAND PURPLE Patchwork Distressed Skinny Jeans in M.i. Animal Repair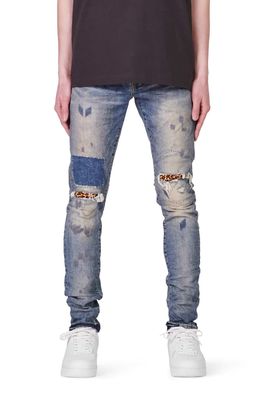 ---
#18: MISBHV upcycled monogram-patchwork jeans - Blue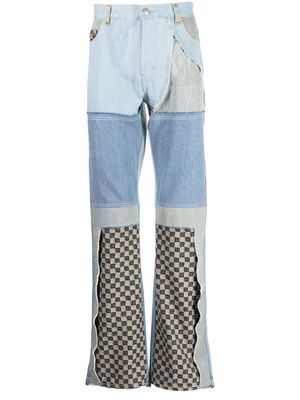 ---
#19: Andersson Bell patchwork straight-leg jeans - Blue
---
#20: B SIDES patchwork denim jeans - Blue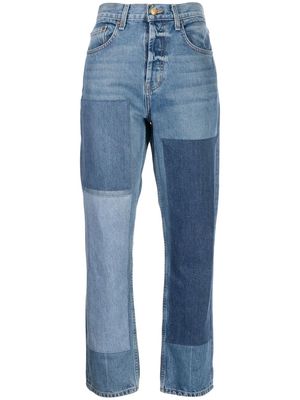 ---
What Are The Most Popular Patchwork Jeans?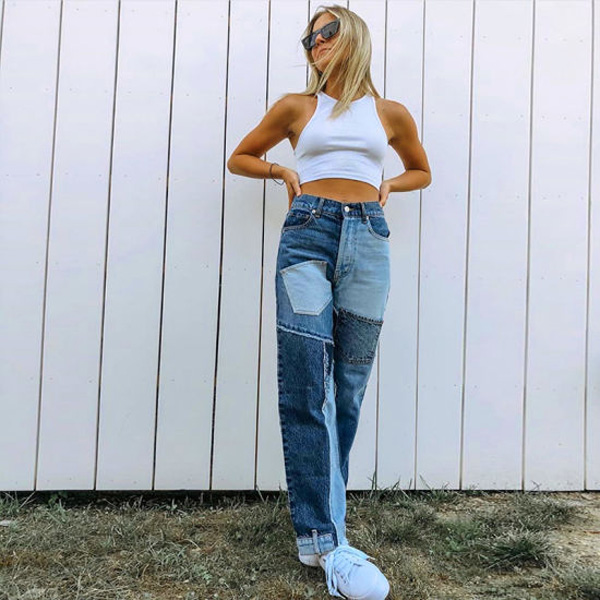 TikTok is the best place to find the newest fashion trends. That said, it does a poor job of telling you where to find certain pieces. In terms of popularity, I'd say that brands such as House of Sunny, Urban Outfitters, Gucci, and Levi's are a cut above the rest. 
What Are Patchwork Jeans Made Of?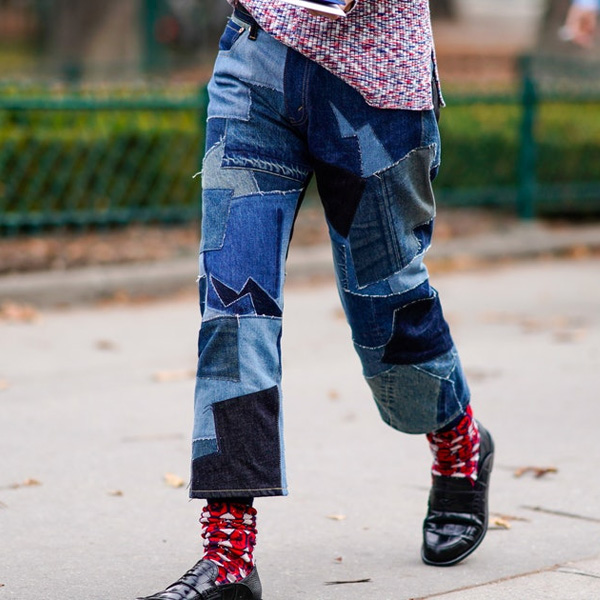 As previously mentioned, patchwork jeans are made of a common blend of twill, cotton, and elastane. It's also common for brands to use other materials and embellishments, such as polyester, canvas, leather, and rhinestones.
If you're curious about the construction of your coveted pair, I recommend double-checking the product description before heading to checkout. 
How To Style Patchwork Jeans
It's time to re-live the early 2000s. Sure, it's considered a controversial period for fashion, but it's iconic nonetheless. If you're looking for outfit inspo, I'll show you how to style your patchwork jeans.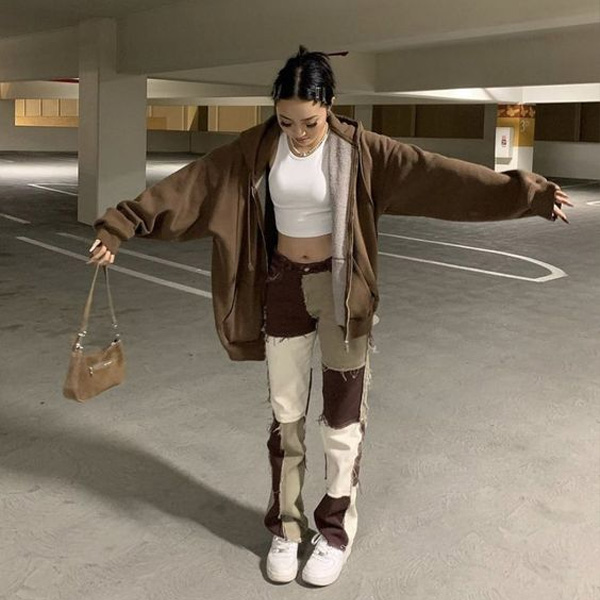 Patchwork jeans are the literal antithesis of minimalism. Loud in aesthetic, there's not much room for simplicity—or is there?
This stylish outfit manages to soften the rugged aesthetic of 'PJ's' through the power of the monochrome ensemble. Composed of a matching hoodie and tank top, this is a more subtle Y2K fit.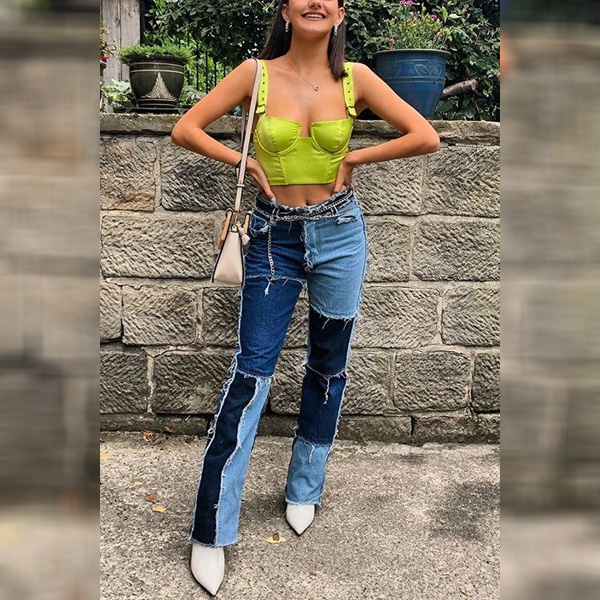 It's a well-known fact that bustiers pair well with straight-legged jeans. This fashionable outfit is no exception, as it features a neon-yellow corset fitted with some patchwork denim jeans.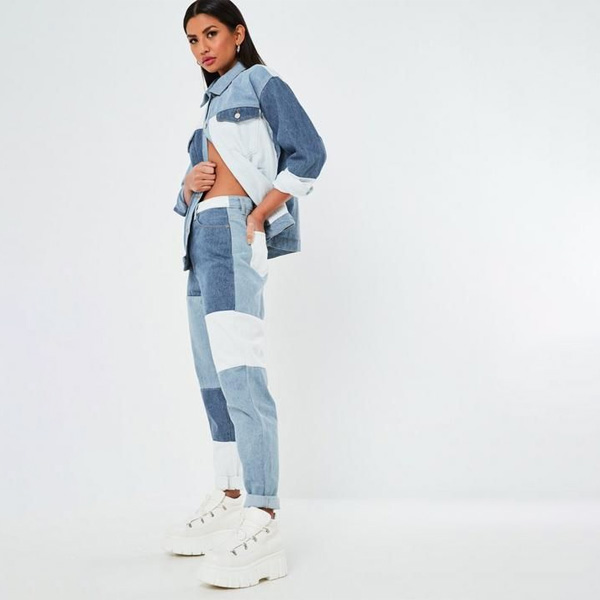 If you're going to dabble in Y2K fashion, you might as well go all the way. Composed of patchwork pants and a matching denim jacket, this bold outfit will definitely garner some likes on Instagram.
---
Looking to up your fashion game? We've got you covered:
Get Access to Exclusive Deals
Subscribe for free to get exclusive deals in your inbox. 100% privacy