25 Best Gucci Hoodies
Finding The Best Gucci Hoodies
When you think of designer brands, one of the first that comes to mind is most likely Gucci.
Gucci curates the trendiest styles every season and that's how it's built its renowned reputation. And their collection suits both ends of the fashion spectrum, whether you prefer minimalism or streetwear.
When you're splurging on a designer item, you don't always want an out-of-the-box piece that will be tucked away for special occasions only. That's like keeping a ton of money in the back of your closet to collect dust.
But, if you're wanting some designer merchandise that you can show off any day of the week, then a Gucci hoodie is calling your name.
Not only are they unisex and stylish, but they're also comfortable! And, coming right up, we're going to show you the best Gucci hoodies. Plus we'll share a few tips and style advice, so get ready to add one of them to your shopping list.
The 25 Best Gucci Hoodies
If you're spending the big bucks, you might as well get the latest styles. Whether you're buying online or in a Gucci store, check out their newest seasonal pieces. That way you'll get the best of the best.
Also, make sure you know your style. For instance, if you like a basic look, there are plenty of simple-toned options with the infamous logo.
If you're a fashionista who likes to turn heads, then obviously browsing through the bold options with bright colors and patterns is where you'll want to start.
#1: Gucci Gucci Boutique print hoodie - Black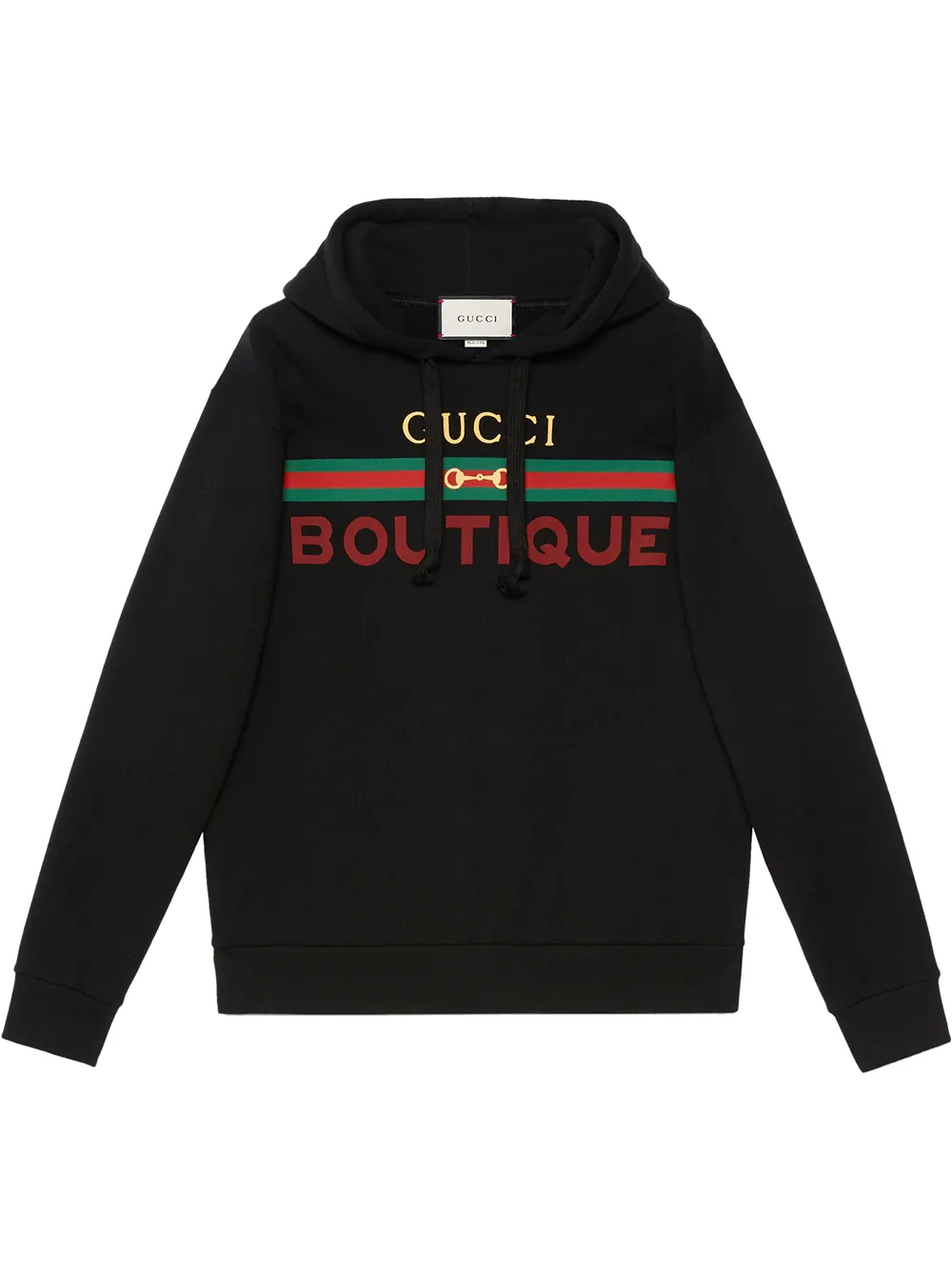 ---
#2: Gucci Off-White 'Gucci Firenze 1921' Hoodie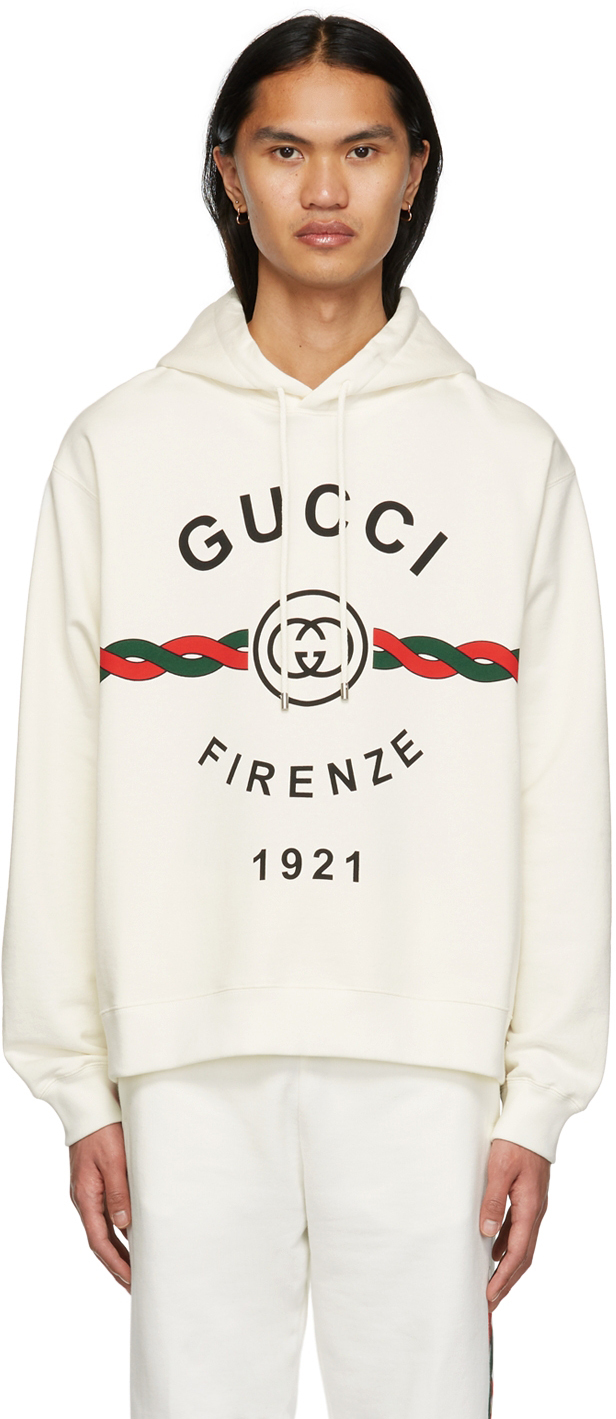 ---
#3: Gucci White Interlocking G Hoodie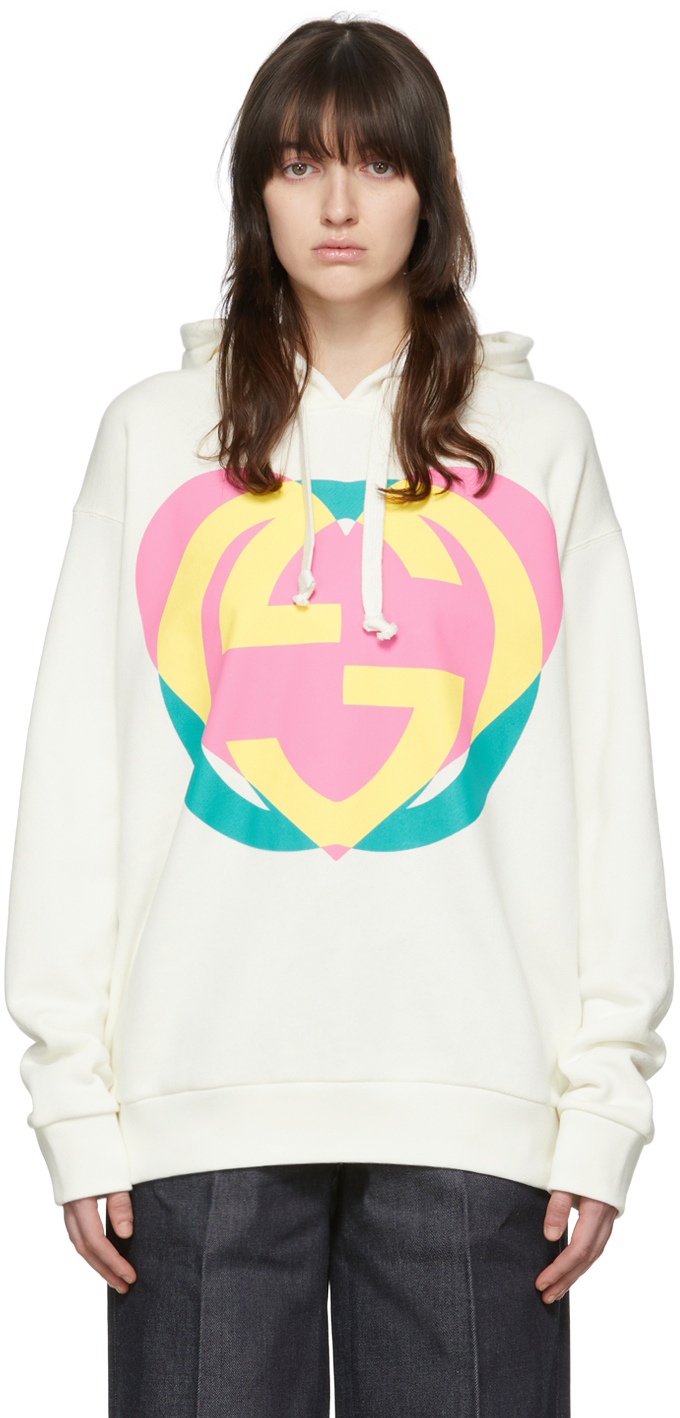 ---
#4: Gucci White Cotton Hoodie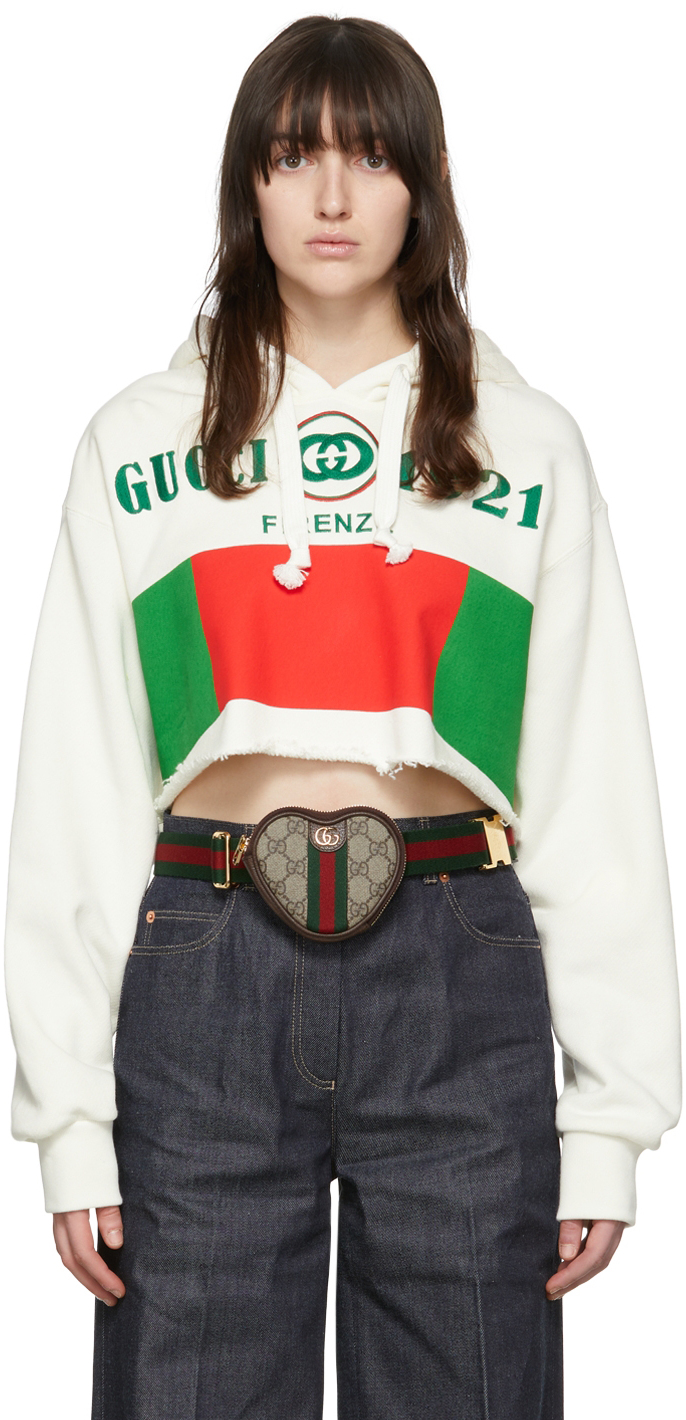 ---
#5: Gucci Baby Navy 'Gucci Stripe' Hoodie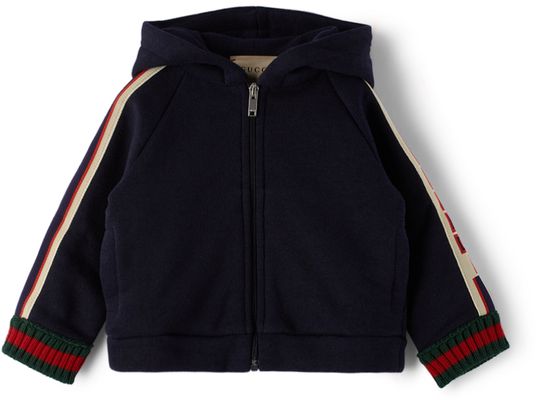 ---
#6: Gucci Kids Off-White Cotton Logo Hoodie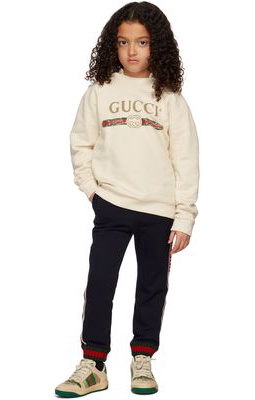 ---
#7: Gucci Kids logo-print cotton hoodie - Red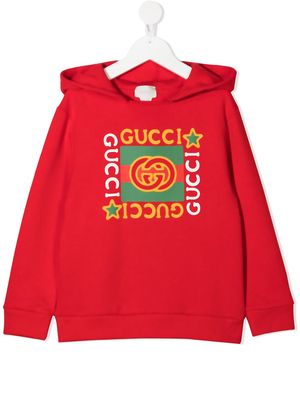 ---
#8: Gucci Kids GG knitted hoodie - Blue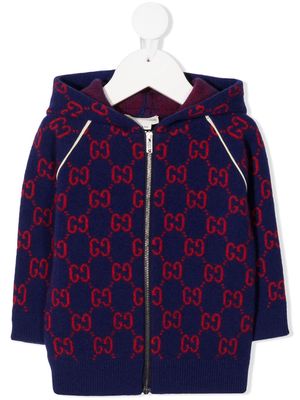 ---
#9: Gucci Black Interlocking G Hoodie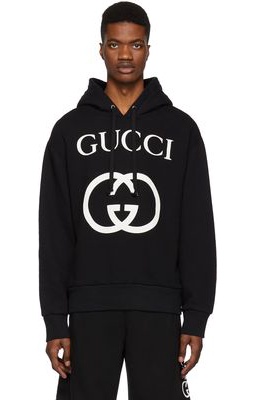 ---
#10: Gucci Black & Multicolor Interlocking G Star Burst Hoodie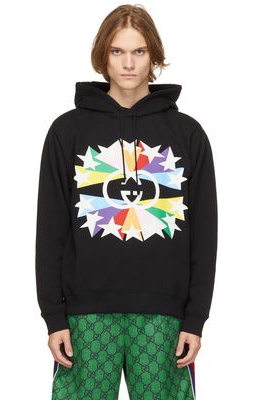 ---
#11: Gucci Black Freya Hartas Edition 'ICCUG' Hoodie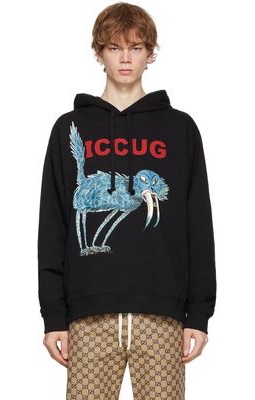 ---
#12: Gucci Kids logo-print sleeveless hoodie - White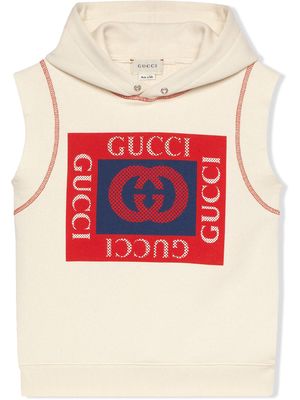 ---
#13: Gucci x Freya Hartas printed hoodie - White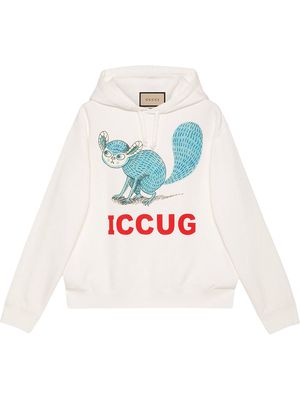 ---
#14: Gucci Firenze 1921 hoodie - Red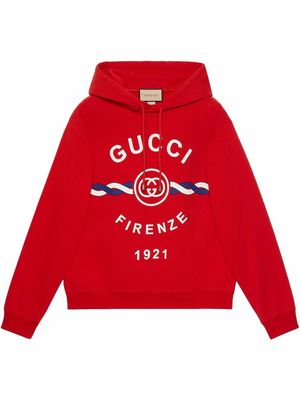 ---
#15: Gucci Blue & Yellow '25 Gucci' Hoodie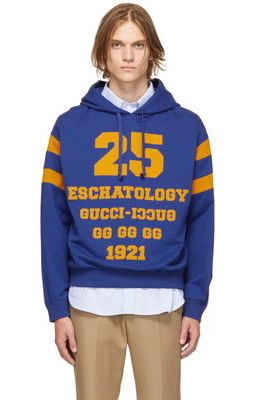 ---
#16: Gucci Pink Musixmatch Edition '22,705' Pineapple Hoodie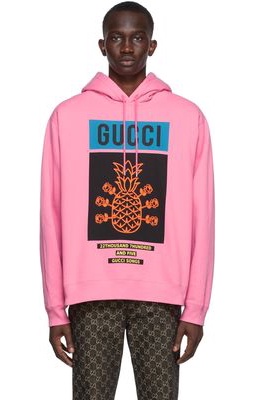 ---
#17: Gucci slogan-print hoodie - Pink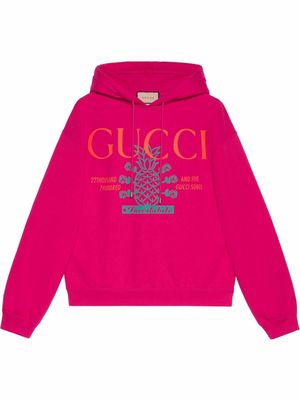 ---
#18: Gucci pineapple-motif hoodie - Green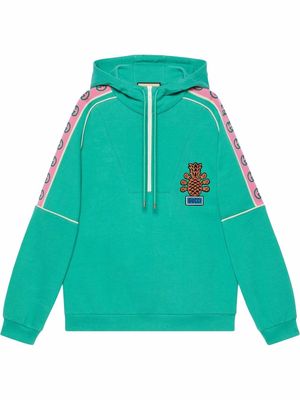 ---
#19: Gucci Bee-print cotton hoodie - Pink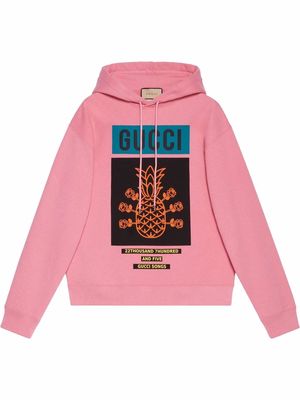 ---
#20: Gucci Beige Logo Web Half-Zip Hoodie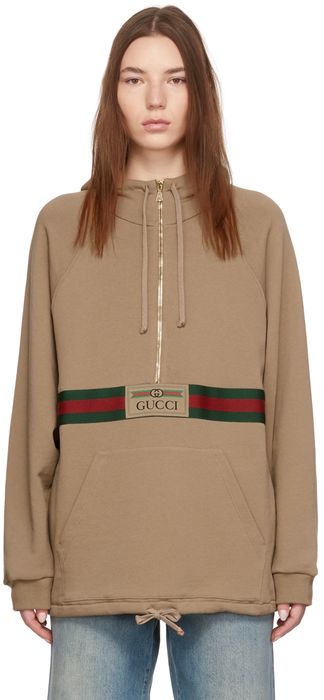 ---
#21: Gucci logo patch zipped hoodie - Black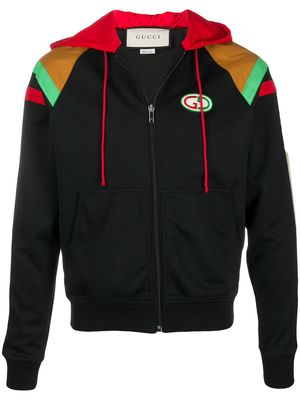 ---
#22: Gucci logo patch hoodie - White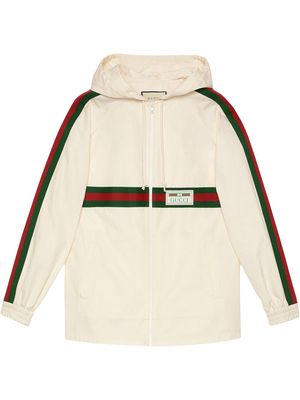 ---
#23: Gucci Web-stripe shiny jersey hoodie - Red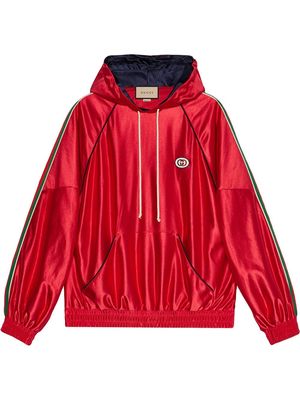 ---
#24: Gucci Gucci Boutique hoodie - White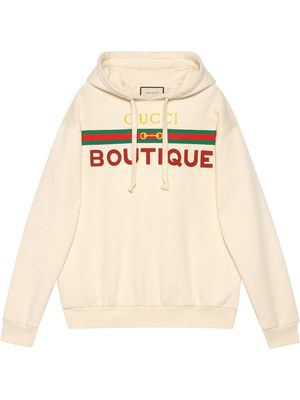 ---
#25: Gucci logo-print cotton hoodie - White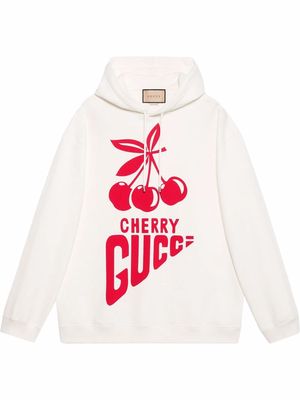 ---
What Are The Most Popular Gucci Hoodies?
The most popular Gucci hoodies are some of their more basic designs—likely because they fit easily into everyone's closet.
This black embroidered cotton hoodie with a vintage Gucci logo is perhaps one of their most popular looks to date.
You've probably seen it once or twice. Nonetheless, it's still super cute and will look good on anyone.
You might've seen this next logo too. It's featured in one of Gucci's newer collections dating back a few years ago.
This cream-colored hoodie pays homage to the classic '80's prints, colors, and logo. It's also supposed to be an oversized sweatshirt, so there's even more room for comfort!
Do Gucci Hoodies Run Big?
No, Gucci's apparel is known to fit true to size. Most designer brands do tend to run smaller than the average store.
But, at Gucci, you can shop for your regular size and not worry about whether the apparel will fit.
Why Is Gucci So Expensive?
Gucci has a rich history in the fashion industry. They originated in Italy—one of the most iconic designer countries in the world.
Plus, they've built their company based on quality and consistency. They design all their products with top-notch materials to ensure they last a long time in your closet.
How Can You Tell If A Gucci Sweatshirt Is Real?
Good question! You definitely want to make sure you're getting what you pay for, especially if you're buying from a third-party retailer.
The best way to tell if a Gucci hoodie is real is to pay attention to the details. First, make sure the brand name is spelled correctly and is printed with the two G's in the right direction.
Also, check the label on the inside of your sweatshirt. It should say that the item was made in Italy. If it says otherwise, you've likely snagged some fake Gucci product.
Additionally, run your fingers over the item and inspect the stitching of your product.
Gucci is known for its thorough, high-quality stitching. So, make sure there are no tears, holes, or other discrepancies.
Lastly, if the price tag on a Gucci product seems too good to be true, then it probably is.
Even the cheapest Gucci apparel will still cost you a couple of hundred dollars. So, be aware that there's a price for the designer name.
How To Style Gucci Hoodies
Since you're strutting around the streets flaunting a designer name, you can style the Gucci hoodie in many ways and still look hot.
However, the obvious way to style the hoodie is to pair it with jeans and trendy sneakers.
You could also wear an oversized Gucci hoodie as a dress with some knee-high boots to create a sexy look. But when it comes to styling this sweatshirt, there are no wrong answers. It's up to you!
---
Looking to stay up to date on all things Gucci? We've got you covered:
Get Access to Exclusive Deals
Subscribe for free to get exclusive deals in your inbox. 100% privacy