30 Best Honeycomb Tattoo Ideas 
About Honeycomb Tattoos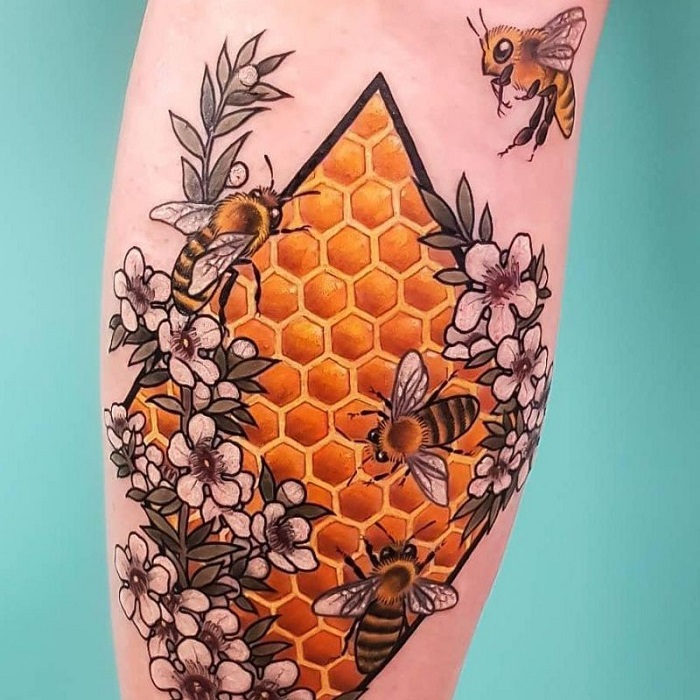 It comes as no surprise that honeycomb tattoos are becoming more popular and trendy these days. Plenty of well-known icons and style experts are opting for bee–related tattoos, whether it's the little buzzing insects themselves, or their geometric homes. If you're curious about these tattoo designs, well, you're not alone!
Getting a tattoo, as we know, is a fairly detailed process—no matter how big or small the tattoo is going to be. That's because you need to consider plenty of factors before getting inked, like what you want, where you want it, what it means, and how much you have to spend on your artsy investment.
If a honeycomb tattoo is among the designs you've been considering, but you're not sure which style you're going for or where you might get it then you might want to continue reading.
Ensuring that you have all the basic facts about honeycomb tattoos is an important part of the investigation process. Whether you just love honey, or you want a piece of honeycomb art that symbolizes hard work, you'll still benefit from knowing how much your tattoo might cost you, and what kind of historical legacy it has.
Regardless of your concerns, rest assured that I'm here to help. I'll answer some of your questions, and show you several honeycomb tattoo ideas.
From big to small, to colored and shaded tattoos, I'm going to talk about all the style choices and design themes out there. My goal is to make sure you feel ready to get that ink you've been dreaming of.
What Does The Honeycomb Tattoo Mean And Symbolize?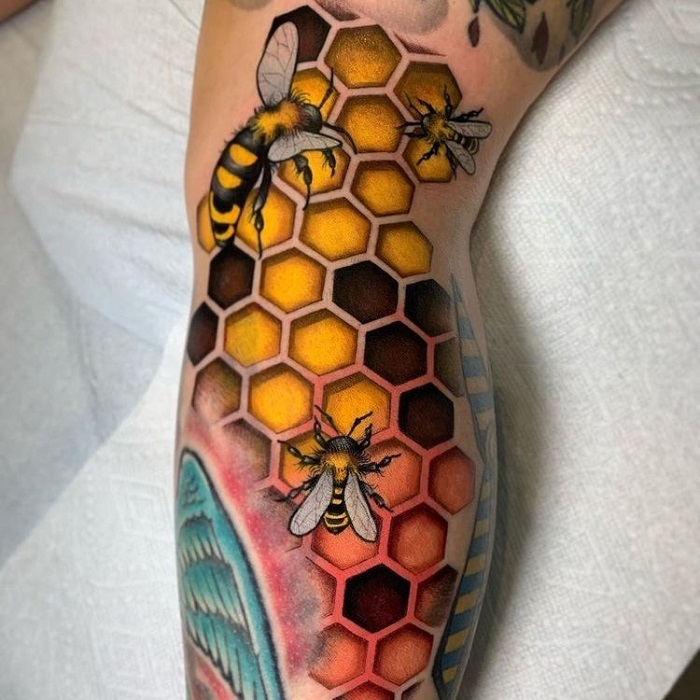 First and foremost, a honeycomb tattoo can mean anything you want it to. It's important to remember that even if the honeycomb holds no symbolic value to you, and you simply love bees and honey, it's okay to get these geometric designs tattooed on your body.
However, if you're curious about the honeycomb meaning, I'll discuss that next.
Since bumblebees have been building hives since the dawn of time, their honeycomb has well-known and universal symbolism and meaning attached to it. In fact, it's gathered layers and layers of significance over time.
Honeycomb requires an epic amount of teamwork to create. In fact, it's a difficult project for all those amazing little bumblebees to construct. This is why honeycomb tattoos can symbolize hard work, cooperation, and structure.
On the other hand, the beehive is a safe home for the bees and their young, since they use honeycombs to house their larvae. This is why honeycomb tattoos can also represent care and fertility.
Among the many meanings that a honeycomb tattoo has, the following are also included on the list:
Structure
Loyalty
Intelligence
Persistence
Of course, if none of these concepts resonate with you, know that the symbolism of these designs is fairly unlimited.
Since these geometric tattoos often include octagons or hexagons, or a prismatic pattern, they can also look a little scientific, too, and give off a mathematical vibe.
Additionally, you can get creative and use the hexagonal shapes to house other imagery. For example, if you got an outline of a honeycomb grid, and decided to use each blank space to frame a detailed image, the images themselves may hold the symbolism, rather than the honeycomb.
Plus, there are plenty of ways to mix together culture, symbolism, and science with a honeycomb tattoo. No wonder they're becoming so popular!
Where To Get A Honeycomb Tattoo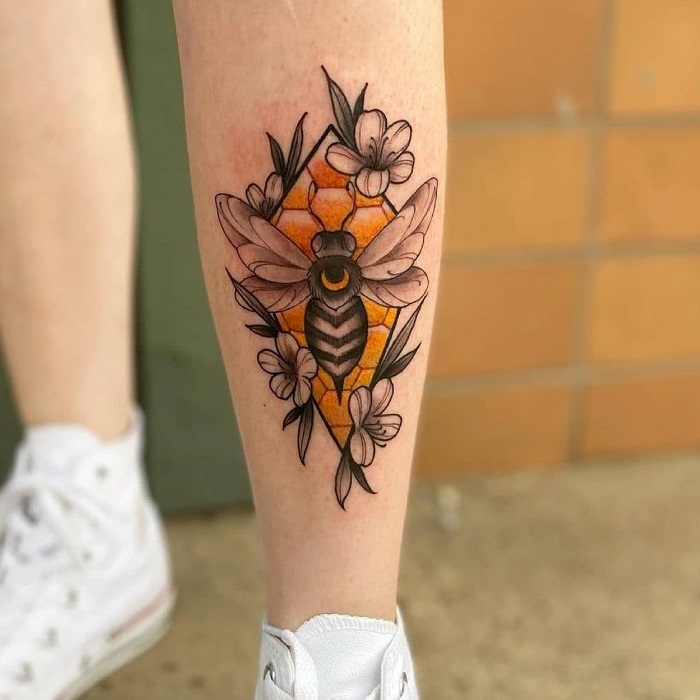 Since honeycomb tattoos come in all shapes and sizes, there's no limit to where you can get your gorgeous new body art. However, there are a few things to consider when scoping out the right location for your tattoo.
Next up, I'm going to talk about three primary locations:
Hand
Shoulder
Back
If you want to get your honeycomb tattoo somewhere that's noticeable and often seen, you might consider the top of your hand. It's a bold piece of bodily real estate, but it will attract plenty of compliments.
Plus, it offers up a smaller surface area to fill. That way, you'll know how big the design can be. Then, there's only one thing left to decide—whether you'll get it colored or keep it a simple outline.
Another popular spot for a honeycomb tattoo is the shoulder. Many people use this area to start a shoulder or full sleeve tattoo, and a honeycomb design is a perfect filler to add to other imagery, like bees and hives.
Or it could stand out on its own, as the centerpiece of your shoulder art. Whatever you decide, the shoulder is a great canvas.
You may also want to get your honeycomb tattoo inked on your back. Whether you select just your shoulder blade or decide to go bigger than that, due to the large surface area, you'll have lots of freedom to choose a design you'll love.
Another great perk of choosing your back is that you can continue to add to your honeycomb ideas, even after the initial art has been inked on you.
If none of these locations suits your preference, then that's fine too! There are plenty of other fantastic spots to get your honeycomb ink. This includes your neck, your forearm, or your calf, to name a few.
The best part about getting a tattoo that can be so versatile is not being locked to one style or location.
How Much Do Honeycomb Tattoos Cost?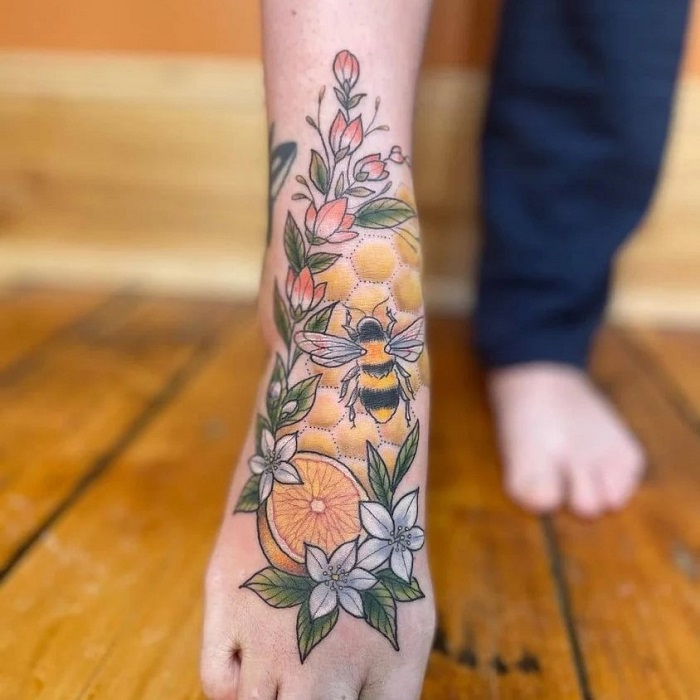 How much honeycomb designs will cost entirely depends on how big and how detailed you'd like your tattoo to be.
For example, if you're just getting a few hexagonal shapes outlined on your wrist, it will be far less expensive than if you choose to get a honeycomb tattoo backpiece that spans your torso and is multicolored.
If you've got a budget, then this might determine the size and location of your honeycomb tattoo. On the other hand, you might have an exact size in mind already, regardless of the cost.
However you plan to tackle this honeycomb tattoo, the first thing you should always do is talk to your artist, to get a more specific quote.
Nevertheless, there is a general price range for honeycomb tattoos, as you can see in the list below. Of course, these numbers can vary but this list should provide you a rough idea of what a palm-sized honeycomb tattoo will cost, versus a back piece, or a colored tattoo versus an outline.
Basic black, 8" x 8": $400-$500
Basic black, 4" x 4": $200-$300
Color, 8" x 8": $600-$800
Color, 4" x 4": $400-$500
The 30 Best Honeycomb Tattoo Designs
#1: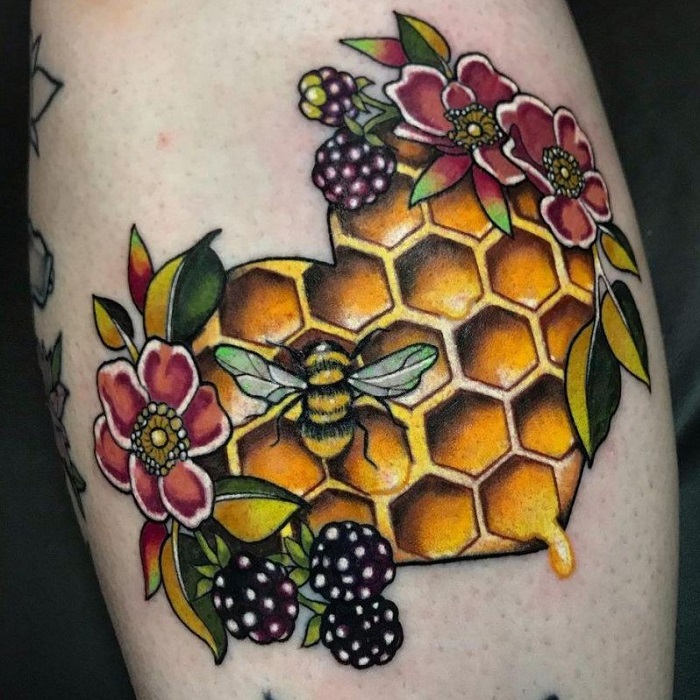 #2:
#3: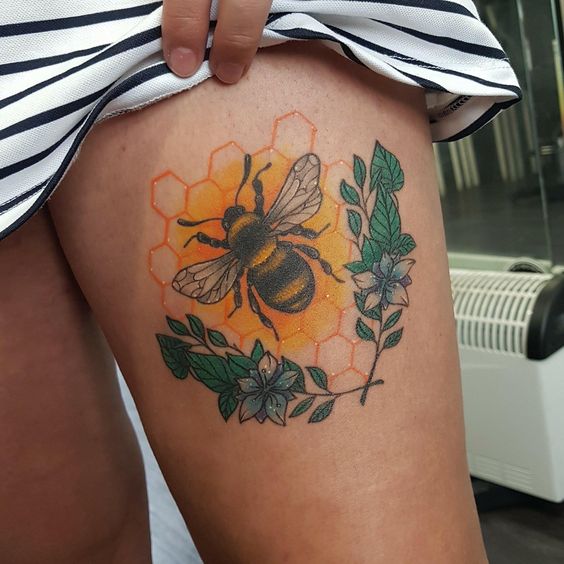 #4: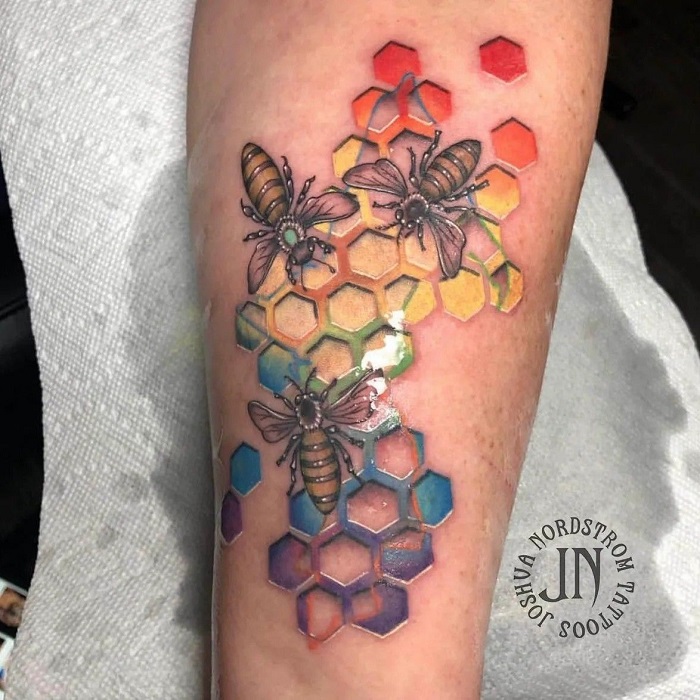 #5: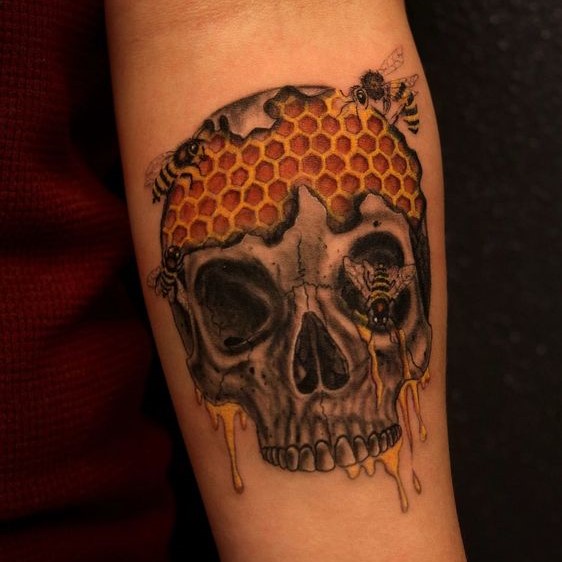 #6: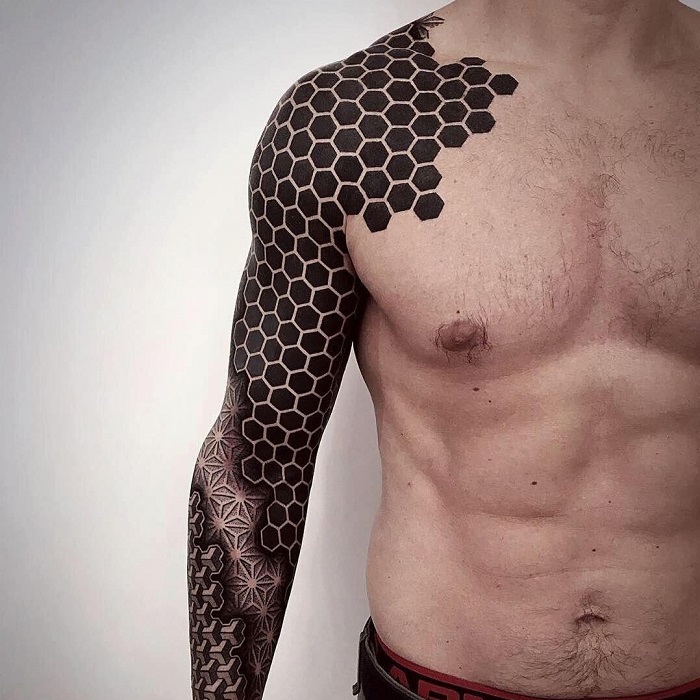 #7: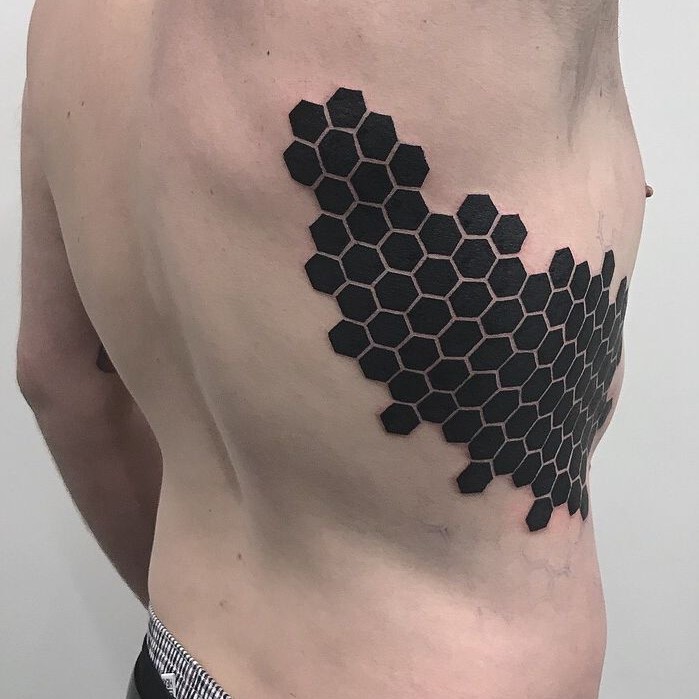 #8: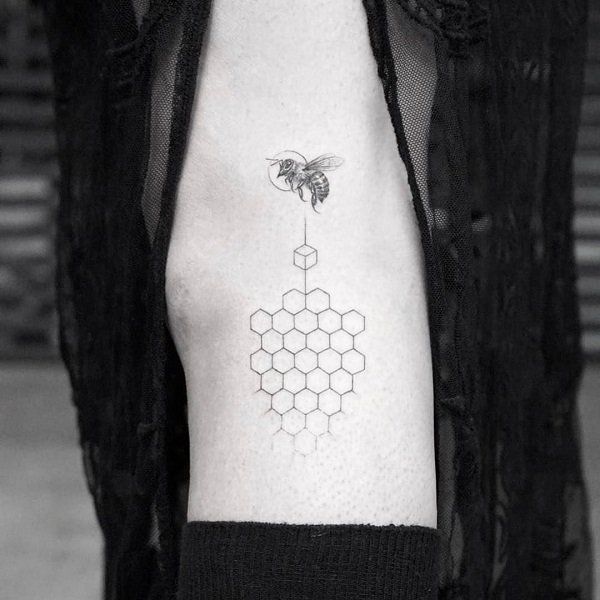 #9: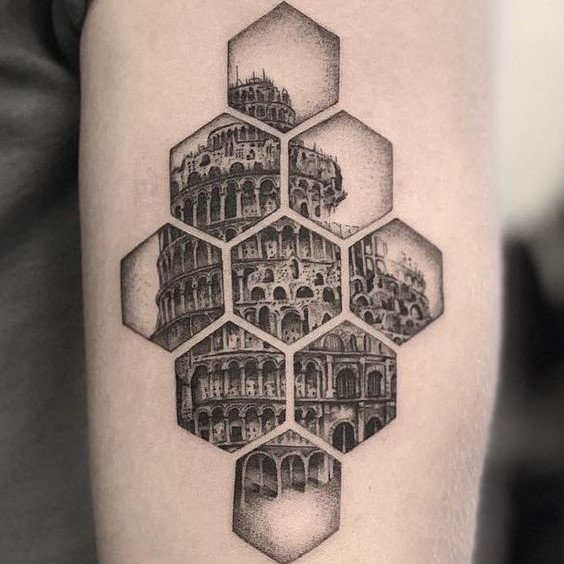 #10: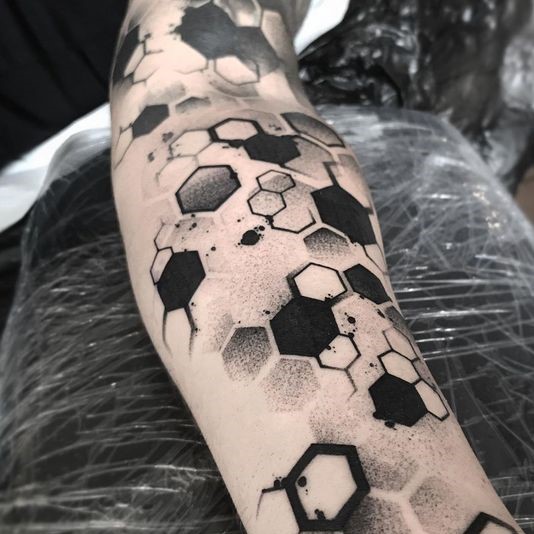 #11: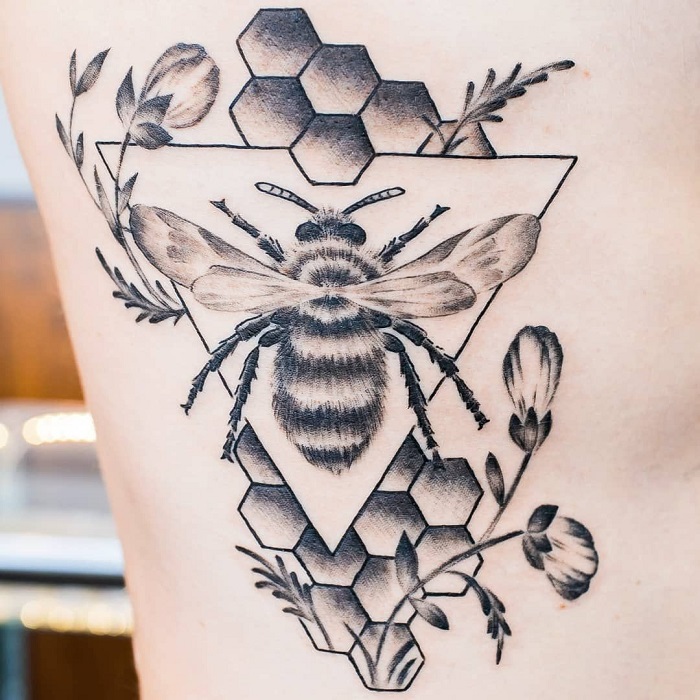 #12: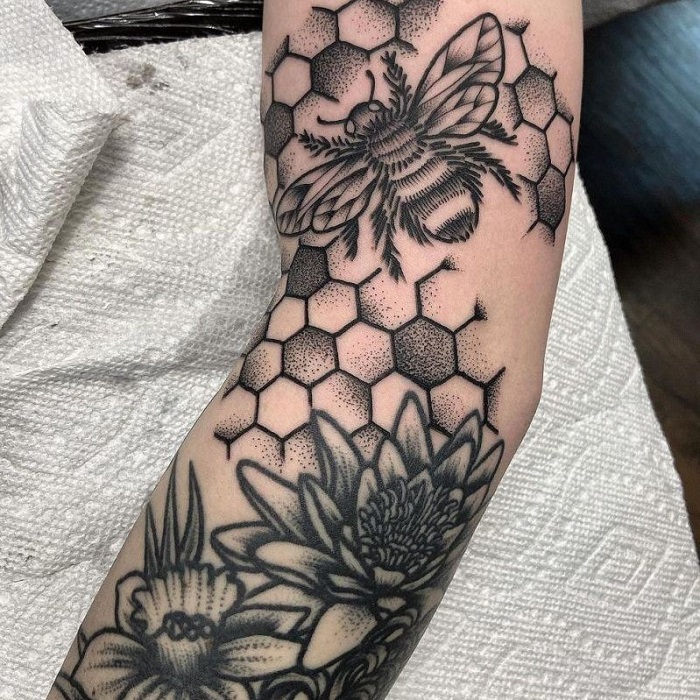 #13: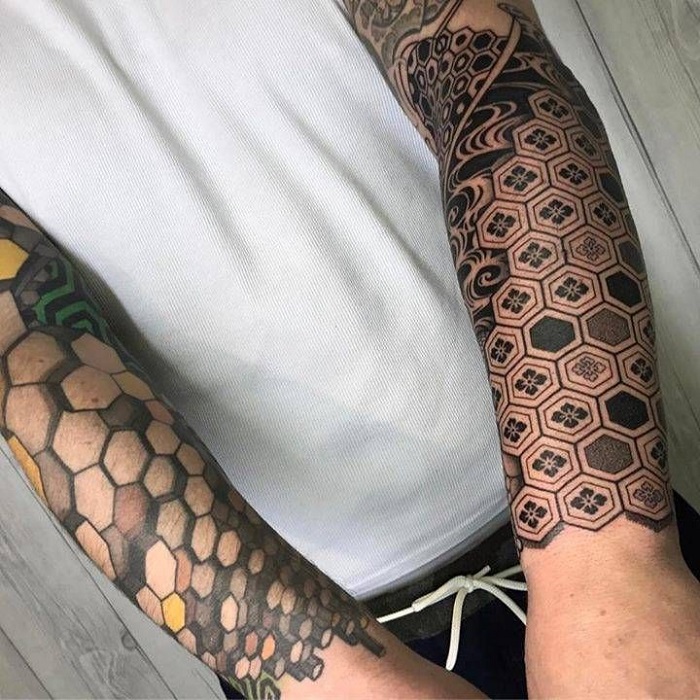 #14: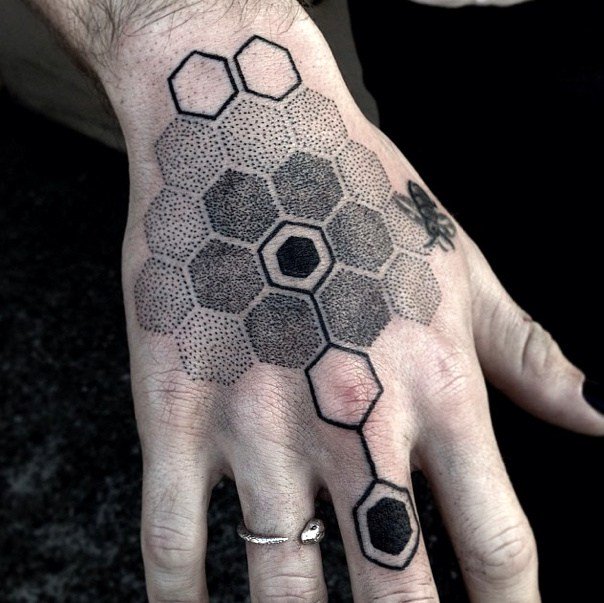 #15: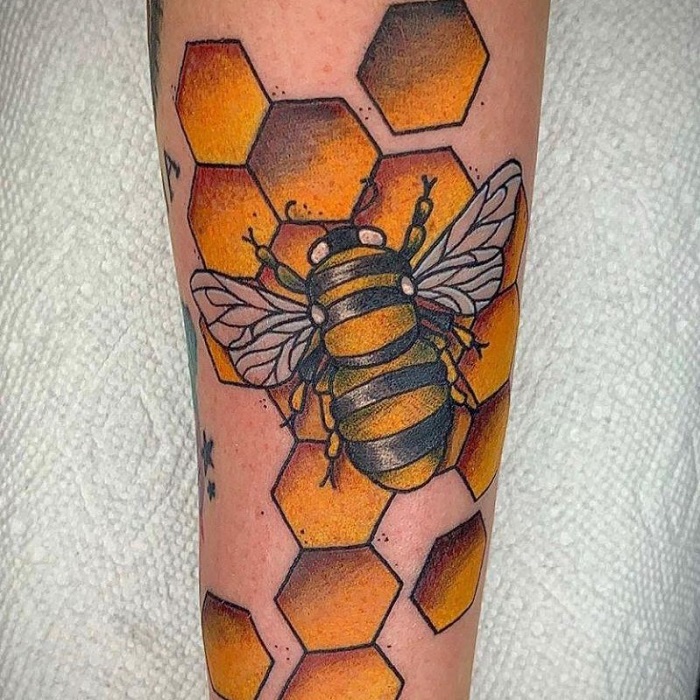 #16: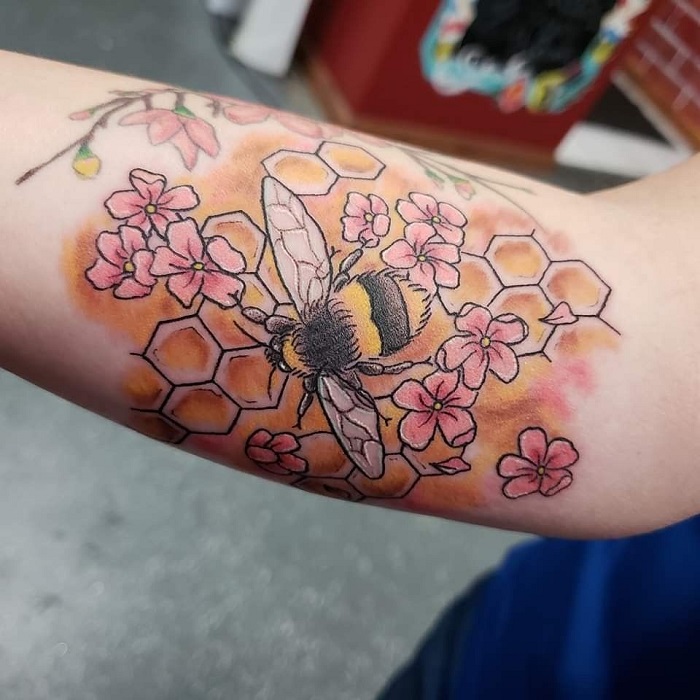 #17: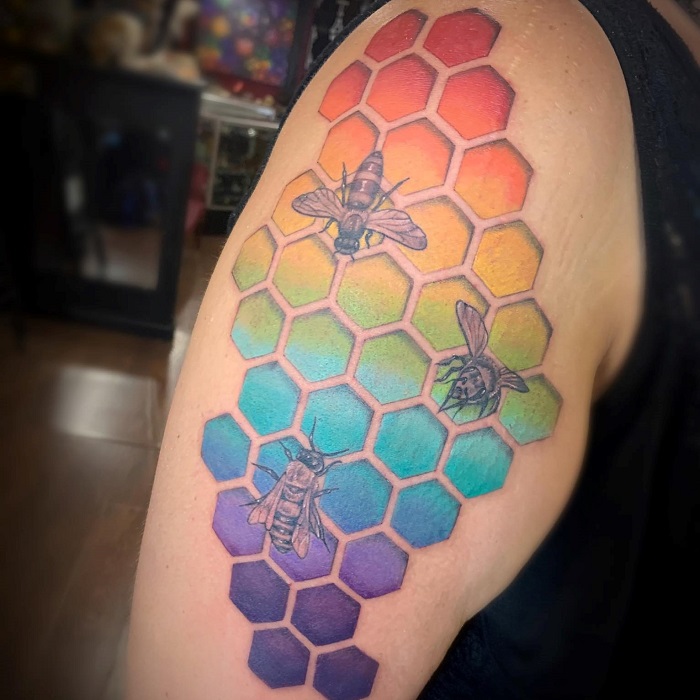 #18: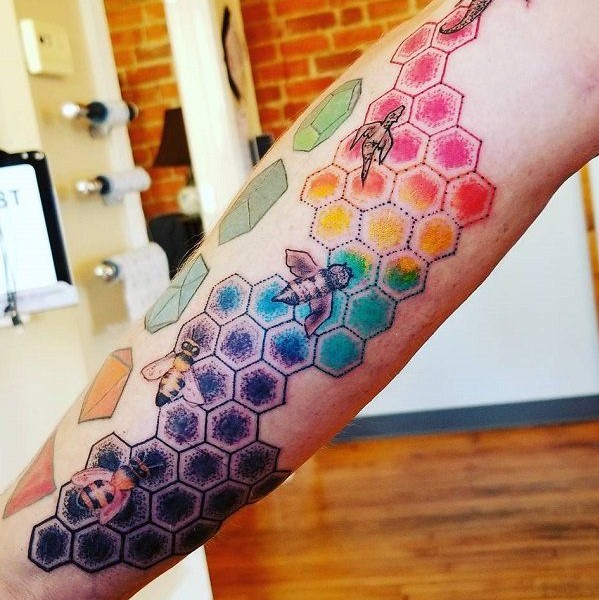 #19: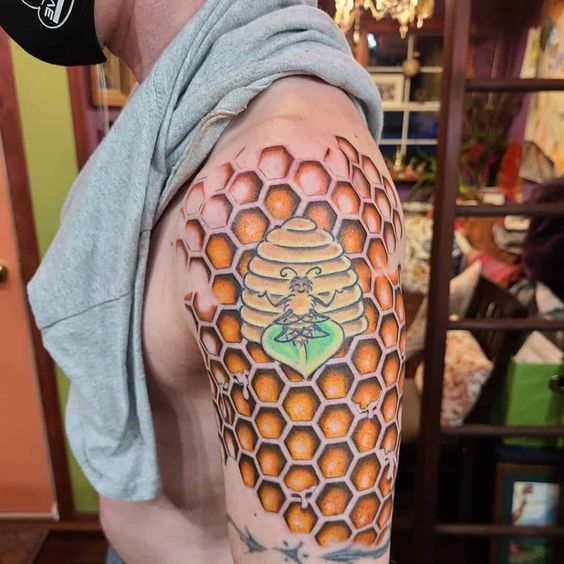 #20: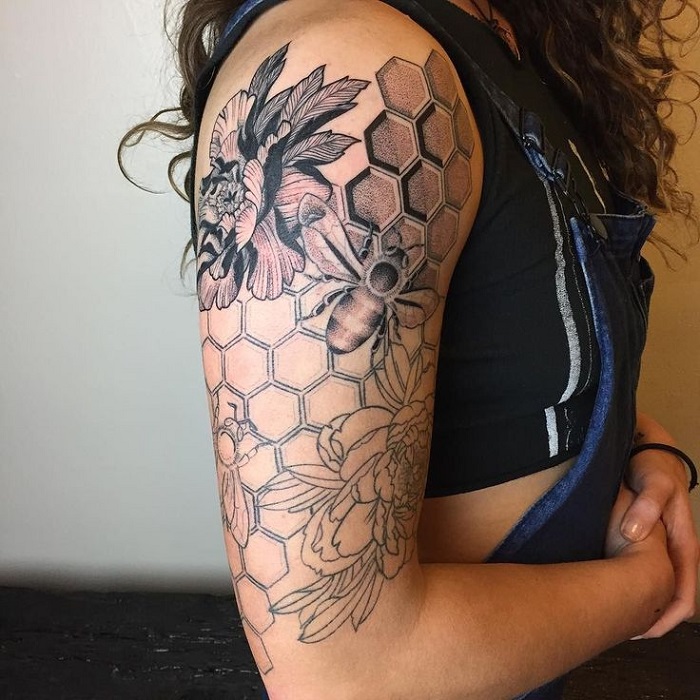 #21: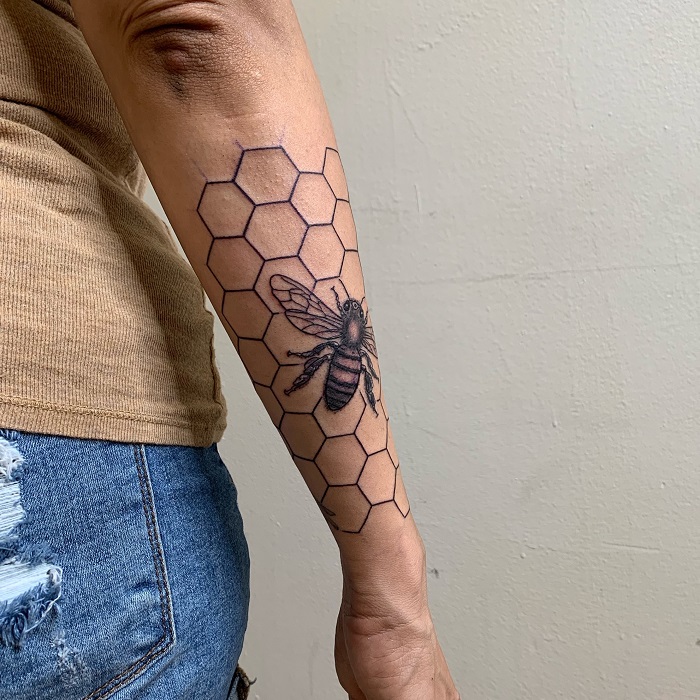 #22: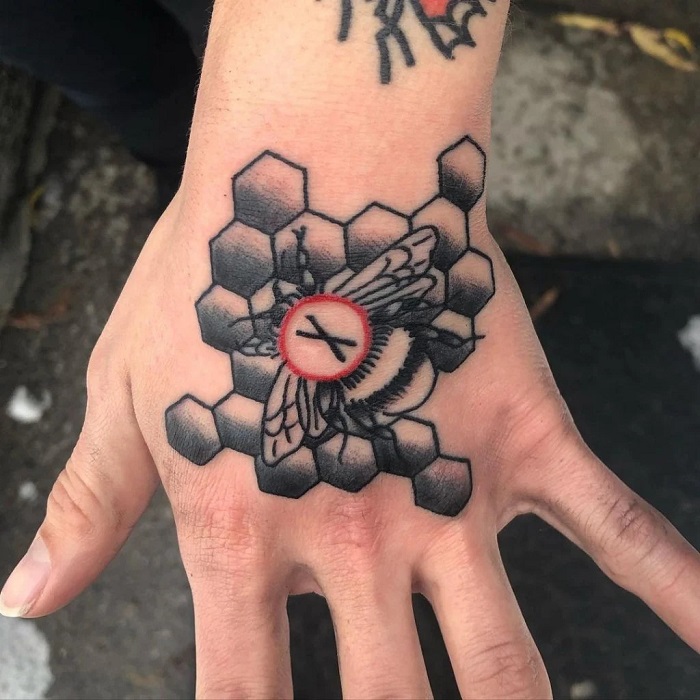 #23:
#24: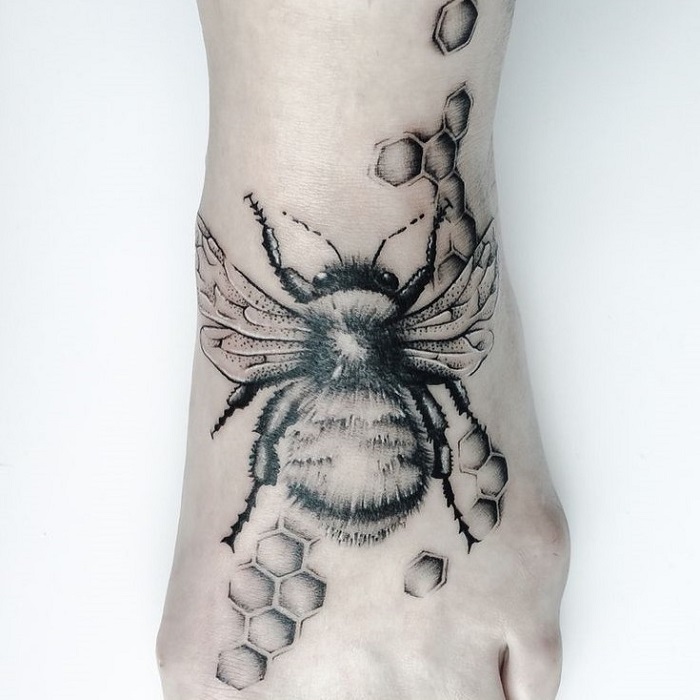 #25: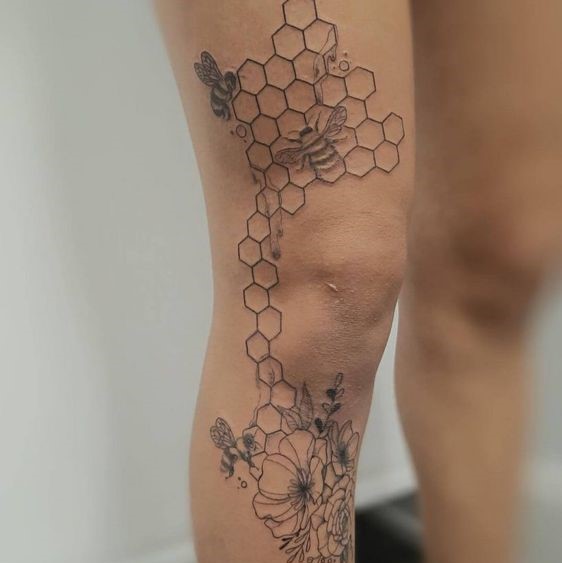 #26: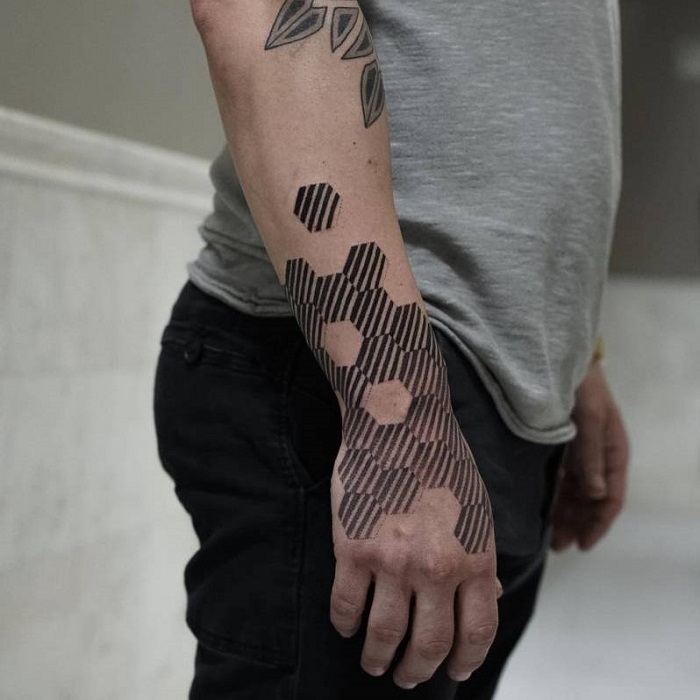 #27: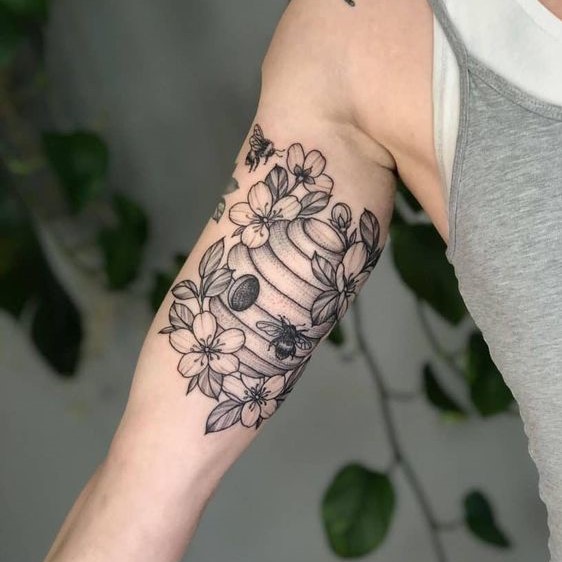 #28: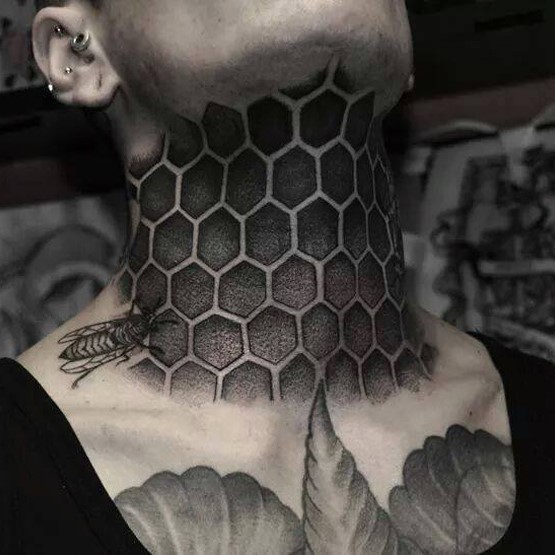 #29: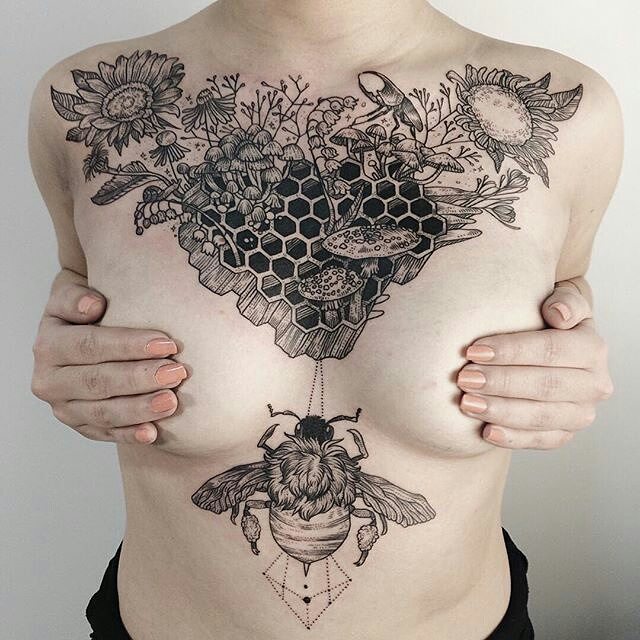 #30: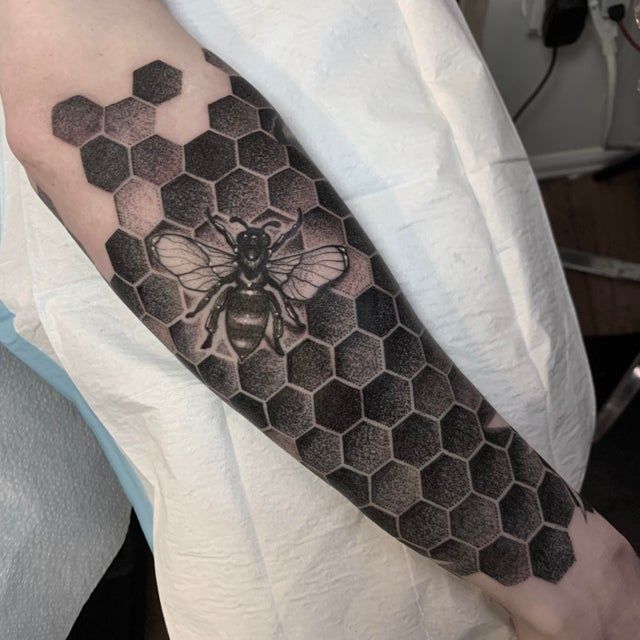 History Of Honeycomb Tattoos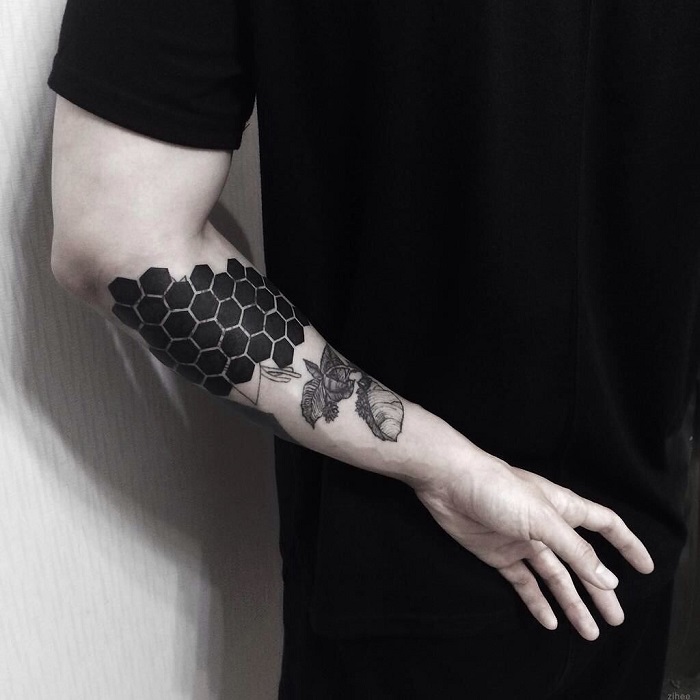 While the Honeycomb tattoo is a more modern and trendy design, it still has a history and cultural significance. Honey is a universal treat and humans have been harvesting it for centuries, thanks to bees and their beautiful honeycomb.
Honey, since its beginnings, has been considered a delicacy that was fit for royalty. Ancient Greece reserved honeycomb and its flavorful and waxy properties for its elite. These days, of course, honey is much more accessible for the average person.
Plus, since the dawn of time, the art of honey-making has been a respected and awe-inspiring task that bees are committed to undertaking.
The endless devotion and hard work that bees are known for is definitely admirable. These prismatic and hexagonal shapes are not only nests for bees and their young, but they also house the honey itself. It's pretty amazing!
All of these historical and symbolic factors add layers of meaning to a honeycomb tattoo. You might just love honey, bees, or geometric shapes. But regardless, a honeycomb tattoo will showcase some deeper meanings—all of which are respectable and significant.
Which Celebrities Have A Honeycomb Tattoo?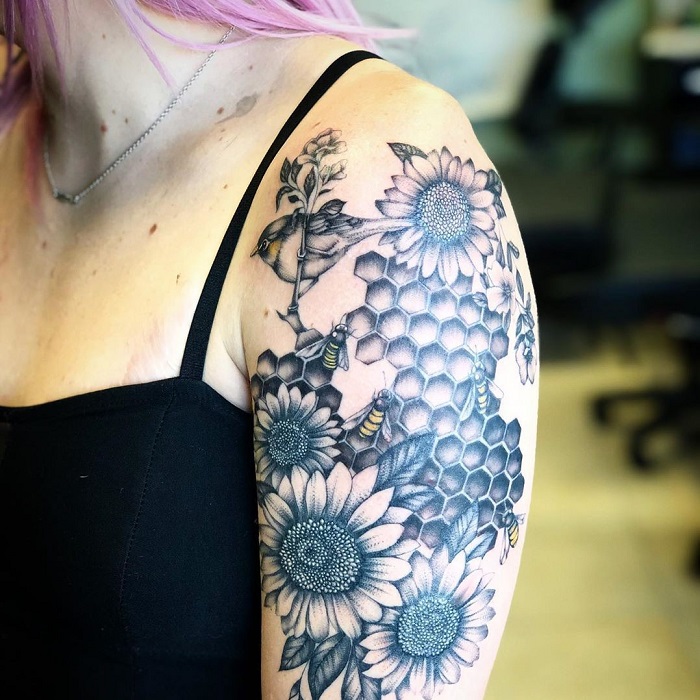 These days, celebrities are getting more and more tattoos. Many stars and starlets are opting for an art-covered body, rather than a clear canvas, as was once popular back in the day.
With all of these rappers, singers, athletes, and movie stars getting tattooed, a few of them have gone in the direction of bees, honeycomb, and geometric designs.
It seems that honeycomb tattoos are still a little rarer than their sister tattoo, the honeybee. Perhaps this is because a bee is a lesser commitment than a full honeycomb, yet maintains some parallel meanings. Celebs that have tattoos of honeybees include Ariana Grande, Maya Stepper, and Kelly Osbourne.
There's also a more dramatic honeybee/honeycomb tattoo option. It's a geometric design featuring octagonal shapes, connected together like a honeycomb. O
ne notable celebrity—model Bee Phillips—has gone in this direction with her new neck tattoo, which is a stack of geometric honeycomb-shaped outlines around her throat.
---
Looking for more inkspiration? We've got you covered:
30 Best Bumblebee Tattoo Ideas 
30 Best Black Cloud Tattoo Ideas 
Get Access to Exclusive Deals
Subscribe for free to get exclusive deals in your inbox. 100% privacy