30 Best Bumblebee Tattoo Ideas 
About Bumblebee Tattoos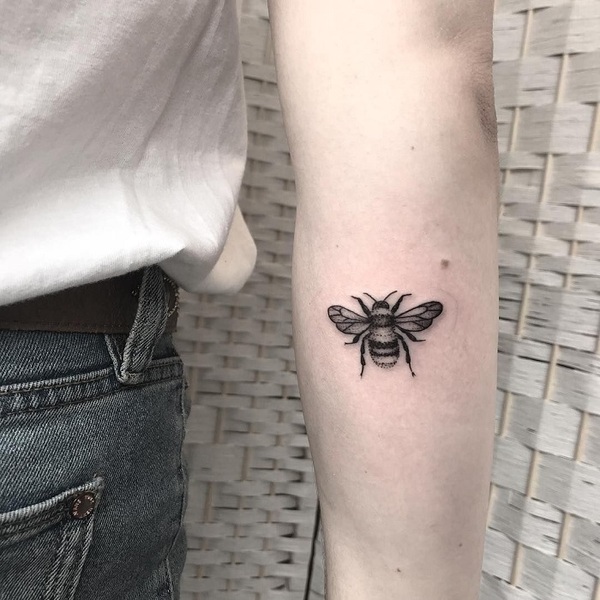 Since the popularization of body art, tattoos have become a highly common way to express oneself. And in your everyday life, you're bound to come across one or more people with a tattoo, even if it isn't plainly visible. 
Script tattoos are fairly popular and pop culture tattoos are also quite common. However, one of the most underrated—yet incredibly adorable—tattoos is the bumblebee tattoo.
Bumblebee tattoos are cute, fun, and sure to capture the eyes and hearts of whoever glances at them. While we can't make your body art decisions for you, we can help you explore this adorable tattoo idea to see if it's a good option for you.
However, it's widely understood that tattoos require some careful thought and thorough planning. So, if you're trying to choose a tattoo for yourself or are looking for a way to honor your love of the bumblebee, keep reading this guide. 
By the end of this article, you'll understand all these and more:
Bumblebee tattoo ideas
Bumblebee tattoo designs
Bumblebee tattoo meaning
What Do Bumblebee Tattoos Mean And Symbolize?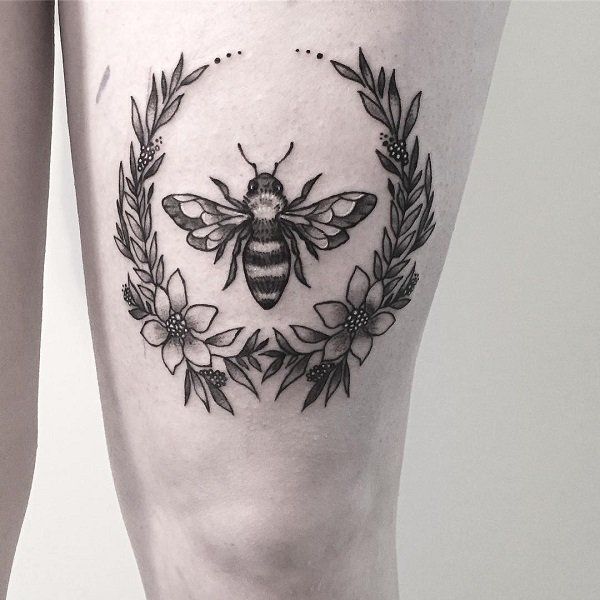 Although there are no official documents explaining the meaning of a bumblebee tattoo, we can use the information readily available online to draw our own conclusions.
With the symbolism attached to the iconic creature, bumblebee tattoos can represent a celebration of community. The bumblebee is also the metaphorical mascot for personal power.
This tattoo could also symbolize something sentimental or nostalgic for the wearer. Bumblebees are often associated with spring and flowers so seeing a bumblebee tattoo inked alongside a blooming bouquet or a summer-like setting (i.e picnic) isn't unusual either.
A sports fan might also find interest in a bumblebee tattoo if the animal is associated with their favorite team. Iconic boxer Muhammed Ali's most notable quote is "float like a butterfly, sting like a bee."
It's a poetic one-liner that describes how the athlete moved in the ring. Finishing the quote is "the hands can't hit what the eyes can't see"—a statement that proves Ali is quick in the ring like a butterfly but delivers his hits like the piercing sting of a bee.
Fans of Ali, or fans of the 2001 sports drama Ali, might look into getting a bumblebee tattoo design alongside one of a butterfly. 
Plus, there are ink addicts who may just love the bumble and have a special appreciation for the insect carrying the fertilization industry on its back. Whatever the reason why someone chooses to get a bumblebee tattoo, there's no denying its unique appeal.
Where To Get A Bumblebee Tattoo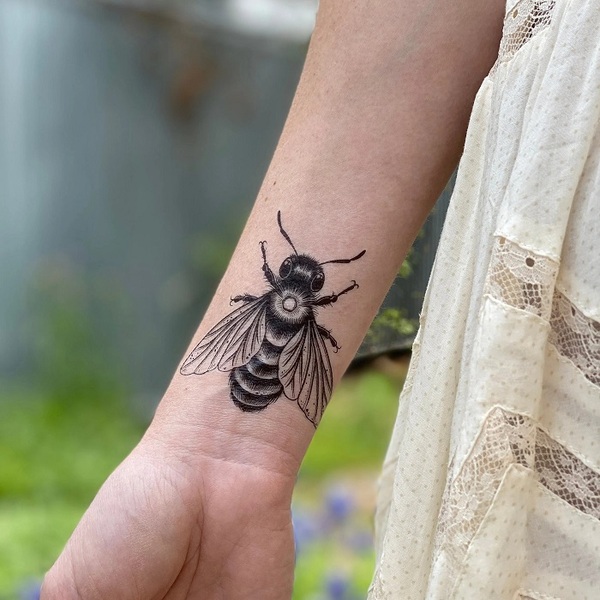 The human body is a canvas and like most tattoos, bumblebee tattoos can be placed in several places.
However, the arm seems to be the most common space on the body where a bumblebee tattoo is inked.
Although the placement of this tattoo is entirely up to the wearer, here are some ideas to help you choose where your buzz-worthy tattoo will be living: 
Once upon a time, hand tattoos were considered an irresponsible decision for working professionals. Today you can find hand tatts on a number of working people across various industries.
Depending on your lifestyle (and pain tolerance) the hand can house a large bumblebee tattoo or a small one fit for an individual finger.
Despite being only a small part of the body, the hand has several parts—from fingers to the back and the front side of your palm—in which you can place a tattoo.
It may sound horrifying to you but face tattoos have only increased in popularity. From singer Kehlani's multiple dainty face tatts to Amber Rose's iconic forehead script, ink enthusiasts have proven the face is just as capable of being inked as anywhere else. 
A small bumblebee tattoo underneath the eye (much like the placement of Kehlani's paper plane tattoo) would make a cute addition to the face.
However, this placement is not for the faint of heart. Keep in mind if you have sensitive skin before boldly sitting your face underneath the needle. 
Celebrities from Aaron Carter to Rihanna appreciate a good neck tattoo. The neck is prime real estate for a number of tattoo designs whether your ink is a script, watercolor, or tribal-inspired piece.
A bumblebee cascading in flight down the neck (similar to Rihanna's iconic star tattoo) could be a cool addition to your collection of tattoos or a cute place to start on your ink journey. 
The arm is a common spot for most tattoos due to the options the arm provides. With space from your biceps right down to your wrist, there are a number of bumblebee tattoo designs you could ink on your right or left arm.
The arm also offers placements that are hypervisible for the proud ink aficionado who can't wait to reveal their new ink, as well as discrete places for those with more personal tattoos. 
Like the arm, the shoulder also offers a variety of placement options. You could ink the side of the shoulder to wear your love for the bumblebee on your human sleeve or ink the front of the shoulder beside your collarbone.
Don't forget options like the back of your shoulder or even right on top of your shoulder beside the neck. 
A bumble bee's always got your back when you tattoo the contemporary design on your literal back. The back offers a lot of space so feel free to get creative with your bumblebee tattoo and scale your tattoo, making it as big as your heart desires. 
Wear your tattoo idea like a fun anklet when you tattoo your bumblebee on your ankle. Tatt it on the outside of your ankle for a fun look or on the inside for a look that's a little more discrete. 
Foot tattoos are reported to be amongst the most painful but the pain does pay off. In the end, a fun little tattoo staring up at you every time you look down is like a personal reminder of joy.
Much like the arm, the leg also has a selection of places you can get inked. The upper thigh is the perfect placement for anyone looking to have their tattoo covered most of the time while the shin is a popular place for leg tattoos in general.
If you're feeling extra bold, get your bumblebee tattoo on your knee. 
How Much Do Bumblebee Tattoos Cost?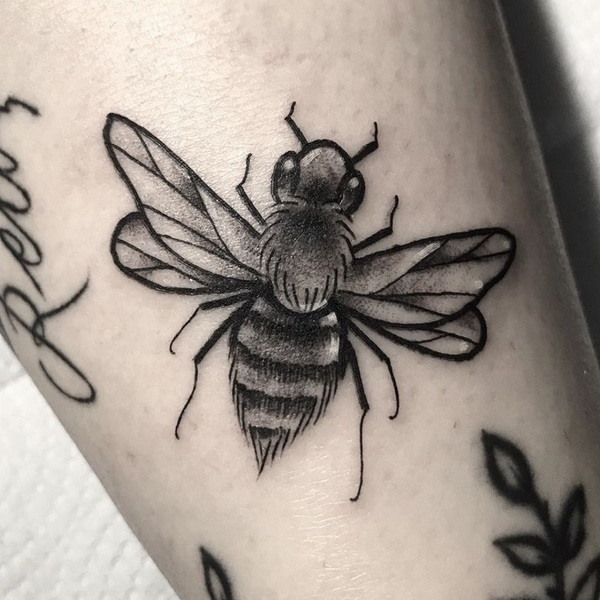 Figuring out the cost of a tattoo isn't like sourcing the price of a dress or even a brand new car.
The cost of a bumblebee tattoo, like any other tattoo, is contingent on a number of factors, including the artist performing the work.
It's also important to note that most, if not all, tattoo artists require a deposit before they begin working on your ink.
Tattoo artists often quote that a "good tattoo ain't cheap and a cheap tattoo ain't good." So, expect to be spending around $100 or more on most tattoos, even the micro ones.
The following factors will influence the price of your bumblebee tattoo:
The artist – Whether you're visiting a salon or personal studio, no two tattoo artists are alike. Every artist is equipped with their list of rates in addition to what they require as a deposit. The number given is oftentimes determined by the skill of the artist and/or the prestige of the salon.

Size – The bigger the tattoo, the bigger your budget must be. The size of any tattoo greatly affects its price so keep that in mind when coming up with your bumblebee tattoo design. However, note that the size of the tattoo doesn't necessarily affect the deposit price.

Color – Whether the artist specializes in color tattoos or simply offers this line of work, coloring a tattoo usually increases the price. Coloring the tattoo also requires an entirely different skillset and more work which naturally increases the price.

Time – Time is one of the biggest factors when totaling the price of your tattoo. If your tattoo is a design that requires more than one appointment or a set number of long hours, this will increase the price. 
No matter what your budget is, pay attention to the work of the tattoo artists when sourcing someone to ink your design. Although there are a variety of artists that cater to multiple budgets, the most important factor is the quality of the artist's work.
Best Bumblebee Tattoo Designs
#1: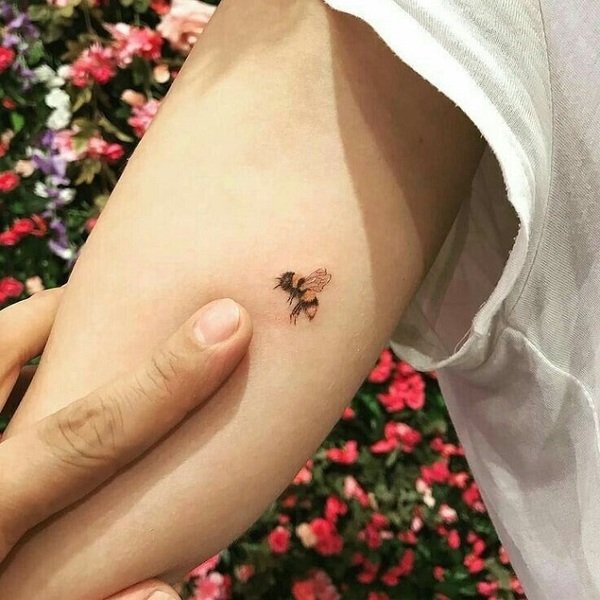 #2: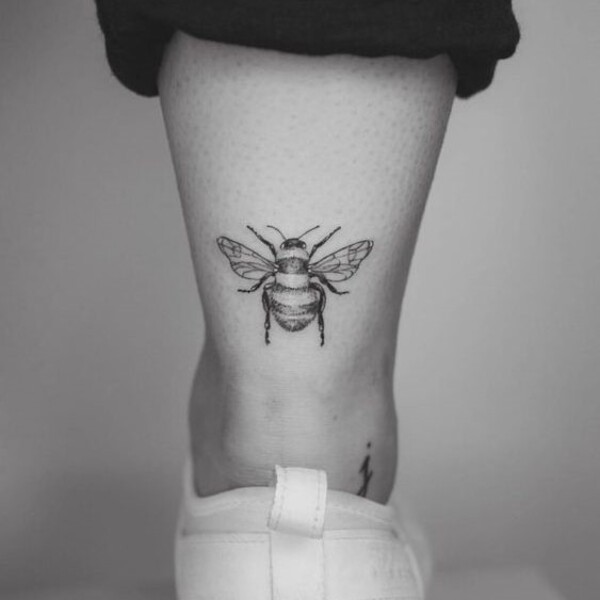 #3: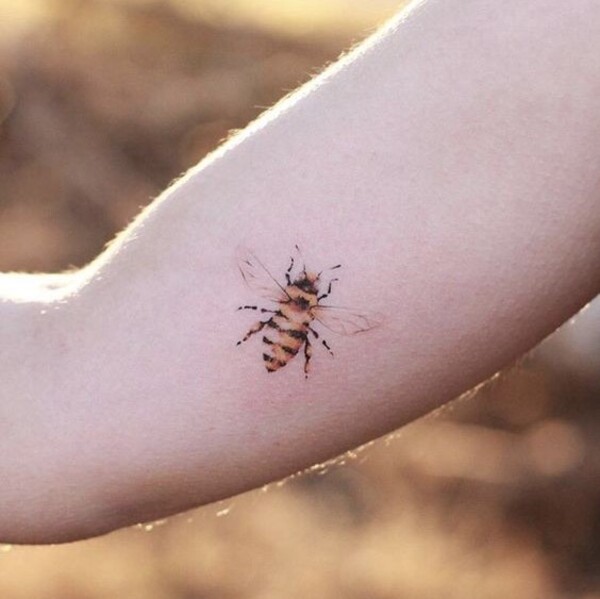 #4: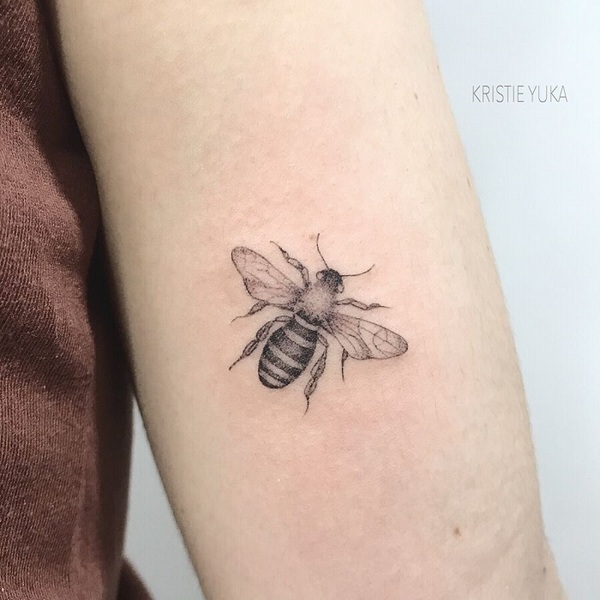 #5: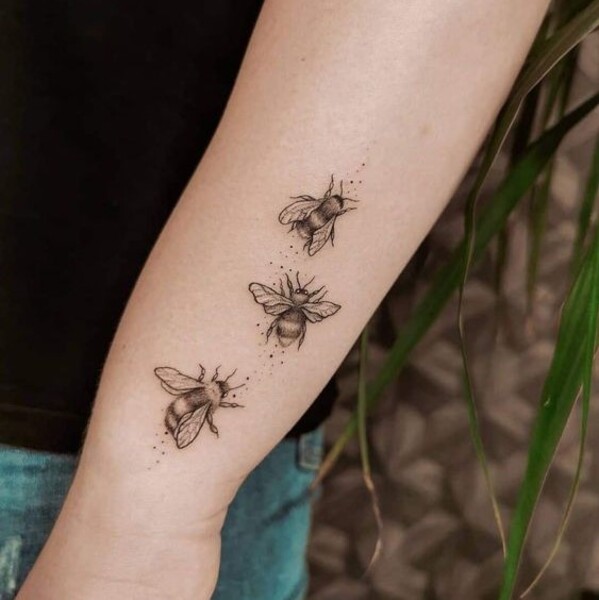 #6: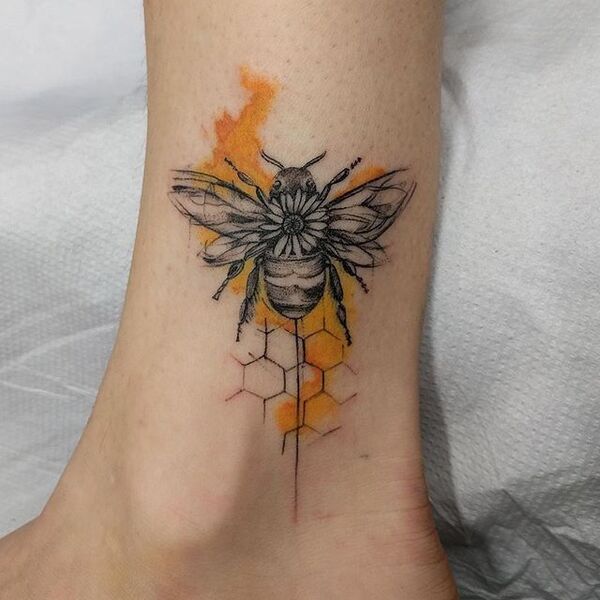 #7: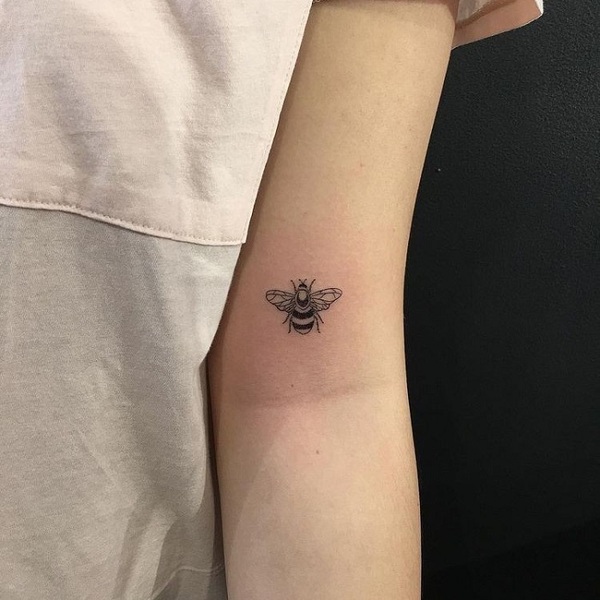 #8: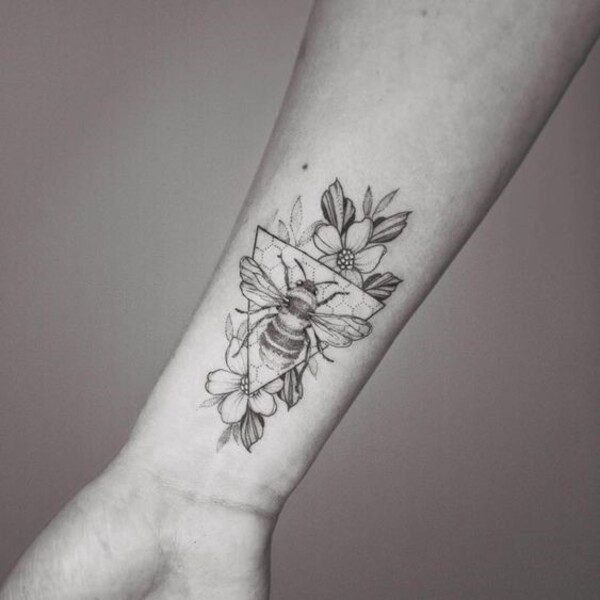 #9: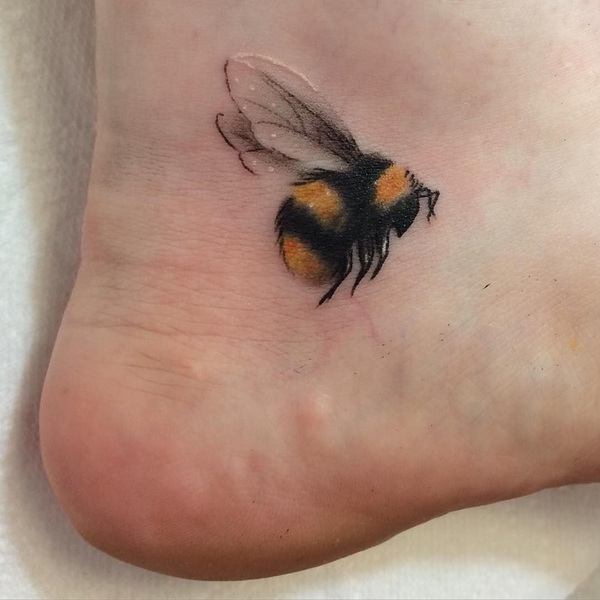 #10: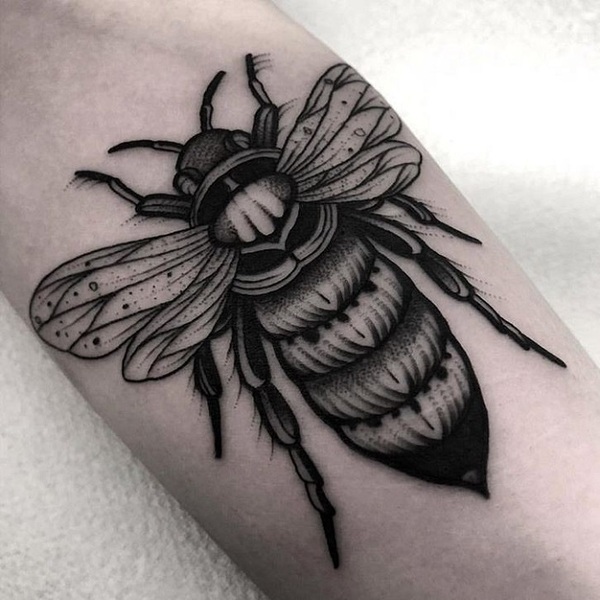 #11: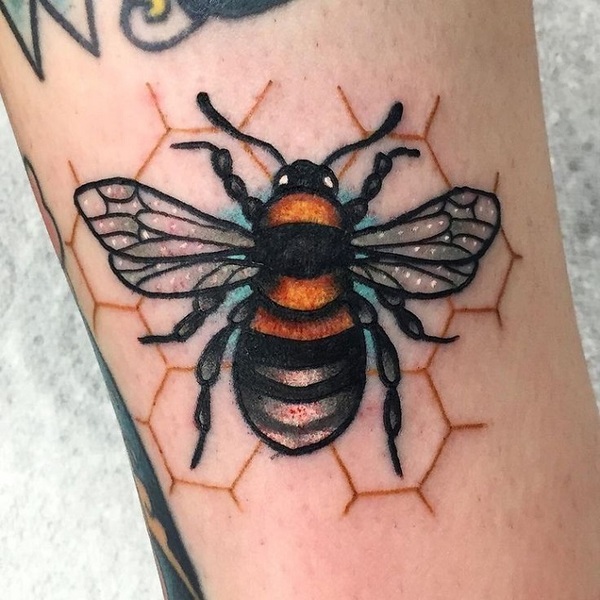 #12: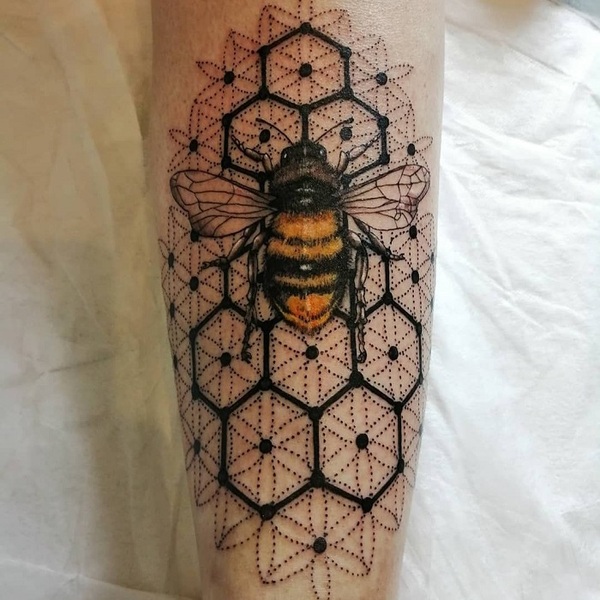 #13: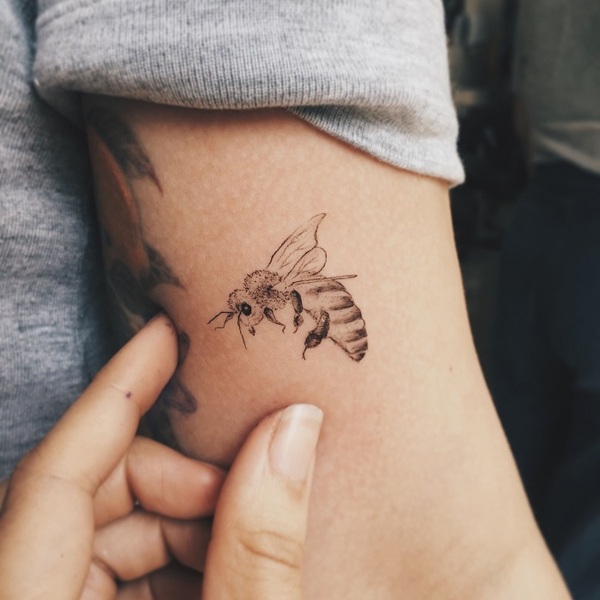 #14: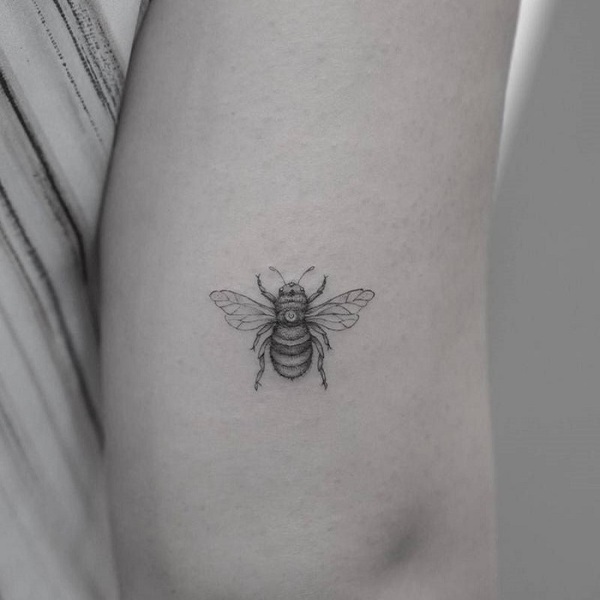 #15: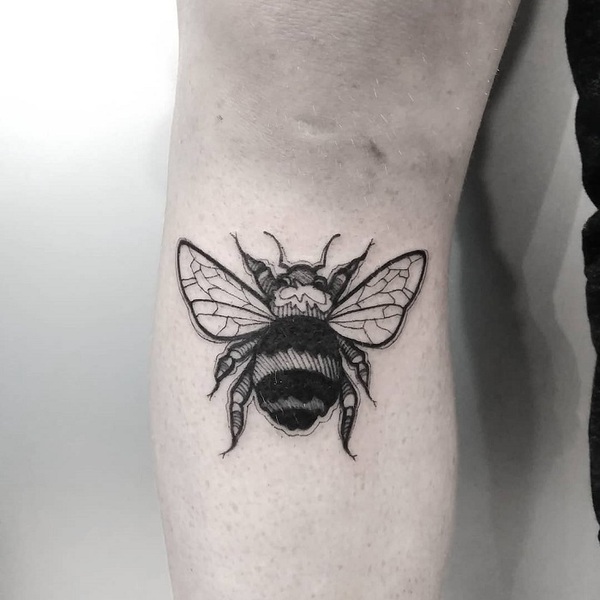 #16: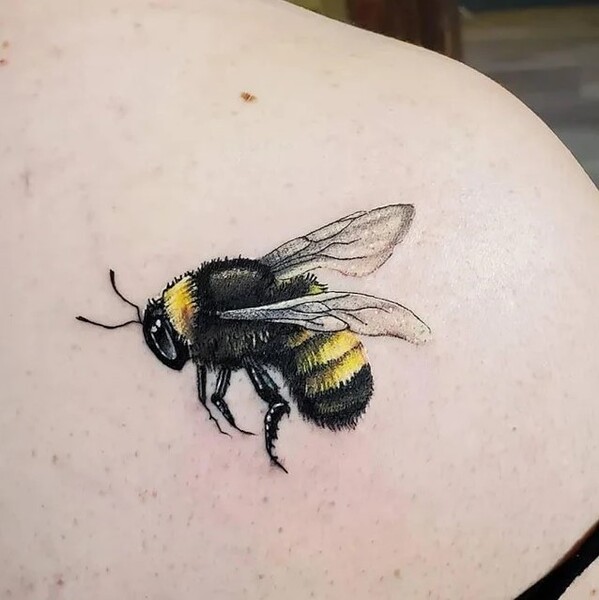 #17: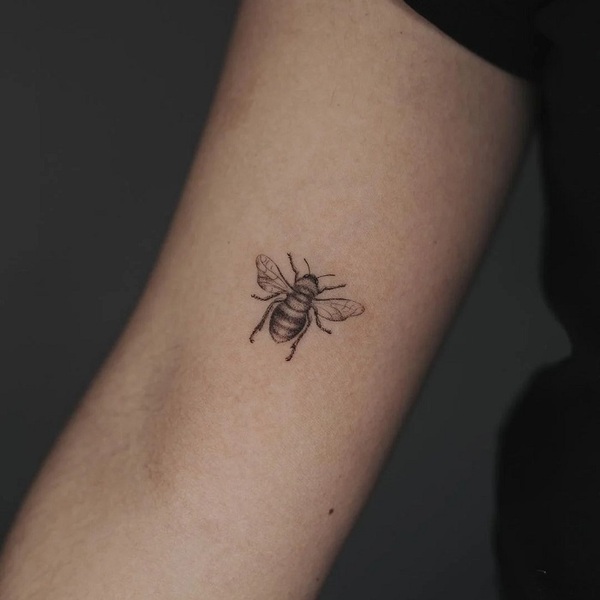 #18: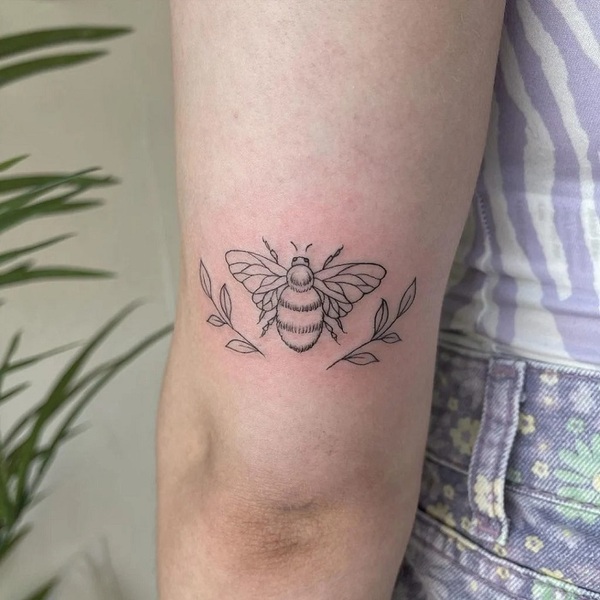 #19: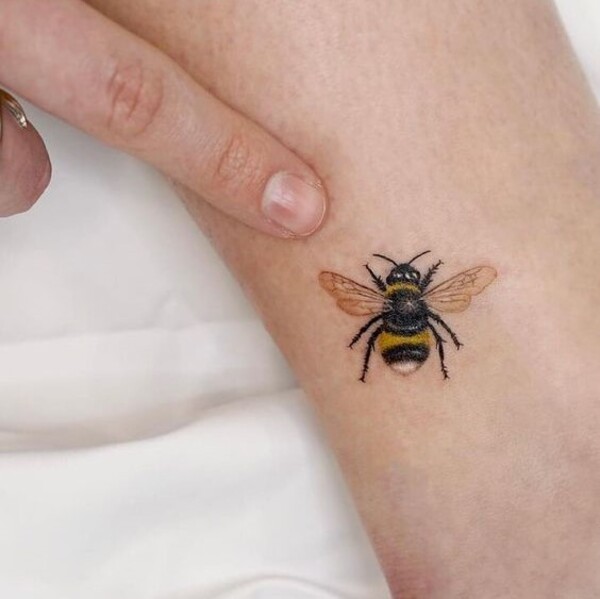 #20: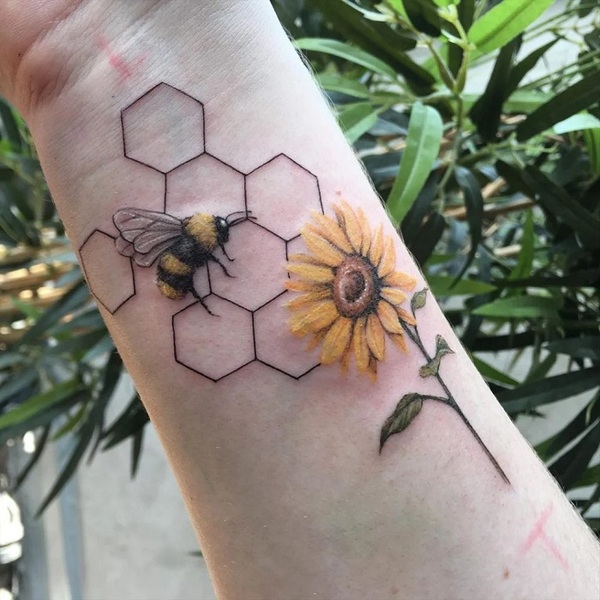 #21:
#22: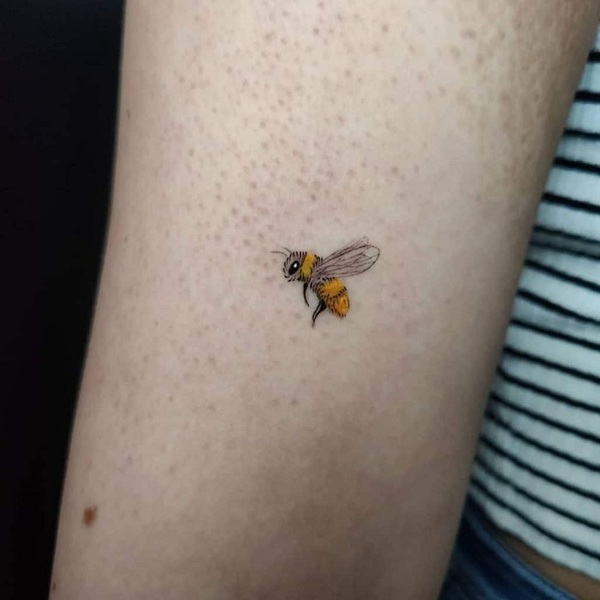 #23: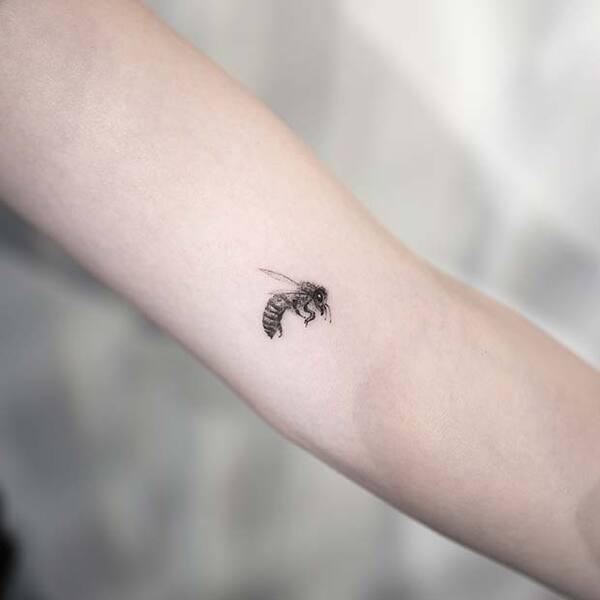 #24: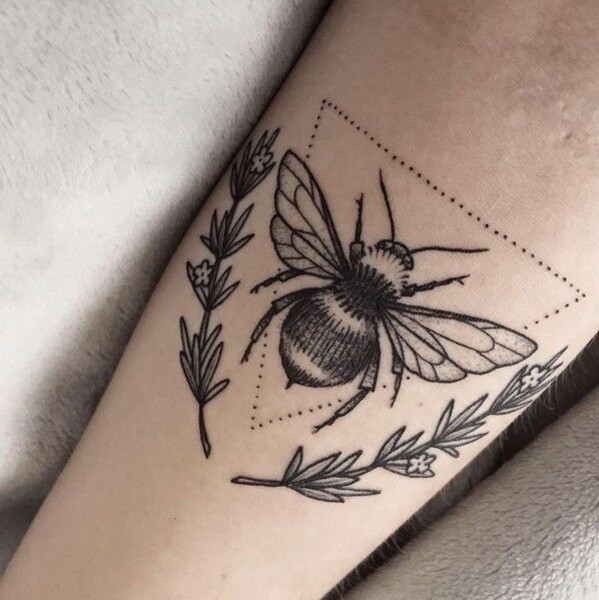 #25: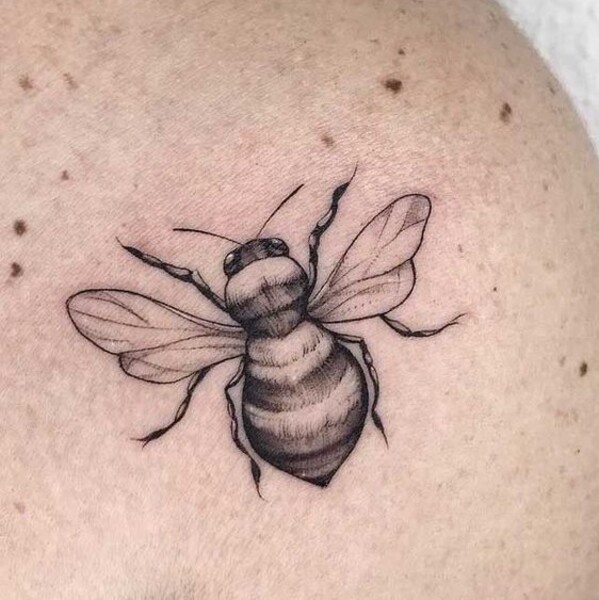 #26: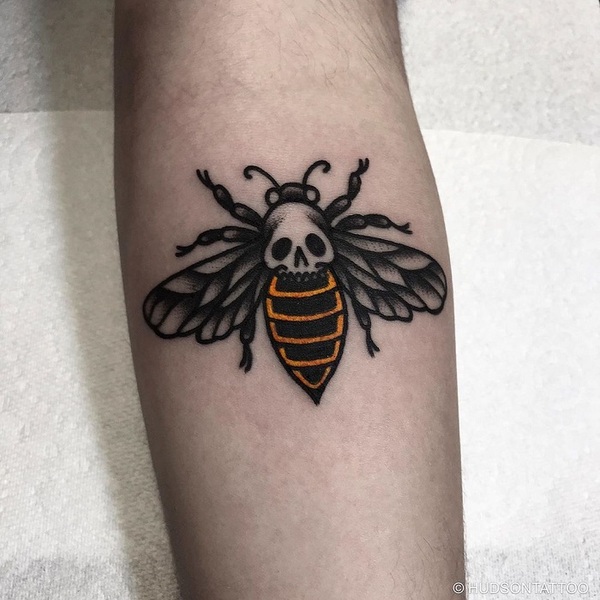 #27: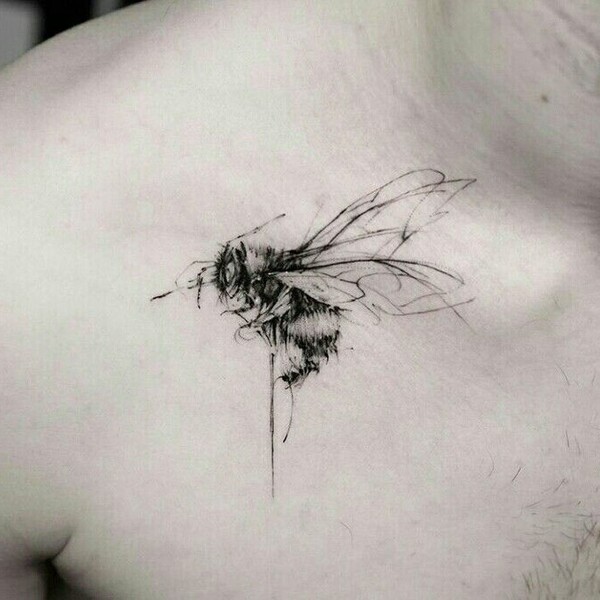 #28: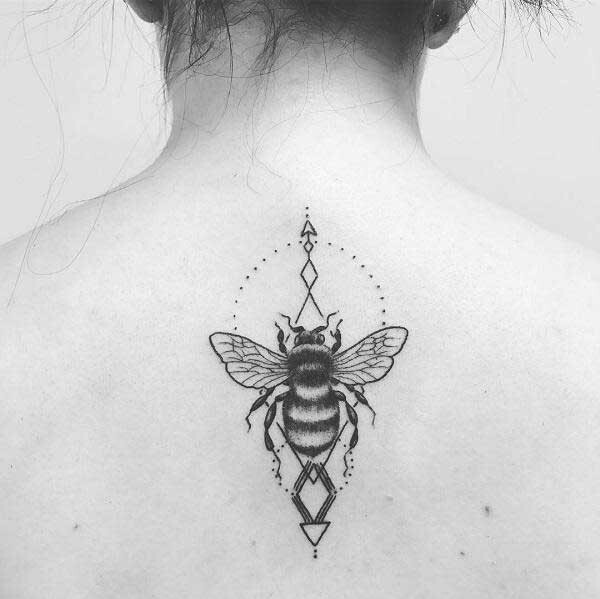 #29: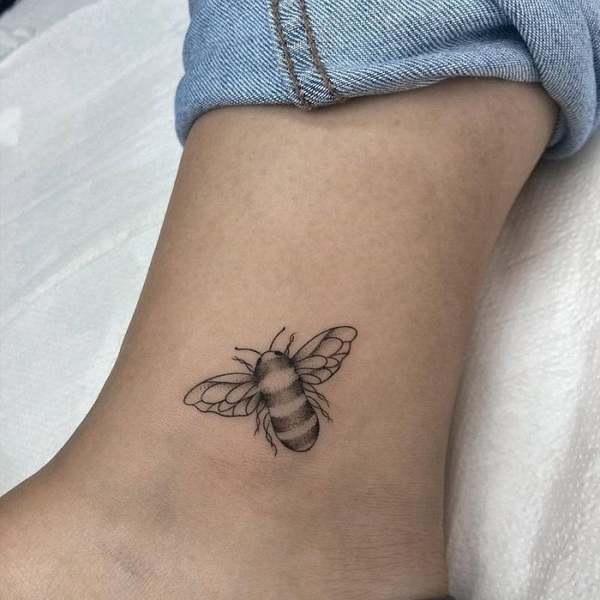 #30: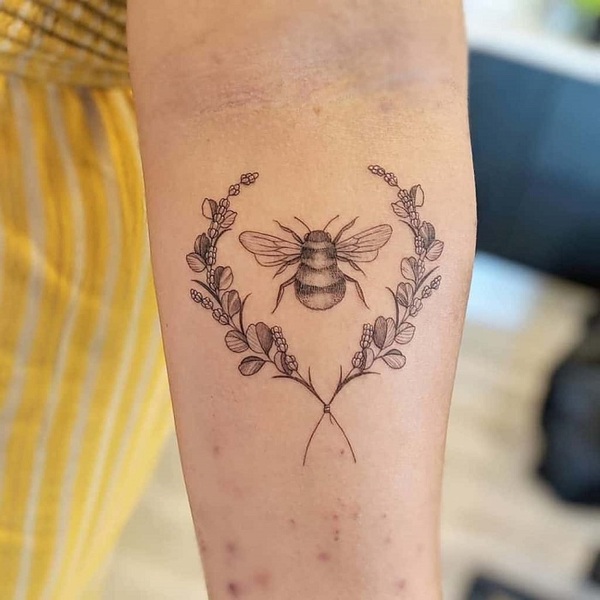 History Of The Bumblebee Tattoo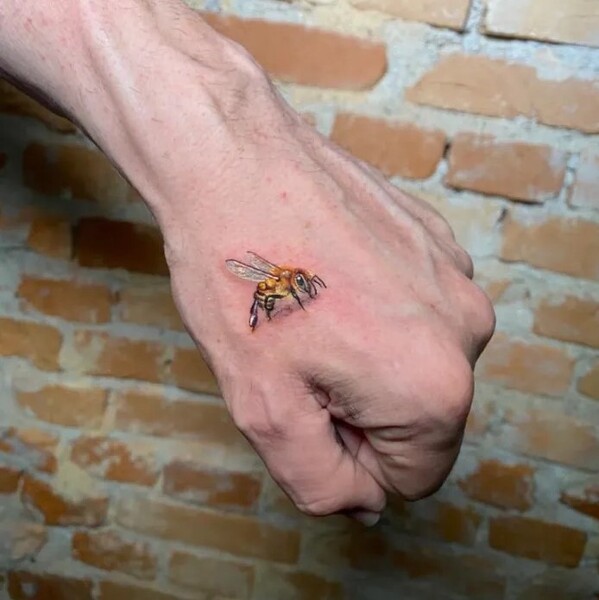 Tattooing is an ancient art that dates back thousands of years. However, there is no real recorded history of the bumblebee tattoo.
The ancient Druids (high ranking class in ancient Celtic cultures) believed that the bumble be was symbolic of community, celebration, and the sun.
This could be due to the nature of bees resurfacing in the spring after winter's hibernation. This is a beautiful way to perceive the insect although we're unsure if this is the exact origin of the bumblebee tattoo. 
However, even with no real history, the bumblebee continues to be a tattoo design that is done on a variety of people in a variety of places.
Which Celebrities Have A Bumblebee Tattoo?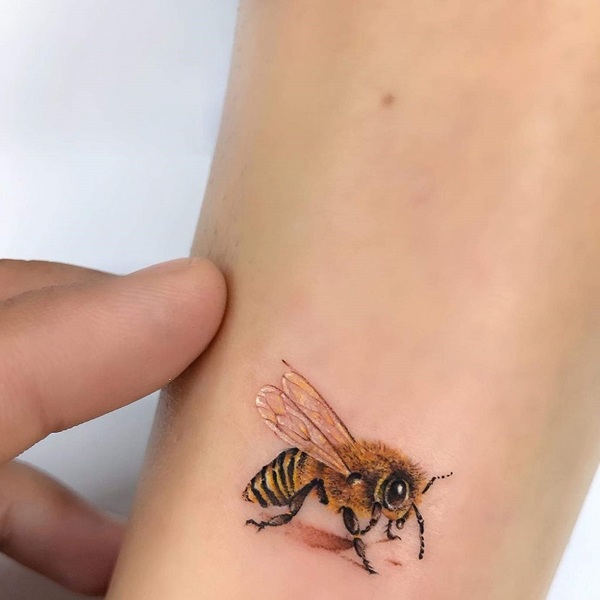 When it comes to celebrity influence, the bumblebee tattoo has quite an impressive collection of fans. Game of Thrones' Emilia Clark is one example of a celebrity with a bumblebee tattoo.
The English actress has a number of tattoos, one of which is a bumblebee on her knuckle. 
In honor of the late Joan Rivers, rocker daughter Kelly Osbourne got a white ink bumblebee tattoo on her shoulder.
Former Disney star Brenda Song has seven tattoos, one of which is a bumblebee tattoo on her wrist. In addition to these bumble bee enthusiasts, singer Lauren Jauregui also has a bumblebee tattoo.
---
Looking for more inkspiration? Say no more:
The Best Money Bag Tattoo Ideas
The Best Trust No One Tattoo Ideas
The Best Sailor Moon Tattoo Ideas
Get Access to Exclusive Deals
Subscribe for free to get exclusive deals in your inbox. 100% privacy