How To Wear A Claw Clip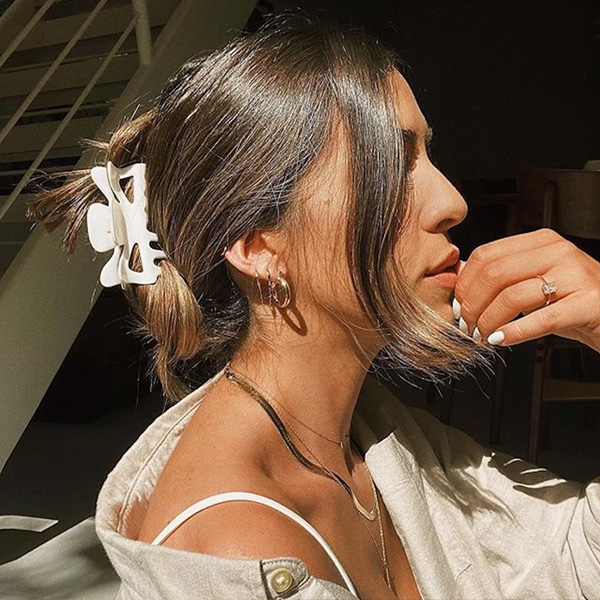 Ah, the claw clip—the accessory that's taken over social media. Prevalent on TikTok and Instagram, this decorative hairpiece is considered a staple in various core aesthetics.
Its re-debut into the fashion world is relatively new, considering that it resurfaced in 2020. But don't mistake it as a passing fad, as I'm fairly certain that the claw clip is here to stay. 
Known for its practicality, versatility, and aesthetics, it's not uncommon for the average trendsetter to own more than one claw clip in their collection.
From butterflies to flowers, there are hundreds of unique silhouettes to choose from. Considering that you clicked on this article, I'm guessing that you're wondering how to wear a claw clip. 
Whether you're into cottage-core or minimalism, I'll show you how to wear a claw clip using 12 outfit ideas. Hopefully, by the end of this article, you'll understand:
How to put a claw clip in your hair
Unique hairstyles with a claw clip
Butterfly claw clip styling ideas
Cute claw clip hairstyles
What Is A Claw Clip?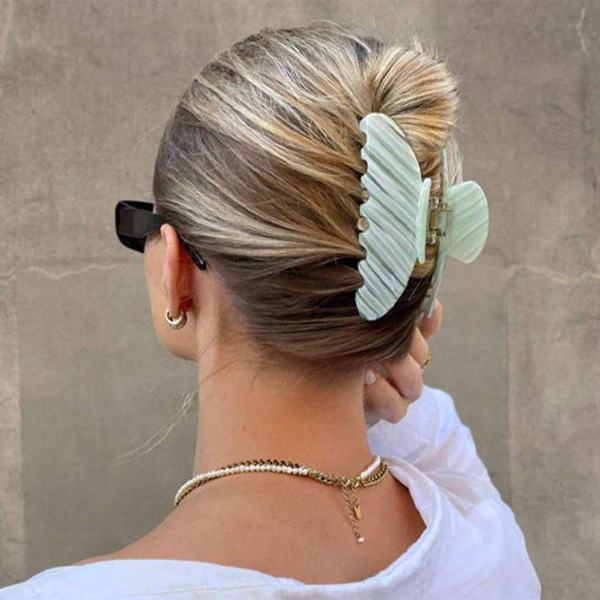 In short, the claw clip is a decorative hair piece. It typically features teeth around the perimeter of the barrette, which helps secure the hair in place.
Designed to clamp excess tresses and keep them away from the face, it bears a slight resemblance to a lobster claw, hence the name. They can be used for various updos—ranging from half-ups, buns, twists, and more. 
History Of The Claw Clip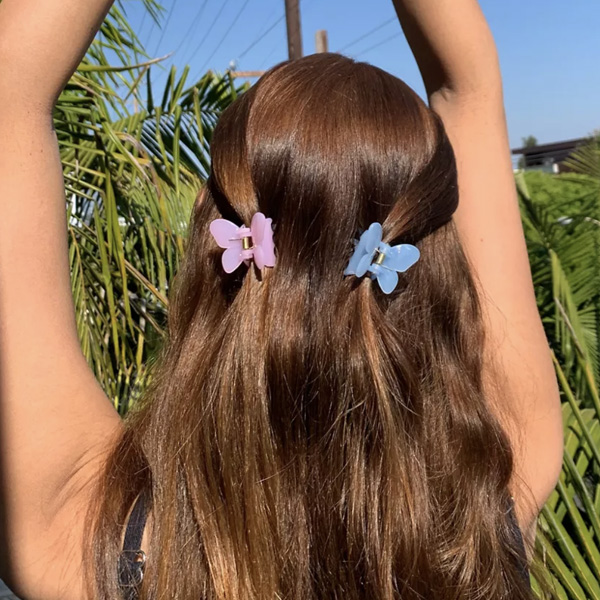 Compared to jeans, tees, and Converse shoes, claw clips are a relatively new invention. Unfortunately, its creator has yet to claim the hair piece as their own invention, but we know that claw clips started circulating around in the late '90s. 
Likely inspired by the '80s banana clip, the claw clawed its way to popularity during the hip-hop phase of fashion. It was worn by several celebrities during its heyday, including Jennifer Aniston and Kirsten Dunst. 
The claw clip was definitely a product of the '90s, as it possessed the same amount of pizazz found in scrunchies, butterfly clips, and comb headbands.
Today, they're considered a staple in various aesthetics, including VSCO, cottagecore, and of course, Y2K. 
When To Wear A Claw Clip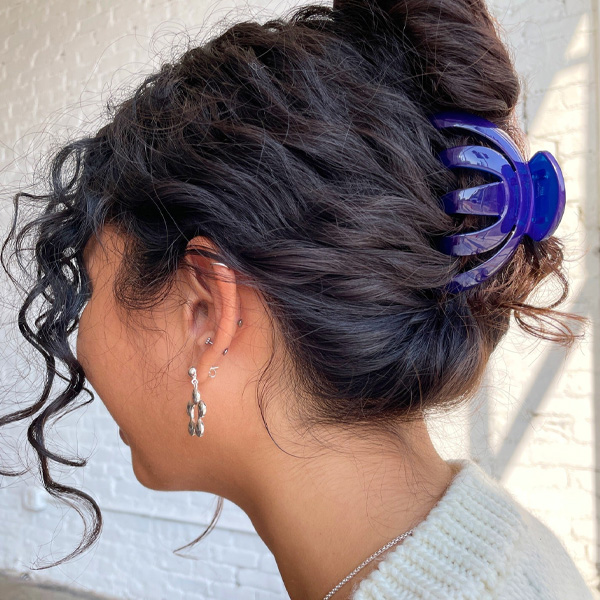 Claw clip hairstyles are typically donned casually. They work best with informal aesthetics—such as streetwear, Instabaddie, and Y2K.
Usually paired with mini dresses, skirts, and jeans, it's the kind of hairpiece you'd wear if you're not keen on complicated buns or ponytails. 
In earlier years, the claw clip wouldn't normally be associated with formal wear, but nowadays, it's considered acceptable for weddings, graduation parties, and fancy dinners.
It's worth noting that claw clips are best worn in situations where you're constantly moving. Sitting poses a significant problem for trendsetters, as this hair piece doesn't allow you to properly recline your head back. 
How To Wear A Claw Clip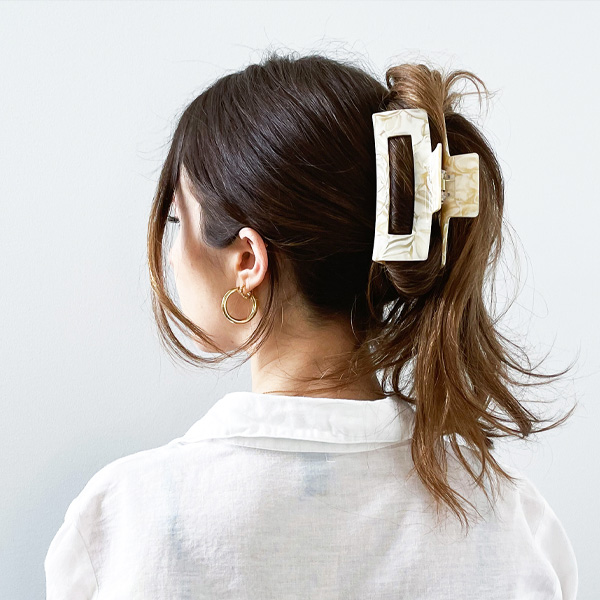 Buying your first-ever claw clip may trigger a level of excitement and confusion. On the one hand, it feels thrilling to rock a brand new accessory. On the other hand, fastening it on your head can cause a lot of frustration.
I, personally, opt for the twist approach. Starting from a ponytail, I twirl the ends and collapse them by the middle. I then secure it with a claw clip, which helps hold everything in place.
This is considered one of the most basic claw clip hairstyles, and I'm sure that there are fancier updos to don once you've gotten the hang of it.
But for the purposes of this style guide, I'll be focusing on outfit ideas. From summer dresses to crop tops, here are 12 OOTDs that you should definitely add to your Pinterest board. 
12 Outfit Ideas With A Claw Clip
Romantic in silhouette, this model chose to trade her hair bow with a claw clip instead. The lavender hue of the accessory helps to add a pop of color to the entire outfit.
The dress itself is also super cute, as it features puffed sleeves and an open back. In regards to jewelry, the sunglasses and the golden hoops complement her decolletage nicely. 
For shoes, this 'how to wear a claw clip' guide highly recommends swapping your ballet flats for white cowboy boots instead. Don't worry—they won't turn your outfit into a cowboy fit. Instead, they'll help counterbalance the frilly, feminine tones of the OOTD.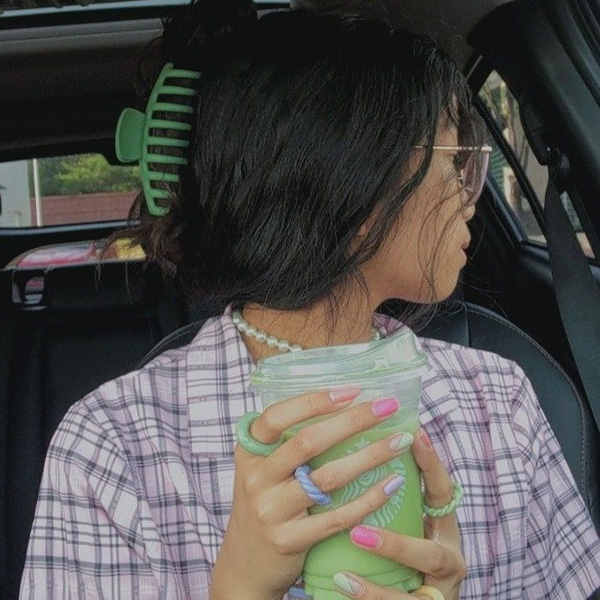 Coffee (or matcha) runs call for super casual attire. Case in point, this 'how to wear a claw clip' contender features a green hairpiece, a lavender flannel button-down shirt, and a white tee underneath.
Bright but subtle in aesthetic, it's definitely considered a more tasteful OOTD than the regular hoodie and leggings combo. The chunky rings and pearl necklace only help to increase the sass of this entire look.
Unless you're keen on going commando, this 'how to wear a claw clip' guide suggests wearing a pair of high–waisted, boot–cut jeans to keep things casual. Plus, white socks and chunky dad shoes are an absolute must.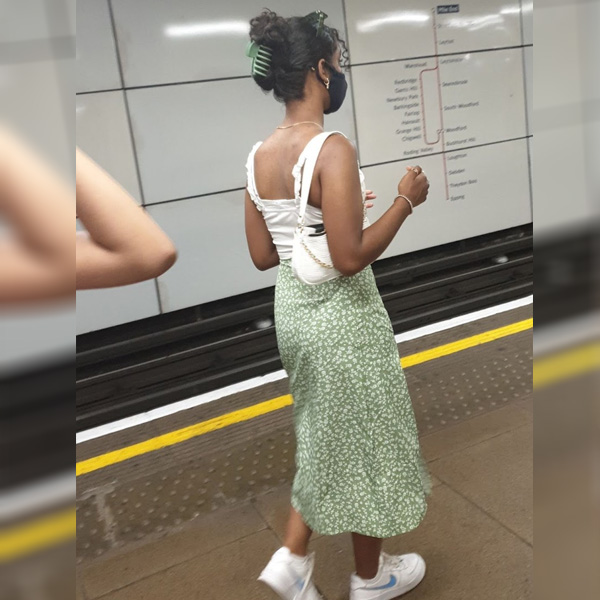 City girls always have the best fits. This outfit is no exception, as it features a white tank top, a green floral midi skirt, and a pair of Nike Air Force 1s.
Complemented with a handbag and a matching claw clip, this model is either ready for a coffee date or a semi-casual hangout. The outfit is slightly romantic in aesthetic, given the pattern of the skirt.
With that in mind, this 'how to wear a claw clip' guide suggests wearing pearl jewelry instead of cold-cut diamonds.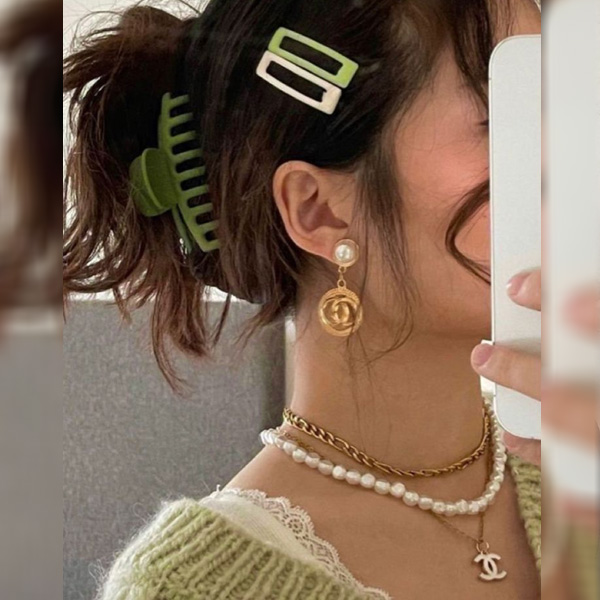 Coco Chanel once famously said, "when putting on accessories, take off the last thing you've put on." This may have been a reasonable request during the 1920s but in 2022? I believe the more, the merrier.
If you're wondering how to wear a claw clip, there's no shame in adding additional hair pieces into the mix. Barrettes not only complement its chunky aesthetic, but they can also keep loose strands in place.
Complemented with stacked necklaces and, ironically, a pair of Chanel earrings, I have a good feeling that this fit would pass the vibe check with Coco herself.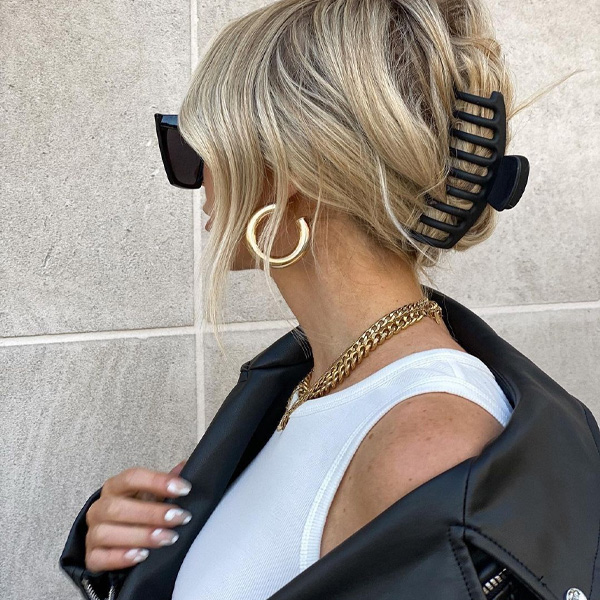 Leather accents work surprisingly well with claw clips. If you're not fond of skin-tight motocross pants, a jacket will do just fine.
Paired with a white tank top and gold jewelry, this outfit is considered a more glamorous take on the Harley Davidson aesthetic. 
In terms of pants, this 'how to wear a claw clip' guide suggests opting for biker shorts to help keep things breathable.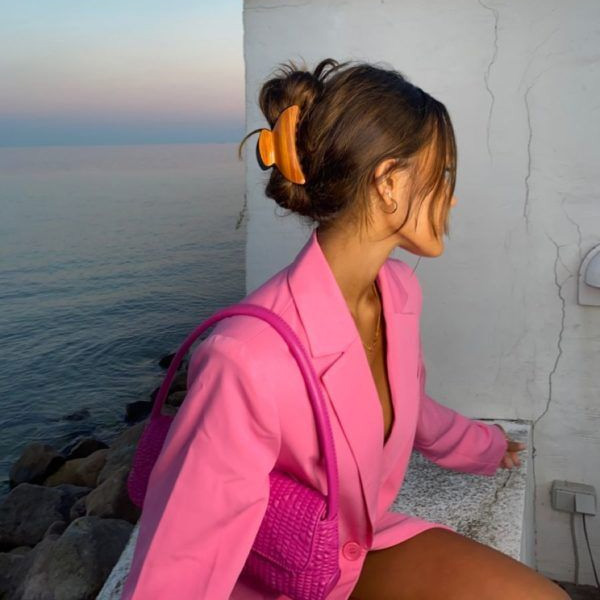 Formalwear typically calls for strict buns, fancy braids, and excessive curls. If you can't be bothered with the latter, claw clips are the way to go.
Nowadays, it's considered acceptable to wear this particular hairpiece at important events. That said, it's still your responsibility to find the perfect fit to go with it. 
Case in point, this 'how to wear a claw clip' contender features a bright pink blazer and an orange hair piece to match. For bottoms, you can never go wrong with a simple pencil skirt.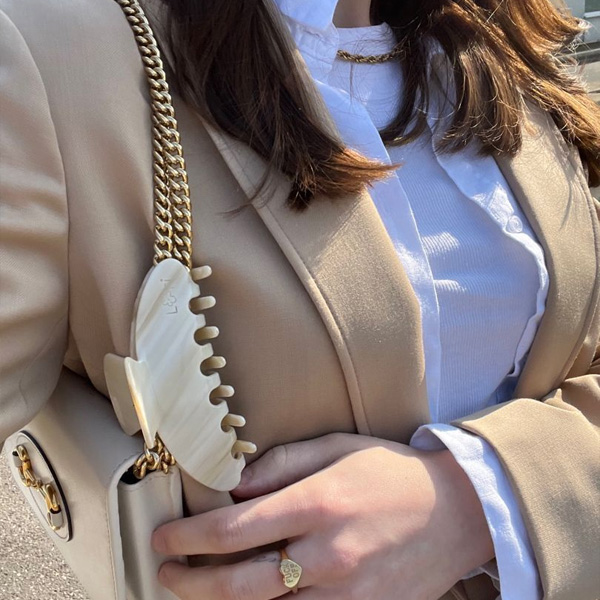 This 'how to wear a claw clip' example isn't really a styling tip—instead, it's a neat way to store loose accessories.
Instead of jamming your hair pieces in your carry-on bag, I recommend securing your claw clip onto the purse's shoulder strap. You'll get bonus points if it matches your purse—as it'll automatically blend in with the rest of your outfit.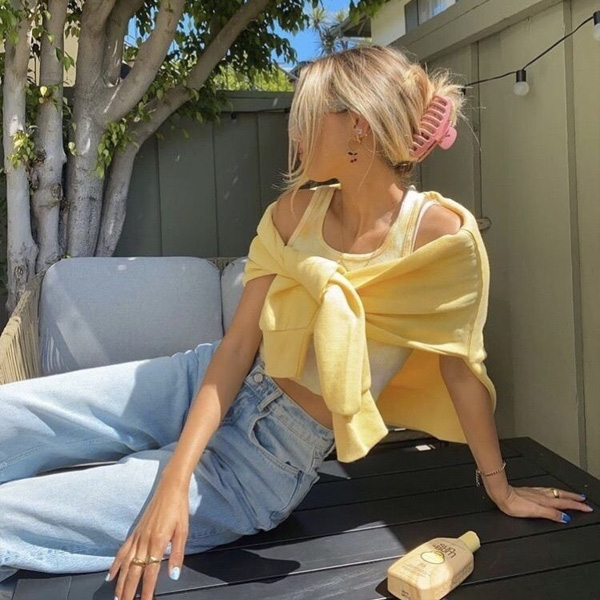 Summery, cute, and casual, this stunning OOTD features a pair of light-wash jeans, a cream tank top, and a yellow sweater tied over the shoulders. Since the outfit itself is quite bright, the pink claw clip helps by keeping the ensemble grounded. 
In my opinion, you don't need to over-accessorize with this look, as it finds strength in simplicity. For shoes, a pair of Nike Air Force 1s can help complete the entire outfit.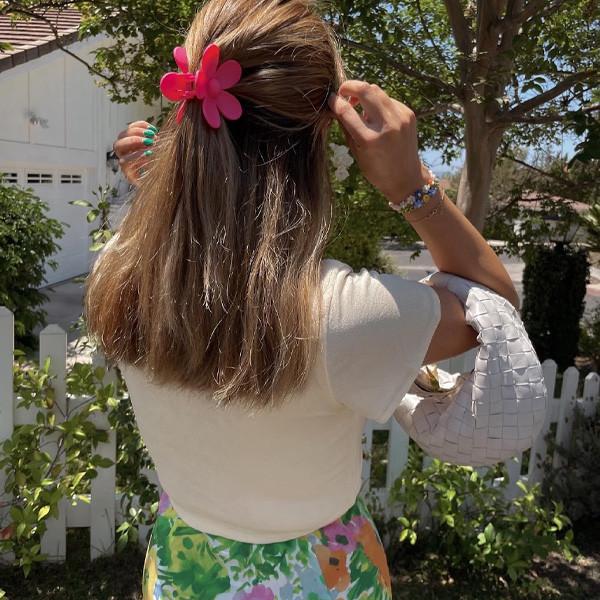 Despite its Y2K aesthetic, this outfit borrows some inspiration from the '60s. This decade's 'flower power' motif is showcased via the skirt, bracelets, and the claw clip. 
Complemented with a simple white tee and a Bottega Veneta mini bag, it's the kind of look that exudes that 'make love, not war' mentality.
To go with the flower claw clip, I highly recommend donning a pair of Melissa x LO Green Kick Off Sandals from Lazy Oaf.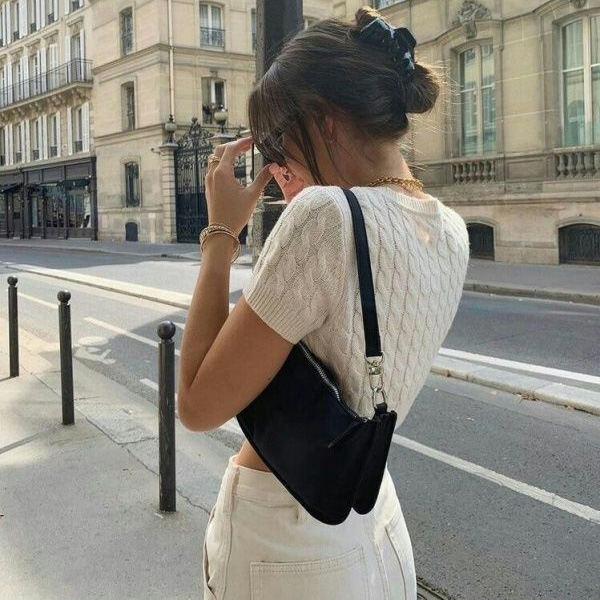 The 'how to wear a claw clip' question is typically answered with a Y2K-inspired fit. Obviously, this core aesthetic doesn't appeal to everyone, which is why I thought it best to include a more toned–down ensemble.
Case in point, this cute OOTD showcases a cable-knit skirt, a black handbag, white pants, and a dark claw clip to help keep things casual. While you're welcome to don heels, I suggest opting for Converse shoes instead.
Prepping for a museum date? If so, here's what you could wear. This 'how to wear a claw clip' contender features a loose button-up shirt, black pants, and a casual claw clip hairstyle.
This ensemble puts direct emphasis on silhouette, given that the clothing is quite simple in design. Made to create an hourglass shape, it's the perfect OOTD for those not fond of mini dresses.
In terms of footwear, you can never go wrong with a pair of platform Oxford shoes.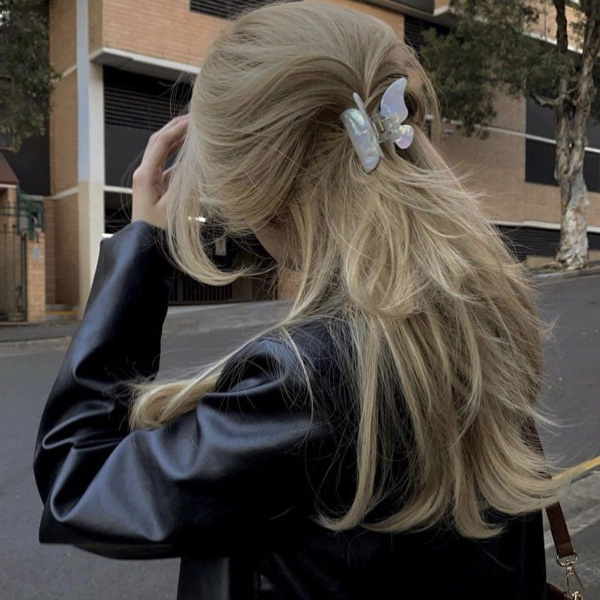 Leather is considered a daring material to wear. It's often affiliated with mystery, allure, and a tough attitude. If you're in need of some fashion juxtaposition, a butterfly hairclip can do the trick.
Flirty in aesthetic but simple in design, this super cute accessory can do wonders by brightening up an ensemble. 
For the rest of the outfit, I suggest opting for a white mini dress and a pair of black cowboy boots. While you're free to wear just the claw clip, I recommend wearing pearls instead of sterling silver jewelry.
What Types Of Claw Clip Outfits Can You Get?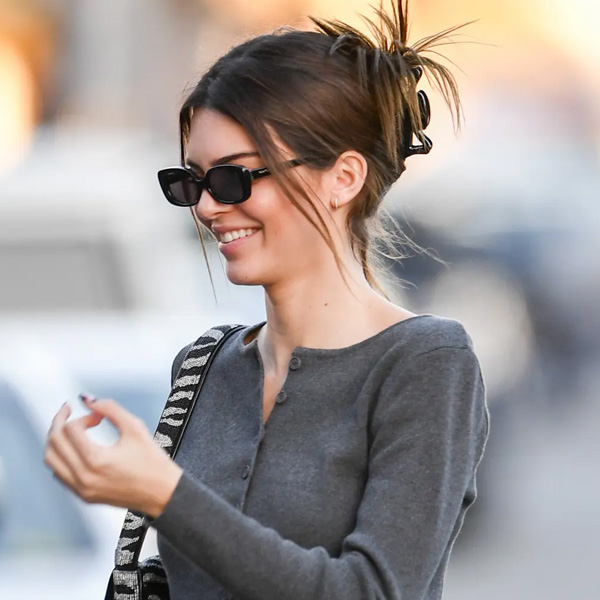 The best way to address the 'how to wear a claw clip' question is to consider the aesthetics that use it.
From what this style guide has provided, it appears that this hair piece is synonymous with cottagecore, Instabaddie, Y2K, and various other looks.
To help keep things straightforward, I'll provide a short list of popular OOTDs for trendsetters to consider. 
The Y2K-inspired fit: This includes clothing pieces like crop tops, low-waisted jeans, and velour sweat pants. Considering that claw clips were popular during the late '90s and early 2000s, it only makes sense to include this core aesthetic within the list.
Cottagecore: Often defined by prairie blouses and billowing dresses, this aesthetic pairs beautifully with themed claw clips.
The Instagram girl: This one applies to current trends prevalent on social media. Leather jackets, biker shorts, white tanks, and simple jewelry are all the rage on TikTok and Instagram. Obviously, claw clips are no exception.
VSCO: This core aesthetic is all about exuding those 'chill' vibes. And, the claw clip is considered a lax way to style hair.
How To Choose The Best Claw Clip Outfit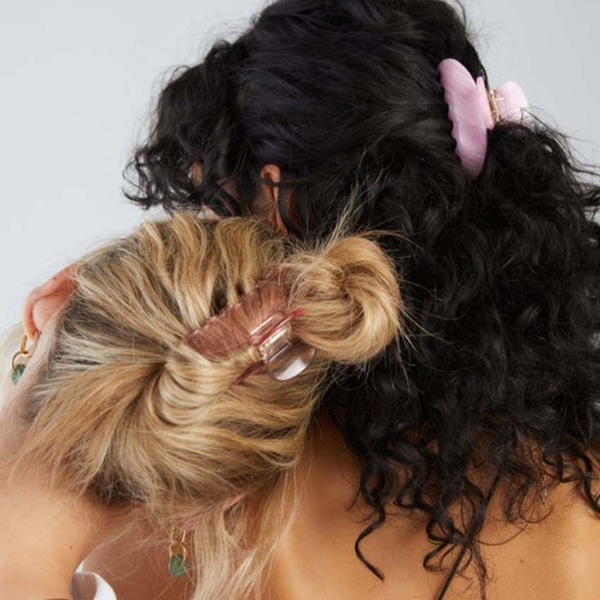 Fashion mainly focuses on the fit itself. Usually, hairstyles are considered an afterthought, given that most trendsetters select an updo based on their ensemble.
That being said, this article is all about the claw clip, which requires us to approach our wardrobe a bit differently. Creating a look based on this accessory isn't difficult at all. In fact, it calls for a bit of creativity. 
While it's easy to throw on a casual pair of sweatpants, I encourage you to dip your toes into the world of core aesthetics. From cottagecore to Instabaddie, there are a vast amount of clothing tastes that use claw clips.
It's worth noting that outfit cohesiveness relies on the quality of the garments. So, in order to pass the 'vibe check,' you should stay away from cheap fabrics and flimsy construction.
Price-wise, customers should work within a personal budget to prevent overspending. Obviously, the amount shoppers choose to spend will vary from person to person.
This item can range from a standard $100 to $1,000, depending on how much you can afford to dish out. In terms of the claw clip itself, you can easily find a well-made model for just $20 on Etsy. 
How To Style Claw Clip Outfits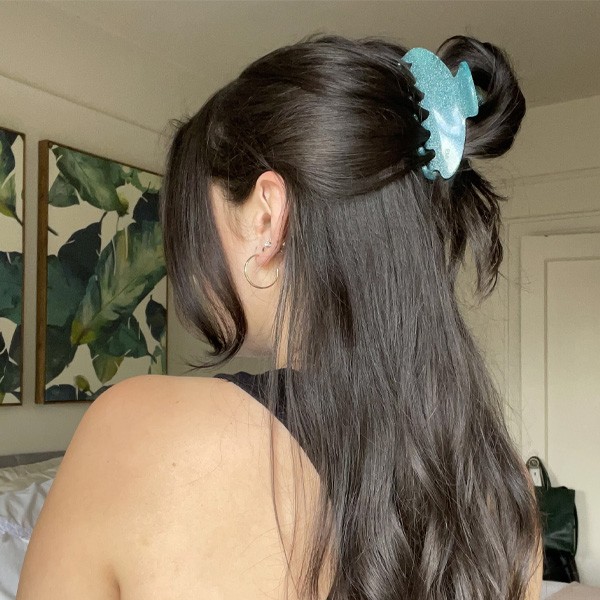 Styling claw clips should be a walk in the park. That said, those who own one know the difficulty of finding new looks. So, before this 'how to wear a claw clip' guide concludes, I thought it best to share some additional inspo. 
Additional hair accessories: Barrettes, butterfly clips, and decorative bobby pins can help jazz up your final look.
Jewelry: This includes rings, necklaces, and earrings. Wearing all three is typically recommended for certain core aesthetics, such as maximalism and Y2K.
The half-up half-down look: If you're not fond of buns, this hairstyle keeps things simple and sweet. I recommend prepping your hair with spray to help produce some volume.
Consider the type of claw clip you have: Etsy is home to hundreds of unique designs. From butterflies to flowers, the options are literally limitless.
Fashion Tips To Avoid With A Claw Clip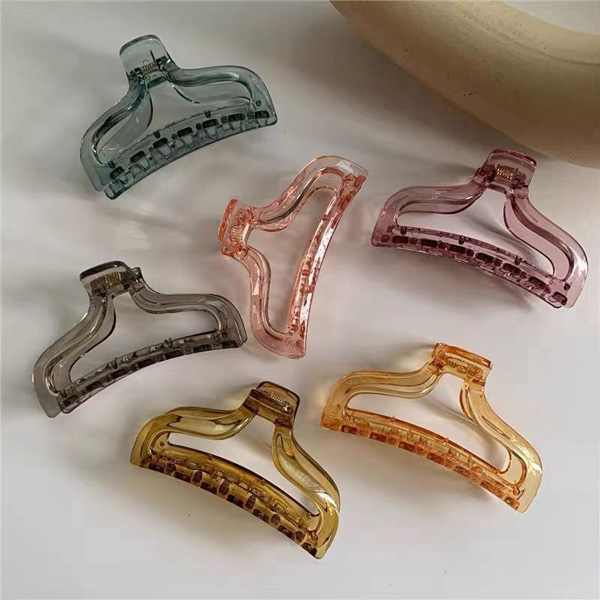 Here's to hoping that you know how to wear a claw clip now. While I encourage you to have fun with your outfit, there are some fashion faux pas associated with this particular accessory.
To help prevent post-Instagram regret, here are a few styling tips to avoid with a claw clip. 
The 'jam it in' approach: If you have difficulty securing your hair in place, chances are that the clip is too small. I recommend opting for a large claw hair clip if you're blessed with thick hair.
Pigtails: There's a good reason why most trendsetters opt for just one claw clip. Wearing two is not only bizarre in aesthetic, but it's quite taxing on your scalp.
Time & place: As previously mentioned, claw clips are not recommended for situations that call for lots of sitting. Movie theaters and long drives don't provide much comfort, especially if you're wearing this accessory.
The flimsy bargain clip: There's nothing more frustrating than breaking your third claw clip. Instead of opting for a $5 model, I recommend bumping your budget up to $20 to ensure a quality design.
How To Take Care Of A Claw Clip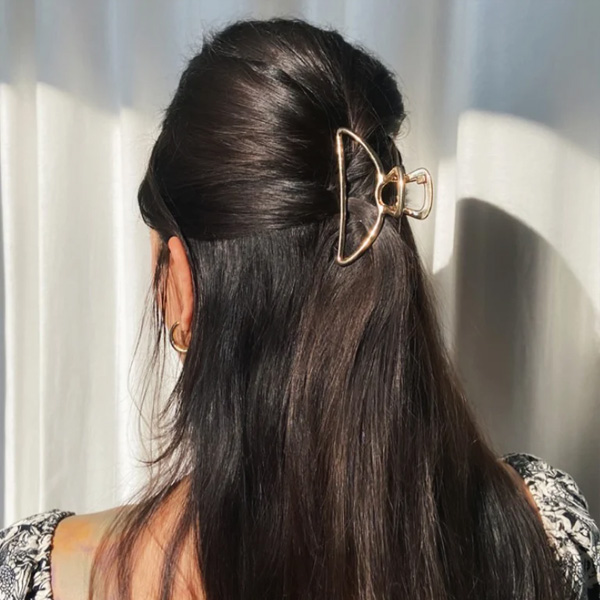 Claw clips are ideally stored in your accessory box. Those made out of plastic and resin are best kept in a dark and cool place, considering that sun exposure can warp their shape. 
They shouldn't be crammed with other belongings either, as they can easily break if they're under pressure.
It's worth noting that quality claw clips can withstand some stress, so it's important to go for a decently-made clip instead of a cheap one. 
Best Places To Buy A Claw Clip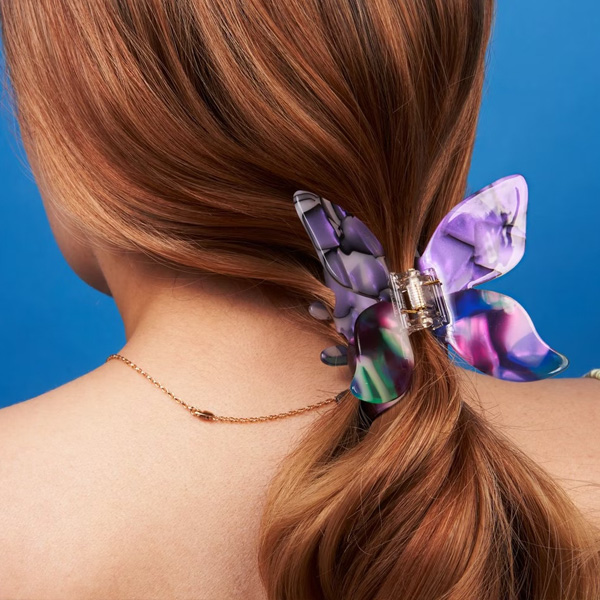 Looking to hop on the claw clip bandwagon? If so, here are some recommended shops to support:
Etsy 
France Luxe 
Insert Name Here 
Ouidad 
Final Thoughts
The resurgence of Y2K fads often brings to light some cringy items and lost gems. Claw clips are definitely considered the latter, as their aesthetic and level of convenience are virtually timeless.
Thankfully, we've evolved past the 'Claire's' phase of cheap barrettes, as the market is full of modernized updates. From flower clips to resin butterflies, our collective style has evolved to meet the demands of 2020 fashion.
By now, I'm fairly certain that you know how to wear a claw clip. There are hundreds of cute outfits to consider, so you should absolutely have zero excuses when it comes to finding the perfect OOTD.
---
Looking to up your fashion game? We've got you covered:
Get Access to Exclusive Deals
Subscribe for free to get exclusive deals in your inbox. 100% privacy