How To Wear A Shawl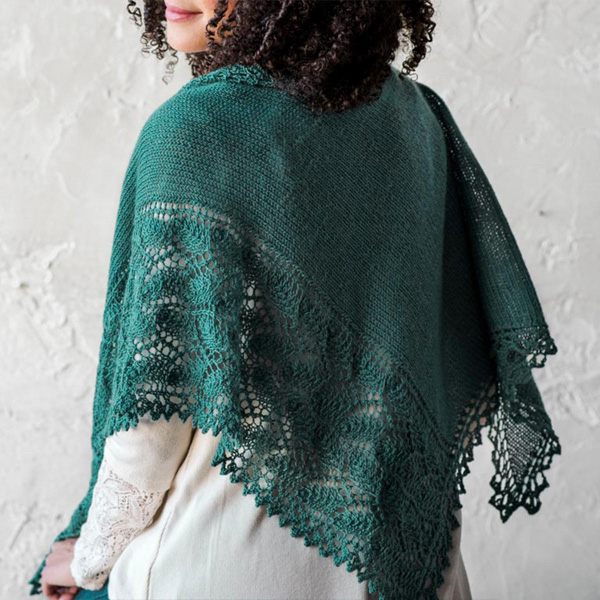 Compared to bonnets, petticoats, and bloomers, shawls have managed to survive years of style evolution. I won't go as far as to say that they've made a significant comeback, but who knows?
Renaissance-core is considered a trending topic these days, thanks to designers such as Dolce & Gabbana and Batsheva. So there's a good chance that shawls may experience another heyday.
In preparation for its hopeful return, I thought it best to provide a crash course on how to wear a shawl. From the classic blanket scarf to the cozy shoulder snug, there are various ways to style this decorative wrap.
Don't worry—I'm not going to resort to the old peasant look of the 1500s, as I'll be sure to include some modern looks on my list.
This 'how to wear a shawl' guide will delve into multiple style topics. Which may or may not include:
How to wear a shawl with a dress
How to wear a scarf as a shawl
How to wear a shawl in different ways
How to wear a shawl for a wedding
What Is A Shawl?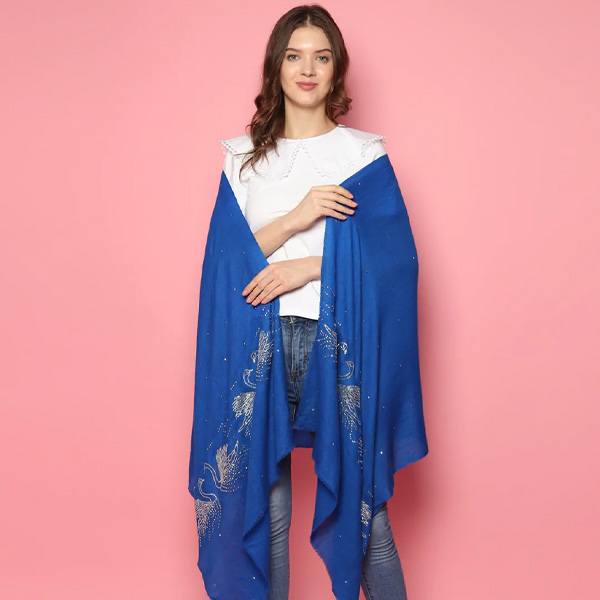 Considered a staple in 19th-century fashion, the shawl was simply a piece of fabric meant to cloak the wearer.
It was mainly worn for additional warmth, as it provided ample insulation in case of an impending chill. They're typically made out of thick fabrics, such as wool, cashmere, and cotton. 
History Of Shawls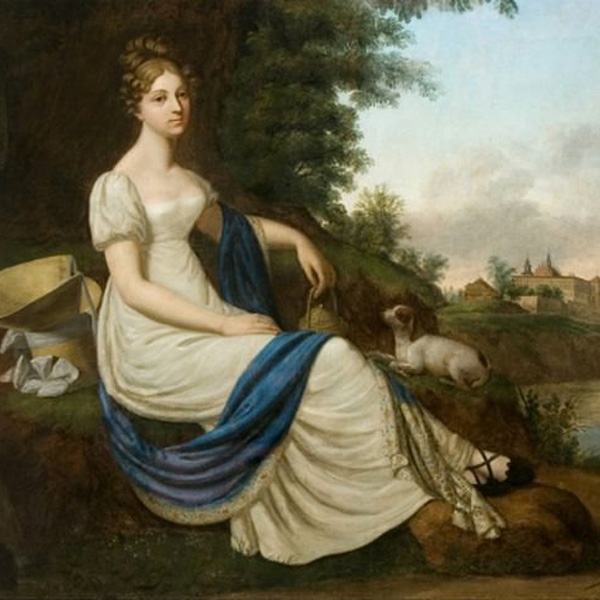 Along with spices, rice, and silks, shawls were considered a popular import from India to Britain. Before the 1858 conquest, Europeans traded with their eastern neighbors during the late seventh century, which included notable commodities such as the Indian shawl.
It soon became a widespread fashion trend amongst the nobility, considering its luxurious nature and material blend.
The industrial revolution gave way to cheaper alternatives, as middle-class civilians were able to afford shawls, even if they weren't constructed out of the best materials. Over the years, the European shawl evolved to meet current fashion trends, and with it came hundreds of unique designs.
When To Wear Shawls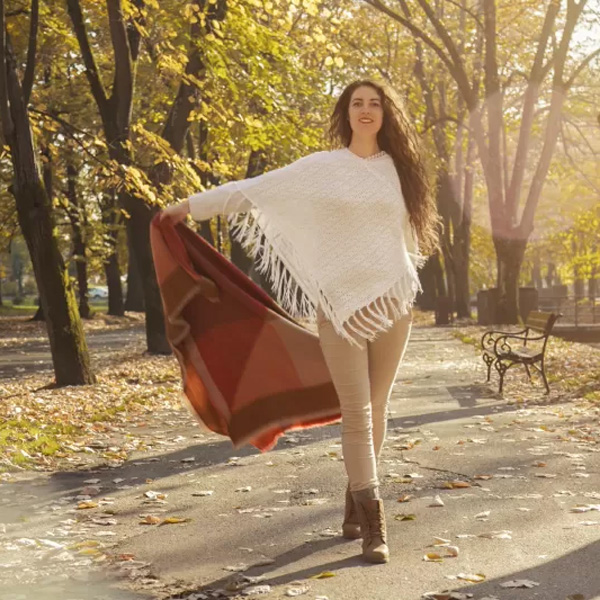 Back in their heyday, shawls were typically donned as a flex by the nobility. Obviously, they were also worn for their functionality, as they provided some warmth during winter and fall.
The popularity of shawls has dimmed over the years, given that they were swapped for scarves and coats as a better alternative. That said, they do have a place in fashion, as they're considered a mainstay in cottage core and dark academia. 
There's really no specific situation in which it's not okay to wear a shawl. You can don this protective wrap whenever you want.
Whether it's during winter, spring, a wedding, or a graduation ceremony, this particular garment can help add a bit of vintage glamor to your final look. 
How To Wear A Shawl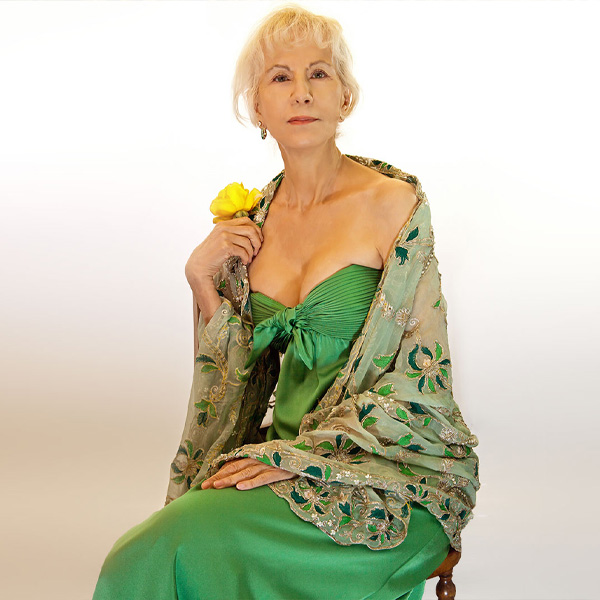 Given their simple construction, shawls are considered one of the most versatile accessories on the market. They're literally a piece of fabric that can be draped and folded in various ways. If you're in need of some outfit inspo, don't worry, I've got you covered. 
From retro-inspired fits to Vogue-ready ensembles, this 'how to wear a shawl' review will show you some iconic looks that are worth considering.
12 Outfit Ideas With Shawls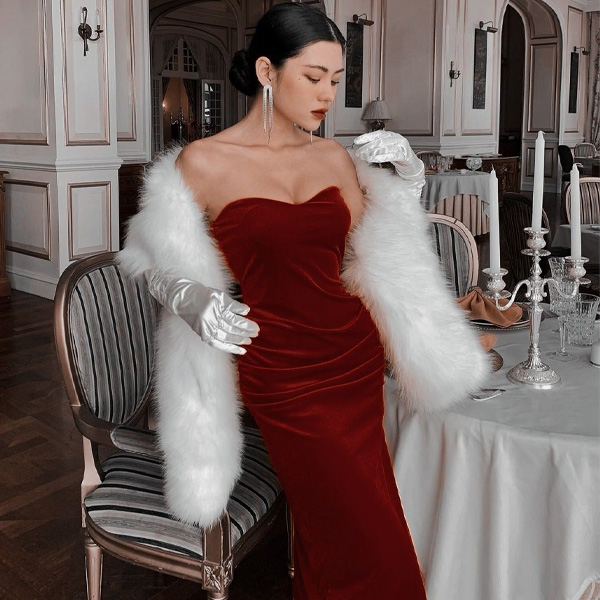 Starting off with a bang, this outfit idea is definitely one of the bolder looks on this list. Composed of a red body-con dress, silk gloves, and a lush fur shawl, it's certainly reminiscent of the late Marilyn Monroe.
The fuzzy wrap is considered a great alternative to blazers and wool coats, as it does wonders by accentuating the decolletage.
It also exudes that 'come hither' look, which jackets can never do. Meant to channel your inner Jessica Rabbit, this 'how to wear a shawl' contender is best complemented with Louboutins and chandelier earrings.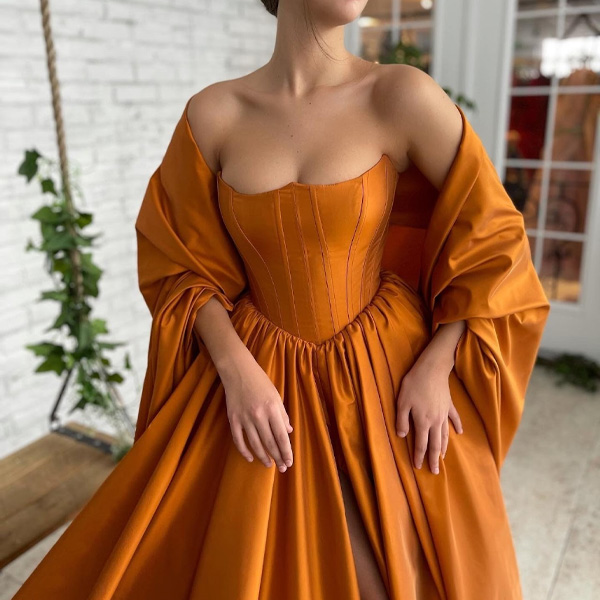 This Teuta Matoshi dress is something I'd imagine Anne Boleyn keeping in her 'seduce King Henry VIII' guidebook. It features a stunning orange gown with a whalebone corset, a gathered skirt, and a complimentary shawl for added drama.
Made out of the same fabric, this cloak has pleats and drapes to help emphasize the luxurious aspect of this look. In terms of accessories, this 'how to wear a shawl' review recommends wearing a Tudor–style headband and a statement necklace.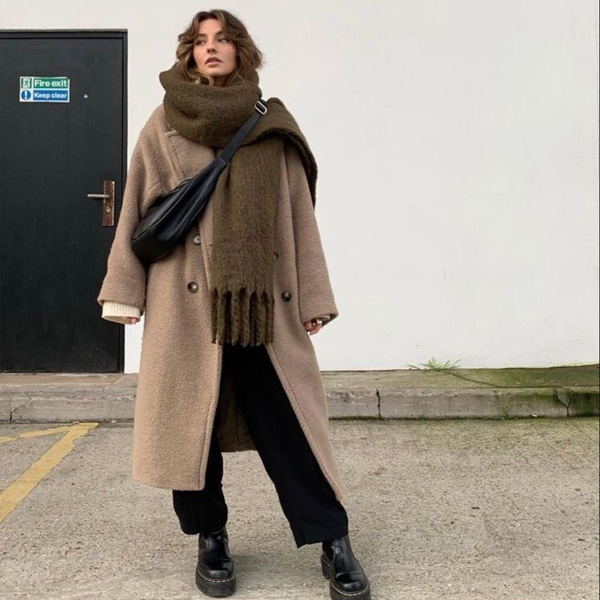 Nowadays, the blanket scarf is considered the modern–day shawl. It can be especially tricky to style this particular wrap, given its enormous size. Instead of opting for the off-shoulder approach, I recommend using this look as inspo.
Composed of an espresso-stained scarf, a beige trenchcoat, black pants, and Doc Martens, it's the kind of OOTD that screams 'coffee shop date in December." 
Can't be bothered to don your expensive fur coat? If so, you can rest easy knowing that there are other ways to look expensive. Case in point, this model chose to accessorize her outfit with a Fendi shawl. 
Cinched together with a leather waistbelt, it creates an hourglass effect that you can't get with a normal jacket. For the rest of the outfit, I suggest sticking to neutral tones, given that the scarf itself is relatively loud.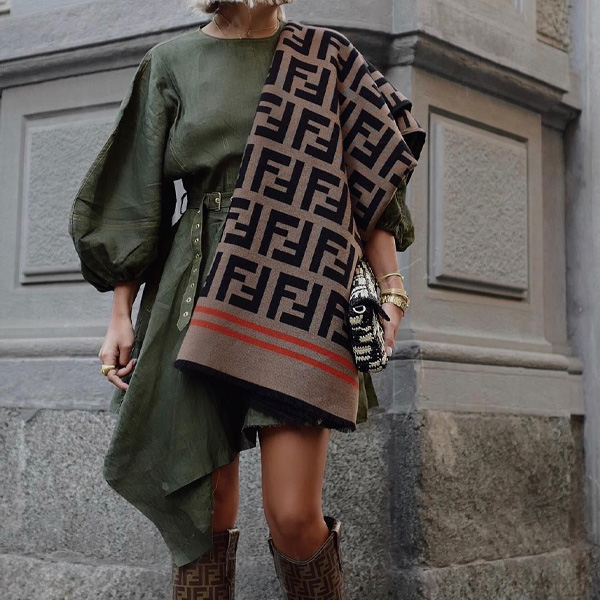 We're not done with Fendi yet. If you're prepping for an inevitable food baby, I suggest swapping your waist belt to make room for this styling tip instead.
This model placed her designer shawl over one shoulder, which creates a unique silhouette that complements the exaggerated shape of the dress.
It also plays with edges and abstract lines for added visual interest. If you can't be bothered with stilettos, you can never go wrong with a pair of knee–high boots.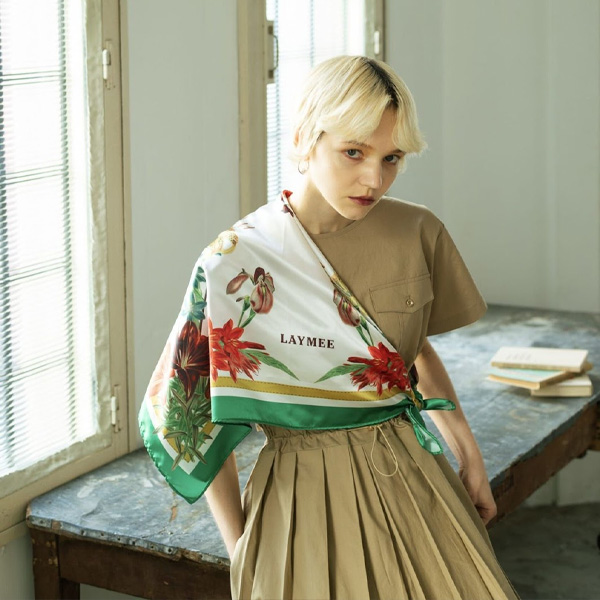 Considered a great way to revamp neutral-colored wardrobe basics, this outfit features a silk shawl as its main statement piece. It bears a slight resemblance to a hanging arm cast, but I'm pretty sure that it's not what Laymee intended it to look like. 
Instead, the scarf breaks the monotony of the standard beige dress. Plus, the accessory adds some elegance to the final look. To go with its decorative pattern, this 'how to wear a shawl' guide recommends sticking to gold jewelry.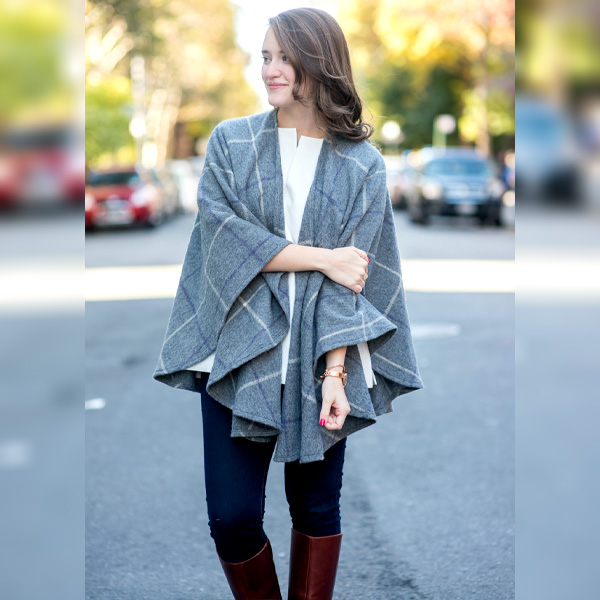 Is it me, or is this outfit giving off 'Pumpkin Spice–loving mom' sort of vibes? Featuring a gray shawl, a white blouse, black pants, and a pair of brown leather riding boots, this is the look to opt for if you covet fall fashion.
The scarf does wonders by adding some shape and texture to the overall ensemble, thanks to its drapes, pleats, and asymmetrical lines. If you prefer something more autumnal, I recommend opting for warmer colors, such as orange, brown, and yellow.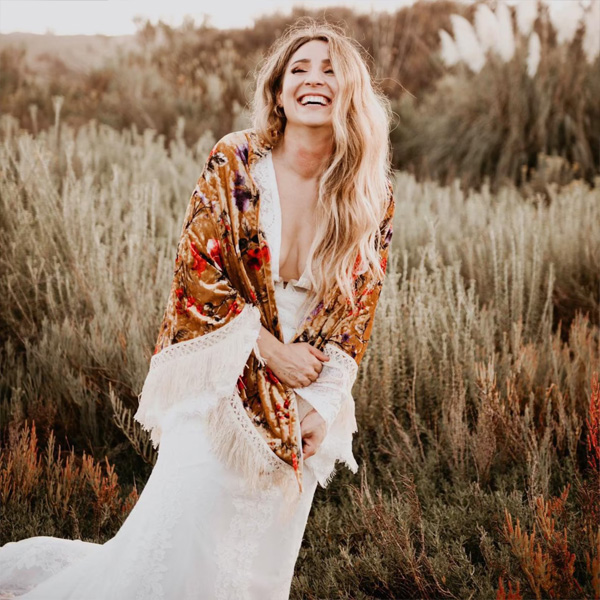 Ideal for weddings, this 'how to wear a shawl' contender features boho–inspired wrap for extra spice. The intricate nature of the scarf helps to counterbalance the brightness of the white dress.
Given its warm vibe, it's considered a great add–on for autumn or winter ceremonies.
If you intend on going this route, to find a shawl that has a cozy handmade feel, I recommend supporting a local artisan. This glamorous shawl was made by the Etsy seller, ArrowThreadDesigns.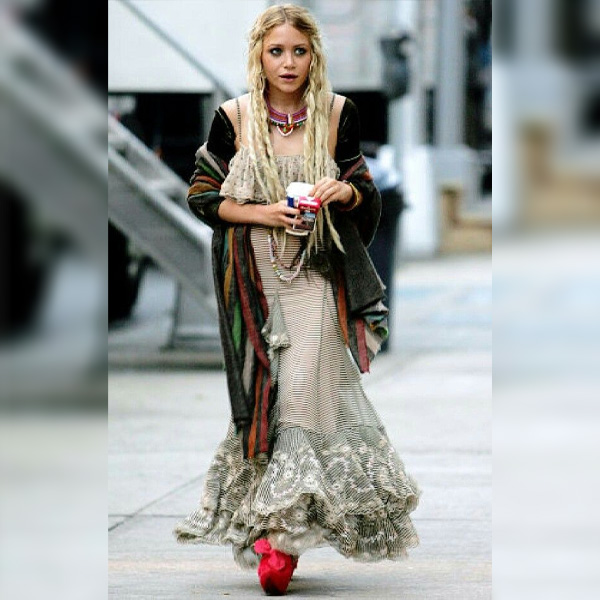 Worn by the legendary Mary-Kate Olsen, this bohemian–inspired look is comprised of a striped midi dress, red heels, and a decorative shawl on top. It definitely exudes that beachy hippie vibe due to its color, pattern, and silhouette.
Considering the number of layers needed for this outfit, I don't recommend wearing this OOTD in the middle of summer. Instead, it's best worn during fall or early spring.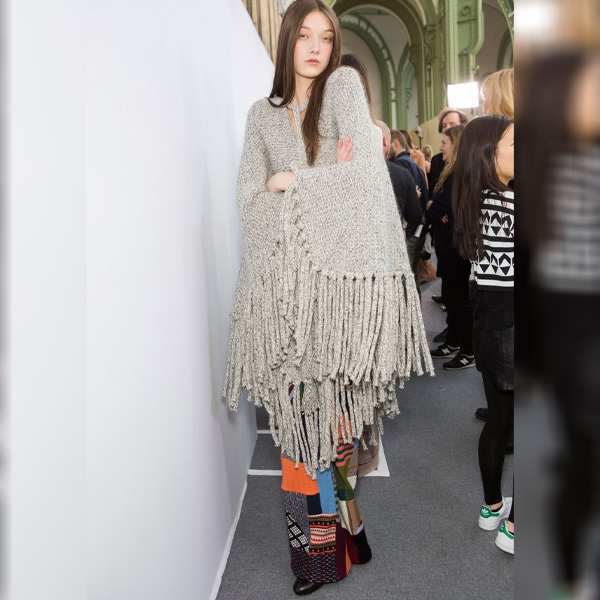 Dramatic in silhouette, this 'how to wear a shawl' contender is exclusively reserved for days when you're feeling especially extra. It's comprised of a wool cloak with loose tassels, which provides a triangular shape when held still. 
It also provides lots of movement, which is great for those looking to exude more drama. Complemented with a floor-length patchwork dress, this look is slightly reminiscent of trends popular in the '60s and '70s.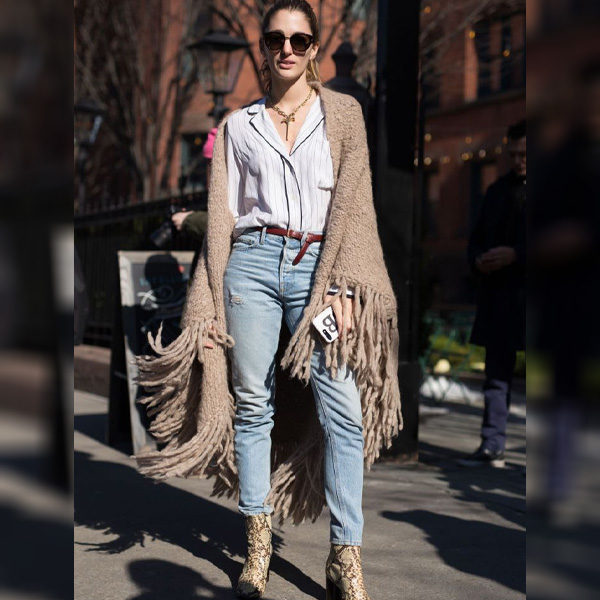 Speaking of tassels, this outfit is considered a more wearable version of the look I just showed you. Ths casual OOTD features a wool shawl, a white button-up, light wash jeans, and a pair of snakeskin ankle boots. 
With its toned-down pattern and simple silhouette, it's a great go–to for chilly days. For those keen on accessorizing, this 'how to wear a shawl guide' suggests sunnies and a simple necklace.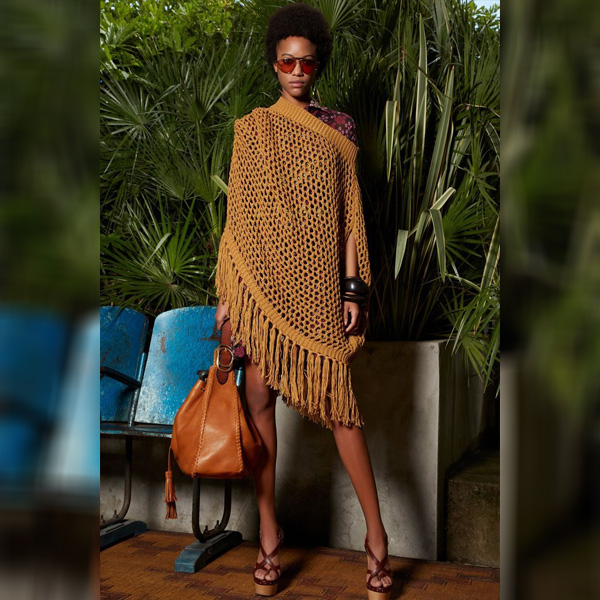 Designed to look like a poncho, this glamorous shawl makes use of traditional crochet.
The rest of the outfit features a floral mini dress underneath, platform heels, and a leather bag to really emit those expensive vibes. The shawl itself has a boho, summery feel. Plus, it can help you stay warm when you're off at sea. 
What Type Of Shawls Can You Get?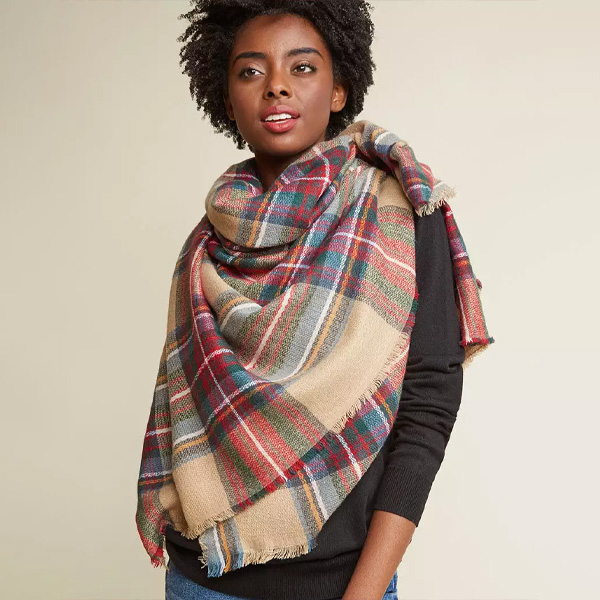 Based on the various looks available on social media, it appears that shawls still have a place in the fashion world.
There are hundreds of different designs to choose from, which, to the trendsetter, presents a unique opportunity to experiment with different looks. That said, it may seem overwhelming to the average dresser. 
To help simplify outfit coordination, this 'how to wear a shawl' guide will discuss some popular styles that are worth a try-on. 
The wool scarf: Typically cut in a rectangular or triangular shape, this shawl provides additional warmth for the cold winter months.
The boho wrap: This particular design is often embellished with embroidery, intricate patterns, and tassels. If you're into cowboy boots and midi skirts, this is the accessory to opt for.
The Hollywood moment: Fur shawls and elegant silk wraps fall into this category. Considered a great way to elevate any outfit, this accessory adds a hint of vintage glam to every look.
Homemade crochet: If you covet that old-school granny look, I recommend opting for hand-knit shawls. You can easily find them on Etsy.
How To Choose The Best Shawls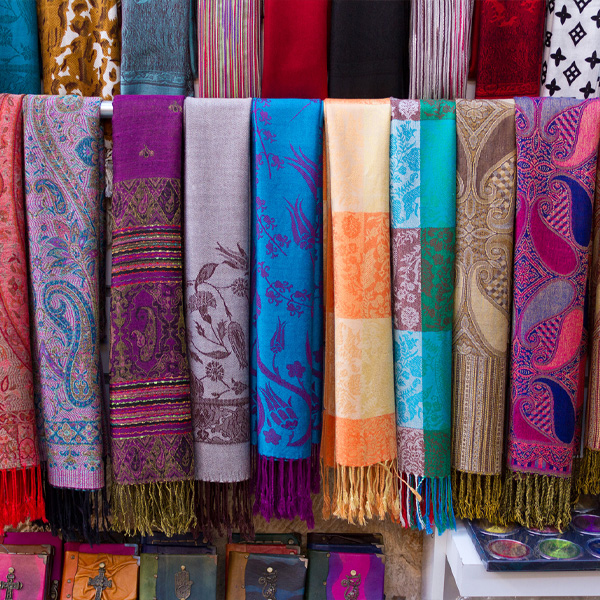 It's easy to cop a $5 shawl and call it quits. That said, cheaply constructed shawls will usually end up in the donation bin. If you intend on making shawls an important wardrobe necessity, it's best to be a responsible shopper.
Like all clothing, this particular garment deserves some major consideration. This includes taking note of material quality, design, practicality, and price. 
Shawls are made from several materials. From hand-knit wool to fine silk, opting for either or will determine the final look.
Shawls made of thinner fabrics typically have a more relaxed silhouette. On the other hand, thicker textiles will add more shape and volume to your outfit. 
Whatever aesthetic you're going for, it's important to consider the quality of the material itself. It should feel durable and comfortable to ensure continued use.
Design relates to the shawl's pattern and color. If you prefer something more subdued, it's best to opt for neutral tones instead of bright hues.
Those who prefer print and embellishments may find maximalist designs more palatable. At the end of the day, it all boils down to your personal taste in fashion. Of course, you should settle for a shawl that aligns with your current aesthetic. 
Practicality may seem like a built-in feature for shawls, but you'd be surprised to know the number of unrealistic designs on the market.
For instance, the Maticevski Mystify Sheer Tulle Shawl is constructed out of tulle-like nylon, which isn't recommended for those cruel winter months. I recommend opting for something a bit more versatile, such as a basic wool shawl. 
In terms of price, it all depends on the design and fabric choice you opt for. Shawls can retail for as low as $10 to as high as $400. To help prevent overspending, I suggest shopping within a limited budget.
How To Style Shawls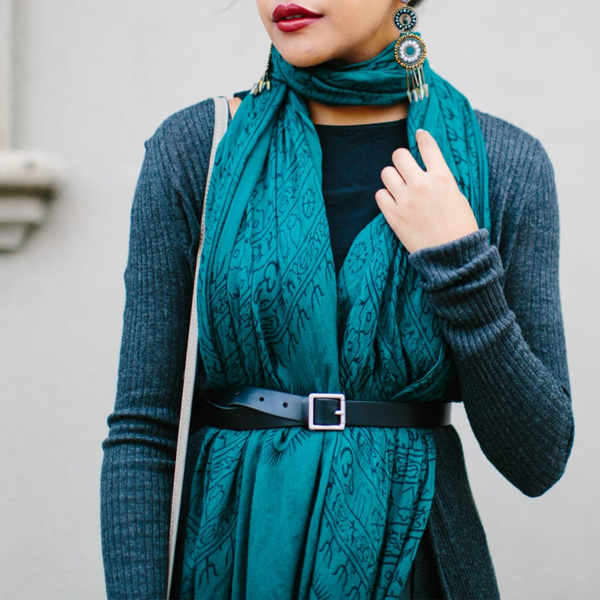 You don't have to be an experienced trendsetter to style shawls. In fact, they're considered one of the easiest accessories to style.
But for those in need of extra inspo, this 'how to wear a shawl' guide will brief you on some popular looks that are worth an Instagram post. 
Consider different draping techniques: Out of the 12 looks this style guide has featured, there seem to be various ways to wear a shawl. Worn as a top, a poncho, or a standard scarf, there are several ways to don this vintage accessory.
Opt for the designer approach: If you're not fond of the old-school grandma look of crochet, why not opt for brands such as Fendi or Acne Studios?
Accessories galore: Shawls are best worn with waistbelts, stacked necklaces, and earrings. If you're into this particular look, I suggest dipping your toes into bohemian fashion.
Mini dresses: This specific garment works best with long blanket scarves. Designed to create a petite silhouette, this look is best worn during the fall or winter.
Fashion Tips To Avoid With Shawls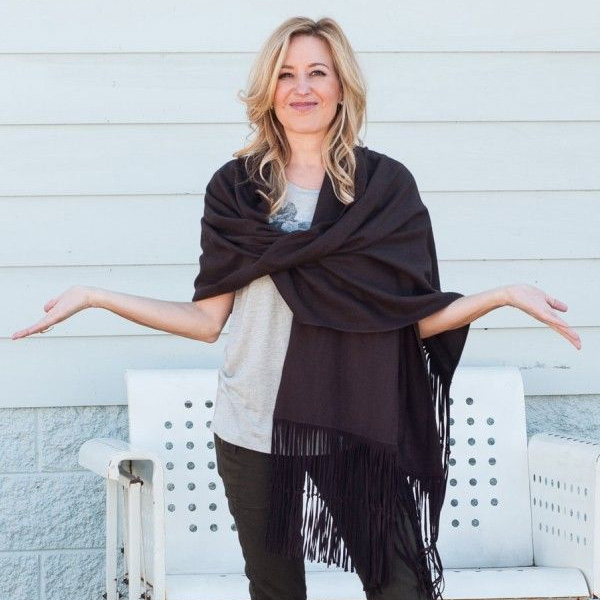 Shawls have yet to make their ultimate comeback. While they're associated with vintage fashion, boho clothing, and other core aesthetics, they're also affiliated with other 'controversial' looks.
Care for some more tips? If so, this 'how to wear a shawl' guide will discuss a few fashion faux pas to avoid when putting together your outfit. 
The 2000s style shawl: Typically described as thin, impractical, and small, this accessory ultimately does nothing for the rest of your outfit.
Dated crochet: Don't get me wrong—crochet can look cute if it's knitted in a specific way. Instead, I'm referring to out-of-season, mid-2010 patterns that you'd get for free online.
Uncomfortable fabrics: Materials such as tulle, 100% polyester, and nylon aren't the most comfortable compared to wool and cashmere.
The shedding scarf: Shawls that leave lint and micro-bits of fluff are an absolute no-go. I recommend doing a 'swatch test' on your clothes before you purchase a teddy blanket scarf.
How To Take Care Of Shawls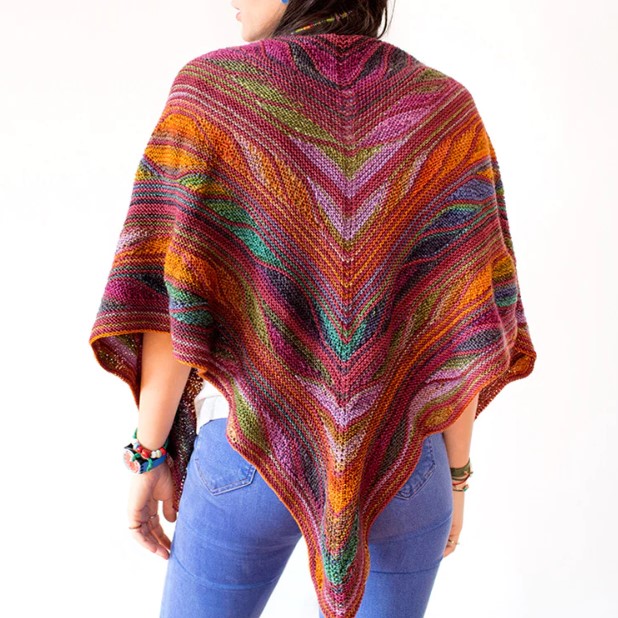 Let's say you know 'how to wear a wrap shawl' and 'how to wear a triangle shawl.'
You've moved past the point of styling and are confronted with a more dire query: how on earth do you clean it? To help keep things straightforward, this guide will share some tips and tricks when it comes to care and maintenance. 
Read the laundry tag: Some shawls may require hand-washing while others need dry-cleaning. It's important to read the attached label to help prevent any accidents.
Opt for the air-dry method: In most cases, it's best to dry shawls naturally. Tossing them into the dryer may encourage shrinking.
Fold, never hang: To maintain the silhouette of your shawl, it's best to fold it. Hanging may warp its original shape.
Best Places To Buy Shawls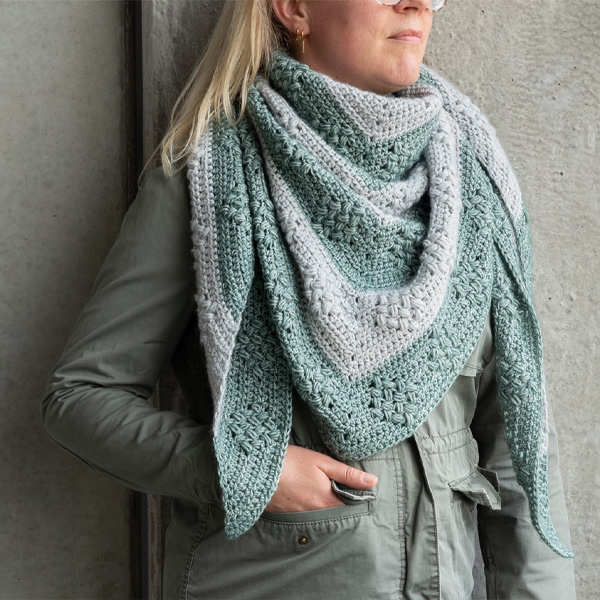 Care for some store recommendations? Here are a few retailers I recommend checking out.
Etsy 
Nordstrom 
Farfetch 
Free People
Final Thoughts
As previously stated, shawls have yet to receive their glow-up. While they're still considered a dated accessory, I see no reason why you can't prepare for an inevitable comeback.
Often vintage in design, shawls pair well with several core aesthetics. 
Plus, you can't deny their practicality during the cold months, as shawls are considered a cozier alternative to stiff winter jackets. 
From boho-glam to pumpkin spice coffee girl, here's to hoping that you've picked up on a few looks within this 'how to wear a shawl' guide. I wish you luck with your outfit-related endeavors. 
---
Looking to up your fashion game? We've got you covered:
Get Access to Exclusive Deals
Subscribe for free to get exclusive deals in your inbox. 100% privacy