How To Wear A Sarong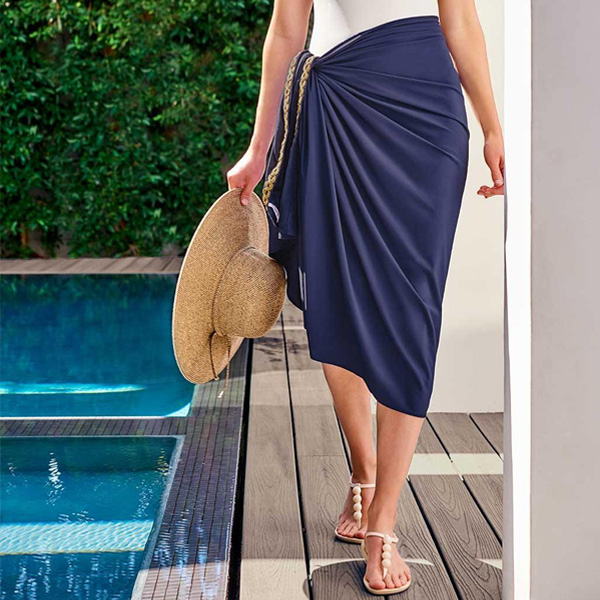 Now that we're in the throes of summer, it's important to realize that poolside or beachy fashion is about more than just your swimsuit. Enter, the sarong—a multi–faceted garment that can take any bathing suit to the next level.
They're light and breezy, and your social media accounts have likely been flooded with them over the past few months. If you want to learn how to wear a sarong and join in on the fun then you've come to the right article.
Allow me to show you how to style them, explain where they come from, and more.
You'll also find this guide on how to wear a sarong useful if you're interested in any of the following topics:
Sarong skirt
Sarong dress
How to tie a sarong
Beach sarong
White sarong
Black sarong
Plus-size sarong
What Is A Sarong?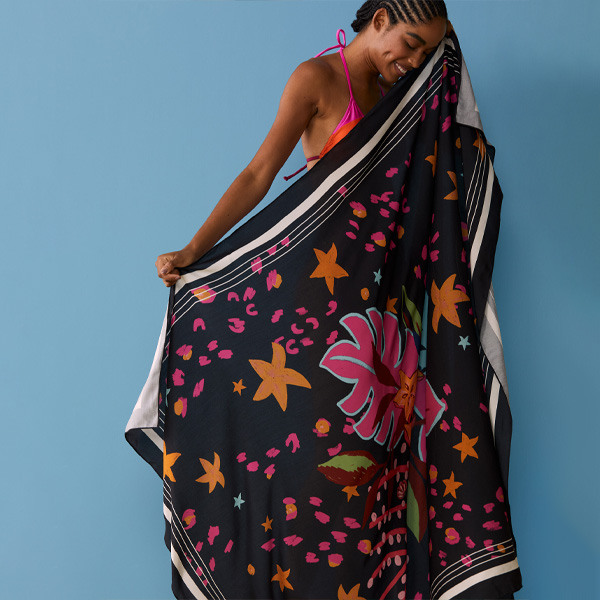 In a recent poll conducted by some of the best staff researchers on hand (i.e. me), the question "What is a sarong?" generated unanimous responses. Most people defined them as skirts that girls wear over their bikinis at the beach.
This is technically correct. That's their most well–known usage today, especially in Western countries. They're beloved for their breezy fabrics and variety of styles.
Beyond the different types and colors that you can buy, there are countless options when it comes to tying a sarong. I'll explore several of the styles available later in this 'how to wear a sarong' guide.
Yet, that definition also ignores the sarong's long historical lineage. It originated in Southern Asia and was worn by both men and women in that region. The sarong was tied to a person's socioeconomic status and was also linked to ceremonial traditions in that region.
In short, sarongs are much more than just frilly skirts you can wear at the beach. However, they're not not that, if you catch my drift.
History Of Sarongs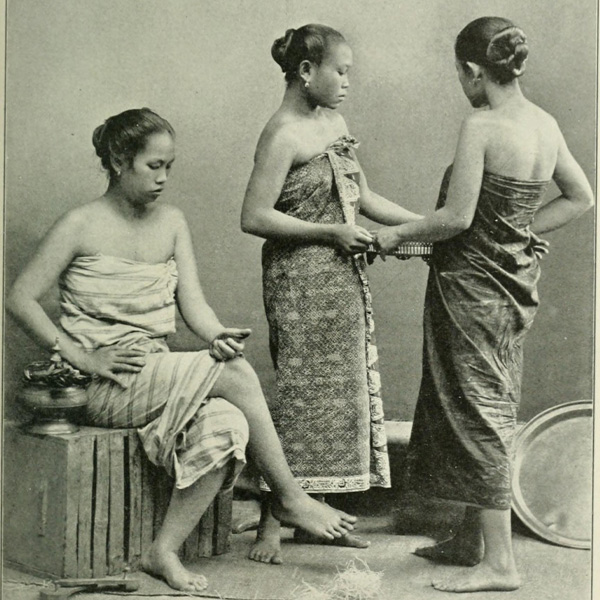 Originating in Southeast Asia, sarongs actually have an interesting history. There are different cultural practices in each country there, but nations such as Indonesia, Myanmar, Malaysia, and the Philippines all include it in their traditional wardrobe. 
This is likely because the temperatures are so consistently high in those places that they need a garment that can keep them cool.
However, sarongs aren't just limited to Southeast Asia. You can find them—or extremely similar items—in Sri Lanka, Yemen, and Somalia. Each country has different versions of the garment, so writing a fashion recap about the item would be difficult.
For example, only men wear sarongs in Sri Lanka. Common folk and those from lower-income brackets wear them day to day while those in the upper societal classes only wear them for ceremonies. Despite this, they're becoming less popular because they're so heavily associated with lower socioeconomic status.
Over in Indonesia, sarongs were the subject of a government endorsement project in 2019. President Joko Widodo wanted Indonesians to wear sarongs more often as a way of promoting the skills of the craftsmen responsible for the garment and to celebrate Indonesian culture.
The term 'sarong' was first adopted from the Malay language in the 1800s. It was only after it was appropriated by Western minds that the garment started to look more like the version we know today.
Sarongs vary in terms of construction, pattern, and length. They also vary depending on which country they come from. Of course, the commercial sarongs that you'll typically find today don't carry as much cultural significance.
It's important to remember the cultural history of the sarong and to recognize that what we refer to as a sarong is a little different from the versions that exist in other parts of the world.
The majority of this article will focus on the Western interpretation of this garment because I can't tell you how to wear a sarong from Malaysia or Yemen. That's not my expertise.
What is my expertise is giving you the tools to look fashionable and free at the beach, which is what you'll gather from this article.
When To Wear A Sarong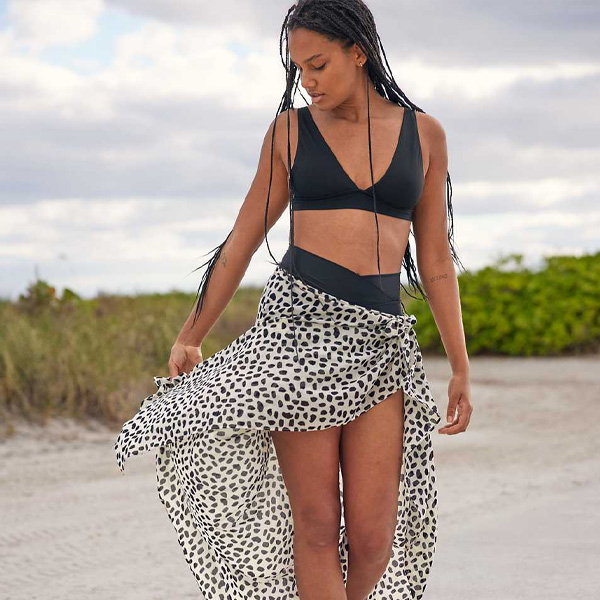 Given all the different ways that you can wear a sarong, with a little creativity, you could find a way to wear it to nearly every warm-weather occasion.
Obviously, they're perfect for the beach or for the poolside, but they also have their place in hot nightclubs if you tie them correctly.
Plus, you can slip them into other ensembles if you wear them like a scarf. This is an awesome idea if you're at a resort and need to go from the beach to dinner in a flash. They can add some pop and zest to your look if you drape them around your neck too.
How To Wear A Sarong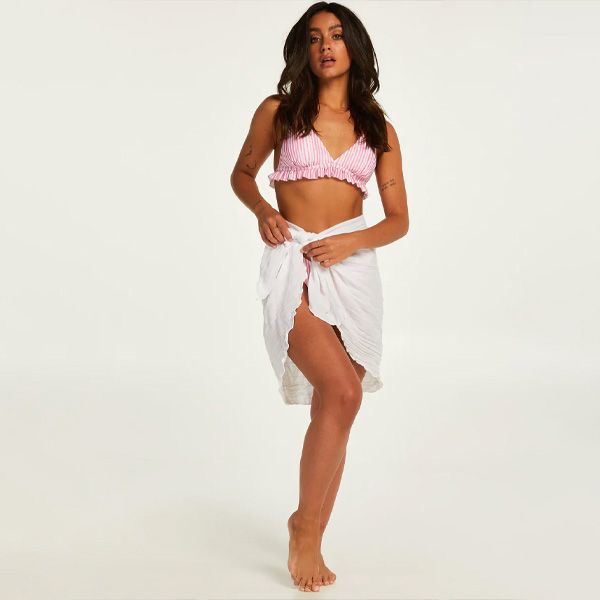 When I explain to you how to wear a sarong in this section, I'll be referring to the ways that you can tie it around your body. One of the best things about sarongs is that there are a plethora of ways you can express yourself using just one garment.
The classic option is to tie it around your waist so that it looks like a skirt, but that's far from the only way to tie it.
You could also tie two corners around the back of your neck, crossing them over your chest, to form a pseudo halter dress. Depending on how many times you twist the corners before you tie them behind your neck, you could radically alter the neckline and look of the sarong.
While I'm talking about dresses, another method you can implement to turn a sarong into a beach dress is to tie two corners over one of your shoulders.
You're going to want to fasten some loose fabric from the sarong around your hip by tying a knot if you choose this style. The final product will be a cute single-shoulder dress.
If one shoulder seems like too many, then you can always tie the sarong around your chest (either at the front or behind your back) to transform it into a makeshift strapless dress. This option works well if you want to get some sun on your shoulders and neck without getting any tan lines.
I haven't covered every possible way to tie a sarong because I want to encourage you to experiment. Take what I've given you and try to find the way that you prefer wearing a sarong.
However, if you're looking for more concrete ideas about how to wear a sarong, then check out the outfit ideas I've picked out below.
4 Outfit Ideas with a Sarong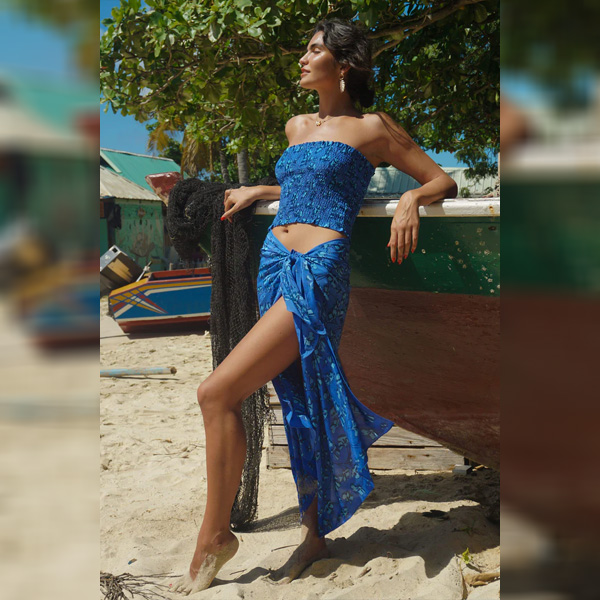 The first idea I have to help you learn how to wear a sarong is to go for the traditional sarong skirt style.
Tying it around your waist is a reliable way to add some fun to your typical bikini. It's also probably the easiest way to start styling a sarong since you won't have to break out the Girl Guide's knot-tying manual.
While this model paired her sarong with a matching top, you don't need to do that. I recommend it if you want to buy a sarong with a strong pattern like the one in this example, but it's not necessary.
The sarong should be the focal point of your outfit, though, because its design is so cute.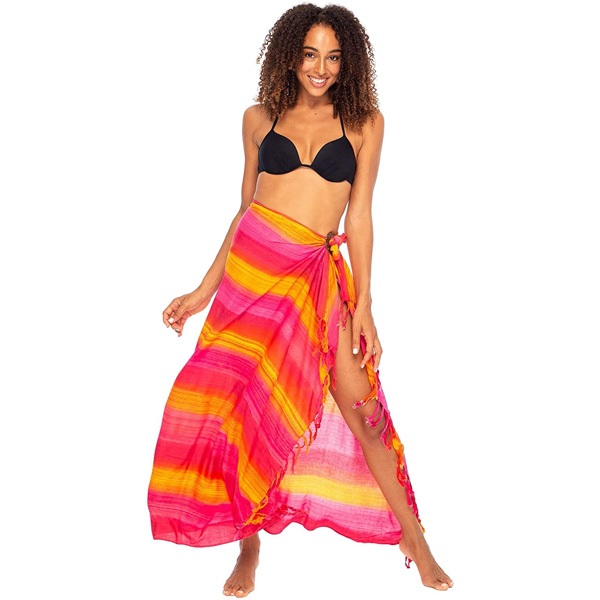 Another way to style a bold sarong is to wear a neutral–colored bikini. This keeps the focus on the sarong itself and is a simpler alternative to buying one that matches your bikini or vice versa.
The bikini doesn't have to be black—although black does go with everything. A white bathing suit should work just as well.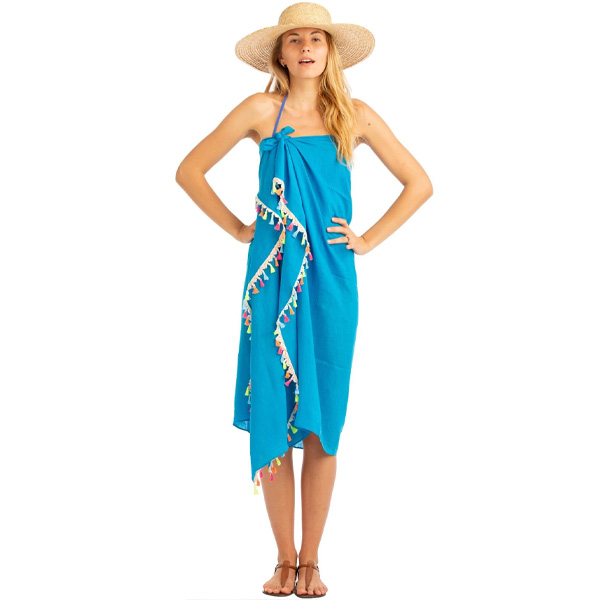 Let's discuss another way that you can tie a sarong around your body. This style totally eliminates the need for a beach dress because the sarong assumes the form of a beach dress. Simply tie it around your upper body and you're set.
This model kept things simple by tying a single knot around her bosom. And you know what? That works as well as any other ornate knot-tying scheme.
In fact, it gives off an effortless vibe like you're on the beach to sit back, soak in the sun, and nap, which are three things anybody wants to do on the beach.
An equally important part of this outfit is the sunhat. It adds to the overall laidback attitude of the sarong. Plus, its naturally-light color doesn't draw any eyes away from the sarong's brightness.
Finally, the sandals are the 'cherry on top' of this look. They function similarly to the sunhat in that they round out the outfit so that it appears to be complete.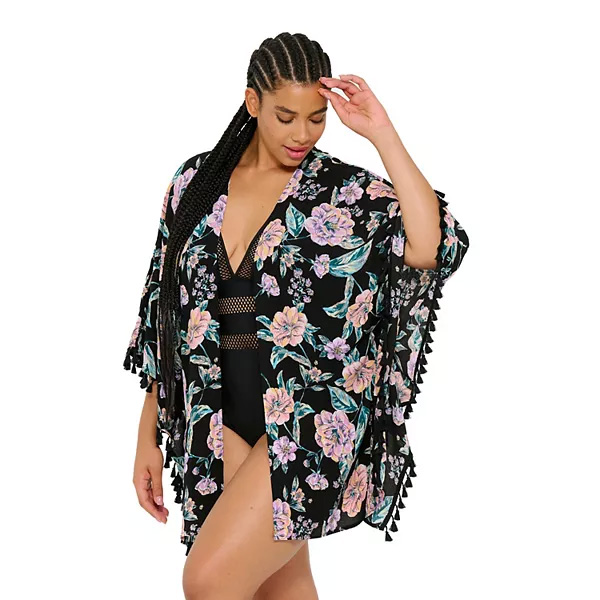 One way to wear a sarong that I haven't touched on yet is to wear it like a cardigan. Most sarong styles cover the lower body, but wearing it like this flips that narrative. You can flaunt your legs or the bottom half of your bikini if you wear a sarong over your shoulders and arms.
Another advantage to this style is that it creates a different silhouette than other ways of tying it do. As noted earlier, the traditional sarong fit is to wear it like a skirt, but wearing it as an upper body piece can provide you with a whole new look from the same piece of clothing.
I can't skip over the pattern and design of the sarong this model is wearing though. The flowers are muted in color but large in size with a pleasing combination of pink and green hues.
They're set on top of a black background that helps them stand out without coming off as garish.
Now, why does that pattern work so well for sarongs specifically? Well, it's perfect for the occasion. You're mostly going to be wearing sarongs in hot weather, so you want something that matches the climate and your surroundings.
On that note, you're going to be looking hot with a sarong like this one. 
What Type Of Sarong Outfits Can You Get?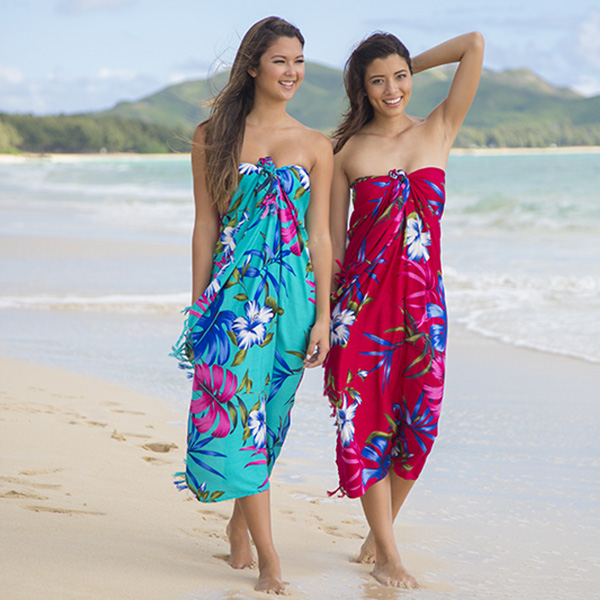 You're pretty spoiled with the different types of sarongs you can get. There are a variety of options to choose from—such as a simple, single-color fabric to designs so ornate that you'd think they belong on the ceiling of the Sistine Chapel.
In terms of materials, there are three main fabrics to choose from. They are:
Cotton
Silk
Polyester
Each one comes with its own advantages and disadvantages but they function nearly identically. 
How To Choose The Best Sarong Outfit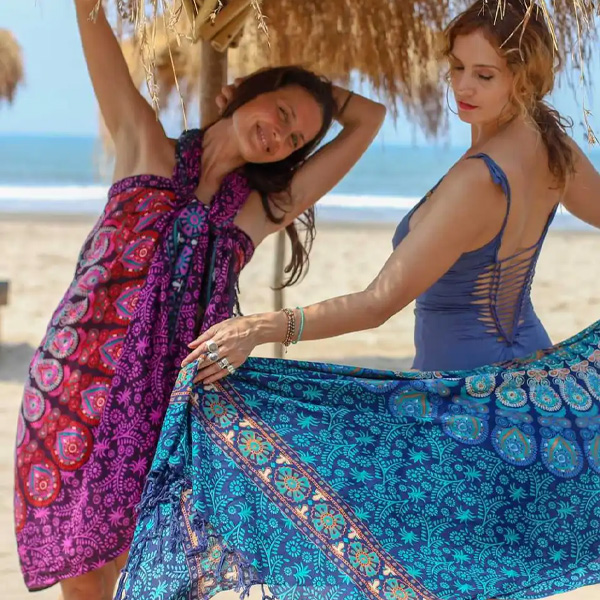 If you have a stand–out sarong then you'll probably want to find ways to include it in every one of your summer outfits. However, that requires that you first find out which sarong stands out the most to you.
Here are the three main principles I always rely on when shopping for clothes: first I look at the price, then the quality of the material, then finally the visual design. 
In terms of cost, sarongs can range from bargain-bin prices to ludicrously expensive based on which retailer you're purchasing them from.
Sometimes a cheap one is going to be perfect for you while at other times you might want a sarong that's been handsewn, which will cost you more.
The price will also vary based on the material. Silk is a perfect fabric for sarongs but it's usually more expensive than cotton or polyester. Keep that in mind when choosing between sarongs.
Finally, if you're undecided between a few sarongs with similar prices and fabrics, then let the visual design guide you to your final decision.
For instance, do you want something flashy and floral? Or maybe you'd prefer something low-key? It's only worth considering this after you know your budget and desired style since these are more important factors than the look of a sarong.
How To Style A Sarong Outfits
Perhaps the best thing about styling a sarong is that you're only limited by your imagination. You'd really have to try your hardest to make a sarong look like it doesn't belong in your outfit.
They're phenomenal ways for you to express yourself during times when the weather is just too hot to let you dress your best.
Here are a few tips to help you understand how to style a sarong:
Let your sarong do the talking: I suggest wearing a plain bikini so that you can show off the design of the sarong.
Wear accessories: Without throwing on unnecessary layers, sunhats or sunglasses can add some flair to your outfit.
Be bold when it comes to trying new styles: Wear a sarong like a sundress or drape it over your shoulders like a cardigan. The sky is the limit when it comes to how you can wear this garment.
Fashion Tips To Avoid With Sarong Outfits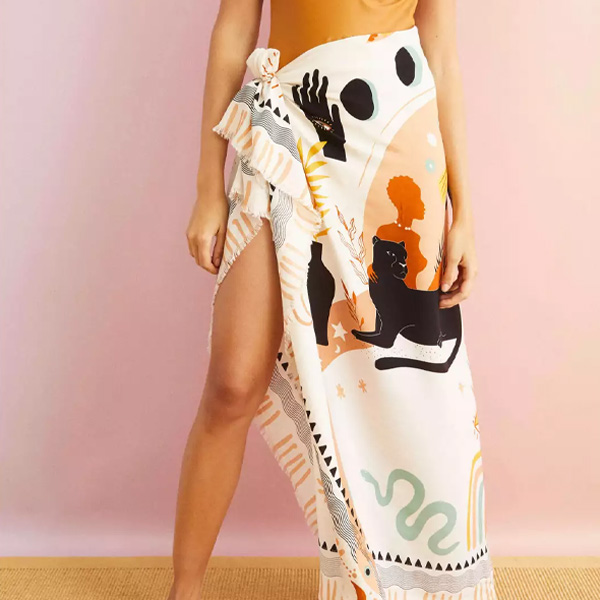 As I've said before, there aren't too many mistakes you can make when deciding how to wear a sarong. The biggest one that comes to mind, and thankfully I haven't seen it too often, is wearing a sarong with denim.
You might not believe me, but this is a mistake some people make. Sarongs are versatile, but they don't mesh well with jeans.
There's just too much contrast between the materials and colors. So this gives off the impression that you don't really know what you're doing with your look.
How To Take Care Of Sarong Outfits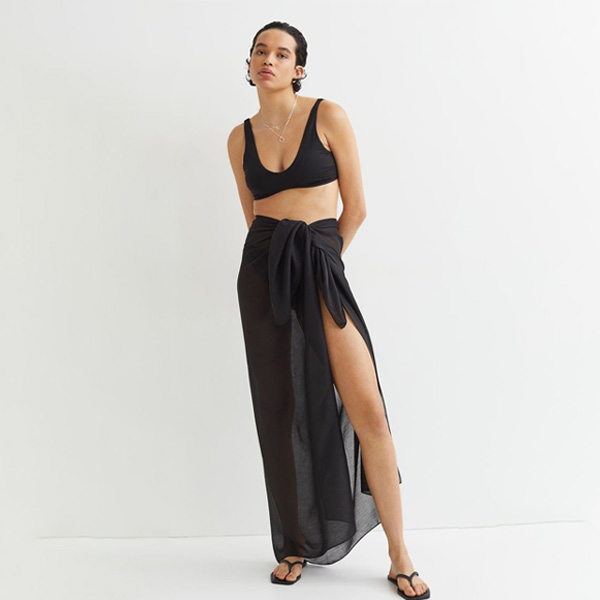 Once you know how to wear a sarong, you'll need to know how to take care of it. Sarongs are made from delicate materials so you're going to want to be gentle with them when it comes to washing and drying. Washing is easy since the basic principles of careful cleaning apply here. Basically, use cold water if possible.
When it comes to drying, you don't want to distort the fabric by any means. So you're going to have to part with the convenience of your dryer. Hanging a sarong up to dry is the best way to help it air out without tarnishing it.
And since it's only practical to wear sarongs during the summer, it's already going to be hot enough outside that you're likely to hang dry your clothes up to dry anyways. So, it'll be no extra effort on your end to throw a sarong on a clothing hanger and let the sun take care of the rest.
Best Places To Buy Sarong Outfits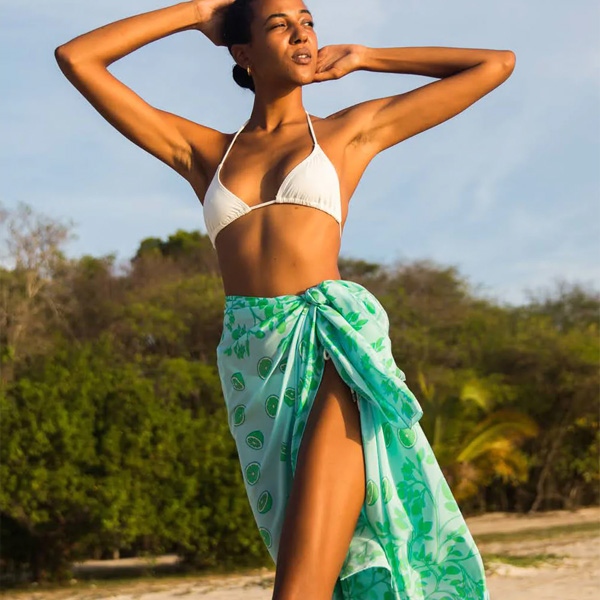 It's not hard to find sarongs nowadays, but there are places that sell better ones than those you'll find on Amazon. Personally, I prefer the sarongs that Banana Republic sells, but Free People also has good options.
Final Thoughts
Can you believe you made it through an entire guide on how to wear a sarong without reading a single pun? Congratulations on that, dear reader—your prize is knowing how to spice up your summer looks.
In all seriousness, sarongs are one of the most versatile garments you can add to your wardrobe if you feel like it needs something with a little oomph.
Once you purchase the right one, you may end up finding every excuse in the book to start wearing it—and that's an endeavor I wholeheartedly support.
---
Looking to up your fashion game? We've got you covered:
Get Access to Exclusive Deals
Subscribe for free to get exclusive deals in your inbox. 100% privacy