How To Wear Overalls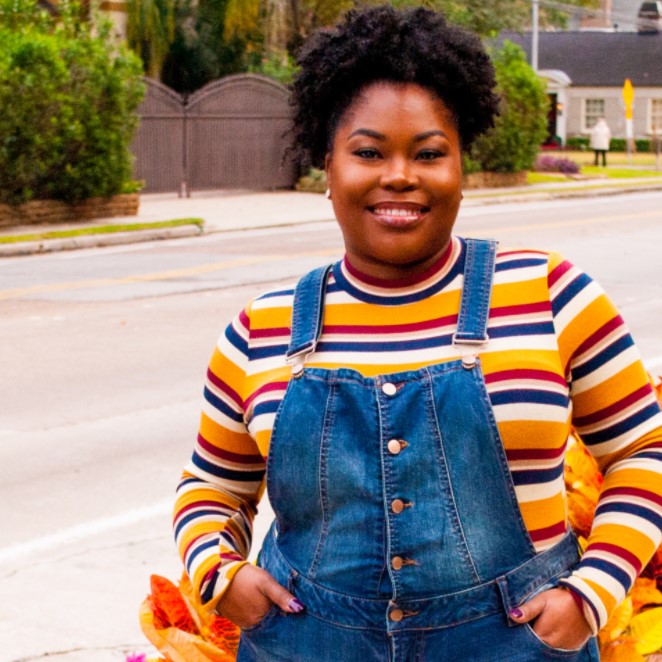 Overalls can be cute. It's the getting there that's a little hard, considering there's a fine line between looking cool and looking like you're ready to bring in the harvest.
And it can also be a struggle to tuck frumpy sweaters in or find a top that actually pairs seamlessly with the style. And don't get us started on finding the perfect pair of overalls for your aesthetic… 
With that being said, it is possible to make cute overalls even cuter with perfect styling, with pieces you already have in your closet no less. After reading our guide on how to wear overalls, you'll understand:
What to wear under overalls
What to wear with overalls
What overalls are right for you
What to avoid with overalls
Where to buy overalls
What Are Overalls?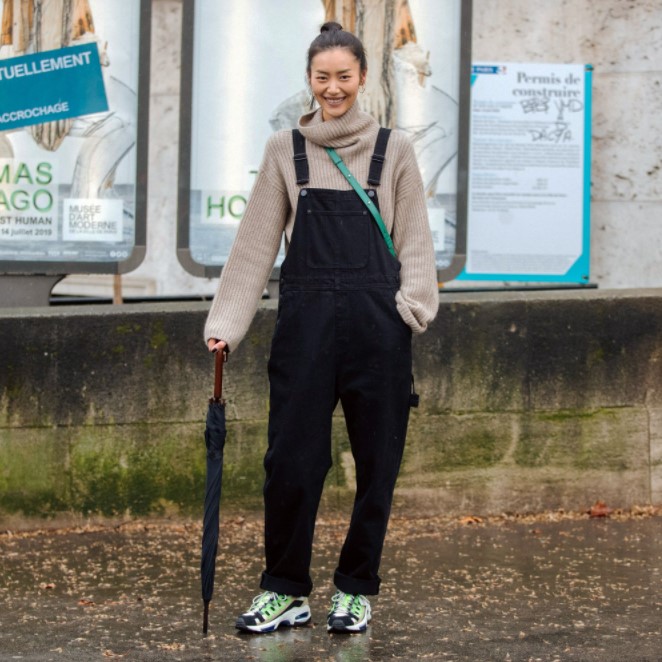 Prepare yourself–your mind is about to be blown. Essentially, overalls are a pair of pants with a bib and brace attached to them, and they are also called dungarees. Overalls are often used in working or labor environments but have since become a fashion statement. 
They come in a variety of styles, colors, and lengths–all of which we'll cover in more detail as we explain how to wear overalls. But first, it only makes sense to take a look at where everything began.
History of Overalls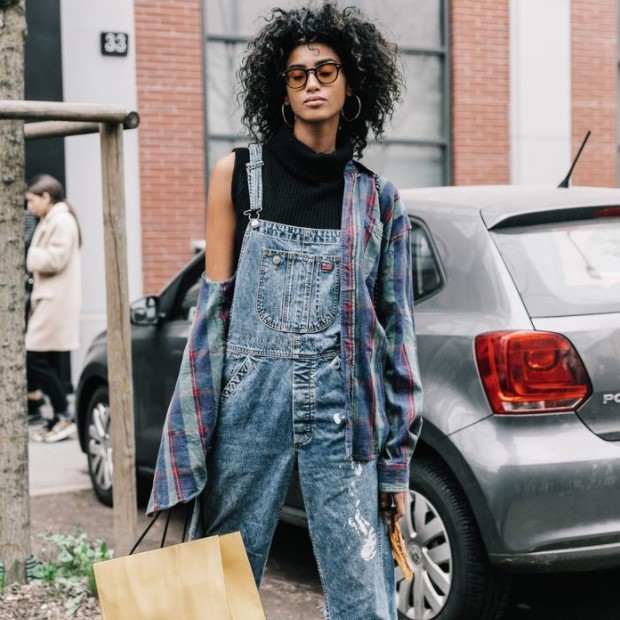 As you may have guessed, overalls were originally designed to be used for work. They were ideal for jobs in the farming industry because they provided regular clothing ample protection. They also became a popular choice among trades workers for the same reason.
And like so many practical clothing items, overalls were refined, redone, and styled differently so many times that they became fashionable. Because seriously, who doesn't love something that's functional and fashionable?
As time went on, overalls became the feature of magazines, runways, and were seamlessly styled into so many different aesthetics, making them a timeless and versatile piece of clothing.
With that being said, there are a number of different times to wear and ways to style overalls, which we'll delve into down below.
When to Wear Overalls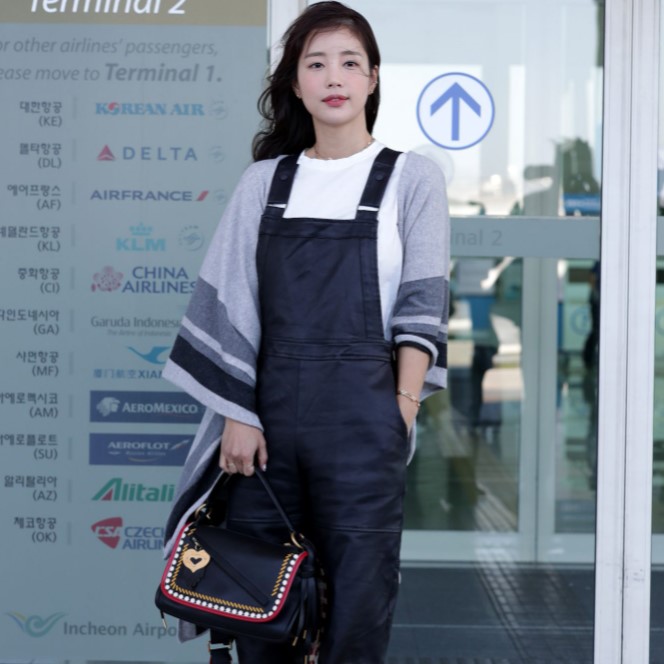 If you're wondering how to wear overalls, you'll be happy to hear that they have a pretty casual vibe and they can be thrown over basically whatever you're wearing.
So, if you're chilling around the house in a comfy tee but want to look put together to run a few errands, literally all you have to do is slip on some overalls.
Depending on the fabric, overalls can have an elevated feel. Soft linens and thick cotton materials can have a more bohemian touch, ideal for beachy days and summer evenings, while stiffer fabrics and bolder patterns can have a business casual vibe.
Plus, overalls can of course be worn to work, crafted from thick canvas materials to protect your clothing while keeping you comfortable. In saying all that, there are a number of different types of overalls you can get, which we will outline down below.
What Type of Overalls Can You Get?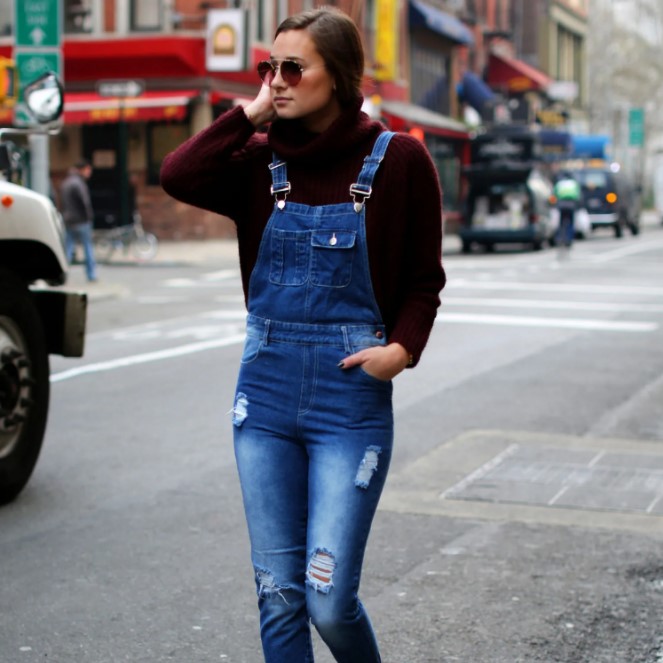 When you're trying to figure out how to wear overalls, it makes sense to first determine what kind of overalls you are styling. Of course, they should also line up with your aesthetic, whether that's grunge, sophisticated, boho, casual, or vintage.
Overalls come in thicker and thinner materials, depending on where and when you want to wear them, as well as shorter and longer styles for different seasons. There's also a variety of colors, patterns, and fabrics, each giving off a different vibe.
Of course, work overalls come in two different types: more sophisticated and dressy styles featuring fancy buttons and soft materials, or designs for working outdoors and on projects that are thick and heavy-duty.
You can find overalls for all different aesthetics, with more distressed and dark-colored pairs ideal for grunge or high fashion looks, while simple black pairs feel more sophisticated and cool, and thick, textured fabrics can suit a variety of styles.
How to Wear Overalls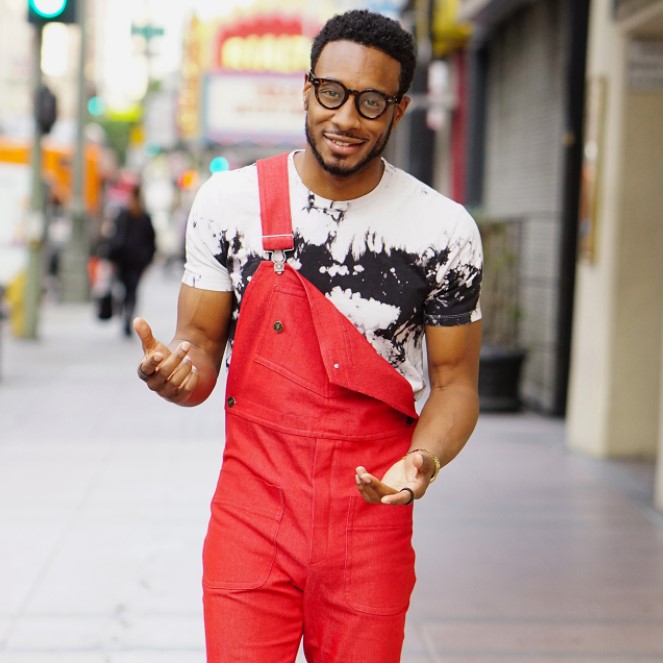 There are a number of different ways to wear overalls to achieve a certain look. If you want to look cute and cozy, you really can't go wrong with an oversized sweater, a chunky knit hat, and wool socks, all topped with your fav pair of overalls.
Unbuttoning one side of your overalls and letting the bib hang leaves a super casual touch, while rolled ankles have a chic and relaxed vibe. Dainty jewelry and some pointed-toe heels will create an air of elegance, while monochrome pieces will have a more minimalist look.
Of course, you can also opt for different styles of overalls, from dresses to wide-leg to textured and patterned. The classic denim pair will always be the easiest to style, but if you're looking to add a little oomph to your collection you can't go wrong with a bolder pair.
From casual to more sophisticated styles as well as winter to summer attire, overalls can be worn almost anywhere. But, it's the styling that truly determines the overall look (pun intended) and is, therefore, the most important part.
If you're struggling to get your overalls outfit started, take a look at our list of ideas for how to wear overalls down below.
#10 Outfit Ideas with Overalls
1. Winter Overalls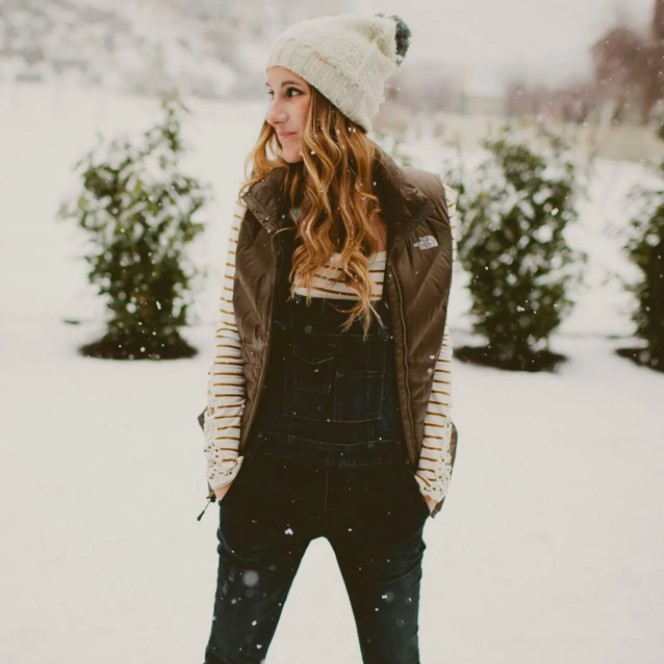 If you thought overalls were only made for warm summer days, we are happy to share that these bottoms are for year-round wear. Paired with winter boots and a cozy beanie as well as an oversized puffer vest, these black overalls look cool and stylish. 
The striped shirt adds a casual touch as well as a little visual interest. And if it's a little cooler out, trade the vest for a long puffer jacket for some extra warmth (and style points).
2. Baggy Overalls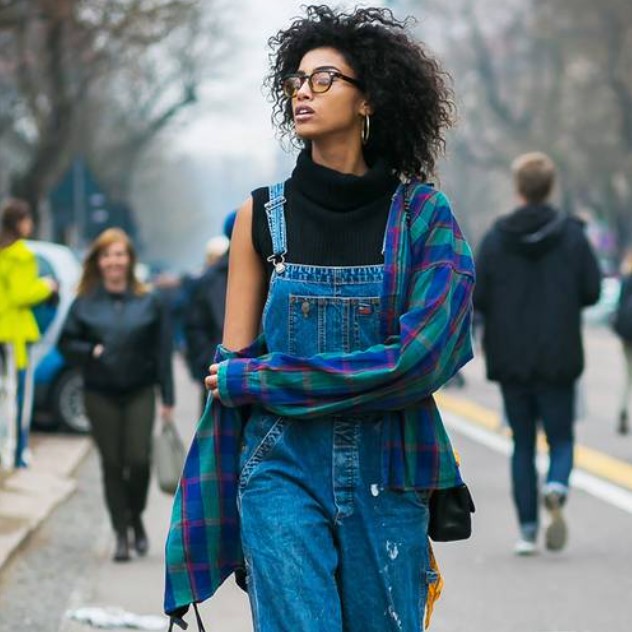 Oversized has never gone out of style, and these baggy blue denim overalls prove it. Paired with a fitted sleeveless turtleneck, the bottoms feel chic and sophisticated. The patent leather black booties add a bolder, more elevated touch, as well.
Atop it all rests a deep blue flannel, which could lean farmer chic but instead feels high fashion paired with the sleeveless black turtleneck. The yellow shopping bag inspires a brightly colored handbag for a little extra flair.
3. Corduroy Overalls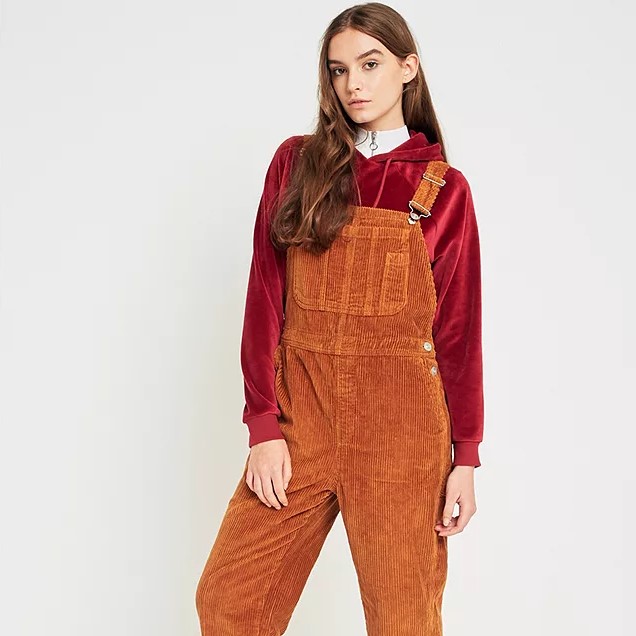 There's nothing like the classics, so why not opt for a pair of 70s inspired, boldly colored overalls? Corduroy is a super soft, unique fabric that adds plenty of texture and depth to an outfit.
The dark orange rust color of the overalls is definitely eye-catching, while the deep red velvet hoodie underneath adds more texture and interest. The black Adidas sneakers pair well with the bold colors, blending in while still standing out.
4. Overall Dress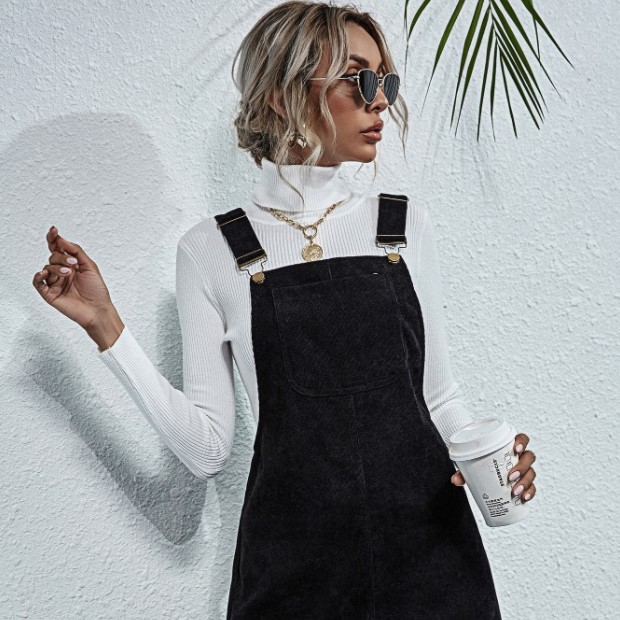 Like a regular pair, an overall dress marries comfort with style, and if you're tired of long pant legs, then it offers the perfect solution. Ideal for summer months or cooler days paired with sheer tights, this dress is a casual and simple choice.
The black coloring feels a little more sophisticated, especially paired with the fitted white long sleeve turtleneck and chunky gold jewelry.
The oversized shades and tied-back hair also create a more elegant, put-together look. 
5. Short Overalls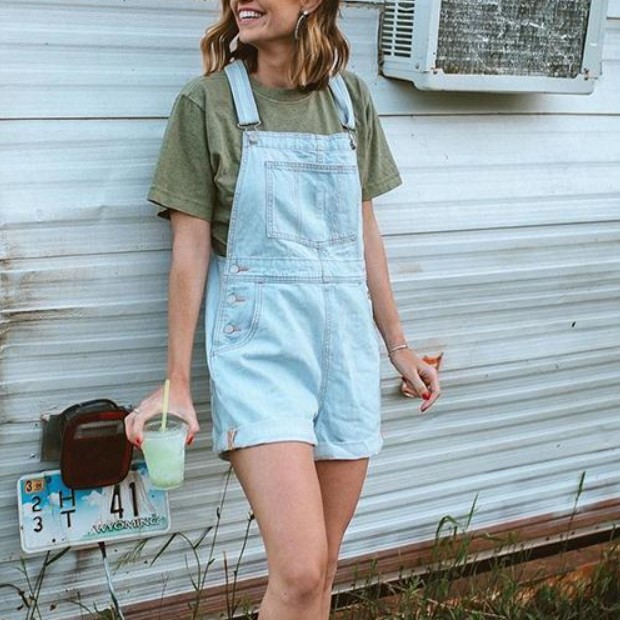 Short overalls come in all different colors, styles, and finishes, but a light blue pair is definitely the classic choice for the summer months. This pair has a more 90s style with a mom jean fit, which is easy to lean into with most closet staples.
The plain oversized green tee has a simple and casual look, while the white converse feel comfy and youthful, creating a seamless, relaxed, and easygoing style.
6. Fitted Overalls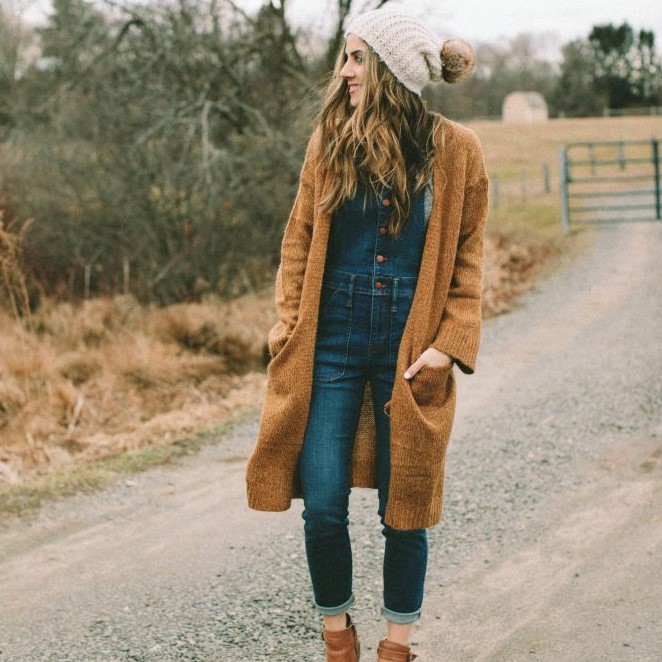 Fitted overalls are literally made for fall days. Don't ask us why, they just are. The dark blue denim has a cozy vibe, while the oversized mustard duster cardigan adds that extra touch of warmth.
For braving the chillier days, try on a pair of boots that match the warm shade of the cardigan and a beanie with a pom-pom for an extra snug feel.
7. Distressed Overalls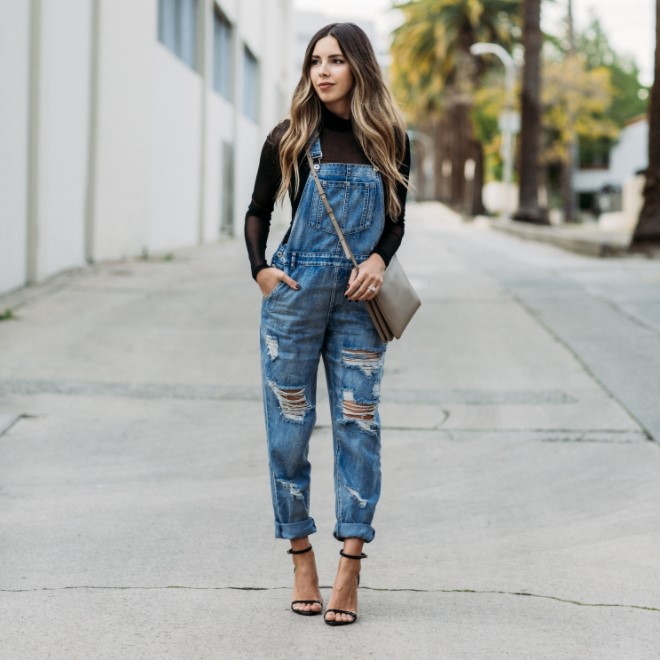 As the days begin to warm up and you want something that won't be too hot or cold, a distressed pair of overalls provides the solution.
A mesh long sleeve underneath will create a grungier, more unique look, while a pair of strappy heels will have a more elevated (literally and figuratively) vibe. 
8. Neutral Overalls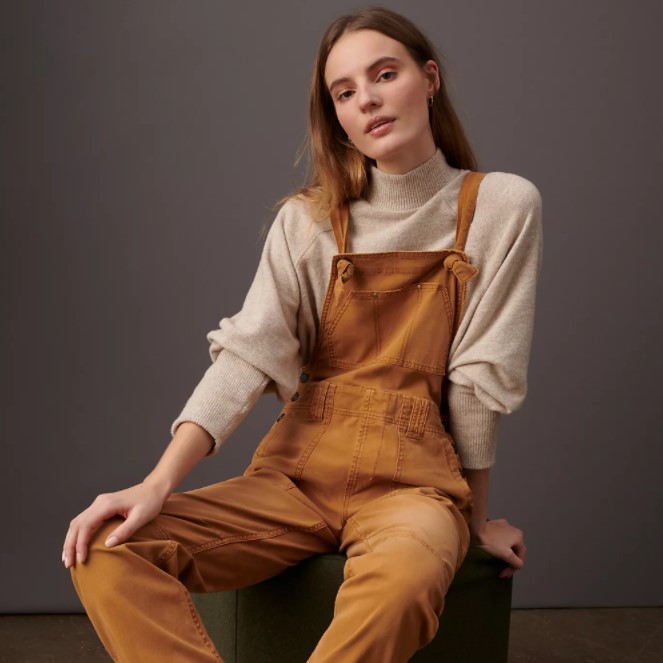 Neutral shades and warm tones are in, and just your luck, they're easy to style too. The deep turmeric color of this simple pair has earthy undertones and a natural, casual aesthetic.
The rolled ankle cuff feels simple and relaxed, especially paired with the chunky white combat boots and thick socks. 
The oversized cozy cream-colored turtleneck adds warmth and texture, while the pushed-back sleeves feel informal and natural. Tade the boots for some nude heels and add a little jewelry to elevate this look.
9. Wide leg Overalls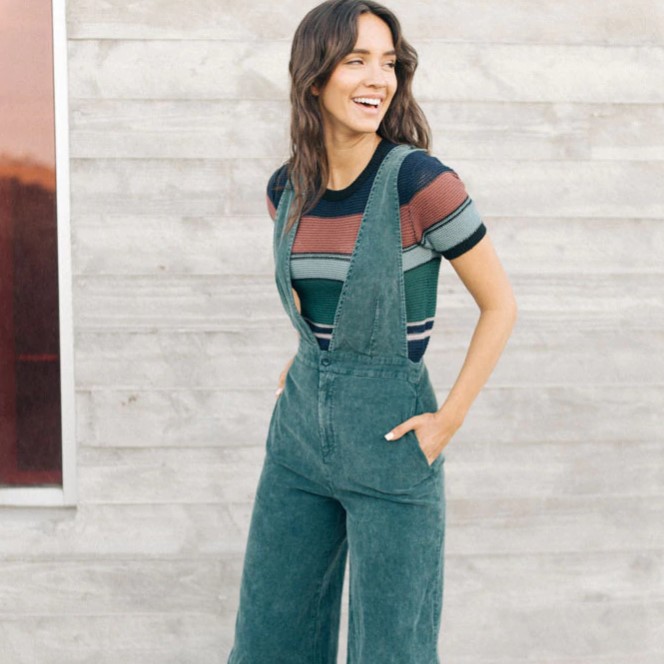 Wide leg overalls have an air of sophistication and can easily be dressed up or down. This pair has a 70s flair–literally, because of the wide leg–with a textured turquoise corduroy.
This outfit features a striped fitted tee underneath that has all the 70s colors from deep blues to warm orange tones and a pair of nude strappy sandals to elongate the leg.
You could also opt for a blazer and a pair of oxford shoes for a more business casual look, or even a white tank top for a simple summer look.
The bolder color and silhouette mean that even the simplest pieces will look styled and thought out, so putting your outfit together will be pretty easy. Plus, if you're not sure, just remember that matching colors is always the way to go.
10. Black Overalls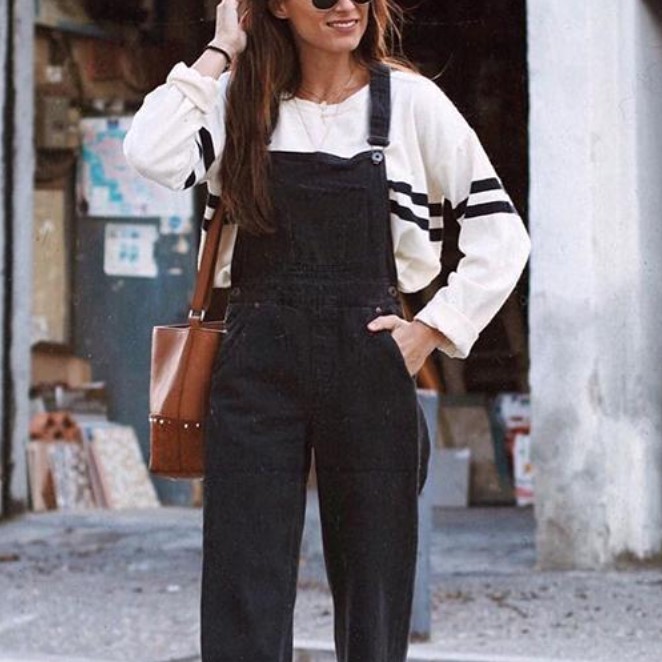 Like black denim jeans, a pair of black overalls is a closet staple. The dark tone is easy to style while adding depth and a sophisticated vibe to whatever you pair it with.
A striped long sleeve tee is hard to go with, while black and white platform converse add height and maintain the color palette.
The brown tote purse feels like a simple option, but the shade adds warmth to the otherwise dark outfit, adding the touch it needed to create a cool and casual look.
How to Choose The Best Overalls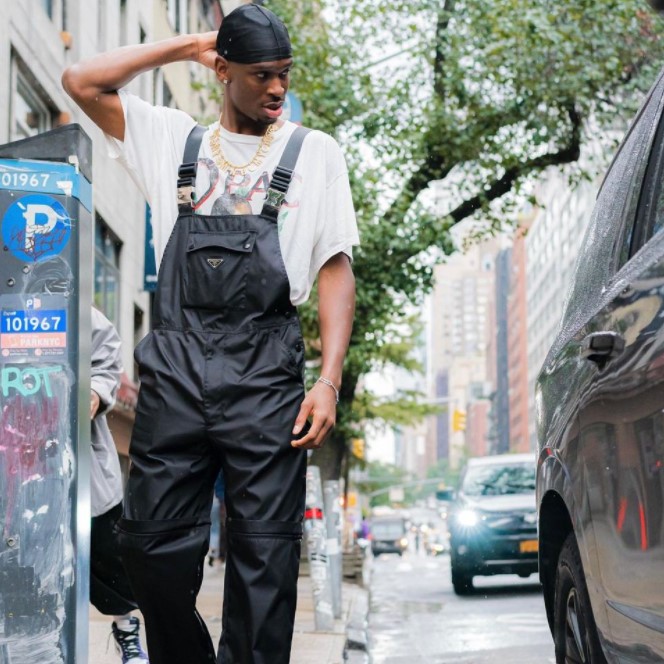 If you're still wondering how to wear overalls, there's one key thing to consider: finding the right pair of overalls for you. Here are some factors you should keep in mind when on the hunt for the perfect pair
Price
Quality
Material
Style
Color
Fit
Of course, price and quality tend to go hand in hand. Most of the time, you get what you pay for in terms of design, craftsmanship, details, and fabrics.
But, it's important to shop within your budget. The first thing you should look at is always the price–there's no worse feeling than falling in love with a piece only to realize it's way out of budget.
When it comes to materials, it's important to also consider the style you want. If you want something cool and laid back, denim is a great choice, while cozy and comfy may require a linen material.
Color and fit are the other most important things to consider: if you've got a color palette or preferred option, be sure to opt for a color you know you'll wear. Also, determine if you'd like the overalls to be baggy, tight-fitting, billowy, or straight leg. 
How to Style Overalls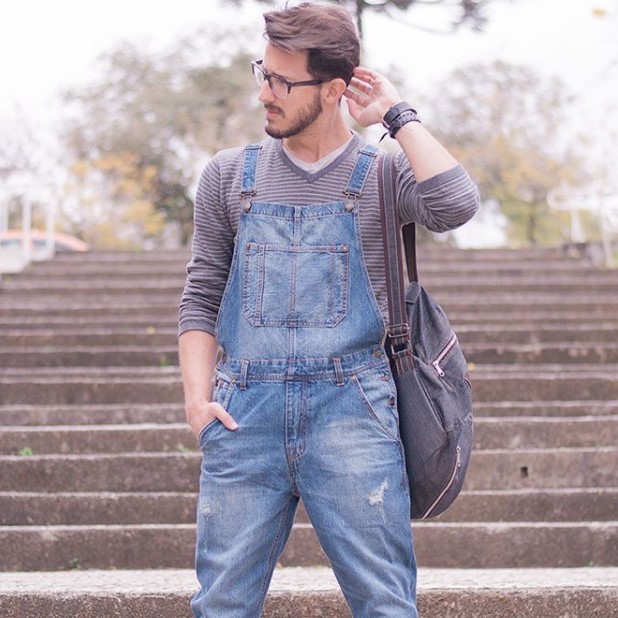 Obviously, wearing a top underneath your overalls is key. All jokes aside, there are a few key things to consider when styling your overalls.
First, think of the overall look you're trying to achieve: do you want to look chic and professional or minimalist and casual? What style are the overalls you have?
From there, you'll be able to determine pieces that may go best with your overalls. It's always fun to play with texture, so try to mix and match a denim pair with leather accessories or furry pieces.
You can also opt for plenty of color, with bold shades of rust and green and blue, or you can try out a more minimalist style with a monochrome look. 
From 90s overall outfits to grunge styles, there are a number of different ways to style any ol' pair of overalls to achieve your desired look. And if you're still not sure, we'll detail a few fashion tips to avoid down below.
Fashion Tips to Avoid With Overalls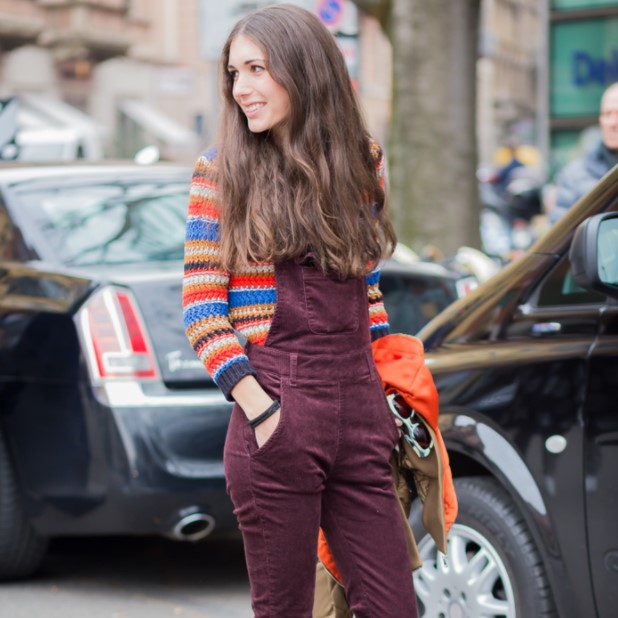 With so many tricks when it comes to styling, there are a few key things to avoid, especially if you don't want to look like a farmer (if you do, maybe ignore this section). Here are our top tips to keep you looking in tip-top shape:
Avoid plaid like the plague, especially with denim overalls
Try not to stuff a bulky sweater into fitted overalls
Don't wear work boots (unless you're actually going to work)
Of course, it's always important to note that fashion is subjective. No matter what you pair with your overalls, you'll look great if you wear them with confidence!
How To Take Care Of Overalls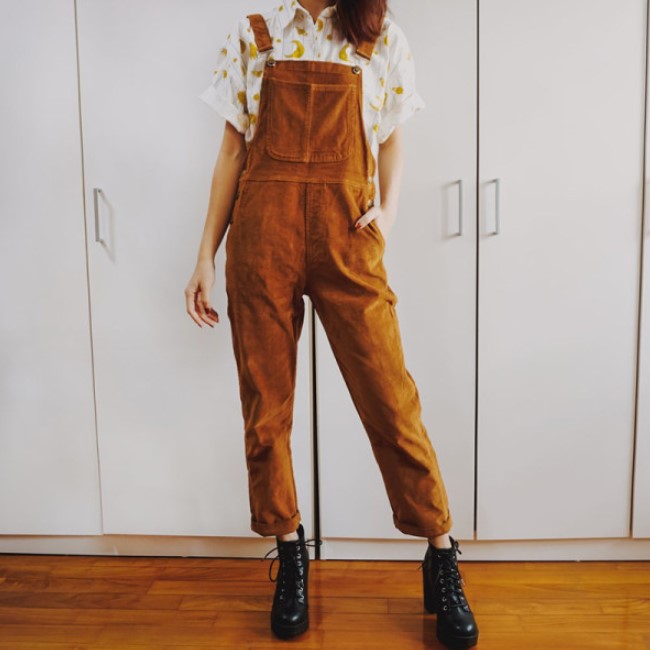 Like most clothing, overalls require TLC to maintain their original condition.
Sure, you can toss them haphazardly in the wash and hope for the best, but if you want them to stay lookin' new, there are a few tips you may want to consider. So before you even wonder how to wear overalls, here's how to care for your overalls:
Depending on the fabric, wash alone in cool water with a mild detergent to prevent shrinkage or fading
Dry on low heat or lay flat to dry
Address stains and marks quickly so they don't set into the fabric
Best Places to Buy Overalls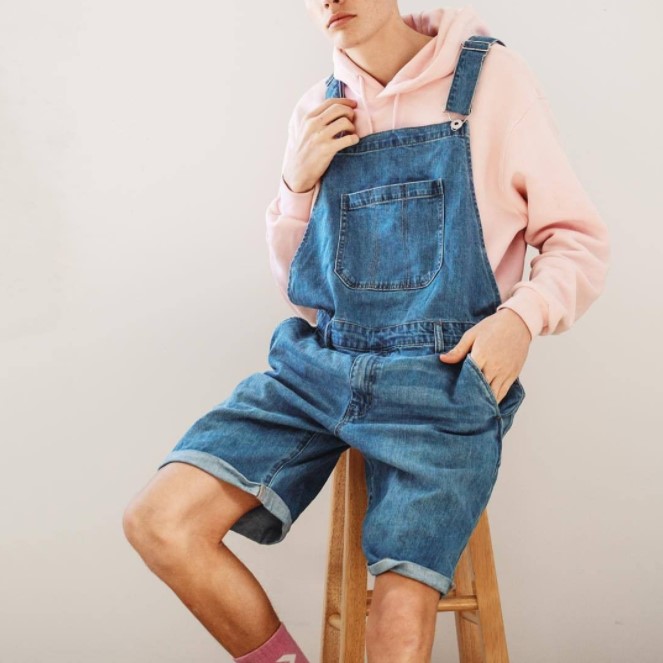 Nearing the end of our list of tips and tricks for how to wear overalls, we hope you feel confident to try out a style or two yourself.
Below, you'll find some of our fave places–with different price ranges and styles—to buy overalls:
Nordstrom
Gap
Amazon
Walmart
Urban Outfitters
Levi's
Free People
Final Thoughts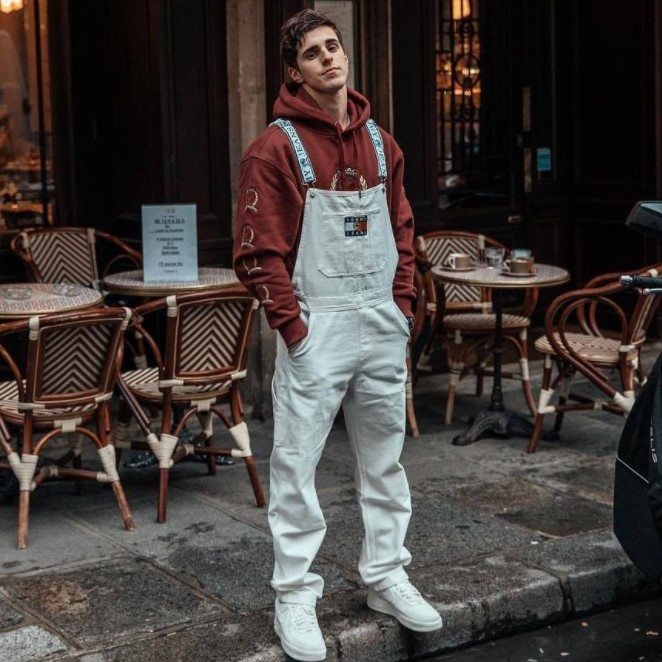 With so many different styles of overalls to choose from, there's something for everyone, as well as a number of different answers to the question "how to wear overalls."
They can also be easily dressed up or down depending on the look you're going for, making them a go-to closet staple.
And whether you want to dress farmer chic, try a new style, or simply find a pair that goes with your aesthetic, it's good to know that overalls provide a timeless and versatile look that can be worn anywhere.
---
In need of some more fashion tips and tricks? Look no further:
Get Access to Exclusive Deals
Subscribe for free to get exclusive deals in your inbox. 100% privacy