How To Wear A Visor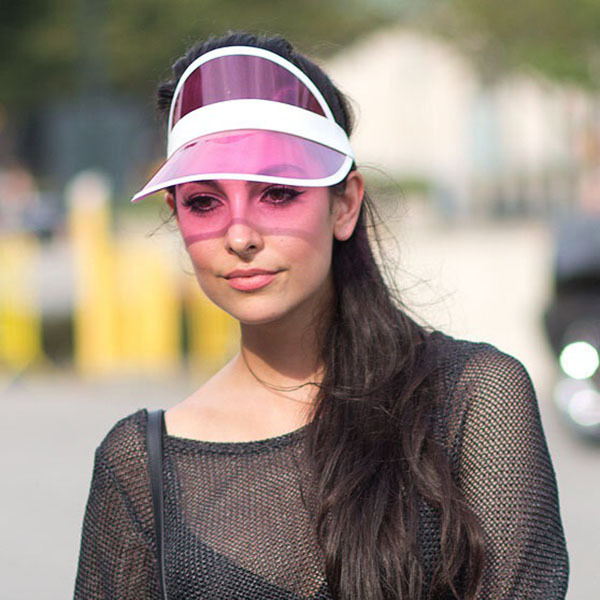 The visor is a type of accessory that divides people. On the one hand, it's regarded as a pivotal component of the chic sporty look.
On the other hand, it's a cheugy accouterment that should've never lived past the '90s. 
Whatever perspective you have, I think we can all agree that visors have definitely caught the public's eye. After all, what is fashion if it's not controversial? 
If you covet athleisure, the '90s, or that expensive 'new money look' associated with country clubs, then you're probably wondering how to wear a visor. In short, there are various ways to style this accessory, as it's considered a staple in summer fashion. 
Coming up, I'll provide a short list of outfit ideas that are sure to change your mind about this accessory. Don't worry—it's relatively free of retro cringe.
This 'how to wear a visor' style guide will showcase various ensembles, which may or may not include (just to keep you on your toes):
A Nike visor
A Dior visor
A Gucci visor
An Oakley visor
What Is A Visor?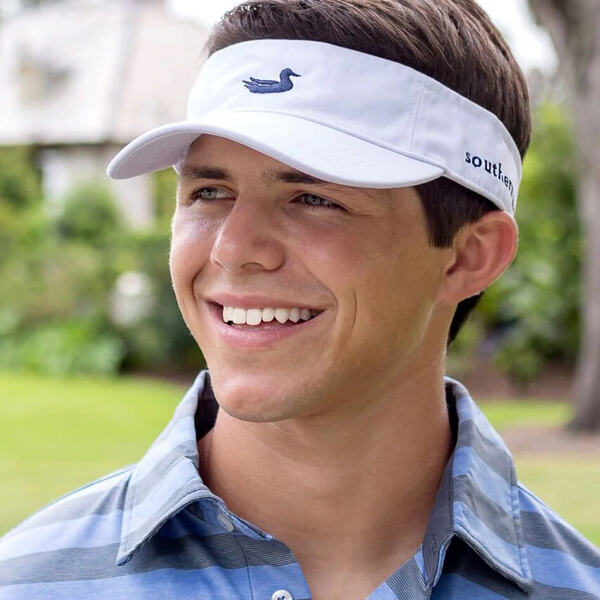 To the average person, a visor is simply a hat with the top portion cut off. It typically features a velcro or buckle band that wraps around the crown of the head.
The 'beak' of the visor is meant to shield the wearer from the sun's glare. This accessory is commonly worn by tennis players and golfers. 
Nowadays, it's considered a staple within beach fashion and streetwear. Especially since visors have evolved past their simple cotton construction over the years. Trendsetters can even find versions made out of rattan and clear plastic nowadays.
History Of Visors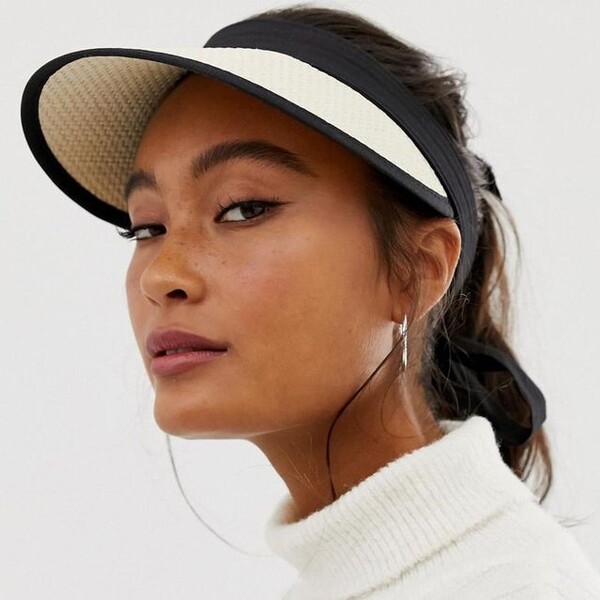 Truth be told, the history of visors is quite dry and dull. Nobody knows the exact backstory behind this hat, but most agree that it stems from American sportswear.
The baseball cap is considered the 'grandfather' of the visor, as its cropped silhouette didn't come about until after the baseball hat was invented in 1849. 
Visors reached their peak in popularity during the 1990s, as trendsetters sported the golfer's hat as part of streetwear. Worn by the likes of Eminem and Bradley Cooper, this accessory was one of the many bizarre trends prevalent in the MTV era.
The visor has yet to make a second grand re-entrance in today's fashion scene, as it's a hotly debated hat that many trendsetters butt heads on.
When To Wear A Visor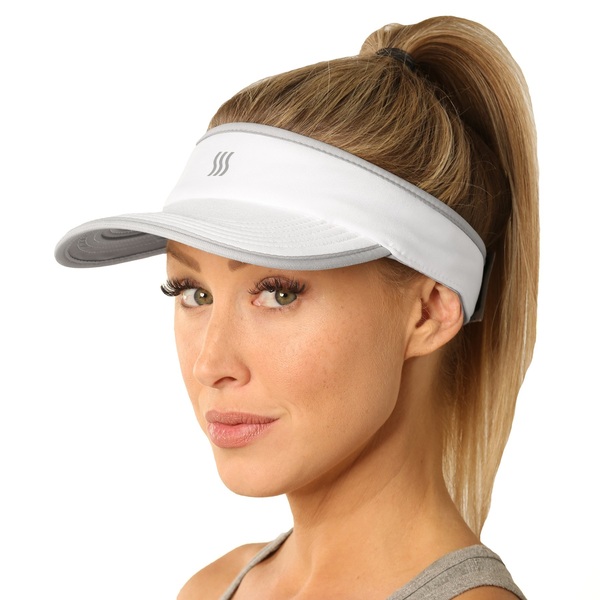 The sun visor is strictly meant as a streetwear accessory. Commonly worn during summer and spring, this unique hat typically makes a re-appearance on sunny days.
As previously mentioned, visors are intrinsic to athleisure, performance wear, and beach fashion. They've also been picked up by maximalist trendsetters, given their bold silhouette. 
It goes without saying that visors cannot be worn formally. Tuxes, evening dresses, and pantsuits are typically devoid of hats, so it's best to leave your summer cap for casual days.
How To Wear A Visor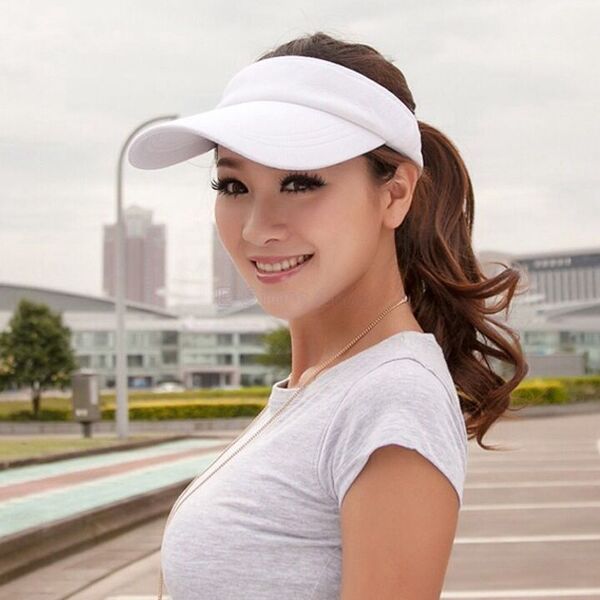 If styled correctly, visors can act as the 'pièce de résistance' of an outfit. That said, there's a reason why they're considered cheugy by several trendsetters.
Styling a visor is like walking on a tight rope. One mistake can land you in the pits, which is why it's important to give your ensemble some forethought. 
For those in need of a helping hand, I'll show you how to wear a visor by using 11 outfit ideas.
11 Outfit Ideas With A Visor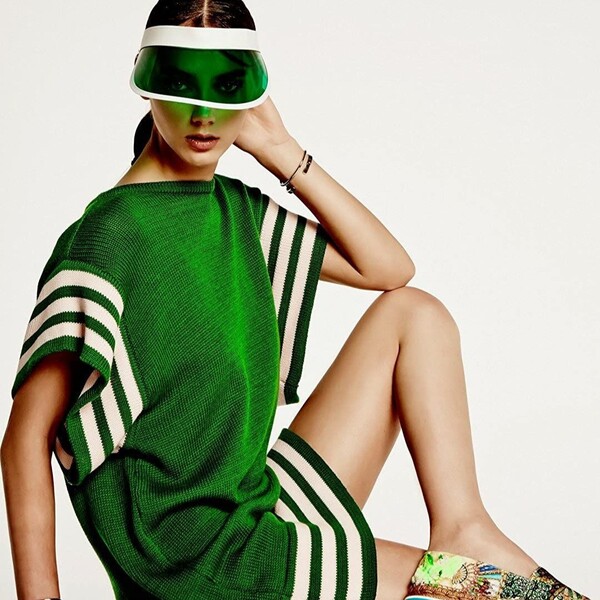 If Daisy Buchanan happened to play tennis, I'm 100% sure this outfit would make an appearance on her court. Composed of a relaxed one-piece, this bodysuit features loose batwing sleeves, cropped shorts, and a series of white and green stripes. 
Dyed in emerald, it definitely exudes an 'old-money vibe' due to its silhouette. The matching visor helps tie the whole OOTD together, as a simple brimmed hat would look too beachy. For the shoes, I suggest a basic pair of white tennis shoes.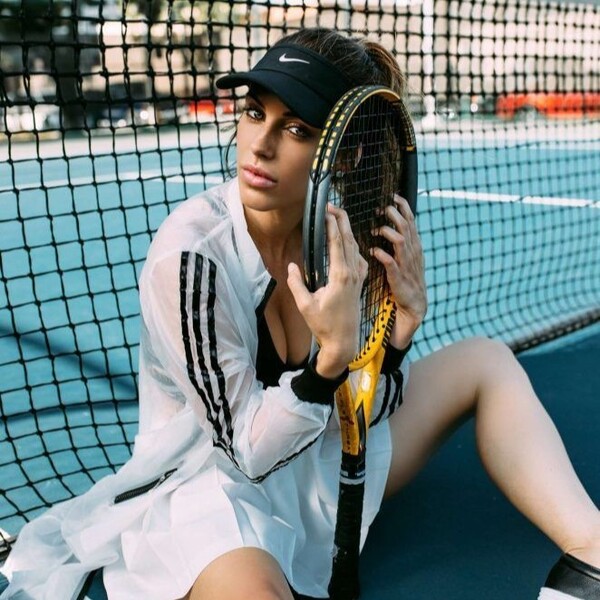 Tennis courts are a popular location for Instagram photoshoots. Case in point, this 'how to wear a visor' style guide suggests moving your selfie equipment to the courts.
This outfit is a prime example of athleisure, as it features a sports jacket, a black top, a white tennis skirt, and a Nike visor to match. 
Featuring black and white, this look exudes a subtle, sophisticated vibe that bright colors fail to provide. Don't forget to top off the OOTD with sneakers and a racket for playing.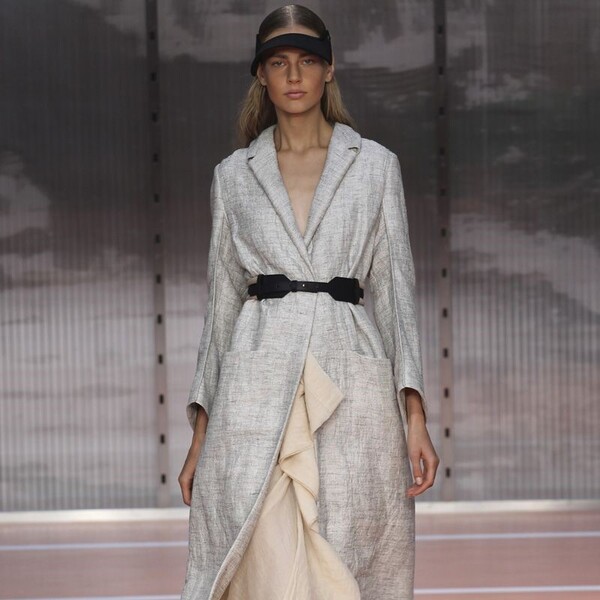 Just a quick head's up—you're going to see a couple of Marni outfits in this 'how to wear a visor' style guide.
Her 2014 collection is full of them, so it would be a missed opportunity to not include a few. This sophisticated ensemble consists of a linen trenchcoat, a cream crepe dress, and a pair of platform sandals. 
Accentuated with a waistbelt and a black visor, it's something that you'd casually see in the streets of Milan. I won't go as far to say that it's a testament to minimalism, but it's definitely worth considering if you're not a fan of athleisure.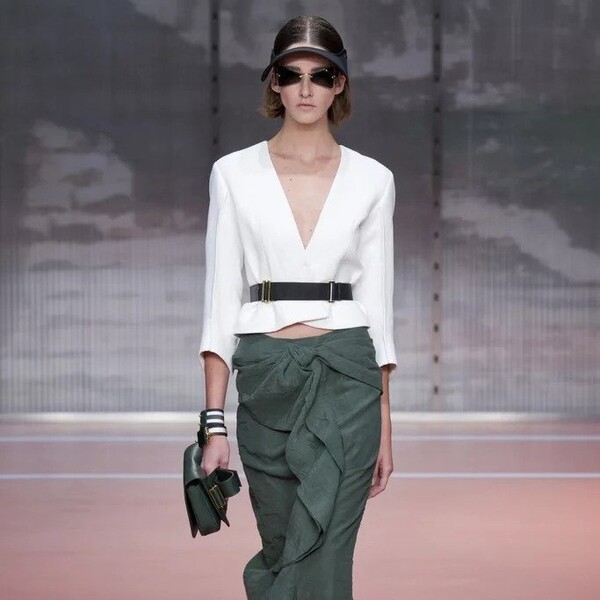 Considered another iconic look in Marni's 2014 Spring collection, this 'how to wear a visor' contender is the literal epitome of summer sophistication. The outfit features a simple white blouse, a green midi skirt, and a pair of platform sandals.
Arguably, the black accessories make or break the OOTD, as they help tie the whole look together. The visor, waistbelt, and clutch bag act as bolded lines, as if they were to outline the 'illustration' of the outfit.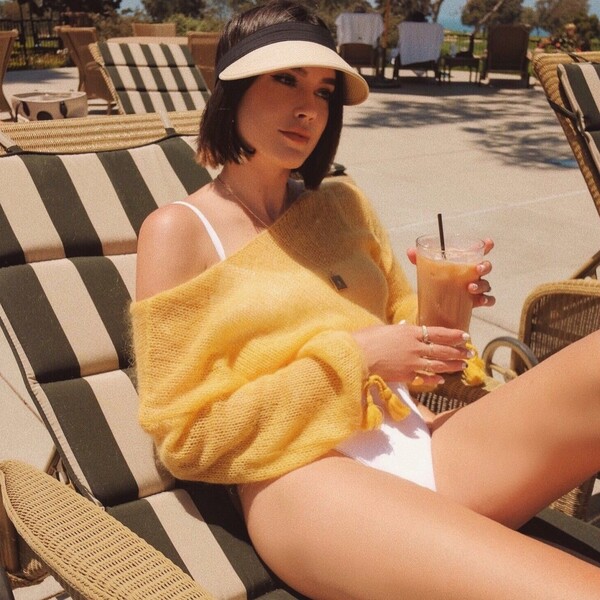 Finding the perfect summer ensemble can lead you to a crossroads. On the one hand, a baseball cap is considered too sporty, and a straw hat can look too beachy. As a compromise, a simple visor can do the trick. 
This unique headpiece can help reduce sun glare while giving your look some spice. The outfit itself can involve a cute one-piece, a breathable sweater, and a pair of sandals in case you're prepping for a pool party.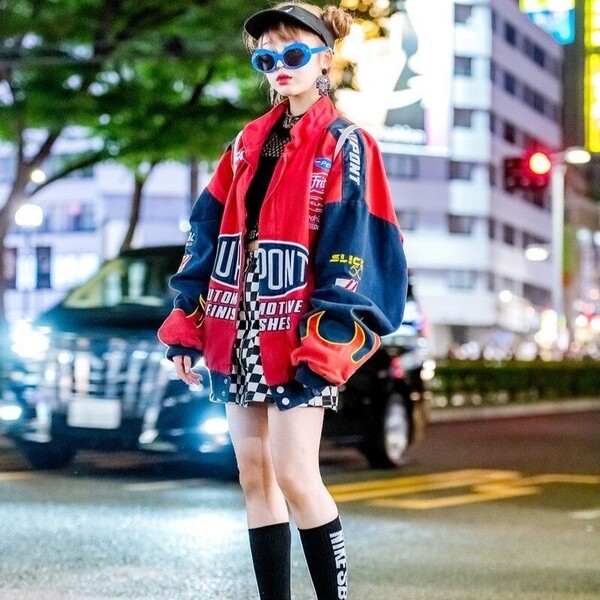 In most cases, visors are free of intimidation. If anything, they're quite cheesy in design, which is a hard aesthetic to disguise if you plan on wearing one.
So, it's time to get creative. Case in point, this bold outfit manages to transform the traditional tennis visor into an edgy accessory. 
Paired with a racecar jacket, a black halter top, a checker-print skirt, socks, and platform heels, it's considered a bolder take on casual streetwear. While the hat itself is powerful enough to stand out on its own, this 'how to wear a visor' guide suggests wearing sunglasses for some added flare.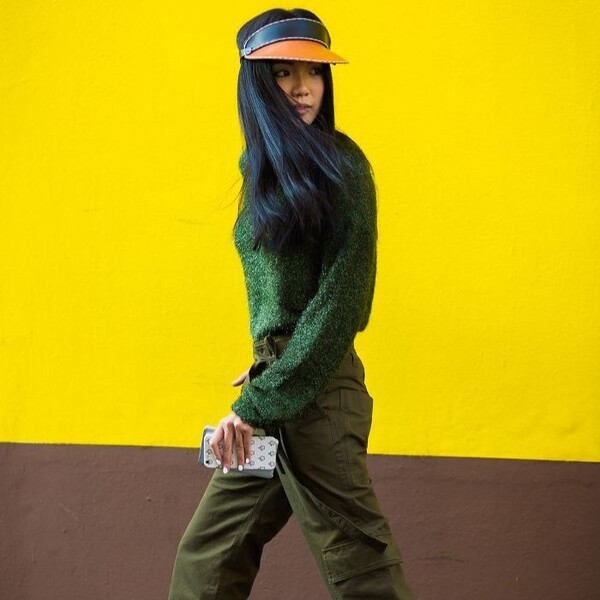 This 'how to wear a visor' contender screams 'tennis match at 1:00 and office meeting at 2:00.' Composed of an emerald green sweater, cargo pants, metallic gold boots, and a visor on top, this OOTD makes use of two statement pieces in one look.
It's certainly bold in aesthetic, which is why I recommend saving it for days when you're feeling extra. If the shoes are a bit too much for you, I suggest swapping them out for sneakers instead.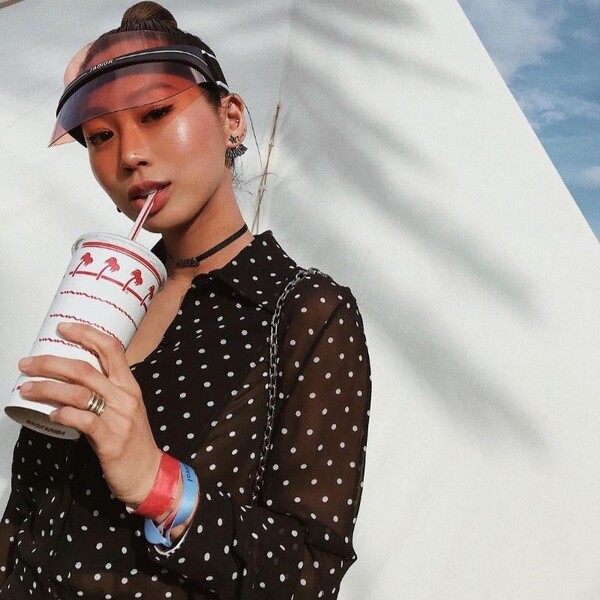 There's no flex bigger than sipping a fast food drink while wearing a Dior visor. This model is definitely living her best life. But poses aside—we're here to talk about fashion. 
The designer hat paired with the polka-dot blouse practically screams 'casual visit to your friend's million-dollar mansion.' Unfortunately, the rest of the outfit is up for debate. But if it was up to my imagination, I'd say a cute tennis skirt and a pair of luxury kicks can help finish off the look.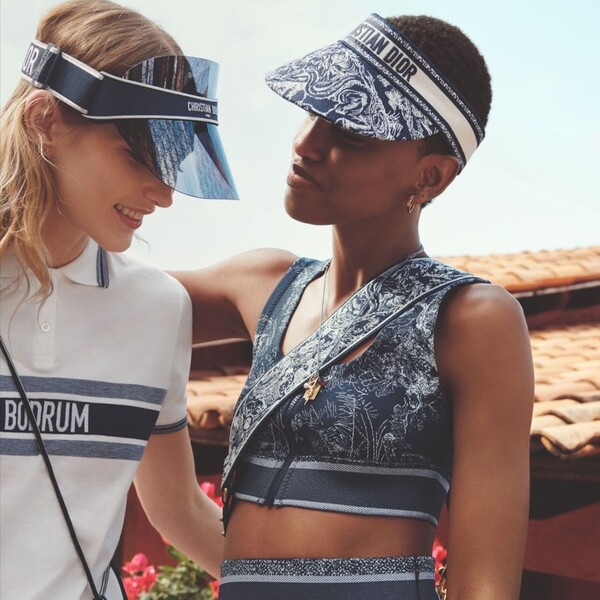 Those who want to dress to impress may find value in this 'how to wear a visor' look. Comprised of head-to-toe designer items, this outfit features a Dior hat, top, and bottom. It showcases the brand's iconic Jardin d'Hiver embroidery, which is usually featured on the brand's handbags. 
Featuring both white and blue, this luxury look keeps things cool in the midst of 85-degree humidity. While it's natural to assume that designer goods are best paired with heels, I suggest some matching Dior sneakers as a more 'casual' alternative.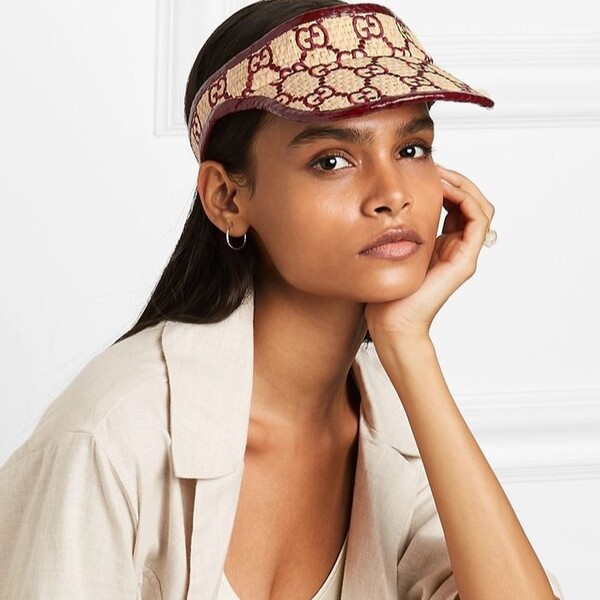 Gucci is known to sell wallpaper, keyrings, nail polish, and other miscellaneous things. With that in mind, it should come as no surprise that they also carry visors as well. 
This designer hat is decorated with the iconic brand's logo in burgundy red. Paired with a cream button-up shirt, a graphic tee, and a pair of red shorts, it's giving 'going to a tennis match, but I'm too rich to play' kind of vibes.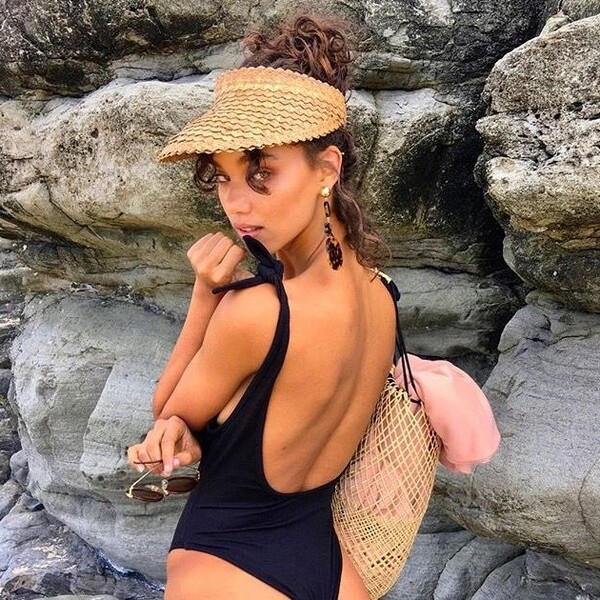 Care for a hot girl summer-inspired look? If so, this chic ensemble is composed of a backless one-piece swimsuit, chandelier earrings, a mesh bag, and a rattan visor for a touch of spice. 
Relatively simple in fit, it's definitely something worth considering if you're prepping for a vacay in Greece or Italy.
For an off-beach outfit, I suggest layering up with a wrap skirt, white sneakers, and a crisp collared button-up top. 
What Type Of Visor Outfits Can You Get?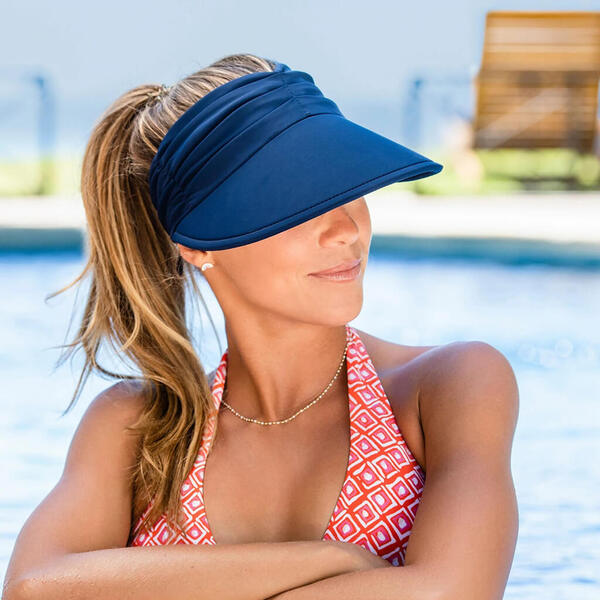 Contrary to popular belief, visor hats aren't exclusively associated with dad fashion and the '90s.
They've received a well overdue glow-up, thanks to designers such as Marni, Dior, and Gucci. Of course, not all of us can afford a $500 visor, but you can rest assured that opting for more affordable alternatives won't cheapen the look. 
Below, this 'how to wear a visor' style guide will discuss some trendy outfits that are worth a try-on.
The athleisure look: Often defined by joggers, bralettes, sports jackets, and tennis skirts, this core aesthetic uses visors as a common accessory.
The beachy look: Instead of opting for a traditional straw hat, a visor can help elevate your cute bikini set. Don't forget to add a pair of sunnies as well!
Streetwear: This core aesthetic goes all out in terms of print, pattern, and color. Use this as an opportunity to experiment with various types of clothing.
The '90s look: If you don't think a retro visor is a cringy fashion trend, try layering up with acid jeans and a colorful parachute jacket.
The high-fashion look: This is exclusively meant for trendsetters who can afford designer goods. This may include Dior, Gucci, or Jimmy Choo.
How To Choose The Best Visor Outfit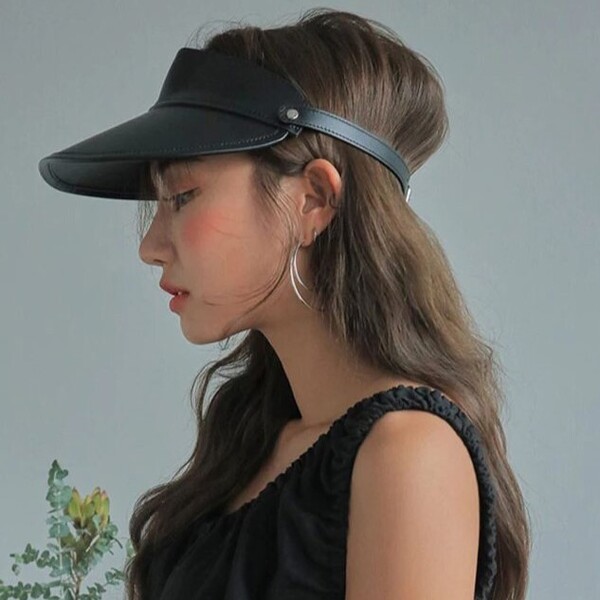 Choosing the best visor outfit heavily depends on the style of the hat. Those who have yet to create a cohesive ensemble may find it easier to pick the cap first before putting together their look.
It's relatively easy to cop a $7 bargain deal online, but it's not recommended if you value things like sustainability and material quality. If you intend on wearing your visor often, it's time to become a responsible shopper.
A high-quality visor is typically made out of canvas, cotton, raffia, and plastic (if you prefer the see-through look). It should feel durable in construction, as flimsy hats aren't known to retain their silhouette over time.
Trendsetters should also factor in weight, shape, and comfort before choosing a design. At the end of the day, you shouldn't be stuck with a top-heavy, tight-fitting visor for the summer. Finding an even balance between all three factors will help ensure continued wearability.
Plus, since visors come in a broad variety of different colors, cuts, and styles, it's important to consider your current aesthetic to help narrow down your choices.
While it may seem tempting to drop a significant amount of money on a designer cap, you might be faced with buyer's regret if you don't end up wearing it. As a general rule of thumb, I recommend opting for something simple at first.
In terms of price, visors can range anywhere from $10 to $700, depending on the design and brand you opt for. Obviously, you don't have to purchase a super expensive visor, as you can find a wide assortment of affordable options on the market.
How To Style Visor Outfits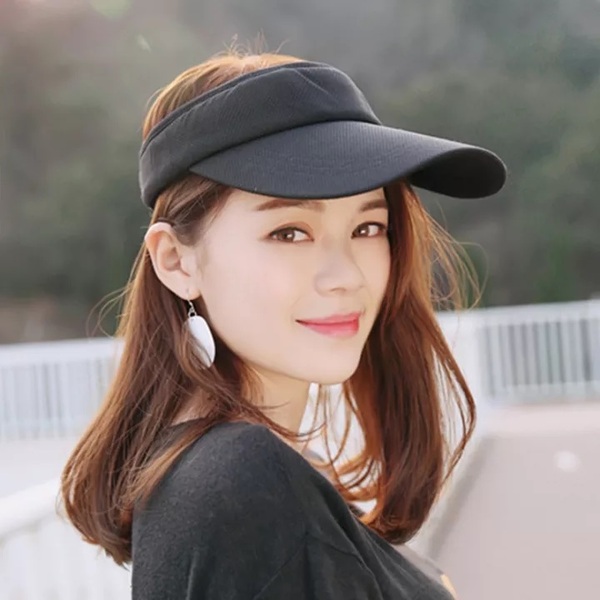 It's time to let your imagination run wild. Fashion requires creativity and confidence, which is especially true when styling visors.
As previously mentioned, this unique hat is considered a staple in various core aesthetics, so you shouldn't have much difficulty matching it with the rest of your outfit.
That said, a little outfit inspiration never hurt anybody. Below, this 'how to wear a visor' style guide will discuss some ways to style this fun hat.
Sunglasses: Since visors are affiliated with summer fashion, it's only natural to pair them with other on-theme accessories, such as sunnies.
Up-dos: There's a reason why the top portion of the hat is cut off. While straw hats and baseball caps limit the number of possible hairstyles, visors provide more room for those who prefer up-dos.
Earrings: Visors are known to frame the face. And wearing earrings can do wonders by accentuating your decolletage.
Sporty garments: If you're fond of athleisure, try pairing your visor with sporty clothes such as tennis skirts and sneakers.
Fashion Tips To Avoid With Visor Outfits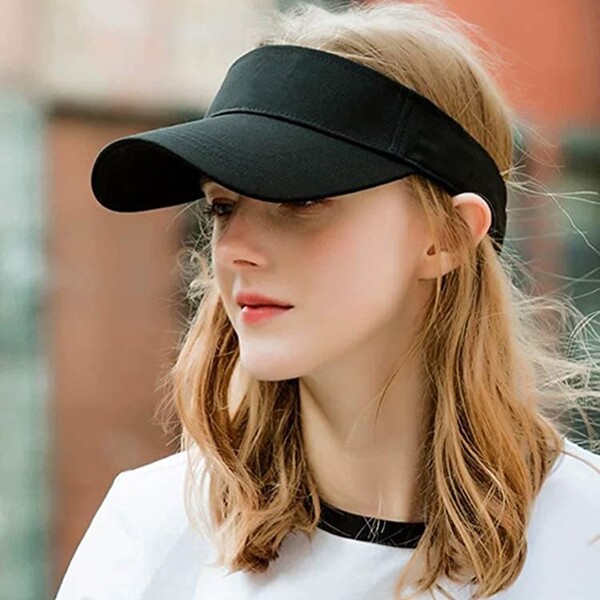 Like Uggs and fanny packs, visors are typically met with controversy. While I encourage you to experiment with different styles and aesthetics, there are a few fits that work poorly with this accessory.
So, I thought it best to share some fashion tips to avoid with visor outfits. 
The sideways upside-down look: This bizarre way of wearing a visor was popular during the '90s. I can confidently report that this fashion trend did not age well.
Overalls: The farmer aesthetic of dungarees paired with the sporty look of visors is considered a match made in hell.
Winter wear: As previously stated, visors are commonly worn during spring and summer. Trust me, you do not want to wear this hat with a puffer jacket and combat boots.
Formalwear: This category may seem self-explanatory, but it's never a bad idea to remind the masses. Evening dresses and tuxes do not go well with visors.
Additional hair pieces: Barrettes and headbands only complicate the look of a visor. Instead, I recommend just opting for the hat.
How To Take Care Of A Visor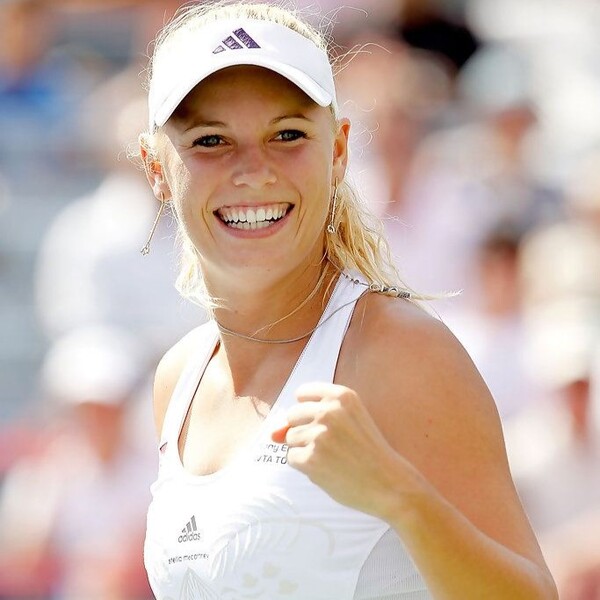 Like any hat, visors require some routine care and maintenance to help maintain their quality. I recommend using a brush or microfiber cloth to help eliminate surface-level debris. Stains may require a dampened cloth and a bit of soap.
If your visor has been through hell and back, it's probably best to manually wash it with hot water and gentle detergent. Tossing it into the machine (both laundry and dryer) is not advisable, given that it can warp the silhouette of your hat.
Best Places To Buy A Visor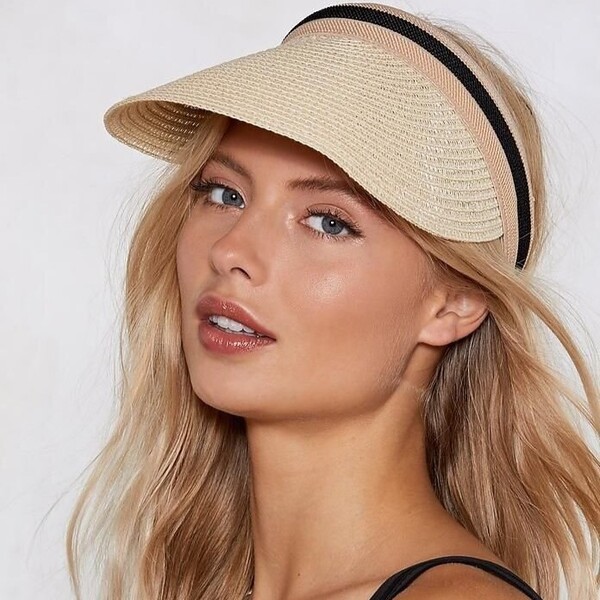 In need of a football visor? How about a golf visor? If so, here are a few trendy stores worth checking out.
Nordstrom 
Sport Chek
Aritzia 
Arc'teryx
Final Thoughts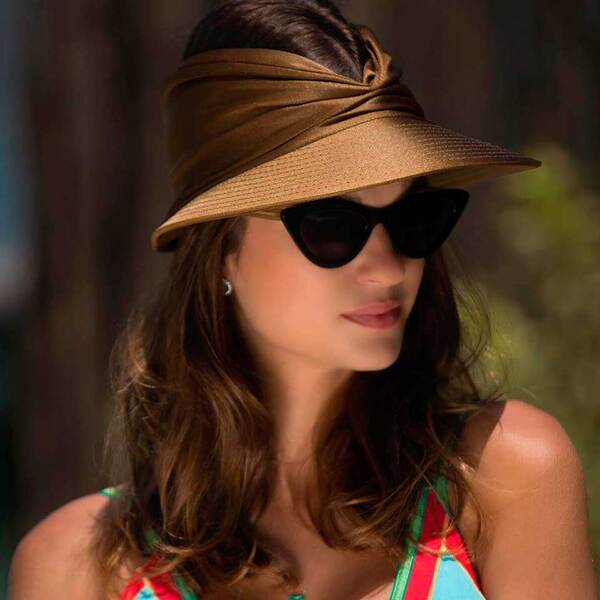 Sometimes, you need to break out of your 'fashion shell' in order to overcome a styling slump. Dabbling in controversial garments, such as the visor, may open up more possibilities in relation to outfit coordination.
And who knows? Maybe your perspective on visors will change once you see yourself in one. 
From designer fits to old-school athleisure looks, answering the 'how to wear a visor' query is simpler than you think. Here's to hoping that you've found at least one look that calls to you.
---
Looking to up your fashion game? We've got you covered:
Get Access to Exclusive Deals
Subscribe for free to get exclusive deals in your inbox. 100% privacy