How To Wear White Boots
Since boots are often associated with mud, rain, and work, it seems counterintuitive to purchase white boots. Shoes are meant to get dirty, after all, which is why most trendsetters opt for black boots to help minimize the look of stains.
Nevertheless, white continues to be a popular choice—especially given the rise of Air Force 1s and designer sandals. 
White boots are definitely considered a staple in modern fashion.
From Rihanna's 'casual' sightseeing look in Prague to Ariana Grande's knee-high pair in her "Problem" music video, this statement piece is definitely here to stay. So obviously, it's only natural for trendsetters to wonder how to wear white boots. 
In need of some fashion inspo? If so, I'll show you how to wear white boots using 12 outfits. Hopefully, by the end of this style guide, you'll know how to pull off:
White cowboy boots
White boots women
White knee-high boots
White go-go boots
White heel boots
What Makes Up A White Boots Outfit?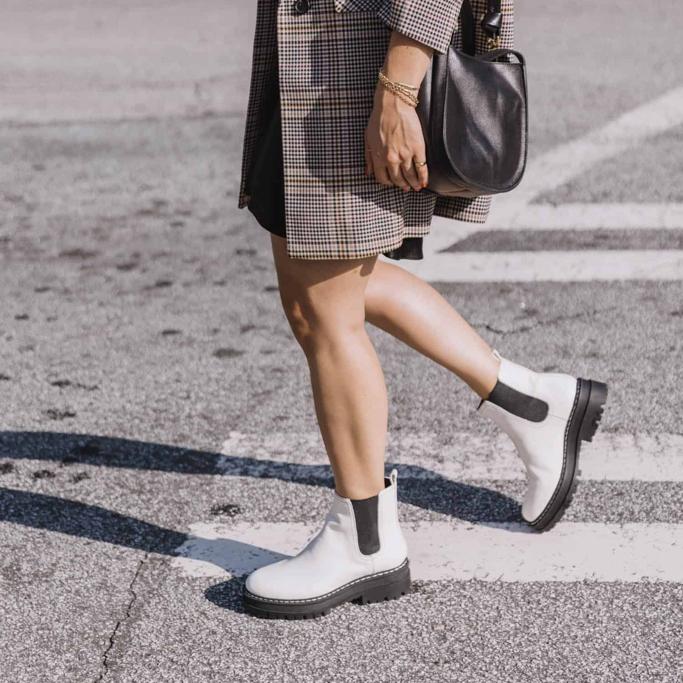 Truth be told, there's no such thing as a quintessential white boots outfit. These shoes are considered a staple in various aesthetics, ranging from Insta-baddie, hippie to minimalism.
It's important to note that white kicks are usually the statement piece of an outfit. They provide a punch to simple ensembles—whether that be an LBD or a casual pair of jeans. 
For those in need of additional information, fear not. This 'how to wear white boots' style guide will provide more outfit specs in the segments to come.
History Of White Boots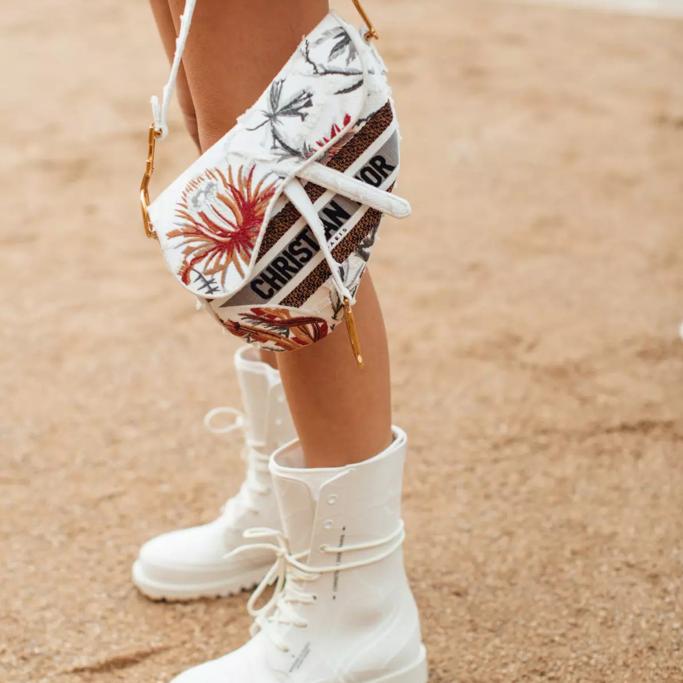 Not to be confused with the American shoe-making brand, white boots possess an obscure history. To be honest, their origin is unknown, as they're not linked to a certain company or time period.
In general, the history of boots goes all the way back to 12,000 to 15,000 BCE, as Persians and Egyptians wore a more durable form of footwear for work or military purposes. Typically made out of leather, brown and black were common hues among the common folk and the nobility. 
White boots didn't make an appearance until the '60s and '70s. Go-go dancing was a popular pastime during that era, which gave way to particular fashion trends, such as go-go boots.
Over the years, this specific shoe has undergone many style evolutions—ranging from knee-high varieties to ankle booties. 
When To Wear White Boots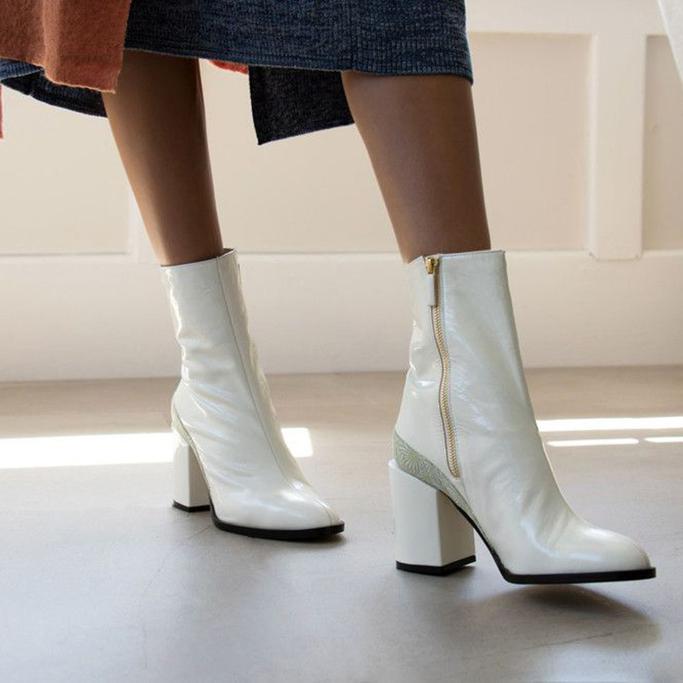 Compared to their black alternative, white boots heavily depend on the weather. Trust me, you don't want to sully your brand new Tory Burch booties during the cusp of winter. They're typically worn in dry weather to help preserve their quality and hue.
In terms of frequency, white boots are commonly worn occasionally. Intrinsic to minimalism, streetwear, and Instabaddie, this statement piece is used in several core aesthetics. 
It goes without saying that white boots are not recommended for formal occasions. Weddings, graduation ceremonies, and fancy dinners call for Oxfords and stilettos instead of Wellingtons. 
How To Wear White Boots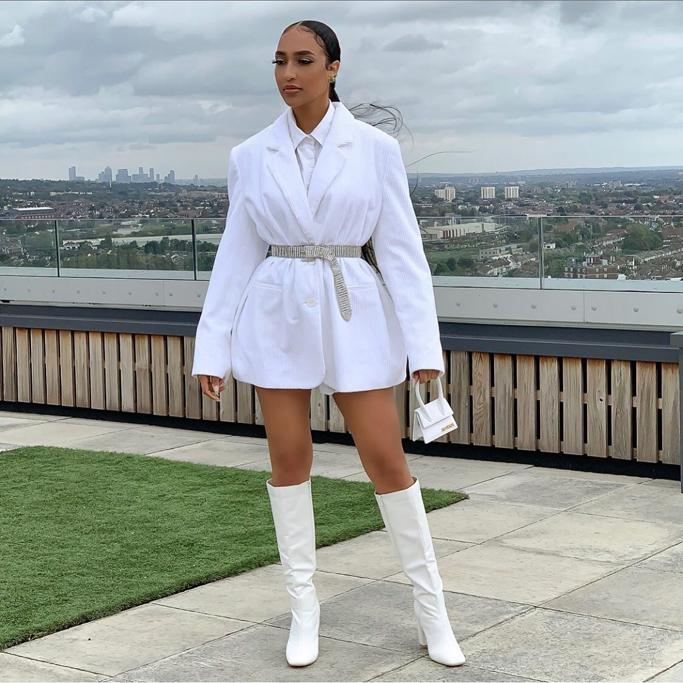 Styling white boots can be a bit tricky, especially for those more familiar with black and brown. Their bright hue requires a cohesive outfit to match, so this isn't the time to skimp on statement pieces.
For those in need of inspiration, I'll show you how to wear white boots with the help of 12 OOTD ideas. Let's get started! 
12 Outfit Ideas With White Boots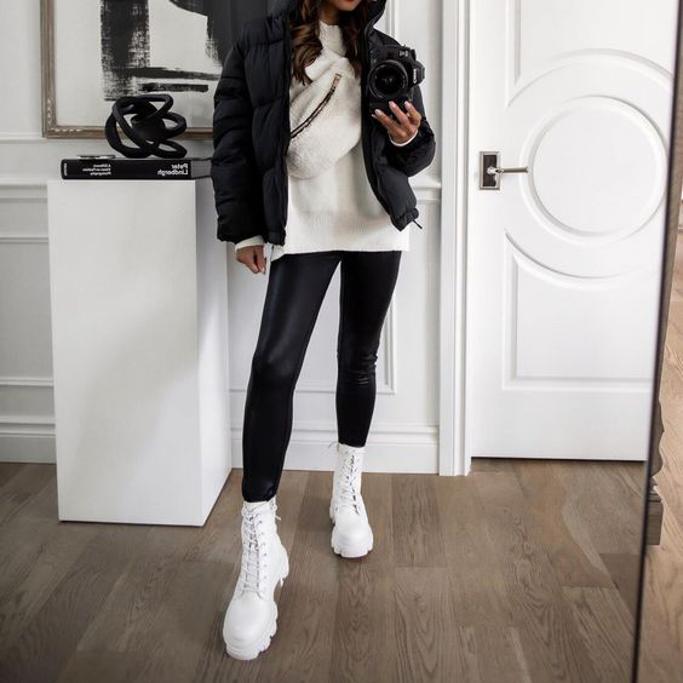 Winter isn't the most friendly season for fashion. That said, some days call for a zero chance of snow and slush—leaving you with a wardrobe full of endless possibilities. Case in point, this outfit takes full advantage of decent December weather. 
Composed of a black puffer jacket, a crewneck sweater, leggings, and a pair of white platform boots, this ensemble is ready for shopping sprees and getting coffee. The Yankees cap is a nice touch—especially for those unfond of cable-knit beanies.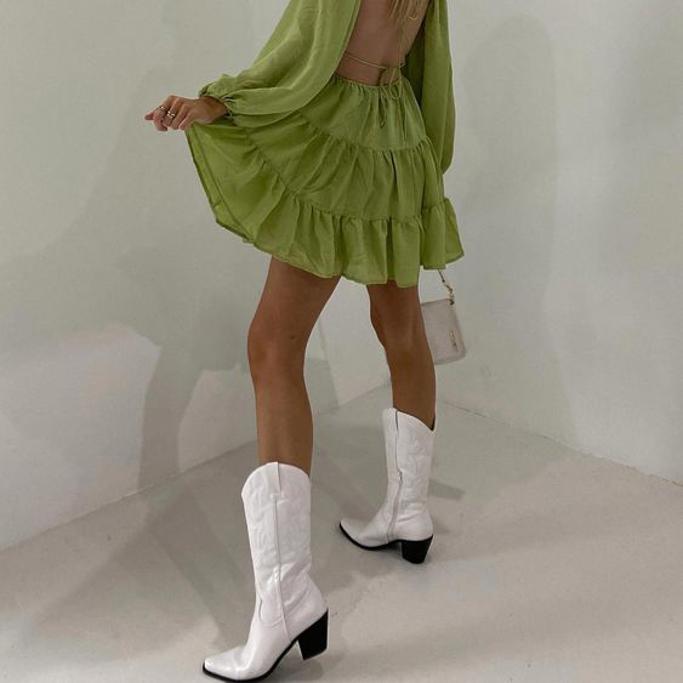 The TikTok fashion gods have spoken. This year, we're giving our full, undivided attention to cowboy boots. Considered a forgotten staple since the early 2000s, this particular boot blends surprisingly well with several outfits.
This OOTD is no exception, as it features a green tiered dress with a pair of white cowgirl boots. In terms of accessories, I suggest leaving your whip and denim vest at home. Instead, a pair of sunglasses and a cute handbag can really enhance the final fit.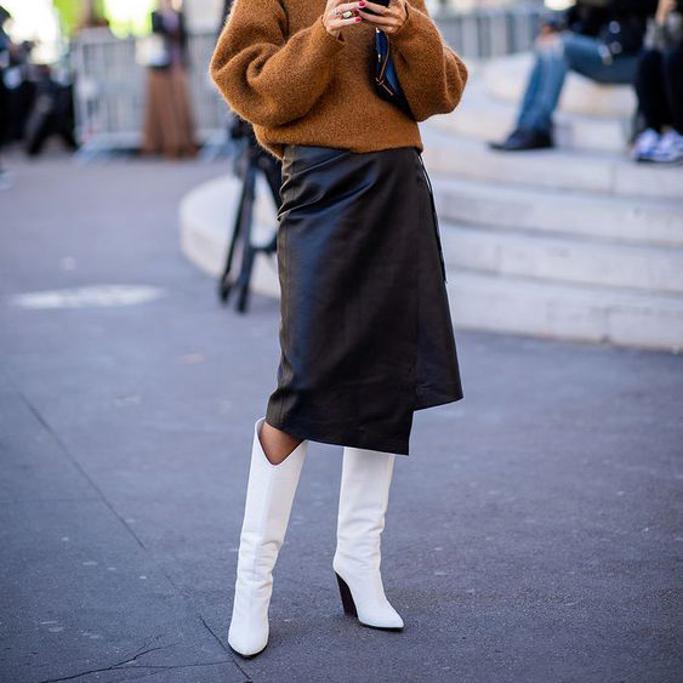 Considered a straightforward way of answering the 'how to wear white boots' query, this outfit draws strength from simplicity. The black leather skirt paired with the brown teddy sweater exude a sense of warmth and class due to their material and silhouette. 
The boots themselves help to brighten up the dark tones of the OOTD. This ensemble requires no additional accessorizing, but you can never go wrong with a classic pair of shades.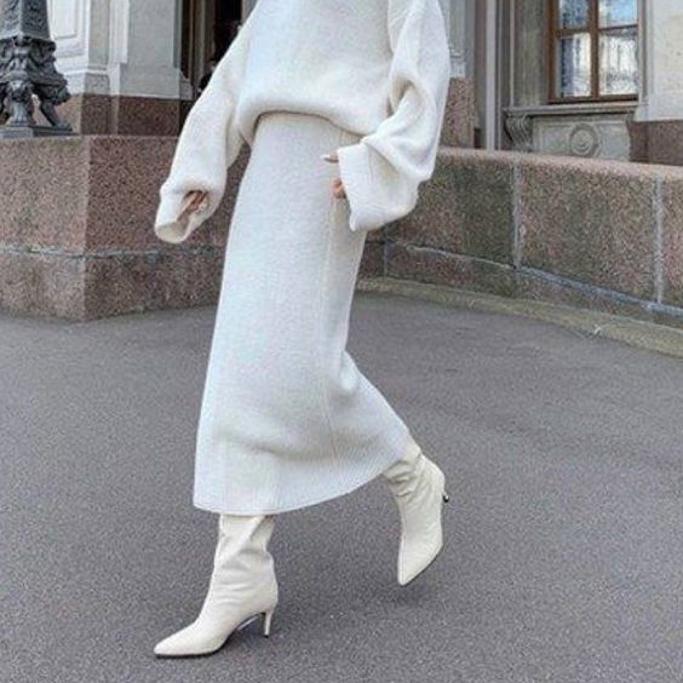 She's bold, she's chic, and she's unafraid of accidental ketchup stains. This outfit is considered one of the more daring examples in this 'how to wear white boots' list, as it features head-to-toe white. 
Composed of a slouchy sweater, a form-fitting midi skirt, and a pair of pointed-toe shoes, this classy OOTD is reserved for days when you're feeling extra. For additional style points, I recommend playing around with different shades of white—such as cream, pearl, and alabaster.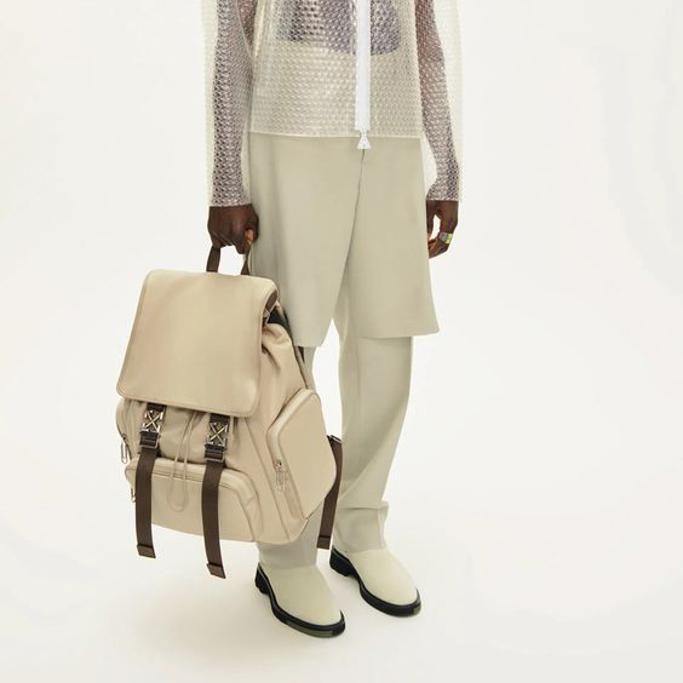 Speaking of daring OOTDs, this 'how to wear white boots' contender is definitely geared to the fashionably unafraid. The mesh zip-up, shorts, and layered pants offer a unique silhouette and will help slim down your figure. 
The white ankle boots are devoid of any bells and whistles since they feature a simple black outsole. If this look is too daring for your liking, I recommend swapping the top with a regular cream hoodie instead.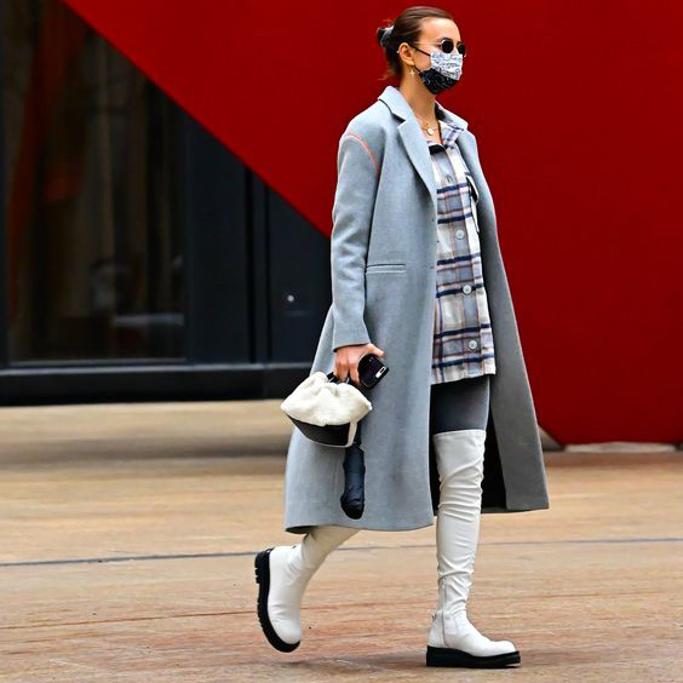 This chic outfit is what you'd call 'tough, but make it pastel.' Considered a softer take on classic grunge, this OOTD includes a baby blue trenchcoat, a flannel button-down shirt, and a pair of knee-high platform white boots.
Accessorized with a matching handbag and a facemask, it's the type of look that screams 'hipster coffee date at 1:00 and fashion editorial meeting at 2:00.' If you're in the midst of winter, I suggest layering up with socks and leggings underneath.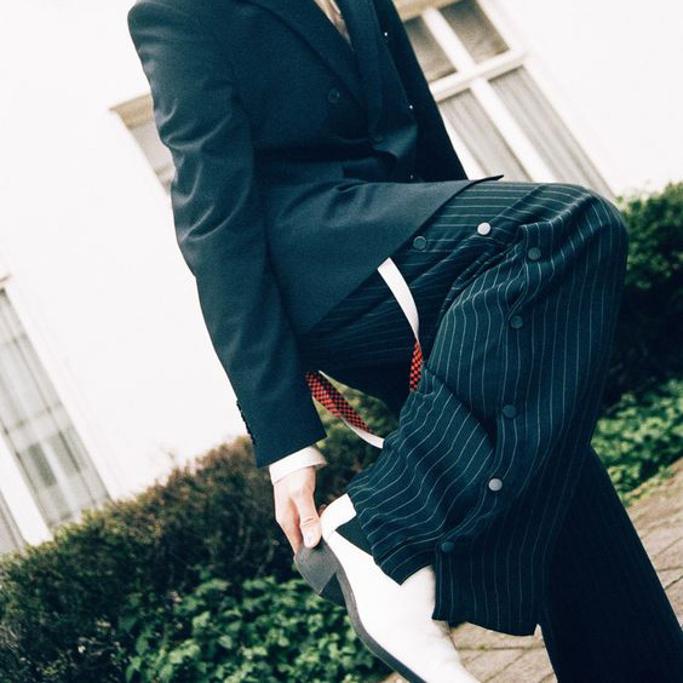 Fancy in fit, this OOTD is perfect for formal dinners, networking parties, or days when you're feeling especially extra.
The black blazer paired with the pinstripe pants has a vintage feel—especially compared to the modern tuxedo. Plus, the unbuttoned collared shirt helps to keep the outfit casual. 
Instead of opting for Oxfords, this model chose to finish their fit with white boots instead. Not only do these shoes pair with the top, but they also brighten up the look.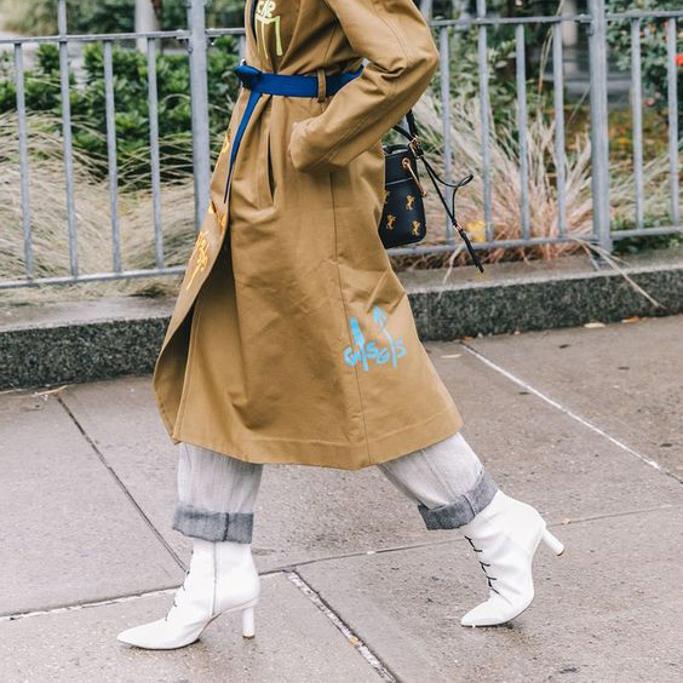 Let me guess…you're wondering how to wear white boots during the colder months. While most opt for UGGs and Chelseas in the midst of slush, I recommend a pair of stiletto booties—in the event you're blessed with decent weather, of course. 
The rest of the outfit features a brown trenchcoat, a bright blue belt, and some cuffed jeans to help complement the shoes. This ensemble is giving me art student vibes (if they happen to minor in fashion).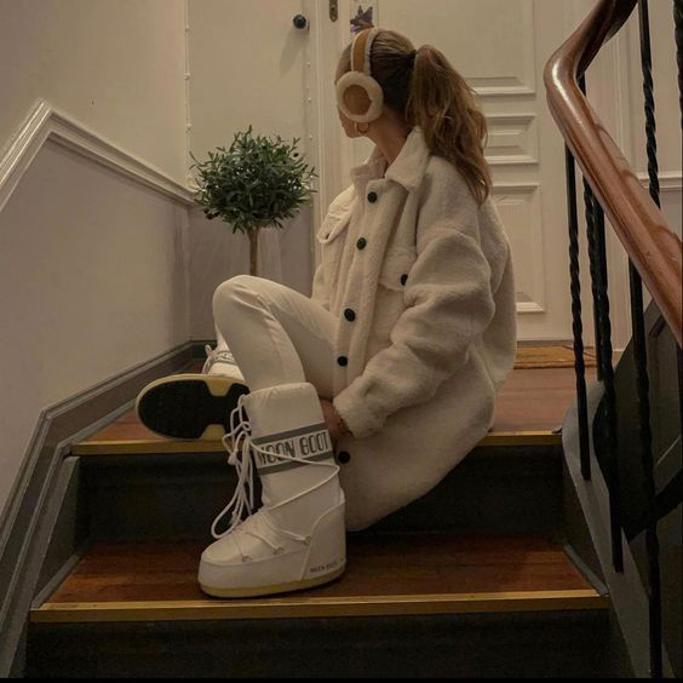 It's probably a bad idea to wear white on a ski trip, but regardless, this outfit scores full points when it comes to style and cohesiveness.
Comprised of a teddy coat, alabaster jeans, and a pair of white Moon Boots, I recommend donning this ensemble for hot chocolate dates instead of snow surfing. 
The mufflers help add a layer of coziness to the entire fit as opposed to a beanie. If you're in need of additional layers, you can never go wrong with a classic blanket scarf.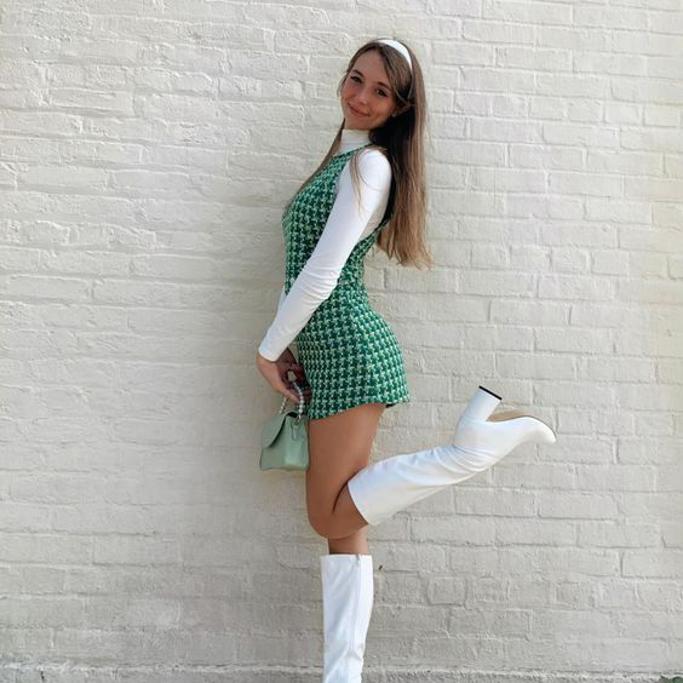 Retro in aesthetic, this 'how to wear white boots' contender pays homage to the fashion trends of the 1960s. It features a houndstooth mini dress, a long-sleeve turtleneck, and a pair of white go-go boots to match. 
The headband and clutch are both a nice touch, as they help complete the final look. If you really want to exude those vintage hippie vibes, I recommend styling your hair to achieve a bombshell blowout.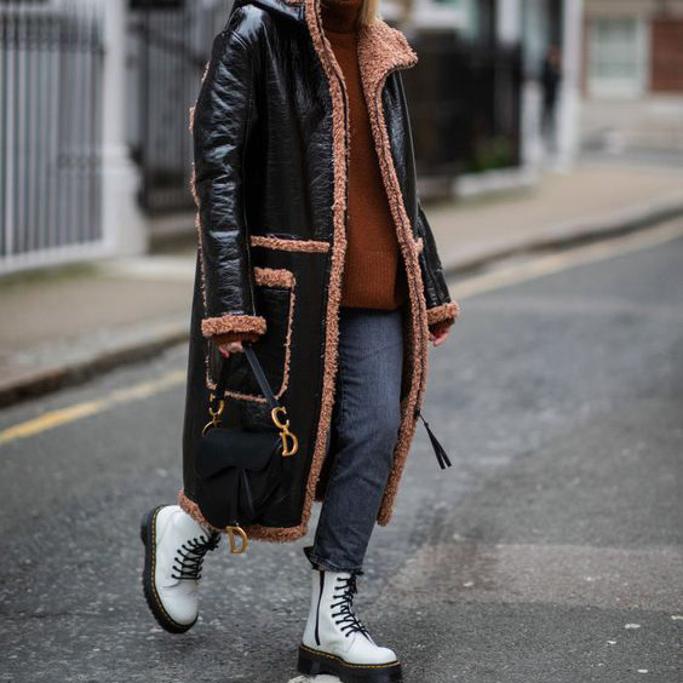 Arguably, one of the most popular white combat boots on the market are Doc Martens. Iconized for their tough aesthetic, I thought it best to include at least one example on this list.
This OOTD is composed of a black teddy trenchcoat, a brown turtleneck, jeans, and of course, a pair of platform DMs. 
Edgy in attitude, it's the perfect go-to for days when pastel colors don't reflect your mood. For accessories, this 'how to wear white boots' guide suggests sunglasses and gold-toned jewelry to match.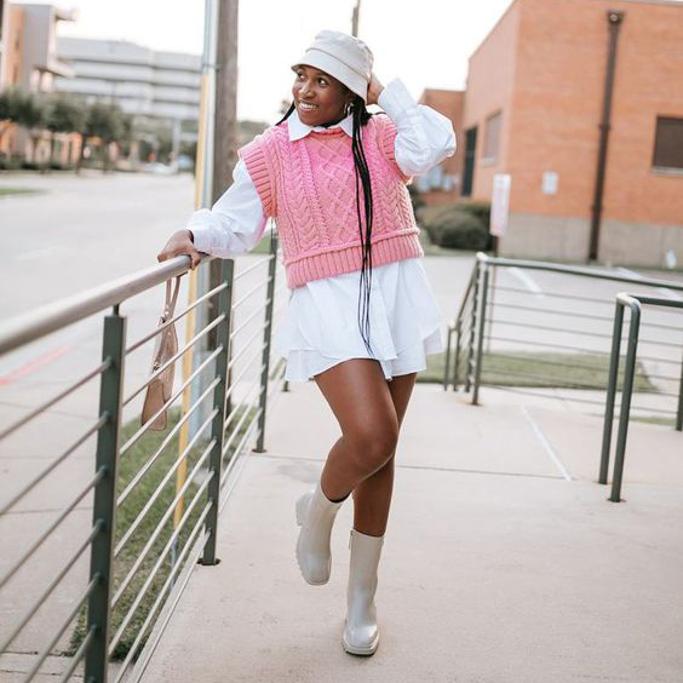 Rainy days call for gloomy outfits, right? Contrary to popular belief, you can still wear your fashionable fit in dreary weather. Instead of opting for your usual pair of Hunters, the Betty Rain Boots by Chloé can help put more pep in your step.
Exaggerated in shape, these beauties feature a block heel and added traction for additional support. For the rest of the outfit, a pink sweater vest and a white button-down shirt dress can help complement the final look.
What Type Of White Boots Outfits Can You Get?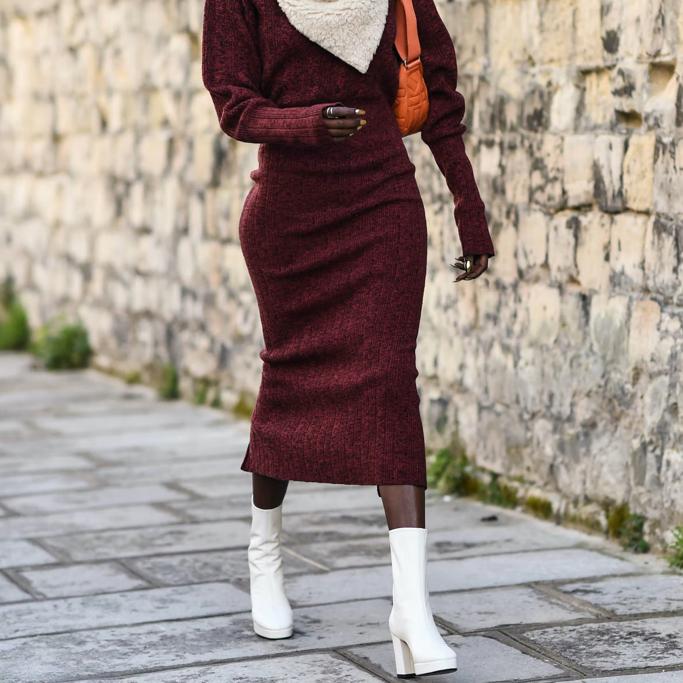 Based on the 12 outfits I've featured, I think it's fair to define white boots as the 'pièce de résistance' of any ensemble.
That said, their stark hue and silhouette may overwhelm some novice trendsetters. If you're looking to simplify wardrobe coordination, this 'how to wear white boots' guide will provide a short list of popular OOTDs worth considering. 
Mini dress and knee-highs: Considered a favorite of Ariana Grande, this look does wonders by accentuating your legs. I suggest playing around with different dresses—including body-con, pronounced tulle, or the classic oversized shirt silhouette.
Jeans and ankle boots: Simple in style, this look is regarded as a go-to for those who can't be bothered.
Faux formal boots: Some of the outfits I've featured pair white boots with fancy garments, such as tuxedo pants. Wearing uncuffed bottoms can disguise the overall look of boots, which gives the illusion of oxfords instead.
The all-white fit: If you're really looking to dazzle, all-white is definitely the way forward. I highly recommend playing around with different shades of white to help break the monotony of this color.
How To Choose The Best White Boots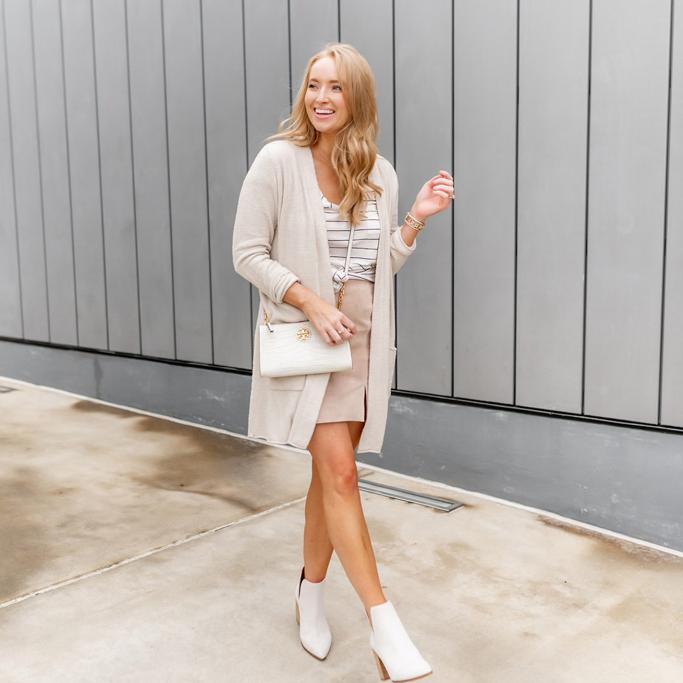 It's no secret that white boots require some routine TLC. Obviously, most of us aren't fond of occasional cleanups, which is why we often resort to the trendiest designs as additional motivation.
Those Salvatore Ferragamo kicks would benefit from care and consideration. Plus, you don't want to see your $800 go right down the drain. For those out shopping for their forever pair, I'll share some pointers that are worth keeping in mind.
The material plays a significant role in the shoe's longevity. Rubber, genuine leather, suede, and goose-down insulation are known for their durability, so you don't have to worry about buying a new pair next season. 
Fabric thickness can help increase the lifespan of your boots—especially since they have a small tendency to get wet. Additionally, you should pay attention to the overall construction of any footwear. Stitching, zippers, buttons, laces, and other components determine the practicality of your chosen pair. 
The design also plays a pivotal part in the decision-making process. At the end of the day, you should settle for a pair that aligns with your current aesthetic. Not only will this encourage continued use, but it will also help minimize outfit confusion. 
Oh, and to help clear any misunderstandings, I'm not recommending minimalism for the masses. While it's definitely a super versatile aesthetic, you should be free to experiment with other looks such as Insta-baddie and streetwear.
The price will depend on your final choice. Obviously, white boots that are made out of high-quality materials will typically come with a higher price tag. I recommend setting a personal budget before you shop, as this will help prevent overspending.
How To Style White Boots Outfits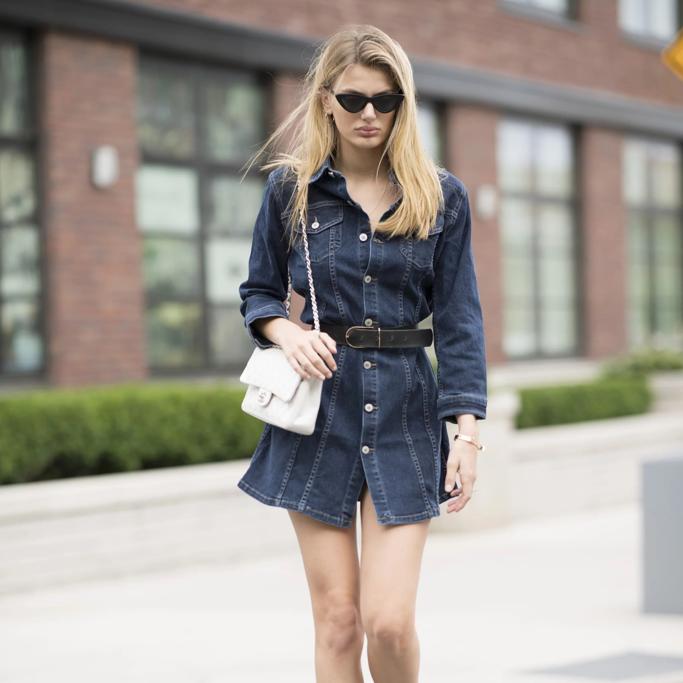 Given the purpose of this article, I think it's safe to say that styling white boots is no walk in the park. They're a statement piece that requires an equally fashionable OOTD to match.
For those in need of additional inspiration, this 'how to wear white boots' guide will provide some tips for trendsetters to consider.
Cuff your jeans: White ankle boots are best worn with pants. If you intend to show off the full extent of your Doc Martens, I recommend cuffing your bottoms as a neat styling tip.
White + White = what a sight: Fashion relies on outfit coordination. So, it's only fitting to pair your white boots with another matching garment. This could be a sweater, a hat, or a handbag.
Silver or gold jewelry: Metal accents are known to complement stark shades such as white. You can either opt for earrings, necklaces, bracelets, or anklets if you're feeling especially extra.
Fashion Tips To Avoid With White Boots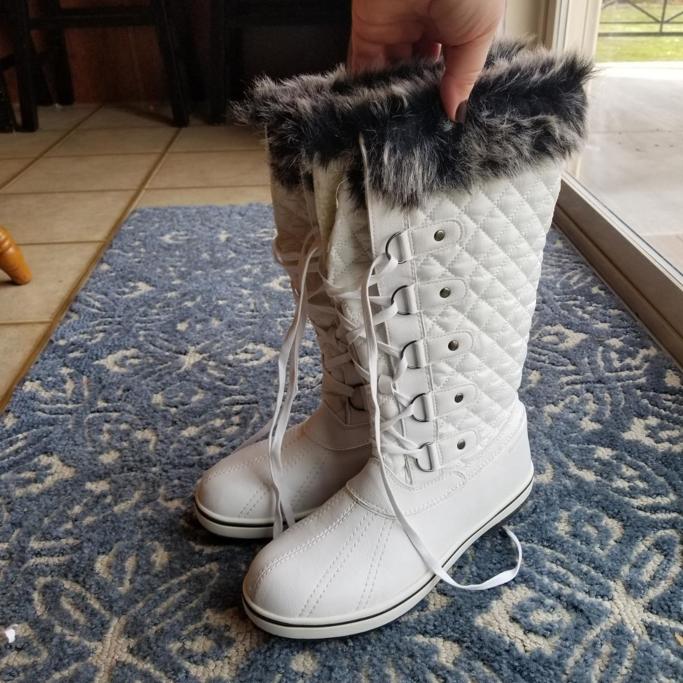 White boots are definitely considered the make-or-break item of any outfit. Their loud nature is enough to disrupt simplicity, even if you're dressed in casual wear. To help you put together your final fit, I'll discuss a few fashion tips to avoid.
The mismatched outfit: It's natural to pair your jeans, hoodie, and tee with a regular set of sneakers. I don't recommend finessing your final look with white boots, as they can look bizarre when paired with everyday clothing.
Neon yellow: Yellow and white are a quintessential color duo in the fashion world. That said, these bright shades scream mid-2000s Party Rock rave.
Peek-a-boo socks: If your socks happen to rest above your ankle boots, it's time to find a different pair.
Beige boots: White boots aren't white anymore if they're sullied with dirt and grime. So take this as an opportunity to conduct some TLC on your worn-out pair.
How To Take Care Of White Boots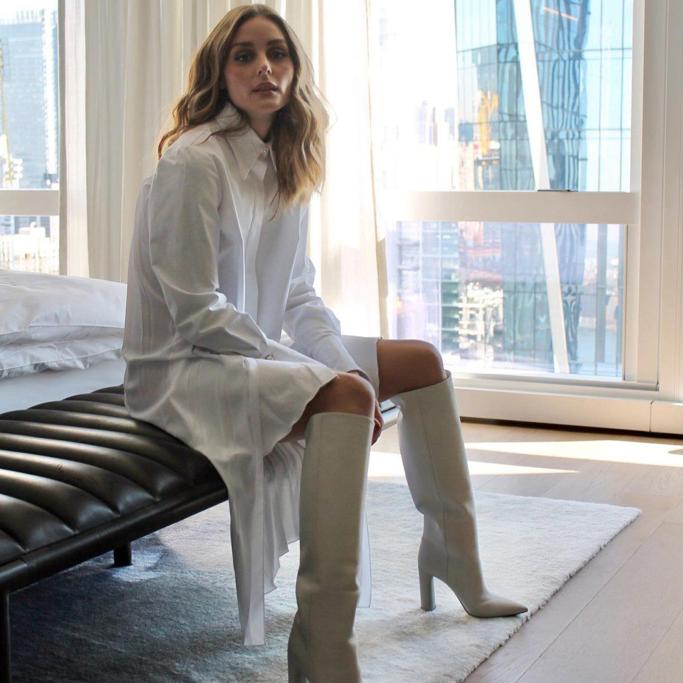 Before I end this 'how to wear white boots' guide, I thought it best to share some tips regarding care. This particular style of footwear requires some routine cleanup unless you don't mind the look of dirty beige. Without further ado, here's some advice to take note of.
Eliminate surface-level debris with a microfiber cloth or a brush
Use a dampened rag to scrub off any stains and grime
Polish with conditioner (if the boots are made out of leather or suede)
Store them in a dry and dark place to prevent shrinking
Best Places To Buy White Boots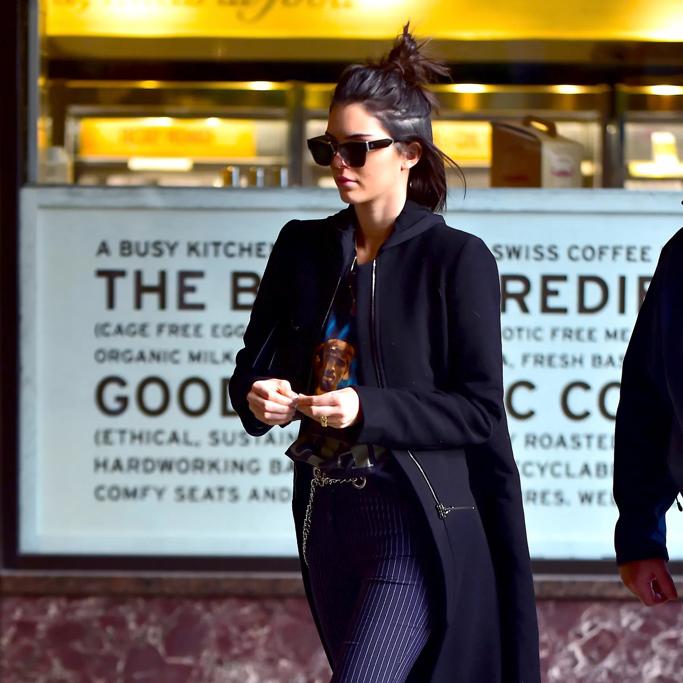 By now, you probably know how to wear white boots. That said, outfit coordination isn't possible without buying your kicks first. So, here are some recommended shops that offer a great selection of trendy designs to choose from. 
Doc Martens 
Chloé 
Moon Boot 
Nordstrom 
Farfetch
Final Thoughts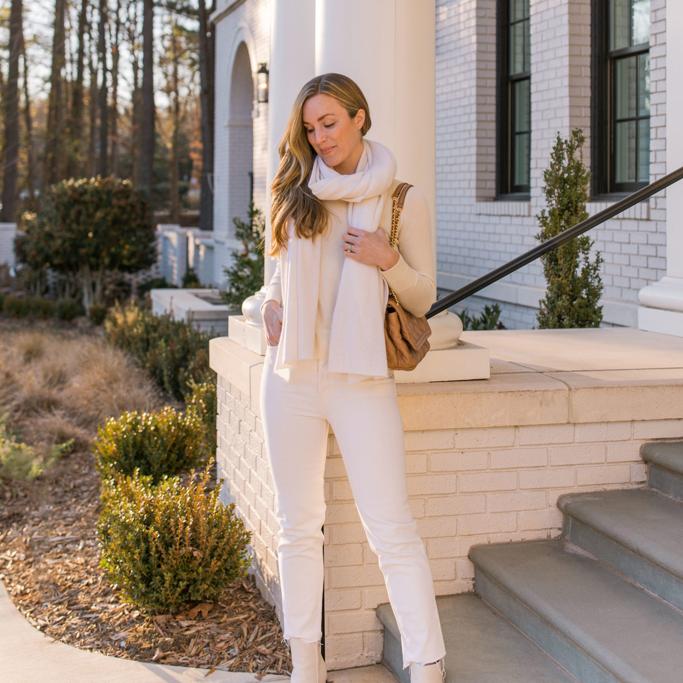 To those who own a pair, white boots often entail some excitement and worry. Statement pieces are notoriously hard to wear—especially if you're in the process of finding your personal style.
To add more salt to the wound, these particular shoes are known to get quite dirty, which leaves you with limited opportunities to show them off. 
Nevertheless, white boots continue to be a staple in the modern-day wardrobe. Regarded as a quick way to elevate any outfit, these kicks come in a variety of different designs and silhouettes. 
While it may seem scary to style them, all you really need is a level of confidence to pull them off. Here's to hoping that you know how to wear white boots, given the number of trendy outfits I've provided. 
---
Looking to up your fashion game? We've got you covered:
Get Access to Exclusive Deals
Subscribe for free to get exclusive deals in your inbox. 100% privacy