How To Wear An Eternity Ring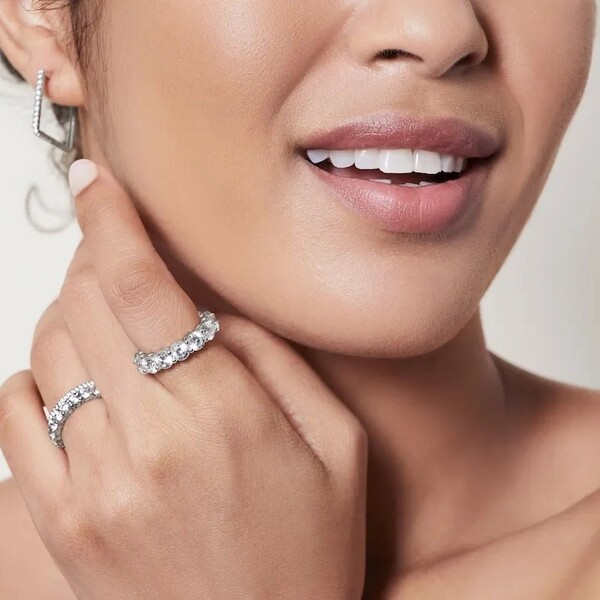 Promises are best expressed through a $3,000+ investment. You may think I'm joking, but expensive splurges can be a sign of long-lasting commitment.
This is probably why we've kept the tradition of engagement and wedding rings for so long. If you're on the hunt for the perfect design, eternity rings are as romantic as they come. 
For those lucky enough to have received (or given) a "yes," congratulations! That expensive splurge may have influenced that coveted 'I do.' Regardless, you're well on your way to a happy marriage—which may leave you wondering how to wear an eternity ring. 
Engagement jewelry can be worn outside the wedding, and in reality, it can be styled with several outfits. But for those looking to amp up their fashion game, I'm here to supply some much-needed inspo.
This 'how to wear an eternity ring' style guide will feature 14 different outfits worth considering. Plus, I'll touch upon a few related topics, such as:
Popular eternity ring designs
Core aesthetics that work well with an eternity band
A diamond eternity band look
An emerald eternity band look
What Is An Eternity Ring?
Not to be confused with the infinity symbol, the eternity ring is a band that features a series of never-ending gemstones. It's thought to signify eternal love and commitment. 
Often used as an engagement ring, this sentimental jewelry piece comes in a wide variety of designs. From diamonds to rose gold, customers can find a vast selection of eternity rings with various gemstones set in different precious metals.
History Of Eternity Rings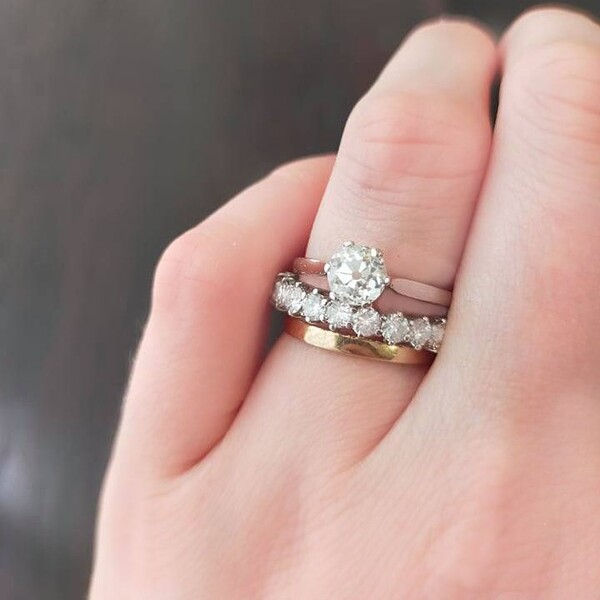 Given their name, you'd think that eternity rings have been around since the dawn of time. Your guess wouldn't be far off, considering that their history dates back 4,000 years ago.
The ancient Egyptians designed the first prototypes. According to them, the eternity ring was simply a token of never-ending love and life. Experts believe that they took heavy inspiration from the ouroboros, which is an image of a snake eating its own tail. This symbol is meant to represent wholeness. 
Eternity rings weren't affiliated with marriage yet, at least not until the 19th century. De Beers, a well-known jewelry company of the time, pushed a famous slogan related to the eternity ring: "She married you for richer or for poorer. Let her know how it's going." 
Today, eternity rings continue to be a hot best-seller in the engagement ring business. Jewelers have come up with more complicated designs and experimented with different gemstones and precious metals over the years. Thankfully, the meaning of the ring itself has stayed relatively the same.
When To Wear Eternity Rings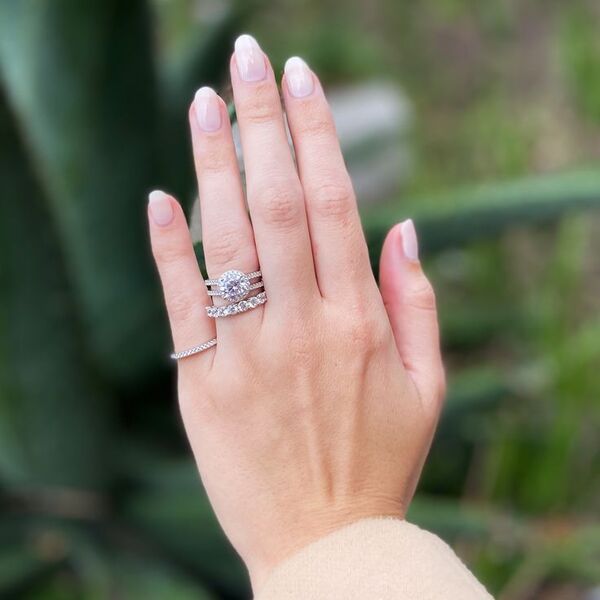 Obviously, eternity rings are best worn during the 'wedding stage.' This includes bachelorette/bachelor parties, engagement festivities, bridal showers, farewell brunches, and of course, the actual marriage ceremony. 
But for those who clicked on this article looking for non-nuptial-related inspo, eternity rings can also be worn after the honeymoon. Often worn as everyday jewelry, they're not associated with certain dress senses or core aesthetics.
How To Wear An Eternity Ring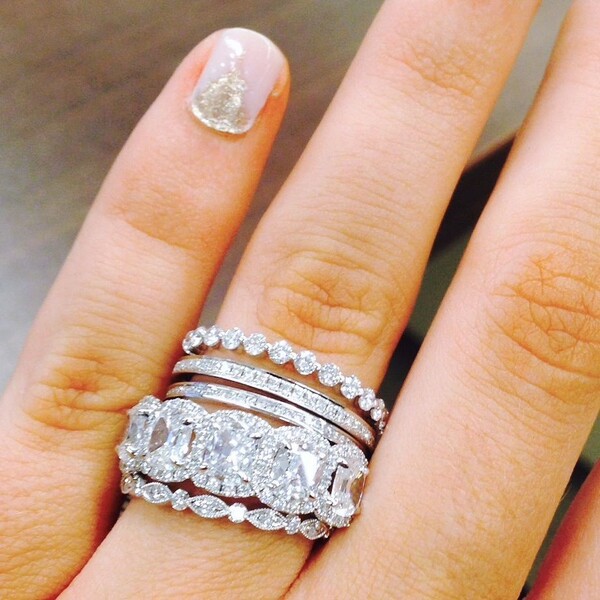 I've covered the whys, whats, and whens related to the eternity ring. Now it's time to share some outfit inspo. Again, you can rest assured that this jewelry piece can be worn with several ensembles.
With that in mind, I thought it best to include OOTDs that can benefit from an eternity ring, which is why some of the looks I've featured are devoid of this ring. 
From casual Friday looks to more sophisticated ensembles, I'll teach you how to wear an eternity ring using 14 ensembles.
14 Outfit Ideas With Eternity Rings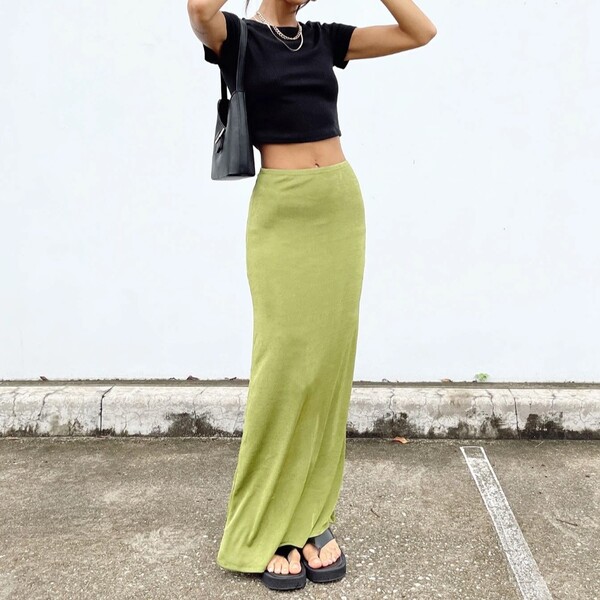 Slightly emblematic of classic Y2K fashion, this causal OOTD keeps things cool and safe for everyday wear. If anything, it allows you to flex your eternity ring, as this look is desperate for some glam. 
Composed of a green midi skirt, a black crop top, sandals, and a series of stacked necklaces, this 'how to wear an eternity ring' contender acts as the perfect base for additional accessorizing. I highly recommend adding a cute handbag to help complete the entire ensemble.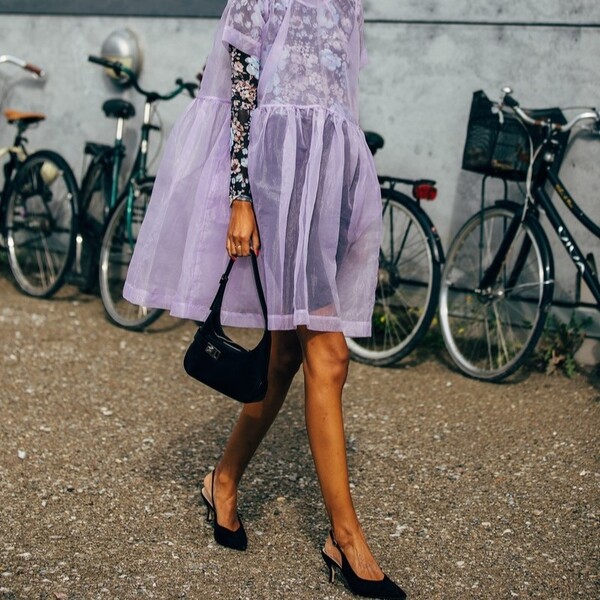 Eternity rings are romantic before they are a flex. With that in mind, donning your best fairytale ensemble is often recommended. This dreamy contender is no exception, as it features a tulle babydoll dress, a black floral turtleneck, and a pair of matching kitten heels. 
Designed to look flirty, fun, and playful, it's a unique way to show off your engagement band. In terms of additional accessories, this 'how to wear an eternity ring' guide suggests wearing some vintage sunglasses.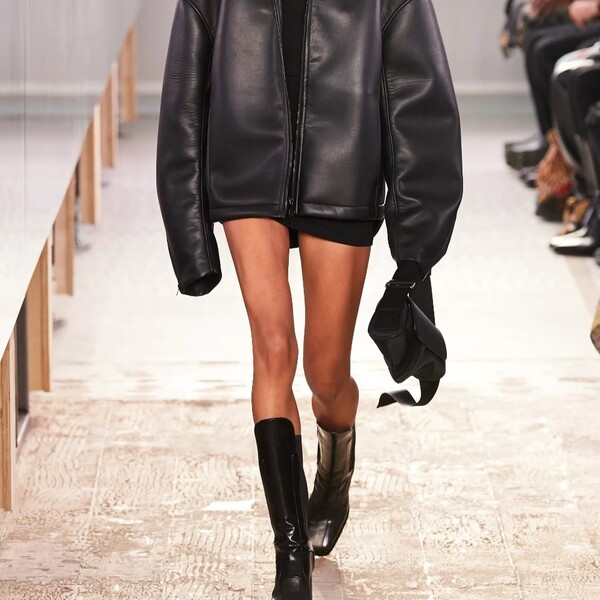 Black is considered the perfect base for loud jewelry. Case in point, this runway look from the Trussardi Fall 2022 collection is definitely something worth considering. 
The structured shape of the leather jacket paired with the hoodie dress is slightly reminiscent of the women's power suit, which was popular in the 1980s.
Finished off with matching boots, this biker girl-esque OOTD screams 'just got married' while riding off into the sunset on a Harley Davidson.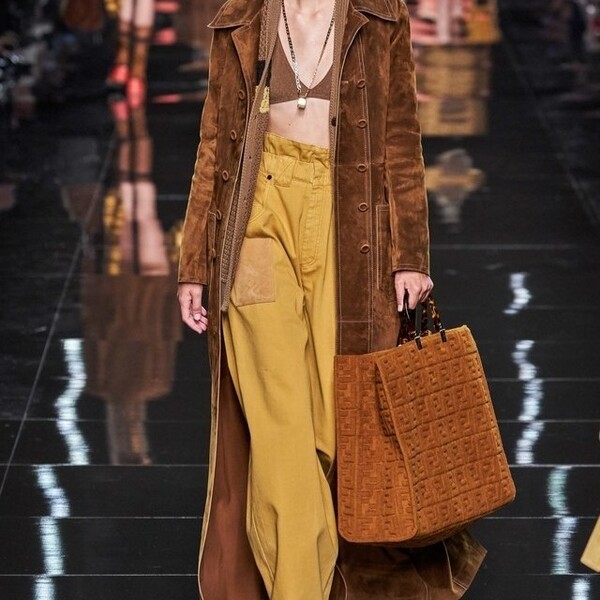 Aside from their resurgence in the late 19th century, eternity rings were also considered the peak of engagement jewelry during the 1960s. While it may seem like a stretch to wear a hippie-inspired look to match your band, I'm not here to judge. 
For those in the mood to don something a bit extra, this outfit goes balls to the walls. Composed of yellow cargo pants, a brown bralette, a suede duster coat, and a Fendi handbag, it has a punch of '60s finesse but with a modern flair.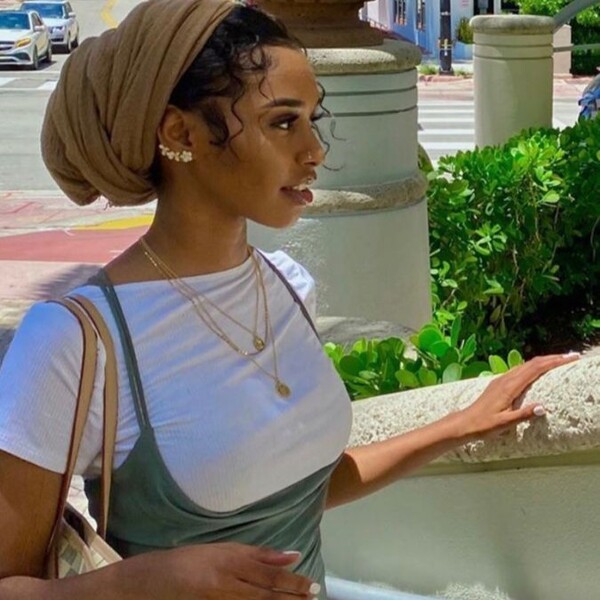 Cottagecore goes intrinsically well with sentimental jewelry. If you're looking to channel your inner prairie girl, this 'how to wear an eternity ring' contender will not disappoint. 
Featuring a white crop top, a sage green dress, a brown hair wrap, and a Louis Vuitton handbag as an added flex, this beauty calls for gold-toned jewelry to help match its warm vibes. For shoes, you can never go wrong with kitten heels or a pair of Air Force 1s.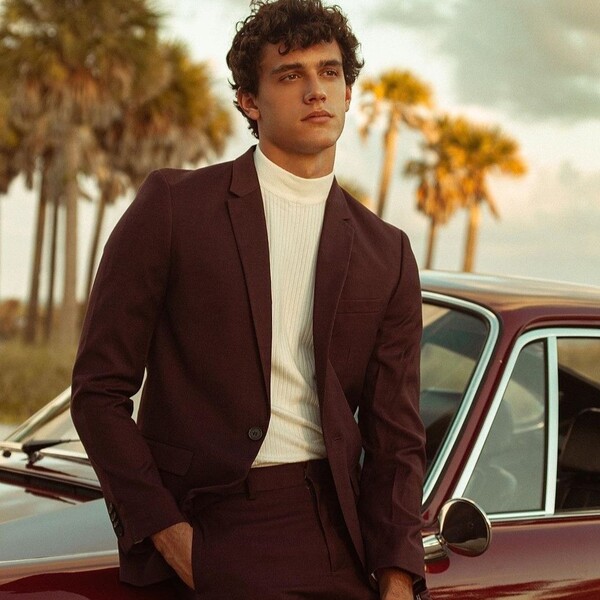 Is Jack Harlow the type to like eternity rings? If so, I'd imagine his engagement photoshoot outfit to look something like this. Comprised of a brown blazer, matching trousers, and a white mock neck tee, this clean OOTD is a refreshing alternative to stiff collared button-ups. 
It provides wearers with ample opportunity to sport their pre-nuptial jewelry, as this ensemble is quite plain in design. To top the look off, this 'how to wear an eternity ring' guide suggests a casual pair of oxfords.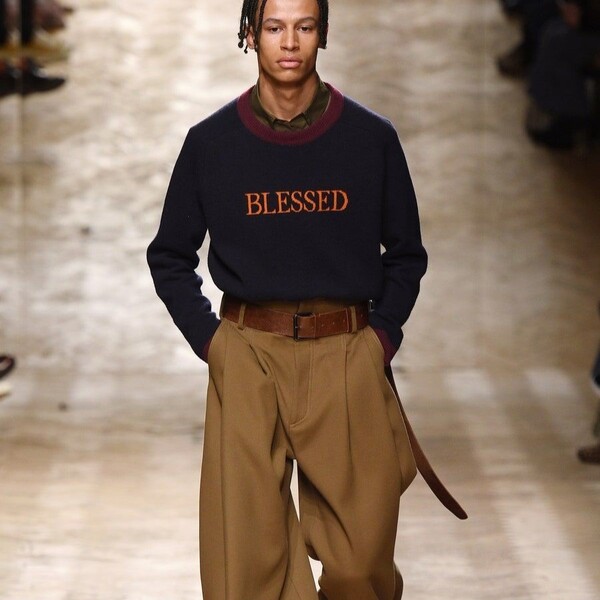 Nothing screams post–nuptial gratitude more than a 'blessed' tee. Complemented with loose brown trousers, a leather belt, and a pair of white sneakers, it's giving 'casual Sunday spent in a '70s suburban home' kind of vibes. 
Since this OOTD plays around with dark neutral tones, adding a hint of jewelry can do wonders by elevating the entire look. If you really want to exude those late hippie vibes, this 'how to wear an eternity ring' guide recommends wearing a pair of oversized reading glasses.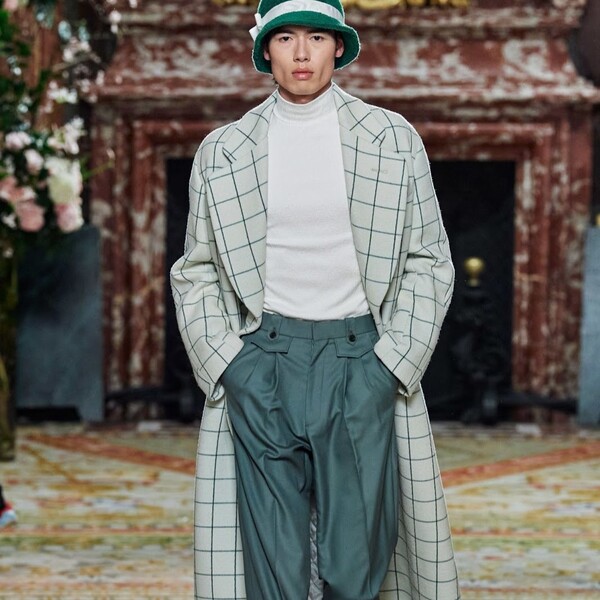 Clean in design, this OOTD practically screams 'freshly married.' This 'how to wear an eternity ring' contender features a grid-line trenchcoat, a white turtleneck, turquoise pants, sneakers, and a green bucket hat for some added spice. 
With its cold hues, this outfit will pair beautifully with sterling silver and diamond jewelry. I don't recommend wearing additional accessories, as this runway look draws strength from simplicity.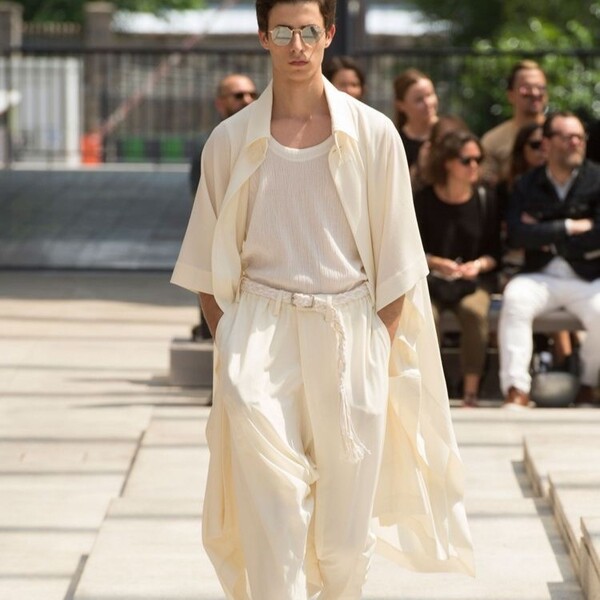 Speaking of simplicity, minimalist enthusiasts will absolutely adore this all-white fit. This model is shown wearing a collared kimono, a relaxed tee, cream trousers, and a pair of matching sneakers. If anything, it's considered a more casual version of the formal reception tuxedo.
This OOTD is perfect for a beach-themed wedding, given its subtle boho vibe. Best accessorized with an engagement ring and wedding band, this 'how to wear an eternity ring' contender strikes the perfect balance between sophisticated and casual.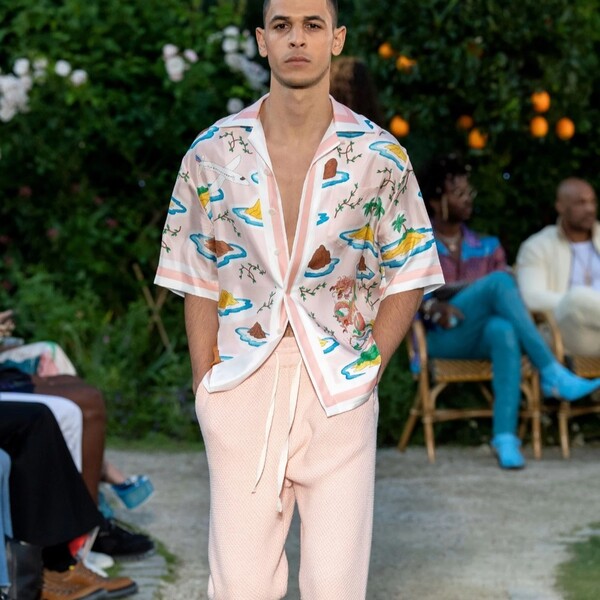 If your honeymoon involves a tropical destination, this exotic number can definitely put you in the right mood.
Outfitted with a printed silk button-up shirt, pink drawstring pants, and a pair of black loafers, it's the kind of OOTD that rich, newly-married trendsetters wear to a five-star resort. Be ready to sip some fruity margaritas and fresh coconuts in this ensemble. 
Sophisticated in fit, this elegant ensemble plays around with prints and different textures. It features a houndstooth trenchcoat, a plaid button-up shirt, and a pair of gray tweed trousers. 
Complemented with white socks and black oxfords, it's the kind of look that screams 'fun, young, and married.' If anything, I highly recommend donning this OOTD during your London-based honeymoon. Be sure to take lots of polaroid Instagram pics!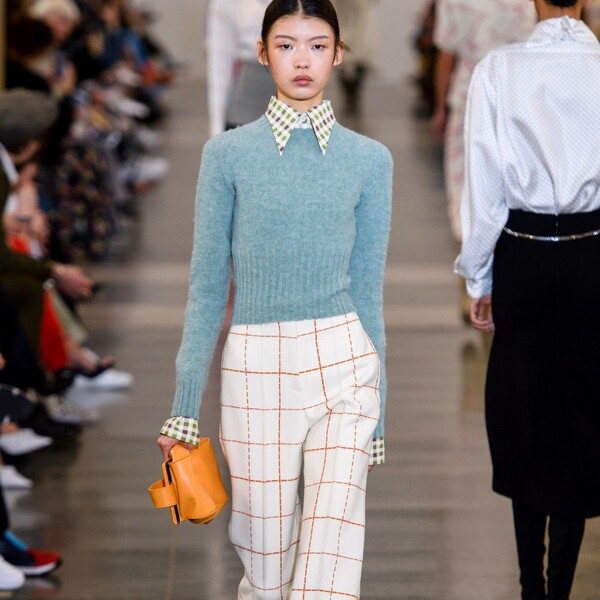 An eternity ring will go perfectly with this precious outfit. Instead of houndstooth, this Victoria Beckham runway look features a baby blue sweater and a collared shirt underneath. Plus, it also plays around with plaid. 
It's a great OOTD to consider for farewell brunches, post-honeymoon bridesmaids parties, or even wedding dress appointments. For accessories, I recommend a bright orange clutch for a pop of color.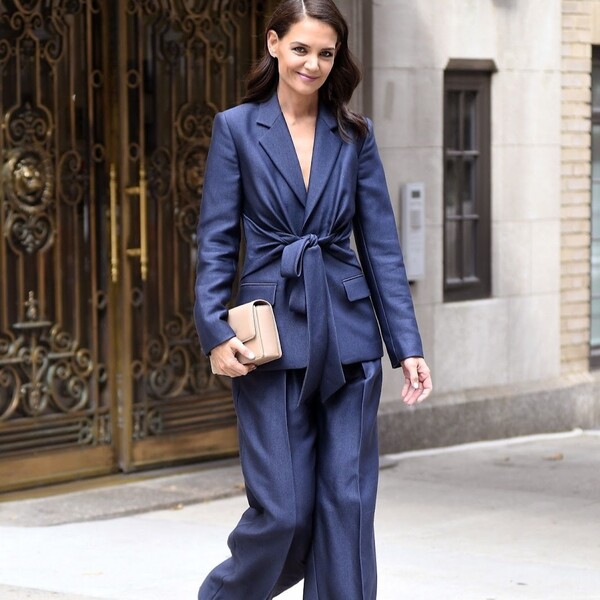 You can never go wrong with a cute pantsuit. Considered the ideal OOTD for bridesmaids' festivities and reception parties, this semi-formal ensemble keeps things sophisticated but casual for future wedding events. 
The royal blue blazer paired with the loose trousers exude a sense of regality, which is often preferred for Cinderella-themed ceremonies. Preferably accessorized with a diamond eternity band, this is the kind of look that screams, "I'm ready to exchange vows."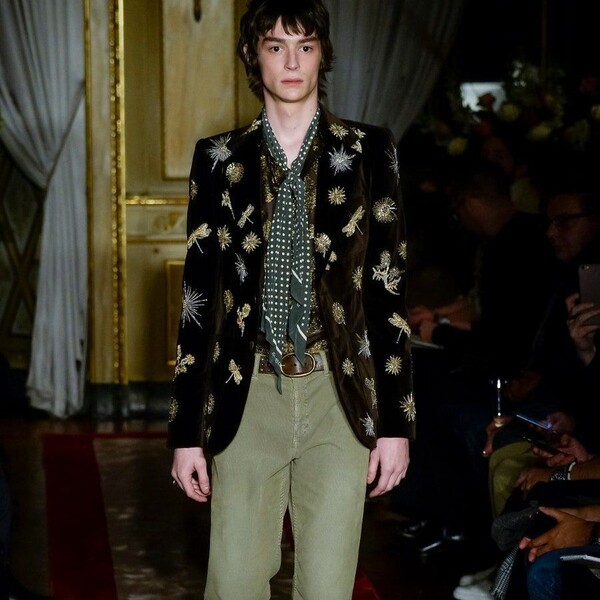 Featuring an embellished black blazer, a printed top, and a pair of green trousers, this bold outfit exudes a level of royalty due to its overall design.
If you want to express a sense of self-importance, this is definitely the ensemble to opt for. An eternity ring is considered a necessary accessory, as it helps balance out the striking tones of the look. 
What Type Of Eternity Rings Can You Get?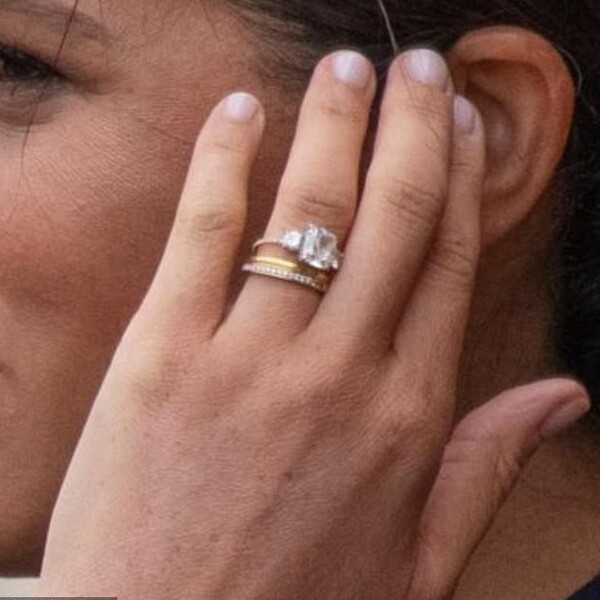 Those ready to propose will often find themselves overwhelmed with the engagement jewelry on the market. The marriage business is anything but limited, as today, we're practically spoiled with thousands of designs.
In terms of eternity rings, I thought it best to discuss a few popular contenders that are worth considering. 
The OG eternity band: Typically offered in gold or sterling silver, this engagement band features a traditional set of diamonds throughout.
The show-off: Often bedazzled with sapphires, emeralds, and other non-traditional gemstones, this is the type of eternity band for women that's designed as a flex.
Consider the cut: This category isn't a style, but it's definitely something worth keeping in mind. Gemstones come in a variety of different shapes, ranging from princess to marquise.
The no-band approach: If you prefer something more 'simple,' some wearers opt for just a series of diamonds.
How To Choose The Best Eternity Rings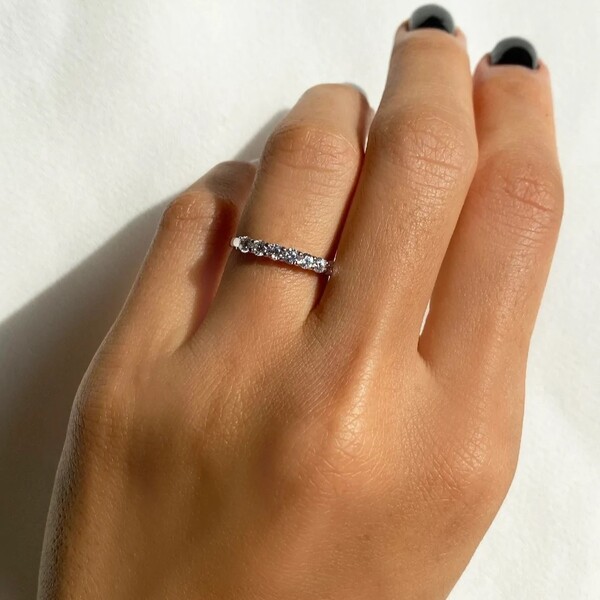 Engagement rings are a life-long investment. With that in mind, it's absolutely crucial to give factors like design, material, price, and quality some forethought.
Those new to the wedding industry may feel overwhelmed with too many options, but there's a way to simplify the vetting process. 
Consulting with your partner (with extreme subtlety) is typically recommended. After all, there's nothing more disappointing than getting the opposite of what your lover prefers. 
Eternity bands come in a range of different precious metals, gemstones, cuts, and carats. The design itself is quite simple, as you don't have to concern yourself over infinity bands or three-stone designs. 
I highly recommend visiting a jewelry store instead of online shopping. That way, you can easily authenticate the style and quality of the ring itself.
Un-reputable retailers will do their best to fool you into buying high-quality gemstones when in reality, they substitute diamonds for zirconium. While e-commerce is considered more convenient, dealing with shipping and returns could be a hassle.
Price is heavily dependent on your personal budget. According to The Knot, the average engagement ring costs somewhere around $5,900.
Of course, factors like design and quality play a big role, especially in terms of the final price. You can rest assured that most reputable brands offer financing and warranties as an added safety net. 
How To Style Eternity Rings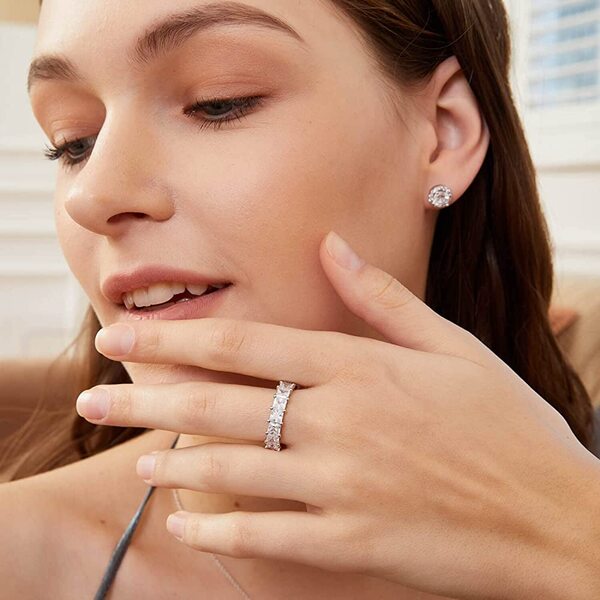 You don't need to be an experienced trendsetter to style eternity rings. As previously mentioned, this jewelry piece can be paired with several different outfits.
That said, I totally understand if you require some OOTD inspo. So, here are a few tips and tricks on how to style your engagement band. 
Minimalism: This core aesthetic acts as the perfect base for accessorizing. If you're looking to exude a level of sophistication, try wearing a monochromatic outfit.
Matching jewelry: Silver goes with silver, and gold goes with gold. It's a simple way of bringing together an otherwise loud outfit.
Painted nails: There's a reason why people visit nail salons on the day of the supposed engagement. I suggest opting for neutral hues to help let the ring shine through.
The wedding band: Considered tradition after the marriage ceremony, this double-ring look lets the public know that you're officially off the market.
Fashion Tips To Avoid With Eternity Rings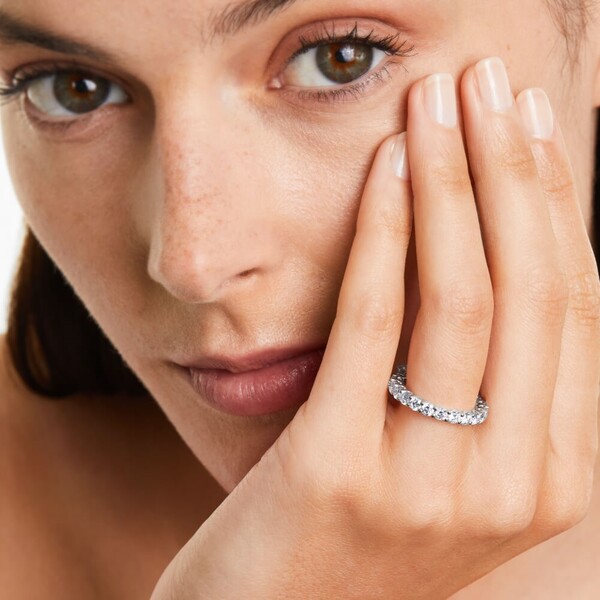 There's a clear difference between a subtle flex and an outright brag. As a final reminder, engagement rings are supposed to be a symbol of commitment and not a signifier of wealth.
Plus, there are other faux pas associated with wearing nuptial jewelry. For those not keen on looking like a snooty heiress, here are some fashion tips to avoid with eternity rings. 
Stacked rings: You don't want to cloud your precious eternity ring with other added embellishments.
Gloves: Diamonds are known to be quite sharp. If you intend on wearing silk gloves, I recommend leaving your eternity ring for women aside.
Mismatched metals: If you own a silver eternity ring, it's best to stick to silver jewelry to help keep things simple.
How To Take Care Of Eternity Rings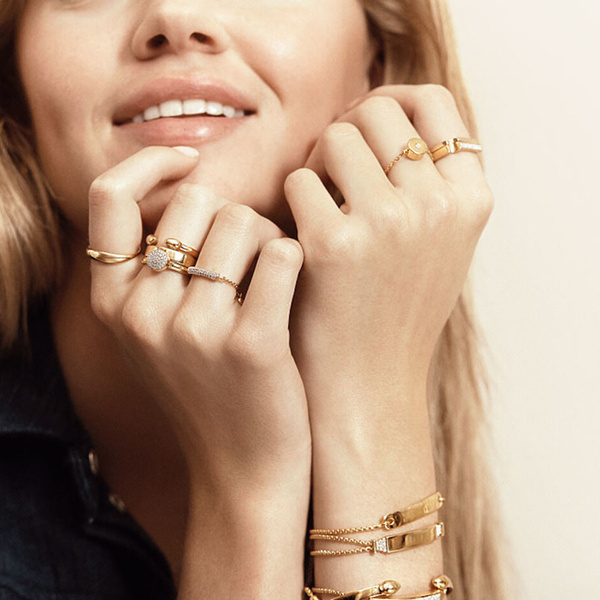 It goes without saying that a $5,000+ investment requires some intense TLC. If you intend on keeping your eternity ring for, well, all eternity, here are some ways to take care of your precious engagement band.
Eliminate surface-level debris with a soft microfiber cloth
Store it in a dark and dry place
Be sure to organize it separately from your other jewelry
Consider hiring professional help for tarnished bands and cloudy gemstones
Never take it off in public settings
Best Places To Buy Eternity Rings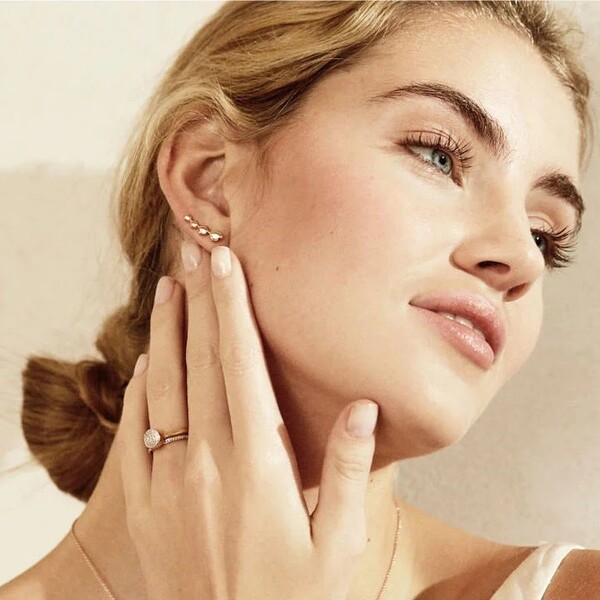 Before this 'how to wear an eternity ring' style guide comes to a close, I'll share some jewelry shops I recommend considering.
Vrai 
Blue Nile 
Etsy 
Peoples Jewellers
Final Thoughts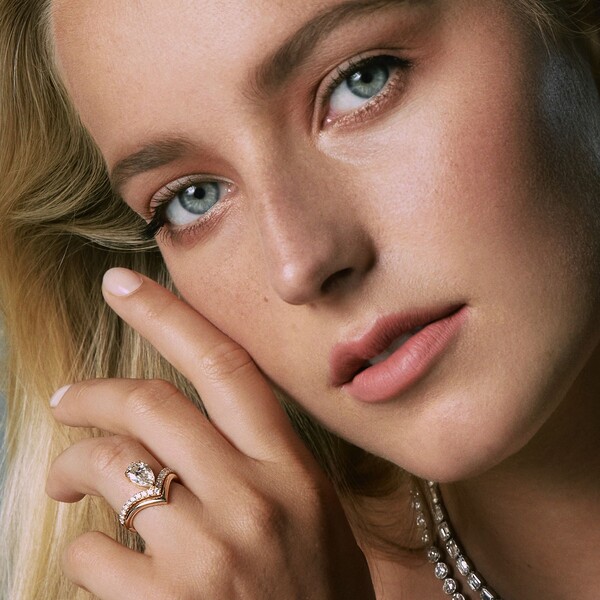 It's hard to top your wedding look. Considering that most of us spend thousands of dollars on bridal dresses and tuxes, wearing a casual set of clothes may seem like a slap in the face when donning an engagement ring.
That said, you should use your newly-married status to experiment with different core aesthetics. 
From sophisticated minimalism to elegant streetwear, there's no shortage of post-nuptial looks to consider. And hey, use this as an opportunity to show off your newly married glow.
---
Looking to up your fashion game? We've got you covered:
How To Wear A Wedding Band And Engagement Ring
Get Access to Exclusive Deals
Subscribe for free to get exclusive deals in your inbox. 100% privacy