How To Wear A Claddagh Ring
For some, sentimentality plays a big role in their decision-making process when shopping. This especially bodes true for jewelry, as most people prefer rings with meanings attached to them. 
In place of haughty gemstones and bedazzled insets, some couples gravitate towards symbolism. The Claddagh ring—a traditional band that stems from Ireland—is a prime example of this.
Of course, this piece of jewelry isn't exclusively for married couples only. It can also be worn by single people and between friends. If you're looking to cop yourself an Irish band, you're probably wondering how to wear a Claddagh ring. 
In this article, I'll teach you how to wear a Claddagh ring by showcasing 11 outfits. I'll also cover multiple style topics, including:
Which way to wear a Claddagh ring
How to wear an Irish Claddagh ring
Proper way to wear a Claddagh ring
What Is A Claddagh Ring?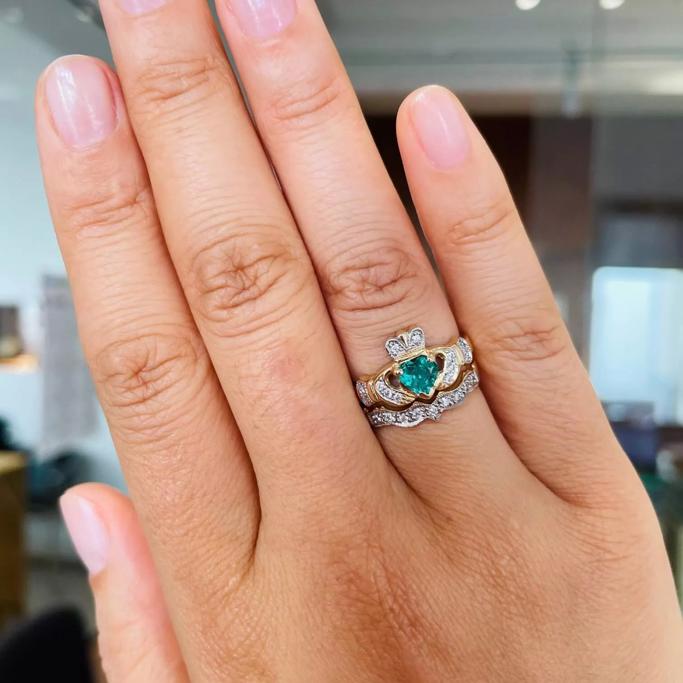 In short, a Claddagh ring is a type of band that signifies love, loyalty, and friendship. It features a heart emblem with two hands supporting it. Embellished with a crown on top, it's definitely a bold way to proclaim your commitment and promise to someone.
The design itself can be interpreted in multiple ways which results in various different styles. For instance, some jewelers insert gemstones and insets for a more modernized look.
History Of The Claddagh Ring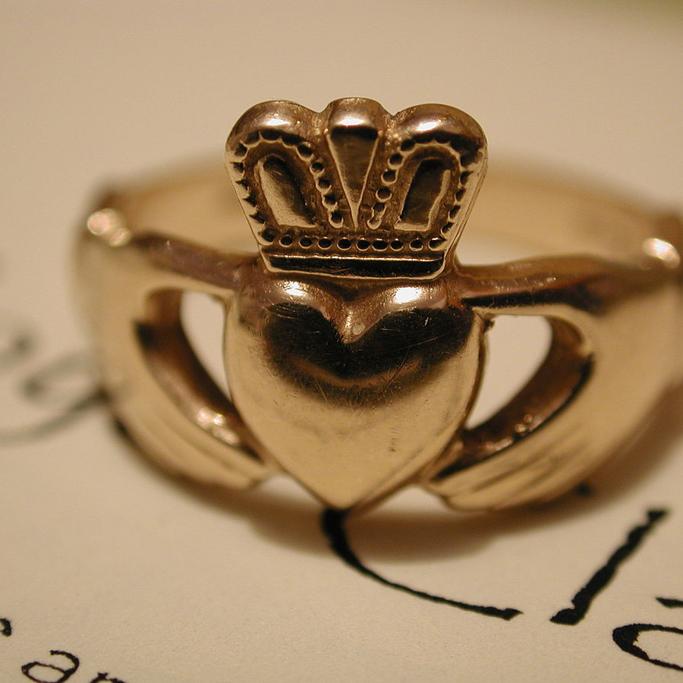 Get ready to bring out the tissues. The origin story of the Claddagh ring is one that warrants a blockbuster remake.
The tale starts in the 17th century, when Richard Joyce departed from County Galway, Ireland, to visit the West Indies.
Unfortunately, he was met with bad luck, as his ship was seized by pirates. As if things couldn't get any worse, Joyce was set to marry within a week, leaving his future grim and bleak. 
Joyce was quickly sold as a slave to a Moorish goldsmith, where he learned to craft various metals.
It was there that he forged the iconic Claddagh ring, an emblem of his unforgotten engagement. Thankfully, Joyce was released due to a mandate set by King William III, and he soon returned to the arms of his doting fiance. 
The Claddagh ring became a testament to his undying commitment, and it was known that the first-ever prototype bore the initials R.I. to signify its creator.
When To Wear A Claddagh Ring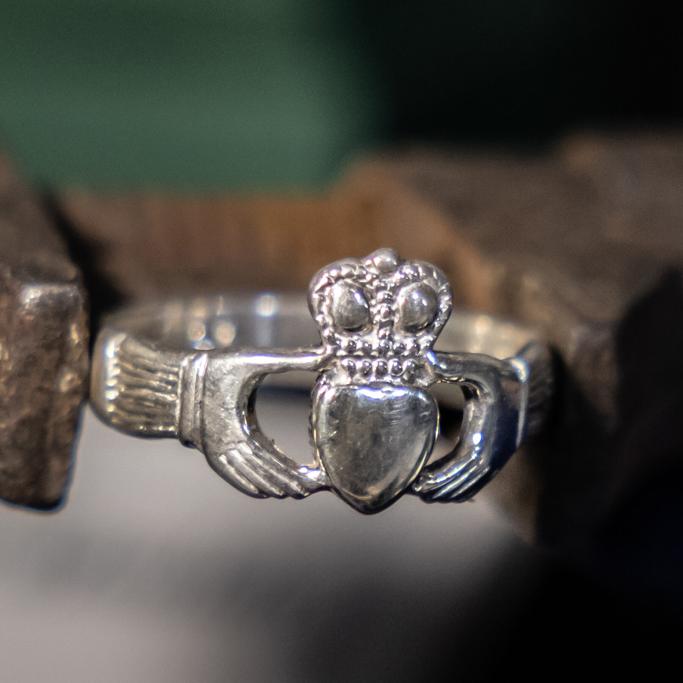 Given its romantic history, you'd think that the Claddagh ring is exclusively meant for married couples. On the contrary, this specific jewelry piece can be worn by anyone at any time.
From singles to friends, this Irish band will add a sentimental touch to any outfit. It can also be worn casually if you just happen to love its fairytale origin. 
Those who prefer to wear the ring in honor of their current relationships may find the Claddagh band a suitable promise ring. If you're keen on sticking with your partner, this jewelry piece can make for a great symbolic token. 
How To Wear A Claddagh Ring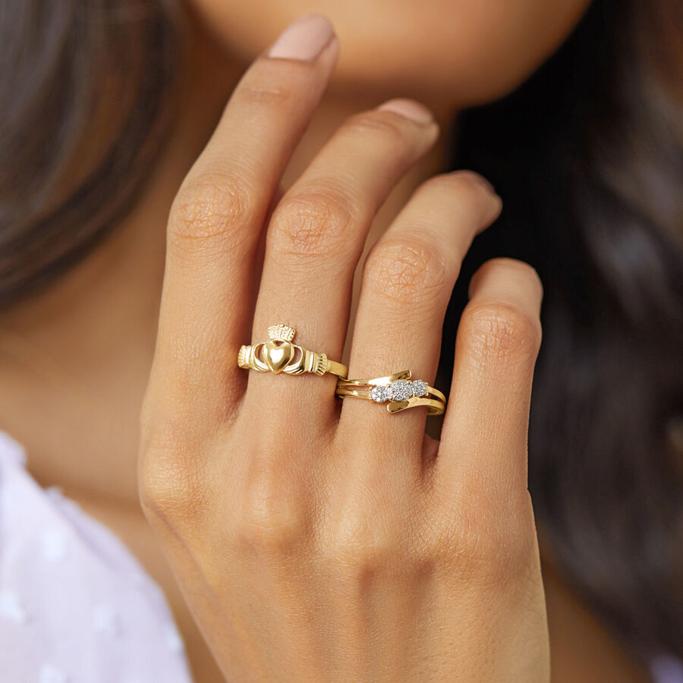 How do you wear a Claddagh ring? Well, composing an outfit based on a specific jewelry piece is something that trendsetters do all the time.
In theory, most rings blend well with most ensembles, so you don't have to necessarily worry about styling your Claddagh band. That said, I'll still provide some OOTD inspo in case you're feeling especially extra today. 
It's worth noting that some of the outfits in this 'how to wear a Claddagh ring' guide don't showcase the official band. Since it's quite difficult to find looks that feature this specific piece, I decided to share fits that can be improved upon with a Claddagh ring. Without further ado, let's get started! 
11 Outfit Ideas With A Claddagh Ring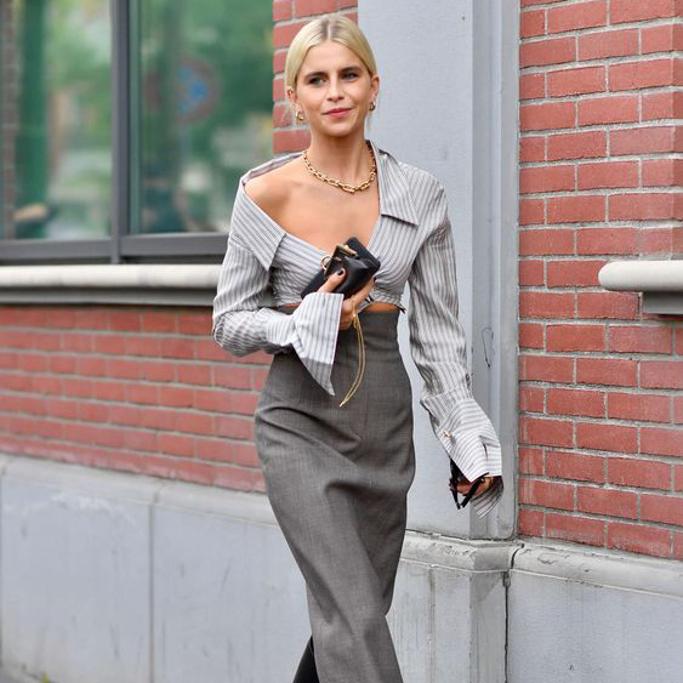 Someone call HR. This OOTD is too hot for the office. Composed of a loose button-up shirt, a midi pencil skirt, and a pair of black boots, this look strikes the perfect balance between streetwear and secretary chic.
Obviously, I don't recommend this ensemble for the workplace given the exposed nature of the blouse, but perhaps it's considered passable if you're employed at a fashion magazine. 
Complemented with a chunky gold necklace, this 'how to wear a Claddagh ring' guide highly recommends accessorizing the outfit with a matching Irish band for a touch of sentimentality.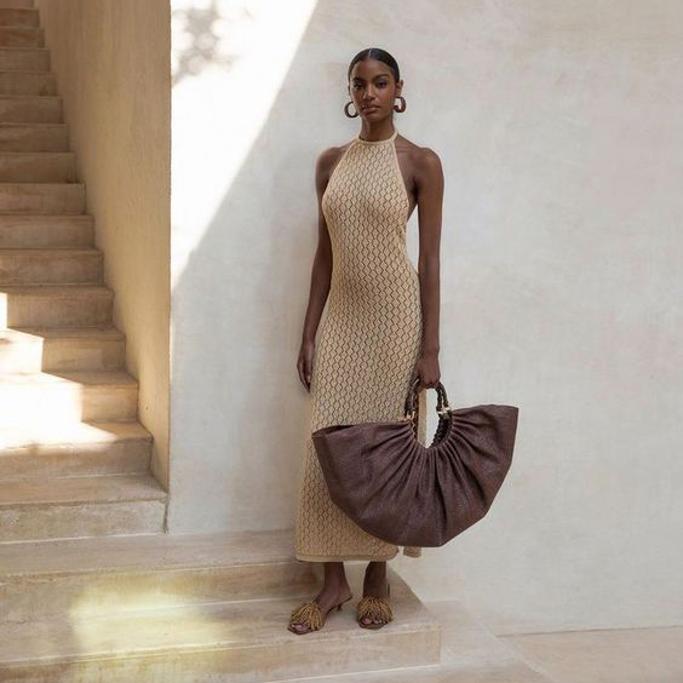 In some instances, minimalism has a reputation of looking too cold and basic. Don't get me wrong, this OOTD is definitely striking in aesthetic, but it's missing a crucial component.
A Claddagh ring can easily be that missing puzzle piece, as this specific item provides a touch of warmth and sentimentality to any look.
Accentuated with a body-con knit dress, a ruched handbag, and a pair of tasseled sandals, the outfit desperately needs a friendlier vibe that a Claddagh ring can provide.
The Claddagh ring is quite busy in design. So, it presents a unique opportunity to finally wear that 'it' piece buried in your closet. Composed of a printed blouse, an orange crochet midi skirt, and a pair of brown sandals, this 'how to wear a Claddagh ring' contender can help level out the boldness of your Irish band. 
This ensemble exudes a subtle, 'flower power' hippie vibe—which definitely aligns with the symbolism of the Claddagh ring.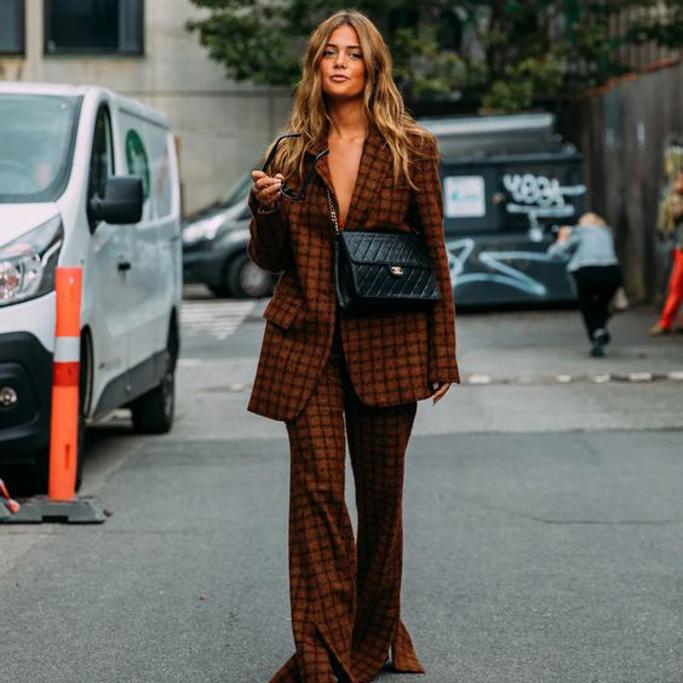 I can't put my finger on it, but something about this OOTD screams romance, fantasy, and warmth. It's considered a more relaxed version of the classic pantsuit, as this number features an oversized blazer and a pair of loose trousers. 
Offered in orange and black plaid, this 'how to wear a claddagh ring' contender exudes that quintessential 'raining outside of a coffee shop' kind of vibe.
Wearing an Irish band can help boost the outfit's overall aesthetic, as it has the same amount of coziness and warmth that the ensemble has.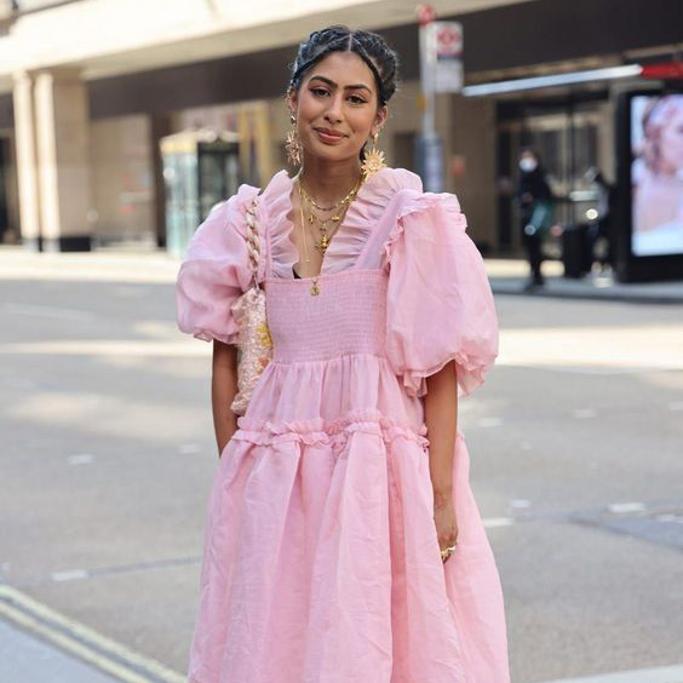 Considering its romantic background, the best way to wear a Claddagh ring is to arguably don a princess dress. Case in point, this dreamy OOTD features a pink gown outfitted with puffy sleeves, a tiered skirt, and lots of ruffles. 
It's relatively oversized in fit, so it has a more relaxed, friendlier vibe compared to bodycon numbers. Accentuated with black Doc Martens and lots of jewelry, this ensemble can definitely be improved upon with a matching Claddagh ring.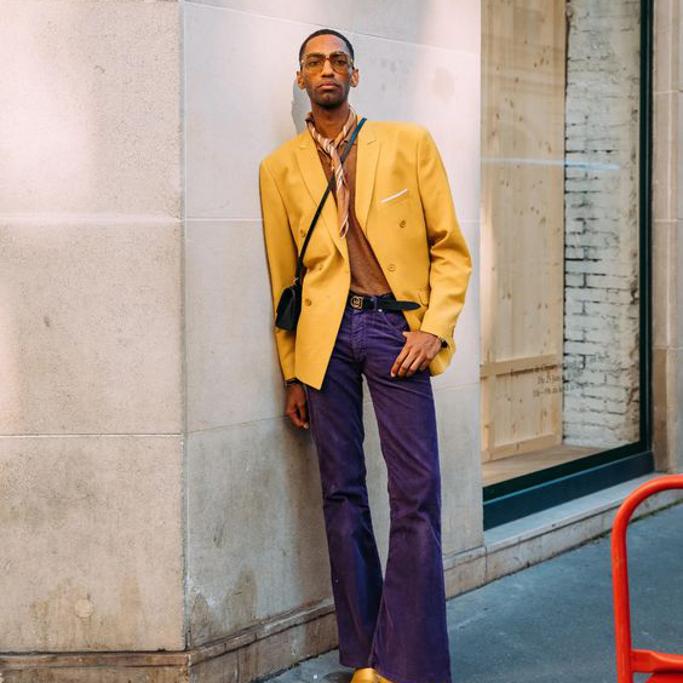 Obviously, Claddagh rings aren't exclusively designed for the ladies. Men can rock them as well. If you're looking to style your Irish band, this 'how to wear a Claddagh ring' guide recommends this bold number. 
Featuring a yellow blazer, an orange shirt, blue bell bottoms, and a pair of gold-toned loafers, this OOTD keeps things light and bright. If you require additional accessories, I recommend topping the look off with a matching bag and a decorative neck scarf.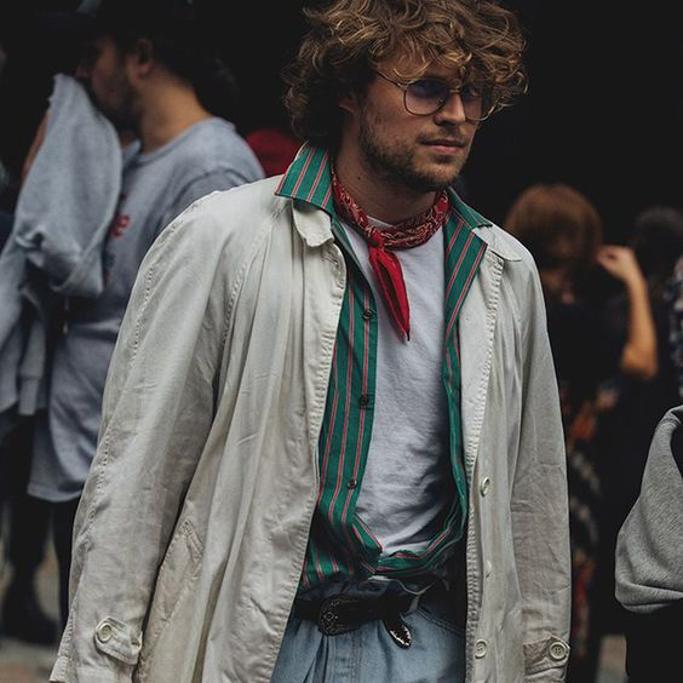 I'm fairly certain that this OOTD was stolen from a romance movie set. Composed of a white duster jacket, a green button-up top, a crewneck t-shirt, and a pair of light-wash jeans, it's giving me 'male love interest' vibes due to its aesthetic. 
Obviously, this 'how to wear a Claddagh ring' guide highly recommends accessorizing with an Irish band, given its romantic affiliation. In terms of shoes, you can never go wrong with a pair of Converses or brown oxfords.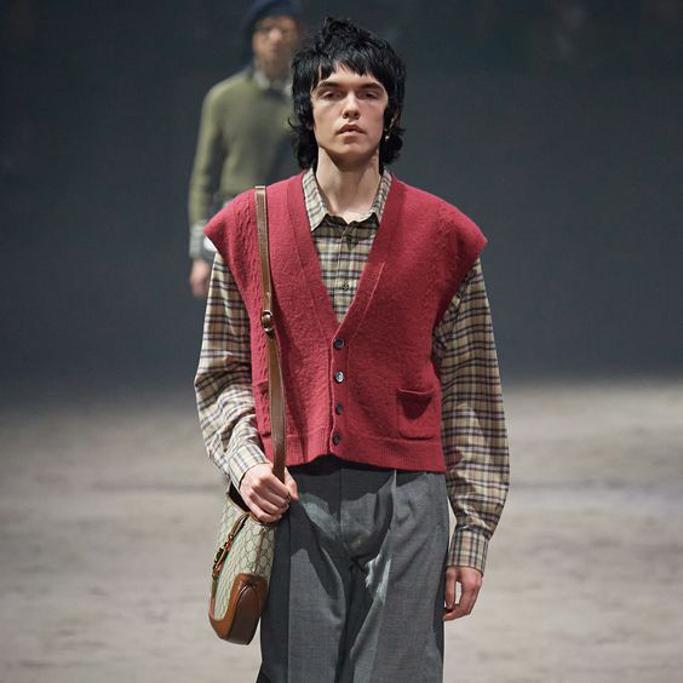 Gucci is known to prefer maximalist designs. With that in mind, it's only a matter of time before this fashion house creates its own version of the Claddagh ring. This specific jewelry piece is quite bold in aesthetic, so it goes well with loud statement pieces. 
For instance, this 'how to wear a Claddagh ring' contender features a red sweater vest, a plaid button-up shirt, gray pants, and a pair of Horsebit loafers. Bookish in aesthetic, wearing an Irish band can help bring out the warm tones of this OOTD.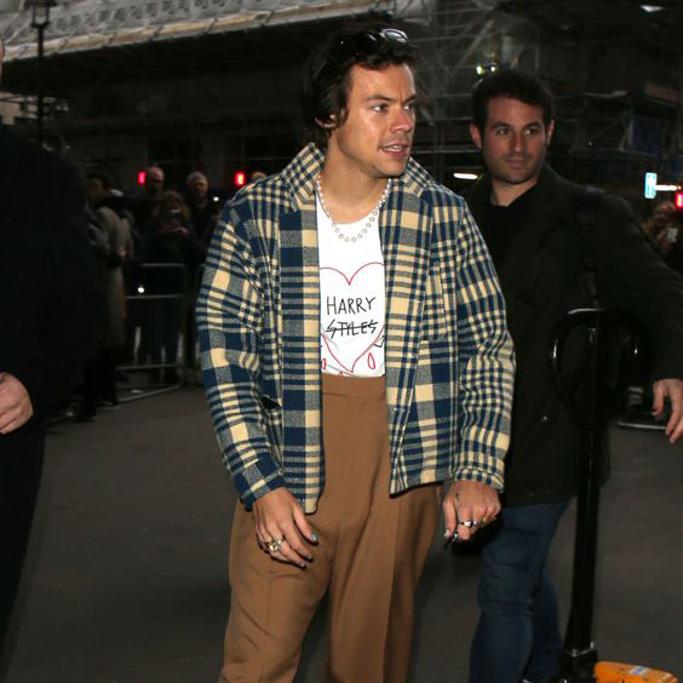 In case you haven't heard, Harry Styles loves wearing rings. He's known to stack jewelry, so it wouldn't surprise me if his collection contains several Claddagh rings in different designs. For outfit inspo, I highly recommend this iconic ensemble. 
Featuring a plaid jacket, a white graphic tee, brown bell bottoms, and a pair of sneakers, this semi-casual look borrows masc and femme attributes that are intrinsic to his entire image.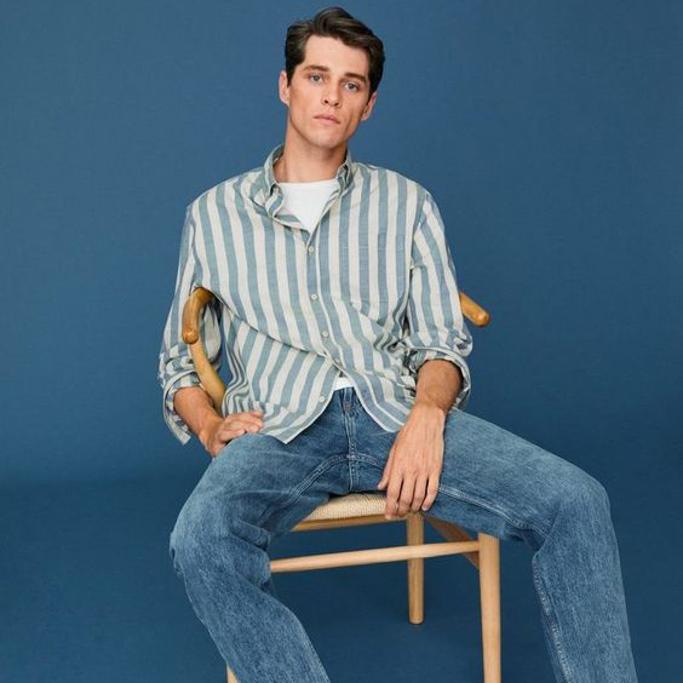 Prefer something more subtle? If so, this 'how to wear a Claddagh ring' guide has got your back. This outfit is comprised of a striped button-down shirt, a plain white tee, and a pair of cigarette jeans.
It's relatively casual in aesthetic, which is great for those not fond of maximalism. 
Ideally paired with a Claddagh ring, this key accessory can help keep things light and friendly if this fit is too stark for your liking.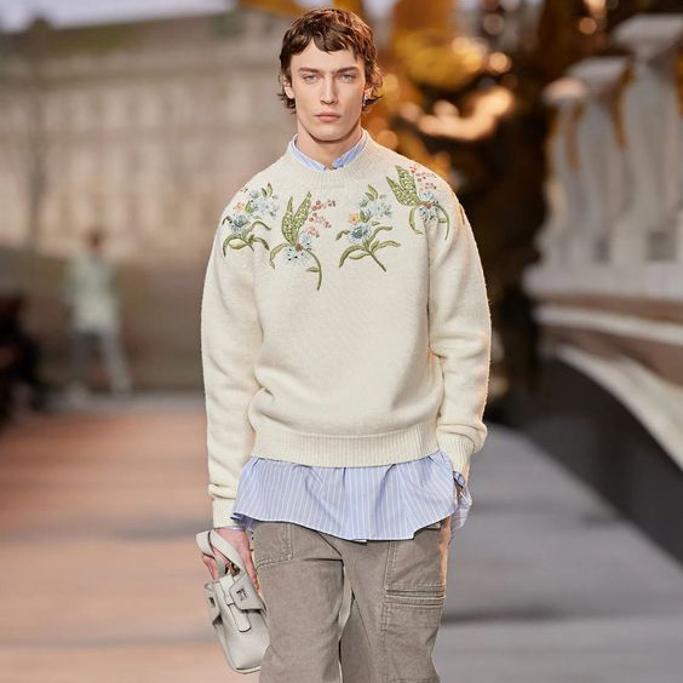 Speaking of romance, this cottagecore-inspired look is definitely reminiscent of the Irish countryside.
The cream sweater paired with the gray pants work beautifully together, as they exude a more casual vibe fit for everyday wear. The floral embroidery provides a touch of fairytale fantasy, which perfectly matches the Claddagh ring. 
What Type of Claddagh Rings Can You Get?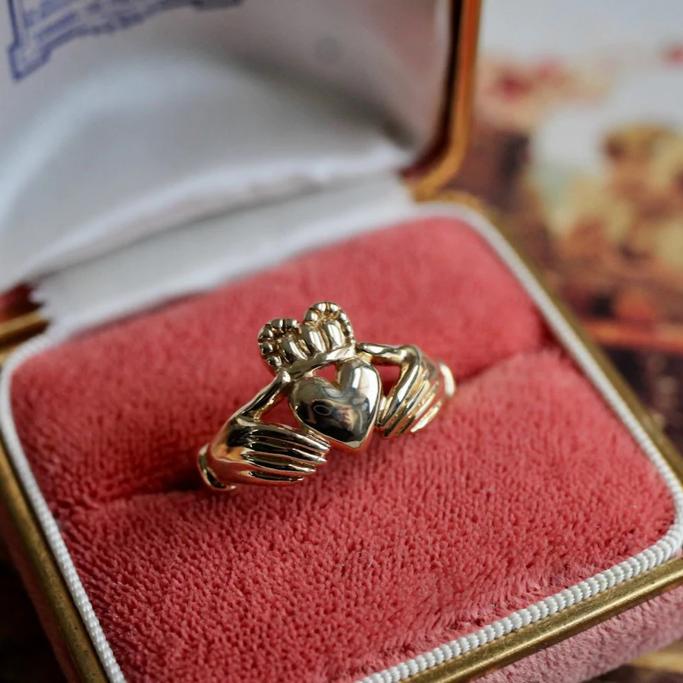 The original 17th-century Claddagh ring will always be known as Richard Joyce's custom creation.
If you're in the market for something more modern and personal, you can rest assured that there are hundreds of Claddagh rings on the market. To help simplify the shopping process, I'll discuss some designs worth considering. 
Metal grade: Offered in sterling silver, gold, and platinum, Claddagh rings are made from various types of precious metals.
The simplicity ring: If you're not one to covet large gemstones and intricate designs, perhaps it's best to stick to the original Claddagh ring instead.
The statement piece: Those who love haughty gems and bedazzled insets may find bejeweled Claddagh rings a more suitable option.
Casual-use only: You don't need to be engaged in order to wear a Claddagh ring. This specific jewelry piece can be worn by anybody, including single people.
The promise ring: This applies to engaged couples and those 'to be.' If you're keen on getting a Claddagh ring for your partner, I highly recommend consulting them about their personal tastes and preferred aesthetic.
How To Choose The Best Claddagh Ring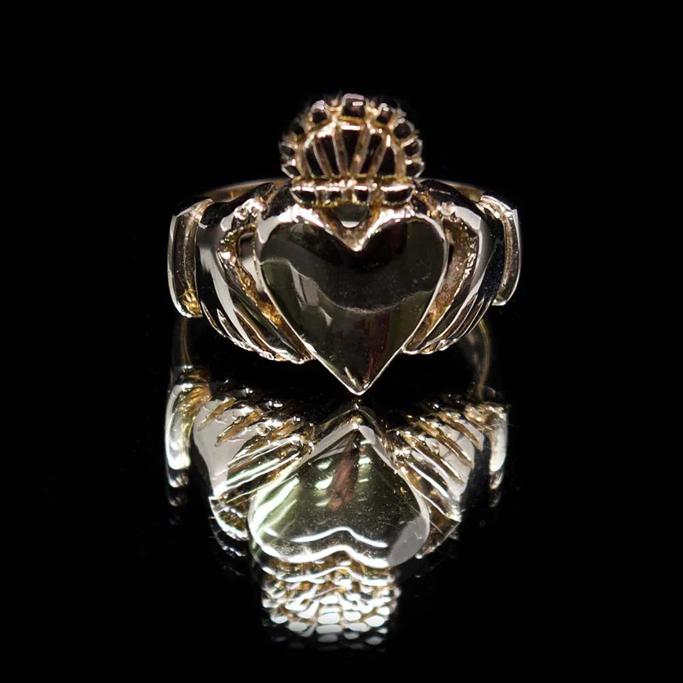 Whether you're single or taken, jewelry shopping requires some serious consideration. While it's easy to cop a $20 ring, I suggest opting for something a bit more expensive.
High-quality bands often come with a heftier price due to their construction and hand-craftsmanship. Plus, most reputable brands offer insurance to help cover manufacturing defects in the future. 
In terms of materials, customers should be on the lookout for genuine precious metals. This includes gold, sterling silver, or platinum. These materials are known to be durable and resilient, so you don't have to worry about buying a new ring in the subsequent year.
If you prefer bedazzled designs, it's important to consider the carat, weight, and overall quality of your chosen gemstone. Fake embellishments can be easily damaged or fall off, which is not what you want if you're keen on paying $100 or more.
Design is another factor worth considering. As previously mentioned, Claddagh rings come in various styles, so it's crucial to assess your personal taste in jewelry before purchasing one. 
Those planning on popping the question should consult with their partner about their preferred aesthetic. After all, engagement rings should align with your lover's likes and personality.
In terms of price, Claddagh rings can range from as little as $5 to as much as $500, depending on the brand, material quality, and design. I highly recommend working within a budget to avoid overspending.
How To Style Your Claddagh Ring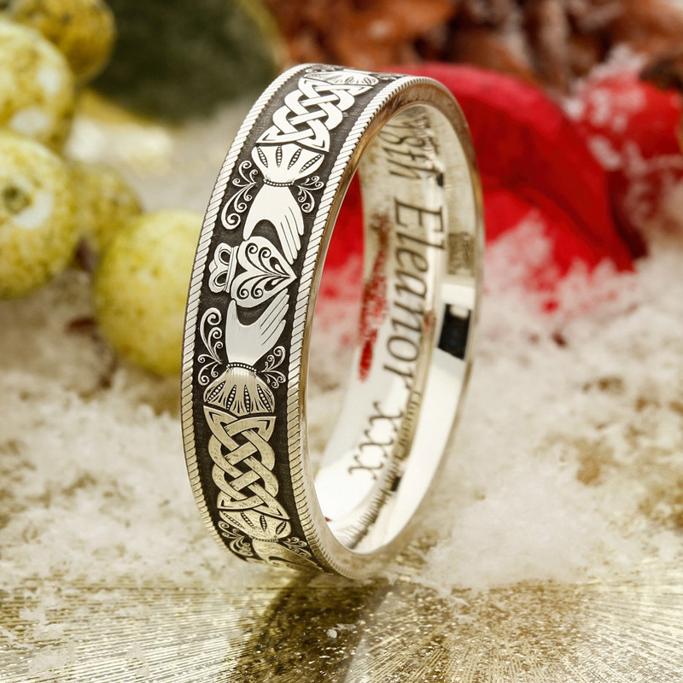 So, you're looking for ways to wear a Claddagh ring. Thankfully, this jewelry piece isn't particularly hard to style—as it can pair with various core aesthetics. But for those in need of some specific advice, here are a few ways to style your new sentimental accessory.
Stacked jewelry: Considered the go-to move for celebs such as Harry Styles, stacked jewelry can help boost one's self-importance. Take this as an opportunity to experiment with different ring designs.
Romantic ensembles: Princess dresses and pantsuits pair well with the fairytale-like nature of the Claddagh ring. I highly recommend opting for warmer colors to help keep your outfit looking friendly, such as pink and red.
Maximalism: As previously mentioned, the Claddagh ring is quite bold in design. So, maximalist fashion can help boost the 'braggadocio' aspect of this accessory.
Nail polish: Most trendsetters prefer to match their jewelry to their nail polish. If you can't decide on a color, I suggest sticking to classic white or black.
Fashion Tips To Avoid With A Claddagh Ring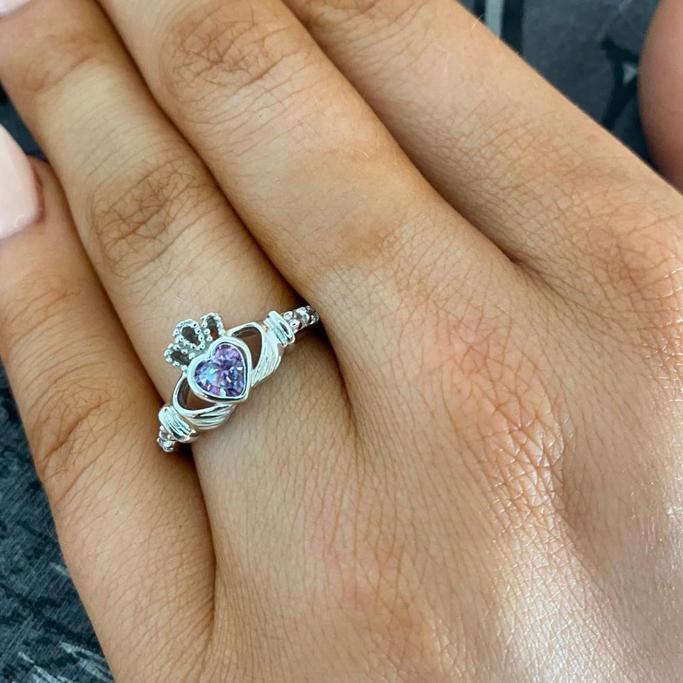 Fashion is an endless cycle of trial and error. In fact, it lives and dies for experimentation. With that in mind, styling Claddagh rings involves some key do's and don'ts.
If you're not keen on post-Instagram regret, I'll share a few fashion tips to avoid when putting together your final fit. 
Mismatched jewelry: It's an unspoken rule that silver should never mix with gold. When styling your Claddagh ring, I recommend sticking to one type of precious metal to avoid clashing.
The 'ring necklace': Rings are meant to be worn on fingers. They're not designed to be worn as a necklace pendant. Plus, doing so will hide the unique design of your Claddagh ring.
Gloves: This seems like a no-brainer, but I thought it would be a good idea to include it in this 'how to wear a Claddagh ring' guide. Wearing rings may damage the knit or construction of your gloves.
Ill-fitted rings: It's time to stop kidding yourself. That size 6 ring will never fit your size 3 finger. To help prevent misplacement or loss, I suggest sticking to your usual measurements.
How To Take Care Of Claddagh Rings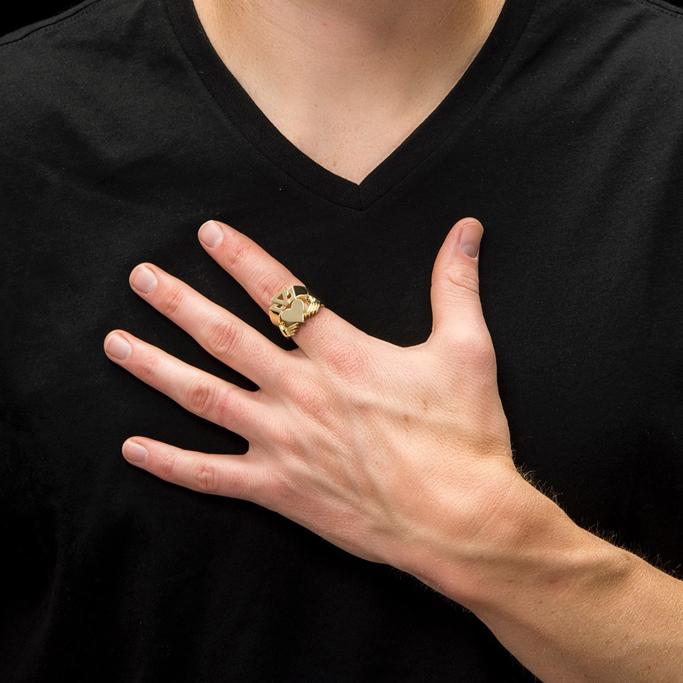 Like any piece of jewelry, Claddagh rings require routine TLC. This is especially true for bedazzled designs and family heirlooms. Before this style guide comes to a close, I'll share some tips and tricks on how to care for this accessory.
Eliminate surface-level dirt with a microfiber cloth. Brushes may scratch or damage your ring.
Use jewelry polish to rub away stains, rust, or tarnished areas.
Store in a cool and dry place. Long-term sun exposure may warp the silhouette of your ring.
Never remove your ring in public settings. Trust me, you don't want to lose your promise band in an unknown area.
Consider hiring professional help. Some rings require special attention.
Best Places To Buy Claddagh Rings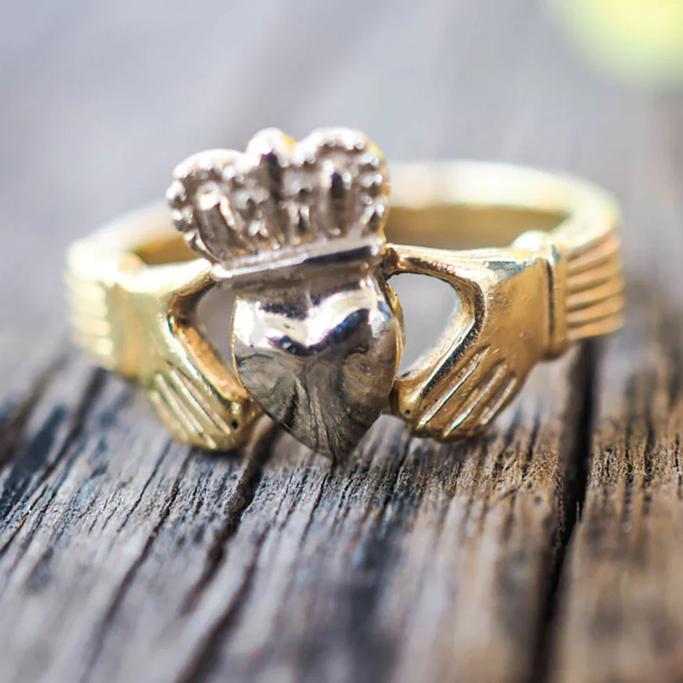 You can rest assured that there's no shortage of Claddagh rings on the market. Below, I'll share some recommended shops that offer the hottest designs. 
Peoples Jewelers
Michael Hill Jeweler
Etsy 
Claddagh Jewelers
Final Thoughts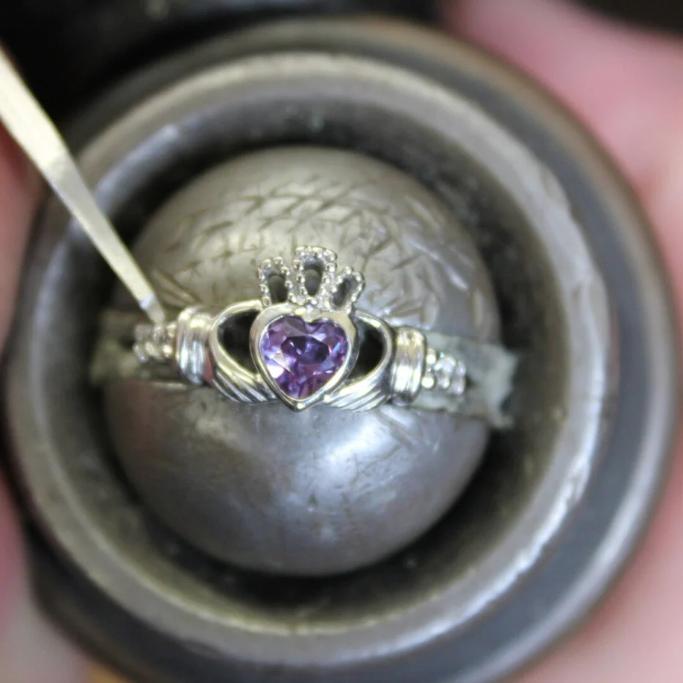 The ring market is often described as a sentiment-free industry. Love is not defined through capitalization, but most brands continue to push haughty gemstones and intricate infinity bands as a solid way to express commitment. 
If you prefer something more personal, you can find comfort in the Claddagh ring meaning. Known to symbolize promise and loyalty, this accessory has a romantic backstory that most jewelry enthusiasts can appreciate.
From the outfits I've featured, here's to hoping that you know how to wear a Claddagh ring. Happy accessorizing! 
---
Looking to up your fashion game? We've got you covered:
Get Access to Exclusive Deals
Subscribe for free to get exclusive deals in your inbox. 100% privacy