How To Wear Leg Warmers
If you live in a cold climate, you know that leg warmers have never really gone out of style. With that being said, they're definitely making a big comeback in 2022 and you're about to see them everywhere. 
Designed for keeping your ankles warm (a spot most jackets and boots don't cover), these cozy pieces double as a cute and fun accessory.
But, you may be wondering how to wear leg warmers in a way that amplifies your fashion sense and personal style. Thankfully, that's why this article was written.
And while leg warmers are seemingly easy to style, you're probably here because you know the truth: it can actually be difficult to decide how to wear leg warmers.
They look awkward with certain shoes, there are a couple of fashion no-nos to keep in mind, and you may feel like your outfit is more of a mish-mash of pieces than a cohesive ensemble. 
So, if you're looking for more info on how to wear leg warmers, stay tuned. By the end of our guide, you'll learn the following:
The origins of leg warmers
How to style leg warmers
Multiple leg warmers outfits
Different leg warmers available
How to choose the right pair for you
What is a Leg Warmer?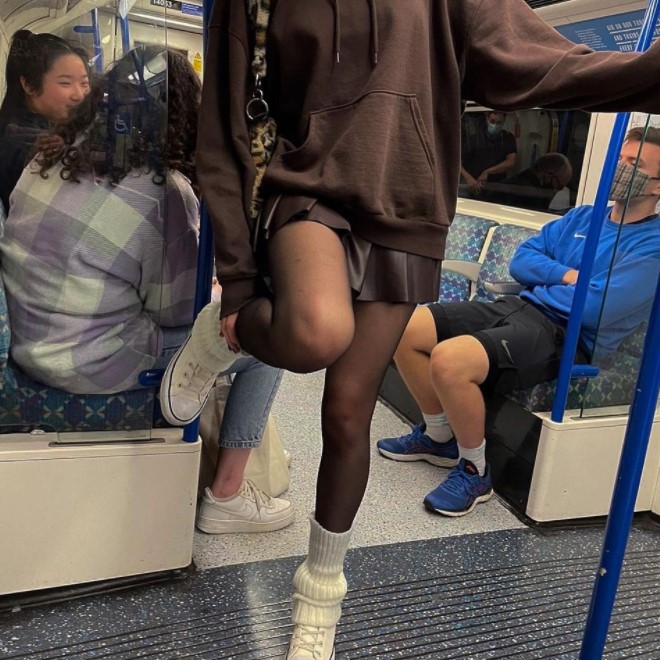 Leg warmers are exactly what they sound like: they're fabric coverings that wrap around your shins and ankles to keep you warm. They're usually footless considering you're likely wearing some sort of sock and shoe, and they're often quite thick since coats and shoes keep the rest of your body nice and toasty.
They can be made from a number of different materials and can vary in length and width depending on the tightness of the knit or fabric.
They're even said to keep muscles warm to prevent cramping, which is ideal for dancing and working out. 
History of Leg Warmers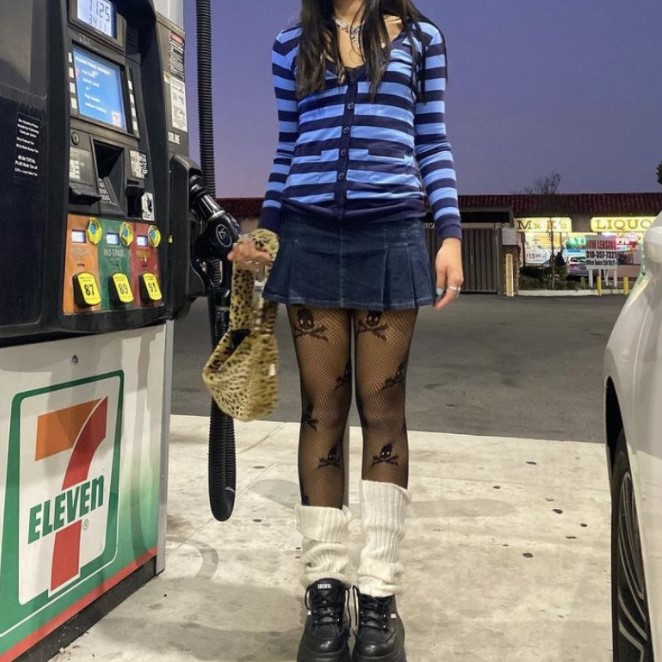 Now that you know a little more about these accessories, you may want to learn more about their history. As we mentioned, they were first worn by dancers who wanted to avoid uncomfortable cramping.
Though they had been worn for years already, leg warmers were popularized when David Lee and Trisha Kate opened a dancewear shop in the big apple in the early 80s.
Since exercise and aerobics had become so popular at that point, it only made sense for fashionable workout pieces to become popular as well. 
The film 'Flashdance' came out in 1983 and featured leg warmers—alongside other aerobic wear—which kicked this trend into full gear. Suddenly almost everyone was wearing these cozy coverings to gym classes and beyond.
And like with many trends, which tend to cycle through time, leg warmers are currently back in style. These days, they're often worn seamlessly over leggings, skinny jeans, and even paired with heels.
With that being said, there are optimal times to wear leg warmers, which we'll share with you up next. 
When to Wear Leg Warmers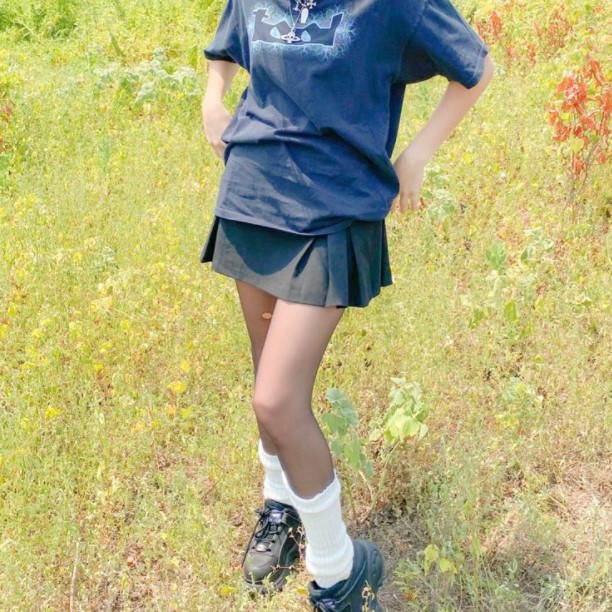 While leg warmers were initially designed for keeping you warm in cool weather, they have plenty of other functions and can easily be worn for numerous occasions.
From trendy fall outfits, trips to the gym, to actually staying cozy, there are a number of reasons to wear this fashionable and functional accessory. 
Basically, whenever you want to look cute and cozy, leg warmers will be your best friend. We're talking about date nights, early morning breakfasts, at ski resorts, and on any chilly days.
In other words, the cool weather doesn't mean you shouldn't be able to wear what you want and maintain your sense of style!
And while leg warmers with jeans can look stellar, never pair them with wide-leg bottoms. There would be way too much awkward tucking and folding that it's not worth it, and this outfit would look pretty strange and poofy too.
Fortunately, there are plenty of other ways to style leg warmers, which we'll outline down below.
How to Wear Leg Warmers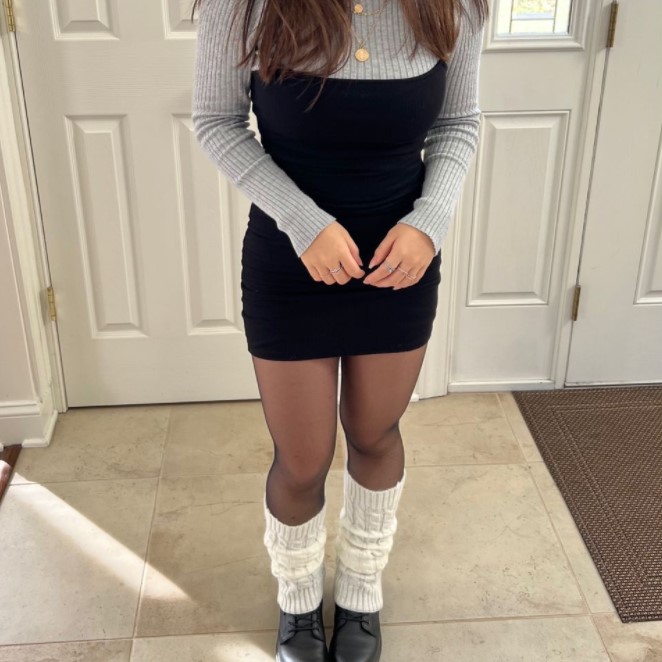 Now that you know when people wear them, you still may be wondering how to wear leg warmers.
There are loads of different ways to style an outfit around these accessories, and even elevate your look by wearing them. Choosing a leg warmers outfit shouldn't be complicated, so we'll make it super easy for you with our expert tips.
As we mentioned, a skinny pant is definitely a classic and comfortable option, and there are a variety of bottoms to choose from, including leggings, jeans, tights, and more. They can also pair seamlessly with different shoes, from boots to sneakers to heels. 
The classic oversized fit has cozy winter vibes, so leg warmers are an ideal option for making your winter wardrobe look even more stylish while also being fully functional.
If you prefer the classic leg warmer style, be sure to bunch them up around your ankle slightly and pull them over the heel of your foot.
With all that in mind, let's take a look at some of the best 10 ideas for how to wear leg warmers down below. Learning how to style leg warmers will be easy with the help of our guide.
10 Outfit Ideas with Leg Warmers
1. Fall Ready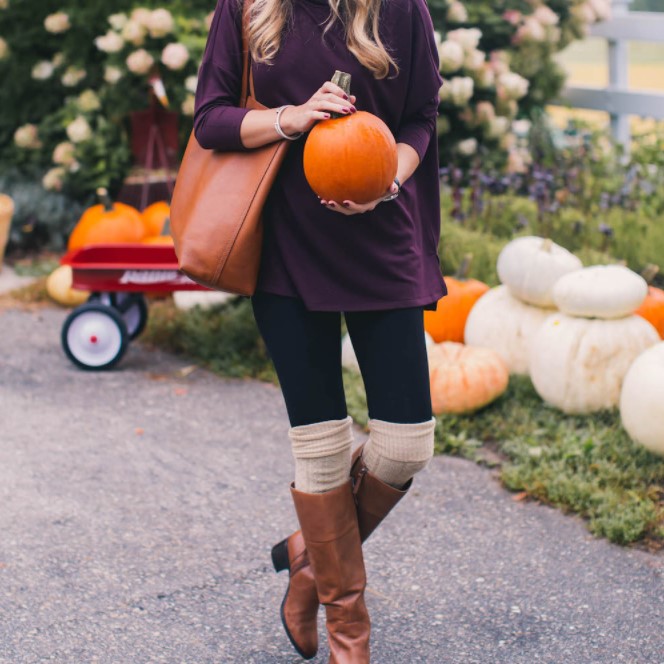 As the leaves start to fall, the weather begins to change, and suddenly the cool air is nipping at your exposed ankles. With a pair of leg warmers peeking out from some warm, brown knee-high boots, you'll be ready for those cooler days.
An oversized turtleneck in a deep eggplant color will definitely create those fall vibes, while thick leggings will fit seamlessly beneath your leg warmers and boots.
Of course, a good bag is a must for all your travels, so choose one that matches the warm leather in the boots.
2. Warm and Cozy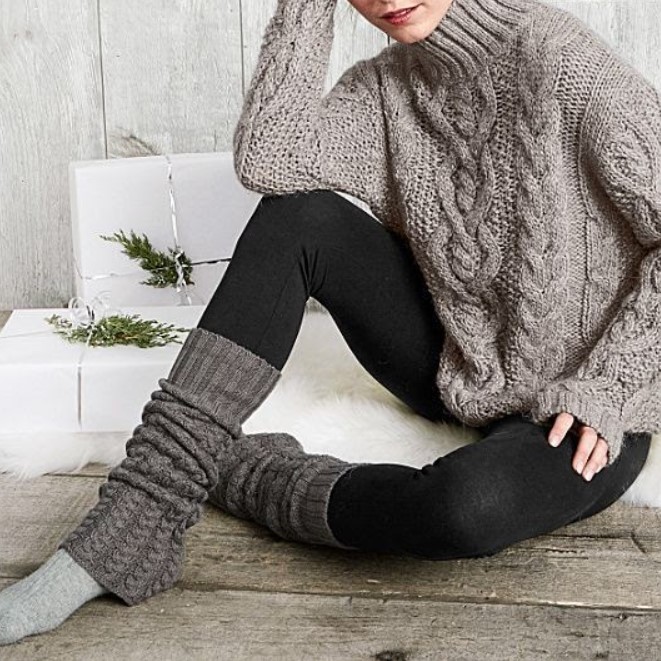 Whether you want to stay home or go out, you can't go wrong with an oversized, gray turtleneck with a cable-knit fabric. Keep the cool tones going with some matching gray, cable-knit leg warmers scrunched around your ankles and heels.
A pair of fitted, light gray socks and some cozy black leggings will complete your stylish outfit. 
We also recommend tying back your hair in a sleek low bun for the perfect at-home look that will work very well for Zoom meetings, or IRL outings.
3. Winter Wonderland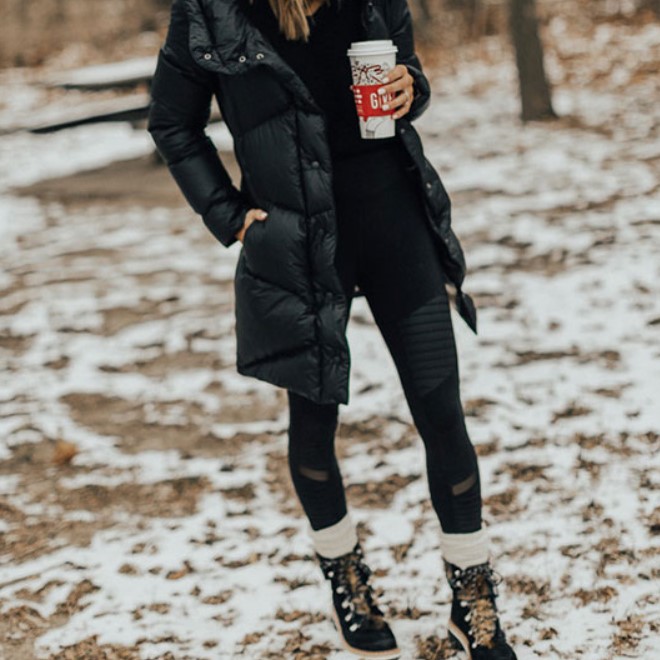 Once the snow starts to fall, you'll definitely want to be as warm as possible. Pair your creamy, scrunched-up leg warmers with an oversized black puffer coat, fitted black leggings, and a good ol' pair of winter boots for a stylish look. 
Of course, sunnies are a must to protect your eyes from the bright winter sun and a black top will complete the monochrome theme of this outfit.
To brighten things up, top it all off with a pom-pom hat and a warm drink in hand and you'll be ready to go.
4. Chunky Boots
Leg warmers and chunky boots seem like such a simple option. This classy look features a pleated beige skirt, a black long-sleeve top with a sweetheart neckline, and some sheer black tights.
The chunky boots and black leg warmers add an edgy touch to the otherwise sophisticated ensemble.
5. With a Skirt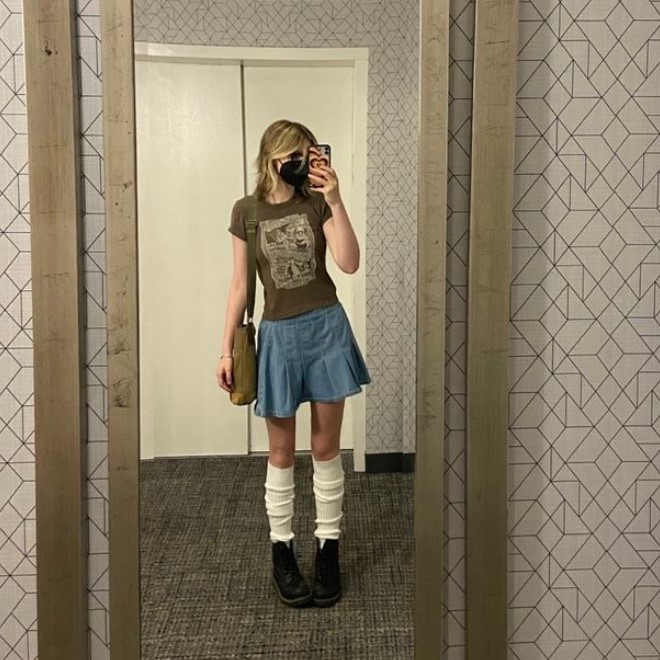 Cooler days shouldn't mean you can't wear your favorite short skirt—simply slip on a pair of bright white leg warmers and you'll be nice and toasty. The sky blue skirt contrasts against the light-colored leg warmers for an eye-catching and unique look.
And if you're on the hunt for a grunge style, chunky boots and a fitted graphic tee will complete the ensemble. Of course, a shag haircut will definitely help, but you could always opt for super straight hair instead, which is also really chic.
6. Oversized Sweater Dresses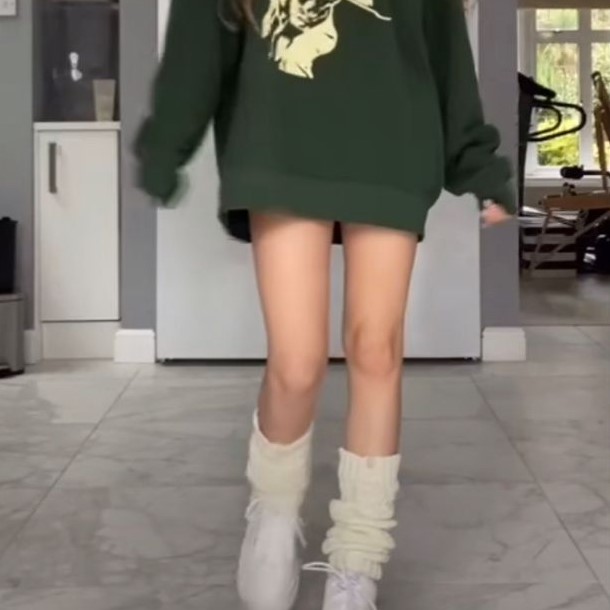 Chances are you've already got an oversized sweatshirt in your closet. And chances are you already wear it around your home, pants free. For public outings, try wearing a pair of biker shorts underneath as well as layering with a white turtleneck for some visual interest.
Keep things casual with your fave sneakers and throw on some loose-fitting, lightly colored leg warmers to complete the relaxed look. 
7. Grunge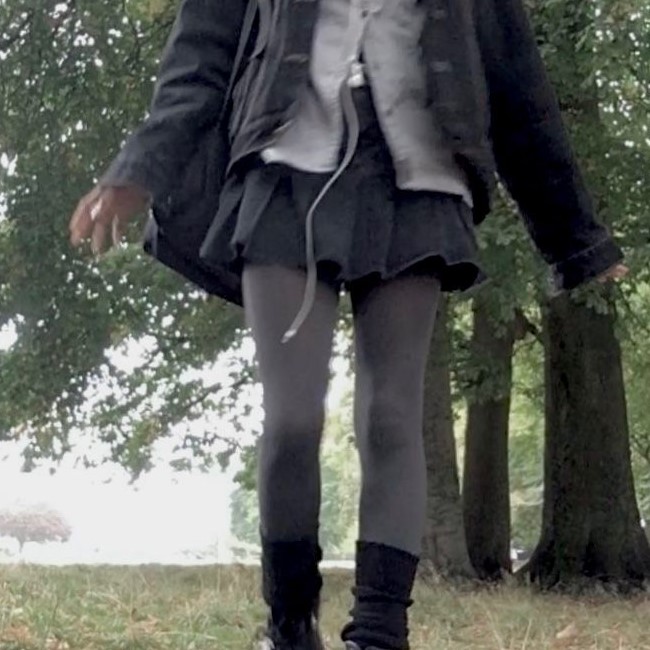 Leg warmers can conform to many different styles, but layer a bunch of shades of black together in one outfit, and you'll definitely have a grunge look. With an oversized black denim jacket, a gray button-down shirt, and a distressed skirt, this outfit totally has a grungy vibe. 
But the chunky boots, fitted gray leggings, and black leg warmers pull the look together. Layering is definitely key here, along with the dark tones (and the leg warmers help with both).
8. Makin' your way Downtown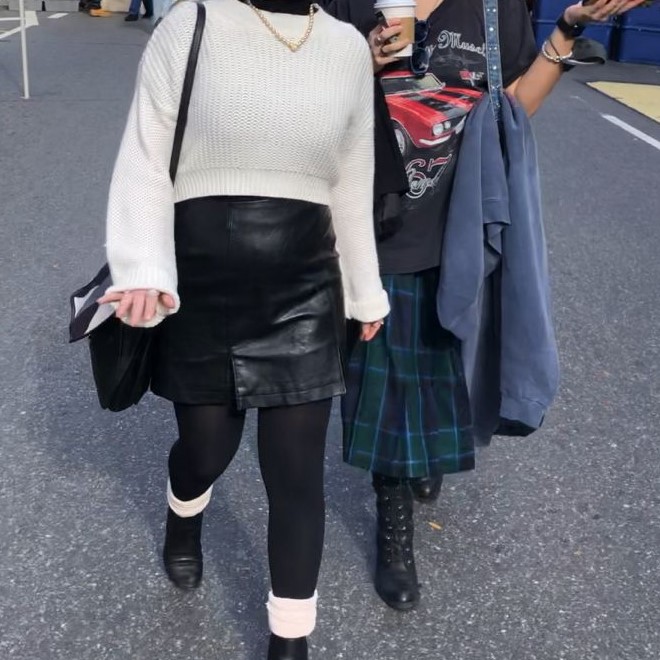 If you want to look stylish and sleek when you're walking the city streets, a cohesive and minimalist look is definitely what you need. With black and white shades from bottom to top, this fit features plenty of layers and simple touches.
With a black mock-neck top beneath a soft and simple white sweater, as well as a leather skirt and black tights, this look has plenty of color blocking for visual interest. For a put-together yet simple ensemble, the soft white leg warmers match the sweater, while also breaking up the black tones of the boots and the tights. 
9. To the Gym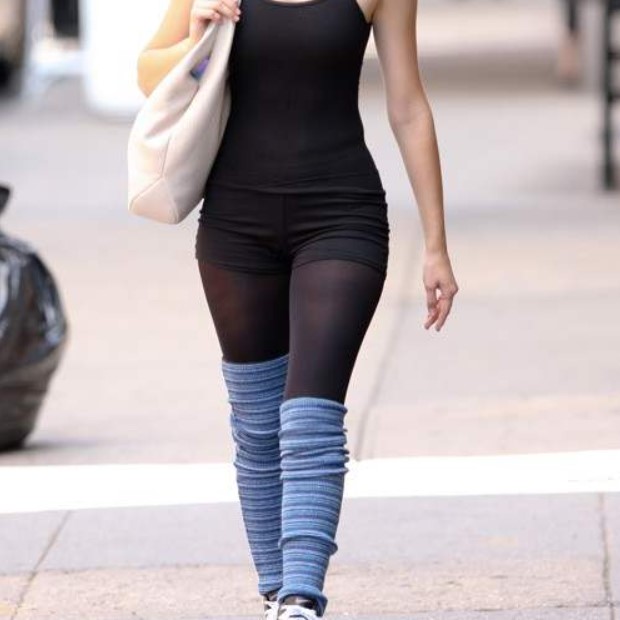 If you're recreating the classic aerobics class style, try a fitted bodysuit (high-cut legs are a must), some sheer tights, and, of course, a boldly colored pair of leg warmers. They should also be a bit more fitted for some added compression against your legs, making them both functional and fashionable. 
Plus, of course, a pair of running shoes is a must, since you'll be heading to and from the gym. To complete the look, try a canvas tote bag, which will hold all your extras and maintain the casual and trendy style.
10. Neutrals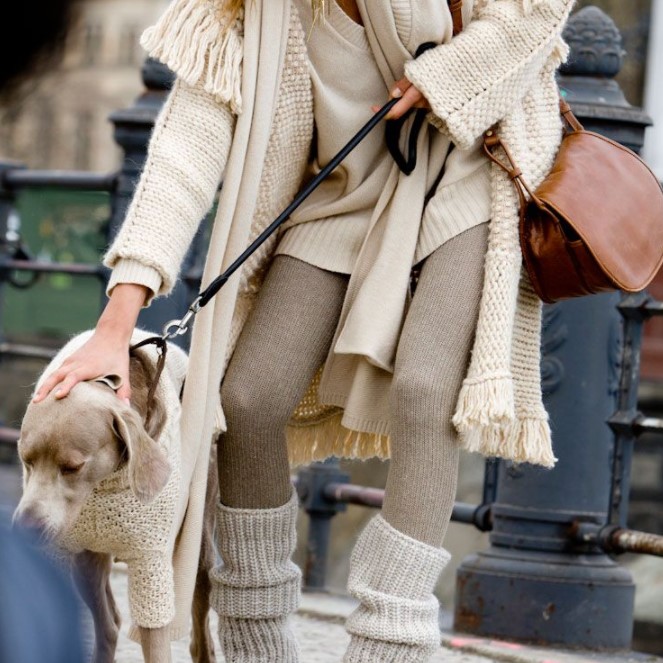 Neutral and monochrome outfits are trendy for a reason. If you've got a closet chock full of cool tones and plenty of beiges, it's pretty easy to pair all your pieces together for a cohesive, no-stress outfit.
As we've mentioned, leg warmers call for layers. With a cozy scarf, cream-colored hat, and an oversized jacket, these leg warmers truly belong with this ensemble. They're also layered over beige leggings and a heeled bootie for extra toasty vibes.
What Type of Leg Warmers Can You Get?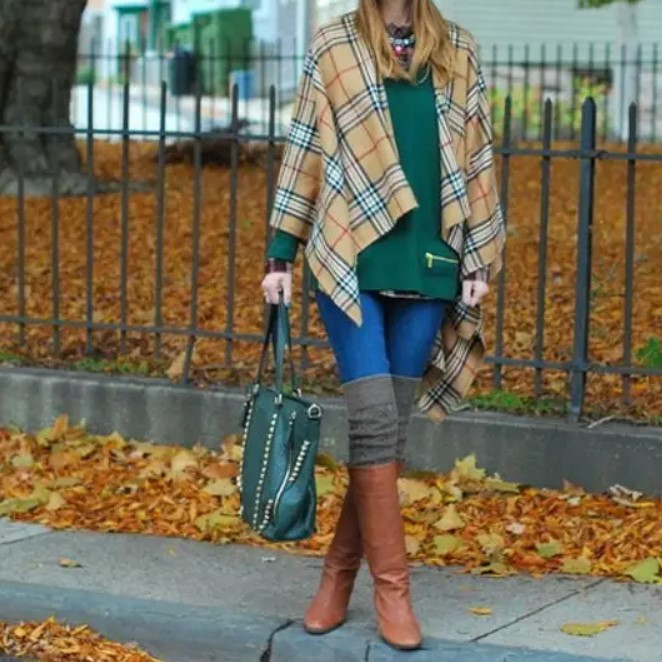 If you're wondering how to wear leg warmers, chances are you're also wondering what types of leg warmers are available. From furry fabrics to cable knits, the options are honestly endless. They also come in different lengths, thicknesses, and colors giving you even more variety.
You can opt for super thick or thin fabrics depending on your climate, as well as multiple different lengths.
Though they first began as shin coverings, you can now buy leg warmers that go all the way up to your thighs, knees, or instead just peek out from the top of a knee-high pair of boots. 
Speaking of which, leg warmer boots are also a big thing these days. But what are they?
Essentially they're boots fitted with a thick material that you can stretch up your leg, or tuck overtop of the boot. They're often removable as well, providing the perfect hybrid of a classic pair of boots and a pair of leg warmers that fit seamlessly together but can also be worn apart. 
Cycling leg warmers are usually made from a super thick lycra material that's nice and stretchy for easy movement, while also keeping warmth in and offering wind and water resistance. Plus, they provide compression on your legs, which is ideal for a good workout. 
Of course, we all love the classics, and leg warmers have always been known for their oversized, bulky, and scrunched-up fit. Wearing these, you'll be nice and warm and definitely make a fashion statement at the same time.
How to Choose The Best Leg Warmers for You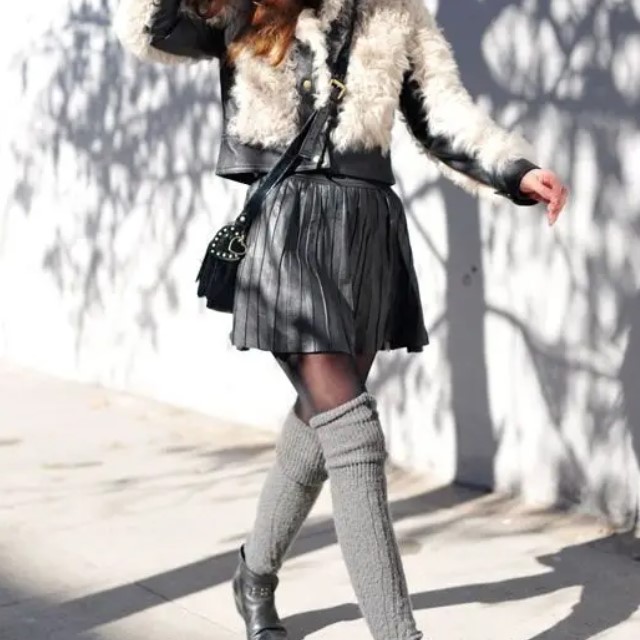 Before you consider how to wear leg warmers, it's important to choose a pair that works with your lifestyle.
If you aren't using a stationary bike on the daily, cycling leg warmers likely aren't the ideal choice for you. And if you're in a warmer climate, then a super thick fabric is definitely something to avoid. 
For workouts, it's best to wear a pair with moisture-wicking capabilities. Naturally, the seasons require different choices: fall and spring call for thinner fabrics, while a thick-knit pair is definitely the way to go for the winter months. 
Material is definitely an important factor to consider when deciding which leg warmers to wear since fabrics can be either warmer or cooler.
More expensive options are made from wool or cashmere, while common, more affordable alternatives are cotton, synthetic fibers, and chenille, for a soft and cozy look.
Of course, leg warmers shouldn't be too expensive since they're an accessory and there's really not much fabric involved. If you're in need of a pair for working out, these may be a bit pricier since they have some extra features, and are specifically fabricated to protect your muscles.
As we mentioned, styles vary widely, and range from furry, knit, to compression designs. And there are also options for a variety of different aesthetics, so it's important to choose a pair that suits your personal style.
Plus, they can have a looser or tighter fit and also come in longer and shorter options depending on the look you're going for. 
Since leg warmers come in every color of the rainbow, you can choose a pair that suits your unique taste or matches your favorite color palette.
Overall, there are so many different options for leg warmers to choose from that you should be able to find something that works for what you need and what fits your style, all staying within your personal budget!
How To Take Care Of Leg Warmers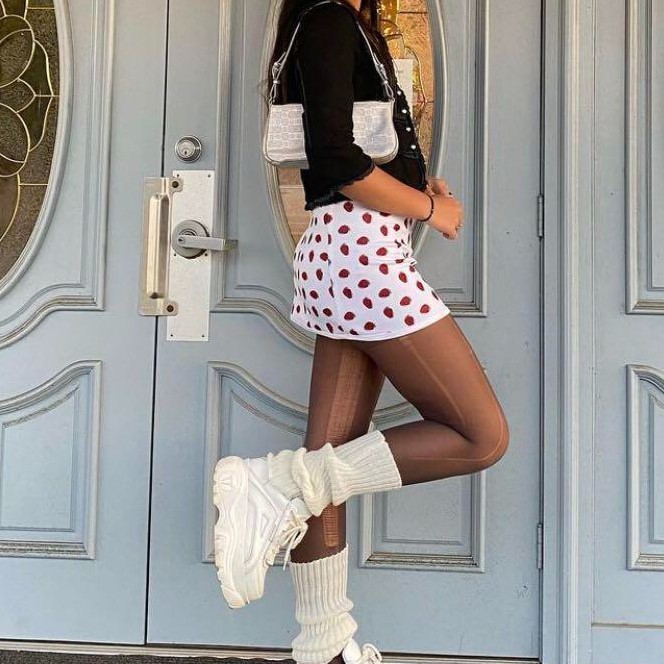 Like many articles of clothing, leg warmers are actually pretty easy to care for. However, the specific care for your leg warmers depends on the fabric.
If you've got a cycling pair made from a legging material, you may want to consider washing them on cold and air drying them only.
And if the fabric is a super soft knit, be careful of any shrinkage or snags in the washer. That being said, there are a few general washing instructions to follow to keep your pair lookin' good as new:
Use a mild detergent
Wash on gentle cycle in cool or warm water
Spin dry on low or air dry
Iron on low if needed 
Here's another tip for how to wear leg warmers. For longevity, it's important to stop them from trailing on the ground by tucking them into the back of your shoes or choosing a shorter length.
Best Places to Buy Leg Warmers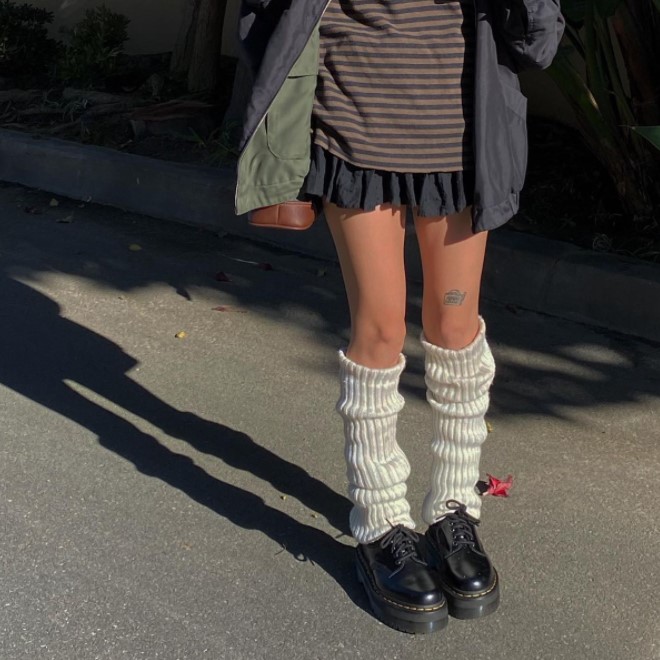 If our tips on how to wear leg warmers have you interested in buying a new pair (or two), you'll be happy to know that they're widely available. Apart from shoe and athletic stores, here are a few places you can shop for them:
Lululemon
Etsy
Amazon
Free People
Walmart
Final Thoughts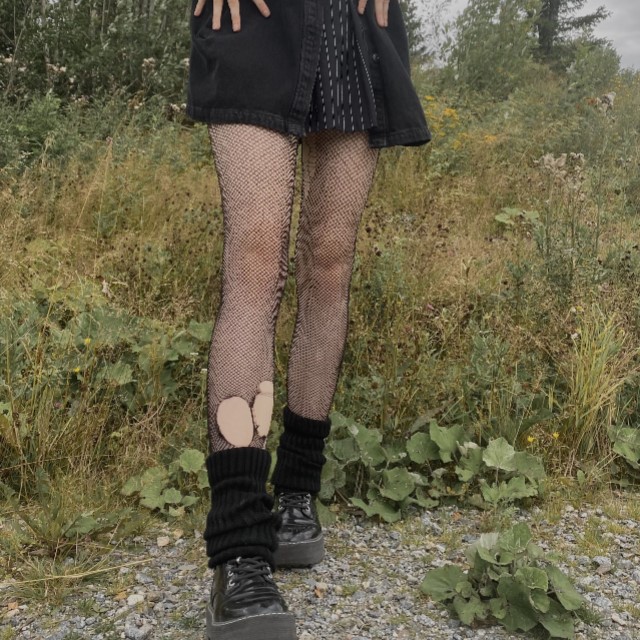 As we make our way through 2022, it only makes sense to do so in style. And since leg warmers are back on trend, they make a great addition to many outfits.
After reading our guide on how to wear leg warmers, we hope you'll feel confident trying on a pair with items you've already got in your closet, and creating lots of new, chic looks with this cozy accessory.  
On top of that, we hope that braving the cold, attending your new gym class, or simply getting cozy on a chilly day becomes a fun opportunity to flaunt your style by wearing different types of leg warmers—especially now that you know how to find the perfect pair for you. 
---
Looking to find your next clothing love affair? Check out some of our other comprehensive guides:
Get Access to Exclusive Deals
Subscribe for free to get exclusive deals in your inbox. 100% privacy