15 Best Jacquemus Boots
Styled for the modern woman, the best Jacquemus boots are relatively free of alternative edge.
Obviously, some of their designs still exude that rustic, edgy attitude, but it's relatively watered down due to the brand's preference for neutral tones and simple silhouettes.
If anything, their selection of kicks should remind you of a rich housewife in Beverly Hills instead of Avril Lavigne.
Often made with premium suede and leather, Jacquemus keeps a close eye on quality control.
In terms of design, trendsetters can choose from a curated selection of top-sellers, including the Les Bottes Carré Rond and the Olive Knee-High Leather Boots. Trust me, this is the type of boot to opt for when strutting down the streets of Manhattan.
Looking to expand your shoe collection? If so, I've gathered 15 of the best Jacquemus boots that showcase that VIP magic.
Finding The Best Jacquemus Boots
Compared to the brand's selection of heels and sandals, the best Jacquemus boots are quite limited in variety. You can still find an interesting assortment of designs to choose from, as trendsetters can opt for a cropped cut or a knee-high silhouette.
Often devoid of embellishments, the company tends to favor simplicity. That said, most of their 'minimalistic' styles still feature some sort of interesting twist, whether that be an avant-garde heel or a unique cut-out.
Due to their cost, it's important for shoppers to consider their budget, level of comfort, and current aesthetic before settling on a pair. After all, that $1,000+ purchase should be worn continuously to help justify its price.
The 15 Best Jacquemus Boots
Despite their versatility, sneakers aren't the best choice when it comes to certain outfits. If you want to stand out, it's time to invest in a spunky pair of Jacquemus boots. Elegantly shaped and exquisite in color, each designer pair is meant to strike fear in any fellow trendsetters.
For those in need of recommendations, I'll spotlight a few of the best Jacquemus boots. I'll also share details concerning price, material quality, and any unique attributes.
#1: Jacquemus Off-White 'Les Chaussures Bricolo' Boots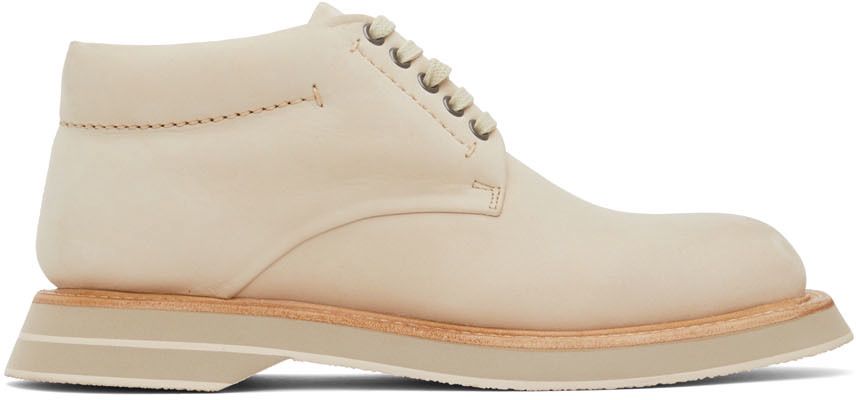 ---
#2: Jacquemus Les Chaussures suede boots - Brown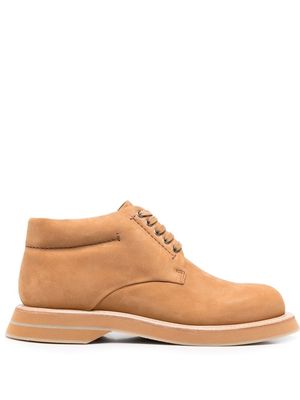 ---
#3: Jacquemus Blue 'Les Chaussures Bricolo' Lace-Up Work Boots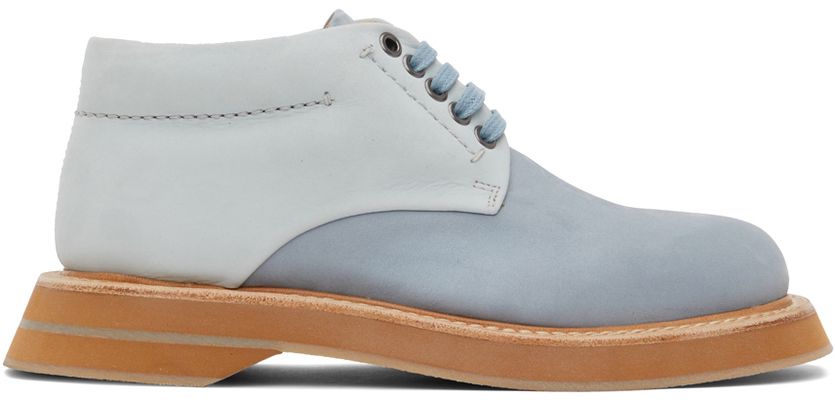 ---
#4: Jacquemus Pink 'Les Chaussures Bricolo' Lace-Up Work Boots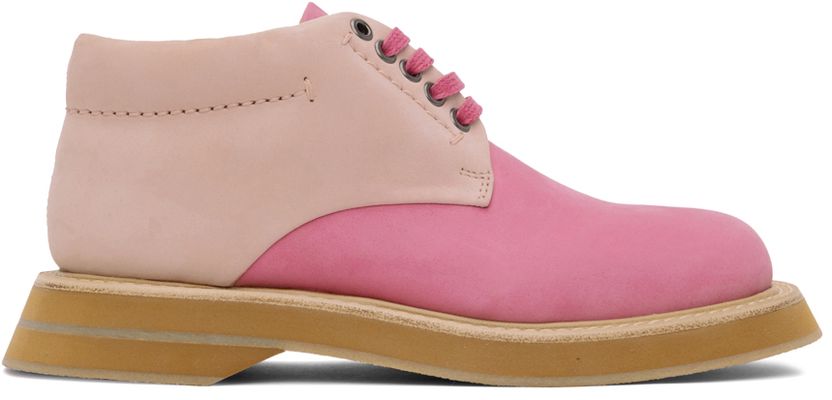 ---
#5: Jacquemus Brown 'Les Chaussures Bricolo' Lace-Up Work Boots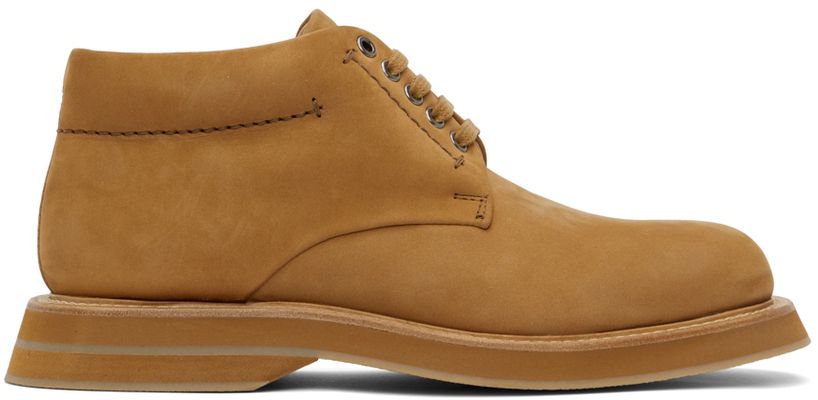 ---
#6: Jacquemus mid ankle duck boots - White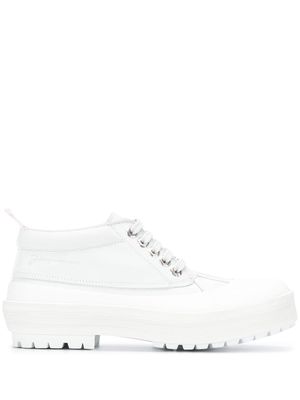 ---
#7: Jacquemus Carro Basses ankle boots - Neutrals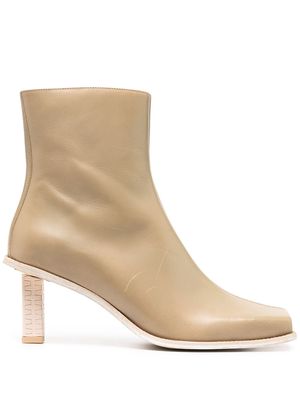 ---
#8: Olive boots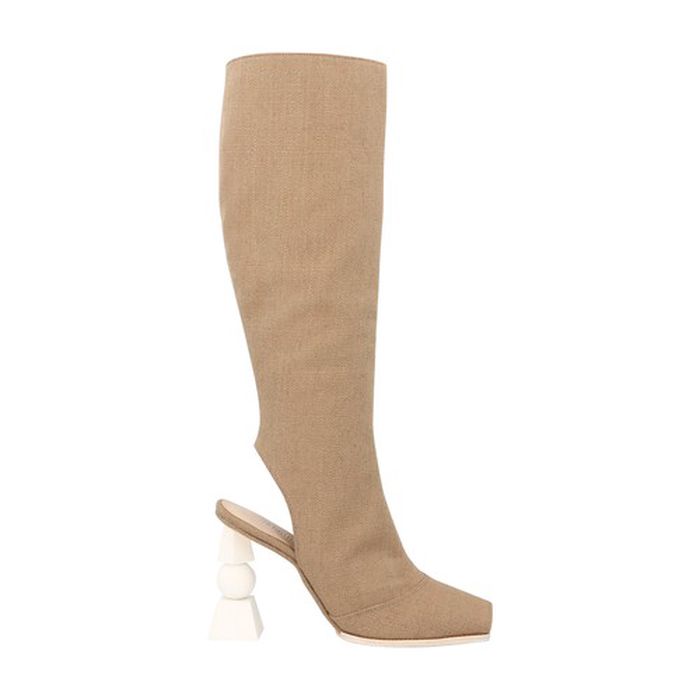 ---
#9: Jacquemus Terra lace-up hiking boots - Brown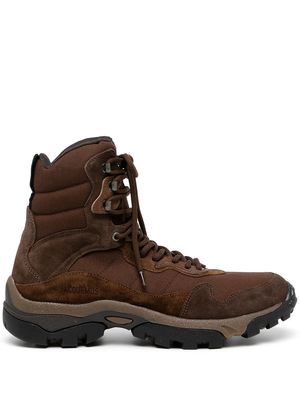 ---
#10: Jacquemus White 'Les Meuniers Hautes' Boots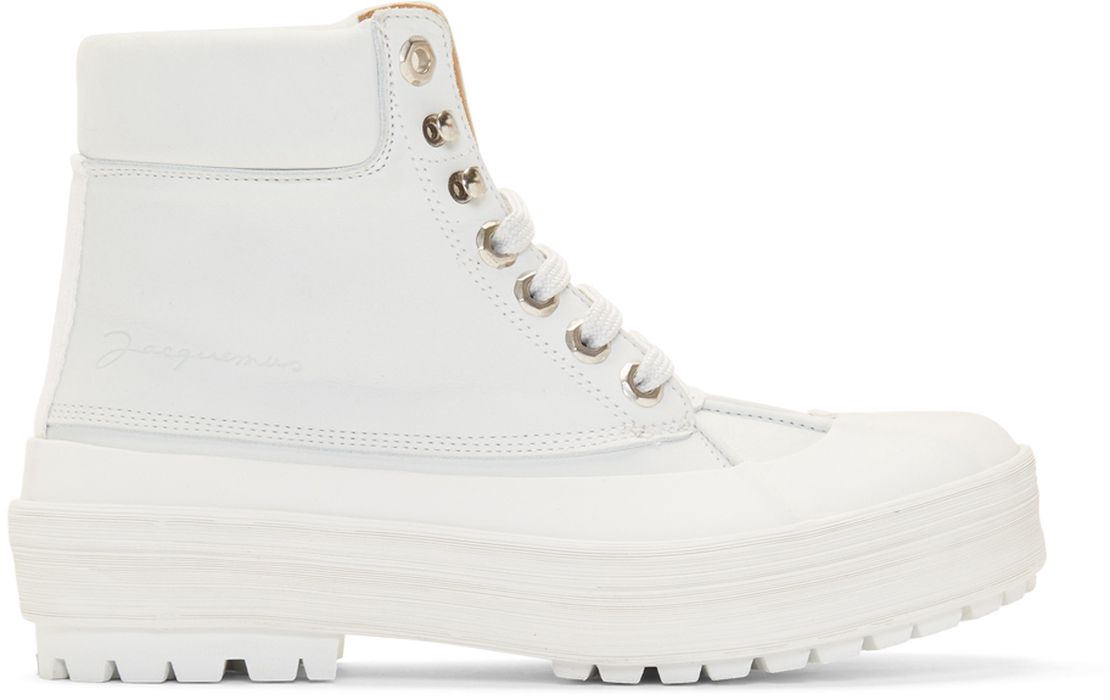 ---
#11: Jacquemus Pink 'Les Bottes Carré Rond' Over-The-Knee Boots

---
#12: Jacquemus Pink 'Les Meuniers Hautes' Boots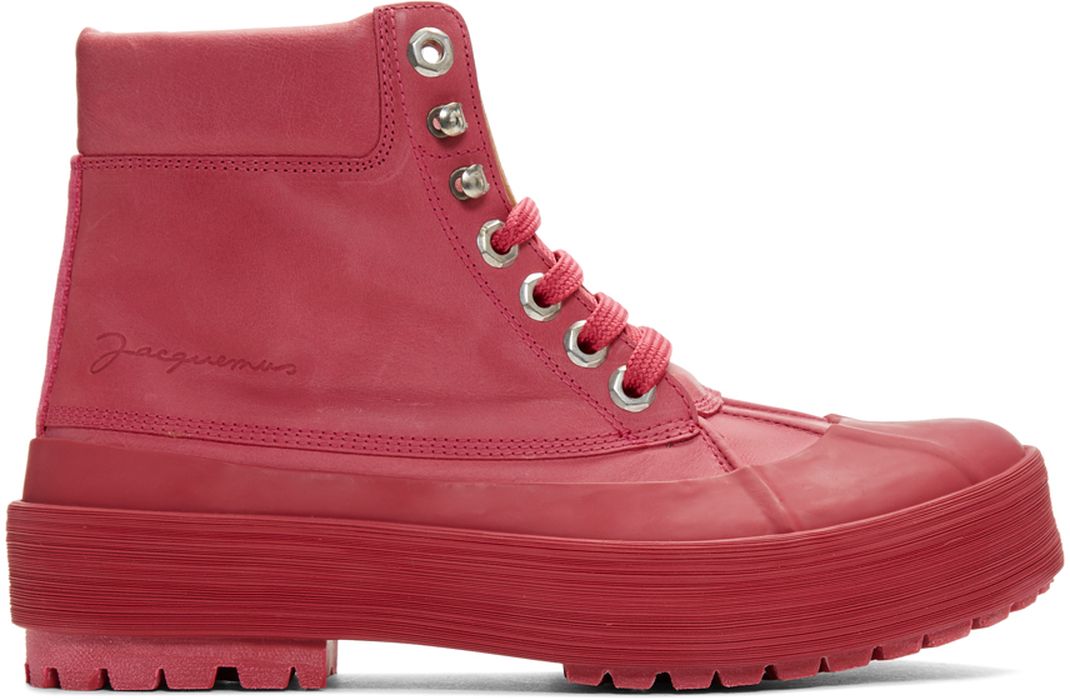 ---
#13: Jacquemus Green La Montagne 'Les Chaussures Terra' Boots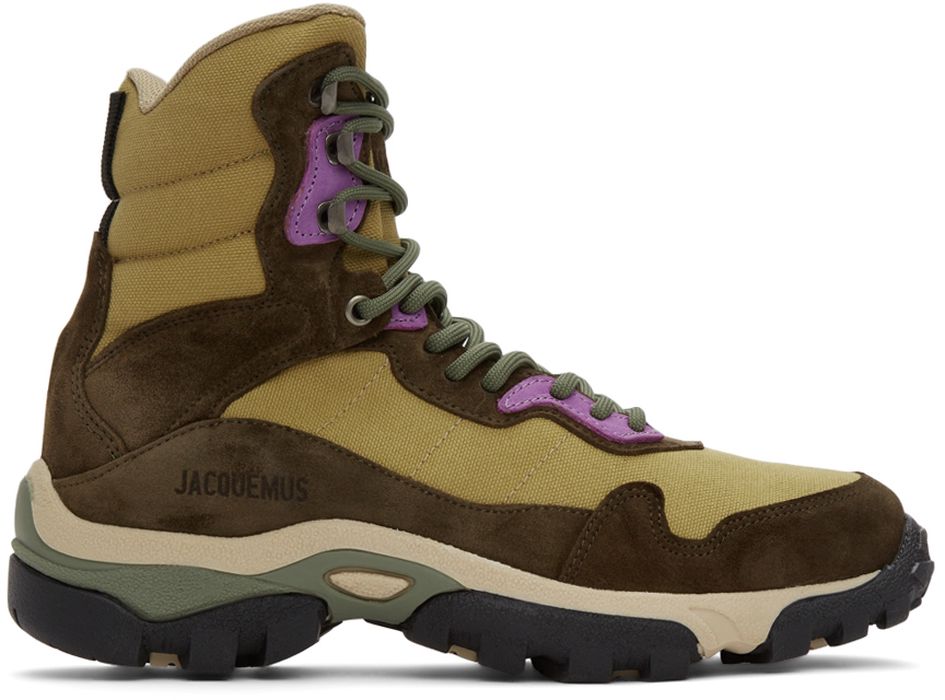 ---
#14: Jacquemus Brown La Montagne 'Les Chaussures Terra' Boots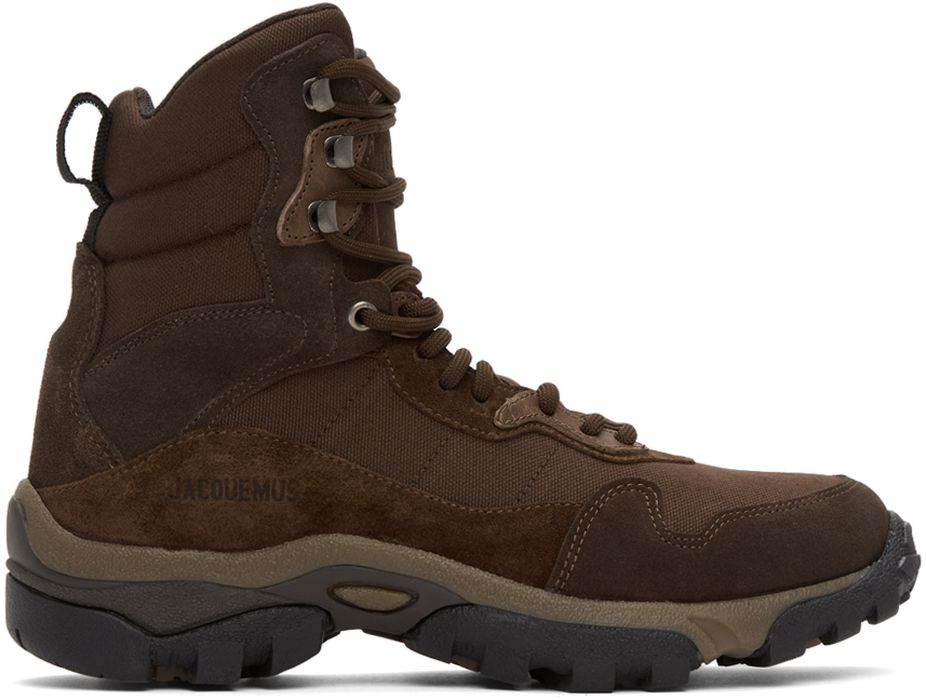 ---
#15: Jacquemus lace-up ankle boots - Neutrals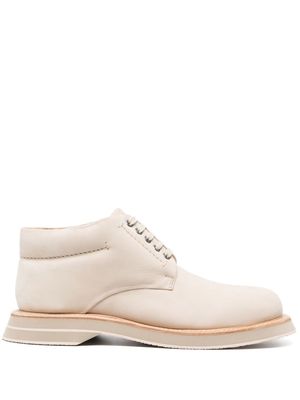 ---
What Are The Most Popular Jacquemus Boots?
The Les Bottes Pantalon boots are definitely the most popular pair. These unique kicks feature an exaggerated cuff with an asymmetrical heel.
Offered in beige, black, and white, they're considered a great alternative for those not fond of slim knee-high boots. Celebrities such as Kylie Jenner, Hailey Bieber, and Kendall Jenner have all been caught wearing a pair.
In second place, we have the short-cut lace–up boots. Considered the perfect blend between hiking kicks and Oxfords, these shoes can be your go-to pair for everyday use.
Do Jacquemus Boots Run True To Size?
Unfortunately, I couldn't find any information regarding sizing. So, I recommend double-checking the brand's measurements chart before heading to checkout.
How Can You Tell If Jacquemus Boots Are Real?
The market for counterfeit Jacquemus boots is quite small. Nevertheless, you should still be wary of designer dupes online. To help authenticate your purchase, here are some tips and tricks for shoppers to consider.
Check for brand tags, logos, and where the garment was made
Verify any packaging such as boxes, bags, and even receipts
Test the product's quality through fabric choice and stitching
Consider where you bought it from
Where Are Jacquemus Boots Made?
The best Jacquemus boots are made in Italy and Portugal. However, it's possible that some designs are made in Spain, as the brand typically produces its bags in these three countries.
Are Jacquemus Boots Good Quality?
Justifying that $1,000 expense is a hard pill to swallow. Fortunately, there's no need to worry about quality control when it comes to Jacquemus boots.
Constructed with quality leather and suede, they're definitely a far cry from those $40 knock-offs you'll find on fast fashion websites. Plus, they've achieved a stamp of approval from multiple celebs, which is no easy feat.
How To Style Jacquemus Boots
Due to their bold silhouette, Jacquemus boots require a stylish outfit to match. Below, I'll show you how to style your new kicks.
Perfect for everyday wear, this cute outfit features a simple white tee, a black blazer, and a mini handbag. The Jacquemus boots help to elevate the entire look, as the ensemble wouldn't have as much punch if Hailey opted for sneakers instead.
Considered another simplistic fit, this OOTD is composed of a slim-fit dress and a pair of matching Jacquemus boots. To help break up the monotony of black, I recommend adding a red statement purse.
Speaking of statement pieces, you can never go wrong with a designer bag. For instance, this model chose to pair her Jacquemus boots with a stylish Louis Vuitton purse.
---
Looking to stay up to date on all things Jacquemus? We've got you covered:
Get Access to Exclusive Deals
Subscribe for free to get exclusive deals in your inbox. 100% privacy