15 Best Jacquemus Shoes
Here's a neat riddle for you: I'm collectible, meant to redefine an outfit that's sublime but only leave you with a dime—what am I? If you guessed 'shoes,' then congrats! Here's a virtual cookie for you.
From Miu Miu to Prada, there are thousands of designer kicks on the market. Shopping for luxury shoes is an expensive pastime that's worth the pay-off, especially if you run a semi–famous Instagram account.
If you're ready to invest in your 200th pair, I've rounded up 15 of the best Jacquemus shoes that are definitely worth considering.
This iconic fashion brand is widely known for its unusual take on French classics, with notable examples ranging from the Le Chiquito bag to the La Maille Pau sweater.
From Shearling And Leather Mules to Les Chaussures Bricolo Boots, I've rounded up some of the best Jacqumeus shoes that are sure to spice up your shoe closet.
Finding The Best Jacquemus Shoes
If you're an avid window shopper, then you probably know that Jacquemus shoes aren't exclusively viewed as footwear. They're also perceived as works of art.
Often built with asymmetrical heels, bizarre shapes, and interesting details, the best Jacquemus shoes are meant to challenge traditional styles. Plus, buying a pair is a great way to shake up your current wardrobe if you're in need of a fresh start.
Despite Jacquemus' affinity for the bizarre and bold, you can rest assured that most of their designs feature a subdued color palette for wearability.
Given their hefty price tag, customers should consider four things before heading to checkout. This includes their personal budget, practicality, design, and comfort. If you happen to find a pair that ranks high in all four categories, then you definitely have a keeper.
The 15 Best Jacquemus Shoes
Take this as an opportunity to sharpen your shopping skills and prep your internet connection. Online buying is a real sport that requires lots of focus, research, and speed.
Given that Jacquemus is a designer brand, the stakes are insurmountably higher. After all, you don't want to walk away with a $1,000 pair of shoes that you'll never wear.
For those in need of recommendations, here are some of the best Jacquemus shoes that are all the rage this season.
#1: Jacquemus - Terra Canvas And Suede Boots - Mens - Brown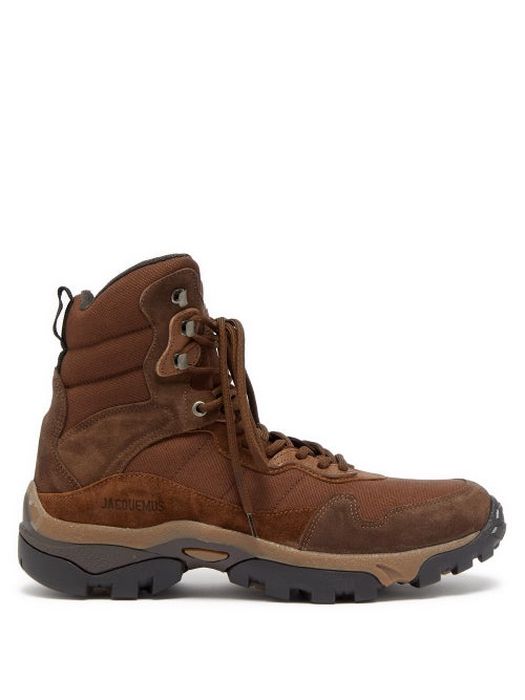 ---
#2: Olive boots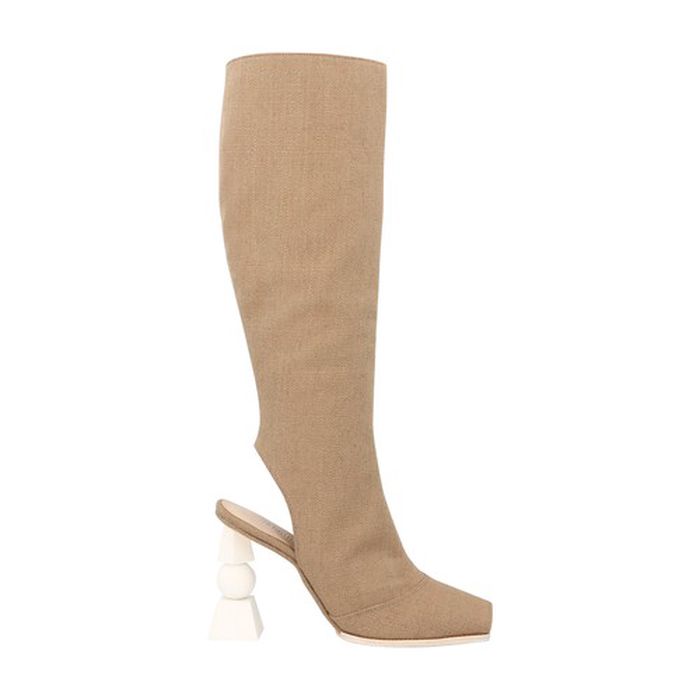 ---
#3: Jacquemus - Bagnu Twisted-strap Terry And Leather Mules - Womens - Blue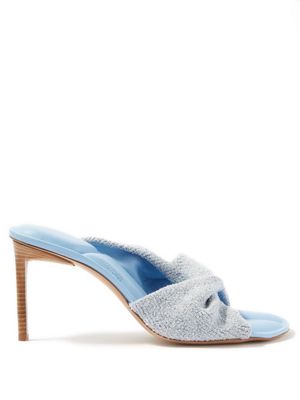 ---
#4: Jacquemus - Piscine Square-toe Padded Leather Mules - Womens - Pink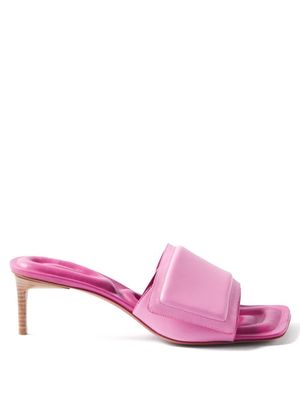 ---
#5: Jacquemus - Limone Leather Slingback Sandals - White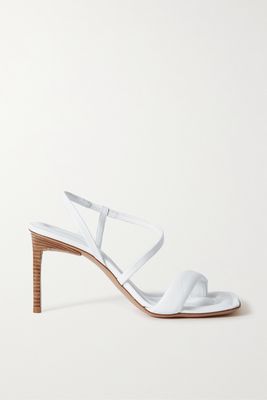 ---
#6: Les Carre mules
---
#7: Jacquemus - Mari Twisted-strap Leather Mules - Womens - Green
---
#8: Jacquemus Les Mules Carrés Ronds 75mm sandals - White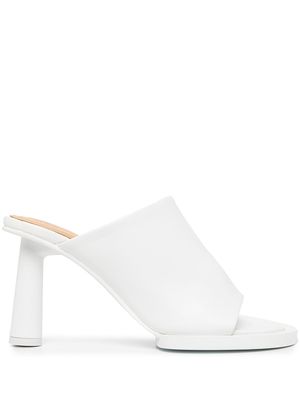 ---
#9: Jacquemus bead-embellished 70mm heeled sandals - Blue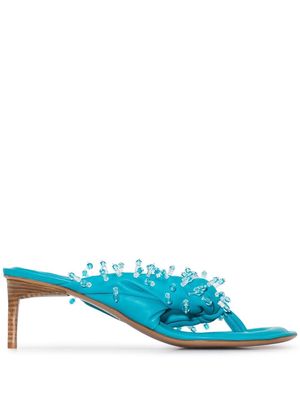 ---
#10: Jacquemus slingback 100mm sandals - Blue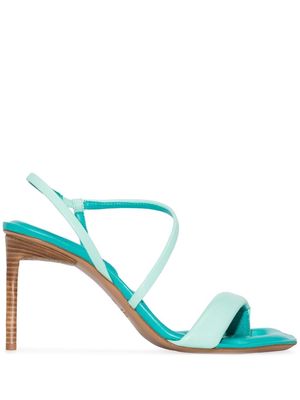 ---
#11: Jacquemus White 'Les Palmo' Sneakers

---
#12: Jacquemus Off-White 'Les Chaussures Bricolo' Boots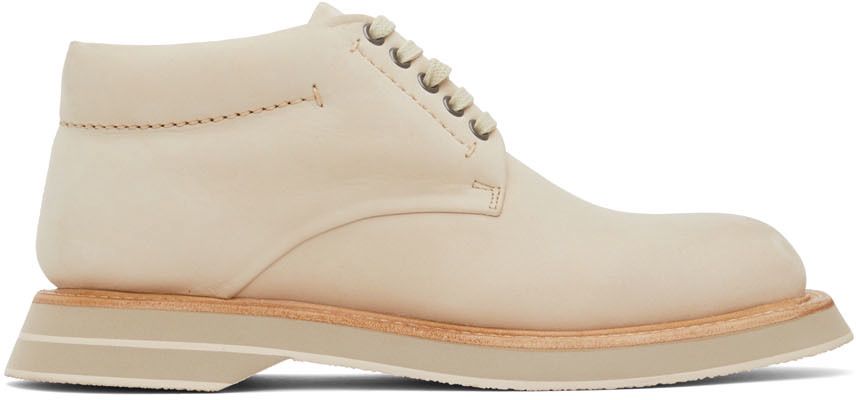 ---
#13: Jacquemus knot-detail 85mm mules - Pink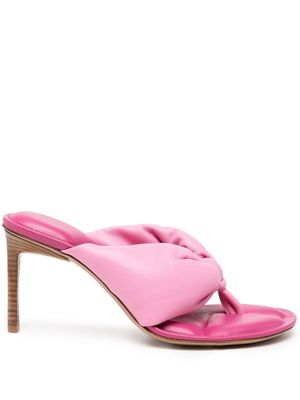 ---
#14: Jacquemus - Shearling And Leather Mules - Brown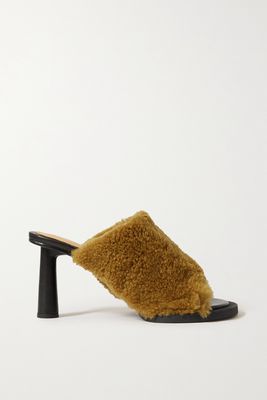 ---
#15: Jacquemus slingback strap slippers - Neutrals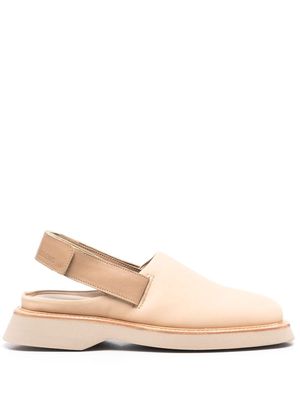 ---
What Are The Most Popular Jacquemus Shoes?
The Les Mules Vallena Slides, the Les Sandales Manosque, and the Les Mules Carino are a few of the most popular designs sold at Jacquemus.
All three pairs feature some sort of interesting twist—whether that be the silhouette of the shoe or the choice of fabric.
For instance, the suede mules and sandals have an intriguing bulb for the heel. Decorated with lavish details and engravings, they're definitely a testament to the brand's affinity for French classics and art.
Do Jacquemus Shoes Run True To Size?
Unfortunately, there's not much information regarding shoe sizing. It seems that most of the attention is directed toward their clothes and handbags. So, to prevent try-on mishaps, I recommend that you reference the brand's size guide before heading to checkout.
How Can You Tell If Jacquemus Shoes Are Real?
As previously mentioned, most of the attention is directed towards bags and garments instead of shoes. But for those who encountered a genuine-looking pair of heels at their local thrift store, here are some ways to authenticate your Jacqeumus kicks.
Verify the brand tag and logo
Validate the choice of fabric, color, and print
Check for misspellings and manufacturing defects
Consider where you bought it from
Where Are Jacquemus Shoes Made?
According to my research, the best Jacquemus shoes are made in Italy and Portugal. Also, it's possible that some designs are made in other countries, such as Spain or Romania.
Can Jacquemus Shoes Be Unisex or Gender-Neutral?
It's 2022—fashion is considered a non–binary pastime. In this day and age, you're free to wear whatever you want, despite the fact that Jacquemus chooses to organize their shoe collection by gender.
That said, you may run into a few issues regarding sizing since you might need to size up or down depending on the design.
How To Style Jacquemus Shoes
Before this 'best Jacquemus shoes' guide comes to a close, I'd like to leave readers with a few fashion tips. Below, I'll show you how to style your designer kicks.
Given that most Jacquemus shoes are considered works of art, the outfit itself must be relatively subdued in order to show them off. For instance, this model chose to accentuate her block heels with a black fringed dress and a white clutch.
Here's a simple fashion tip: why not pair your sandals with a cute handbag? Matching in hue, this OOTD showcases the dainty nature of the kitten heels and the mini Le Chiquito.
Composed of a button-down dress and a cute beige handbag, Kendall Jenner uses her Les Bottes Pantalon Boots as a statement piece.
The exaggerated cuffs help add some visual interest to her look, which you can never get with a traditional pair of knee-high stilettos.
---
Looking to stay up to date on all things Jacquemus? We've got you covered:
Get Access to Exclusive Deals
Subscribe for free to get exclusive deals in your inbox. 100% privacy