20 Best Men's Pants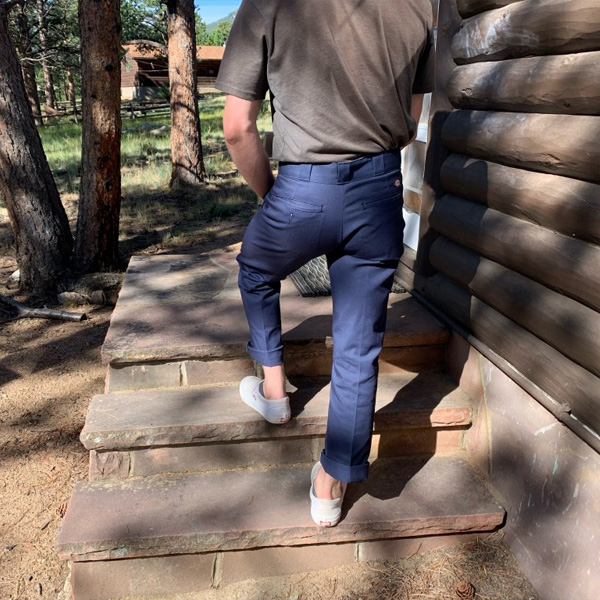 From breeches to bell-bottoms, we've been buttoning, belting, and cuffing men's pants for decades. We've come a long way since the early 1800s, but some feel that the change has been slow-moving.
The evolution of male apparel is often described as moving at a snail's pace—especially considering the fluctuations in women's apparel during the Victorian era and beyond.
The conservative nature of pantaloons, trousers, and jeans began to slowly evolve, thanks to the social and economic changes from the 1850s and then onward. And gradually over time, many men deviated from the social conventions of dress.
Today, we're graced with expectation-defying A-listers like Harry Styles and Tyler, the Creator, who have redefined male fashion, and that includes the coveted pair of men's pants.
Whether you prefer the 1970s vintage bell bottoms or the 2010 rage of skinny jeans, consider my article a snapshot of twenty-first-century trends. I'll also answer some FAQs regarding styling tips and shopping advice. 
What Makes A Good Pair Of Men's Pants?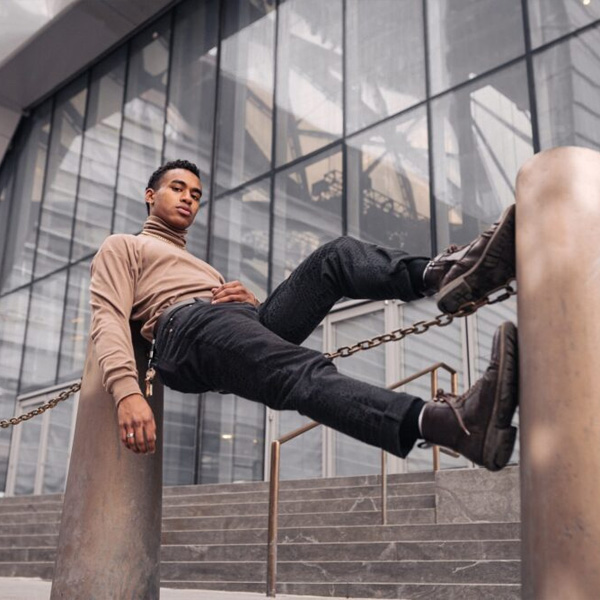 Let me introduce you to a guy named Beau Brummell. He was a renowned trendsetter during the Regency era. Brummel didn't care much for the fancy accouterments of Bridgerton fashion; instead, he focused on tailored fits and classic silhouettes.
We've come a long way since 1811, but his point still stands. People should prioritize shape instead of passing trends, and that extends to the basic pair of men's pants. 
A perfect pair of pants should flatter your figure. It must hug the waist, hips, butt, and legs. This applies to all sorts of designs, ranging from cigarette pants, JNCO jeans, and suit trousers.
Obviously, fit depends on the fabrics used. These days, most brands try to use a mix of sturdy materials and flexible textiles. 
Finding The Best Men's Pants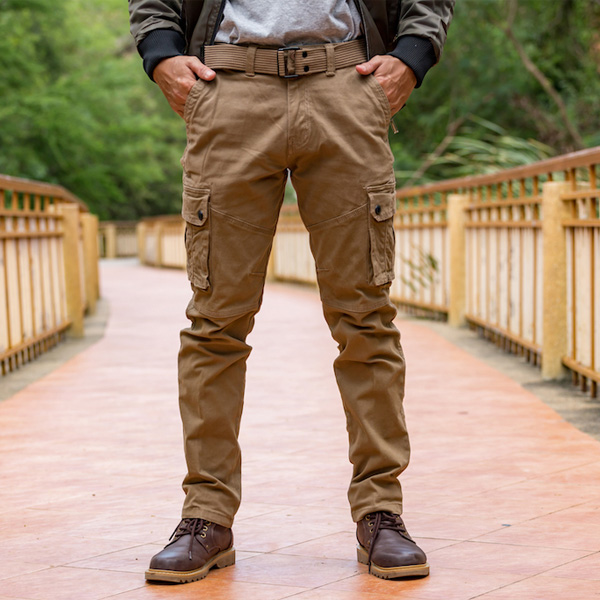 When shopping for pants, there are four crucial factors to consider: design, material, durability, and comfort. Of course, fit is another point worth considering, but I've already covered that in detail. 
As previously mentioned, brands usually utilize a blend of stiff and stretchy fabrics. Most pants are made out of cotton, polyester, twill, wool, and jersey knit.
It's important to find a pair that feels thick and sturdy in construction. Thin materials are typically a tell-tale sign of cheap manufacturing, and they're more prone to ripping. 
Design and comfort are two sides of the same coin. Ideally, men's pants should be timeless in style and practical in construction. Necessary features, such as pockets, zippers, and belt loops, should never be overlooked.
Obviously, the overall design may include patterns, prints, and colors. So customers should always select a pair that aligns with their current aesthetic. 
The 20 Best Men's Pants
Most people either love or hate online shopping—there's no in-between. While many view e-commerce as a handy tool with endless potential, others perceive it as a confusing cesspit of materialism.
Whichever way you feel, you can count on my top-20 list as an easy way to find men's pants. 
#1: Medelita Men's Summit Scrub Pants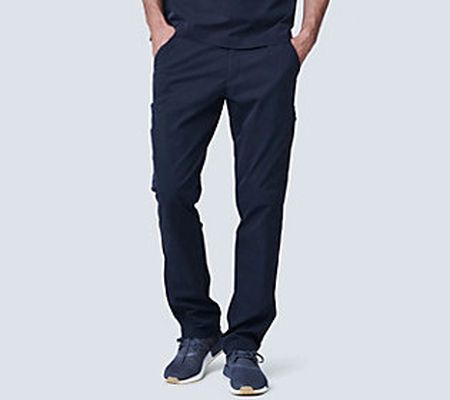 ---
#2: Lands' End Men's Knit Jersey Sleep Pants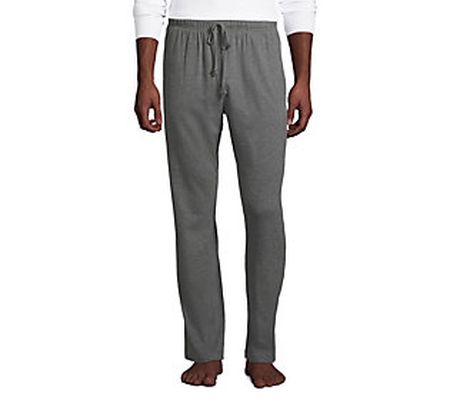 ---
#3: Medelita Classic Fit Men's Scrub Pants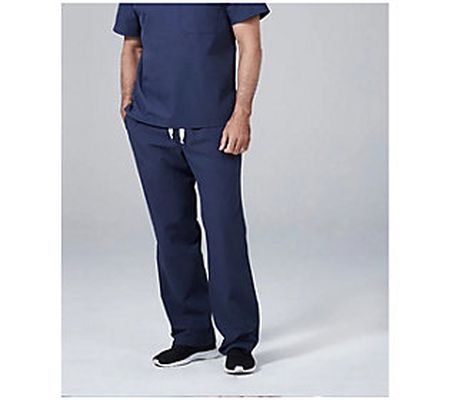 ---
#4: Cuddl Duds Men's Jogger Scrub Pants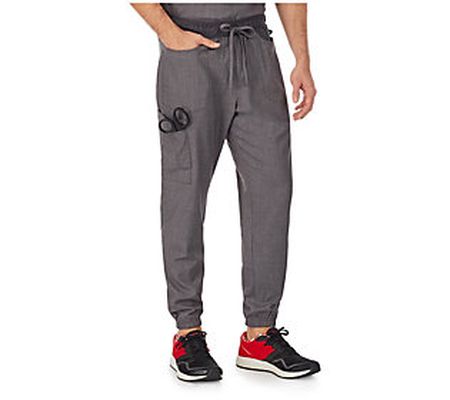 ---
#5: Men with Control Knit Pull-On Straght Leg Pants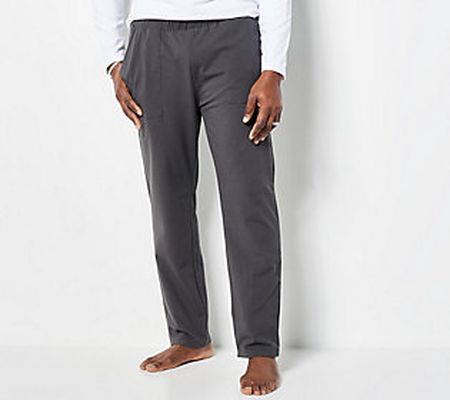 ---
#6: Men's Tonal Jacquard Formal Dress Pants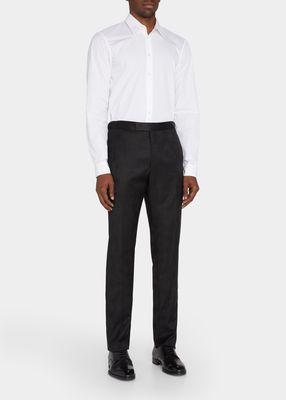 ---
#7: Men's Garment-Dyed Active Pants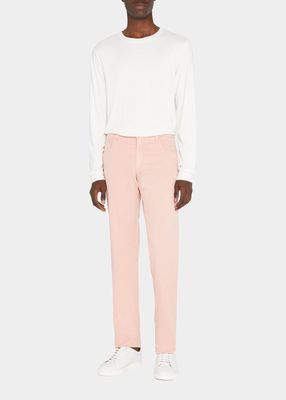 ---
#8: Cuddl Duds Men's Double Jersey Sleep Pants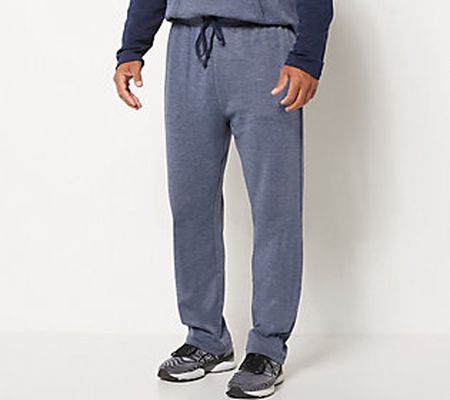 ---
#9: Canali Men's Micro Textured Sport Pants in Light Blue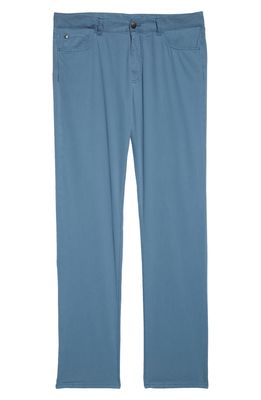 ---
#10: Men's Nathan Solid Formal Pants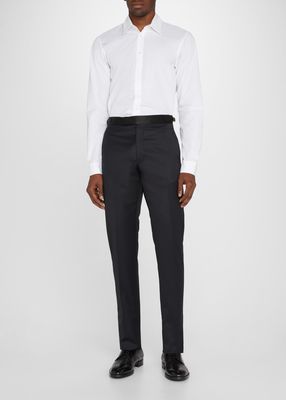 ---
#11: Men's Denim-Effect Active Pants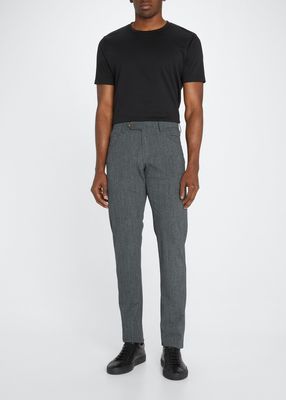 ---
#12: BRADY Men's Zero Weight Golf Pants in Granite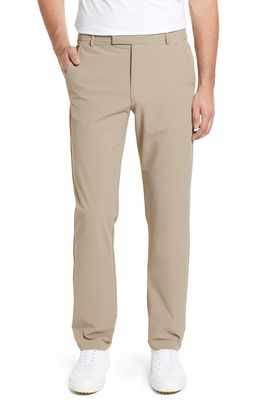 ---
#13: FOCO Men's Navy Houston Astros Polyester Print Pants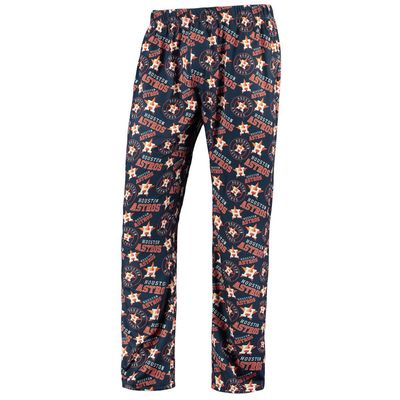 ---
#14: Berle Men's Charleston Flat Front Chino Pants in Khaki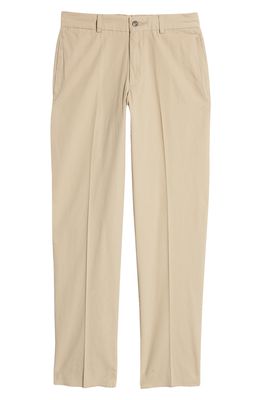 ---
#15: Psycho Bunny Men's Noah Track Pants in Navy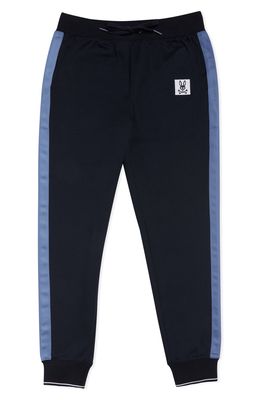 ---
#16: Canali Men's Micro Textured Sport Pants in Navy
---
#17: OUR LEGACY Men's Trekking Cargo Pants in Cerise Cotton Ripstop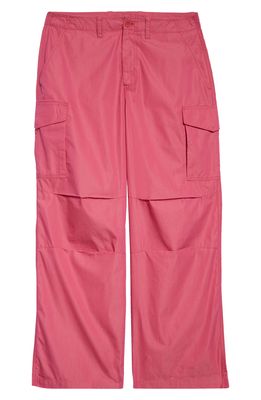 ---
#18: Berle Men's Charleston Pleated Chino Pants in Tan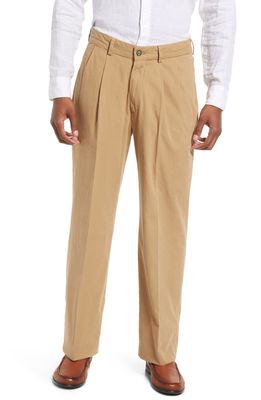 ---
#19: Men's Multi-Pocket Cargo Pants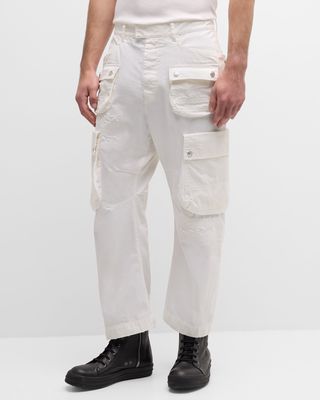 ---
#20: Men's Stone Cotton-Linen 5-Pocket Pants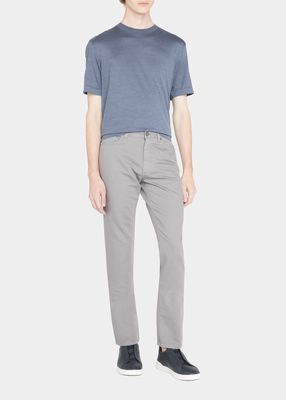 ---
What Are The Most Popular Men's Pants?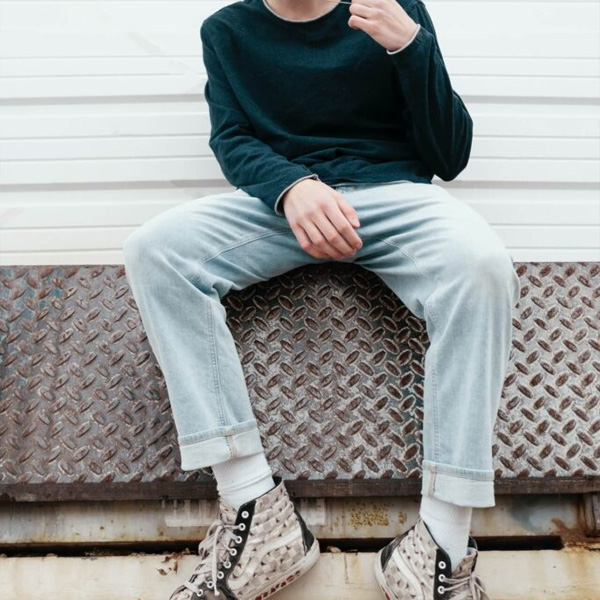 Pants—there's lots of 'em. Naturally, it's difficult for me to find what's poppin' or not for each clothing category, which includes jeans, khakis, suit trousers, chinos, and joggers.
The best that I can do is to provide a condensed list of popular styles that are all the rage this season. 
The Stretched Washed Chinos from Bonobos 
The 501 Straight Jeans from Levi's
The Adicolor Classics Fabric Clash Track Pants from Adidas 
The 484 Slim-Fit Chino Pant from J.Crew 
What Types Of Men's Pants Can You Get?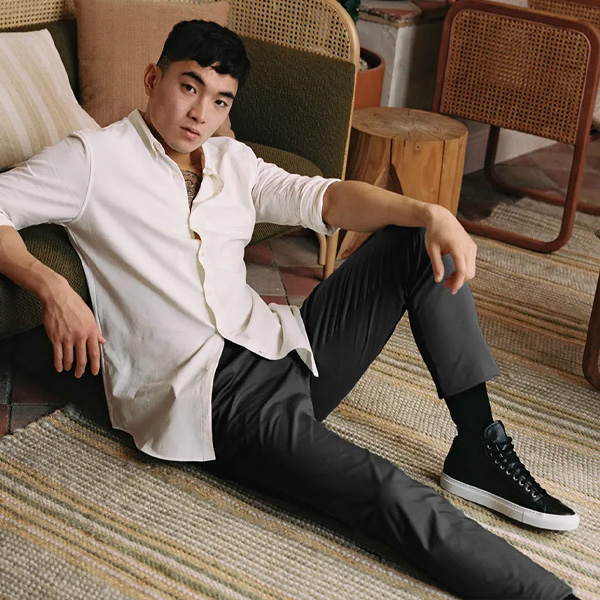 There are dozens of classic cuts to choose from. The men's pants category is usually divided into multiple subcategories, which include chinos, khakis, jeans, joggers, suit pants, PJs, and more.
What Are The Most Comfortable Men's Pants?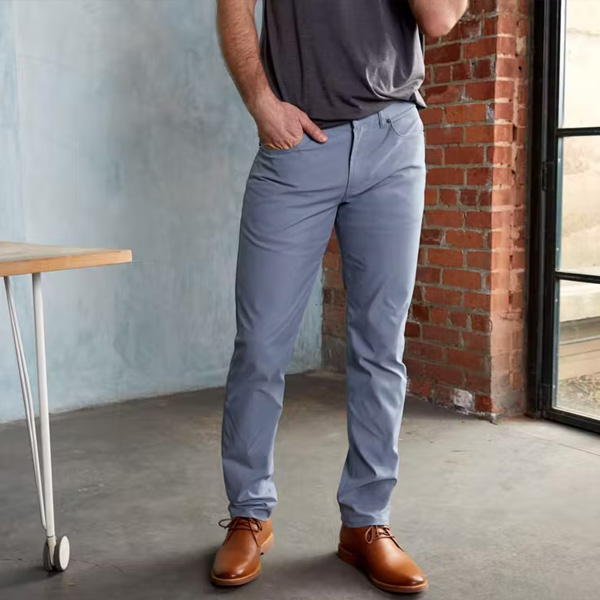 There's no need for further debate. Drawstring joggers are the most comfortable pair of men's pants that you can get. Roomy in fit, these bottoms allow for maximum flexibility and provide lots of extra space.
They're typically constructed with soft materials too, such as organic cotton, jersey knit, and cashmere. 
How To Style Men's Pants
Stuck in a styling slump? If so, no worries. I'll show you a few ways to style men's pants.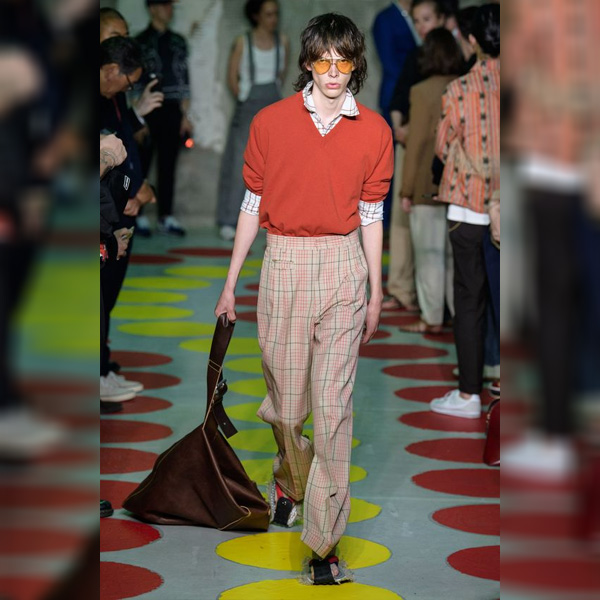 Cheesy fashion has become a rampant trend, thanks to the influence of Harry Styles. So if you can't beat 'em, you might as well join 'em.
Case in point, this playful outfit consists of plaid trousers, a red sweater, and a matching collared shirt. Accentuated with sunnies, it's definitely a look that Harry would wear.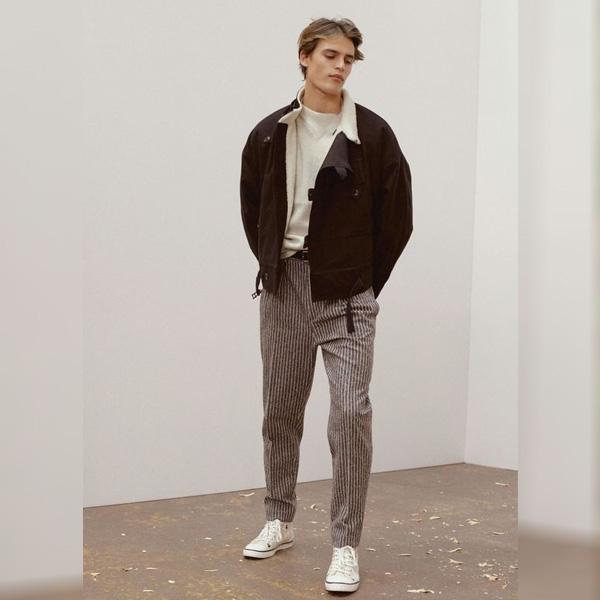 Outfitted with pinstripe pants, this model chose to accentuate their look with a sherpa-lined jacket, a white tee, and a pair of Converse sneakers. It's a simple yet chic ensemble to wear if you can't be bothered to dress up.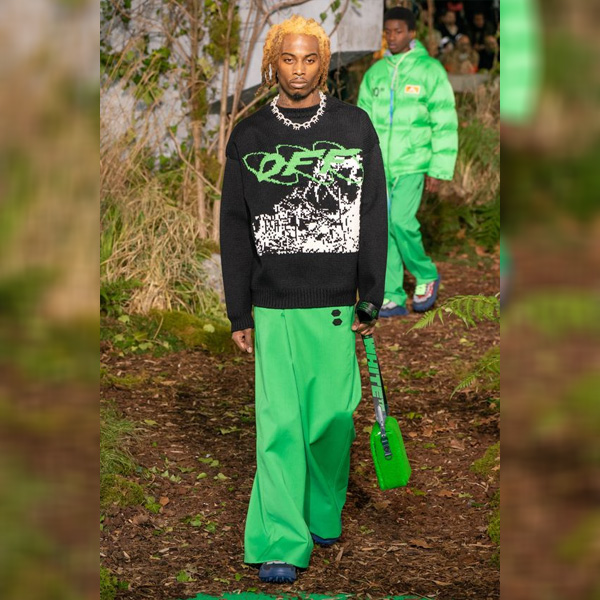 For those into streetwear, this edgy look consists of a pair of green pants, an oversized graphic pullover, and silver jewelry.
While the silhouette is relatively classic, the central point of the outfit is definitely the vivid green pants. The bold color turns them into a striking statement piece. 
---
Looking to up your fashion game? We've got you covered:
Get Access to Exclusive Deals
Subscribe for free to get exclusive deals in your inbox. 100% privacy