16 Best Prada Necklaces
Recently, I've realized how important jewelry is to finish off an entire look. It truly has the ability to enhance an outfit and it's not hard to wear! Prada Necklaces especially can make a statement and be the focal point of any look.
Prada is one of the best luxury brands and they release modern jewelry designs rich with inner-city vibes. Their jewelry collection is one of the most popular to shop from and soon you'll know why.
Finding The Best Prada Necklace
A necklace usually reflects someone's personality in some way. For example, I have two favorite necklaces: one has a pendant of my zodiac sign and the other has my boyfriend's name.
So, even if it's just for fashion, it's fun to have a piece that means something to you or that mirrors your style.
If you're known to have an edgy, trendy, or polished lifestyle and fashion sense, then a necklace with a show-stopping pendant or a thicker chain will showcase this.
On the other hand, you might be known for being soft-spoken, simple, and minimal. Prada has options for those individuals too and these necklaces feature dainty details and light pastel colors.
The point is, it's important to know who you are. After all, you'll carry your style most confidently when it feels comfortable and unique to you.
The 16 Best Prada Necklaces
#1: Short Chain-Link and Sphere Necklace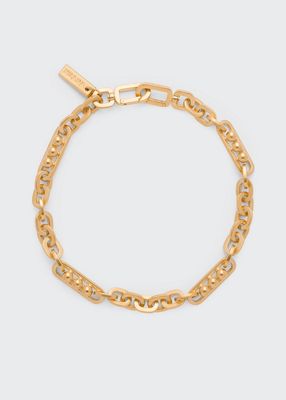 ---
#2: Prada ball chain necklace - Silver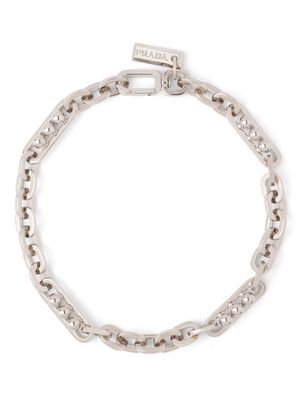 ---
#3: Prada chain necklace with logo - Silver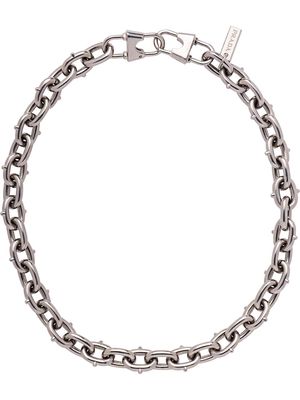 ---
#4: Prada chain necklace - F0E5O ANTIQUED SILVER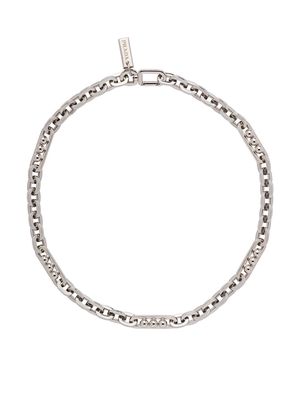 ---
#5: Prada 18kt yellow gold beaded baroque pearl necklace - White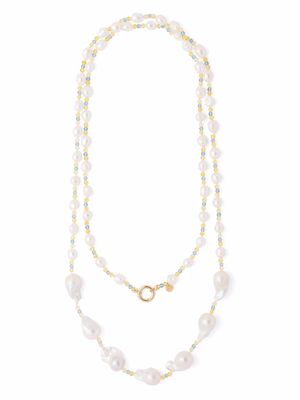 ---
#6: Prada triangle logo necklace keychain - Silver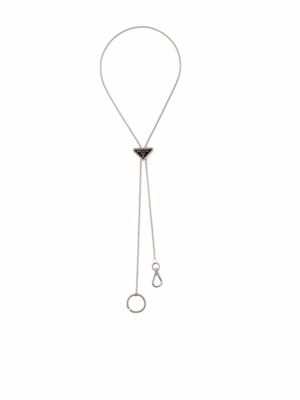 ---
#7: Prada seashell-embellished necklace - White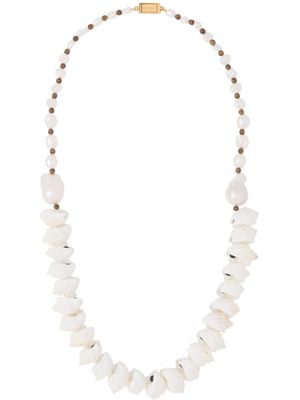 ---
#8: Leather logo necklace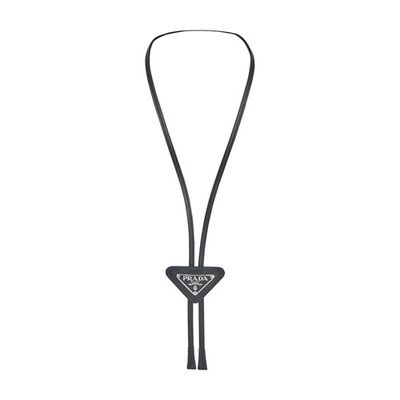 ---
#9: Men's Sterling Silver Triangle Charm Necklace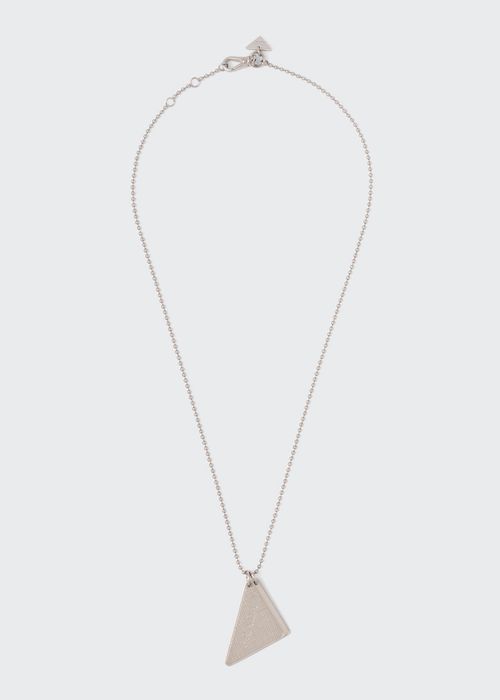 ---
#10: Prada - Triangle-logo Cable-chain Necklace - Womens - Silver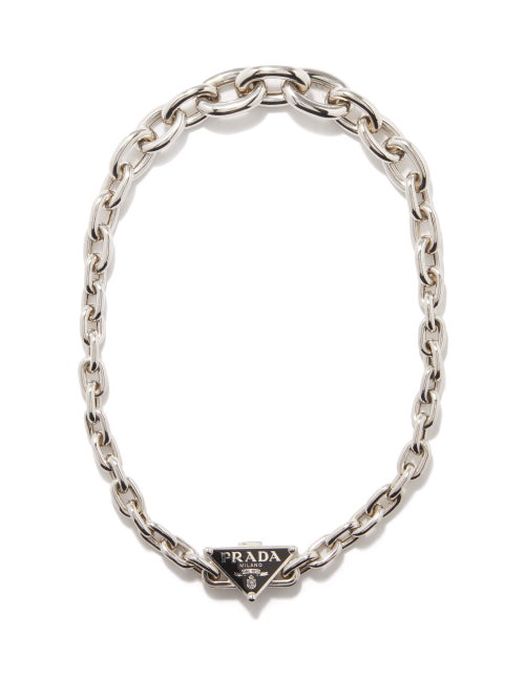 ---
#11: Men's Sterling Silver Chain Necklace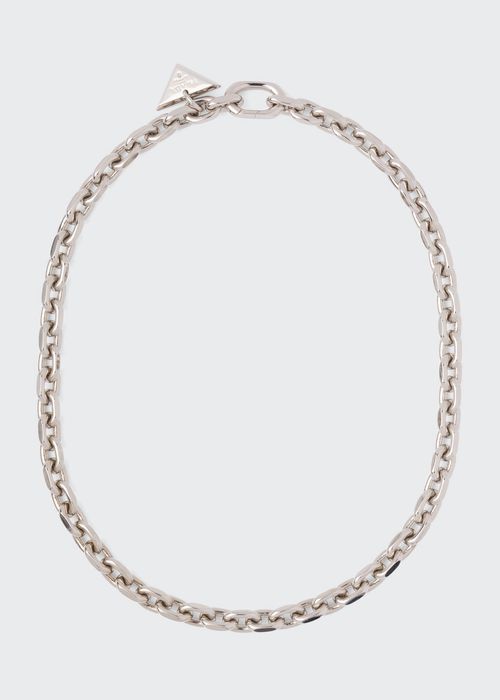 ---
#12: Prada Acrylic glass necklace with logo - Brown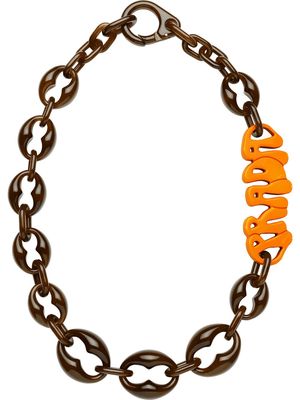 ---
#13: Prada Plexiglass necklace - Brown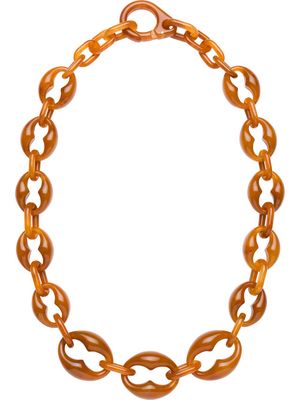 ---
#14: Prada chain necklace - F0056 GOLD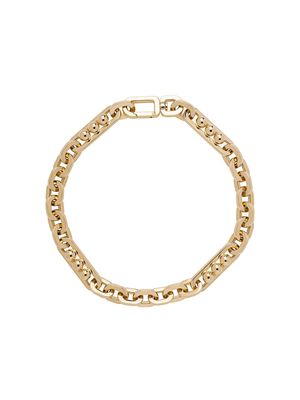 ---
#15: Prada oversized chain necklace - Silver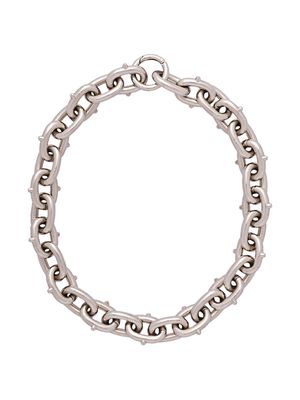 ---
#16: Prada studded chunky chain link necklace - Silver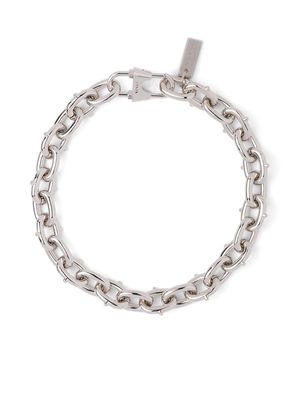 ---
What Are The Most Popular Prada Necklaces?
The triangle Prada Symbole Necklace is probably the most popular Prada necklace you've seen once or twice.
It's a timeless design with its chunky chain and black triangle pendant that features the designer company's logo. Even though it's found in Prada's women's collection, this necklace can be unisex and honestly pairs well with anyone and everything.
If you love honoring the triangle symbol of the brand, but the previous necklace was a bit too edgy for you then this alabaster pink Prada Symbole may be a better fit.
It has a more dainty chain that's detailed with six smaller triangles in a soft pink color, but it also comes in aqua blue.
This could be a great choice if you're looking for a necklace to stack or prefer more gentle jewelry.
Why Is Prada So Expensive?
In the high-end fashion world, good quality attached to a luxury brand name matters.
Prada has a lengthy history as a luxury designer and has built a renowned reputation worldwide. So, Prada products give buyers the sense of being part of an elite group.
And, even though these exclusive products come with a high price tag, you can guarantee they won't tarnish or tear easily.
How Can I Tell If My Prada Necklace Is Real?
As we just said, Prada really values the quality of its designs. So, if you're paying a pretty penny for one of their designer items, then you'll want to be sure it's real.
When trying to figure out if your necklace is authentic or not, the quality of the materials will be the biggest giveaway. The gold or silver should be shiny and stay shiny!
It should also feel relatively durable to the touch. Many choose to do the magnet test since gold or silver won't be attracted to the magnet. If your necklace is then it might be a fake.
Are Prada Necklaces Worth It?
Personally, I think jewelry is underrated and definitely worth it. It's one of the easier ways to enhance an outfit or add flair to any look.
Yes, you're paying big bucks for designer jewelry. But keep in mind that you don't have to pick and choose when to wear it the way you would a piece of clothing.
A luxury necklace can be decorated across your neck every day—so you'll be feeling like your purchase was worth it.
How To Style Prada Necklaces
How you style your necklace depends on the Prada necklace you choose. Let's use the two necklaces above as examples.
If you end up buying a more chunky necklace that has a bit of edge—like the triangle Prada Symbole Necklace—then it has the power to be the focal point of your outfit.
Since it has dark, neutral tones you can pair it with any color or pattern. But, be courageous and play around with the urban vibe it gives off. This kind of necklace would be best complemented with a leather jacket and worn on its own.
If you choose a more dainty necklace, such as the alabaster pink Prada Symbole, then you can wear it with other pieces in your jewelry collection.
If it features a color, then have fun and try picking up on the same hue in other parts of your look—this will tie your whole outfit together!
---
Looking to stay up to date on all things Prada? We've got you covered:
Get Access to Exclusive Deals
Subscribe for free to get exclusive deals in your inbox. 100% privacy