25 Best Prada Nylon Bags
Finding The Best Prada Nylon Bags
You can say that some designer brands have their 'chosen mate' when it comes to fabric selection.
For example, Hermes has an affinity toward silk; Citizens of Humanity is a world-renowned denim label, and Prada opts for nylon instead of traditional leather.
"Nylon?" you might ask in bewilderment. Typically used for windbreakers and tracksuits, it sounds distasteful for a brand that caters to luxury fashion.
Controversy aside, Prada states that this particular material offered a much-needed break from the suffocating environment of stiff, haute couture fabrics.
In our opinion, this material provides an edginess that other elegant fabrics can never offer. With that in mind, can we interest you in some of the best Prada nylon bags?
From the 2005 ReEdition collection to its iconic selection of backpacks, we've gathered a few notable contenders that are sure to jazz up any ensemble. Let's get started!
The 25 Best Prada Nylon Bags
Prada is a prime example of 'carry-on couture.' Recognized for its affinity towards nylon, the brand states that this particular fabric is its "preferred form of expression." This specific material is sturdy and versatile, making it the perfect candidate for purses.
Aside from the brand's usage of Saffiano leather, Prada issues a separate 2005/2000 collection of Re-Edition bags, which feature a recycled blend of post-consumer nylon.
It's a great alternative for ethical shoppers to consider, given that most designer brands usually turn a blind eye to environmental conservation.
Sewn with metal hardware, pockets, and Prada's iconic triangle logo, the majority of its nylon bags have a classic silhouette.
Ultimately, you don't have to worry about avant-garde designs here, as each carry-on is made to blend with any outfit. It's also worth noting that the brand typically features monochrome colors, such as black, blue, and pink.
#1: Prada nylon bag - Black
---
#2: Prada Saffiano leather and nylon garment bag - Black
---
#3: Tessuto Re-Nylon Flap Shoulder Bag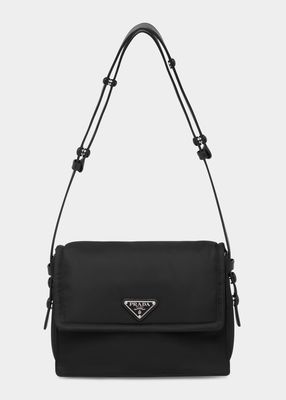 ---
#4: Prada Re-Nylon triangle logo holdall bag - Blue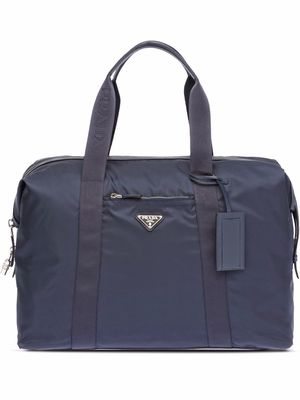 ---
#5: Prada Re-Nylon triangle-logo plaque padded tote bag - Black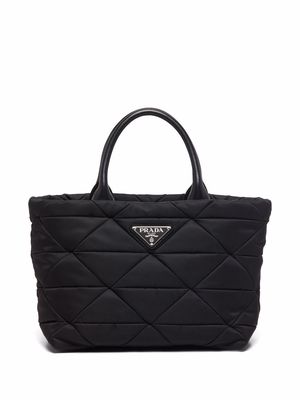 ---
#6: Prada Nylon Bag - Blue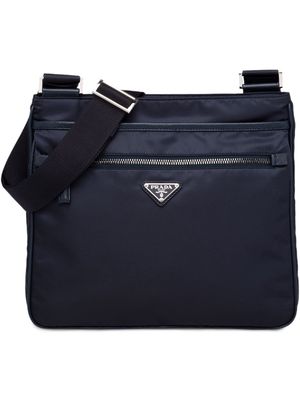 ---
#7: Zip Nylon & Calf Leather Shoulder Bag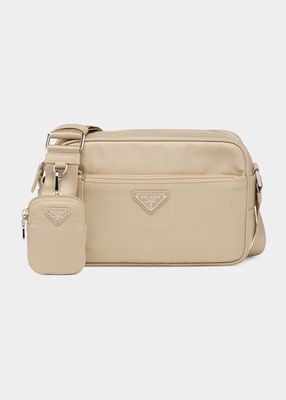 ---
#8: Tessuto Triangle Logo Nylon Tote Bag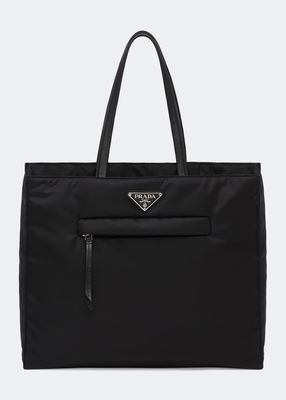 ---
#9: East-West Nylon Tote Bag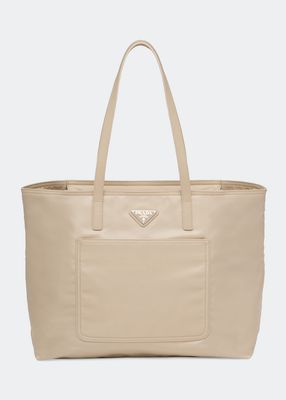 ---
#10: Prada Re-Nylon and Saffiano leather duffle bag - Black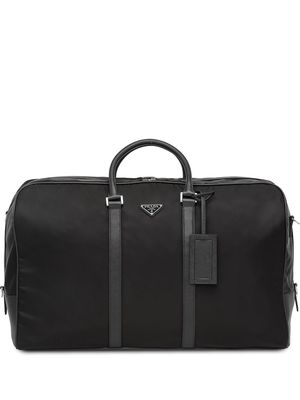 ---
#11: Prada Re-Edition 2000 sequined Re-Nylon bag - Purple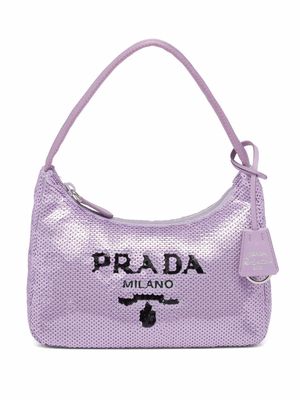 ---
#12: Prada - Re-edition 2005 Recycled-nylon Shoulder Bag - Womens - Black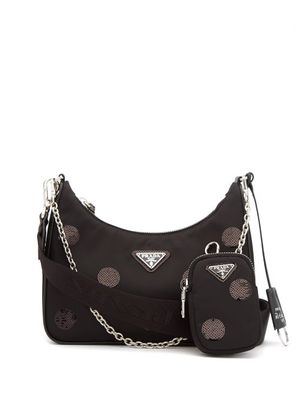 ---
#13: Prada Re-Nylon padded shoulder bag - Neutrals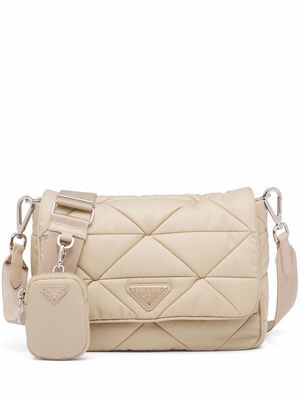 ---
#14: Prada Re-Edition 2000 sequined Re-Nylon bag - Black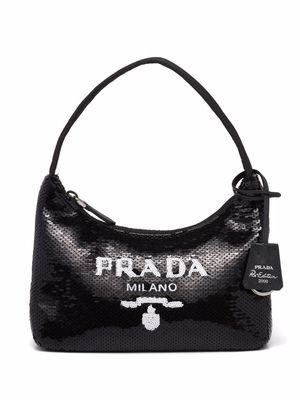 ---
#15: Prada Re-Nylon embroidered tote bag - Black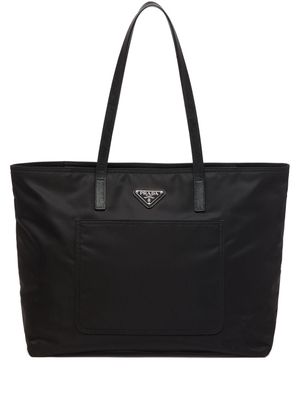 ---
#16: Prada Re-Nylon padded shopping bag - Black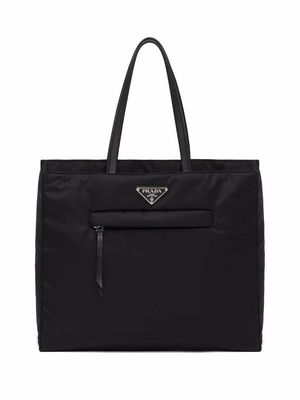 ---
#17: Prada small Re-Nylon padded shoulder bag - Black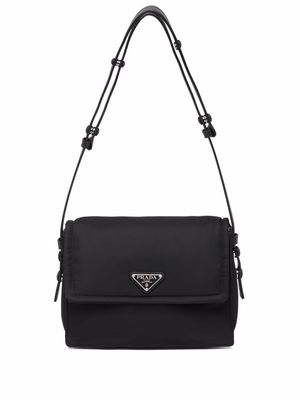 ---
#18: Prada Re-Nylon tote bag - Black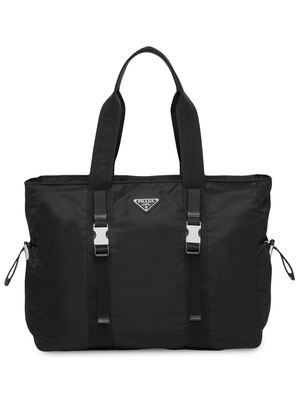 ---
#19: Prada Re-Nylon quilted shoulder bag - Neutrals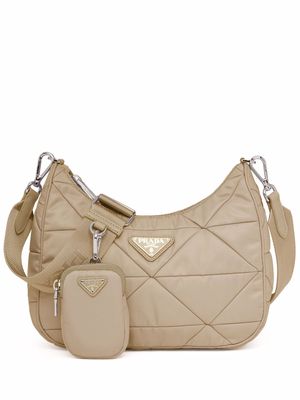 ---
#20: Prada Re-Nylon padded shoulder bag - White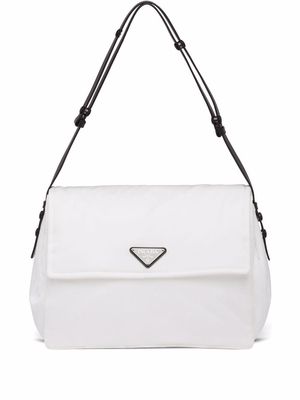 ---
#21: Prada Duet re-nylon shoulder bag - Pink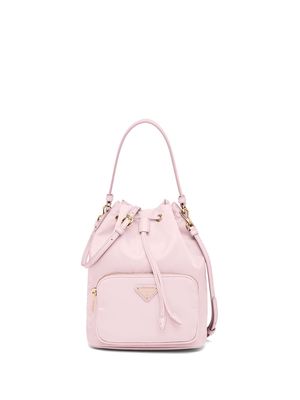 ---
#22: Prada printed Re-Nylon tote bag - Grey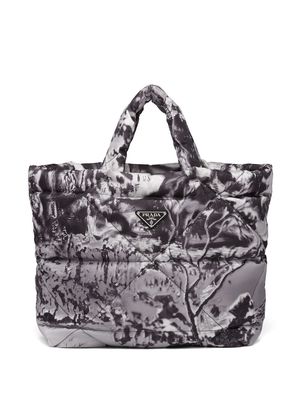 ---
#23: Prada Re-Nylon duffle bag - Black
---
#24: Prada Re-Nylon messenger bag - Black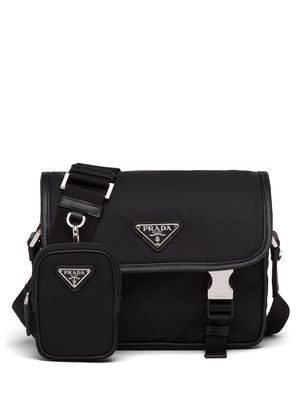 ---
#25: Prada Re-Nylon logo-plaque tote bag - Neutrals
---
Why Is Prada Using Nylon?
Prada's love of nylon is quite bizarre, given the lineup of other exquisite fabrics such as jacquard and crocodile leather that are available.
It's a personal choice, as the brand states that this material Is "a symbol of Miuccia's subversive approach to refinement."
Described as a more modern approach compared to traditional materials, nylon's degree of versatility makes it a refreshing break from impractical textiles often used by the fashion industry.
Do Prada Nylon Bags Get Dirty?
Like any designer purse, Prada nylon bags can get dirty. Fortunately, there's no need to take your $1,000 carry-on to a professional cleaner, since you can easily care for it at home.
We recommend dusting off any surface-level debris with a microfiber cloth first. Afterward, you can gently rub away stains and blemishes using a damp rag.
It's important that customers let their bags naturally dry because tossing them into the washing machine will increase the risk of shrinkage and damage.
Are Prada Nylon Bags Worth It?
Absolutely! Compared to other designer brands, Prada nylon bags are quite affordable. Plus, they're constructed with quality materials and hardware, so you don't have to worry about excessive wear and tear.
We recommend taking good care of your carry-on, as Prada nylon purses are worth a significant consignment value if you plan on reselling them.
How To Style Prada Nylon Bags
Thanks to their monochrome color palette, Prada nylon bags are relatively easy to style.
That said, 'outfit fatigue' is a common diagnosis among trendsetters, so we'll share some OOTD inspo for those interested.
Fashion often relies on simplicity. For instance, you can never go wrong with wearing a basic sweater and a pair of black pants.
It's all about the fit for us since a well-tailored outfit does wonders by exuding a sense of expense and elegance. Complemented with a Prada nylon bag, this is the perfect everyday look if you can't be bothered to dress up.
Sweater vests, button-ups, and chunky boots are intrinsic to 2022 fashion. If you intend on following this trend, we recommend jazzing up your outfit with a black Prada nylon bag.
It's an easy way to glamorize any fit, thanks to the subtle glimmer provided in the purse's silver hardware.
It's a well-known fact that designer brands must sell keyrings if they sell handbags. Prada is no exception, as they provide a curated selection of purse accessories.
For instance, this adorable add-on features a heart emblem with the brand's logo on the front. It's an effortless way to personalize any luxury carry-on.
---
Looking to stay up to date on all things Prada? We've got you covered:
Get Access to Exclusive Deals
Subscribe for free to get exclusive deals in your inbox. 100% privacy